Your Guide To Betting NFL Futures: Super Bowl Picks, MVP Bets, More
Credit:
Getty Images. Pictured: Russell Wilson, Matthew Stafford
The 2020 NFL season kicks off this week. Whether you're just now tuning in or have been following all the league activity closely, our team has analyzed the markets to find the best betting values.
Find their 21 favorite futures below, from Super Bowl longshots to surprising win total unders and more.
Note: All odds as of Tuesday, Sept. 8 and via various legal sportsbooks.
NFL Futures
Super Bowl Picks
Click the pick to skip ahead to that analysis.
New Orleans is 37-11 over the past three seasons, winning the NFC South each year. And if not for a horrible pass interference non-call, it's possible the Saints could have won a second Super Bowl title over the past decade.
Now with one of the best defenses and an explosive offense, they enter the 2020 season with one of the most balanced rosters in the NFL.
They feature an elite run defense that ranked third and fifth, respectively, in Football Outsiders' Rush Defense DVOA over the past two seasons. They allowed the fourth-fewest rushing yards as a team last season, trailing only the Buccaneers, Jets and Eagles.
They also ranked fourth with 3.2 sacks per game while cornerback Marshon Lattimore allowed just a 50% completion rate.
Offensively, the Saints have transitioned to a run-first team while maintaining explosive pass play ability.
All-Pro wide receiver Michael Thomas has totaled 274 receptions over the past two seasons — 55 more than the next wideout, DeAndre Hopkins. While quarterback Drew Brees is 41-years old, he ranked first among all quarterbacks in true completion percentage (79.6%) and fifth in passing touchdowns (27).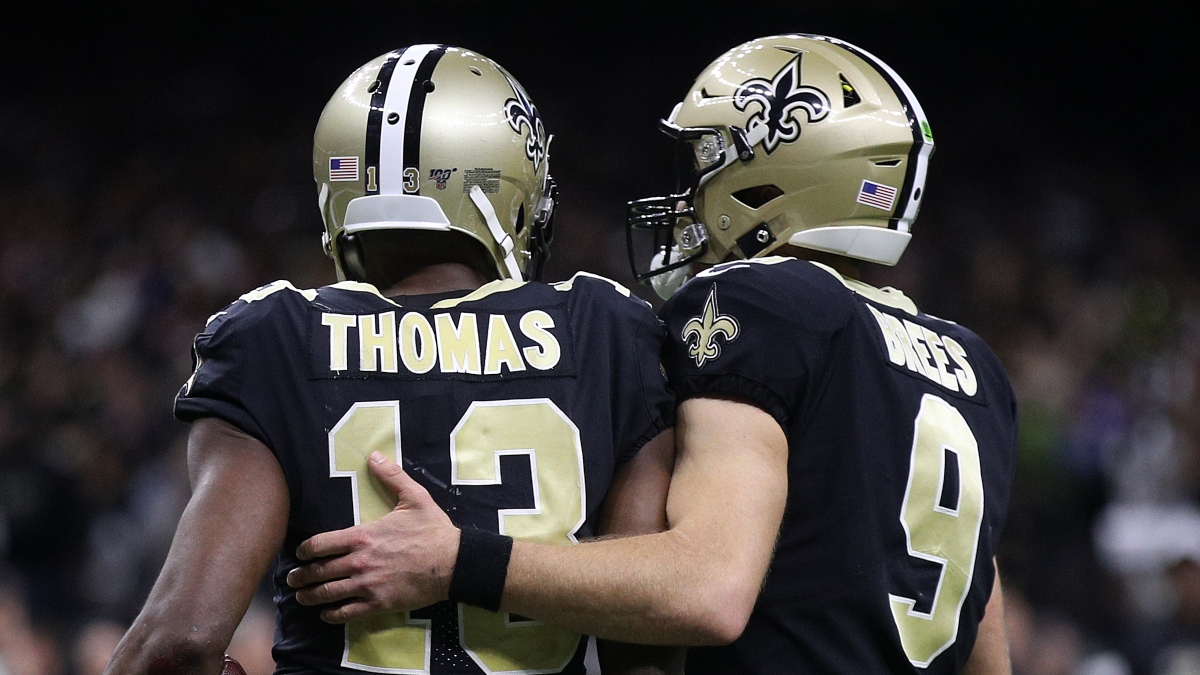 New Orleans has the second-best offensive line per Pro Football Focus. The Saints should also have a completely healthy Alvin Kamara, assuming they do finalize a reported contract extension. And over his first three seasons, Kamara tallied exactly 81 receptions in each year.
You're getting 12-1 value on a team that could be the best in the NFC. With superior talent on both sides of the ball and a great head coach in Sean Payton, these odds provide fantastic value.

[Bet the Saints now at FanDuel and get a $1,000 risk-free bet.]
The Eagles have a top-10 coach in Doug Pederson and top-10 quarterback in Carson Wentz. They have a top-eight offensive line with All-Pro center Jason Kelce and right tackle Lane Johnson. They have a potential top-10 running back in Miles Sanders. They should have an explosive and markedly improved wide receiver unit thanks to the return of DeSean Jackson and addition of rookies Jalen Reagor, John Hightower and Quez Watkins. And they have the league's best tight end duo with Zach Ertz and Dallas Goedert.
On offense, they could dominate.
On defense, the Eagles have a top-two line thanks to their high-end talent and unrivaled depth. They can pressure opposing quarterbacks at will. They have a below-average linebacking unit — but off-ball linebackers don't matter much in today's NFL anyway. And their secondary should be vastly improved this year: With the additions of perimeter cornerback Darius Slay, slot corner Nickell Robey-Coleman and free safety Will Parks, the Eagles might now have a top-10 unit.
The Eagles are just a few years removed from their 13-3 season that culminated in a championship, and many of the key pieces from that Super Bowl-winning team are still in place. For a team that has made the playoffs in each of the past three years, the Eagles are too discounted.
I'd bet them down to +2200, which is available at PointsBet as of writing.
[Bet the Eagles now at BetMGM and get an INSTANT $500 deposit match.]

Expectations were high for the Browns heading into 2019 and they fell well short.
Baker Mayfield and Odell Beckham Jr. didn't quite gel in their first season together. Mayfield specifically was to blame for their -8 turnover margin as he threw 21 interceptions (second-most). It resulted in the Browns firing Freddie Kitchens and bringing in Kevin Stefanski as the new head coach.
Stefanski led the run-heavy offense in Minnesota last season and is expected to install a similar scheme in Cleveland. He couldn't ask for a better running back duo in Nick Chubb and Kareem Hunt, the offensive line should improve with the addition of veteran Jack Conklin and first-rounder Jedrick Wills, and the Browns should run more 2-TE sets, which means more Austin Hooper and David Njoku.
A more conservative offense should limit the number of turnovers by Mayfield and allow him to regain his confidence. The Browns also have the third-easiest schedule, which should play right into their more conservative approach on offense.
I'm very bullish on the Browns in 2020. The best way to invest in their upside is their odds to win the Super Bowl — they could thrive in the uncertain environment this season.
I would bet the Browns to +3800.
[Bet the Browns now at DraftKings and get a $1,000 sign-up bonus.]


With the addition of a third wild-card spot in each conference, the chances of a Super Bowl run opened up in a tight NFC.
Considering the Super Bowl market has been hammered since the Chiefs raised the trophy, it may be time to put a low investment on another rising offensive juggernaut. Is there another team that can throw up four touchdowns in a single quarter like the Chiefs did in the 2019 AFC Divisional Round? The Arizona Cardinals may be that team.
Kliff Kingsbury and Kyler Murray are posed to take the next step as the acquisition of DeAndre Hopkins gives the Cardinals even more weapons, and the third-round selection of Josh Jones beefs up an offensive line that was 26th in adjusted sack rate in 2019.
Expect the continuation of 4-WR sets in a blitzing offensive scheme in Arizona — never forget that the NFL is becoming more like the college game and the Cardinals are well on the track to being the most explosive offense in the league.
With an extra postseason berth in the NFC, odds are likely to get this 50-1 ticket into the playoffs.
[Bet now at DraftKings and get a $1,000 sign-up bonus.]
---
Return to the table of contents
---
NFL Win Total Bets
Click the pick to skip ahead to that analysis.
Matthew Freedman: Patriots Over 8.5 Wins (-150)
I'm not a mathematician, but the Patriots have won at least nine games in 19 of the past 20 seasons under head coach Bill Belichick. That seems like a high ratio.
In fact, the Pats have won 10-plus games every year since 2003, and that includes 2008, when they were without quarterback Tom Brady for almost the entire season. Over the past 17 years, Belichick has coached his team to a 13-6 record in Brady-less games.
The Pats will once again be without Brady, but Cam Newton is an above-average replacement, the defense is one of the league's best units and the AFC East is still notably weak.
I'd bet this to 9.5 (+100), which is available at William Hill as of writing.

[Bet the Patriots over at DraftKings and get a $1,000 sign-up bonus.]
Stuckey: Eagles Under 9.5 Wins (-130)
The Eagles are one of the better organizations in the NFL. They are generally ahead of the curve in many different areas of the game, I just don't love their current roster.
I'm a believer in Carson Wentz, who still navigated this team to the postseason with a completely decimated wide receiving group in 2019, but the Eagles again have major questions at WR this season.
After boasting one of the NFL's steadiest offensive lines over the past few years, that continuity could take a major hit in 2020 after losing one of the league's most dominant guards (Brandon Brooks) to injury. Philadelphia will rely on veteran Jason Peters to stay healthy and fill the void at right guard.
Andre Dillard will try to hold down left tackle, but he's looked very shaky early in his career. If he can't adequately protect Carson Wentz's blindside and/or Peters can't stay healthy, the Eagles will have to worry about their offensive line for the first time in a long time.
On the other side of the ball, the Eagles addressed a glaring need by signing two marquee free agent cornerbacks in Darius Slay and Nickell Robey-Coleman, who have previously played for defensive coordinator Jim Schwartz. If you believe Slay still has No. 1 shadow corner ability, Philadelphia will improve tremendously against opposing No. 1 receivers.
In today's game, better production at corner and receiver could help the Eagles win back-to-back division titles — something no team in the NFC East has done in 15 years. If you're buying both groups, you're likely buying the Eagles. But I just happen to be a seller, so I'll gladly pay to make this team prove they can win 10 games.
Four division matchups against the Giants and Redskins helps on paper, but I still only project the Eagles to win 8.4 games.

[Bet the Eagles under at FanDuel and get a $1,000 risk-free bet.]
Sean Koerner: Lions Over 6.5 Wins (-139)
The Lions are tied for first in my Luck Ratings for a few reasons:
Their +17 change in year-over-year strength of schedule rank (11th in 2019 vs. 28th for 2020).
Their Pythagorean expected record, 6-10, was notably better than their actual 3-12-1 record.
They had the fourth-worst luck in one-score games last season, going 3-7-1 in such spots, so they're due for positive regression.
They had the worst luck in time led, leading 43.1% of the time — 12th-best (!) in the NFL. Typically you would expect a team that led that often to win closer to 8.5 wins, so expect positive regression here as well.
They had the ninth-worst injury luck last season and, after losing him for eight games, welcome back a fully healthy Matthew Stafford.
Thanks to their offseason moves, the Lions should also have at least a league-average defense.
After trading Darius Slay, they spent the third overall pick on cornerback Jeff Okudah. They also brought in a trio of former Patriots: defensive tackle Danny Shelton, linebacker Jamie Collins and safety Duron Harmon.
Matt Patricia's attempt to recreate a Bill Belichick's brand of football has flopped so far. This may be his last chance to prove he can make it all come together, which is why he's a favorite to be the first head coach to be fired. But while it's easy to frame a narrative that Patricia is a terrible coach who is responsible for their losing record, as my luck ratings indicate, the Lions were on the wrong side of variance in 2019 and should fare much better in 2020.
I'd bet over 6.5 wins up to -150.

[Bet the Lions over at BetMGM and get an INSTANT $500 deposit match.]
Travis Reed: Browns Under 8.5 Wins (+105)
The Browns are coming off of a 6-10 season, yet the market is expecting them to improve their record by at least three wins. My model isn't buying into that improvement.
My latest simulations have the Browns winning nine or more games only 24% of the time. Their division features reigning MVP Lamar Jackson in Baltimore, a returning Ben Roethlisberger in Pittsburgh, and No. 1 overall pick Joe Burrow in Cincinatti. On average, Cleveland wins 2.4 games in the AFC North, leaving a lot of ground to make up with the rest of the schedule to reach 9-7.
Getting plus money on this bet makes this my biggest edge by far this season and one of the largest edges I can remember, ever. Because of that, I would bet this all the way to Under 8 (-165).
[Bet the Browns under at BetMGM and get an INSTANT $500 deposit match.]


Mike Randle: Bills Over 9.5 Wins (-143)
Buffalo has won at least nine games in two of three seasons under head coach Sean McDermott. The Bills have finally exercised the demon of New England nemesis Tom Brady and are primed to end the Patriots' 11-year reign atop the AFC East.
Buffalo should again have a strong defense — a unit that ranked second and sixth in Football Outsiders' defensive DVOA over the past two seasons and improved its per-game sack rate from 2.2 to 3.0 last season.
The Bills also added offensive weapons for versatile quarterback Josh Allen. Former Minnesota wideout Stefon Diggs had a career-high 12.1 yards per target in 2019, third-best among all wide receivers. They also replaced veteran running back Frank Gore with dynamic rookie Zack Moss, who has already impressed in camp.
Behind an offensive line that returns four of five starters, Allen is primed for a career-season. He has 17 total rushing touchdowns and is averaging more than 40 rushing yards per game over his first two NFL seasons. Along with Diggs, the Bills return speedy wideout John Brown, who saw career-highs in targets, receptions and receiving yards last season.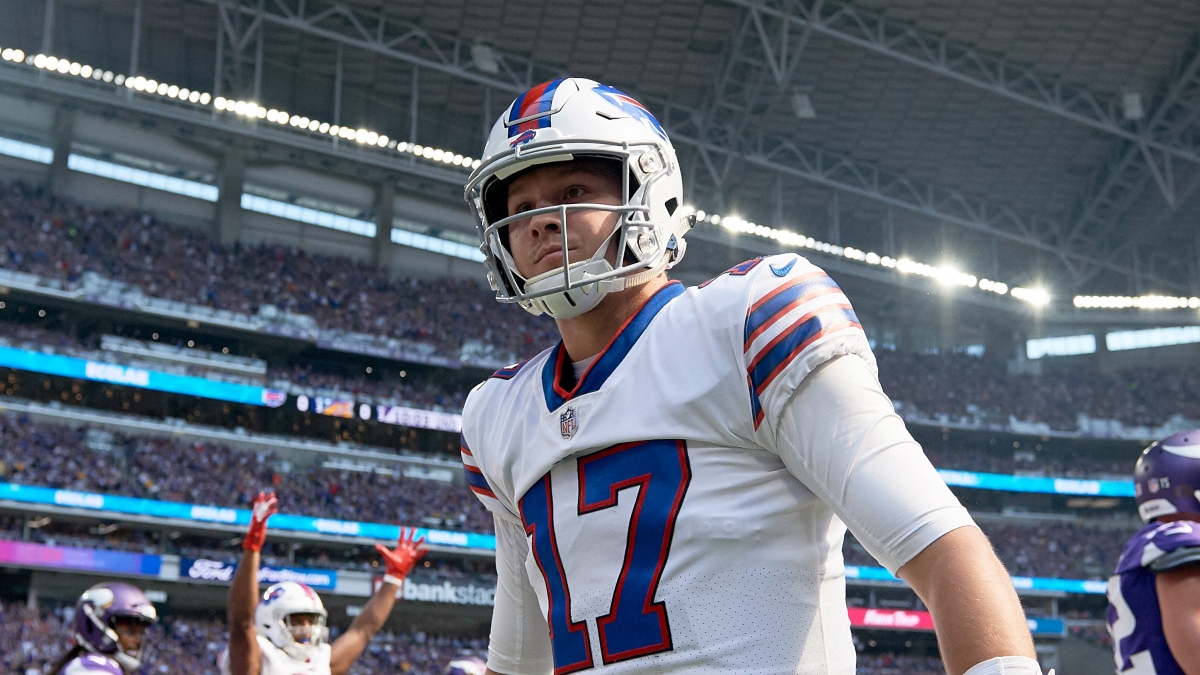 Buffalo should get off to a strong start, with its first four opponents combining for a combined record of 28-36 last season. I'm very comfortable betting this up to 10, and would even consider 10.5 depending on the juice.

[Bet the Bills over at DraftKings and get a $1,000 sign-up bonus.]
Collin Wilson: Bengals Under 5.5 Wins (+110)
As much as I love to dive into advanced analytics, expecting Joe Burrow to increase this team's total wins from two to six seems elementary.
Don't get me wrong, Burrow will thread plenty of deep shots to the outside shoulder of Tee Higgins once the trenches are redefined. But a few key factors are being overlooked:
The Bengals' offensive line ranked 26th in pass-blocking in 2019.
The defense ranked 24th in adjusted sack rate last season.
And finally, no team allowed more rushing yards in 2019 than the Bengals, a prime reason half the defense has been replaced for 2020.
Sharp minds will point to the Bengals' 0-7 record in games decided by seven or fewer points. But until head coach Zac Taylor proves he can be a coach in the NFL and the trenches are improved, I am wagering a jump of four wins is unlikely.
[Bet the Bengals under at DraftKings and get a $1,000 sign-up bonus.]
---
Return to the table of contents
---
NFL Playoff Predictions & Picks
Click the pick to skip ahead to that analysis.
Sean Koerner: Broncos to Make Playoffs (+180)
There are a wide range of possible outcomes for the Broncos in 2020 as their success depends on how much Drew Lock progresses. He had an up and down rookie season, but overall it was encouraging: Out of 47 rookie quarterbacks to attempt at least 150 passes since 2010, Lock's 89.7 Total QBR ranks 10th — his 6.2 adjusted net yards per attempt also ranked 10th.
The Broncos signed Melvin Gordon in free agency then drafted three pass-catchers — first-round WR Jerry Jeudy, second-round WR K.J. Hamler and fourth-round TE Albert Okweugbunam — so Lock now has the weapons needed to succeed.
My projections are right in line with their 7.5-win total, but given their wide range of potential outcomes, there's some value in them making the playoffs at +180 odds.
The expansion to seven teams per conference will benefit a team like Denver, which shares the same division as a powerhouse like Kansas City. I have the Broncos graded as the second-best team in the AFC West and think this is the best way to invest in their upside.

[Bet now at DraftKings and get a $1,000 sign-up bonus.]
Stuckey: Lions to Make Playoffs (+245)
The Lions flashed last season before Matthew Stafford was forced to miss their final eight games. Remember that they could have easily started 5-0 — including a win over Kansas City — if not for some horrid officiating and a few flukey bounces that didn't go their way.
Well, now Stafford is back and has plenty of weapons on an offense that should put up points.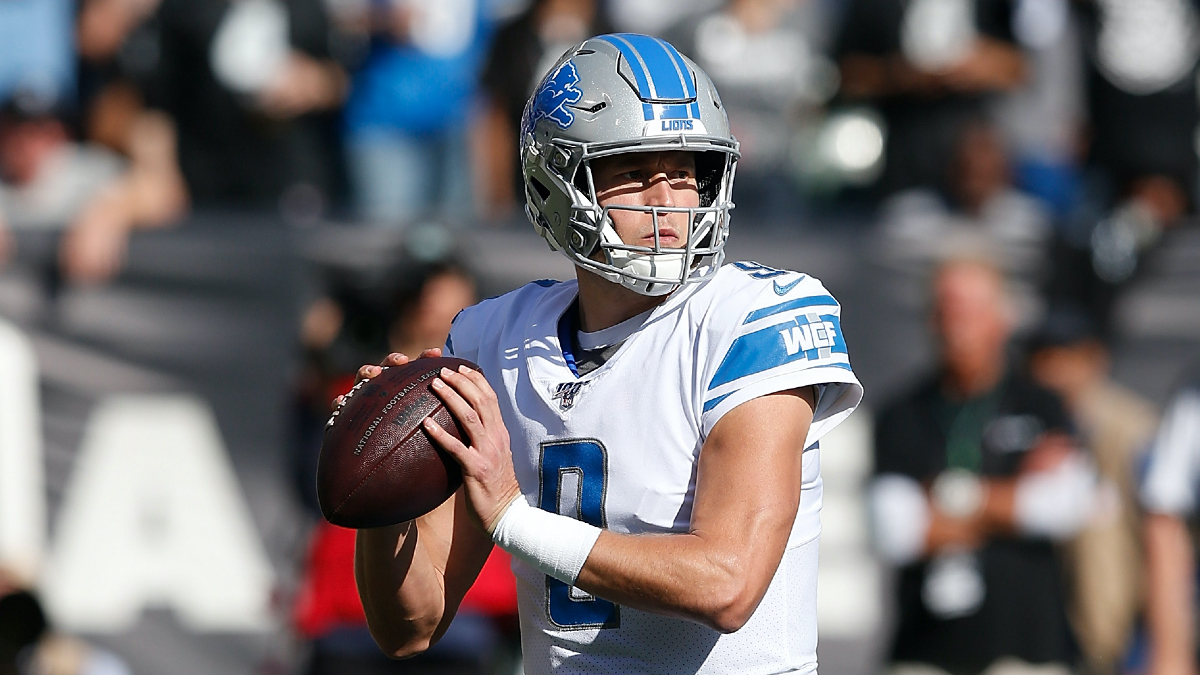 The defense needs to get better, but head coach Matt Patricia brought in some former Patriots who fit his scheme and could improve a locker room that was rumored to have all kinds of issues. No. 3 overall pick Jeff Okudah projects to be a solid lockdown corner in Patricia's Cover 1-heavy scheme sooner than later.
The defensive play-calling does need to be creative, but this unit has potential to at least improve from 2019.
I really don't hate any of the Lions' futures. If you're feeling ambitious and want to take a shot on them to win the Super Bowl and/or their division, I wouldn't stop you.
The NFC North is wide open: Chicago still has major questions at quarterback. Minnesota lost star playmaker Stefon Diggs and must deal with plenty of turnover on defense. And Green Bay didn't do much to address its primary weaknesses this offseason. It wouldn't shock me to see any of these four teams win the division, so give me the one with the longest odds that could also sneak into a wild-card spot — especially with the new 14-team format.

[Bet now at DraftKings and get a $1,000 sign-up bonus.]
Travis Reed: Browns To Miss Playoffs (-130)
This pick aligns with my Browns under 8.5 wins bet, and I have no qualms about doubling down against Cleveland this season: My model's simulations have them making the playoffs only 24.9% of the time.
Every team in the AFC North improved over the offseason, making the divisional schedule tough for Cleveland. The Browns have a lot of big names in fantasy football, but they are well behind the elite teams in the conference and haven't really separated themselves from teams like Denver or Houston, which are in the same range of fighting for a wild-card spot.
A coaching change was clearly needed, but I don't think Kevin Stefanski's addition will solve all of the Browns' problems and get them back to the playoffs.
[Bet now at FanDuel and get a $1,000 risk-free bet.]
---
Return to the table of contents
---
NFL Division Winners
Click the pick to skip ahead to that analysis.
Raheem Palmer: Cowboys to win NFC East (-120)
Based on a number of factors, the 2019 Cowboys were better than their 8-8 record suggests.
They finished sixth in Football Outsiders' overall DVOA, their +113 point differential ranked sixth in the league and they had a Pythagorean expectation of 10.9 wins. Typically, we see NFL teams improve year-over-year when their point differential and Pythagorean expectation indicates they performed better than their record the previous season.
The main culprit is that unlike in 2018 — when they went 8-3 and had a +6 point differential in games decided by seven or fewer points — they were only 0-5 with a -5 point differential in one-score games in 2019, which means we can expect this to regress to the mean in 2020.
Mike McCarthy should be an upgrade over Jason Garrett at head coach. And although center Travis Frederick retired this offseason, we should still expect the Cowboys to have a top-tier offense with Dak Prescott, Ezekiel Elliott, Amari Cooper, Michael Gallup and the addition of first-round rookie CeeDee Lamb out of Oklahoma.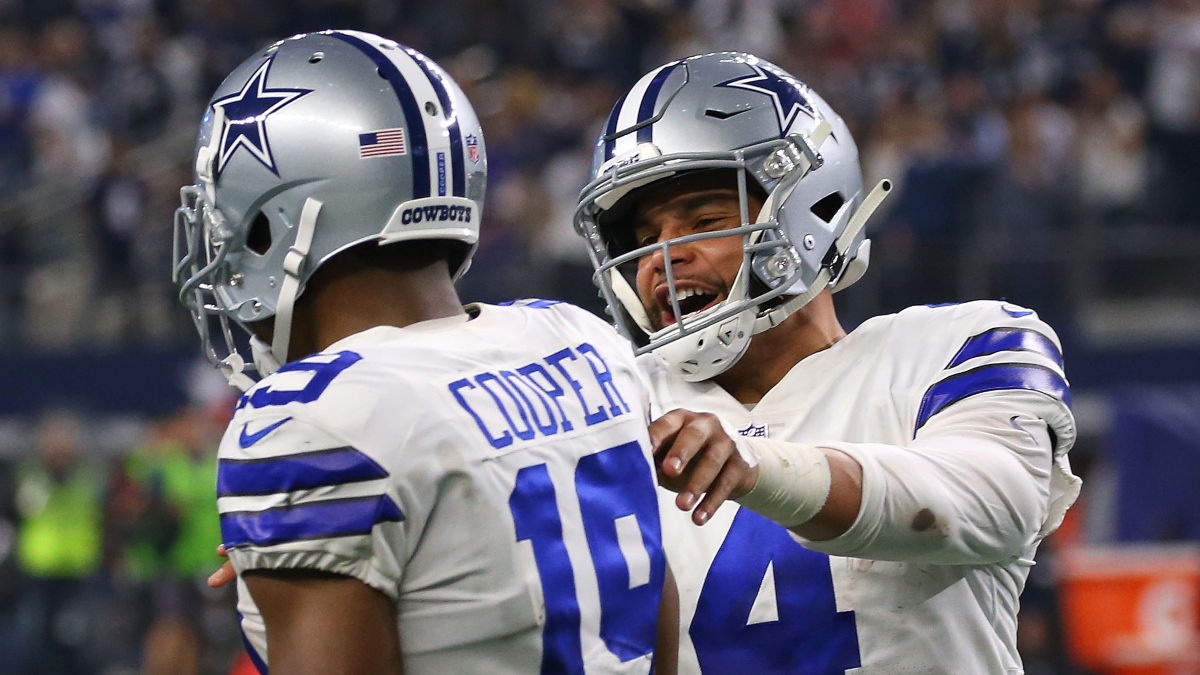 If new defensive coordinator Mike Nolan can shore up the defense, the Cowboys should be a shoe-in to win the NFC East.
With the Giants and Washington Football Team in rebuilding mode, the Eagles appear to be the Cowboys' only competition in the division. Unfortunately for the Eagles, they've been hit with the injury bug as they've lost both LT Andre Dillard and RG Brandon Brooks for the season. Add in Carson Wentz's injury history, and it's tough to bet on any team but the Cowboys winning this division.

[Bet now at DraftKings and get a $1,000 sign-up bonus.]
Stuckey: Bills to win AFC East (+125)
I'm going with a team that hasn't won its division since 1994, which also happens to be the last time it won a playoff game.
This is the year the Bills finally win the AFC East.
They have a lot of factors working in their favor given the unprecedented nature of this season. They have a great coaching staff and as much continuity with returning starters as any team in the league. They also added Stefon Diggs to give Josh Allen a bona-fide 1-2 punch at wide receiver. And the offensive line should continue to improve as the completely-rebuilt unit from last season all returns.
The Bills had a Super Bowl-caliber defense in 2019 in large part due to their secondary, which will be the strength once again. And some of the front seven additions could help it become better overall against a much tougher schedule this season.
I like the Bills to win the division so much almost by default, as I am way lower on the Patriots and Jets than the rest of the market. And while I do love what the Dolphins are building, they're still a year away.
In a quarterback-driven league, Buffalo's ceiling all hinges on Allen. He can't lead the Bills to a Super Bowl (yet), but he's certainly capable enough to lead them to a division title.
[Bet now at FanDuel and get a $1,000 risk-free bet.]

Travis Reed: Patriots to win AFC East (+135)
I'm taking a different approach to the AFC East.
A lot of things have changed for the New England Patriots this offseason. Tom Brady is gone, many of their defensive starters opted out due to the pandemic, and Cam Newton was a late signee in free agency.
But one thing remains consistent: Bill Belichick.
Feel free to count the Patriots out if you want, but I won't be doing that. My model has actually pinned the Patriots as the division favorites despite the media, public and sportsbooks entrenching the Bills as such — in fact, according to my model, the Patriots' odds to win the AFC East should be closer to -135 instead of the +135 you can currently get at PointsBet.
You get plus-money on the best coach of all time and the best quarterback in the division. I'd take the Patriots to win the AFC East all the way down to -110.
[Bet now at PointsBet and get $250 FREE.]

Link your PointsBet and Action accounts so your NFL bets automatically sync over to the app.
Mike Randle: Seahawks to win NFC West (+220)
These are great odds for a team that has improved its record in each of the past three seasons and has finished either first or second in the NFC West eight consecutive years.
Seattle features one of the NFL's most efficient offenses, ranking fourth in Football Outsiders' pass DVOA and sixth in run DVOA. And somehow, Russell Wilson is still under-appreciated. While not putting up the explosive totals of other top quarterbacks, his efficiency is unmatched. Wilson ranked fourth at the position in true passer rating (110.9) and first in clean pocket completion percentage (81.5%).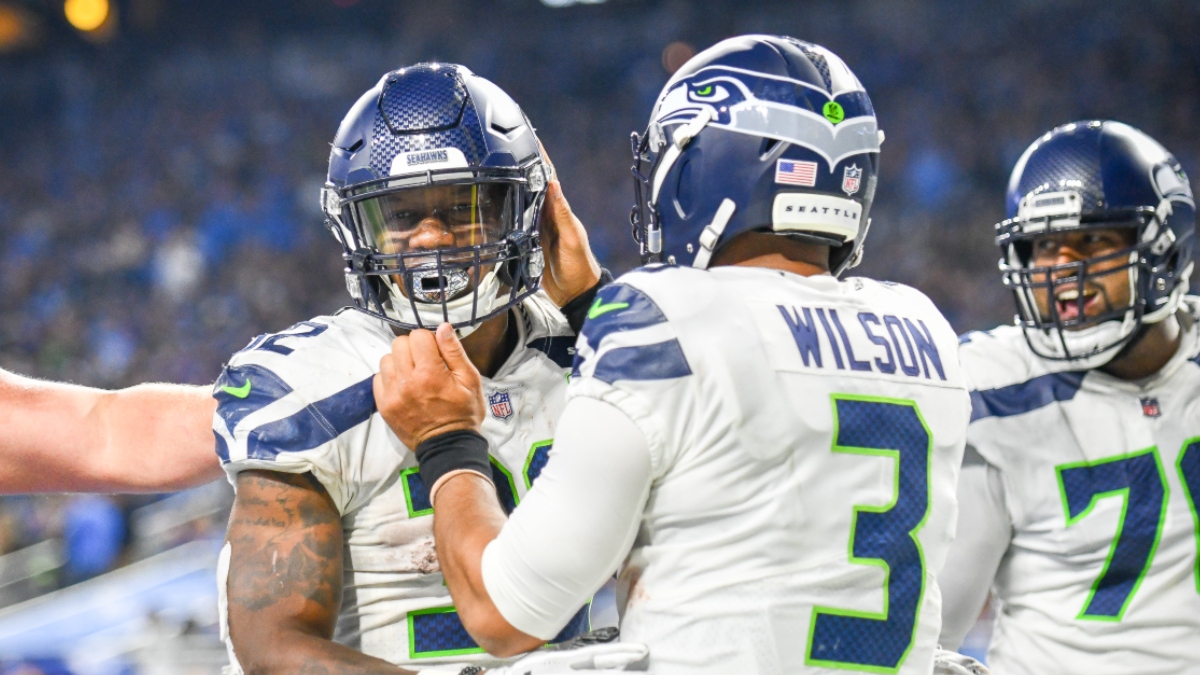 Staying true to the preferences of offensive coordinator Brian Schottenheimer, Seattle always maintains a strong rushing attack, ranking first and fourth over the past two seasons, respectively. Running back Chris Carson's 82.1 rushing yards per game since 2018 is among the league's best.
While the path to the division crown runs through reigning NFC champion San Francisco, the Seahawks are 12-2 in their past 14 meetings against the 49ers. Seattle also has a very favorable late-season schedule, facing both New York teams and Washington during the critical Weeks 13-15 stretch. Seattle also avoids traveling to San Francisco until Week 17.
I would play this down to +175.

[Bet now at DraftKings and get a $1,000 sign-up bonus.]
Chris Raybon: Seahawks to win NFC West (+220)
Wilson gives the Seahawks a high floor: They've averaged 10.75 wins per season in his eight years as the starter, and they've never had a losing season.
They're generally undervalued in the market because they're the one team that can outplay their underlying metrics and win one-score games with some level of consistency.
The acquisition of Jamal Adams gives them a dangerous secondary: Adams — Pro Football Focus' fifth-rated safety of 83 qualifiers in 2019 — joins safety Quandre Diggs (23rd of 83) as well as cornerbacks Quinton Dunbar and Shaq Griffin, who rated second and ninth, respectively, out of 115 qualified corners.
Seattle went 11-5 last season, but came within inches of going 2-0 against San Francisco, which would have left both teams with 12-4 records. Two of Seattle's other losses came against two of the NFL's best teams, Baltimore and New Orleans, neither of which Seattle has to face this season whereas San Francisco does have to play New Orleans, which could be the difference.
The Seahawks have won this division in 3-of-8 (37.5%) seasons with Wilson, so I would play this down to those implied odds (+167).

[Bet now at DraftKings and get a $1,000 sign-up bonus.]
Raybon: Texans to win AFC South (+350)
Despite having the best QB in what should be a tight division, the Texans are projected to come in third behind the Colts (+120) and Titans (+160).
Houston has a murderer's row schedule to start the season — at KC, vs BAL, at PIT), but they've actually won outright in 50% of their games as an underdog with Watson over the past two seasons. They've also won their division in both of Watson's healthy seasons, and have posted a winning record in five of Bill O'Brien's six seasons as head coach.
This should be a close three-team race, and Watson gives Houston the biggest margin for error, so I would bet this at anything better than 33.3% implied odds, or +200.
[Bet now at DraftKings and get a $1,000 sign-up bonus.]
---
Return to the table of contents
---
NFL MVP Picks
Click the pick to skip ahead to that analysis.
Sean Koerner: Ben Roethlisberger +5000
The MVP market is more subjective than other futures, therefore it's critical to understand what type of player typically wins.
Over the past 20 seasons, there have been only two positions that have won MVP: Quarterbacks (17) and running backs (three). With the NFL continuing to become more pass-heavy league and favoring running back committees over workhorses, I would set the odds of a QB winning the award closer to 90-95% this season.
Another important factor for this award is the player's final team record — five of the last seven winners were a QB on the team with the best overall record.
I want to direct my focus on identifying a QB who is capable of putting up huge numbers on a team that could end up having the best overall record. That's why I think Big Ben is offering value at 50-1.
The Steelers might possess the best defense in all of football. They finished first in Football Outsiders' Weighted DVOA, which reflects how teams were playing at the end of the season. And with the Patriots coming off an offseason full of turnover, the Ravens cutting Earl Thomas and the 49ers parting ways with DeForest Buckner, I'm treating this Steelers as the best defense heading into 2020.
Big Ben is more than capable of putting up big numbers through the air. He has a great mix of pass-catching options in JuJu Smith-Schuster, Diontae Johnson, James Washington, Chase Claypool and Eric Ebron.
Roethlisberger's surgically repaired elbow is apparently "really good," too. He revealed he had been playing with pain in it for 13 straight seasons. Now that pain has gone away completely.
Of course, the main concern when it comes to Big Ben is always whether he'll play all 16 games. It's a fair concern, but betting on this market is all about betting on his upside.
Finally, another thing I want to do when betting a market like MVP is to make correlated bets. That's why it would be sharp to also bet on him to win Comeback Player of the Year at +350 [bet now at BetMGM] and for the Steelers to finish with the most regular-season wins at +2200 [bet now at BetMGM].
If Big Ben wins MVP, it's very likely the other two bets hit. If not, they act as a potential safety net.

[Bet now at BetMGM and get an INSTANT $500 deposit match.]
Mike Randle: Josh Allen +6000
At this time last year, Lamar Jackson was 50-1 to win MVP.
When picking an MVP future, I look for three things:
A quarterback: Twelve of the past 13 MVPs have been signal-callers.
On a quality team: Of those 12 quarterbacks, their teams have a combined record of 151-31.
With rushing upside: Offensive trends have made mobile quarterbacks more valuable.
Josh Allen hits all of those qualifications.
The Bills project for 9 wins with one of the easiest schedules to start the season. They open vs. the Jets, at the Dolphins, vs. the Rams and at the Raiders, all of which are very winnable games. The Bills also played close games against the division-dominant Patriots, losing both games last season by seven or fewer points. With Tom Brady out of the AFC East, the time is right for the Bills to end the Patriots' 11-year division reign.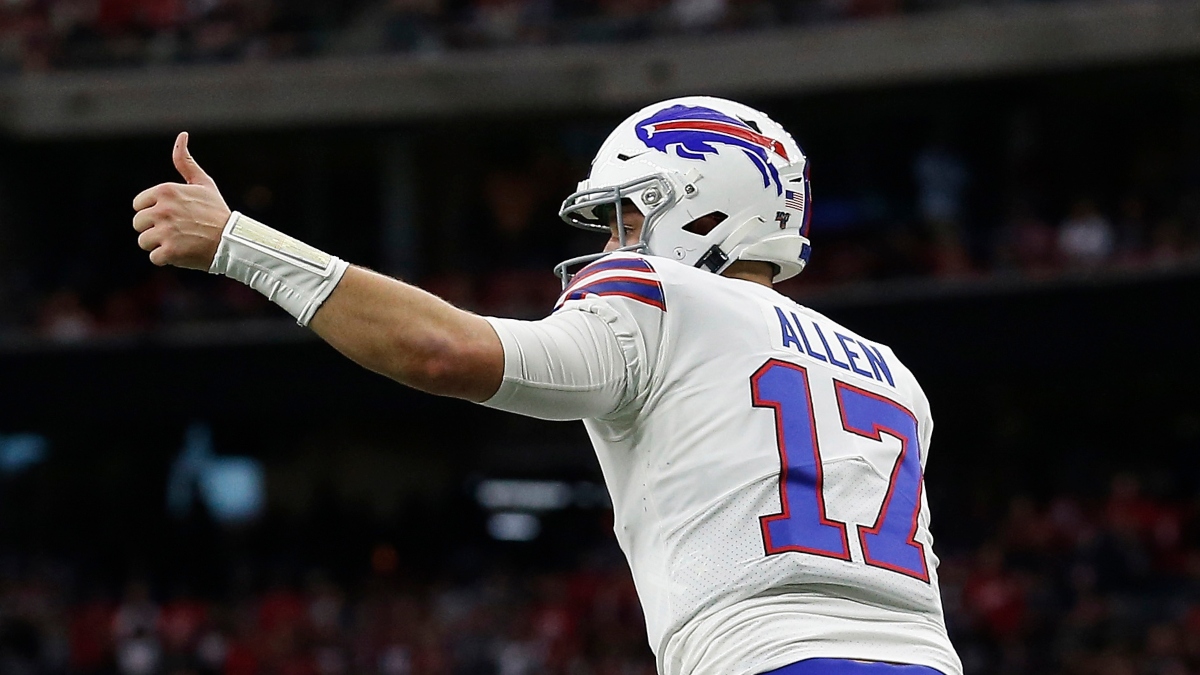 Allen's weakness is accuracy, particularly deep ball accuracy. To address this, Buffalo added explosive wide receiver Stefon Diggs to start alongside speedster John Brown. Allen also has reliable slot target Cole Beasley and a pair of versatile running backs in Zack Moss and Devin Singletary.
With 1.131 rushing yards and 17 rushing touchdowns since 2018, Allen is also one of the NFL's top true dual-threat quarterbacks.
While it's a longshot, this is within Allen's range of outcomes. If Buffalo can overtake New England in the AFC East en route to 11 or 12 wins, the +6000 value makes this very enticing. I would bet it down to +5000.
Josh Allen could very well be this season's Lamar Jackson.

[Bet now at DraftKings and get a $1,000 sign-up bonus.]
Travis Reed: Matthew Stafford +6600
I like the Lions' odds to make the playoffs and win the NFC North, so this bet should have some correlated value. Other quarterbacks clearly have more talent and are more likely to win, but I like Stafford as a longshot.
While NFL nerds (like me) can look at stats like Expected Points Added or Net Yards per Attempt, the voters of the MVP award tend to look at the traditional stats of yards, touchdowns and wins.
Stafford has shown the ability to rack up stats as he's already eclipsed 4,000 passing yards in seven of his eight 16-game seasons. And before getting hurt in 2019, he was on pace for 5,000 yards and had his highest career passer rating of 106. Offensive coordinator Darrell Bevell returns this season, so I think it's fair to assume similar rate stats for the 2020 season.
Health is always the biggest concern, but the price is good enough to take on that risk. I would bet Stafford at +5000 or higher.
How would you rate this article?
This site contains commercial content. We may be compensated for the links provided on this page. The content on this page is for informational purposes only. Action Network makes no representation or warranty as to the accuracy of the information given or the outcome of any game or event.