Ravens vs. Bills Odds & Picks: How To Bet This Spread, Total, More Playoff Angles
Credit:
Getty Images. Pictured: Lamar Jackson, Josh Allen
After racing out to a 5-1 start, the Ravens' position near the top of the Super Bowl oddsboard looked justified … until a three-loss skid triggered a swift fall down. But Lamar Jackson & Co. rallied back, winning five straight games to close out the regular season and punch their wild-card ticket.
They opened the postseason by avenging their 2019 playoff loss to the Titans, and now the Ravens travel to Buffalo to take on Josh Allen and the 2-seeded Bills.
Our staff outlines how they're betting Saturday night's game, featuring four analysts on the same side of this spread and more.
Ravens vs. Bills Odds
Ravens Odds

+2.5

Bills Odds

-2.5

Total

49.5

Time

8:15 p.m. ET

Day

Saturday

Odds as of Saturday evening and via PointsBet, where you can bet $20 on Ravens-Bills to win $125 if Lamar Jackson completes a pass.
Ravens vs. Bills Picks
Click on a pick below to skip ahead to that analysis.
Ravens Spread
Palmer: Did you know that the Colts were the first team in NFL playoff history to gain more than 450 total yards, have zero turnovers and still lose?
While many people may see the Colts' ability to play a great and still lose to the Bills in the Wild Card Round as a reason to back Buffalo, I consider last week's game an indictment of the BIlls. The Colts did everything possible in order to lose that game, but they did roll out a game plan that I believe the Ravens can duplicate: Run the ball and keep Allen and this Bills offense off the field.
As a whole, the Bills should struggle defensively. They've lost to two of the three teams they've faced that rank in the top 10 of offensive efficiency — the Chiefs, Titans and Seahawks — and the Ravens rank 11th. And the one team that the Bills did beat recently fired their offensive coordinator, and there's a clear gap between what we're seeing from Greg Roman's offense in Baltimore and what we saw from Brian Schottenheimer on Seattle.
For me, this 2.5-point spread simply isn't indicative of reality.
For the second week in a row, the Bills are overvalued after closing out the regular season winning nine of their last 10 games, including six straight wins. My projections made the Bills a 4.7-point favorite in the Wild Card Round while the market had them at -6.5 to -7. This week my projections make the Ravens 2.5-point favorites, and given the lack of home-field advantage, I see no reason to adjust downward and give an additional edge to the Bills.
Even if I'm giving the Bills a slight edge for home field, it still works out to about a pick'em.
On the flip side, the Ravens are being undervalued for the second week in a row — my projections made them 5.8-point favorites last week. In many ways, the final score of their 20-13 win over the Titans didn't tell the whole story of the Ravens' dominance: Baltimore out-gained Tennessee in first downs, total yards, passing yards, rushing yards, yards per play, total plays and time of possession.
If that score board actually showed what we saw in the box score, we would see this line a pick'em — not the Ravens getting points.
The Bills have made a living on third down this season, ranking fourth in third-down conversion percentage (48.47%). Well, the Ravens rank second in opponent third-down conversion percentage.

With the Ravens having the better defense and the ability to run the ball and keep this Bills offense off the field, I like the Ravens in this matchup. I'll be betting them to cover, to win outright and adding them to teasers.
Bills Spread
Anderson: Have the Bills been a super team hiding in plain sight all season and we just haven't noticed yet?
They rank first in Football Outsiders' weighted DVOA, which places an emphasis on recent results, and that makes sense — Buffalo averaged 38 points per game over the second half of the season and would've entered this game on an 11-win streak if not for the Hail Murray loss to Arizona.
Buffalo's other two losses came in a weird rescheduled Tuesday game against Tennessee then the following week against Kansas City way back in October.
The Bills were always supposed to be one of the most talented teams in the NFL this year, except for that one key position: Quarterback. Then a funny thing happened: Josh Allen made The Leap.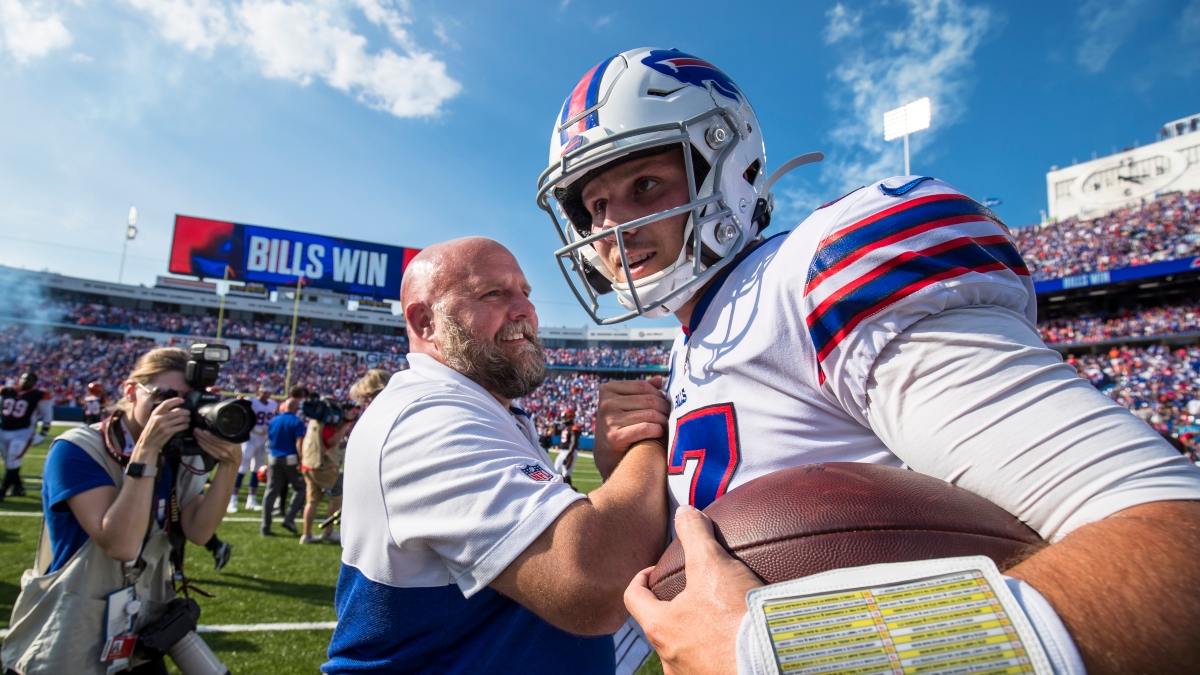 Allen is a great or elite quarterback by pretty much any available metric, and this from a guy who wasn't even a sure franchise quarterback heading into the season. Allen has done it with his legs and his arm, and he's been helped by brilliant playcalling from offensive coordinator Brian Daboll and outstanding play from Stefon Diggs, who has been about as good as any NFL receiver.
The popular narrative coming into this game is how hot the Ravens have been down the stretch. But they've done that against the Cowboys, Browns, Jaguars, Giants and Bengals, so what exactly are we getting so excited about?
The Ravens needed dazzling MVP play from Lamar Jackson to outlast the Browns over that stretch, then again last week against the Titans. Don't forget that the Titans had control of that game early on until Jackson's incredible run flipped everything.
But are we still holding onto preseason expectations with Baltimore? Look, I loved the Ravens coming into the season, too. I wondered if they might finish top five on offense, defense and special teams. I thought they would have one of the best defenses in the league and that the run game would dominate all season. And then none of those things ended up happening. Instead, they rank outside the top eight in offensive and defensive DVOA. And the defense has been vulnerable against the pass while the passing attack has been unreliable.
You know how great the Bills have looked for longer than half a season now? When have the Ravens ever looked that good this season against a quality team, for even one game? I'll wait.
Baltimore's offense has improved down the stretch, but so has Buffalo's defense. The Bills have been reliably good week after week. Even in the Wild Card Round, they gave up almost 500 yards on defense and saw their offense go 2-for-9 on third down, yet always felt in control of that playoff win. The Ravens only ever feel comfortable if they're playing as huge front runners.
I still don't trust this team in any other game scenario.
The script for a Ravens win is easy: They stick to the run and pound it down the Bills' throat, then blitz poor Allen and expose him on the other end while mostly keeping him off the field. But I don't trust the Ravens to bring the right offensive game plan, and I know Daboll will make brilliant in-game adjustments against their defense. And while I do expect the Ravens to be aggressive on defense, Allen has been brilliant against the blitz all year, and I expect him to dial up big plays downfield and hurt this defense.
This looks like a close, fun game, so I'm looking for any edge. The Bills look like the better team and have been all season. They're playing at home in front of actual fans, so that certainly can't hurt. And in the end, if it's a close game, I'm checking the quarterback and coaching one last time before making my pick. And though I never could have imagined this four months ago, I'm going with Buffalo on both of those right now.

This line is buzzing around, so I'll play Buffalo at -2.5 but will probably pass at -3 or longer. The Bills are the better team.
Under
Raybon: The Ravens defense is a supremely talented unit that's been banged up for most of the year, so I'm not taking last week's 13-point shutdown of the Titans as a fluke.
The Ravens got cornerback Jimmy Smith back last week, and adding him to an elite cornerback group that already includes Marlon Humphrey and Marcus Peters is absolutely crucial against the Bills, who have four quality wide receivers in Stefon Diggs, Cole Beasley, John Brown and "Mr. Perimeter" Gabriel Davis.
The Ravens held Josh Allen to 17-of-39 passing for 146 yards when these teams met during the 2019 regular season, relentlessly sending pressure that got home for six sacks. Allen was also limited to just 9 yards on 2 carries in that contest. There's no doubt that he's a much improved quarterback, as are his weapons, but it still serves as another reminder that Ravens defensive coordinator Wink Martindale can devise game plan that cause opponents fits.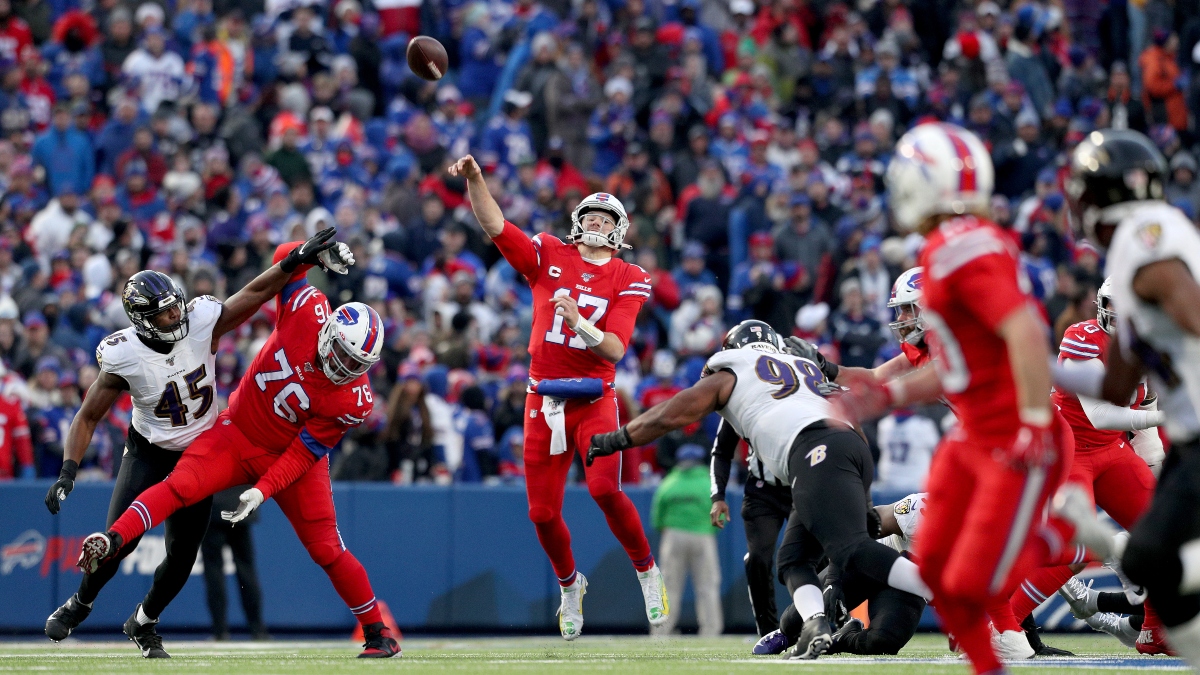 The Bills didn't play its best game last week against Indianapolis, but they are up to eighth in weighted defensive DVOA (which weights recent games more heavily) on the year. And for all the talk about Jackson's brilliance, the Ravens still scored only 20 points against Tennessee's 29th-ranked defense, and needed some of the most electric runs you'll ever see this side of Michael Vick to do so. That is not an indictment on Jackson, but rather a function of their run-heavy, slow-paced style — their situation-neutral pace of 32.63 seconds between plays is third-slowest, according to Football Outsiders.
And speaking of game plans, Sean McDermott and Leslie Fraser have already proven capable of returning the favor, as they held the Ravens to season-lows in total yards (257) and rushing yards (118) in Week 14 of last season.
Throw in the fact that the forecast calls for double-digit winds and possible precipitation, and the fact that we've seen both Jackson and Allen struggle in similar conditions this season — Jackson against the Patriots and Allen against the Chiefs — and we've got the makings of a second straight postseason under for the Ravens.
Under John Harbaugh, Ravens playoff unders are 12-5 outdoors, including 3-0 with Jackson.
For the same reasons, I also like the first half under. The Bills are 19th in first-half pace, while the Ravens rank 27th.
I like the full-game under down to 49 and the first-half under down to 24.
Lamar Jackson Over 75.5 Rush Yards (-110)
Sean Koerner: Jackson has played out of his mind since returning from the reserve/COVID-19 list in Week 13, averaging 94.3 yards a game over his past six.
The Bills' weakness has been stopping the run. In fact, their 32nd rank in second-level yards allowed (Football Outsiders) is a huge concern when facing a quarterback like Jackson, who should have no problem getting to the second level (5-10 yards past the line of scrimmage). The Bills were also the fifth-worst in missed tackles, and I'm not sure they'll answer for Jackson here.
The potential for snow and/or wind should only enhance his rushing upside. I would bet this up to 79.5 yards.
Josh Allen Under 2.5 Pass TDs (-155)
Koerner: Allen has thrown for three or more touchdowns in six of 17 games (35%), but we have to remember that his ability to run in a score (eight this season) comes at the expense of his passing production.
The potential for snow and 15-20 mph winds combined with the Ravens' trio of cornerbacks should slow down Allen. The Ravens have allowed only one opposing quarterback to throw for three touchdowns this season (Patrick Mahomes).
I have the under for this prop priced at -210 and would bet it down to -175.
How would you rate this article?