Freedman's Favorite Super Bowl 53 QB Prop Bet: Will Brady or Goff Have a Pass, Rush & Reception?
Credit:
Cary Edmondson-USA TODAY Sports. Pictured: Tom Brady
Matthew Freedman continues his series featuring one of his favorite prop bets for each day of 2019.
He looks to Super Bowl 53 and highlights his favorite quarterback prop bet for the big game on whether Tom Brady or Jared Goff will have a pass, rush and reception.
Each day, I publish at least one quick-n'-dirty piece highlighting a favorite prop of mine.
For more information on my research process and the resources I use, see the master list of my 2019 prop bets.
2019 Year-to-Date Record
20-18-3, +9.34 Units
Golf: 2-3-1, -0.70 Units
NFL: 5-5-0, +6.83 Units
NBA: 7-6-0, +0.50 Units
NHL: 6-3-2, +3.71 Units
NCAAF: 0-1-0. -1.0 Units
Freedman's Favorite Super Bowl 53 Quarterback Prop Bet: Will a Quarterback Have a Pass, Rush & Reception?
I love this prop. Absolutely love it.
It was just last season in Super Bowl 52 that we witnessed a 1-yard touchdown reception by Eagles quarterback Nick Foles on the famous Philly Special. We also saw the Patriots target quarterback Tom Brady on a similar play.
Because of those plays — and also because people tend to have the perception that in the Super Bowl teams empty their bag of trick plays because it's the end of the season — this line is off.
I think there's very little chance we see a quarterback catch a pass in Super Bowl 53.
This prop will almost certainly come down to whether Brady or Jared Goff makes a reception — but there's also the possibility that one of these guys won't record an official rush.
Let's start there.
Neither Brady nor Goff is mobile. We're likely to see a quarterback kneel in the game, and it's probable that either Brady or Goff at some point will scramble. But it's not a lock that these quarterbacks will rush the ball.
Goff hasn't registered a rushing attempt in three of his 34 starts (8.8%) with head coach Sean McVay (including playoffs). And Brady has failed to record a rush in 48 of his 306 career starts (15.7%).
There's a small but real chance that neither Brady nor Goff will run the ball on Sunday.
Our FantasyLabs Props Tool projects Brady for only 1.4 rushing yards and Goff for 7.0. It's not a stretch to think that both could finish with zero.
But really this prop is about whether Brady or Goff will catch a pass.
In his 306 starts, Brady has just four targets and three receptions. And one of those targets came all the way back in 2001.
Granted, the three remaining targets have all come since 2015, and two of them have come within the past 12 months. But if anything, those targets should have illustrated to the Patriots why they shouldn't use Brady as a receiver.
In Super Bowl 52, Brady failed to catch his wide-open target on a key third down. In Week 10 this season, Brady caught his third-down target but stumbled over himself and fell short of the first-down marker.
The Pats lost both games.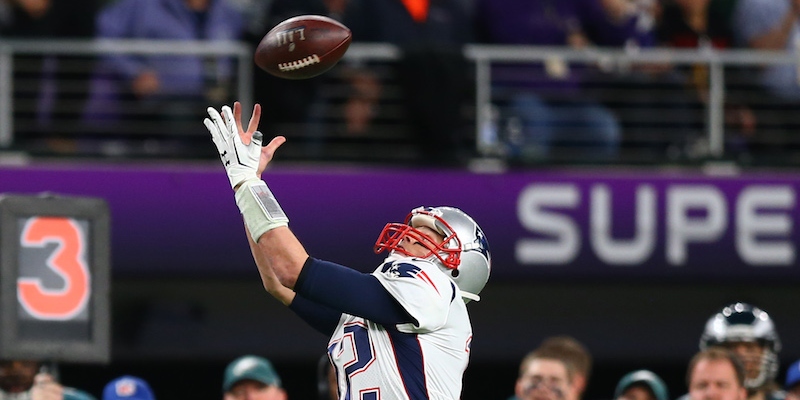 The Patriots probably realize that it's best not to use Brady as a receiver. They're 2.5-point favorites on top of that, and if they get out to a lead they seem less likely to risk an injury to Brady on a trick play.
As for Goff, he's been targeted exactly zero times in his career.
And finally, both teams should be more than prepared for a quarterback-as-receiver trick play: The Patriots lost a Super Bowl last season in part because they allowed a touchdown on such a play, and the Rams have film of the Pats running that type of play twice in the past year.
It's highly doubtful that either quarterback will be targeted. And even if one is, that doesn't mean he'll actually catch the pass.
At -400 odds on "No," there's an implied probability of 80% that neither quarterback will have a pass, rush and reception in the game. Given that Goff has no career receptions and Brady has caught a pass in less than 1% of his starts, I'd expect not to see a quarterback reception at least 95% of the time, and that's conservative. Probably more like 98.5%.
Of course, when one of these quarterbacks randomly catches a ricocheted pass of his that has been batted back to him by a defender, I'm going to lose my vacation money.
I bet this at -400. I'd probably bet this all the way to -1200.
The Pick: No (-400)
Freedman's Super Bowl 53 Prop Bets
For more insight on Super Bowl props, use the FantasyLabs Props Tool to help you find the sportsbooks that offer the most value on player props. In the tool, we grade each prop on a 1-10 scale. Since Week 1, the props with a bet quality of at least eight have a 57.9% win rate.
Here are the Super Bowl 53 props I've written about so far.
---
Matthew Freedman is the Editor-in-Chief of FantasyLabs. He has a dog and sometimes a British accent. In Cedar Rapids, Iowa, he's known only as The Labyrinthian.
How would you rate this article?