Our Experts' 8 Favorite Super Bowl Bets for Chiefs vs. 49ers
Credit:
William Purnell/Icon Sportswire via Getty Images. Pictured: Patrick Mahomes (15)
Eight of our NFL experts highlight their favorite Super Bowl 54 bets, featuring props and more picks for Sunday's showdown between the Chiefs and 49ers.
The over/under on Jimmy Garoppolo's passing yards. The total yards of Damien Williams' first rush attempt. Whether one team will score three straight times.
We've been breaking down all of our Chiefs vs. 49ers picks for the past two weeks, but now that it's Super Bowl Sunday, it's time to focus in on the best ones.
Eight of our NFL experts picked out their favorite Super Bowl 54 bet to highlight below. Let's dig into their analysis.
Super Bowl Bets: Chiefs vs. 49ers
---
Odds are as of Sunday morning and via various legal mobile sportsbooks in NJ, PA, IN and WV, where you can find special promos for the big game.
---
Sean Zerillo: Second Half to Outscore First Half (-110)
The second half has seen more scoring than the first half in 17 of the past 20 Super Bowls (85%), tying first-half scoring on one occasion.
Teams are generally more conservative in the early stages of championship games, and we've seen the Chiefs come out slowly throughout these playoffs. I also expect the 49ers to try to establish their running game early, and continue on if they have success, which should help to chew up some clock.
Once a lead is established, things begin to open up — but that typically isn't until the later stages of the Super Bowl.
I bet this prop at -160 last year, and while it's currently priced around -160 at many shops, you can still bet it in the -105 to -120 range at bet365, DraftKings, and PointsBet as of writing. I would bet it up to -141, that's an implied probability of 58.5% — and a 3% edge over the rest of the market at -160 (implied 61.5%).
Mike Randle: Jimmy Garoppolo Under 240.5 Passing Yards (-112)
If San Francisco is going to win this game, it will not be on the strength of Garoppolo's arm.
Garoppolo has failed to reach this passing yardage total in four of the 49ers' past seven games, and has 208 total passing yards in their two playoff games combined. Look for them to take advantage of Kansas City's fourth-worst run defense per Football Outsiders' DVOA, thus avoiding the Chiefs strong pass defense.
The Chiefs recorded the fourth-most interceptions (16), while allowing 10th fewest passing yards this season. They're also superb at limiting opposing wide receivers, ranking second-best in fantasy points allowed to the position. They also generated 45 sacks on the season, and defensive end Frank Clark leads all pass-rushers with four sacks in the playoffs.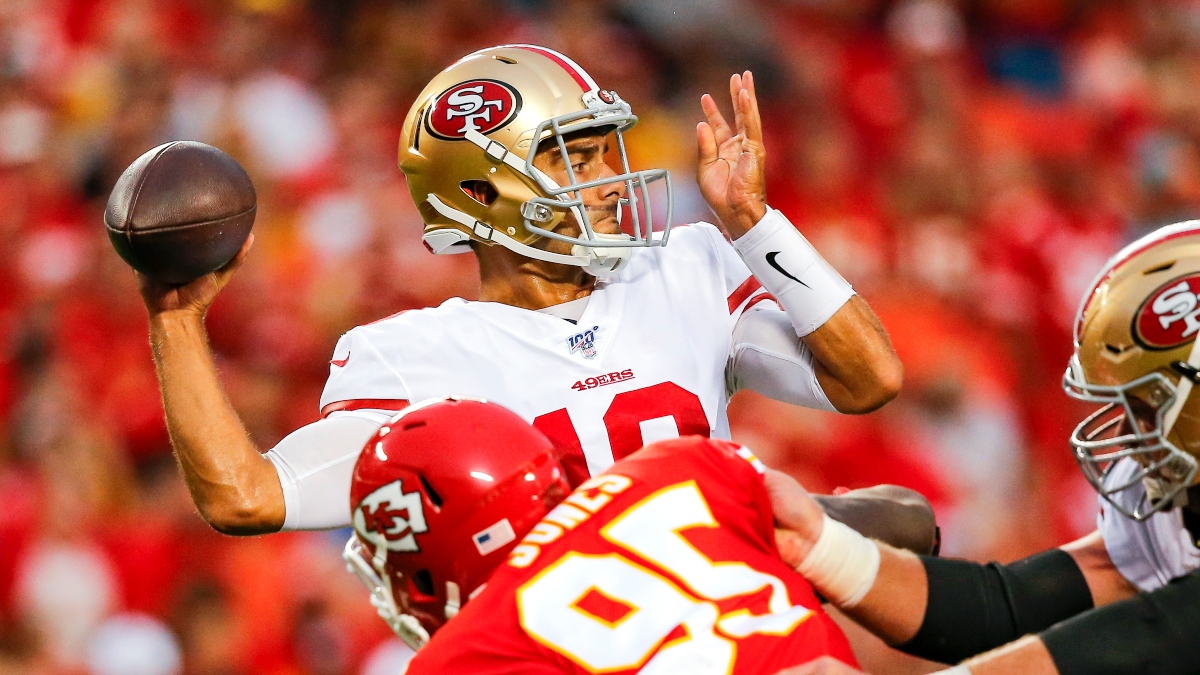 The over/under suggests a high-scoring game, but that doesn't necessarily equate to a high passing yardage total for Garoppolo.
[Bet now at FanDuel. NJ, PA, IN and WV only.]
Chris Raybon: Damien Williams First Rush Under 3.5 (-139)
Why bet under 3.5 rushing yards for a player who averaged 4.5 yards per carry during the regular season? This is a case when the mean (aka average) and median are at odds.
Sure, Williams averaged 4.5 yards per carry (4.2 including postseason), but that figure is inflated by two outlier gains (91 and 84 yards).
His median (or 50th-percentile outcome) is 3. Of course, this is not a bet with even odds, so we're really looking to get a sense of his 59th-percentile outcome (-139 implies a 58.8% probability). In looking at Williams' 139 carries this season, 87 (or 62.6%) went for three or fewer yards, which is well above the 59% threshold.
I'd also consider the 49ers a matchup downgrade. They have elite talent all along their defensive line with Nick Bosa, Arik Armstead and DeForest Buckner. The Chiefs offensive line, meanwhile, is better at pass-blocking than run-blocking, which makes sense given the makeup of their roster. Right tackle Mitchell Schwartz is their only starter who ranked higher than 30th at his position in Pro Football Focus' run-blocking grades.
I would bet this up to -163 (62% implied probability). I also outlined more props I like in my full matchup analysis.
[Bet now at PointsBet. NJ only.]
Matthew Freedman: Williams Over 15.5 Fantasy Points (-112)
If you have access to DraftKings, stop whatever you are doing and bet this line. If you don't, stop whatever you are doing and get to somewhere you can access DraftKings.
Treat this line like the rusty nail it is and hammer it as hard as you can.
Williams has played 90.9% of the offensive snaps for the Chiefs in the 2019-20 playoffs, and I expect that he will continue to dominate touches for the backfield in the Super Bowl.
In his 10 Chiefs games with a snap rate of at least 60%, Williams has a median of 27.9 DraftKings points. In that sample, he has gone over 16.5 points in every game but one.
I bet the over at 15.5, but like this up to 18.5 — and for context on just how much I like this prop, check out the other 35-plus props I've highlighted over the past two weeks.
[Bet now at DraftKings. NJ, PA, IN and WV only.]
Stuckey: Kyle Juszczyk Over 9.5 Receiving Yards (-120)
It might sound crazy on the surface to back a guy who got zero targets in two playoff games and caught only 20 passes over 14 games this season, but I think he could play a minor role in the 49ers' passing attack.
Hear me out.
The full-season reception numbers for the Harvard product are skewed downward as a result of how a majority of the 49ers games played out this season: They were able to simply rely on their rushing attack to put teams away early most week. And that's exactly what happened in their first two postseason wins, which is why Garoppolo's numbers look so pedestrian. But if you focus only on the subset of games in which San Fran had to throw more, Juszczyk had much more receiving production.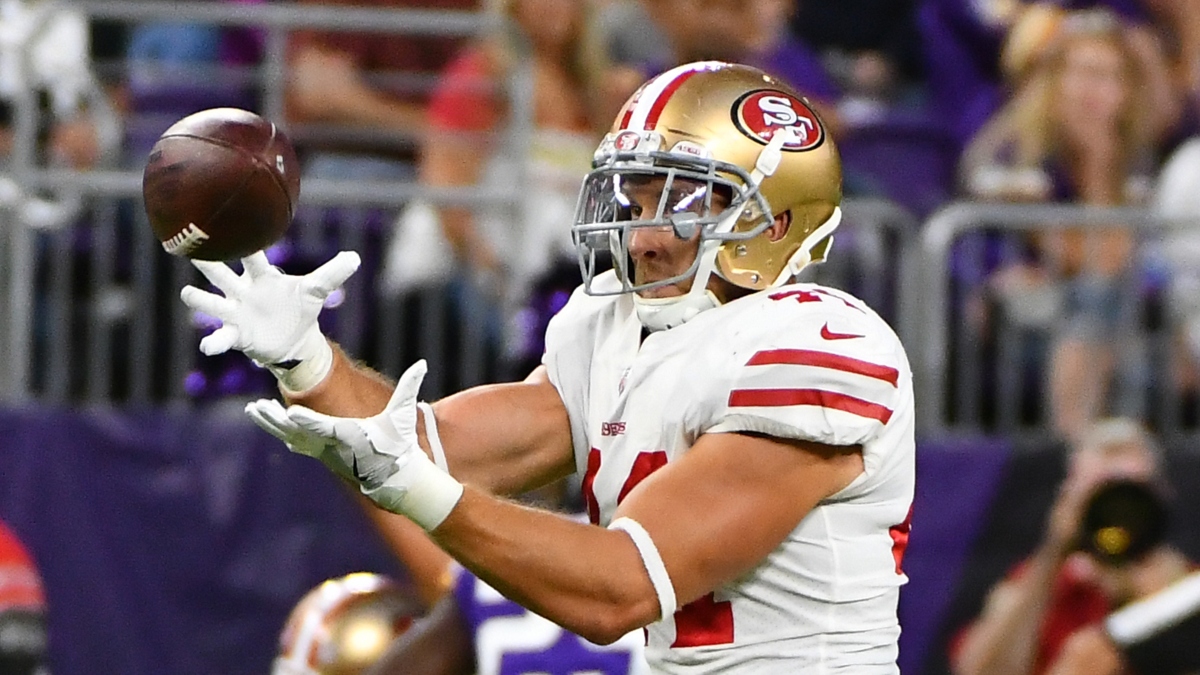 After removing the games Juszczyk missed due to injury, the 49ers played in eight that featured at least 40 points and were within one possession in the fourth quarter — both reasonable expectations for the Super Bowl. And in those games, Juszczyk had 17 catches for 214 yards.
That's an average of 2.1 catches and 26.8 yards per game.
I don't think this will be a matchup in which the 49ers can simply run the ball en route to an easy, blowout victory as we saw in their first two playoff games. I expect this game to be close throughout, and for Jimmy G to throw quite a bit.
If you're interested in other ways I'm playing the big game, check out my full betting card.
[Bet now at PointsBet. NJ only.]
Sean Koerner: Demarcus Robinson Under 26.5 Receiving Yards (-189)
This is my prop of the game as I have it hitting at a 69% rate at this number. Most books are offering this number at 20.5 or higher, and while I like the under at all prices, make sure you take the best number possible.
One reason I've been bearish on Robinson in my models of late is due to the recent increase in usage of Mecole Hardman. From Weeks 14-16, Robinson averaged 70% routes run per quarterback drop back compared to Hardman at 13%. But over the past three games, that split has become Robinson 47% vs. Hardman 37%. I have to believe that this may be partially due to Robinson dropping three catchable passes from Patrick Mahomes in the Divisional Round. It could be the reason Hardman finally out-snapped Robinson on pass plays in the AFC title game.
All that said, I have Robinson regaining his role and out-snapping Hardman with a 50% routes run rate this week and still see value on the under here.
I initially highlighted this prop at -125 juice, but even at -189, my calculations still indicate an edge. If your book is offering different numbers, be sure to plug them into my player prop calculator to confirm there's still an edge for you, too.
[Bet now at PointsBet. NJ only.]
Evan Abrams: Deebo Samuel Under 17.5 Rushing Yards (-167)
Now this is as fun as it gets, folks. A WR to rush for fewer than 17.5 yards in the Super Bowl.
In 2019-20, Samuel has recorded 208 rushing yards on 17 attempts, including three attempts for 49 yards in the playoffs and 12 attempts for 171 yards over his past seven games.
Against the Chiefs, I believe the 49ers will have enough success with their two to three true running backs on the ground that Samuel executing a WR rush in motion may not even be in the cards more than once depending on the flow of the game.
Samuel is -250 to have a rushing attempt and he's had at least one attempt over his past seven games dating back to Week 13. Normally, I am more of a plus-money, underdog player, but I think there's value in the adjusted under and for Samuel to actually have a rush at -250, as I still believe the 49ers are the right side and they will keep it to the ground.
[Bet now at PointsBet. NJ only.]
John Ewing: Will Either Team Score 3 Straight Times? Yes (-220)
Per DraftKings, this prop excludes extra points and two-point conversions. For example, a "yes' bet would cash if the Chiefs were to score a touchdown, kick a field goal and score a touchdown without the 49ers scoring in between.
At -220 odds, the implied probability of "yes" hitting is 68.7%. Using the Bet Labs database, there have been 186 NFL Playoff games since the 2003-04 season. In 120 of those games at least one team has scored three straight times, or in other words, bettors wagering on "yes" have won 64.5% of the time.
Since 2003, there have been 36 playoff games with an over/under of 50 or higher, and a team has scored three straight times in 25 of them (69.4%). In games with over/unders of 55 or more points, "yes" has gone 10-2.
Chiefs-49ers total is at 53.5 and our model projects the teams to combine for 56.3 points on average.
With oddsmakers and our simulations expecting a shootout, it's shaping up to be another promising year to bet "yes" on this prop. I like this to -300.
How would you rate this article?
This site contains commercial content. We may be compensated for the links provided on this page. The content on this page is for informational purposes only. Action Network makes no representation or warranty as to the accuracy of the information given or the outcome of any game or event.