Super Bowl Prop Bets: MVP, First Touchdown, Plus 5 Player Props for Chiefs vs. Buccaneers
Credit:
Rob Carr/Getty Images. Pictured: Chiefs WR Sammy Watkins
I don't see any value in the pre-game Super Bowl spread, as I project this right at Chiefs -3 after giving a very small quarter-point bump to the Buccaneers for home-field advantage. It should be a fascinating chess match on both sides of the ball.
You will hear about this game ad nauseam over the next few days, so I won't go too deep into the high-level matchup. Instead, here is a shortlist of the specific things I'm watching out for:
The health of Buccaneers wide receiver Antonio Brown and Chiefs WR Sammy Watkins.
How productive Vita Vea can be in his second game back from injury.
Andy Reid's game plan: Specifically, how he plans to compensate for the mismatch up front with all of Kansas City's offensive line injuries.
On a related note, how mobile is Patrick Mahomes with his toe injury?
Will Tampa Bay defensive coordinator Todd Bowles be as aggressive as usual with the blitz?
Also, how will Bowles choose to cover Travis Kelce and Tyreek Hill?
Will Tampa Bay come out slinging it through the air, or try a more run-heavy, ball-control script early on?
What new wrinkles Chiefs defensive coordinator Steve Spagnuolo cooks up for the Kansas City defense.
I will elaborate on how I believe this game will play out as part of my discussion for my six favorite Super Bowl 55 prop bets. But first, let's start off with a live betting plan of attack and a few darts I threw at first touchdown and MVP.

---
Skip to: Props | MVP | First TD | Live Betting
---
Live Super Bowl Betting Angle
Hope for another slow start
I won't have a play on the side or total, unless I can get an over 54.5 (-110) at some point (check real-time odds here). But if we do get another slow Super Bowl start, I will be hunting for a good live over opportunity — ideally at 51 or lower.
During the past 20 years, we have witnessed teams get off to extremely slow starts in the Super Bowl. Since 1999, the average total points in the first quarter of the "Big Game" has been just 6.41 points. That's over two points fewer than the average of all first quarters over that same time period. Amazingly, teams have combined to score 10 or more first-quarter points only three times in the last 22 Super Bowl games. In contrast, the other three quarters have each averaged more than their respective overall averages.
Could it simply be meaningless noise in a two-decade sample size? Absolutely.
However, the same trend applies to conference championship games. Still, it's meaningless without causation. So, is there any sound logic to support why this would occur? I can think of two specific reasons:
Nerves. Quarterbacks might start out a little skittish and uncharacteristically miss a few throws until they settle in. They also might begin the game with a more conservative mindset — hoping to avoid an early mistake in such a big game.
The Feeling-Out Process. With two weeks to prepare for the highest-leverage game of the season, teams have historically come out with completely new looks and schemes. It may take a drive or two for the offenses to figure out what the opposing defenses are doing and to adjust accordingly.
Could those explanations just be nonsensical narratives? Sure; but, those do at least make sense to me. In fairness, I'm not sure that the first explanation (nerves) holds as much water this year with two past Super Bowl-champion quarterbacks. Neither Brady nor Mahomes will be afraid of the big stage.
Although, during Brady's nine Super Bowl appearances, there has been an average of only 3.0 points scored in the first quarter. Seven of Brady's nine championship games have featured three points or fewer scored in the first quarter — and only one of Brady's Super Bowl games has gone over 10 first-quarter points (12).
Of course, that first-quarter trend could be more reflective of Brady's past Patriots teams — rather than descriptive of Brady himself —  which is a fair rebuttal.
But ultimately, I'm not taking the risk; instead, I'll be targeting a live over at a price point where I see value. Some have asked me, "Why not just play the first quarter (or first half) under?" It's a great question; but, there's a chance that the previous trends are statistical anomalies — and moreover that the betting market has priced them into the first-quarter and first-half totals.
Even if we get a slow start by pure chance, there are a few other reasons I may fancy a live over (depending on the number, of course). I don't think the Chiefs will try running the ball much at all, especially from behind. And let's be honest, Kansas City could easily come back from a three-score deficit in the first half (which we witnessed last year). Even a second-half 17-point deficit isn't out of the question. And with a lead, I'm not sure that Kansas City can or will attempt to rush as frequently as usual late in the game against such a dominant run defense and potent offense on the other side.
I'll also be on the lookout for a worthy price on Kansas City live if they get down early.


First Touchdown Pick
Mike Evans +800 at DraftKings
Generally speaking, this is a bad market to bet into in my opinion. I really only get involved with first touchdown props twice a year — the college football championship and the Super Bowl — primarily just for action and a fun sweat.
For this game, I do think there's a better shot that the Bucs start with the ball, as they elected to receive late in the regular season (they didn't win any coin tosses in the postseason), while the Chiefs typically defer. Tampa still may elect to defer — as it did earlier in the season — but I there's a greater than 50% chance that the Bucs receive the opening kickoff. Therefore, I'm more than happy to roll with Mike Evans — Brady's favorite red-zone target — to be the game's first touchdown scorer.
I also took a longer shot with Sammy Watkins, because I wanted at least one dart if Andy Reid's bunch finds pay dirt first.
I'm assuming (read: hoping) that Watkins will start and play at or near 100%, but that's certainly not a guarantee. I also assume Tampa will try to do everything it can to contain Travis Kelce and Tyreek Hill. I'm not sure that's possible; but with all of the likely extra attention on those two, Watkins could have a field day underneath and over the top in certain spots — especially if the Bucs can get pressure and if Mahomes isn't 100% mobile.

From a narrative perspective, Watkins didn't play in the first two playoff games after taking a pay cut prior to the season in order to stay with the Chiefs. I could see KC returning the favor and drawing up something for him early — especially since it could also make sense strategically with all of the potential focus on Hill and Kelce.
---
Super Bowl MVP Bet
Tyreek Hill +1200 at DraftKings
Again, similar to the first touchdown props, these are smaller bets for me — just for added action on the Super Bowl where we all let our inner-degenerate out in some ways.
In regards to the Super Bowl MVP award, we haven't seen a running back win since Terrell Davis took home the trophy in 1998. Since then, quarterbacks have dominated, winning 14 of the last 22 MVP awards (Brady has four of those). The other eight MVPs have been split evenly between defenders and wide receivers.
I don't foresee either defense taking over the game like we saw 20 years ago when Ray Lewis won the award after the Ravens suffocated the Giants offense. That doesn't mean a defender can't win MVP, but it would probably take an abundance of good fortune, being in the right place at the right time and hoping the oblong ball bounces a certain way. I have no inclination who that could be and no desire to take a stab at a super long shot in what will likely be a higher-scoring game.
Plus, with two household names at quarterback, it's hard to envision either Tom Brady or Patrick Mahomes not winning Super Bowl MVP, which is a subjective award. That said, I don't see much of an edge betting either. And again, I personally approach the MVP market as an entertaining sweat.
Ultimately, I make the Chiefs a 3-point favorite and think they find a way to pull this out, so I went with the only player besides Mahomes I can realistically see winning it: Tyreek Hill.
Hill is in an intriguing option for a few reasons.
1. You can't really run the ball at all against Tampa stout defensive front, especially with the tremendous Vita Vea likely in much better game shape. Therefore, I don't expect the Chiefs to get much on the ground with a traditional rushing attack, especially with a banged-up offensive line.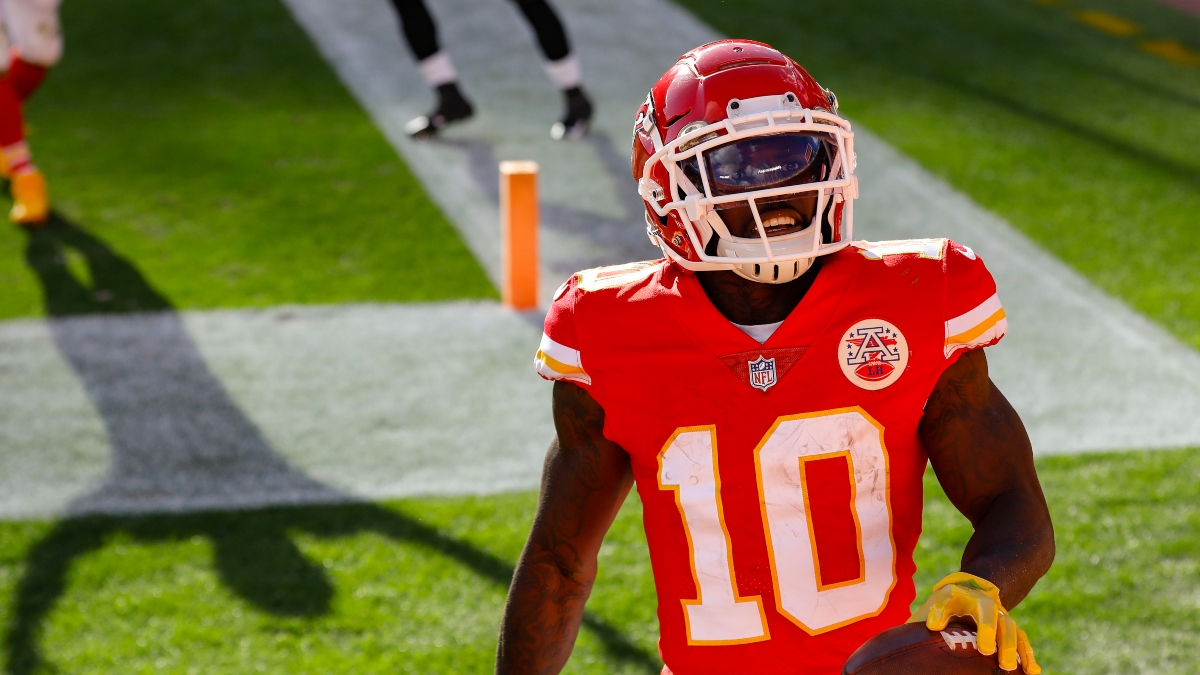 As a result, I expect Andy Reid to use a more non-traditional rushing attack with Hill and/or MeCole Hardman by utilizing screens, shovel passes, jet sweeps, quick sweeps, reverses, etc. That will not only keep the Bucs' defense honest, but could capitalize on their aggressiveness — Hill could easily break a long run or simply score a rushing touchdown near the goal line (which wouldn't help Mahomes' stats).
2. When it comes to the passing game, nobody in the league can really cover Hill. The Cheetah may be primed for another huge game against a secondary that also usually plays very aggressive on the back end. I mean Hill had more than 200 receiving yards and three touchdowns in the FIRST QUARTER when these teams met in Week 12.
3. Lastly — and this is more of a longshot — but maybe Andy Reid could throw Hill back to return a punt in a key situation. After all, this is the Super Bowl, and the Chiefs punt return unit has been underwhelming this season (29th in Football Outsiders DVOA). Hill did return nine total punts in the playoffs between 2017-19 and scored touchdowns on four of his 86 career regular-season punt returns.
If Hill ends up taking one to the house against a poor Tampa punt coverage team, he'd certainly be in contention if he also puts up big offensive numbers.
Four of the past 16 Super Bowl MVP winners have been wide receivers, which makes sense in today's pass-heavy league. Considering Hill could also contribute in a major way in the modified "rushing" attack — and maaaybe, just maybe on special teams — I couldn't pass up throwing a dart here.
You could argue for Kelce in a similar price range if he has a monster day at the office, but he only really contributes in the passing game. It's hard to see Mahomes still not winning in that scenario.

I also threw a smaller dart on Sammy Watkins. It's difficult for me to come up with how he would win it for the same reasons I just mentioned with Kelce, but I couldn't help myself from throwing a few pesos on 80-1 for fun.
---
Super Bowl Prop Bets
Okay, it's finally time to dive into my favorite Super Bowl props.
Keep in mind this is a decentralized market, which means you can find drastically different prices on props at different shops. That's why it's so important to have multiple outs. Make sure you do your due diligence and find the best price available to you before you put any money down. Fortunately, we have a great tool that can help you with that search.
Scotty Miller Under 20.5 Receiving Yards (-105)
This obviously isn't for the faint of heart, as it could lose on one play. However, this number is simply too high as a result of recency bias since Miller has hauled in a few big catches this postseason.
Let's look at the entire season where Miller played in 19 games, including the playoffs. He would've gone under this total 11 of 19 times. And that includes a number of games when Tampa's receiving corps was not at full strength, which I expect them to be here.
Yes, I'm assuming that Antonio Brown will be available after getting three weeks of rest for his knee. And don't forget about the very capable Tyler Johnson. For what it's worth, Miller had zero catches and one target on 11 snaps against the Chiefs earlier this year in a game Brady threw it 41 times in comeback mode.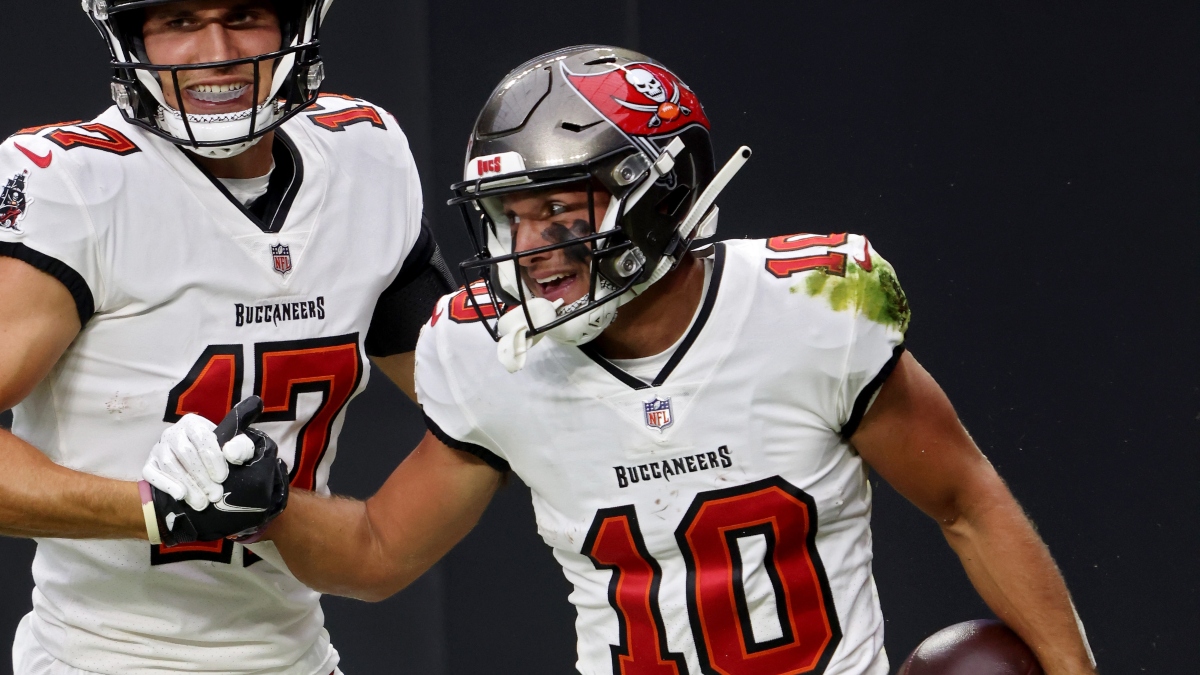 Again, shop around! I've seen this prop priced anywhere between 14.5 and 20.5, though it's available at 20.5 with -105 juice at FanDuel as of Thursday. I would play it down to 17. I also played his under 1.5 catches at higher juice — that under also would've cashed in 11 of his 19 games this season.
Ronald Jones Over 8.5 Rush Attempts (-112)
Speaking of recency bias, Leonard Fournette is getting all of the love and publicity among Bucs running backs after a few breakout games. "Playoff Lenny" has averaged more than 100 yards from scrimmage and one touchdown in three games this postseason.
I actually think that's created value on Jones' overs against a Kansas City defense that ranks 31st in rush defense DVOA. Jones missed the Wild Card Round after suffering a pre-game quad injury, but got 21 and 18 snaps in the Divisional Round and NFC championship, respectively. He also had double-digit carries in both games.
I think this line should be set closer to 10.
Plus, It would not surprise me if Tampa uses a heavier rush-script early on to exploit Kansas City's weak run defense and keep Mahomes on the sidelines. Ultimately, I wouldn't be shocked in the least if Jones finishes with about the same rushing workload as Fournette.
DraftKings is offering the best line as of Thursday night, with the over 8.5 priced at -112.
Leonard Fournette Over 3.5 Receptions (-138)
While I do think Fournette is getting too much love in the rushing prop market, I don't think he's getting enough when it comes to catching balls out of the backfield. He's the clear pass-catching option for Tampa Bay right now — Jones has only had one target in his past three games combined.
It's true that Fournette had at least four catches in only three of the 11 regular-season games he played at least 10 snaps in, but he's being utilized in the Bucs' revamped short passing game much more frequently of late — he's cleared this 3.5 reception hurdle in all three playoff games with totals of four, five and five.
Plus, this is an ideal matchup against a Chiefs' pass defense that ranks 31st in DVOA against opposing backs. I also expect defensive coordinator Steve Spagnuolo to blitz at a high rate, which would lead to more opportunities for Brady to check it down to Fournette.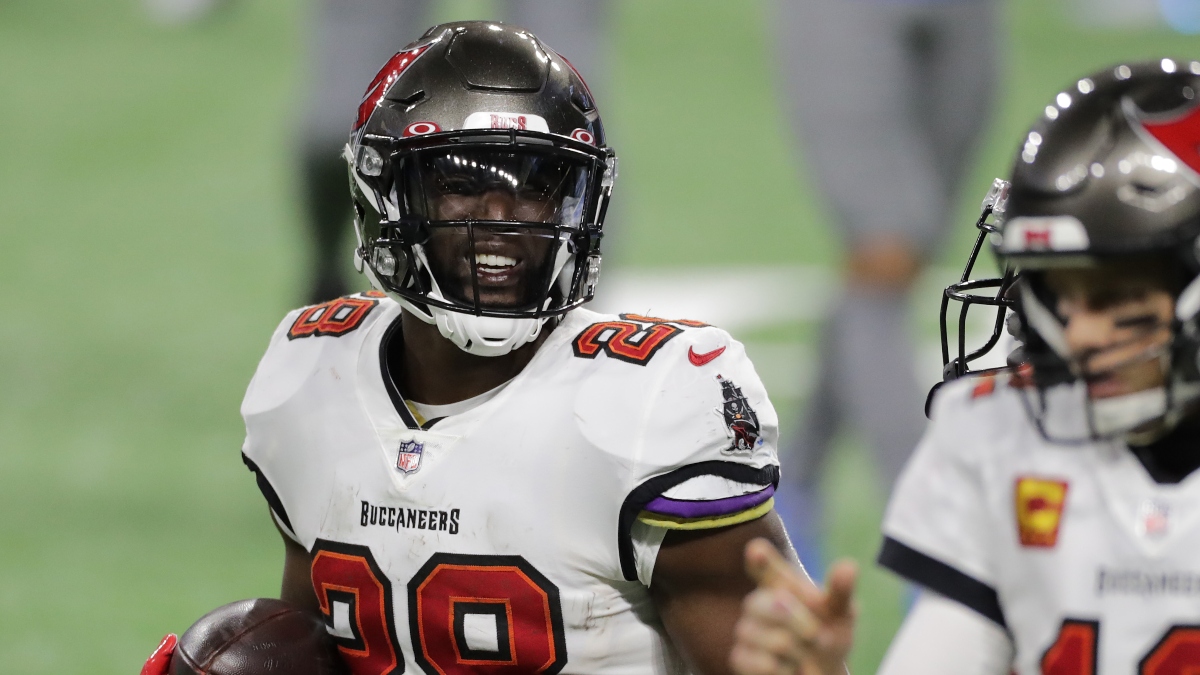 In 18 games this season, the Chiefs have allowed opposing backs to catch 95 passes on 126 targets for 820 yards — that's a single-game average of 5.3 receptions on 7.0 targets for 45.5 yards.
It's hard to imagine Fournette not getting almost every running back target. Plus, I'm fairly certain most of Kansas City's attention on defense will, as usual, be focused on slowing down Tampa Bay's dangerous weapons on the outside.
I like this up to -150 — and you can get it at -138 at FanDuel as of Thursday night (find the best real-time line). My podcast co-host Chris Raybon, who has much more props expertise, projects Fournette to finish with 4.5 catches.
Let's just hope that we can avoid the drops that killed our Devin Singletary and Chris Godwin props. Maybe Lenny could even haul in a miraculous one-handed catch to get us to four catches on the last play of the game to make up for our loss on Jimmy Graham against the Saints. Yes, I'm still bitter.
Darrel Williams Under 8.5 Rushing Attempts (-134)
We have another inflated number here due to recency bias.
Williams has had 13 carries in each of Kansas City's two playoff games, but 11 of his 13 carries were the final carries of the game in a run-the-clock out script against Buffalo's much weaker run defense in the AFC Championship, 10 of which came in the fourth quarter. And more than half of his carries in the Divisional Round against Cleveland came after Mahomes left the game.
Williams had more than 8.5 rush attempts in only 3-of-16 regular-season games. And much like the first meeting against the Bucs, when Mahomes threw the ball 43 times over the first three quarters, I don't expect the Chiefs to even try too many traditional runs against the NFL's top rush defense.
Not only do I think the Chiefs use their receivers more in the run game, I think the speedier Clyde Edwards-Helaire has a much better shot of success on the ground from a matchup perspective. And hey, maybe Le'Veon Bell will steal a carry or two, although I'm not counting on any from the ex-Jet who may not even suit up.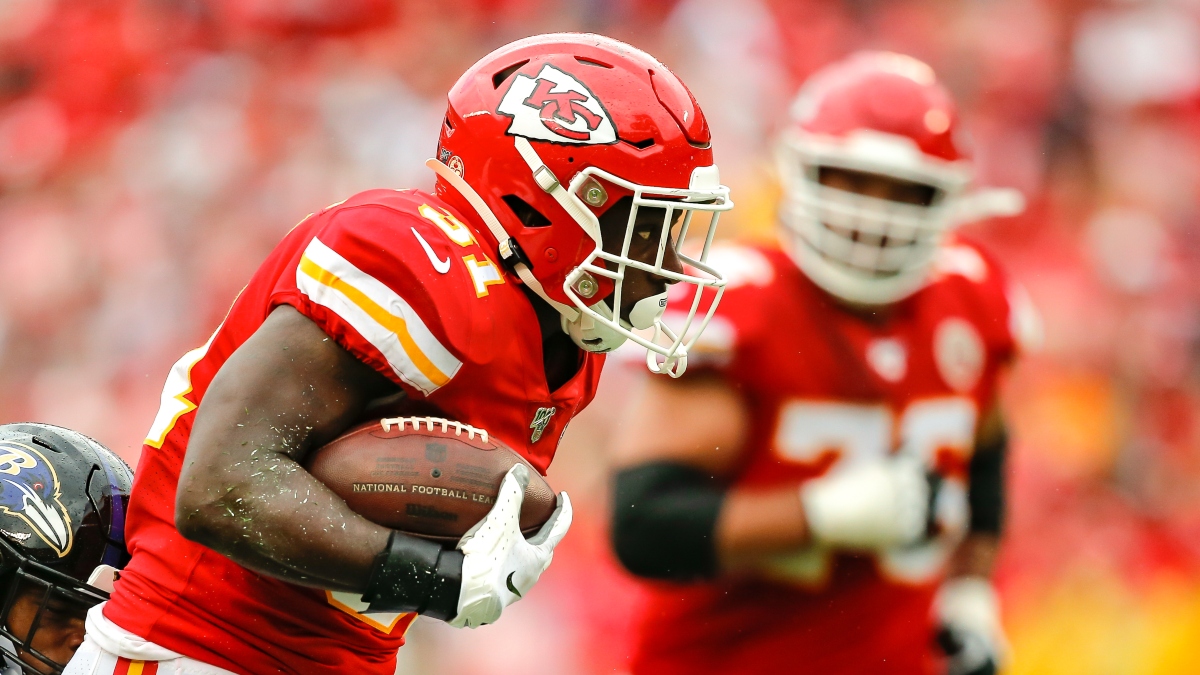 Yes, there's a game-script scenario in which this could get messy late if the Chiefs have a big lead, but I think the Chiefs could even stay more aggressive than usual against the Bucs' superb run defense.
DraftKings is offering the best line as of Thursday night.
Sammy Watkins Longest Reception Over 17.5 Yards (-106)
I could be wrong that Watkins will be ready by Sunday, and he may not suit up or simply be used as a decoy, but I was willing to take on some Watkins exposures after weighting the risk.
There's also uncertainty surrounding DeMarcus Robinson, who was placed on the COVID-19 list this week, which at the minimum kept him out of practices.
Watkins has been extremely productive in the playoffs during his stint in Kansas City. In five playoff games with the Chiefs, he has 24 catches on 34 targets for 464 yards — that's an average of nearly five catches for 100 yards, which almost exactly mirrors his stat line in last year's Super Bowl (five for 98). Remember he also had seven grabs for 114 yards in last year's AFC Championship against the Titans.
That production also includes plenty of big-plays. Just take a look at his longest receptions in his five postseason games with Mahomes: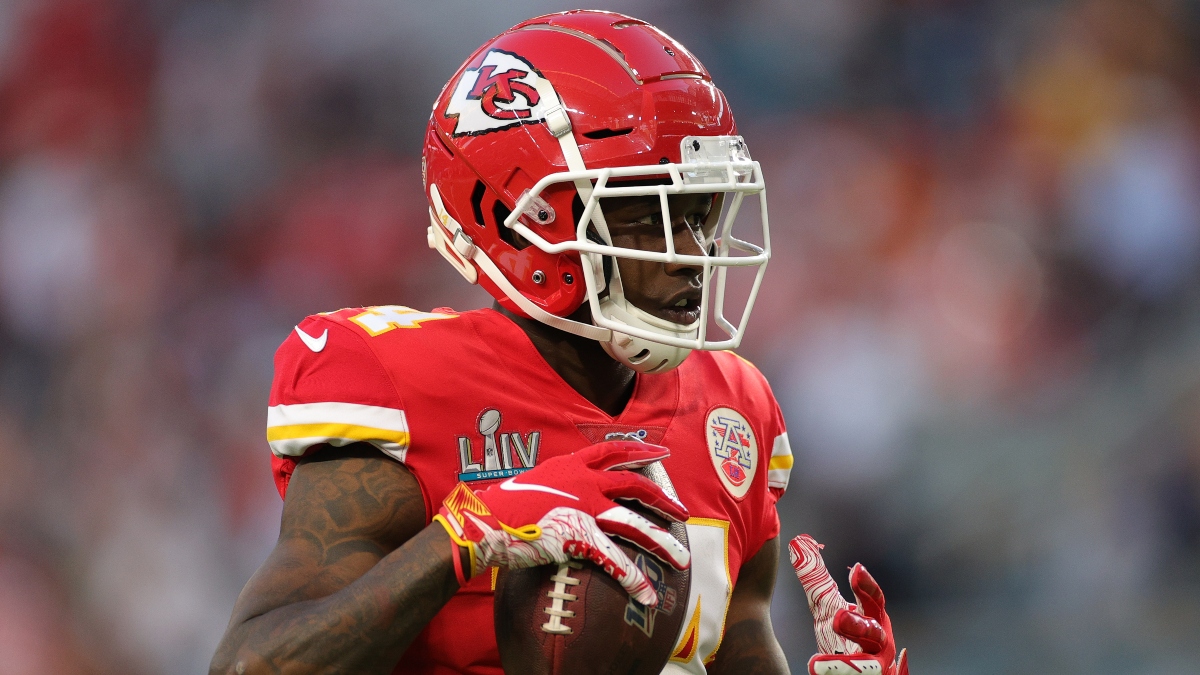 With all of the attention on Hill and Kelce, things could really open up in the intermediary part of the field where Tampa is generally most vulnerable.
Additionally, No. 2 receivers had field days against the Bucs in all three NFC playoff games:
Packers WR Marquez Valdes-Scantling: 4-115-1 (long 50)
Saints WR Tre'Quan Smith: 3-85-2 (long 56)
WFT WR Cam Sims: 7-104-1 (long 36)
Watkins "yes" and over props have value as a result of the uncertainty surrounding his health. Personally, I believe the market is pricing him too conservatively, which is why I also played over 36.5 total receiving yards.
You can find this over 17.5 (-106) line for his longest reception at DraftKings as of Thursday.
Under 11.5 Penalties
Penalties decreased across the this season to about 11 per game. That decline has been even more precipitous during the playoffs, where we already usually see a reduction in flags with officials are more reluctant to throw them to decide a game, especially on the NFL's biggest stage.
There have been an average of only 10.3 penalties per game in Super Bowl history.
Also, based on what I've observed, there's a chance the league has communicated to the officials to be more lenient this postseason. I know that's only a theory based on a small sample lie, but the decrease in penalties has been drastic. So far this postseason, there has been an average of only 8.1 penalties per game with total penalties going over 11.5 just once in 12 games.
I do prefer this to going under on penalty yards given how often both teams throw down-field, which could lead to one or two extremely long penalty yard plays. And hey, if this loses, we get to at least scream about how much we hate officials.
You can grab this under at -130 at BetMGM as of Thursday night.
Good luck with all of your Super Bowl wagers. Thank you for reading all of my rambling throughout the season. Can't wait to do it all again next year!
How would you rate this article?