Our Experts' Week 17 NFL Betting Picks: Spread & Over/Under Bets for Steelers-Ravens, Texans-Titans, More
Credit:
USA Today Sports. Pictured: A.J. Brown, Ryan Tannehill
Get the latest betting picks and predictions for the Week 17 NFL slate from our crew of experts.
They'll cover their favorite bets for every game in details below, including the late afternoon games of Eagles at Giants, Cardinals at Rams, Steelers at Ravens, Titans at Texans and more.
Week 17 is here!
Our experts have guided you through their best bets for every main slate and primetime game throughout the regular season. Now they're here to offer their picks for every matchup on Sunday's 16-game slate.
Packers at Lions: 1 p.m. ET
Jets at Bills: 1 p.m. ET
Dolphins at Patriots: 1 p.m. ET
Bears at Vikings: 1 p.m. ET
Chargers at Chiefs: 1 p.m. ET
Browns at Bengals: 1 p.m. ET
Saints at Panthers: 1 p.m. ET
Falcons at Buccaneers: 1 p.m. ET
Colts at Jaguars: 4:25 p.m. ET
Eagles at Giants: 4:25 p.m. ET
Cardinals at Rams: 4:25 p.m. ET
Steelers at Ravens: 4:25 p.m. ET
Titans at Texans: 4:25 p.m. ET
Raiders at Broncos: 4:25 p.m. ET
Redskins at Cowboys: 4:25 p.m. ET
Let's dig in!
---
Odds as of Sunday morning and via DraftKings, where Action Network users get a risk-free bet up to $500.
---
Chris Raybon: Packers-Lions Under 43.5
The first thing that comes to mind with the Packers is how dangerous the offense can be with Aaron Rodgers, but Green Bay's pass defense has been every bit as good as its pass offense — both rank 11th in Football Outsiders' DVOA.
This has created value on the under, particularly when the Packers are going up against divisional opponents with whom they have increased familiarity with. Per our Bet Labs data, the Packers are 36-28 (56.3%) to the under all-time in Rodgers' divisional road starts.
The under is 5-0 in Packers division games this season, and given how overmatched David Blough will be against Mike Pettine's unit, that mark is a good bet to remain perfect on the season.
Raybon is 188-143-10 (56.8%) overall betting on the NFL. You can follow him in our free app.
Raybon: Jets-Bills Under 37
The Bills are locked into the No. 5 seed in the AFC, which means key offensive pieces like Josh Allen, running back Devin Singletary and wide receiver John Brown are unlikely to see their normal amount of snaps. The same is true on the defensive side of the ball with players such as cornerback Tre'Davious White, of course, but I don't think that will have as big of an impact on a Jets offense that ranks dead last in schedule-adjusted efficiency according to DVOA.
According to our Bet Labs data, the Bills under is 29-19 under McDermott, registering a profitable mark in all three of his seasons as head coach.
As 37 is a key number for NFL totals, I would lean toward taking Jets +1.5 or Jets moneyline if a 37 isn't available since this bet is predicated on the Bills offense not living up to its end of the bargain. Stuckey and I discuss this game in more detail in the Sunday Six-Pack segment of our Week 17 NFL Betting Action Network Podcast.
I respect the Patriots, but they're not as dominant as they once were, and they're dealing with injuries to starting cornerbacks Jason McCourty (groin) and Jonathan Jones (groin), who are listed as questionable.
Against free-wheeling downfield-throwing nothing-to-lose quarterback Ryan Fitzpatrick, the absence of McCourty and Jones could be significant.
Say what you want about the Dolphins — they've allowed an NFL-high 31.3 points per game — but at least they are giving full effort and playing as if they want to win.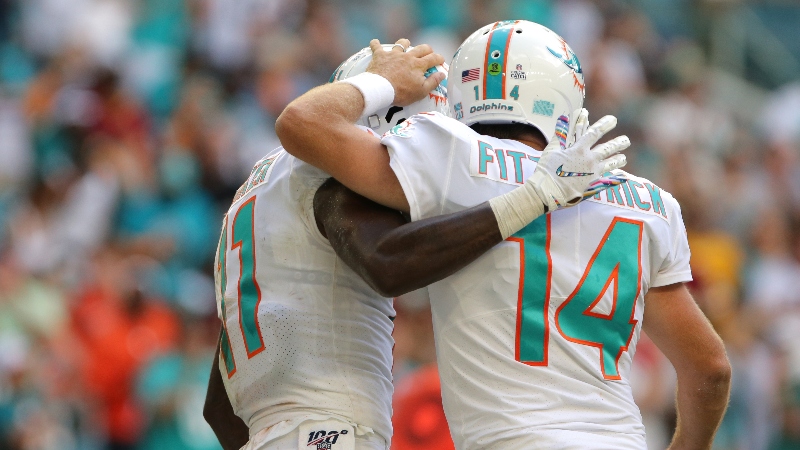 And they have been significantly better since their Week 5 bye.
Weeks 1-4 (four games): -34.3 point differential | 6.5 points scored | 40.8 points allowed
Weeks 5-16 (11 games): -4.9 point differential | 23 points scored | 27.9 points allowed
After going 0-4 against the spread in September, the Dolphins are 8-3 ATS (40.6% ROI) since the bye week.
Freedman is 542-411-22 (56.9%) overall betting on the NFL. You can follow him in our free app.
Raybon: Bears-Vikings Under 37
I feel like my brand has become betting the under on disgustingly low totals. Nevertheless, it's hard to ignore the likelihood of a disgustingly low-scoring game.
On one side, we have a top-10 Bears defense going up against a Vikings offense without Dalvin Cook (shoulder) while limiting key players like Kirk Cousins and Adam Thielen. On the other, we a Mitch Trubisky-led offense with a bad offensive line squaring off against a Mike Zimmer defense that shouldn't be expected to fold at home even if its best players see limited snaps.
According to our Bet Labs data, the Bears under is 22-10 (69%) all-time in Trubisky's starts when the total is 44 or less, and the Vikings under is 29-18 (62%) all-time at home under Mike Zimmer. This line initially opened at 41.5, but reopened at 37.5 when the prospect of Minnesota resting starters became a more likely reality.
I'd bet it down to the key number of 37.
Freedman: Chargers-Chiefs Under 45
Whenever the Chiefs are home, I almost always automatically bet the under.
That might seem counterintuitive: If the team with one of the best offenses in the league is at home, shouldn't we expect that team to score more points than usual? And wouldn't that drive the game to the over?
With the Chiefs, that historically hasn't been the case.
Under head coach Andy Reid (since 2013), the Chiefs have actually scored 2.9 fewer points at home than on the road. That's easily the most negative home/away offensive scoring differential in the league.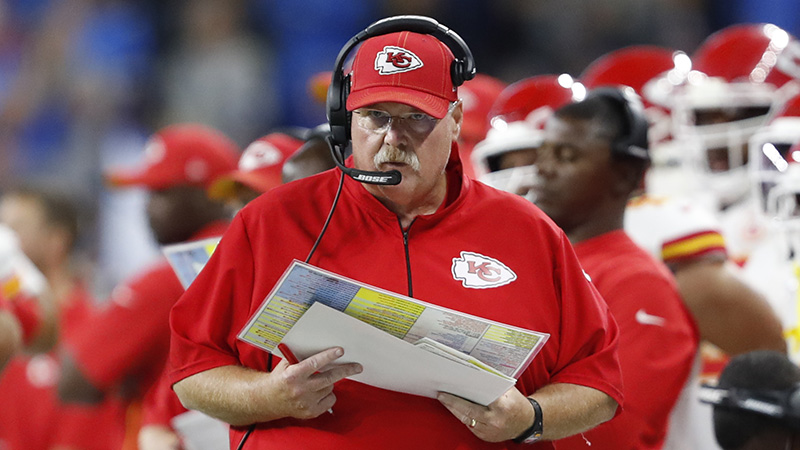 In fact, Chiefs games have an NFL-worst home/away total differential of -7.8 points. In Kansas City, NFL games rank No. 27 with a mere 43.3 points. On the road, Chiefs games blow out with 51.0 points, the No. 2 mark in the league.
Arrowhead Stadium is a tough place to score, for both the home and visiting teams. In the Reid era, no home team has made under bettors more money than the Chiefs have with their 36-21-1 under record (including playoffs, 23% ROI).
I would bet the under on this game down to 45.
Stuckey: Bengals +3 vs. Browns
Joe Mixon could have a big day against Cleveland. I'll concede that one could say the same thing about the Browns backs against the Bengals linebackers, but this comes down to effort for me. I just don't see the Browns showing up after last week's meltdown against the Ravens. That loss cost them any hope of the playoffs and effectively ended a disappointing season. Now they travel to Cincy and take on the one-win Bengals in what should be an empty stadium.
This screams flat spot for an undisciplined team that has been poorly coached from the opening kick of the season.
I also think the Bengals are slightly undervalued as a result of that one win. But you have to remember how bad this team was when Ryan Finley took over under center. They averaged only 11 points per game over three losses. However, with Andy Dalton back, that production has doubled over the past four games with improved quarterback play and the return of a few pieces on the outside.
And don't sleep on the Bengals special teams, which have been one of the top units in all of football this season. Per Football Outsiders, they rank No. 1 overall while the Browns have been slightly below average in that department.
Stuckey is 316-262-8 (54.7%) overall betting on the NFL. You can follow him in our free app.
Freedman: Saints -13 at Panthers
The Saints are in the running for the No. 1 seed in the NFC, and the Panthers have lost seven straight games. Last week, in third-string rookie quarterback Will Grier's first NFL start, the Panthers suffered a pathetic 38-6 defeat at the hands of the mediocre Colts.
Since head coach Ron Rivera was dismissed after Week 13, opponents are 2-0-1 against the spread (70% ROI) against the Panthers.
How have top-tier teams with something to play for historically done at the end of the season against bottom-feeder divisional rivals with limited motivation?
If we look at Week 17 divisional matchups between teams that are at least .650 and teams that are no greater than .350 — and if we exclude underdogs with strong records, since they are likely to be resting players — we get the answer: 21-14 ATS (18% ROI).
Stuckey: Falcons-Buccaneers Under 48
These are two defenses that have been trending up in the second half of the season.
The Falcons have clearly remained motivated despite a 1-7 start with questions surrounding the future of head coach Dan Quinn. Since their bye, Atlanta has gone 5-2 since with a pair of road wins over the two potential top seeds in the NFC: New Orleans and San Francisco.
What has been the biggest difference? The defense.
After allowing a total of 250 points in the first 8 games (31.25 average), Atlanta has only allowed 127 points in its past seven for an average just above 18 points — almost two touchdowns lower than the first eight. The third down defense in particular has been terrific over that stretch and players have just generally been in better position.
So, what changed? Quinn surrendered his play calling duties on the defensive side of the ball right around when the turnaround occurred. It also took some time for the Falcons to figure out how to replace Keanu Neal and the young corners are playing much better in the second half of the season. It also hasn't hurt that Vic Beasley came to life after the bye.
Regarding the Buccaneers, the run defense has been stout all year and they currently lead the league with an opponent average of 3.3 yards per attempt. But the biggest improvement has been in the secondary which was an absolute mess in the first half of the year.
Rookie corner Jamel Dean, who didn't even see more than two snaps in a game until week 9, has been a revelation at one corner spot. Per Pro Football Focus, Dean now ranks sixth in coverage among 116 corners with at least 300 snaps on the season. Also, Carlton Davis looks like a different player than we saw early in the year at the other corner spot. And his improved play has him up to 18th on that same list with Dean.
This unit has gone from one of the worst pass defenses in the league to two corners now grading as top 20 cover guys. You gotta give credit to Todd Bowles, who now has this defense up to No. 6 DVOA — No. 1 against the run and now all the way up to No. 12 against the pass.
Basically, we have two rapidly improving defenses that I think are being undervalued by the market taking on two offenses that have lost a plethora of talent on the outside. The Bucs lost Chris Godwin and Mike Evans while the Falcons traded Mohamed Sanu and lost Calvin Ridley to injury. Give me the under here in this late season divisional matchup outdoors in Tampa.
Freedman: Colts -5.5 at Jaguars
Since joining the Colts last year, head coach Frank Reich has had notable opponent-based against-the-spread splits.
Divisional Opponent (12 games): 8-3-1 ATS, 38.1% ROI
Non-Divisional Opponent (21 games): 8-11-2 ATS, -16.1% ROI
It helps that the Jaguars are in the AFC South. In 2017, they almost made the Super Bowl, but since then, Doug Marrone's team has sensationally underwhelmed, and just last week, Executive VP of Football Operations Tom Coughlin was fired. Now there's reports Marrone will be dismissed.
It's hard to say it wouldn't be deserved. Marrone's offense over the past three years has been one of the league's least imaginative.
Since last season, opponents are 18-11-2 ATS (19.7% ROI) against Marrone's Jags.
I'd bet this to -6.
Mike Randle: Eagles-Giants Under 45
Divisional matchups tend to skew under 45 points, and with the divisional title at stake, I expect this game to follow the same model.
While the Giants will struggle to stop the Eagles' passing attack, this total failed to crest 40 points in their Week 14 matchup. The 325-yard passing performance by Wentz equated to only 23 total points in a home matchup.
The Giants rush defense has been strong all season, especially since acquiring DT Leonard Williams from the Jets in late October. The Giants are motivated to play spoiler to their divisional rival at home, especially since the Eagles have won 11 of the past 12 matchups.
I expect an inspired Giants efforts in a low-scoring Eagles win that supports the historic trend.
Randle is 243-233-5 (51.5%) overall betting on the NFL. You can follow him in our free app.
Freedman: Cardinals +6 at Rams
With their 34-31 loss to the 49ers last week, the Rams have been officially eliminated from the playoff race, and big organizational changes are expected this offseason.
The Rams are in disarray, and they have no motivation for Week 17.
The Cardinals, though, are a young-and-hungry team with back-to-back wins and the desire to prove themselves. Kliff Kingsbury has flashed at points in his first year with the team, and Kyler Murray (hamstring) could win the Offensive Rookie of the Year award with a big game.
Given that Murray is questionable after leaving Week 16 early with a soft-tissue injury, hold off on betting this game until we know more about his status, but if he's healthy enough to play, he provides an edge.
As road dogs, Kingsbury's feisty Cardinals are 5-1-1 against the spread (52.8% ROI).
Freedman: Steelers PK at Ravens
The Ravens have almost no incentive to play this week. But the Steelers will be motivated.
The Steelers are losers of two straight, but have been a winning team since they lost Ben Roethlisberger in Week 2 and added defense-altering safety Minkah Fitzpatrick in Week 3.
Weeks 1-2 (two games): -16 point differential, 14.5 points scored, 30.5 points allowed
Weeks 3-16 (13 games): +2.8 point differential, 19.2 points scored, 16.5 points allowed
Since Week 3, the Steelers are 9-4 against the spread (36.1% ROI). I'd bet them down to a pick'em.
Freedman: Titans-Texans Over 44
The Texans have one of the league's most explosive offenses thanks to Deshaun Watson and DeAndre Hopkins, and since Ryan Tannehill became the starter for the Titans in Week 7, they've put up points with ease.
Tannehill's starts (nine games): 29.9 points scored, 25 points allowed
Other starts (six games): 16.3 points scored, 15.3 points allowed
In Tanny's nine starts, the over is 8-1 (75.4% ROI).
Freedman: Broncos -3 vs. Raiders
I'm by no means a stan for quarterback Drew Lock, but he's probably the best passer the Broncos have had this year, and they're 3-1 against the spread (45.6% ROI) in his starts.
More importantly, Denver is a tough place to play in December, and home opponents are 10-5 ATS (32.5% ROI) against the Raiders under head coach Jon Gruden (since 2018).
Based on his arbitrarily laissez-faire coaching style, I don't think Gruden's road record with the Raiders is random: He's the type of guy who would have a team that underperforms when traveling.
Freedman: Redskins +12.5 at Cowboys
Under head coach Jason Garrett (since 2010), the Cowboys have been the NFL's worst team against the spread as home favorites. The problem is Garrett.
Road dogs are a delicious 36-20-1 against the spread against Garrett's boys, good for a 26% return on investment, and I doubt the team will get up for this game after disappointing in such ignominious fashion last week with the NFC East title at stake.
If you bet on the Cowboys this weekend, you must hate money.
Sean Koerner: Seahawks +3.5 vs. 49ers
The Seahawks come into this high-stakes game incredibly thin at running back. They recently lost Rashaad Penny to IR then Chris Carson (and even C.J. Prosise) just last week, forcing them to bring back Marshawn Lynch and Robert Turbin.
The loss of Carson hurts, but it would be unwise for the market to make this cluster injury worth more than one point. It's all going to fall on Russell Wilson's shoulders, and as the likely MVP runner-up, he should be up to the task.
The market is all over the 49ers with 65% of the tickets and 75% of the money backing San Francisco as road a favorite at a critical number of -3.5 (see live public betting data here). I think the market has opened up a great value opportunity getting Wilson as a home dog. He's only been one seven times over his career and he's 6-1 against the spread.
With Clowney expected to play, I'll lock Seahawks +3.5 in as my play of the week.
Koerner is 173-128-3 (57.5%) overall betting on the NFL. You can follow him in our free app.
How would you rate this article?