Grading Week 15 NFL WR/CB Matchups: Amari Cooper vs. Jalen Ramsey
Credit:
USA TODAY Sports. Pictured: Cowboys WR Amari Cooper (19), Rams CB Jalen Ramsey (20).
Dallas Cowboys WR Amari Cooper is likely to draw shadow coverage from Los Angeles Rams CB Jalen Ramsey.
Matthew Freedman breaks down that matchup and grades every wide receiver/cornerback matchup for Week 15.
Wide receiver-cornerback showdowns might be the most important individual matchups in football.
In this piece, I leverage snap data from Pro Football Focus to project NFL Week 15 WR/CB matchups.
For more, see the FantasyLabs Matchups page, where we provide basic and advanced data — including fantasy and red-zone performance — for each offensive skill-position player based on his matchup.
Also consult our Week 15 injury report for status updates on receivers and corners. I will update my WR/CB projections over the weekend.
Let's start with this week's featured matchup and then run through all the potential shadow matchups and sort through my matrix featuring every matchup.
WR/CB Matchup of the Week
Cowboys WR Amari Cooper vs. Rams CB Jalen Ramsey
Even though Cooper (knee) is playing through a lingering knee injury, he's still a top-six fantasy receiver on a points-per-game basis and is on pace to finish with the best campaign of his career.
He's top-five with both 1,054 yards receiving and eight touchdowns. He's the No. 1 receiver in the offense that leads the league with 7.7 net yards per pass attempt.
As good as Cooper has been this year, he's probably still undervalued.
And now he's got a tough matchup this week.
Since the Rams acquired Ramsey in Week 7, they have used him in heavy perimeter shadow coverage against opposing No. 1 receivers. As Cooper plays in the slot only on occasion, he's likely to face Ramsey for most of the game.
Although he's allowed a 71.4% catch rate with the Rams, Ramsey has yet to yield a touchdown with the team, and for his career, Ramsey has held receivers to a low 55.7% catch rate in his coverage.
The Cowboys are below .500 and just ahead of the Eagles in the NFC East standings. The Rams are just one game behind the Vikings for the last wildcard spot.
In a game both teams are highly incentivized to win, the Cooper/Ramsey matchup might determine the outcome.
Potential Week 15 Shadow Matchups
Here are the other shadow matchups I'm projecting.
Sunday, 1 p.m. ET
Bengals WRs Tyler Boyd, John Ross & Alex Erickson vs. Patriots CBs Stephon Gilmore, Jonathan Jones & J.C. Jackson: The Pats are the league's most shadow-heavy team, and they are No. 1 with 4.0 adjusted yards allowed per pass attempt. Gilmore typically defends opposing No. 1 receivers, and he's not afraid to play in the slot — he had 19 snaps there in Week 14 — so he's likely to man up with Boyd, while Jones and Jackson stick with Ross and Erickson.
Patriots WR Mohamed Sanu vs. Bengals CB Willie Jackson III: For most of the year, the Bengals have played sides, but without No. 1 corner Dre Kirkpatrick (knee, IR), they have used Jackson in perimeter shadow coverage. No. 1 receiver Julian Edelman plays mainly in the slot, so if Jackson shadows a receiver on the outside, I guess it will be Sanu?
Buccaneers WR Chris Godwin vs. Lions CB Darius Slay: Assuming that teammate Mike Evans (hamstring) is out, Godwin seems likely to see lots of Slay, one of the league's few shadow corners who travels into the slot.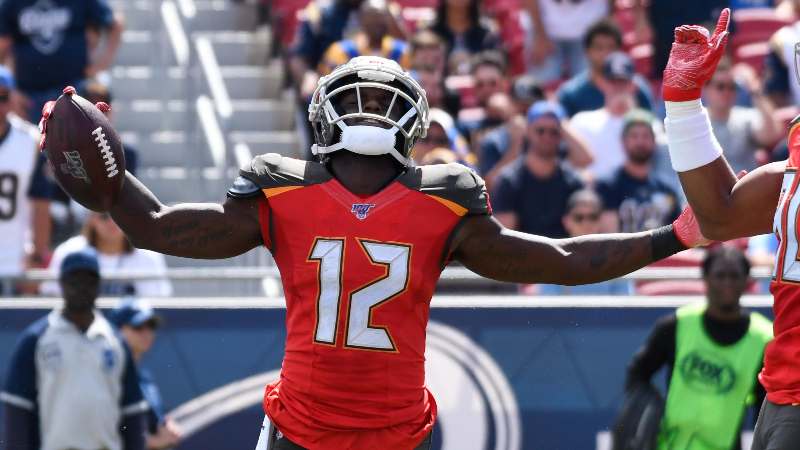 Slay has allowed a catch rate of just 57.6% for his career, but Godwin is an emerging superstar and ranks No. 2 with 1,212 yards and nine touchdowns receiving.
Bears WR Allen Robinson II vs. Packers CB Jaire Alexander: With cornerback Kevin King (shoulder) out last week, the Packers used Alexander in shadow coverage.
They could do so again this week. In Week 1, Robinson went off against the Packers with 7-102-0 receiving on 13 targets. Since teammate Taylor Gabriel (concussion) exited Week 12 early, Robinson has averaged 88.3 yards and 1.33 touchdowns on 10 targets and 6.3 receptions per game.
Giants WRs Golden Tate, Sterling Shepard & Darius Slayton vs. Dolphins CBs Jomal Wiltz, Nik Needham & Ryan Lewis: The Dolphins have vacillated between sides and shadow coverage this year, and last week — after two games of playing it straight — they returned to their shadow scheme.
They are No. 32 in pass defense (per Football Outsiders' DVOA metric) and are starting three undrafted third-stringers are corner. That they think they can shadow anyone is hilarious. At the same time, they are so bad against the pass, it probably doesn't matter what they do on defense.
Chiefs WR Tyreek Hill vs. Broncos CB Chris Harris Jr.: Although Harris was a Pro-Bowl slot defender just last year, the Broncos have used him as a perimeter shadow man in 2019, rarely letting him line up in the middle. As a result, he's likely to have limited exposure to Hill, who has run just 49.1%of his routes this year out wide.
In Week 7, Hill had 3-74-1 receiving against the Broncos on five targets with quarterback Matt Moore playing most of the game. Last year in two divisional matchups against Harris & Co., Hill was held to a manageable 12-124-0 receiving on 17 targets.
Seahawks WR D.K. Metcalf vs. Panthers CB James Bradberry: The Panthers don't always use Bradberry in shadow coverage, but he tends to tail big-and-talented perimeter receivers (Mike Evans twice, Julio Jones twice, DeAndre Hopkins, Terry McLaurin). Metcalf fits that mold. For his career, Bradberry has allowed a catch rate of just 59.5% and presents a tough matchup for the rookie.
Sunday, 4:05 p.m. ET
Raiders WR Tyrell Williams vs. Jaguars CB A.J. Bouye: In the post-Jalen Ramsey era, the Jags have heavily used Bouye in shadow coverage, and Williams is the No. 1 receiver for the Raiders. Williams has averaged just 36 scoreless yards per game over the past month, but this might be a bounce back spot for him.
Although Bouye has a good reputation, he has steadily declined over the past few years, dropping from an elite 89.9 PFF coverage grade in 2016 to a below-average 59.2 mark this year.
Vikings WR Stefon Diggs vs. Chargers CB Casey Hayward Jr.: When there's a clear No. 1 receiver on the opposing team, Hayward tends to shadow. If Adam Thielen (hamstring) sits out yet again, Diggs will be the only Vikings receiver worthy of Hayward's attention.
Diggs is an explosive player who is difficult to defend, but Hayward is still one of the league's best shadow corners. Since joining the Chargers in 2016, Hayward has held opposing receivers to a 52.7% catch rate.
Sunday Night Football
Steelers WR James Washington vs. Bills CB Tre'Davious White: For the first six games of the season, the Bills used White almost exclusively at left corner, but since then he has shadowed opposing No. 1 receivers, and he's becoming one of the league's best cover men.
Since entering the league in 2017, White has allowed a 57.2% catch rate. White rarely plays in the slot, so even if JuJu Smith-Schuster (knee) is active, White is likely to stick with Washington, the top perimeter receiver for the Steelers.
Monday Night Football
Saints WR Michael Thomas vs. Colts CB Rock Ya-Sin: Since their Week 6 bye, the Colts have relied much more on shadow coverage, and Ya-Sin has recently been tasked with defending larger receivers.
A physical second-round rookie, Rocky has some long-term potential and is no pushover, but he is simply outclassed against Thomas, who has a league-high 121 receptions and 1,424 yards receiving and just last week went off for 11-134-1 receiving against the No. 1 DVOA pass defense of the 49ers.
NFL Week 15 WR/CB Matrix
I take a cautious approach to injured players I expect to be questionable or out. If by the weekend it seems likely that they will play, I will include them in my updates.
Pos = left, right or slot WR or CB
Projected shadow matchups are CAPITALIZED
WR Exp = Wide Receiver Expectation: I rank from 3 to -3 how much I think we should adjust expectations for wide receivers based on matchups. 3: Large upgrade. 2: Medium upgrade. 1: Small upgrade. 0: No change. -1: Small downgrade. -2: Medium downgrade. -3: Large downgrade.
Thanks to Scott Barrett for providing me with some of PFF's historical data.
How would you rate this article?