Grading Week 17 NFL WR/CB Matchups: DeVante Parker vs. Stephon Gilmore
Credit:
USA TODAY Sports. Pictured: Dolphins WR DeVante Parker (11), Patriots CB Stephon Gilmore (24).
Miami Dolphins WR DeVante Parker has the second-most receiving yards over the past six weeks and will likely draw coverage from Patriots CB Stephon Gilmore on Sunday.
Matthew Freedman breaks down that matchup and grades every wide receiver/cornerback matchup for Week 17.
Wide receiver-cornerback showdowns might be the most important individual matchups in football.
In this piece, I leverage snap data from Pro Football Focus to project NFL Week 17 WR/CB matchups.
For more, see the FantasyLabs Matchups page, where we provide basic and advanced data — including fantasy and red-zone performance — for each offensive skill-position player based on his matchup.
Also consult our Week 17 injury report for status updates on receivers and corners. I will update my WR/CB projections over the weekend.
Let's start with this week's featured matchup and then run through all the potential shadow matchups and sort through my matrix featuring every matchup.
WR/CB Matchup of the Week
Dolphins WRs DeVante Parker, Albert Wilson & Allen Hurns vs. Patriots CBs Stephon Gilmore, J.C. Jackson & Joejuan Williams
The Pats are No. 1 with a 93.3 PFF coverage grade and 4.0 adjusted yards allowed per attempt, but they are likely to be without two key defensive starters this week.
Perimeter cornerback Jason McCourty (groin) has missed most of the past two months, and he played just four snaps last week before he tweaked his lingering injury. I doubt he will play in Week 17.
And slot cornerback Jonathan Jones (groin) exited Week 15 early and missed Week 16. He didn't practice at all last week and doesn't seem close to returning.
In their absence, Jackson and Williams will continue to see playing time. Both are competent defenders and will provide adequate coverage on Wilson and Hurns — but they're backups.
Without McCourty and Jones on the field, Gilmore will be called upon to do even more, and that means he'll shadow Parker.
When the Dolphins played the Pats in Week 2, Gilmore shadowed Preston Williams while McCourty tailed Parker, who had no receptions on seven targets.
Since then, though, Parker has put up 990 yards and nine touchdowns in 13 games. And since taking over for Williams (knee, IR) as the team's No. 1 receiver in Week 10, Parker has 665 yards and five touchdowns in seven games.
Parker is becoming a full-fledged star.
Against Gilmore — a strong Defensive Player of the Year candidate — Parker will have the opportunity to see just how good he really is.
It's not as if Gilmore is unbeatable. Last week, he was brilliantly exposed by John Brown on a 53-yard touchdown.
Of course, that was Brown's only catch of the game and Gilmore's first touchdown surrendered in 2019. Since last year, Gilmore has allowed a catch rate of just 44.9%.
Parker is good, but Gilmore is probably better. Either way, this will be a great test for both players.
Potential Week 17 Shadow Matchups
Here are the other shadow matchups I'm projecting.
Sunday, 1 p.m. ET
Jets WR Robby Anderson vs. Bills CB Tre'Davious White: For Weeks 1-7, the Bills used White almost exclusively at left corner before switching to shadow coverage for Weeks 8-14.
Over the past two weeks, the Bills have gone back to playing sides, lining White up only at left corner, but I think that usage was a result of the matchups. In Weeks 15-16, neither the Steelers nor Patriots had perimeter receivers worth shadowing.
In Week 17, though, that's not the case. Anderson is a playmaking downfield receiver on a bit of a hot streak with 408 yards and four touchdowns over the past six games. It's likely he'll draw shadow coverage from White, who has allowed a 53.5% catch rate since his 2017 rookie season.
It's a tough matchup for the streaky Anderson.
Packers WR Davante Adams vs. Lions CB Darius Slay: Since returning from injury in Week 9, Adams has averaged a robust 10.3 targets per game, and for the year, he's No. 6 with 130.1 air yards and yards after the catch combined per game. He's had something of a down year because of his missed games, but Adams is still one of the league's best receivers.
He missed divisional matchups with the Lions in Week 6 this year and Week 17 last year, but in Week 5 of 2018, Adams balled out with 9-140-1 receiving on 12 targets. And for 82.7% of his routes, he was shadowed by Slay.
For his career, Slay has allowed a catch rate of just 57.6%, so he's no pushover, but against the physical Adams, the 190-pound Slay could struggle.
Chiefs WR Tyreek Hill vs. Chargers CBs Casey Hayward Jr. & Desmond King II: Hill lines up all across the formation, so he's not likely to see shadow coverage per se. Hayward didn't shadow Hill last year, and Hill played just seven snaps against the Chargers in Week 11 before leaving early with an injury.
But I expect the Chargers to shadow Hill based on where he lines up. Out wide, he will likely see Hayward, and in the slot, he will face All-Pro corner Desmond King II. Between the two of them, they will be responsible for Hill on the supermajority of his snaps.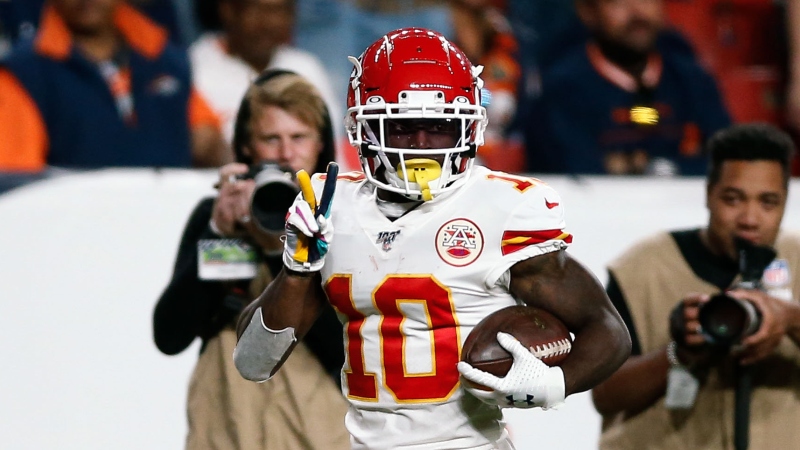 In Week 1 last year, Hill zapped the Chargers with a 7-169-2 receiving performance on eight targets. In Week 15, however, they held him to a scoreless 46 yards on seven targets.
Hill always has the potential to go off, but the Hayward and King are talented enough to slow him down. Since joining the Chargers in 2016, Hayward has held opposing receivers to a 53.2% catch rate. And in his three NFL seasons, King has allowed just 1.02 yards per route run.
Panthers WR Curtis Samuel vs. Saints CB Marshon Lattimore: No. 1 wide receiver D.J. Moore (concussion) exited Week 16 early and is uncertain for Week 17. In his absence, Samuel will be the team's top perimeter receiver.
When the Panthers and Saints played in Week 12, Lattimore was out with an injury, but Eli Apple shadowed Samuel on 72.2% of his routes, holding him to just nine yards on four targets. If Apple could do that — and Apple was benched last week for the newly added Janoris Jenkins — Lattimore should have success against Samuel.
While the Saints have occasionally played sides, for the most part they have used Lattimore in shadow coverage this year. After a horrible first three weeks to the season, Lattimore has held opposing receivers to a catch rate of just 43.5%.
Saints WR Michael Thomas vs. Panthers CB James Bradberry: The Panthers don't always use Bradberry in shadow coverage, but he tends to tail big-and-talented perimeter receivers. He's been the primary defender on Thomas in each of their divisional matchups over the past two years.
In 2018, Thomas was held in check: He had a meager 12-78-0 receiving line on 16 targets in two games. And in Week 12 this year, Bradberry shadowed Thomas on 51.2% of his routes, holding him to a manageable 5-51-1 receiving on five targets.
But in Week 12 Thomas was also productive outside of Bradberry's coverage, and in total he had a 10-101-1 receiving line on 11 targets.
Bradberry's had as much success against Thomas as any other corner has, but Thomas is always likely to get his production.
Colts WR T.Y. Hilton vs. Jaguars CB A.J. Bouye: This has not been Hilton's season. It started with the retirement of quarterback Andrew Luck, and it is ending with a whimper. Since Week 9, Hilton has played little and produced less because of a lingering calf injury. Since returning in Week 15, Hilton has just 51 scoreless yards on 13 targets.
But this might be the week for a bounceback.
In the post-Jalen Ramsey era, the Jags have heavily used Bouye in shadow coverage, but Bouye is not the player he once was. The No. 1 corner has steadily declined over the past few years, dropping from an elite 89.9 PFF coverage grade in 2016 to a below-average 55.4 mark this year.
In Week 16, Bouye allowed an 8-152-0 receiving line on 10 targets.
Despite their formerly fearsome reputation, the Jags are No. 29 in PFF coverage grade. Hilton has upside against Bouye and the Jags.
UPDATE (Dec. 28): Bouye (wrist) is out for Week 17.
Sunday, 4:05 p.m. ET
Raiders WR Tyrell Williams vs. Broncos CB Chris Harris Jr.: Against the Broncos in Week 1, Williams had his best game of the season, putting up 105 yards and a touchdown on seven targets.
But since returning from injury in Week 8, Williams has averaged just 4.4 targets per game and played as the No. 2 receiving option behind tight end Darren Waller.
And more importantly, in Week 1, the Broncos used Harris at left corner in new head coach Vic Fangio's defense, and he saw little of Williams: He wasn't the guy who allowed Williams to go off.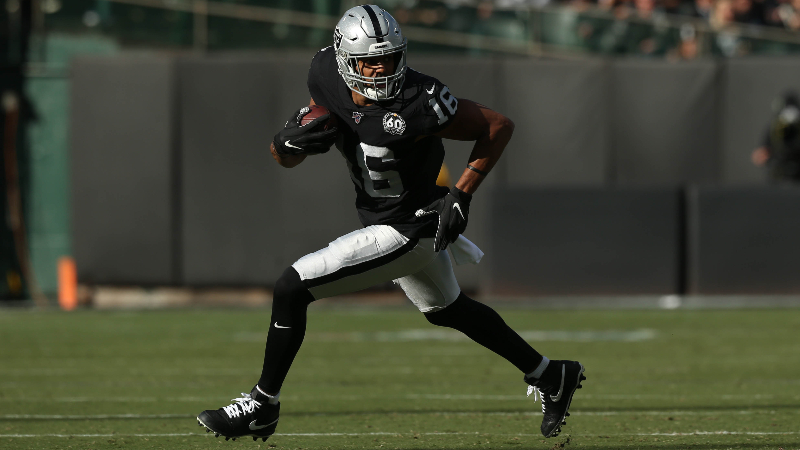 After Williams' Week 1 performance, the Broncos have used Harris almost exclusively in perimeter shadow coverage against opposing No. 1 wide receivers, so I expect that he will tail Williams this week.
Harris' play has slipped this year: Last week he allowed 90 yards and a touchdown, and for the season he has a career-low 64.8 PFF coverage grade. But he's still a good defender. Considering that he regular faces No. 1 receivers, his 1.07 yards allowed per route is a good mark.
Cardinals WR Christian Kirk vs. Rams CB Jalen Ramsey: Kirk was a game-time decision in Week 16, and he disappointed with zero receptions on five targets. With the exception of a magnificent 6-138-3 performance against the hapless Buccaneers, Kirk has done little since returning from injury in Week 8.
The Rams have used Ramsey heavily in perimeter shadow coverage since acquiring him in Week 7, and although he's allowed a 70% catch rate since the trade, he as a 71.9 PFF coverage grade with the Rams. Over his past four games, he's allowed just 83 scoreless yards on 12 targets.
UPDATE (Dec. 28): Ramsey (knee) is out for Week 17.
Rams WR Robert Woods vs. Cardinals CB Patrick Peterson: A three-time All-Pro defender, Peterson has massively regressed this season. After serving his six-game suspension, he masqueraded as a shadow corner for a month, but he played so poorly that the Cardinals changed their tactics and just planted him at left corner.
But in Weeks 15-16, the Cardinals once again used him in shadow coverage, and he played well, allowing just 38 scoreless yards on 12 targets.
Last year, Peterson matched up with Brandin Cooks in shadow coverage, but I'm not sure he has the speed for that anymore. In Week 13, he played primarily against Robert Woods, who went off with a 13-172-0 receiving masterpiece on 18 targets.
Since the Week 9 bye, Woods has 9.9 targets per game, and I expect him to draw shadow coverage. Although Peterson has played well recently, I wouldn't hesitate to use Woods in fantasy, given what he did in their last matchup.
NFL Week 17 WR/CB Matrix
I take a cautious approach to injured players I expect to be questionable or out. If by the weekend it seems likely that they will play, I will include them in my updates.
Pos = left, right or slot WR or CB
Projected shadow matchups are CAPITALIZED
WR Exp = Wide Receiver Expectation: I rank from 3 to -3 how much I think we should adjust expectations for wide receivers based on matchups. 3: Large upgrade. 2: Medium upgrade. 1: Small upgrade. 0: No change. -1: Small downgrade. -2: Medium downgrade. -3: Large downgrade.
Thanks to Scott Barrett for providing me with some of PFF's historical data.
How would you rate this article?