College Football Week 1 Odds, Picks, Predictions: Our 8 Best Bets, Including Penn State vs. Purdue (Thursday, Sept. 1)
Credit:
Scott Taetsch/Getty Images. Penn State's Keyvone Lee.
Editor's Note: If you're looking for our best bets for Friday night's college football games, look below or click here.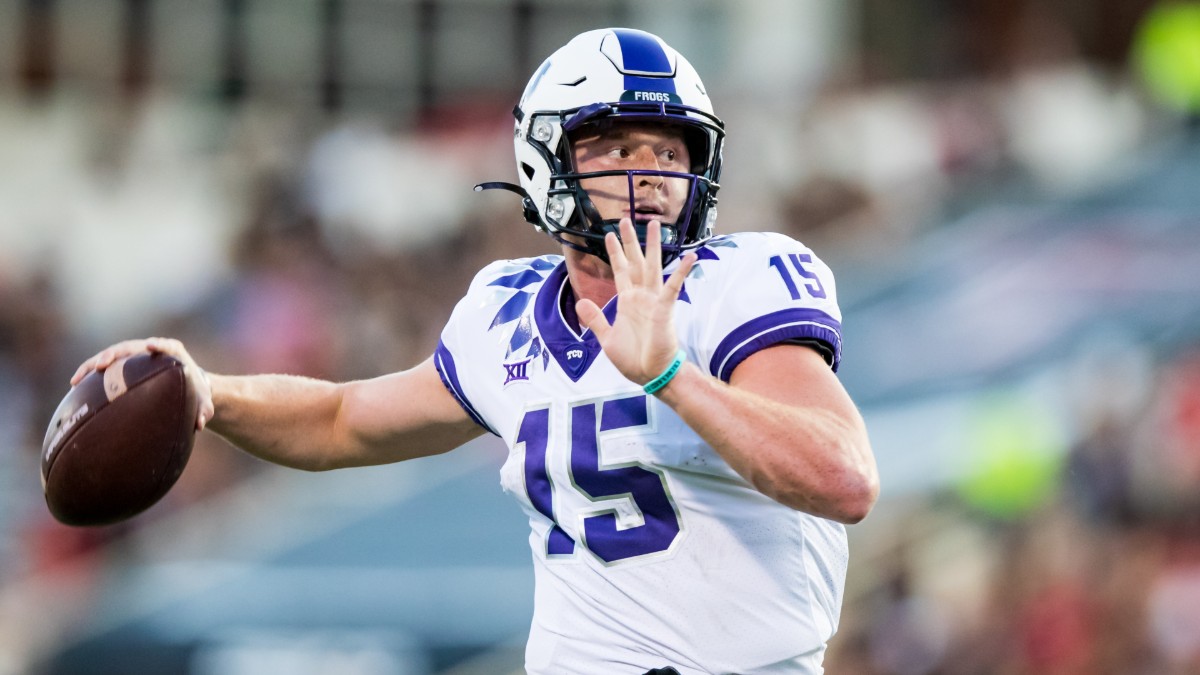 Friday Night NCAAF Best Bets
Week 1 is finally upon us. But the best part is there will be college football every day from now through next Monday. If that's not a sign we've made it, we don't know what is.
To celebrate, our college football staff is betting Thursday's games — and betting them hard. Our writers came through with eight picks for tonight's games on the gridiron, including three for the Backyard Brawl and two others for Penn State vs. Purdue.
Check out all of our crew's top bets for the opening day of Week 1 below, and be sure to check out Action Network's college football coverage for the week.
---
Thursday's College Football Best Bets
The team logos in the table below represent each of the matchups that our college football staff is targeting from today's slate of games. Click the team logos for one of the matchups below to navigate to a specific bet discussed in this article.
---
St. Francis (PA) vs. Akron
Look, I understand that Akron is at the bottom of the barrel for FBS teams. It's gone just 3-27 over the last three seasons, but this line is disrespectful to the Zips. The Tom Arth experience is over, and Joe Moorhead was brought in as the new head coach.
Other than maybe USC, I don't know if any team upgraded its head coach more this offseason.
Despite his tenure at Mississippi State ending after just two years, he did lead the Bulldogs to back-to-back bowl games. Overall, Moorhead has gone 52-25 as a head coach between Mississippi State and Fordham.
The Zips return 6-foot-6, 215-pound dual-threat quarterback DJ Irons, who was hurt most of last season.
They return all five offensive line starters, their top three running backs and add transfer Cam Wiley from Minnesota. Akron also added wide receivers from LSU and Pitt, as well as a tight end from West Virginia.
On the defensive side, they return 16 of their top 18 tacklers and add Power Five transfers all over the defense at safety, cornerback and edge rusher.
I'm not going to pretend to know much about St. Francis, but it went just 5-6 in FCS play last season and is by no means a powerhouse at the lower level. It finished fifth out of eight in the Northeast Conference and got blown out at home by two-win Long Island.
Even as bad as Akron has been, it beat FCS Bryant by 21 last season, Morgan State by 34 in 2018 and Arkansas-Pine Bluff by 49 in 2017. This team will be fired up under the new coaching regime with a misfit island of Power Five transfers all looking for a second chance.
Expect them to make a statement in their opener.
Pick: Akron -13.5 (Play to -16.5)
---
---
West Virginia vs. Pitt
The Backyard Brawl returns this season for the first time since 2011.
Pitt begins a new era with USC transfer quarterback Kedon Slovis, who hopes to seamlessly replace the production of Kenny Pickett.
The Panthers are getting a mixed bag with Slovis. In games against San Jose State, Colorado and Utah last season, he put up a PFF passing grade over 75. The problem was he was below 75 in his other seven starts.
However, he has a great nucleus around him in the Steel City.
Pitt brings back its entire offensive line and top three running backs. The offensive line led the way for Pittsburgh to rank 37th in Rushing Success Rate a season ago.
Plus, Slovis will be working with new offensive coordinator Frank Cignetti Jr., who comes over from Boston College, where he ran the ball 59.8% of the time.
Pitt lost Biletnikoff winner Jordan Addison to USC, but it returns its second-best pass-catcher in Jared Wayne, the second-highest graded tight end in the ACC by PFF in Gavin Bartholomew and brings in coveted Akron transfer Konata Mumpfield to be its top wideout.
The West Virginia linebacking core got completely gutted after last season, losing its top six tacklers. West Virginia begins its new era with another former USC quarterback in JT Daniels. It also brought in his offensive coordinator from 2019, Graham Harrell.
The problem is West Virginia loses top running back Leddy Brown and top receiver Winston Wright. That's not good news for an offense that finished 78th in EPA/Play and averaged only 4.5 yards per play (95th in FBS).
Defensively, Pitt brings back its entire starting defensive line that ranked fifth in Defensive Line Yards, third in Power Success Rate Allowed, 11th in Rushing Success Rate Allowed and 16th in rushing explosiveness allowed.
It also loses just one starter in the secondary. So, without any weapons, it's going to long night for Daniels.
Pick: Pitt -7 (Play to -9)
---
The Backyard Brawl returns for the first time since 2011 for the two programs connected by Interstate 79. West Virginia leads the all-time series, 25-22, after winning the last three matchups.
Pittsburgh will feature a new-look offense as it replaces Heisman finalist Kenny Pickett (Pittsburgh Steelers), Biletnikoff Award winner Jordan Addison (USC) and offensive coordinator Mark Whipple (OC Nebraska).
Pittsburgh will look to USC transfer Kedon Slovis to fill very large shoes at quarterback as the presumptive heir for the season. Slovis started hot at USC but ultimately fizzled out en route to the transfer portal.
Look for head coach Pat Narduzzi to let Slovis settle into his new atmosphere and figure out his weapons as the Panthers rely on a veteran offensive line and deep running back corps.
New Pitt offensive coordinator Frank Cignetti, Jr. has a history of building offenses around the run game, and I expect his game plan for this season — especially the first game — to be no different.
The Panthers return all five starting offensive linemen from last season, boasting one of the most experienced lines in the country. The bulk of offensive production will come in the running game, which returns the top three rushers from last season.
West Virginia will start former five-star recruit J.T. Daniels, who transferred from Georgia after beginning his career at USC. Daniels has shown flashes of excellence and has a high ceiling but did lose the starting job last year to Stetson Bennett.
The Mountaineers are rich with experience in the trenches, return four wideouts from last season and have good depth at running back. The glaring weak spot is the secondary that will have to replace four of its five starters from last season.
Slovis will have opportunities to prove himself throughout the game against a young West Virginia secondary, but look for the Pittsburgh backfield to do a majority of the heavy lifting on Thursday night.
The stout Panther defense, which features one of the top lines nationally, stays largely intact and will create many headwinds for Daniels.
I'm projecting Pitt as 10.5-point favorites in a grind-'em-out opening game.
Pick: Pitt -7 (Play to -8.5)
---
West Virginia vs. Pitt
Defending ACC champion Pitt will showcase a completely new offense in its opener against West Virginia.
The group loses Heisman finalist Kenny Pickett to the Pittsburgh Steelers. Biletnikoff Award winner Jordan Addison headed west and joined USC. And importantly, offensive coordinator Mark Whipple took his fast-tempo offense over to Nebraska.
However, the program returns three running backs who recorded over 100 rushing attempts last season. They will run behind an offensive line that brings back all five starters from last season.
Pat Narduzzi has preached that this will be a ground-and-pound offense that plays with a slow pace, contrary to last season.
The Panthers defense boasts one of the top defensive fronts in the country. Last year, the group was elite at stopping the run, allowing just 2.6 yards per attempt while ranking fifth nationally in points per attempt.
West Virginia's offense was largely mediocre last season, averaging 25 points per game. The Mountaineers ranked among the middle of the country in Success Rate (58th), Explosiveness (90th) and Havoc (89th).
West Virginia's offensive line returns all five starters from a group that ranked last in the Big 12 in sacks allowed and rushing yards. They won't be able to run the ball against this Pittsburgh defense, and quarterback JT Daniels will have no time in the pocket to look downfield.
With both offenses shaking off the rust, I anticipate this one to be a low-scoring matchup with Pitt dominating time of possession.
Pick: Under 51.5 (Play to 50)
---
---
Ball State vs. Tennessee
Josh Heupel is 3-1 against the spread as a head coach in openers, treating nonconference opponents like cannon fodder in Week 1.
Here's a quick rundown demonstrating his desire to run it up in season openers:
2018 — vs. UConn, W ATS (56-17)
2019 — vs. FAMU, W ATS (62-0)
2020 — vs. Ga Tech, W ATS (49-21)
2021 — vs. BGSU, L ATS (38-6)
Can Ball State play the role of doormat? With the defense it'll be sending out on the field in Knoxville, absolutely.
Last season, the Cardinals were a shell of their 2020 defense that helped Mike Neu capture the MAC title. In 2021, their defense generated little to no pressure (80th in TFLs / 90th in sacks) and rarely got in the way of opponents' passes (94th).
That unit, which was lackluster at best, loses just about everyone (127th returning production). The Cardinals' three new starters in the secondary will be overwhelmed by a dynamic Tennessee passing attack.
Hendon Hooker played at an All-American level in his final six games, posting a 17:2 touchdown-to-interception ratio while forming an elite connection with Cedric Tillman. Tillman will be in the Biletnikoff mix this award season after racking up 48 receptions, 871 yards and 10 touchdowns in his last seven games.
The strength vs. weakness game within the game between the Tennessee offense and Ball State defense screams blowout.
If UT can get to 56 points, I'm confident a disruptive UT front (8th in TFLs in '21) can hold BSU to under 20 points in this one.
Pick: Tennessee -35 (Play to -37.5)
---
---
Penn State vs. Purdue
Nothing to see here. Just your typical matchup of sixth-year senior quarterbacks — at the same school, no less — looking to prove their team is a legitimate contender in its respective Big Ten division.
Both Purdue and Penn State will hope their veteran quarterback has saved his best season for last commanding these pass-happy offenses.
Aidan O'Connell and Sean Clifford will each try to do so sans a 2021 All-Big Ten wideout, but it's the Nittany Lions who have more options to turn to in order to make up for the missing production.
Parker Washington rather quietly finished sixth in the Big Ten last season with 64 catches for 820 yards, and Western Kentucky transfer Mitchell Tinsley (87 catches for 1,402 yards and 14 touchdowns) will be an equally potent weapon.
Penn State struggled in the run game last season (108.0 yards per game), but so did Purdue's defense, ranking last in the Big Ten by allowing 156.5 yards a contest. James Franklin and offensive coordinator Mike Yurcich have stressed a desire to run the ball more this year and are adding five-star prospect and Gatorade National Player of the Year Nick Singleton.
The Nittany Lions lost four draft picks off their defense, which was the backbone of the team. But there's still a likely first-round draft pick at cornerback to remove one either Charlie Jones or Tyrone Tracy, and the defensive line's pass rush isn't expected to miss a beat with the return of P.J. Mustipher and Adisa Isaac.
The linebackers are a question mark for new defensive coordinator Manny Diaz, but Purdue's one-dimensional offense won't stress this group much without a ground attack.
With a Penn State run game that now has a home-run threat, defenses won't be able to tee off on Clifford.
Look for the super senior to pass for close to 300 yards and a couple of scores, and for this Nittany Lions defense to force a couple of turnovers from O'Connell.
Pick: Penn State -3.5 (Play to -6.5)
---
Penn State vs. Purdue
By Cody Goggin
I can't think of a better way to spend my Thursday night than watching Sean Clifford play quarterback while I have his opponent.
Last season, the Penn State offense ranked 98th in the country in Success Rate. Penn State has a ton of talent, but Clifford, while experienced, fails to move the ball often.
The Penn State running game was basically nonexistent last year as well, ranking 108th in Rushing Success Rate. This offense will likely not improve to start the season as it returns only two offensive linemen and one of its top three rushers from last season.
Purdue's defense was stout last year, especially against the pass. It ranked 23rd in Success Rate on pass plays and 36th overall. This season will likely see a small step back with the departure of George Karlaftis and Jaylan Alexander, but returning seven starters will allow Purdue to not fall off too much.
Aidan O'Connell returns as Purdue's quarterback after throwing for 3,712 yards last season and leading the Boilermakers to the 12th-best passing attack in the country in terms of Success Rate.
Unfortunately for the Boilers, their top three receivers depart from this offense, including David Bell, who led the team with 1,286 yards.
On defense, Penn State returns just four starts. The biggest losses on this side of the ball will be Jaquan Brisker and Arnold Ebiketie, who were both high picks in the NFL Draft.
Manny Diaz takes over as the new defensive coordinator following the departure of Brent Pry to Virginia Tech.
With a better quarterback and much more returning on defense, I'm going to have to take the home underdog Boilermakers to prevail under the lights on Thursday.
Pick: Purdue ML +150 (Play to +100)
---
---
New Mexico State vs. Minnesota
Last weekend, I preached the under for New Mexico State and Nevada, a ticket that cashed with ease. I am once again telling you we will be doing the same for the Aggies' matchup on Thursday.
Jerry "Kill the Clock" was in full effect, having his offense run at a rate that would've been the 15th-slowest in the nation last season.
NMSU's offensive overhaul was on full display with the Aggies constantly shooting themselves in the foot by coughing up the football five times — one fumble lost and four interceptions.
They gave zero reason for me to believe that they can figure it out and find any success this time around.
They'll go against a Minnesota squad that's replacing nearly the whole defense — a unit that brings back a Defensive TARP ranking of 123rd in the nation. While that may not result in points, it should result in longer sustained drives for the Aggies as they run a conservative offense to attack Minnesota's growing pains.
On the other side, Minnesota has one of the least explosive offenses in football. With a slow and methodical pace, the Gophers will attack the Aggies with a platoon of running backs all game long.
If we luck into NMSU causing a turnover or two to limit Minnesota's damage on the scoreboard, then we should see another under cash at the window and start our Week 1 right.
Pick: Under 55.5 (Play to 55)
How would you rate this article?
This site contains commercial content. We may be compensated for the links provided on this page. The content on this page is for informational purposes only. Action Network makes no representation or warranty as to the accuracy of the information given or the outcome of any game or event.