College Football Odds, Picks, Predictions: Week 6's 10 Trickiest Situational Betting Spots
Credit:
Keith Birmingham/MediaNews Group/Pasadena Star-News via Getty Images. Pictured: The USC Trojans.
Time flies when you're having fun with college football because Week 6 is already here.
Stuckey is diving into his top situational spots for this week, including a couple of Pac-12 After Dark affairs.
Read below to find out the 10 (!) for this week.
Just like I have all season, I will detail 10 of the trickiest situational spots I circled after last weekend for the Week 6 Saturday college football slate.
Ultimately, the actual spread value still reigns supreme. No matter how great a situational spot appears on paper, you still have to factor in how much value the number holds. A good or bad spot may sway me one way or the other on a bet I'm on the fence for, but it's certainly more art than science.
Hopefully, I can help you make one or two of those same tough wagering decisions while sharing some key angles, matchups and injury situations I think matter for each particular game.
Let's kick things off with a pair of noon SEC kicks and then work chronologically through the rest of the day.
---
Missouri +11 at Florida
Noon ET · ESPNU
You have to give a lot of credit to Missouri for the way it fought against Georgia last week. After losing in devastating fashion in overtime at Auburn the week prior, the Tigers led for most of the game against the defending national champions before eventually falling short.
How much will they have left in their tank for a trip to the Swamp after those two exhausting results? The tank may be close to empty.
Meanwhile, Florida essentially had a bye on Sunday against FCS Eastern Washington in a game where 80-plus players saw action.
Even on a short week, the Gators should be the much more rested team and likely spent a good chunk of the past two weeks preparing for Missouri. That's important in a matchup between two coaches who have a lot of familiarity with each other from their Sun Belt days.
I expect a spirited effort from the Gators against a Missouri team that beat them by one in overtime last year, which eventually led to the dismissal of head coach Dan Mullen a few days later. Prior to that contest, each of the previous eight meetings were decided by at least 17 points with each team winning four straight up.
I think this spot sets up for a comfortable win for the Gators, who I believe enter this meeting a bit underrated.
Florida was the only team in the country to face three top-20 opponents across its first four games, and Anthony Richardson has played much better over the past two weeks. Missouri has only faced one dual-threat quarterback in 2022 in Adrian Martinez, which ended in a 40-13 loss at Kansas State.
The Florida defense has had a rough start to the season, ranking outside the top 100 in EPA per Pass and EPA per Run Allowed, but the schedule has been brutal. Plus, the Missouri offense is nothing to write home about, ranking outside the top 100 in both of those aforementioned categories.
Notable Nugget: Prior to last year's overtime game, all previous eight meetings between 2013-20 were decided by at least 17 points with each team winning four apiece straight up.
---

Arkansas +8 at Mississippi State
Noon ET · SEC Network
The Hogs have to be gassed (both physically and emotionally) after back-to-back hard-fought games against Texas A&M and Alabama, which both ended in losses.
Now, they must make a trip to StarkVegas for a noon kick against the time-of-possession-dominating Mike Leach Air Raid offense. That could spell doom for their shaky secondary that lost All-American safety Jalen Catalon to a season-ending injury.
Arkansas currently ranks 124th and 126th nationally in yards per attempt and passing yards per game allowed, respectively.  Meanwhile, Mississippi State ranks in the top 10 in both attempts per game and completion percentage.
Lastly, the status of Arkansas quarterback KJ Jefferson remains up in the air. If he can't go, Arkansas would likely turn to transfer Cade Fortin, who previously started games for UNC and USF before walking on at Arkansas.
Dual-threat Malik Hornsby could also see time under center after recent rumors of transfer portal flirtation.
Notable Nugget: Arkansas head coach Sam Pittman, aka "Sammy Covers," owns an impressive 11-5 against-the-spread (68.8%) record as an underdog during his time in Fayetteville. However, he has failed to cover against the closing line as a pup in each of the past two weeks, although both results came right down to the wire.
---
Texas A&M +24 at Alabama
3:30 p.m. ET · CBS
Nick Saban seeking revenge against an opponent he lost to in the previous season will always get circled as a potential tricky spot for said opponent.
Since arriving in Tuscaloosa, Saban has faced 15 opponents in this situation. The Tide have gone 14-1 straight up with an impressive 11-4 ATS (73.3%) mark, covering by an average of just under six points per game. Rock solid.
Texas A&M will be a significantly larger underdog. Of the 15 games listed above, Alabama was a favorite of more than 10 points six times. The Tide easily won all six with a perfect 6-0 ATS record, covering by 8.5 points per game.
In each of those games, Saban seemingly kept his foot on the pedal until the very end with revenge potentially top of mind.
Alabama outscored those six SEC opponents by an astounding margin of 130-27 in the second half, with seven of the opponent points allowed coming on a kick return touchdown. And even in all of these blowouts, the Tide allowed only seven total points in the fourth quarter.
Saban has obviously had this one circled. Plus, I'm sure Jimbo Fisher's preseason comments undoubtedly only added gasoline to an already-raging fire burning inside of Saban.
I personally don't see a ton of value in Alabama at this number but would not play Texas A&M. I did play the Aggies TT under 13.5 and will be waiting for a chance to back the Tide in the second half. I just can't see Haynes King doing much of anything against this angry Alabama stop unit that won't let up.
Notable Nugget: In his career, Jimbo Fisher has only previously closed as an underdog of more than three touchdowns once — against Alabama in 2018. Texas A&M was also a 24-point underdog in that matchup and covered with a late touchdown in the fourth quarter to lose by 22.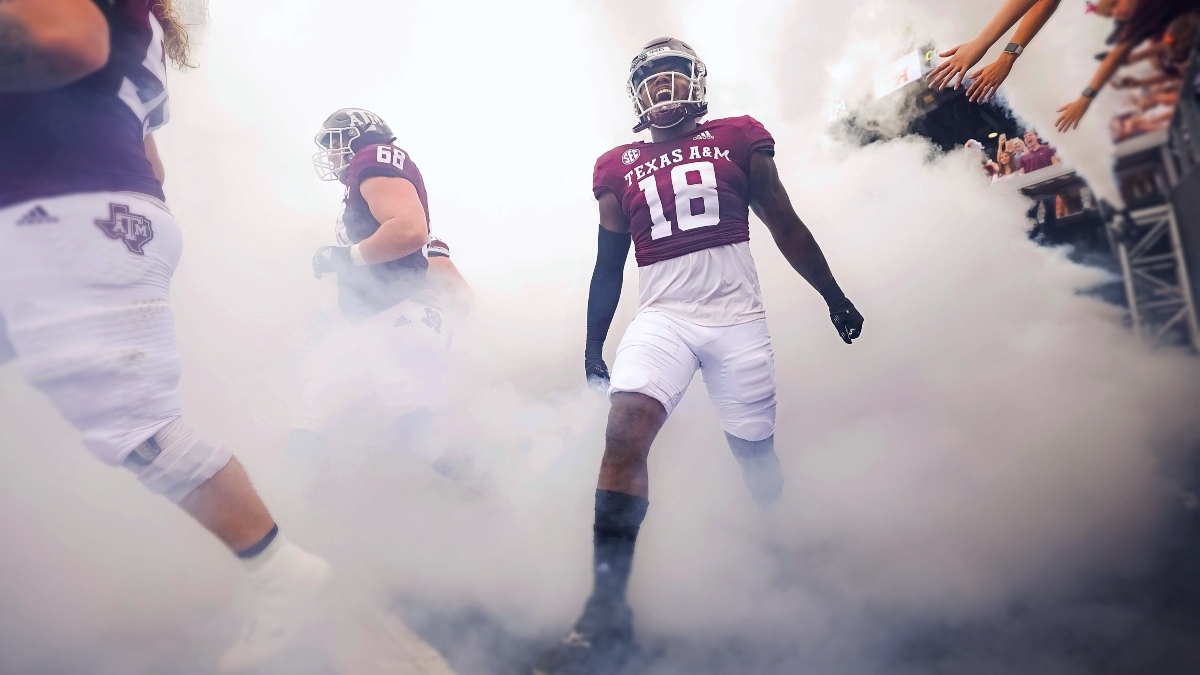 ---
Middle Tennessee +9.5 at UAB
3:30 p.m. ET · ESPN+
This looks like a good buy-low/sell-high spot in a game I show value on the favorite in what sets up as a very favorable matchup on paper.
UAB has two losses on the season, but both came in fairly fluky fashion. Meanwhile, I think the market is giving Middle Tennessee a little too much credit for its win over Miami.
Most importantly, the UAB defense matches up very well here against the new MTSU Air Raid offense. The Blue Raiders simply can't run the ball, which is how teams attack the Blazers defense.
The secondary, which ranks second nationally in pass efficiency defense, is the strength of this unit. It should really limit quarterback Chase Cunningham, just as it did against Georgia Southern's new Air Raid offense earlier this season after a loss.
UAB does have to clean up the penalties (bottom five nationally), but this is a good spot and matchup against a Middle Tennessee defense that won't provide too much resistance.
Lastly, MTSU will eventually experience turnover regression. After finishing in the top 10 last year in takeaways per game, the Blue Raiders once again sit in the top 10 in 2022 despite losing their three most important players.
Notable Nugget: Since 2017, UAB has gone 10-0 ATS at home following a loss, covering by 6.5 points per game. That includes a flawless 8-0 ATS record as a favorite. The Blazers are by far the most profitable team in this situation over that span.
---
Ole Miss -18 at Vanderbilt
4 p.m. ET · SEC Network
Thanks to two late Kentucky fumbles, Ole Miss survived last week to stay undefeated on the season.
However, it hasn't been pretty the past two weeks with back-to-back one-possession wins over Tulsa (which lost its starting QB to injury mid-game) and Kentucky.
It's possible head coach Lane Kiffin has simply not been showing much on offense and taking his foot off the gas very early against inferior opponents. That could very well be true, but you could see that once again this weekend against Vanderbilt prior to a vicious SEC schedule the rest of the way:
Auburn
at LSU
at Texas A&M
vs. Alabama
at Arkansas
I just haven't been impressed with the Ole Miss passing offense, led by USC transfer quarterback Jaxson Dart. The rushing attack is dynamic, but Vanderbilt's defense has been much stronger against the run.
Plus, not only could Ole Miss come out a little flat (and take its foot off the gas a bit early), but Vandy should also benefit from coming off of a bye week.
That should especially help new freshman quarterback AJ Swann, whom I've been very impressed with so far. This Vandy team is much more competent than in years past.
Notable Nugget: Since 2017, Lane Kiffin is 0-5 ATS as a favorite of 18 or more points against FBS teams. That includes two failed covers this season and one at home against this same Vanderbilt team in a 31-17 home victory as a 35-point favorite. However, since 2005, only Akron has been less profitable than Vanderbilt as a home dog in league play. Over that span, the Commodores are 21-34 ATS (38.2%), failing to cover by over four points per game.
---

Iowa +3.5 at Illinois
7:30 p.m. ET · Big Ten Network
This is the ultimate sandwich spot for the Hawkeyes.
After playing Michigan last week, Iowa will travel to Champaign in a potential massive sleepy spot prior to its bye week followed by a date with Ohio State.
This matchup features the only two defenses in the country holding opponents to five or fewer yards per pass attempt. Illinois actually leads the country in scoring defense (8.4), while Iowa ranks third (10.0).
Can Illinois quarterback Tommy DeVito avoid the key mistakes Iowa seemingly needs to turn defense into offense? The former Syracuse transfer has performed admirably so far this season with nine touchdowns to just two interceptions with an 80% adjusted completion percentage that ranks in the top 10 nationally.
However, this is a major step up in competition after facing FCS Chattanooga and four FBS opponents with an average pass efficiency defense ranking of 83rd.
Notable Nugget: Since 2005, Iowa head coach Kirk Ferentz has gone 39-24 ATS (61.9%) on the road in games with single-digit spreads, covering by over six points per game on average. That makes him the most profitable among 429 coaches in our Action Labs database over that span. Not beating yourself and elite special teams travel well.
---
Kentucky -10.5 vs. South Carolina
7:30 p.m. ET · SEC Network
Speaking of Kentucky, the Wildcats did get a bit unlucky last week in Oxford en route to their first loss of the season. I could see them coming out a bit flat for this game, which is sandwiched in between meetings with both SEC schools from Mississippi.
Coming into the season, I was lower than the market on the Wildcats and ultimately haven't been overly impressed with the on-field product, particularly on offense.
I still think quarterback Will Levis is overrated, but he hasn't been the main culprit of Kentucky's offensive struggles. The offensive line — which had to replace three studs from the infamous "Big Blue Wall" — has failed to both generate a push and protect Levis.
For the season, UK ranks 100th in Line Yards and 130th in Sack Rate. As a result, it's one of only 10 teams in the country that's averaging fewer than 3.0 yards per carry. The Cats also really miss the explosiveness of Wan'Dale Robinson (now with the Giants) in the passing game.
With Kentucky struggling all season to establish any type of consistent running game against inferior competition, I'm much less concerned about South Carolina's underwhelming defensive front.
Additionally, South Carolina has basically had three weeks to prepare for this game after a pair of laughers against Charlotte and South Carolina State, which it faced last Thursday due to Hurricane Ian.
Not only does that provide the Gamecocks with a preparation and rest edge, but it has also enabled them to get healthy after getting absolutely ravished by injuries to start the season.
Consequently, many of their defensive metrics are a bit flawed after facing SEC competition without as many as eight defensive starters at some points.
Head coach Shane Beamer has hinted that all but two players who are out for the season have a good shot to play this Saturday. The Gamecocks should also get two starters back on offense as well. Meanwhile, it's Kentucky that is now dealing with a few potential injuries, particularly at linebacker.
This looks like a perfect time to buy South Carolina catching double digits.
Notable Nugget: Kentucky is 8-1 ATS against South Carolina since 2013, but head coach Mark Stoops is just 17-29 ATS (37%) after a straight-up loss during his time in Lexington. That makes him the third-least profitable coach in that scenario out of 374 in our Action Labs database since 2005.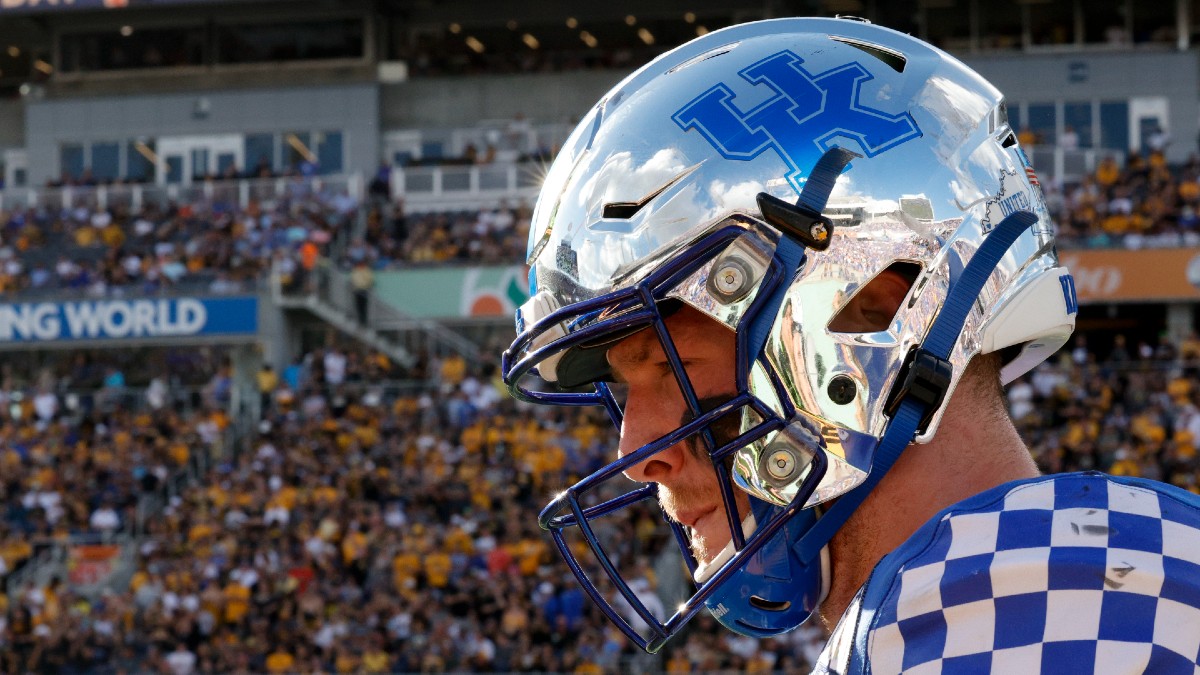 ---
Clemson -20.5 at Boston College
7:30 p.m. ET · ABC
After back-to-back draining victories over Wake Forest (in OT) and NC State — two of Clemson's biggest threats in the ACC this season — head coach Dabo Swinney will try to keep his Tigers focused on Boston College. It's a potential flat spot for Clemson after two crucial wins with games against Florida State and undefeated Syracuse on deck.
The Eagles should come in brimming with confidence after pulling off a major upset over Louisville last week.
The crowd should also have extra juice for a prime-time game against a top-five Clemson squad, especially since this will mark the annual "Red Bandana Game" where BC honors 9/11 hero Welles Crowther. (Take a minute and look up his story if you're not familiar.)
I'd like to get +21 or better with BC. However, I'm petrified of a potential massive mismatch in the trenches. The Eagles, who had to replace their entire offensive line from last season, currently rank 131st of 131 teams in Offensive Line Yards and Stuff Rate Allowed.
The Clemson defensive line actually only grades out around average after a disappointing start to the season and will be without star defensive lineman Bryan Bresee (and potentially Xavier Thomas).
However, I still wouldn't expect BC to get anything on the ground. After all, this is a team that finished with four yards rushing on 26 attempts against Virginia Tech if you include the five sacks.
Speaking of sacks, the BC offensive line also ranks 126th in Sack Rate. Can it find a way to give quarterback Phil Jurkovec enough time to find his very talented receivers, led by the electric Zay Flowers?
https://twitter.com/Stuckey2/status/1576253852252139522?ref_src=twsrc%5Etfw
The pass protection will likely determine whether or not the Eagles can stay within three touchdowns. They are at least coming off their best performance of the season after shuffling around the starting five over the first month-plus of the season.
Notable Nugget: Since 2005, Dabo Swinney has turned the most profit (among 226 coaches) as a double-digit favorite away from home against conference opponents, sitting just ahead of Nick Saban, Kirby Smart and Kyle Whittingham. Over that span, he has gone 21-12 ATS (63.6%), covering by an average of 6.4 points per game.
---

USC -13 vs. Washington State
7:30 p.m. ET · FOX
Can the Trojans avoid looking ahead to next week's showdown at Utah? This is a big number to lay against a feisty Washington State offense, especially since the USC defense has major holes.
The Cougars defense has also performed better than I had expected coming into the season. They also got back two key starters on that side of the ball over the past two weeks.
Things could particularly dicey for USC if the looming turnover regression hits all at once. USC leads the country in turnover margin at +14. For reference, UNLV and Memphis rank second in FBS at +9.
I'll be monitoring the market all week to see if an appetizing +14 pops at any point.
Notable Nugget: After failing to cover against Arizona State last weekend, Lincoln Riley dropped to just 11-20 ATS (35.5%) as a double-digit favorite in conference games. He's failed to cover those games by an average of 6.25 points per game. Over the past 20 years, only Iowa head coach Kirk Ferentz has been less profitable in these spots among active coaches.
---

Oregon State -7 at Stanford
11 p.m. ET · ESPN
Will Stanford ever cover a game? This could be the spot to buy low on the Trees at home after facing three consecutive ranked opponents against a potentially deflated Oregon State team off back-to-back losses against USC and Utah.
The Beavers also have questions about who will start at quarterback this upcoming Saturday with Chance Nolan — who has struggled mightily — getting hurt last week at Utah.
The Beavers offense also sorely misses stud tight end Luke Musgrave, who led the team in receptions through two games before suffering an injury.
Stanford has struggled during a three-game losing streak in large part due to horrendous offensive line play, which has rendered its new mesh point offense completely inept. For the season, the Cardinal rank in the bottom 10 nationally in both Sack Rate and Stuff Rate. That's not a great combination.
Since Myles Hinton went down with an injury against USC, the first two replacements at right tackle have played as bad as I've ever seen for a Power Fice team. That has also forced Barrett Miller, who also got hurt last game, to move from right guard, where he's most effective.
The one silver lining from last week's blowout loss is Jack Leyrer thrived at right tackle in his collegiate debut after being forced into action early on. If the offensive line can give quarterback Tanner McKee time, the pro prospect can make this offense work.
It will certainly help to face an Oregon State defensive line that ranks 120th in Sack Rate in 2022, which is exactly where it finished in 2021. It's clearly a unit that lacks a pass rush, which should be a welcome relief after facing Oregon, USC and Washington, with the latter two ranking in the top 10 in that category.
On the flip side, Stanford's defensive line ranks 131st out of 131 teams in Defensive Line Yards. There are obviously major issues in the trenches on both sides of the ball, but I believe this is the bottom of the market on Stanford, so I took the +7.
Notable Nugget: Stanford is one of four FBS teams yet to cover a game this year along with Colorado, Colorado State and Fresno State. The Cardinal are 0-11 ATS over its past 11 games.
How would you rate this article?
This site contains commercial content. We may be compensated for the links provided on this page. The content on this page is for informational purposes only. Action Network makes no representation or warranty as to the accuracy of the information given or the outcome of any game or event.