Week 8 College Football Odds, Picks: BJ Cunningham's Top Bets, Including Ohio State vs. Iowa, Penn State vs. Minnesota (Oct. 22)
Credit:
Brett Carlsen/Getty Images. A whiteout game at Beaver Stadium.
Saturday's college football slate is a big one, and BJ Cunningham came prepared.
With a number of stellar games on deck, Cunningham broke down some of the top matchups, including Penn State vs. Minnesota and Iowa vs. Ohio State, and shared picks for each.
Check out Cunningham's analysis for his top college football Week 8 bets below.
This college football Saturday is a big one. How big? Big enough for three of our college football experts to break down their favorite games of the weekend in-depth and share betting picks for each and every one.
Along with Collin Wilson's Week 8 betting card and Stuckey's favorite situational spots, BJ Cunningham is jumping in on the fun with a three-game card of his own.
It all starts with a Big Ten battle between Iowa and Ohio State, as the Buckeyes look to exact revenge after the Hawkeyes downed them, 55-24, when they last played in 2017.
Then, Cunningham turns his attention to Baton Rouge, as LSU hosts undefeated Ole Miss in one of the top SEC showdowns of the weekend.
To cap off the night, we'll go back to the Big Ten — Happy Valley, to be exact — as Minnesota looks to upset Penn State in its annual White Out game in a cross-division battle.
Check out all three of Cunningham's top college football bets for Week 8 below.
---
Saturday Week 8 College Football Best Bets
The team logos in the table below represent each of the matchups that our college football staff is targeting from today's slate of games. Click the team logos for one of the matchups below to navigate to a specific bet discussed in this article.
Game

Time

Pick

12 p.m. ET

Under 49.5

3:30 p.m. ET

Under 67

7:30 p.m. ET

Minnesota +4.5

Specific bet recommendations come from the sportsbook offering preferred odds as of writing. Always shop for the best price using our NCAAF Odds page, which automatically surfaces the best lines for every game.
---
Iowa vs. Ohio State
Ohio State looks to stay undefeated when it hosts Iowa in Columbus on Saturday.
The last time the Hawkeyes were in action, they lost a heartbreaker to Illinois in Champaign, 9-6. The loss dropped Iowa to 3-3 on the season with prospects of trying to defend their Big Ten West title starting to flee.
Ohio State is coming off of a bye, and it's on cruise control right now. The Buckeyes have scored 150 points in their three conference games this season, and Ryan Day will no doubt be reminding the Buckeyes what happened to them the last time these two met in 2017.
---
Hawkeyes Offense
Iowa's offense is one of the worst in the Power Five. 
Spencer Petras had very quietly registered solid performances in back-to-back games against Rutgers and Michigan, putting up a PFF passing grade over 84 in both contests. However, he fell back down to earth against Illinois, going 18-of-36 for 145 yards and an interception. 
Petras is not the reason Iowa's offense is as bad as it is. Iowa's biggest Achilles' heel this season has been the offensive line. The unit ranks 130th in pass blocking, 72nd in run blocking and 124th in Offensive Line Yards. With how bad the offensive line has been, Petras has been under pressure on 37.5% of his dropbacks, which is one of the highest marks in college football.
Iowa's run game has struggled behind the offensive line. The Hawkeyes' running backs haven't found much room to run and are averaging only 3.8 yards per carry.
Hawkeyes Defense
Iowa has the best defensive grade in college football at 93.9, per PFF. The Hawkeyes are allowing only 4.0 yards per play while ranking second in EPA/Play and first in explosiveness allowed.
To score on the Hawkeyes, teams have to move four yards at a time. If they're not prepared to play that way, Iowa will punish them.
Iowa has shut down opposing running backs this season, allowing only 3.4 yards per carry and ranking first in rushing explosiveness allowed. The best rushing attack Iowa has faced was Michigan, and it put up just 4.1 yards per carry.
It helps when you have one of the best linebacking duos in the country in Jack Campbell and Seth Benson, which is the reason Iowa has the eighth-best tackling grade, per PFF.
The Iowa secondary is once again one of the top units in the country. The Hawkeyes are one of only two teams in college football to allow under 5.0 yards per attempt to opposing quarterbacks.
Along with reigning Big Ten Defensive Back of the Year Riley Moss, Cooper DeJean and Terry Roberts have been tremendous. They've combined to allow a 45% reception rate on 3.69 yards per target to go along with eight pass breakups and four interceptions on the season.
Iowa grades out as the best coverage unit in the country, per PFF, and ranks seventh in Passing Success Rate Allowed and sixth in EPA/Pass allowed.
Iowa also has one of the best punters in the country in Tory Taylor. He's already downed 21 punts inside the 20-yard line (most in FBS), and opposing returners are averaging just 2.5 yards per punt return. Taylor had led Iowa to the top spot in average starting field position on defense.
---
Buckeyes Offense
CJ Stroud is now the favorite to win the Heisman Trophy, and it's easy to see why. He's put up a whopping 10.9 yards per pass attempt, owns an 84.7 PFF passing grade and has thrown for 24 touchdowns and three interceptions.
However, he's due to turn the ball over because even though Stroud has gaudy touchdown numbers, he has 10 big-time throws and seven turnover-worthy plays this season. This Iowa secondary is not the unit to be taking chances against.
While Stroud has all of the talent in the world, it also helps to have the best wide receiver in college football in Jaxon Smith-Njigba and Marvin Harrison Jr. to throw to.
But if you go through Ohio State's opponents, it hasn't faced a secondary in the same stratosphere as Iowa.
Ohio State does have a good rushing attack with the running back trio of Miyan Williams, TreVeyon Henderson and Dallan Hayden, as it ranks fifth in Rushing Success Rate, first in Offensive Line Yards and 11th in EPA/Rush.
However, once again, this is the best front seven it's seen all season.
Buckeyes Defense
The Ohio State defense has been really good this season, allowing only 4.3 yards per play (8th in FBS) while ranking third in Success Rate Allowed and seventh in EPA/Play Allowed.
The biggest thing for Ohio State in this game is its ability to generate a pass rush. The Buckeyes already have 14 sacks on the season and the 11th-best pass-rushing grade, per PFF. That's huge going up against the second-worst pass-blocking unit in college football.
The Buckeyes' front seven has done an incredible job stopping the run, allowing only 3.0 yards per carry and ranking fourth in Rushing Success Rate Allowed, and sixth in Defensive Line Yards. I don't know how Iowa is going to be able to run the ball if it can't block Ohio State up front.
It doesn't get any easier throwing the ball either, as Ohio State sits second nationally in Passing Success Rate Allowed, 23rd in EPA/Pass Allowed and has the 24th-best coverage grade, per PFF.
---
Iowa vs. Ohio State Betting Pick
These two teams are playing incredibly slow this season with Iowa at 28.5 seconds per play (110th in FBS) and Ohio State at 27.9 seconds per play (98th in FBS).
Plus, you have two top-10 defenses going at each other, with Iowa's offense being one of the worst in the Power Five and Ohio State finally facing an elite secondary.
I only have 40.8 points projected for this game, so I like the value on under 49.5 points.
---
---
Ole Miss vs. LSU
Ole Miss looks to stay undefeated and atop the SEC West standings when it travels to Baton Rouge to take on LSU on Saturday afternoon.
The Lane Train is rolling to begin the season with Ole Miss ranked seventh in the latest AP Poll. The Rebels haven't played an overly difficult schedule, as a home date with Kentucky has been their most challenging game so far this season.
This is also their first difficult road test of the season with their other two road games coming at Georgia Tech and at Vanderbilt.
LSU has seemingly turned things around, going into Gainesville last weekend and coming out with a 45-35 win. Brian Kelly now has his team at 4-2 with the only two blemishes coming against Florida State and Tennessee.
This is a perfect spot in front of one of the best crowds in college football to pick up a statement win.
---
Rebels Offense
Jaxson Dart is a really interesting quarterback because if you take away the games against Central Arkansas and Georgia Tech, he's actually been really average.
Image via PFF.
That has caused the Ole Miss passing attack to rank just 46th in EPA/Pass. That's bad news considering the strength of LSU's defense comes in its secondary.
Lane Kiffin, though, has been relying on his run game more than ever. The Rebels run the ball on 65.5% of their offensive plays, and for good reason. They're gaining 5.7 yards per carry, rank ninth in Rushing Success Rate and eighth in rushing explosiveness.
The thing is, they're running the ball this effectively with a pretty average offensive line. Ole Miss owns a run-blocking grade of 62.3, per PFF, which ranks 56th in the country.
That's a scary thought when facing a very talented LSU defensive line.
Rebels Defense
Ole Miss' defense is having an outstanding year, and a lot of it has to do with how good it's been up front. The Rebels' front seven is allowing only 3.9 yards per carry and ranks top-45 in EPA/Rush Allowed and rushing explosiveness allowed.
Not only have they been able to stop the run, but they've also put pressure on the quarterback as well. Ole Miss ranks 19th in sack percentage and has the 15th-best pass-rushing grade in the country, while LSU's offensive line comes in at 65th in pass blocking.
The Ole Miss secondary has also done a fantastic job of limiting opposing quarterbacks to just 6.6 yards per attempt. The Rebels also enter this game ranked 27th in Passing Success Rate Allowed and 31st in EPA/Pass Allowed while owning the 17th-best coverage grade in the country.
So, they should be able to shut down Jayden Daniels and the LSU passing attack.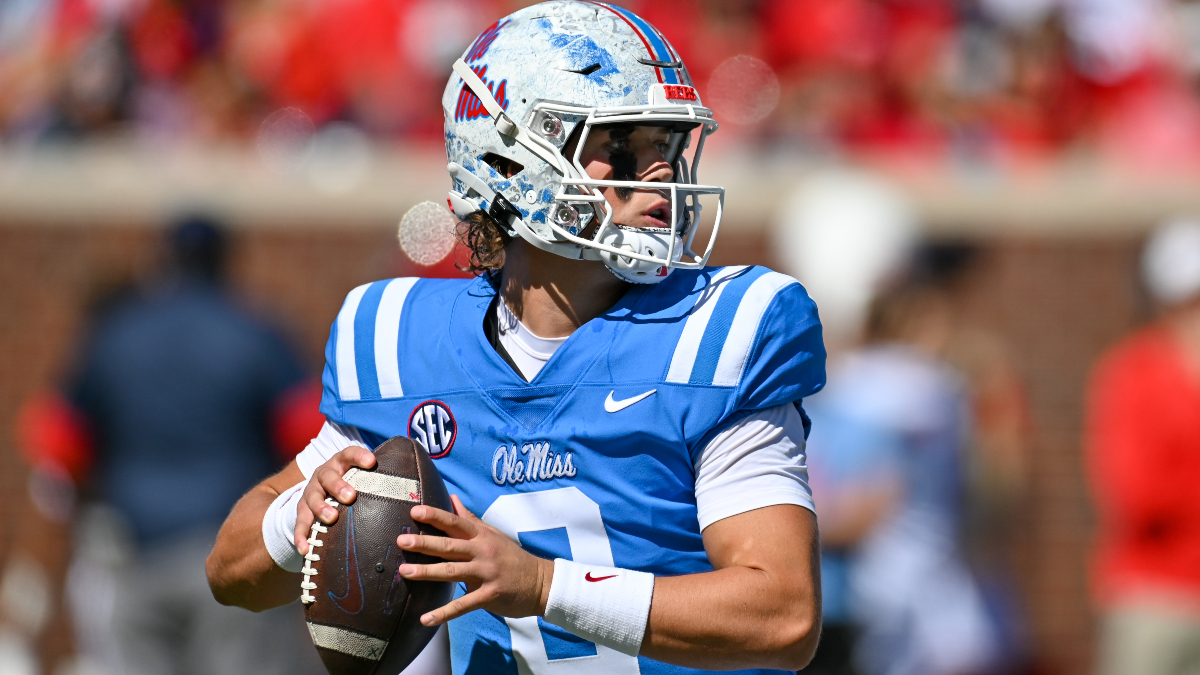 ---
Tigers Offense
With Daniels leading the way, LSU has been a mixed bag on the offensive side this season. Daniels averages just 7.1 yards per attempt and owns a 71.5 PFF passing grade with only four big-time throws.
That has the Tigers ranked 75th in EPA/Pass, but the focus of LSU's offense hasn't been the passing game.
The Tigers possess a dynamic rushing attack with four different running backs averaging over 4.5 yards per carry.
However, Daniels has rushed the ball 90 times, which is 40 more attempts than anyone else on the team. With a PFF rushing grade of 83, he's gaining 4.5 yards per carry while averaging 4.3 yards after contact per attempt. But it's not going to be easy to run the ball against Ole Miss' front seven.
Tigers Defense
LSU has been pretty stout against the run even if it doesn't show up in its current metrics. It ranks 15th nationally in PFF's run defense grade, and that's because it has played a really difficult schedule up to this point.
Even with that difficult schedule, LSU sits top-45 in Defensive Line Yards, Stuff Rate and Power Success Rate Allowed.
The Tigers' secondary has also been impressive, ranking 19th in Passing Success Rate Allowed and 22nd in EPA/Pass Allowed. The reason this unit owns a coverage ranking of 82nd is that it has allowed one too many explosive plays in the passing game. However, Jaxson Dart has just a 74.2 PFF passing grade on throws over 10 yards in the air, so he may not expose that weakness.
The biggest thing about the LSU defense is that it holds opposing teams out of the end zone once they cross the 40-yard line. Opponents have entered LSU territory 36 times this season and are averaging only 3.2 points per opportunity, which ranks 19th in the country.
---
Ole Miss vs. LSU Betting Pick
Even though these two teams like to play fast, we have two rush-heavy attacks and the clock will keep moving. We also have two defenses that are in the top 25 in terms of Finishing Drives Allowed.
I think the total of 66.5 is a little too high, as I have 57.6 points projected for this game. I like the value on under 67 points.
---
---
Minnesota vs. Penn State
Minnesota and Penn State both look to bounce back from Week 7 losses when they meet for Saturday night football in Happy Valley.
Minnesota lost its second straight Big Ten West game to Illinois last weekend, putting its hopes of winning the Big Ten West in serious jeopardy. To make matters worse, starting quarterback Tanner Morgan got knocked out of the game with a concussion.
With all that said, this is still a really talented Gopher squad that could absolutely pull off an upset in Happy Valley.
Penn State suffered its first loss of the season last weekend, getting throttled by Michigan in the Big House. The loss drops Penn State to 16th in the polls, but the Nittany Lions will no doubt be looking ahead to next weekend when they host Ohio State in what will be their last hope for a Big Ten East title.
---
Golden Gophers Offense
Minnesota has been incredibly efficient on offense, ranking seventh in Success Rate. But a lot of this game is going to depend on Morgan's status after he left Saturday's game against Illinois with a concussion.
Whether Morgan can play or not, Minnesota is going to have to run the ball well to be effective on offense. It's a good thing the Gophers boast one of the best running backs in the Big Ten in Mohamed Ibrahim.
Ibrahim is one of only four running backs in college football to rush for 100 yards or more in every game played this season. He's averaging 4.7 yards after contact per attempt and has 23 rushes of over 10 yards, per PFF.
Minnesota is running the ball on 62.2% of its offensive plays, so the quarterback becomes less important if Ibrahim continues to run the ball effectively.
Penn State is really struggling to stop the run at the moment, so Minnesota should be to rack up yards on the ground and control the time of possession.
Golden Gophers Defense
Minnesota has a really stout front seven that's top-25 in both Stuff Rate and Rushing Success Rate Allowed. It held Illinois to just 4.1 yards per carry on Saturday and is allowing under 4.0 yards per carry for the season.
However, that isn't even the strength of Minnesota's defense.
The Gophers' secondary is allowing just 5.7 yards per attempt and ranks 20th in Passing Success Rate Allowed with the fourth-best coverage grade in the country, per PFF.
They have two of the best safeties in the Big Ten in Tyler Nubin and Jordan Howden, who both sit inside the top 15 nationally in coverage.
Most importantly, the Minnesota defense ranks 11th in Finishing Drives Allowed. That's a big key against a Penn State unit that can't move the ball efficiently but finishes drives well.
---
Nittany Lions Offense
The Penn State offense, in its current state with Sean Clifford under center, is mediocre — and that might be putting it kindly.
Clifford is a below-average quarterback, and he's been a below-average quarterback for his entire Penn State career. That's why you hear pleas for Drew Allar to take over as the starting signal-caller.
Image via PFF.
This season has been right on par with the rest of his career. Clifford owns a 68.0 PFF passing grade with a 71.8% adjusted completion percentage. He's also thrown for 7.4 yards per attempt with only six big-time throws and five turnover-worthy plays.
Even with this type of mediocrity, here's the latest from Penn State practice this week:
If Clifford has been below average, then Penn State surely has been able to run the ball effectively, right? Wrong.
The Nittany Lions have a five-star freshman running back in Nick Singleton, who's averaging an impressive 7.0 yards per carry. But then you look a little closer and see that 124 of his 482 yards came on a 70-yard run against Ohio and a 54-yard run against Auburn.
In the last three games, he's averaged 3.5 yards per carry against Central Michigan, 4.1 yards per carry against Northwestern and 3.2 yards per carry against Michigan.
Penn State ranks 116th in Rushing Success Rate, 88th in Offensive Line Yards, and 110th in Stuff Rate Allowed. This is a bad rushing attack that's way too reliant on explosive runs.
Nittany Lions Defense
Penn State's defense finally got exposed for what it truly is against Michigan.
Blake Corum and Donovan Edwards had an absolute field day against the Nittany Lions' front seven combining for 339 yards rushing on a whopping 7.7 yards per carry and four touchdowns.
It was a long time coming because Penn State had been getting by after facing some pretty poor rushing attacks.
Penn State ranks 86th in Rushing Success Rate Allowed and 90th in rushing explosiveness allowed. But the most freighting stat of all is that it sits 113th in terms of a tackling grade, per PFF.
The secondary has allowed just 5.8 yards per attempt for the season, but, Aidan O'Connell and JJ McCarthy are the only two "good" quarterbacks it's faced this season.
Plus, if the Nittany Lions can't stop the run, the only thing their secondary will see is Ibrahim running right at them.
---
Minnesota vs. Penn State Betting Pick
While Morgan's status is important, this is a fantastic matchup on paper for Minnesota.
The strength of its offense gets to go up against an incredibly below-average rush defense, and the strength of its defense gets to go up against a below-average quarterback.
I love the Golden Gophers to bounce back from the loss in Champaign at +4 and would play them down to a pick'em.
---
---
How would you rate this article?
This site contains commercial content. We may be compensated for the links provided on this page. The content on this page is for informational purposes only. Action Network makes no representation or warranty as to the accuracy of the information given or the outcome of any game or event.