Grading Austin Hooper's & Hayden Hurst's Fantasy Football Fits with Browns & Falcons
Credit:
Getty Images. Pictured: Austin Hooper, Hayden Hurst
Two tight end dominoes fell on the first day of NFL free agency: Austin Hooper's signing in Cleveland followed by Hayden Hurst's trade to Atlanta.
Our trio of fantasy football experts — Sean Koerner, Matthew Freedman and Chris Raybon — analyze the fits for both TEs below.
---
Tom Brady Free Agency Promo! Bet $5 and Win $100 if TB12 picks any team with the exception of the Jets, Bills or Dolphins
---
Austin Hooper's Fantasy Football Fit with Browns
Koerner
Hooper was my favorite late-round TE target in 2019 fantasy drafts.
I was bullish on him for a few reasons: 1) Falcons offensive coordinator Dirk Koetter has historically gotten the most from him TEs. 2) Hooper had a fairly low touchdown rate for his career at 7.2%, but saw that spike with a Year 4 breakout. Generally, TEs have a slower trajectory in terms of reaching their peak.
These reasons led me to believe that Hooper was a great value play. And sure enough, he erupted in 2019 and was the TE1 in fantasy before suffering a multi-week injury in Week 10.
It's important to know why I was so high on him heading into 2019 to understand why I'll likely be more bearish on him in 2020.
He'll be playing in a new system and with a quarterback in Baker Mayfield who loves to spread the ball around. Having to compete with Odell Beckham Jr., Jarvis Landry and Kareem Hunt will lower Hooper's targets.
We also can't forget about David Njoku, who will be Hooper's backup. The Browns' main weakness is that they lack a true WR3, so we could see them run more 2-TE sets with both Hooper and Njoku on the field at the same time.
Either way, I'm anticipating Hooper will be drafted a bit too early this season.
Koerner's Hooper Projections: 57 receptions, 604 receiving yards, 4.3 receiving touchdowns (TE10)
Freedman
I've never been much of an Austin Hooper truther, but it's hard to ignore the progress he's made in his four-year career, improving as a fantasy producer with each passing season (PPR scoring).
2016: 4.7 fantasy points per game (42nd among tight ends)
2017: 7.5 (20th)
2018: 10.2 (ninth)
2019: 14.7 (third)
There's nothing exceptional about Hooper. He's neither big (6-foot-4, 254 pounds) nor fast (4.72-second 40-yard dash). He's a contributor but not a playmaker.
Since his rookie season, Hooper has captured a league-high 75.5% of his receiving production on routes that exploit holes in zones or the underneath parts of defenses (per Pro Football Focus). In other words, Hooper has benefitted by taking advantage of the defensive attention paid to his former teammates, especially wide receivers Julio Jones and Calvin Ridley.
In Cleveland, Hooper might benefit from playing alongside wide receivers Odell Beckham Jr. and Jarvis Landry, but the Browns aren't as offensively potent as the Falcons, and Hooper might have fewer targets and scoring opportunities than he's had in the past.
At tight end, I like to bet on talent, and I ultimately don't think Hooper is talented enough to justify his mid-TE1 draft position. I'd rather wait on the position and search for an arbitrage play with comparable upside at a discounted price.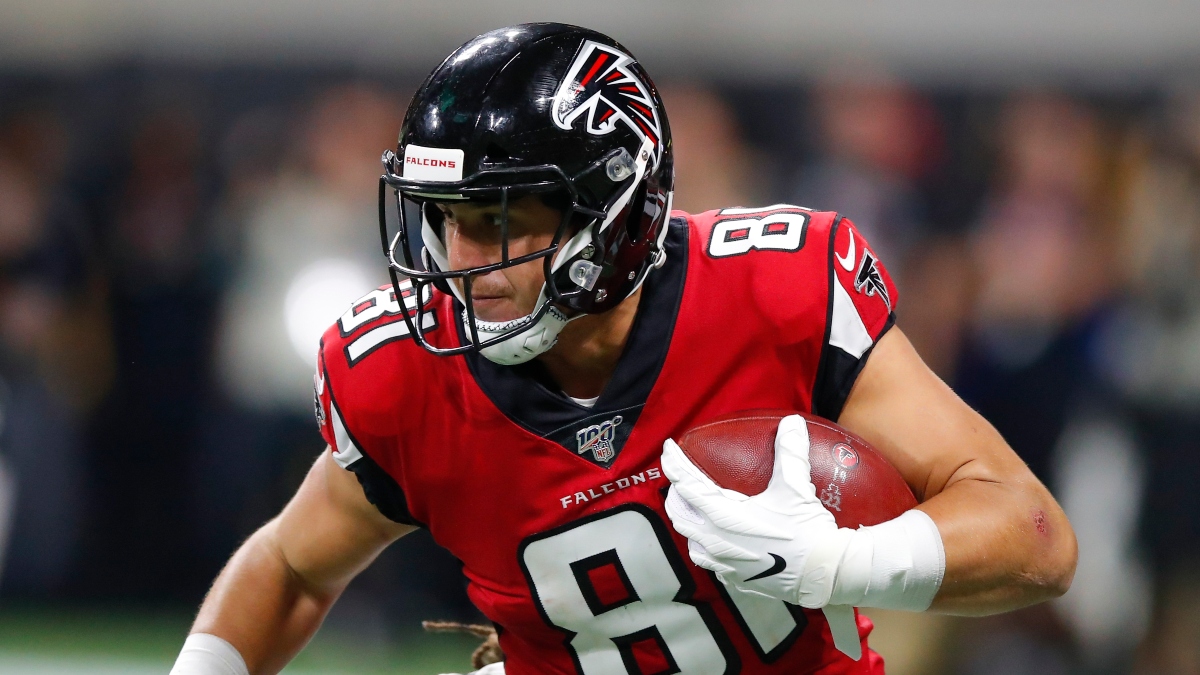 Hooper's four-year, $44 million deal with the Browns likely means that tight end David Njoku's time in Cleveland is over, although the team might choose to hold him through the 2020 season. Either way — whether Njoku leaves Cleveland this year or next — he's someone I will keep my eye on.
Njoku was injured for most of 2019, so I don't put too much stock in what we saw from his last season, but in 2017-18 he looked like one of the league's most promising young tight ends.
He has tremendous physical gifts (83rd-percentile 118.3 SPARQ-x score, per Player Profiler), and he played his entire rookie year as a 21-year-old first-rounder.
I could see Njoku eventually having a 2018 Eric Ebron type of season as a post-hype producer once he gets out of Cleveland.
Raybon
The ink is barely dry on Hooper's pact with the Browns, and this already has the look of a fantasy football trap.
For one, Hooper is almost certain to see a dip in volume: The Falcons threw a league-high 684 passes last season — 51 more than any other team, and 145, or 9.1 per game, more than the Browns.
And Hooper is no guarantee to match his career-high 18% target share from last season. Only 16.5% of Mayfield's career pass attempts have gone to tight ends. And that's not entirely because Njoku got hurt last year and Mayfield was throwing to someone named Stephen Carlson and others; Njoku commanded only a 15.4% target share from Mayfield in 2018 despite being Mayfield's second-most targeted receiver.
One positive for Hooper could be that Mayfield has been adept at finding his tight ends in the end zone, connecting for six on 10.4% of his targets to the position. Up to this point, Hooper has never been much of a TD threat, with just 16 scores on 277 career targets (5.8%). At the same time, many of Mayfield TD tosses to tight ends have been to players of fantasy irrelevance; Njoku's 6.0% rate with Mayfield is not much different from Hooper's career mark.
Hooper is going off the board as the TE5 at MyFantasyLeague.com, which is way too rich considering he's not a lock to outproduce the next nine guys going after him: Evan Engram, Darren Waller, Hunter Henry, Noah Fant, T.J. Hockenson, Dallas Goedert, Tyler Higbee, Jared Cook and Mike Gesicki.
I'm treating Hooper as a low-end TE1 and probably won't have much of him unless his ADP drops into that range.
Hayden Hurst's Fantasy Football Fit with Falcons
Koerner
Hurst is essentially stepping into Hooper's role in the Falcons offense, so all of the reasons I was bullish on Hooper heading into 2019 apply to Hurst for 2020.
As a former first-round pick, you could certainly make the case that Hurst is the better talent. He'll be entering Year 3 and is ready to breakout. Hurst was limited in his first two seasons with the Ravens because of their run-heavy approach and loaded depth chart at TE.
Hurst is the obvious winner from this trade, but we also have to bump up Mark Andrews. Andrews was able to finish as the TE4 despite sharing snaps with Hurst and Nick Boyle. He'll likely go from running a route on about 50% of the snaps to around 70-80%, which would raise both his floor and ceiling.
Koerner's Hurst projections: 54 rec, 583 rec yds, 4.6 rec TD (TE11)
Koerner's Andrews' projections: 66 rec, 812 rec yds, 7.3 rec TD (TE3)
Freedman
My hopefulness for Hurst is founded almost on nothing — but nevertheless, I hope.
Hooper has been productive in Atlanta over the past few years, and I think it's hard to say that he is clearly more talented than Hurst.
Hooper has benefitted by from the defensive attention paid to his former teammates, especially wide receivers Julio Jones and Calvin Ridley.
Hurst could similarly benefit. Although he didn't have Hooper's sheer volume, Hurst last year was quite comparable to Hooper as a receiver (per Pro Football Focus).
Hooper (2019): 1.65 yards per route, 19.5% target rate on routes, 80.5 pass-catching grade
Hurst (2019): 1.69 yards per route, 18.4% target rate on routes, 77.3 pass-catching grade
Hooper ran more routes (478 vs. 207), but on a per-route basis, Hurst was similar. Last year, the only qualified tight ends to have more than Hurst's 8.9 yards per target were Jared Cook (10.8), Jonnu Smith (10.0), Darren Waller (9.8), George Kittle (9.8) and Travis Kelce (9.0).
The Falcons traded a second-rounder to the Ravens for Hurst (and they also swapped a fifth-rounder for a fourth), so they invested a lot in him — more than the third-rounder they used to get Hooper in 2016.
And although Hurst was an unconventional prospect in 2018 — he entered the league as a soon-to-be 25-year-old former baseball pitcher — the Ravens and then-general manager (and Hall-of-Fame tight end) Ozzie Newsome selected him with a first-round pick because of his all-around skill set and talent.
Given the investment the Falcons have made in him, Hurst seems likely to play as a direct replacement to Hooper, who saw 7.5 targets per game last year. And based on the draft capital originally invested in him, Hurst might have the raw talent to produce as the No. 3 receiving option in a strong passing game.
Last year, Hooper averaged 14.7 fantasy points per game in point-per-reception scoring. Hurst has a chance to approach that number this year — or at least the 10.2 Hooper averaged in 2018.
Either way, Hurst seems likely to have TE1 potential as a waiver-wire addition.
And if you happen not to believe in Hurst — and that's a reasonable position to have — then take a look at Jaeden Graham, a 2018 undrafted free agent from Yale who last year went 7-117-1 receiving on eight targets in his three games with a snap rate of at least 50%.
If Hurst doesn't seize the snaps and targets that went to Hooper last year, Graham might.
How would you rate this article?