Divisional Round NFL Fantasy WR Breakdown: Will Michael Thomas Go Off vs. Eagles?
Credit:
Credit: Derick E. Hingle-USA TODAY Sports. Pictured: New Orleans Saints wide receiver Michael Thomas (13).
Read the full version of this piece on FantasyLabs
Wildcard weekend was wildly wonderful, and the joy of playing daily fantasy football is once again upon us. The divisional round of the playoffs brings a star-studded four-game slate that kicks off on Saturday at 4:35 p.m. ET.
In this positional breakdown, I'm looking at two wide receivers at the top of the individual Pro Models that Jonathan Bales, Peter Jennings (CSURAM88), Adam Levitan, Sean Koerner, Chris Raybon, Kevin McClelland (SportsGeek) and I have constructed.
If you want more information on the rest of this week's wide receivers, subscribe to FantasyLabs, where you can access the large suite of analytical DFS tools I use to research every player.
After this piece is published, FantasyLabs is likely to provide news updates on a number of players. Stay ahead of your competition with our industry-leading DFS-focused news feed.
For updates on Vegas spreads and over/unders, check out The Action Network Live Odds page.
---
>> Sign up for The Action Network's daily newsletter to get the smartest NFL conversation delivered into your inbox each morning.
---
Model Wide Receivers
Aptly, the wide receiver who stands out most in the FantasyLabs Pro Models this week is the guy who led the league in receptions this season.
Michael Thomas: $7,900 DraftKings; $8,400 FanDuel
Michael Thomas: New Orleans Saints (-8) vs. Philadelphia Eagles, 51.5 Over/Under
There's a lot to like about Thomas. With 321 receptions, Thomas is the No. 1 receiver in league history through his first three seasons. Even though this season he was 11th in targets with 147, he finished first in receptions with 125 thanks to his position-best 85% catch rate. Unsurprisingly, Thomas led all players this season with six games of 10-plus receptions.
One factor in Thomas' favor is that he's playing at the Mercedes-Benz Superdome (the Coors Field of fantasy football). With quarterback Drew Brees (since 2006), the Saints have been significantly better at home than on the road (per the RotoViz Team Splits App), especially in the passing game.
Saints at home (103 games): 30.1 points per game | 2.59 points per drive | 315.4 yards | 2.5 touchdowns passing
Saints on road (105 games): 25.7 points per game | 2.23 points per drive | 290.9 yards | 1.78 touchdowns passing
Additionally, the Saints with Brees at home have a 64-42-2 over/under record, good for an 18.3% return on investment for over bettors (per Bet Labs). In the postseason, the Brees-led Saints are 5-0 to the over at the Superdome.
On top of that, the Saints-Eagles game is the only indoors divisional contest this weekend. Over the past 15 years, domed postseason games have a magnificent 29-10 over/under record (47.1% ROI). For comparison: Outdoor games have a 53-72-4 over/under record.
The Saints have a robust implied Vegas total of 29.5 points: They have a real chance to finish the week as the highest-scoring team on the slate. And in the playoffs, home favorite wide receivers tend to outperform expectations.
But in general it probably doesn't matter too much to Thomas where he plays: He has been a fairly splits-agnostic player throughout his career.
Home (24 games): 14.1 FanDuel points, 8.7 targets, 6.8 receptions, 80.9 yards, 0.5 touchdowns
Away (21 games): 14.3 FanDuel points, 9.1 targets, 6.9 receptions, 80.2 yards, 0.48 touchdowns
Regardless of where he plays, Thomas has been productive and consistent on a salary-adjusted basis.
Lining Thomas up all over the formation — 441 snaps wide left, 257 wide right and 229 in the slot — the Saints are strategically scheming each game to get the ball to their receiving playmaker, who has teamed up with Brees for a strong 10.6 adjusted yards per attempt (AY/A). Regardless of where he's been targeted, Thomas has been a good producer (per RotoViz AY/A App).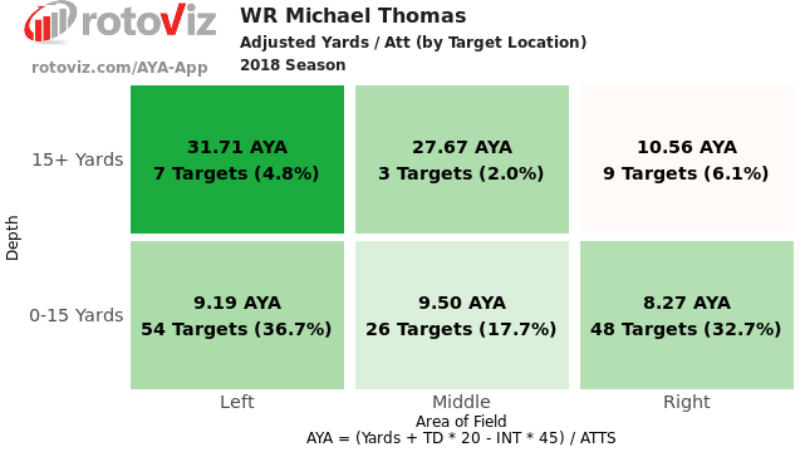 With his efficiency, Thomas leads the position with his median projections and has top-three ceiling projections among all wide receivers in our Models.
But Thomas does carry some concerns with him. He has been far less productive since the return of running back Mark Ingram (suspension) in Week 5. His Ingram-based splits for the season are telling.
Without Ingram (Weeks 1-4): 19.9 FanDuel points, 11 targets, 10.5 receptions, 111.3 yards receiving and 0.75 touchdowns
With Ingram (Weeks 5-17): 14.5 FanDuel points, 8.6 targets, 6.9 receptions, 80 yards receiving and 0.5 touchdowns
These splits make sense. In Weeks 1-4, the Saints had the league's eighth-highest pass rate at 63.2%. Since then, they've had fourth-highest run rate at 51.4%. With fewer targets to go around, Thomas has predictably seen lower usage rates and been less productive.
Even so, he's the No. 1 wide receiver on the team at the top of The Action Network NFL Power Rankings, and he's catching passes from a future Hall-of-Famer. As we talked about on the Wednesday edition of The Action Network NFL Podcast, almost no one on the slate has Thomas' ability: He's capable of putting up 25 FanDuel points in any game.
Most importantly, Thomas has a great matchup this week. Although the Eagles are strong on the defensive line, the secondary has been generous in the passing game this season, allowing a top-four mark of 33.5 FanDuel points per game to opposing wide receivers.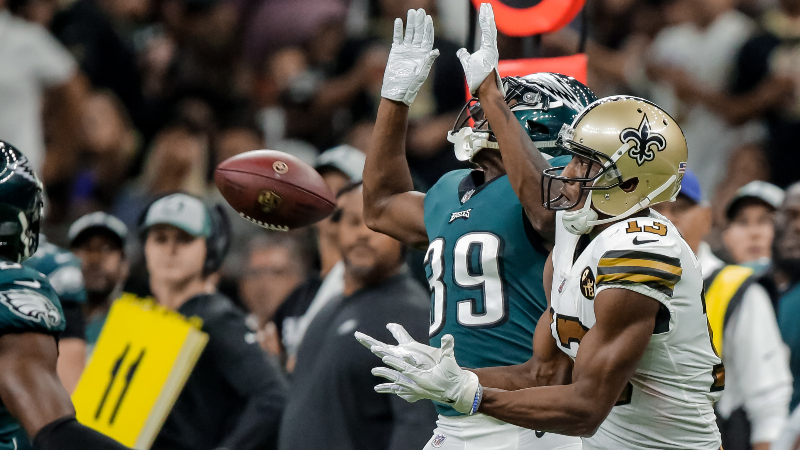 In Week 11, Thomas scored 17.2 FanDuel points against these same Eagles on the strength of a 4-92-1 performance in a 48-7 home victory in which he was barely needed.
The Eagles rely on zone coverage quite a bit, and Thomas has been dominant against zone-heavy defenses this season, averaging eight receptions, 81.3 yards and 0.33 touchdowns in six games against defenses that utilize zone-coverage at a top-10 rate.
The Saints and Eagles will likely combine to have the week's slowest-paced matchup, but the Saints also have one of the most explosive passing matchups of the slate: The Eagles corners are highly exploitable.
On top of that, the Eagles secondary is beyond injured.
No. 1 cornerback Ronald Darby (knee) is on IR.
No. 2 cornerback Jalen Mills (foot) is on IR.
No. 3 cornerback Sidney Jones (hamstring) missed Weeks 7-10, 12 and 15-18 with a lingering soft-tissue injury.
For the past month, the Eagles have been using backups Avonte Maddox, Rasul Douglas and Cre'Von LeBlanc as the starting left, right and slot corners. They respectively have mediocre Pro Football Focus coverage grades of 57.0, 70.4 and 71.2 and collectively have allowed a completion rate of 64.9% in their coverage.
Jones practiced in full on Friday, so he seems likely to replace Maddox on the field, but he's far from certain to play or even make it through the entire game. And even with Jones, the Eagles will be challenged to stop Thomas. On Saturday I will probably bet the over on Thomas' reception prop.
To find the best bets in the props market, use our Player Props Tool, which is powered by our industry-leading projections. Since Week 1, the props with a bet quality of 10 have gone 227-113-12, good for a 64% win rate. Without question, you should supplement your DFS action with player props.
Thomas has a position-high nine Pro Trends on FanDuel, where he's the No. 1 wide receiver in the Bales, CSURAM88, Levitan, Koerner, SportsGeek and Freedman Models.
Read the full version of this piece on FantasyLabs for more on Rams receiver Robert Woods.
Divisional Round Positional Breakdowns
Be sure to read the other divisional round positional breakdowns.
• Quarterbacks
• Running Backs
• Tight Ends
For more in-depth NFL analysis information, check out The Action Network.
---