NFL Odds & Picks: How We've Already Bet Bucs vs. Packers & Bills vs. Chiefs Spreads
Credit:
Hannah Foslien/Getty Images. Pictured: Josh Allen
And just like that, we're on to the conference championships!
After losing Patrick Mahomes to a concussion in the third quarter, the Chiefs held onto a narrow lead over the Browns to punch their ticket to the AFC Championship Game to face the Bills. The Buccaneers, meanwhile, edged out the Saints in the final quarter. Now Tom Brady is set to face off against Aaron Rodgers in the NFC Championship.
Given the uncertainty with Mahomes, AFC Championship lines have already seen a ton of movement since opening (we're tracking that movement here). Most notably, the spread moved from Bills -1.5 at open to Chiefs -2.5/-3 as of writing, depending on the sportsbook (shop real-time odds here).
Our staff has already taken a position on these spreads. They detail which sides they're on below.
NFL Odds & Picks
Buccaneers at Packers
| | |
| --- | --- |
| Pick | Bucs +4 |
| # of Analysts | 1 |
| Bet Now | |
Chris Raybon: Since the NFL switched to its current divisional format, teams that won the first meeting in a season are 55-39 in postseason rematches (58.5%). This favors the Buccaneers, who beat the Packers (38-10) during the regular season.
The Bucs pressured Aaron Rodgers on 18-of-41 dropbacks in the first game and have the chops to do so again — whether via blitz or traditional rush — while covering up on the back end. This is the best hope to make Rodgers look not completely immortal, as his 45.3% completion percentage under pressure ranked 29th of 42 qualifiers during the regular season.
The emergence of what looks like a formidable two-headed rushing attack will be key for the Bucs. Against a Saints defense that ranked No. 2 in Football Outsiders' rushing DVOA, Ronald Jones and Leonard Fournette combined for 125 yards on 30 carries. Given the Bucs' myriad of pass-catching weapons, Packers defensive coordinator Mike Pettine is almost certain not to deviate from his dime-heavy scheme, which will create opportunities for the Bucs to overpower the Packers' 17th-ranked run defense on the ground.
Also keep in mind that the Bucs are second in overall DVOA, one spot ahead of the Packers, so this is a true "coin flip" game.
I like the Bucs down to +3.
| | |
| --- | --- |
| Pick | Packers -3.5 |
| # of Analysts | 2 |
| Bet Now | |
Brandon Anderson: The Packers have played 17 games this season, and they've been awesome in 16 of them. The other one came against these Buccaneers.
The Bucs defense played their game of the season against the Packers. Tampa Bay had two interceptions, four sacks, 13 quarterback hits, six passes defensed, six tackles for loss, a forced fumbles, a pick six and a partridge in a pear tree — it was only the third pick-six of Aaron Rodgers's career (and he was only a couple yards away from a second).
it was a tour de force for Todd Bowles's defense.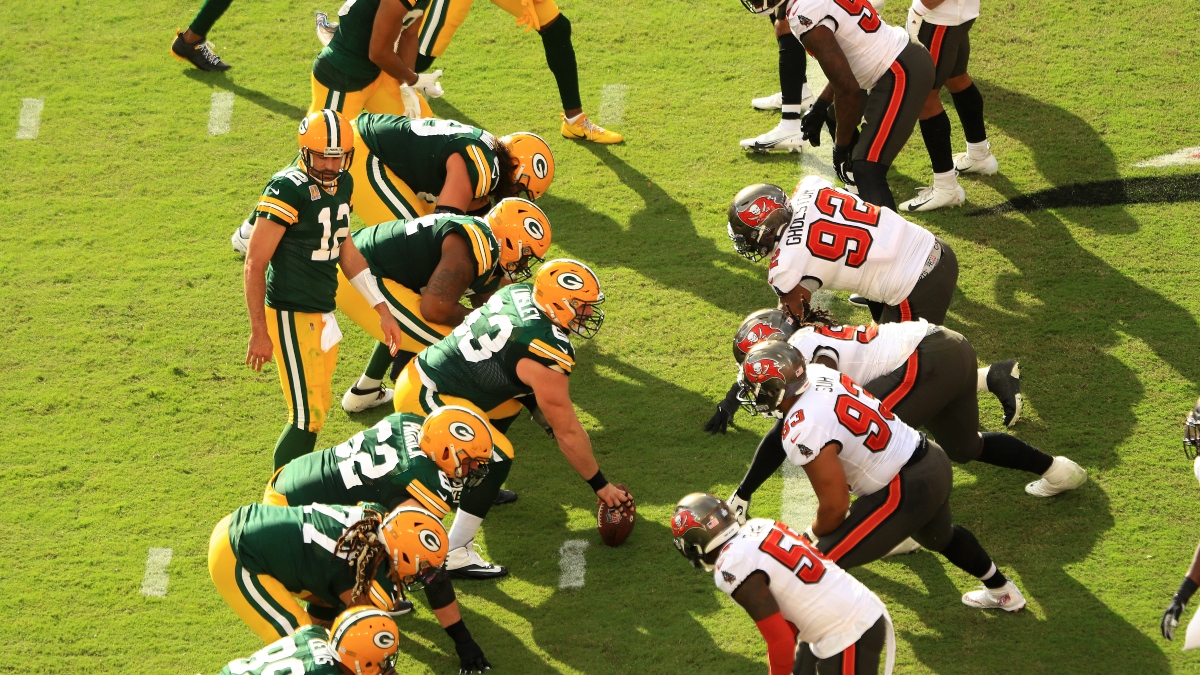 It's easy to forget now, but the game was much closer than it looked until the Bucs ran away with it. In fact, the Packers actually led 10-0 early. But when the pressure came and they uncharacteristically made mistakes, the Bucs rolled. And now with left tackle David Bakhtiari out, that pressure could come harder than ever.
But I'm taking the Packers anyway.
The Bucs played the perfect game last time, and Rodgers nearly equaled his career total of pick-sixes while the Bucs played nearly perfect ball on defense, didn't turn it over or rack up penalties and won with ease. That's a perfect storm — and it's not repeatable.
The Packers have been rolling for months now and Rodgers will win MVP soon. The Bucs defense has looked very beatable against two tepid attacks in these playoffs and two quarterbacks who didn't belong in the playoffs. Rodgers is something else entirely. We know Tampa can get rolling when it forces turnovers and pile up mistakes, but Rodgers usually doesn't make them.
The Bucs have yet to be impressive on offense in the playoffs, too — not enough to go toe to toe with this Packers offense.
And don't forget, we're sending a 43-year-old to cold snowy Lambeau and asking him to win on the road. I know Tom has played a time or two in the snow, but we've seen this movie before with an old quarterback wilting in the winter cold.
The Packers won 14 games so far this season, and 13 of them were by at least a touchdown. If you like them to win, you shouldn't be daunted by the line here. Packers send Rodgers back to the Super Bowl.
Matthew Freedman: I like money, so I tend to bet on Packers quarterback Aaron Rodgers unless I see a compelling reason not to, and I don't see one here.
Rodgers simply wins.
For his career, he's an A-graded 120-84-5 ATS (15.1% ROI).
And he's been especially dominant at home, going 62-35-4 ATS (24.1% ROI) at Lambeau Field.

Even without 80,000 fans, the Packers still have a true home-field advantage because of the weather. Rodgers can play at a high level in cold temperatures.
At this stage of his career, I'm skeptical as to whether 43-year-old Buccaneers quarterback Tom Brady can.
Getting Rodgers at less than a touchdown at home is a gift. I like the Packers to -6 (-110).
---
» Return to the table of contents «
---
Bills at Chiefs Picks
| | |
| --- | --- |
| Angle | Bills +3 |
| # of Analysts | 2 |
| Bet Now | |
Matthew Freedman: I can't help myself. The Bills are an outstanding 12-6 against the spread (ATS) for a 28.6% Return on Investment (ROI) this season, and for his career, quarterback Josh Allen is 27-17-2 ATS (18.0% ROI).
He has been especially good as an underdog and on the road.
Underdog: 14-6-2 ATS | 31.8% ROI
Visitor: 13-5-2 ATS | 35.4% ROI
And as a road dog, Allen is an exceptional 8-2-2 ATS (45.0% ROI).
After opening the year on fire, the Bills cooled off over the middle of the season, but they're 9-1 ATS (74.0% ROI) since Week 9 with an average cover margin of +12.6 points.
Add in the possibility that Mahomes might not be ready to play, and I must back the Bills. I like them down to a pick'em.
Brandon Anderson: I have to do it. I have to take Buffalo here.
All season long, I've been waiting for  the Chiefs to get upset in the AFC playoffs. Their last eight wins have come by less than a touchdown. This team continues to pull out wins late, but rarely covers or wins comfortably. And with Patrick Mahomes, that's usually okay.
Obviously Mahomes is the big variable, and his availability is why I'm jumping on the Bills right away.
This line is a slight hedge in case Mahomes is out, but not enough. The lookahead line on this game was Chiefs -3.5. Moving this a point or two is just no man's land. It means there is now serious value available, because Mahomes is sure as heck worth a lot more than a point or two.
I'm skeptical that Mahomes plays. The Chiefs got their Super Bowl last year, and with Mahomes healthy long term, they are likely to have more chances. You never know for sure, but you have to make the long term play if you're Kansas City. If there's any risk whatsoever, Mahomes sits. And if he does, I definitely like Buffalo and would bet this aggressively.
The key is that I might be picking Buffalo even if Mahomes does play. First, we may not get 100% of Mahomes, and any slight hit now could be more Chad Henne. But, I mean, I might have been playing Buffalo even with Mahomes fully healthy — while the Chiefs have been squeaking out wins of late, the Bills averaged 38 points over the second half of the season.
This offense can hurt the Chiefs and light them up down the field the way the Raiders and others teams did at points throughout the regular season. The Bills are also a much better defense than the Browns, and they'll have a far better chance of containing the Chiefs — especially if it's Henne.
I have to play the Bills. As a fan, I want to see Mahomes healthy and out there. But as a bettor, I have to play the odds, and the odds say I'm getting Bills value. Especially at +3, I can still cover even with a very close Chiefs win, the type they keep getting every week.
I'll play Buffalo as a dog early in the week until there's Mahomes news. If the line gets to a pick or favors Buffalo, I'll have to reconsider at that point.

---
» Return to the table of contents «
---
How would you rate this article?