Week 12 NFL Odds, Picks & Previews For Every Game
Credit:
Getty Images. Pictured: Kyle Shanahan, Patrick Mahomes, Alvin Kamara
Our staff previews every Week 12 NFL game, complete with odds and picks for each.
NFL Odds, Picks & Previews
Cardinals at Patriots Odds & Pick
Raheem Palmer: From a pure numbers perspective, there appears to be value on the Cardinals, as my projections make this game -2.5. I also think the Patriots should have trouble stopping Murray and the Cardinals offense under normal circumstances. However, with the uncertainty surrounding Murray's shoulder injury, that's enough to keep me off the side in this matchup.
For me, the value in this game lies in the total.
The Cardinals play at the second-fastest pace in the NFL at 25.06 seconds snap-to-snap, but surprisingly, they're 7-3 to the under and it it took a Hail Mary in their win over the Bills for that game to go over.
New England, on the other hand, plays at the 21st-ranked pace at 27.95 seconds snap-to-snap and the Patriots don't have a high-flying explosive offense. They put up more than 23 points only three times this season: Against the Seahawks, Raiders and Jets who rank 23rd, 24th and 27th in defensive efficiency, respectively.
Against the Texans, who rank 29th in defensive efficiency, the Patriots scored just 20 points.
With the Cardinals and Patriots ranking in the top 10 in run/pass ratio and struggling to stop the run, I expect a run-heavy game plan from both.
When you consider Murray's shoulder injury, the Patriots missing their left tackle and their tendency to slow the game down due to an anemic pass offense, I like this game to go under.
PICK: Under 49 (no further) [Bet at PointsBet]
---
Chargers at Bills Odds & Pick
Chargers Odds

+4.5 [BET NOW]

Bills Odds

-4.5 [BET NOW]

Over/Under

51.5 [BET NOW]

Kickoff

1 p.m. ET

TV

CBS

Odds as of early Sunday and via PointsBet, where you can bet $20 on the Chargers or Bills to win $250 if they cover.
Brad Cunningham: We should see a really high-scoring matchup between these two offenses. Both quarterbacks are on fire and should be able to light up the opposing secondary.
I have this total projected at 62.68, so there's plenty of value on the over at 51.5 points.
PICK: Over 51.5 [Bet at PointsBet]
---
Titans at Colts Odds & Pick
Brandon Anderson: This is a fun matchup because we get a great Titans offense against a great Colts defense, plus a blah Tennessee defense against a meh Indianapolis offense. It's a pretty even matchup overall.
So, how did the Colts dominate so much in that 34-17 win two weeks ago? Well… they didn't. The Titans actually led 17-10 before the final play of the first  half, and remember, the Titans are typically a second-half team.
Indianapolis scored 24 unanswered points to close out the game from there, but it wasn't as lopsided as it seems. The Colts returned a blocked punt for a touchdown and benefited from a short field throughout, and the Titans had the ball much of the second half. But beyond that blocked punt, the Titans also missed a second-half field goal and shanked a punt 17 yards.
Indy's special teams were a huge advantage, but the game was much closer than the final score implied. Or was it? The Colts' offense sliced through the Titans' defense most of the game. The Colts never punted until their final drive, with the game well in hand. They had five scoring drives before that, and the other two drives ended with stuffed runs on fourth-and-1 — one of them in field-goal range and the other one yard from the end zone.
You can twist the narrative any direction you like from that first meeting. In truth, both teams left a lot on the table, but there's certainly no way to look at that game of data and know for sure which team is better.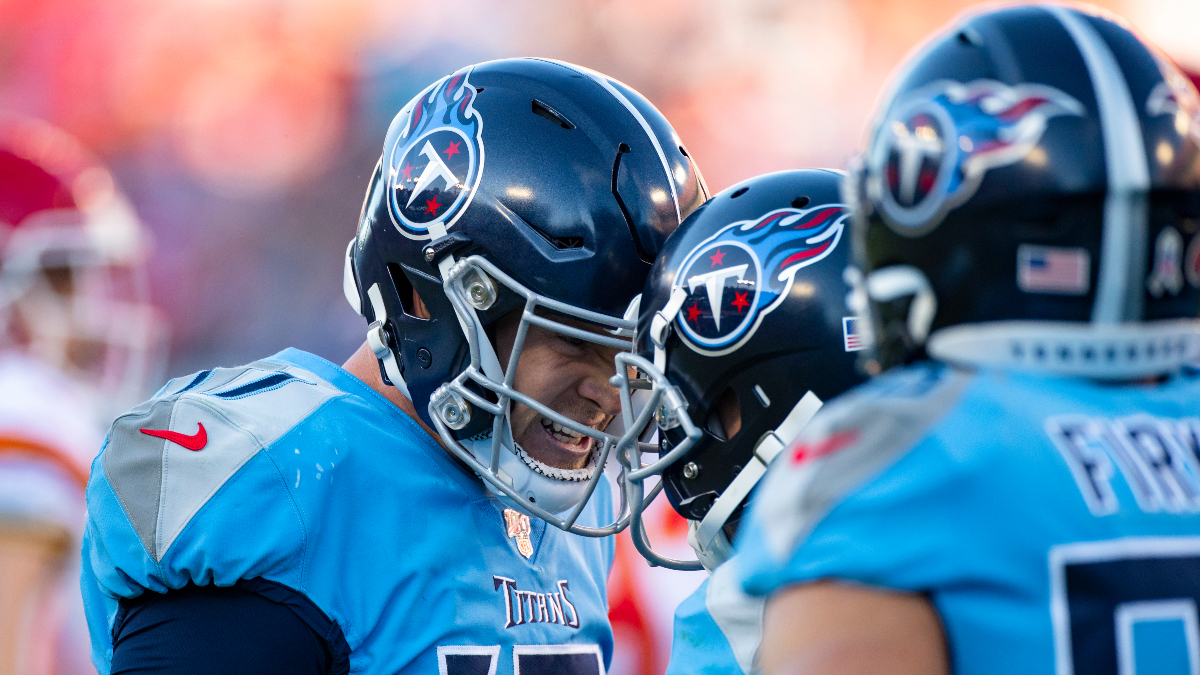 Perhaps you prefer to rely on history: The Colts have owned the Titans for longer than a decade. Indianapolis has won 20 of its last 24 against Tennessee. Of course, the Colts also had Peyton Manning and Andrew Luck for most of those wins. You'll have to decide for yourself how much that matters here.
The Colts feel like slightly the better team. They were the better team in the first matchup and have the better overall metrics, and history is on their side. But, though both teams are missing key players, Indy's injury concerns are bigger and close the gap — a gap that already wasn't very big.
It feels like the bookies got this one nearly right, leaving little margin. It feels close to a coin flip to me, and the line has slowly moved toward a pick'em as the week has gone on. I would play the Colts at even odds, but I don't like giving up a field goal. The over also looks decent at 51.5, considering the teams scored 51 last time and left so much on the table, but those injuries could mute the scoring.
In the end, I'm looking to grab some +EV odds for the best play. In a game that feels nearly even, the Titans moneyline sits at +160, an implied 38.4% win rate. I'm not sure Tennessee should be 50%, but I'd put them closer to 50 than 38. There's also the temptation to play the odds to win the AFC South, but with Tennessee at +125 there, we're better off just playing this game.
I'm putting a little cash on the Titans +160 moneyline, but otherwise I'm going to sit this one out and look for an opportunity to live bet either team that gets behind enough to give me serious odds. I'm especially looking for a chance to bet Tennessee at +200 or better within a score in the second half, since that's where they're at their strongest.
This game should be close and contested down to the wire.
LEAN: Titans +160 [Bet at BetMGM]
---
Panthers at Vikings Odds & Pick
Panthers Odds

+3 [BET NOW]

Vikings Odds

-3 [BET NOW]

Over/Under

49.5 [BET NOW]

Kickoff

1 p.m. ET

TV

FOX

Odds as of early Sunday and via BetMGM, where you can get an instant $500 deposit match.
Michael Arinze: Both teams should be motivated coming into this matchup, and the fact that this game will take place indoors should allow for a comfortable environment for the offenses to go to work.
Carolina could be vulnerable with Minnesota's explosive plays particularly since the Panthers be without a starting cornerback. However, I expect Bridgewater to be up to the task to put forth a good offensive performance, too. Minnesota has allowed its fair share of points and playing in a dome is something Bridgewater is used to from his days as a New Orleans Saint.
Last week, Carolina scored 20 points against Detroit, but it could have been even more had backup quarterback P.J. Walker not thrown two interceptions inside the red zone. Contrast that with Bridgewater, who in 36 red-zone pass attempts has yet to throw a pick this season.
It's worth noting that the Vikings are 5-0 to the over at home and 4-1 to the over as a favorite. When the total opened at 48.5, sharp money pushed it to as high as 52 before there was some buyback that dropped it back down to 49.5-50 as of early Sunday (shop real-time lines here).
It often pays to shop for numbers early in the week, and this is another one of those instances. But with BetMGM now offering 49.5, I'm riding this over.
PICK: Over 49.5 [Bet at BetMGM]
---
Browns at Jaguars Odds & Pick
Browns Odds

-7 [BET NOW]

Jaguars Odds

+7 [BET NOW]

Over/Under

48.5 [BET NOW]

Kickoff

1 p.m. ET

TV

CBS

Odds as of early Sunday and via PointsBet, where you can bet $20 on the Browns or Jaguars to win $250 if they cover.
Mike Randle: Jacksonville is too limited on both sides of the ball to keep this game close. The Browns' rushing attack is operating at a season-high efficiency level, while the Jaguars' offense is on its third quarterback.
Jacksonville will need a monstrous game by Robinson to have a chance, but  Cleveland's defensive weakness is against the pass. It is a difficult matchup for the Jaguars in all facets of the game.
I am laying the seven points with the Browns on the road in a game I project as a double-digit win that sees Cleveland control the ball. With Mike Glennon under center, no D.J. Chark or Chris Conley and a decimated secondary, I am rolling with Kevin Stefanski's team — even as big road favorites.
PICK: Browns -7 (up to -7.5) [Bet at PointsBet]
Giants at Bengals Odds & Pick
Giants Odds

-6 [BET NOW]

Bengals Odds

+6 [BET NOW]

Over/Under

44.5 [BET NOW]

Kickoff

1 p.m. ET

TV

FOX

Odds as of early Sunday and via PointsBet, where you can bet $20 on the Giants or Bengals to win $250 if they cover.
Phillip Kall: The Giants have been able to provide some support to Jones by creating an efficient running game. This has not only helped move the ball but also has limited Jones' turnovers.
While the Giants have found their rhythm, the Bengals have turned the other way. Burrow was enjoying a fantastic rookie season, and the downgrade from the No. 1 overall pick to Allen is a large one.
With their backup starting, it will be too difficult for the Bengals to move the ball against the Giants' defensive front. This will play right into the Giants' style and allow them to run the ball to a win against the Bengals' 30th-ranked run defense.
PICKS: Giants -6; Under 44.5 [Bet at PointsBet]
---
Dolphins at Jets Odds & Pick
Dolphins Odds

-6.5 [BET NOW]

Jets Odds

+6.5 [BET NOW]

Over/Under

44.5 [BET NOW]

Kickoff

1 p.m. ET

TV

CBS

Odds as of early Sunday and via PointsBet, where you can bet $20 on the Dolphins or Jets to win $250 if they cover.
Brad Cunningham: The Jets haven't shown any signs of being competitive, so the Dolphins should cruise to victory. I have them projected as -11.58 favorites on the road, so there's plenty of value on them at -6.5.
PICK: Dolphins -6.5 [Bet at PointsBe]
Raiders at Falcons Odds & Pick
Raiders Odds

-3 [BET NOW]

Falcons Odds

+3 [BET NOW]

Over/Under

54 [BET NOW]

Kickoff

1 p.m. ET

TV

CBS

Odds as of early Sunday and via PointsBet, where you can bet $20 on the Raiders or Falcons to win $250 if they cover.
Mike Vitanza: This total opened at 56, but sharp money has driven that it down to 54. As of early Sunday, 74% of the money is on the under (find real-time public betting data here). Keep in mind, however, that much of that money was bet above the current total.
The Raiders' total has gone above 55 points in eight of 10 games this season, while the Falcons have scored 25 or more points in six of 10 (including three games above 30 points). Combine that with the fact that both passing offenses have strong matchups against the opposing secondaries, and you have the recipe for a shootout.
All of this is assuming that Jones is active, however — in games that Jones has missed or played limited snaps due to injury this season, the Falcons' offense has struggled mightily, averaging just 16 points per game.
Assuming Jones plays and is expected to receive his normal share of snaps, I'm taking the over on this one and am comfortable betting this up to 54.
PICK: Over 54 (if Julio Jones is active) [Bet at PointsBet]
---
Saints at Broncos Odds & Pick
Saints Odds

-15 [BET NOW]

Broncos Odds

+15 [BET NOW]

Over/Under

37 [BET NOW]

Kickoff

4:05 p.m. ET

TV

FOX

Odds as of early Sunday and via PointsBet, where you can bet $20 on the Cardinals or Patriots to win $250 if they cover.
Michael Arinze: I don't think the Saints will waste much time jumping out in front of the Broncos. Motivation could also come into play, as it's unlikely that Hinton being plucked to play quarterback will help to rally the Broncos, especially since they know this experiment will not last beyond this game.
With a game spread around 15 points, you can expect to find New Orleans around a 3-point favorite in the first quarter and a 7- to 5.5-point favorite for the first half. I Both of those plays make sense, and I'm especially bullish on any Saints team total props — I would also look to target over 6.5 in the first quarter and over 13.5 in the first half.
Again, the angle here is that Denver will be spent after being on the field for so long, which should create more positive plays for New Orleans. I expect the Saints to also benefit on the scoresheet from turnovers. I would consider any turnover props on the Broncos, but without any actionable lines at the time of writing, we'll likely need to wait until gameday before making any firm decisions.
---
49ers at Rams Odds & Pick
49ers Odds

+6.5 [BET NOW]

Rams Odds

-6.5 [BET NOW]

Over/Under

44.5 [BET NOW]

Kickoff

4:05 p.m. ET

TV

FOX

Odds as of early Sunday and via PointsBet, where you can bet $20 on the 49ers or Rams to win $250 if they cover.
Reed Wallach: I do think the Niners are a live underdog in this spot, particularly for the reasons I outlined in my full preview. However, it also has to do with the fact the Rams are being generally inflated by the market.
Los Angeles is back to being a media darling after that big Monday win, despite the final score being more impressive than the way Jared Goff and the Rams actually played. Goff was sloppy in the second half, throwing two interceptions. His numbers look stronger due to heavy volume (he threw 51 passes).
This sets up similarly to the Week 6 matchup, when the 49ers were home underdogs after getting shelled by the Dolphins in Week 5. San Francisco still won the game outright over an overrated Los Angeles team.
I was able to secure the Niners at +7 earlier in the week. While I would try to hold out hope for that key number once again, you can play San Francisco in a teaser through 12 points, capturing some key numbers along the way as I expect this game to be a bit of a slugfest.
That said, the bet I will recommend at current numbers is the under on the total. Kyle Shanahan seems to have his finger on the pulse of this matchup with Sean McVay and knows that Nick Mullens can't get into a shootout with the Rams' offense.
With both Tevin Coleman and Raheem Mostert potentially returning, the 49ers are going to look to move methodically down the field and shorten this game.
I would play this under down to 43.5 points. If 49ers reach +7 again, that is also a strong play.
PICK: Under 44.5 (down to 43.5) [Bet at PointsBet]
---
Chiefs at Buccaneers Odds & Pick
Chiefs Odds

-3.5 [BET NOW]

Buccaneers Odds

+3.5 [BET NOW]

Over/Under

56 [BET NOW]

Kickoff

4:25 p.m. ET

TV

FOX

Odds as of early Sunday and via PointsBet, where you can bet $20 on the Chiefs or Buccaneers to win $250 if they cover.
Raheem Palmer: From a numbers perspective, most models will see value on the Buccaneers at +3.5 –they're a top-tier team coming off a disappointing primetime loss, creating value within the betting markets as the public looks to back the other side.
Typically this is a spot that I would be all over.
Not this time.
For 20 years, Brady and the Patriots broke the rules. They broke models, they defied any conventional handicapping wisdom and if you dared to fade them, they probably broke your bankroll.
Things have changed. Mahomes is now the heir to the throne.
With oddsmakers setting the total at 56, betting the Buccaneers suggests they're going to keep up with the Chiefs' offense. Maybe the Bucs can for a quarter, a half or maybe even three quarters, but over the course of a full game, I'm willing to bet against that.
I'll back Mahomes to come out on top in Brady-Mahomes Part IV.
PICK: Chiefs -3.5 [Bet at PointsBet]
How would you rate this article?