Sunday NFL Picks: How We're Betting The Bucs vs. Broncos Total
Credit:
Maddie Meyer/Getty Images. Pictured: Cam Newton
Editor's note: We've moved picks for games that kicked off at 1 p.m. ET below the Buccaneers-Broncos bet.
---
PJ Walsh: Buccaneers-Broncos Under 42.5
Kickoff: 4:25 p.m. ET | TV: FOX
Betting the Bucs under last week worked so well (thank you Leonard Fournette) that I'm going right back to the well again!
All jokes aside, many of the reasons I played last week's Panthers-Bucs under translate to why I like a lower-scoring game again this Sunday.
First, through two games with Tom Brady under center, Tampa Bay's offense has yet to pick up the pace. The Bucs rank 24th in Football Outsiders' situation-neutral pace, showing that they're one of the slowest teams in the NFL. The Broncos aren't much quicker, checking in at 20th in that metric — and who knows if that even matters when you look at how injury-ravaged their offense is.
Starting quarterback Drew Lock is out for two to six weeks while top receiver Courtland Sutton is done for the season after suffering a torn ACL. That will make scoring points a tall task for Denver's 28th-ranked offense (in terms of DVOA) against Tampa's defense, which ranks fourth.
On the other side of the ball, the Bucs offense sits 19th in DVOA, so neither unit has been all that effective based on this metric.
And finally, should either team get saucy with some deep shots downfield, a howling 15-16 mph Denver wind should make connecting on those passes even more difficult.
Based on a sample of more than 900 games since 2003, 55.6% of NFL matchups played in double-digit breezes have landed under the closing total.
[Bet now at DraftKings and get a $1,000 bonus, including a $500 risk-free bet]
You'll want to hold your nose, because some of the biggest betting edges for Week 3 of the NFL season aren't pretty.
Our staff has identified six bets worth making for Sunday's afternoon slate — and yes, that includes three (!) unders. That also includes actual value (!) on Bill Belichick and the Patriots, though, so it's not all ugly.
Let's dive in.
NFL Picks: Week 3 Spreads & Totals
Click on a pick to skip ahead to that analysis.
Stuckey: Patriots -6 vs. Raiders
Kickoff: 1 p.m. ET | TV: CBS
What a superb spot to fade the 2-0 Raiders after an emotional upset victory on Monday night. Now on a short week, they must travel across the country for an early kick against a Patriots team coming off of a loss.
Even if you ignore the early start and cross-country trip, the short week especially hurts the Raiders with the overall coaching mismatch. It's also just generally tougher for the inferior team to head out on the road with one less day of preparation. Since 2003, road underdogs of six or more points in this spot have gone 16-27-1 (37.2%) against the spread.
Plus, it's the perfect setup to bet a bitter Bill Belichick, who owns a ridiculous 34-13 (72.3%) ATS mark for a cool 43.6% Return on Investment (ROI) after a straight-up loss since 2003. He's covered those games by a silly 5.73 points on average.
Imagine not betting on bitter bill the week after a loss. This man has already watched film of every Darren Waller snap since middle school three times in slow motion. pic.twitter.com/ok5CqxhlWe

— Stuckey (@Stuckey2) September 23, 2020
You also might imagine Belichick has exceeded oddsmaker's expectations at a high frequency in Foxboro. He's 79-52-6 (60.3%) ATS at home, covering by 3.37 points on average.
In both scenarios, he's been the most profitable coach to back of the 128 coaches in our Bet Labs database since 2003.
I also love the matchup on the field.
I actually wouldn't have bet this game if I based the decision solely on my raw power ratings. However, after adjusting for the matchup and spot, I saw enough value to bet the Patriots -6 (-110).
I'd play anything under seven. I also used the Patriots as my survivor pick in this ideal matchup and situational spot for New England.
The injury to center David Andrews does concern me some. He's great in the middle of that offensive line and the re-shuffling with him out could cause some issues. That said, the injury report looks much worse for the Raiders, who will be without starting left guard and right tackle in addition to wide receiver Henry Ruggs. Darren Waller and Josh Jacobs are also listed as questionable, though I do expect both to suit up.
[Bet now at PointsBet and get $150 if the Patriots score a point]
Kickoff: 1 p.m. ET | TV: CBS
If you need anymore evidence that we're living in a bizarro world in 2020, here it is: The New England Patriots have betting value this week.
With Tom Brady and Bill Belichick at the head, how many times have we been able to say that over the past 20 years? Not too often, huh? Belichick is still here, but Brady is gone and has since been replaced by Cam Newton, who in many ways is an upgrade over the 43-year-old future Hall of Fame quarterback.
Still, it seems the market doesn't view the Patriots the same way they have in the past.
Let's talk through this.
The New Orleans Saints were 4.5- to 5.5-point road favorites against the Las Vegas Raiders on Monday Night Football. The Raiders pulled off the upset win, and now the Patriots are 5.5-point favorites against the Raiders at home. Are we really power rating the Saints that much higher than the Patriots? I'm not.
To put it bluntly, this line is short as my projections make it closer to 8. It doesn't help that the Raiders are in a bad spot on a short week facing a Belichick-coached team coming off a loss.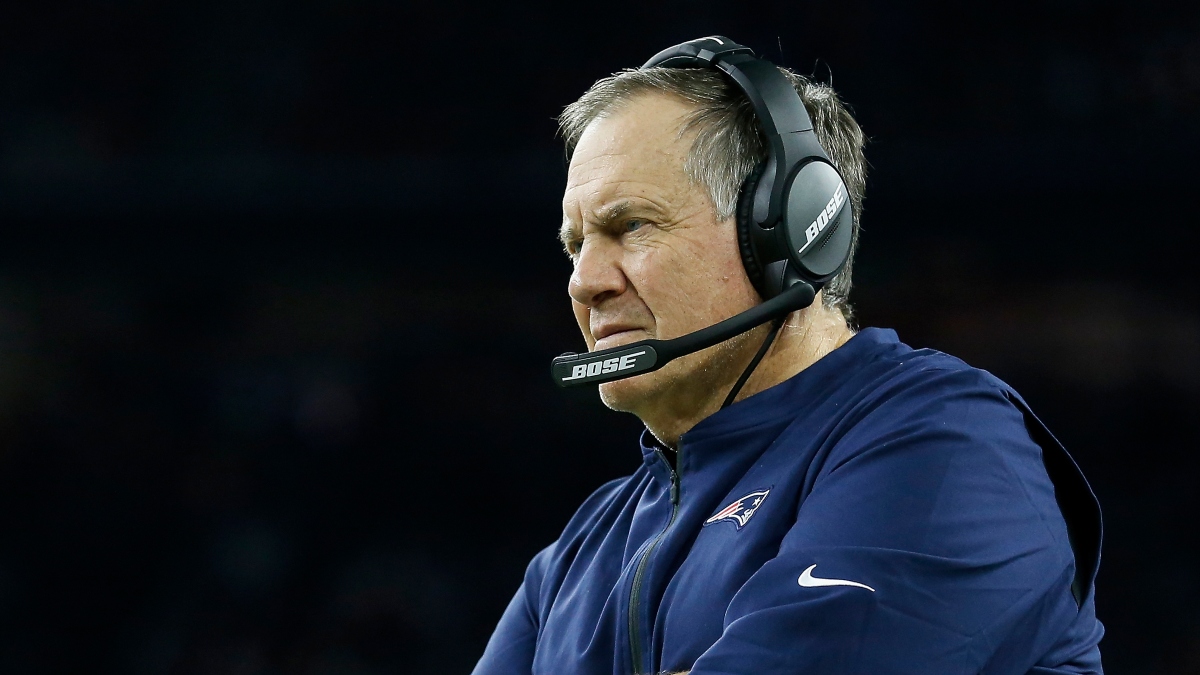 The Raiders are 30th in Football Outsiders' defensive DVOA, 20th in points allowed (27.0 points per game), 30th in pressure rate (13.0%) and have just ONE sack this season. This defense is absolutely dreadful and it says a lot about the current status of Drew Brees that the Saints couldn't capitalize on it last week. The Patriots on the other hand, should have no problem getting whatever they want offensively.
To make matters worse, the Raiders are banged up. They placed their left guard Richie Incognito (Achilles) on injured reserve. And although they didn't skip a beat replacing Incognito with rookie John Simpson, this is not a deep unit, and now they're missing tackle Trent Brown.
It would be a huge loss if Jacobs can't go on Sunday, but Waller's injury status is especially concerning given that he leads the team in targets with 24 and no other Raider has more than nine. Waller was a difference maker in Monday night's win, catching 12 passes for 105 yards. You have to assume Belichick's defense will take away the Raiders' top option and force them to beat the Pats elsewhere.
My only concern for New England is that Andrews is out, but while I bet New England -5 on Thursday, I still like it to -6.

[Bet now at PointsBet and get $150 if the Patriots score a point]
Chris Raybon: Giants +3.5 vs. 49ers, Under 42.5
Kickoff: 1 p.m. ET | TV: CBS
It would be an understatement to say that the 49ers are beat up right now.
Their starting quarterback Jimmy Garoppolo (ankle), No. 1 target George Kittle (knee), and top two running backs Raheem Mostert (knee) and Tevin Coleman (knee) are all out. And their No. 1 wide receiver Deebo Samuel (foot) is still on Injured Reserve.
This 49ers offense could look like it would in the fourth quarter of a preseason game.
Not to mention the Giants will be without their top offensive player in running back Saquon Barkley, who tore his ACL against Chicago and is done for the season.
Low-scoring games tend to favor the underdog because it's harder for the favorite to separate on the scoreboard. And although the Giants lost Barkley, the 49ers lost a player just as impactful on defense in Nick Bosa, who also suffered a season-ending ACL tear this past Sunday.
That's not enough to drive this game to a high-scoring expectation, but it's certainly enough to give the Giants a good shot at keeping a toss-up game between two banged up teams within a field goal, especially with San Francisco playing its second straight game across the country — on turf that its (remaining few healthy) players now want no part of.
This is a prime letdown spot for San Francisco: According to our Bet Labs data, the 49ers are 1-8 (11.1%) ATS under Shanahan as a favorite coming off an ATS win.
I bet the Giants at +4.5 and the under at 42, but I like the Giants down to +3.5 and the under down to 41.

[Bet now at PointsBet and get $150 if the Giants score a point]


Kickoff: 1 p.m. ET | TV: FOX
It's hard to imagine a worse start to the season for the Falcons, who were blown out by the Seahawks in Week 1 before an absolute meltdown loss to the Cowboys in Week 2. Meanwhile, the Bears have been one of the surprise teams through two weeks at 2-0.
This feels like two teams going in opposite directions, with the Bears on their way up and the Falcons teetering on the edge of collapse. But football is not binary, no matter how much things come down to that final column of wins and losses.
Atlanta ran up 506 yards of offense against Seattle but had two turnovers and went 0-for-4 on fourth down, failing to convert all that offense into enough points to compete. The offense then scored 39 against Dallas and left even more points on the table with a couple missed deep pass opportunities.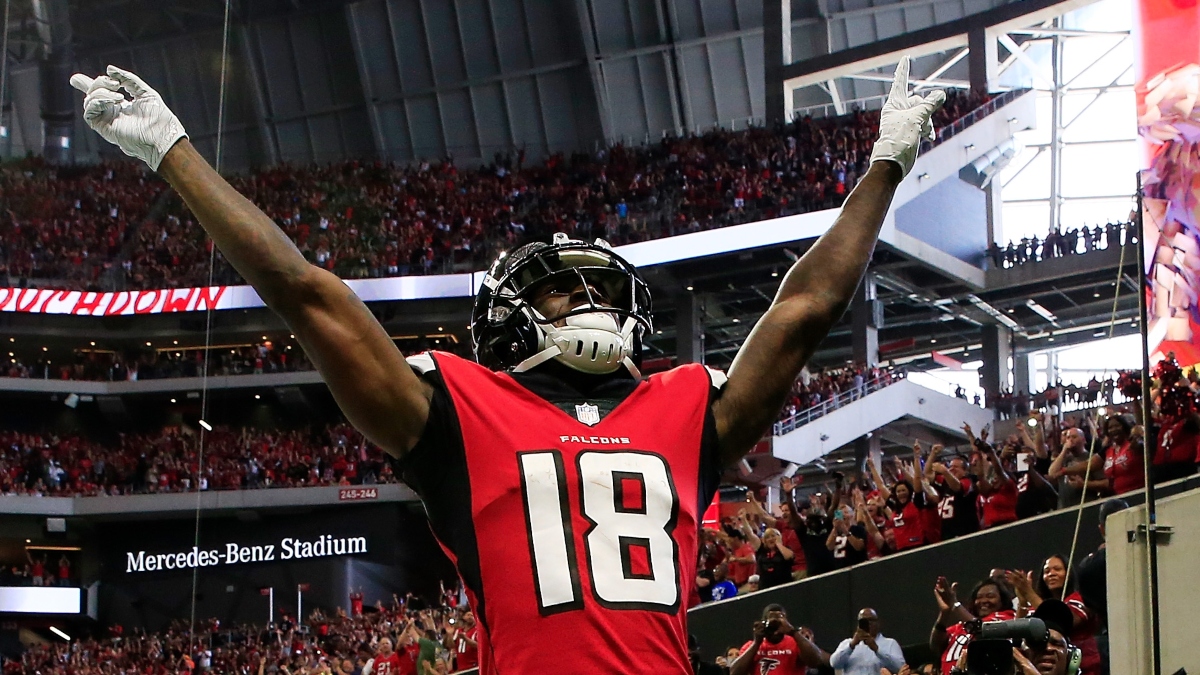 Atlanta's defense has been a problem — especially its pass defense — but the Falcons are moving the ball at will and scoring plenty. Can Mitchell Trubisky keep up with Matt Ryan?
It may look like Trubisky is finally putting things together, but dig a bit deeper: He was terrible for three quarters against Detroit in Week 1, then had one huge fourth quarter when the Lions were missing their top three corners. He started better in Week 2, but went flat in the second half, completing 5-of-10 passes for 30 yards and throwing two interceptions as the Bears barely hung on for the 17-13 win over the Giants.
The Bears are 2-0, but those two wins came against 0-2 teams that both almost beat them in the final seconds. The Falcons haven't won yet, but have run up a ton of offense against two of the NFC's most talented teams. Take the records away, and the Falcons look closer to a touchdown favorite than a meager three points.
This line has moved a bit toward Chicago, so I'm grabbing the -3, but would play up to -4 as needed.

[Bet now at PointsBet and get $150 if the Falcons score a point]
Sean Koerner: Titans-Vikings Under 49.5
Kickoff: 1 p.m. ET | TV: CBS
After opening at 45.5, this total was bet as high as 50. I have it projected at 45, though, and I can't figure out why it climbed 4.5 points other than that 97% of the money has poured in on the over as of writing (see real-time public betting data here).
A.J. Brown has already been ruled out, which leaves the Titans without their top wide receiver for the second straight game. They should still move the ball with ease against a rebuilding Vikings defense, though, and I expect another "Derrick Henry game" of 25 or more carries.
Both teams love to run the ball when in a neutral game state. Last season, the Titans ran the ball at the second-highest rate in one-possession games while the Vikings ran the ball at the seventh-highest rate. This trend has spilled into 2020 with the Vikings now second and Titans now ninth.
Considering the Titans are 2.5- to 3-point favorites (compare real-time NFL odds here), this game should be reasonably close for all four quarters. The Vikings also love to play at a slower pace (28th in seconds per play in a neutral game situation per Football Outsiders) while the Titans are closer to league average (13th).
Of course, these two teams are capable of combining for more than 50 points, but I don't see how the medium would be in the 50s if they played this very game 1,000 times.
It might be worth seeing if the line climbs to 51 considering it's a key number when it comes to betting totals, but it's already my play of the week at 49.5 and I would bet it down to 47.5.

[Bet now at DraftKings and get a $1,000 bonus, including a $500 risk-free bet]


---
NFL Week 3 Sportsbook Promos
How would you rate this article?