Our Experts' Favorite Week 11 NFL Picks
Credit:
USA Today Sports. Pictured: Jimmy Garoppolo, Chandler Jones
Our experts reveal their favorite Week 11 NFL picks, featuring spread and over/under bets.
Find out how they're betting Texans-Ravens, Cardinals-49ers, Saints-Buccaneers and more.
Week 10 brought a ton of upsets. What will Week 11 have in store?
Our experts reveal their favorite picks for this Sunday, featuring spread and over/under bets for the following games:
Jaguars at Colts: 1 p.m. ET
Texans at Ravens: 1 p.m. ET
Falcons at Panthers: 1 p.m. ET
Saints at Buccaneers: 1 p.m. ET
Broncos at Vikings: 1 p.m. ET
Cardinals at 49ers: 4:05 p.m. ET
Now let's dig into their bets!
---
Odds as of Friday afternoon and via PointsBet, where Action Network users can access an exclusive promotion to get a 200% deposit match (deposit $50, bet with $150). No strings attached. No rollover required.
---
The Colts were a different team without Jacoby Brissett. Since he left in the second quarter of Week 9, they've lost to Pittsburgh and were upset at home by a Dolphins team that entered the game 1-7.
However, Brissett is scheduled to return, which will force the Jacksonville defense to avoid loading up against the run. The Jaguars ranks 24th in Football Outsiders' run defense DVOA, providing Marlon Mack with his best matchup since their 19-13 win at Kansas City in Week 5.
The Jaguars will also need to limit their turnovers, ranking fifth-worst with eight lost fumbles this season. They're hoping for a boost from Nick Foles, especially after Gardner Minshew was responsible for four turnovers in their 26-3 loss to Houston in London, a team Jacksonville normally plays very well.
Indy has lost two straight, but with Brissett likely to return in a critical home matchup, I like the Colts -3 and would bet this line up to -4.
[In New Jersey? Bet now at PointsBet]
My first instinct when I saw the opening line of Ravens -4.5? Uh-oh, bookmakers are gonna get taken. Wiseguys felt the same way, as they hit the 4.5 and dropped this down to 4. I bought it at the opening number, because I think it will dip a bit further before game time.
Every week it seems the public forgets that Deshaun Watson has spent the past three years being insanely accurate, insanely comfortable throwing downfield and insanely good at winning or keeping games close. There is always someone overshadowing him. Last year it was Patrick Mahomes and Andrew Luck. This year it's Lamar.
The truth is that the Ravens are just plain over-valued right now. Their win over the Patriots started it, but dominating the Bengals on the road as double-digit faves sealed it. There is never a better time to fade a team than when it's got momentum and public support. And, of course, when it is playing Deshaun Watson.
[In New Jersey? Bet now at PointsBet]
Out of 32 centers who have played at least 300 snaps this season, Matt Paradis ranks dead last with a 27.2 pass blocking grade from Pro Football Focus. The guard performance in Carolina has also been subpar. Really, in total, the Panthers offensive line has done a very poor job in pass protection, ranking 26th as a unit in pass-blocking efficiency.
Well, where is the strength of the Falcons defense? Up the middle, specifically in the interior defensive line and at middle linebacker. Just ask Drew Brees and the Saints, who saw the pocket get blown up consistently all last week.
Grady Jarrett and the rest of the Atlanta interior could make life miserable for Allen, who already has more turnovers than touchdown this season. He's due for some regression if you dig a little deeper into some of his advanced metrics.
The Falcons run defense is pretty solid while their pass defense is very leaky. However, I think their front can generate enough pressure up the middle to slow down the run game and disrupt the passing game, forcing Allen into a key turnover or two.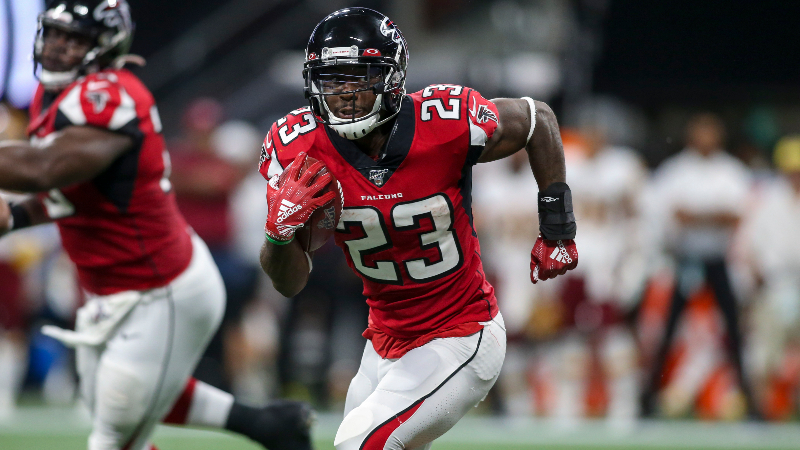 I think the Falcons can establish the run like they did last week with Brian Hill, and that was against a much better run defense than Carolina's, which is allowing a league-high 5.2 yards per rush. The Panthers transitioned from a 4-3 base to more 3-4 this season in order to generate more of a pass rush. They have achieved that goal, but the run defense has suffered as a result.
The Panthers secondary has been great all season, but they're dealing with a number of key injuries and may be undermanned and/or banged up against a talented wide receiving corps with Ridley and Jones.
The Falcons will miss Austin Hooper, especially in the red zone, but I think Ryan and the running game can get it done inside the 20 against a Panthers defense that has a 70% red-zone TD percentage allowed, last in the NFL.
Bottom line: The Panthers are an average team like the Falcons, who finally showed us life again last week. To illustrate just how mediocre the Panthers are, look no further than their negative point differential — Carolina has allowed 228 points and scored 225.
I rate these teams close to even, so give me the better quarterback and anything over in Carolina.
[In New Jersey? Bet now at PointsBet]
Sean Koerner: Buccaneers +5.5 vs. Saints
The Saints lost straight up to the Falcons despite being 13.5-point favorites last week. It was not only a shocker that they lost, but that they got blown out 26-9 in their own building.
Before that game I had mentioned the Falcons had a ridiculous +3.1 edge in expected wins vs. actual compared to the Saints — a sign that the matchup would be much closer than their records indicated and that the market would offer value as a result. Now this week the Buccaneers have a +3.0 edge in expected wins vs. actual. A lot of this has to do with the fact the Saints are 5-0 in one-score games while the Bucs are 2-4.
The public is still overrating the Saints, with 65% of the action coming in on New Orleans as of writing (see live public betting data here), dropping the line from -6 to -5.5. Marshon Lattimore is also likely to miss, which means the Saints won't be equipped to contain the lethal WR duo of Mike Evans and Chris Godwin.
The Bucs +5.5 is one of my favorite plays of the week. Given that these are two higher-variance teams, I'd say the Bucs moneyline (+200 to +210) is also offering some sneaky value.
[In New Jersey? Bet now at PointsBet]
Sean Zerillo: Saints-Buccaneers Under 50
Starting in Week 11, trend bettors should begin to take unders in divisional matchups with a total of 44.5 or higher:
As of writing, four games fit the bill for this week:
New Orleans at Tampa Bay
Atlanta at Carolina
Arizona at San Francisco
Kansas City vs. LA Chargers (in Mexico City)
The total has moved down from the opening number in each of these matchups.
Now here are the top three active quarterbacks for betting unders, within this system:
Matt Ryan (11-3)
Phillip Rivers (12-4)
Jameis Winston (7-2)
Furthermore, Brees is the most profitable quarterback in our database for betting unders in all divisional matchups, at 53-38-1 (58.2%).
I played the under in all four matchups flagged by this system, but I prefer the one in Tampa Bay — the only game that still offers a total of 50 or higher.
[In New Jersey? Bet now at PointsBet]
This spot is very similar to the Vikings-Redskins matchup in Week 8. While Minnesota didn't cover in that game, it's worth revisiting.
I've been impressed with the Vikings this season, and under head coach Mike Zimmer (since 2014), they've offered a strong return on investment in several different scenarios.
They have been a profitable regular-season team to back:
At home: 30-13-1, 35.1% ROI
As favorites: 34-17-1, 29.3% ROI
Outside of division: 41-15-1, 41.8% ROI
These trends make sense within the context of who Zimmer is as a coach and what kind of team the Vikings are.
Zimmer is a risk-averse, process-oriented, defense-directed "manager" (for lack of a better word). As a result, the Vikings are a disciplined team that doesn't often make big mistakes.
They don't waste the natural advantage they have at home and they don't play down to the level of their underdog opponents.
This week, the Vikings are in a "solar eclipse" spot with all of Zimmer's historical edges lining up. As non-divisional home favorites, the Vikings are 19-3-1 against the spread (66% ROI).
Even though the Broncos are coming off their bye, I still doubt they will be able to keep this game competitive given their dearth of offensive talent.
I bet this at -10, but would take it at -10.5.
[In New Jersey? Bet now at PointsBet]
John Ewing: Cardinals +10 at 49ers
San Francisco suffered its first loss in Week 10, but oddsmakers expect the 49ers to bounce back against the Cardinals, having initially opened Kyle Shanahan's team as 14-point favorites.
On the surface this matchup favors the 8-1 Niners, but there are a few reasons to think this line is inflated. For starters, it's historically been profitable to fade teams that have been easily covering the spread.
The 49ers have covered the spread on average by more than five points per game, making them a match for this system that has gone 389-312-21 (56%) against the spread since 2003.
Then there's the Niners defense, which is second in DVOA but has been susceptible to the run — San Francisco has allowed 4.6 yards per carry (24th). This matchup sets up well for a Cardinals team that's averaged 4.9 yards per attempt this season.
Our simulations project the 49ers to win on average by nine points. Sharp bettors agree as they've bet this line down to San Francisco -12. Even though the line has moved, there is still value on the Cardinals. I would bet Arizona down +10.
How would you rate this article?