Packers vs. 49ers Picks: How Our Staff Is Betting Thursday Night Football
Credit:
Ezra Shaw/Getty Images. Pictured: Davante Adams.
Packers vs. 49ers Picks
*If Packers running back Aaron Jones and left tackle David Bakhtiari are both ruled out.
The lookahead line had this matchup right around a pick 'em, but that has since moved roughly 7.5 points with the losses of Jimmy Garoppolo and George Kittle in Week 8, which feels aggressive.
I had the Packers power rated as 1-point favorites for this matchup before last week, then after Garoppolo and Kittle sustained their injuries, I moved the line to Packers -6 (Jimmy G is worth about three points while Kittle is worth about one to one-and-a-half points). I also added another point to account for the cluster of injuries at wide receiver.
But the 49ers may be able to overcome their absences thanks to Kyle Shanahan. And if Jones and Bakhtiari are both ultimately ruled out, I would lower the Packers from -6 to -5, meaning there could be even more value in 49ers +7.5 once inactives are released.
[Bet now at BetMGM and win $100 if there's a touchdown scored]
So … apparently we're still playing Thursday night football this week?
It might be faster to list the guys who are actually playing in this game rather than the ones who are missing at this point.
The 49ers have already been hit hard by injuries all season long, as much as any team in the league. Then a few days ago, they lost Garoppolo and Kittle for the foreseeable future — maybe even the rest of the season. The 49ers were already missing Nick Bosa and Dee Ford along with multiple running backs. Now positive COVID-19 tests have sidelined just about any other RB or WR remaining along with LT Trent Williams, leaving the 49ers with precisely three of their 11 opening day offensive starters healthy.
The defense is in slightly better shape, mostly because it can hardly be worse.
The Packers continued to be banged up at tackle and receiver and might legitimately not have a single running back able to play if Jones is unable to go. They too have been besought by positive COVID-19 tests and quarantines. And the defense isn't exactly healthy but, sadly, is probably the healthiest unit in the game.
This will be an extremely 2020 football game.
So where does that leave us? Honestly, it's anyone's guess.
Pick a narrative — maybe Aaron Rodgers shreds an overmatched Niners defense. Perhaps we should take the under and expect an ugly, disjointed game. Maybe the defenses are in trouble instead on a short week, and the over is the play. Perhaps the Niners just have a few injuries too many with Kittle, Williams and Garoppolo out. Heck, maybe this is just another reminder that Aaron Rodgers hates the 49ers after passing on the local kid at No. 1 so many years ago.
Dealer's choice, really.
There's one reality I can't forget: This year — this calendar year!! — in the NFC Championship Game, the 49ers ran allllll over this Packers defense, and then the Packers got shredded again by Dalvin Cook last week. It may not matter who is playing QB for either team if Green Bay simply can't stop the run.
This game is mostly a stay away for me with so many unknowns, but with Green Bay favored by more than a touchdown now and that San Francisco run game advantage, I'll place a small bet on the Niners money line at +260. In a punchy, sloppy, who-knows game, I just have to give them better than that 27.8% implied odds of pulling something weird.
[Bet now at BetMGM and win $100 if there's a touchdown scored]
Raheem Palmer: Jerick McKinnon Over 26.5 Rec Yards (-150)
The 49ers seemingly survived a Super Bowl hangover and an early flurry of defensive injuries to pull off wins against the Rams and Patriots. Unfortunately, the 49ers still can't catch a break as they come into this game with a multitude of injuries, barely resembling the team that rolled to a 37-20 victory over the Packers in last season's NFC Championship.
They're missing seven offensive starters in Garoppolo (ankle), Kittle (foot), RB Tevin Coleman (knee), Samuel (hamstring), WR Brandon Aiyuk (COVID-19), WR Kendrick Bourne (COVID-19) and Williams (COVID-19).
If there's any coach in the league who can find a way to maximize the strengths of a depleted offensive unit, it's Kyle Shanahan. Without Kittle, Aiyuk and Bourne — who lead the team in targets — running back Jerick McKinnon appears to be the biggest beneficiary.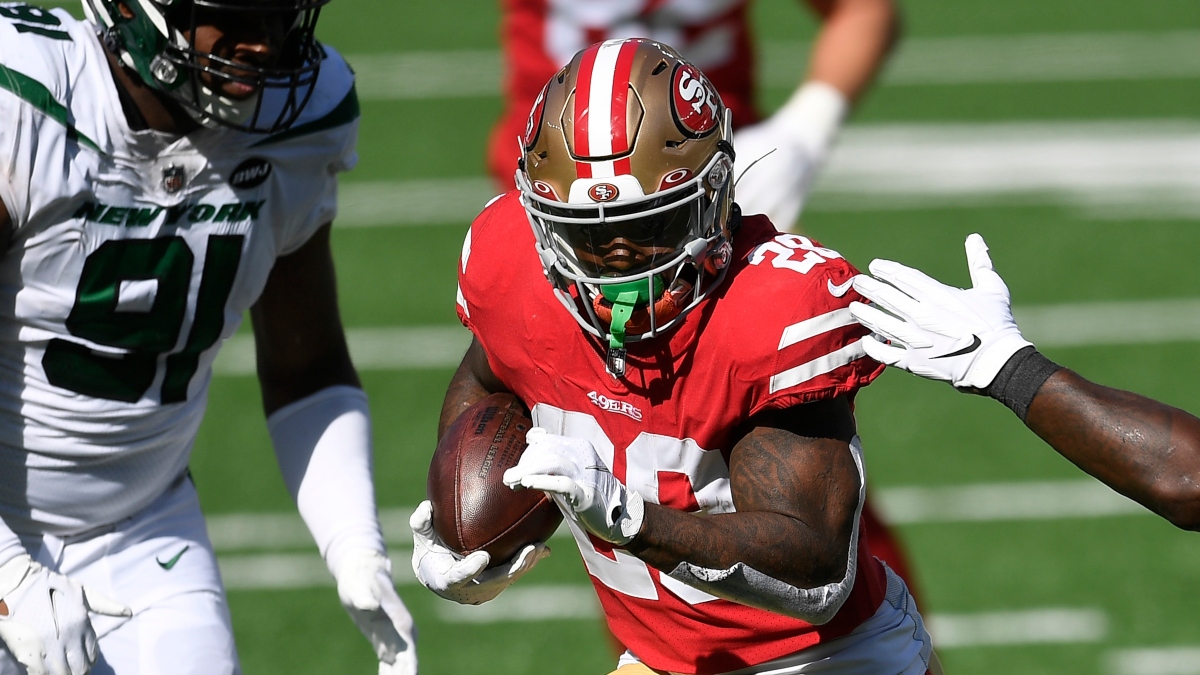 McKinnon is fourth in targets, catching 21 receptions for 157 yards and one touchdown. Nick Mullens has to throw the ball to someone, and McKinnon is a worthy candidate against a Packers defense that is ranked 32nd in passing success rate to opposing running backs (67%) and 32nd in average yards per attempt at 8.7 yards per catch.
Here's how opposing RBs have performed against the Packers this season: Dalvin Cook caught two receptions for 63 yards and a touchdown last week, David Johnson caught three passes for 42 yards the previous week, and D'Andre Swift caught five receptions for 60 yards in Week 2. Alvin Kamara also had a monster game against this unit, catching 13-of-14 targets for 139 yards and two touchdowns in Week 3.
I like McKinnon over 26.5 receiving yards and would bet this up to 29.5.
How would you rate this article?