NFL Picks for Every Week 3 Game
Credit:
USA Today Sports. Pictured: Patrick Mahomes, Tom Brady, Dak Prescott
Our analysts have NFL picks for all 13 games on Sunday's main Week 3 slate.
There is a lot to navigate in Week 3.
Luckily, our staff is here to help you sort through the noise and find the best way to bet all of these Sunday games:
Dolphins at Cowboys: 1 p.m. ET
Bengals at Bills: 1 p.m. ET
Lions at Eagles: 1 p.m. ET
Jets at Patriots: 1 p.m. ET
Falcons at Colts: 1 p.m. ET
Raiders at Vikings: 1 p.m. ET
Ravens at Chiefs: 1 p.m. ET
Broncos at Packers: 1 p.m. ET
Panthers at Cardinals: 4:05 p.m. ET
Giants at Buccaneers: 4:05 p.m. ET
Saints at Seahawks: 4:25 p.m. ET
Texans at Chargers: 4:25 p.m. ET
Steelers at 49ers: 4:25 p.m. ET
Now let's dig into their against-the-spread, over/under and/or moneyline picks for each.
---
John Ewing: Dolphins +22.5 at Cowboys
Bettors are fading the Dolphins.
More than 70% of spread tickets are on the Cowboys as of writing (see live public betting data here) while the Dolphins have lost their first two games by 40 points each; few expect them to win this game. But covering is a different story.
It won't be pretty, but here are three reasons I'm backing the Dolphins:
Since 2003, underdogs of 20 or more points are 5-0 ATS.
The Dolphins are 0-2 ATS, and underdogs that failed to cover the spread in Weeks 1-2 have gone 52-33 ATS in Week 3.
According to our NFL power ratings, the spread for this game should be Cowboys -18.5.
It's time to believe in Sean McDermott.
The Bills have started the season with two consecutive road wins for the first time in franchise history. Buffalo last started the season 2-0 in 2014, with wins at the Bears and home against the Dolphins.
Buffalo has one of the best defensive units in the NFL, particularly against the pass. The Bills ranked second in the league in Football Outsiders' pass defense DVOA in 2018, which will cause problems for a Cincinnati offense still without A.J. Green. Andy Dalton is second among all quarterbacks with 729 passing yards, but that has translated to just 37 total points.
Joe Mixon played through an ankle injury in Week 2 and was largely ineffective (11 rushes for 17 yards). Establishing the run game is essential for a Bengals offensive line that has allowed nine sacks over the first two games.
Cincinnati's defense was equally atrocious in Week 2, allowing an incredible 259 rushing yards and three passing touchdowns to quarterback Jimmy Garoppolo.
Look for the Bills to roll in their home opener to a comfortable win. I would take this line up to Buffalo -8.
Stuckey: Lions +6 at Eagles
We already covered the Lions' secondary, but don't sleep on their defensive line — it's one of the NFL's best with the additions of Mike Daniels and Tre Flowers to a deep group that features Snacks Harrison, Da'Shawn Hand (who might return this week) and A'Shawn Robinson.
They can match up in the run game with Philly's excellent offensive line.
I don't think Miles Sanders, who looks like he's still figuring things out as a rookie, will have a ton of success on the ground. And the Lions could get linebacker and captain Jarrad Davis back this week.
This is a good matchup for the Lions, especially with all of the Eagles' injuries. Matthew Stafford might make a boneheaded throw or two, and Zach Ertz might have a huge game for Philly, but the Lions should keep this within a touchdown.
I played this at +7, but would take it at 6 or better.
Stuckey: Jets-Patriots Under 43.5
The Jets' third-string quarterback will make his first career start in Foxboro? With a depleted receiving corps? In front of a subpar offensive line? Against one of the best secondaries in the NFL?
That's not how you dream it up as a kid.
I'm just not sure how the Jets move the ball.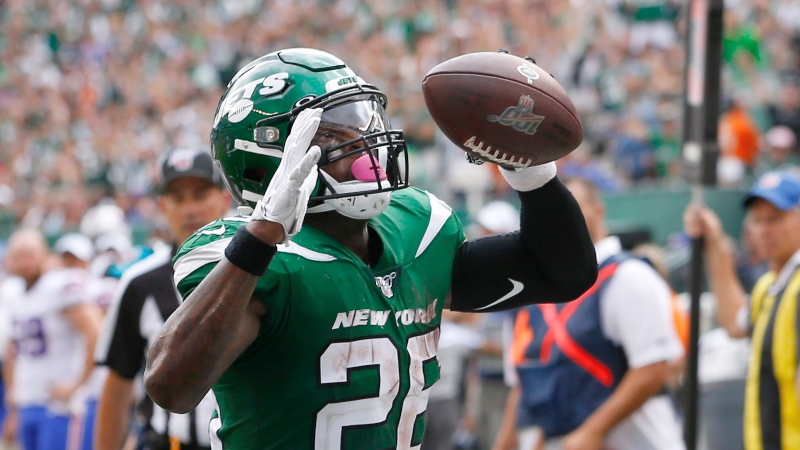 The Patriots and their man heavy defense have three corners who can take away anybody the Jets put out there on the outside. I assume the Jets will play super slow and feed Le'Veon Bell to try to shorten the game as much as possible — it's their only prayer to even stay remotely close. Perhaps Bell can break a few big plays, but this is just a nightmare matchup for the Luke Falk and Co.
Tom Brady and the Pats could put up 50, but I'll take my chances with the under at anything higher than 43. (Remember that 43 is the most important number when it comes to NFL totals since the extra point rule change.)
Week 1, the Colts lose in OT, thanks to Adam Vinatieri leaving many many points on the field. Week 2, the Colts survive the Titans, in spite of Adam Vinatieri leaving many many points on the field.
In both cases, the Colts were underdogs, and neither made sense to me. This one doesn't, either.
Their offensive line is among the best in the NFL, and that seems to be forgotten by fans who are betting the Falcons at a 62% clip as of writing. Maybe there's some residual, high-flying perception from the Falcons beating the Eagles on Sunday Night Football, but look beyond that score: I saw a Falcons team lose a lead, only to win because one of the best players in the league made a miracle mad dash for the end zone off a screen pass.
The Colts are strong where it matters — on the offensive front and  in the running game — two areas where the Falcons don't have enough answers to be getting so much respect, especially on the road.
Randle: Vikings -9 vs. Raiders
This game has all the makings of a big Minnesota win. Over the past three seasons, head coach Mike Zimmer's Vikings have a 76% winning percentage and 7.62 point differential in home games.
In Week 1, the Vikings put on a dominant defensive display against a Falcons offense that is vastly superior to Oakland. Minnesota won 28-12 and sacked Falcons quarterback Matt Ryan four times.
The Raiders were 1-7 on the road last season and that one win was against the Cardinals. Oakland allowed an average of 28.5 points and scored an average of 13.9 points in their eight road games. The Raiders 27th ranked pass defense is now short-handed with Abram out for the season with a shoulder injury.
Minnesota will be undaunted by Oakland's fourth-best run defense DVOA. Dalvin Cook leads the NFL with 265 rushing yards and a 6.5 yards per carry average. He totaled 165 rushing yards last week in Green Bay against the Packers' stout run defense.
Through their first two games, the Raiders have relied heavily on rookie running back Josh Jacobs, who ranks fifth among all running backs with 35 rushing attempts. However, Jacobs shared on Instagram that he lost 10 pounds this week due to illness.
Take the Vikings at home to easily cover the spread in Oakland's first road game of 2019. I would feel comfortable taking this line up to -9.5.
Stuckey: Ravens +6 at Chiefs
Editor's note: The weather in Kansas City could impact this game. Here's what to keep an eye on.
You might have guessed that the Ravens are running it as much as they did last season. That is still true, as they lead the NFL with 39.5 rushing attempts per game. But the passing game has been the most potent part of the offense.
Rookie wideout Marquise 'Hollywood' Brown and Mark Andrews, two Oklahoma alums, have been two of the best offensive players in the NFL so far this season. And Lamar Jackson's accuracy has improved dramatically in just one season. He's a different quarterback than when these teams met last December in Arrowhead.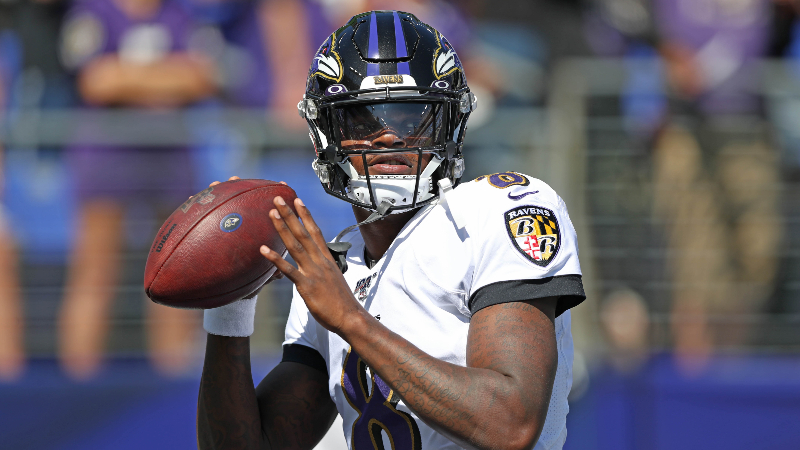 The Ravens have used a myriad of formations this season, but one of their most unique and effective sets they've been running is the heavy pistol, known as Desert Eagle. Baltimore will utilize 22 — and even sometimes 23, meaning two backs and three tight ends — personnel to punish defenses physically. They will also throw out of these formations.
Baltimore has also been utilizing a ton of motion and play action later in the game with great effectiveness. It's an offense that's very unique in today's NFL and doesn't have a lot of patterns yet.
The Ravens should be able to use their power personnel and run right at a Chiefs defense that is still susceptible to the ground game. Kansas City is allowing 6.0 yards per carry (worst in the NFL).
It's a small sample size, but the Chiefs did finish 31st in the NFL last year at 4.9 yards per carry given up. That should allow them to set up the play action to Brown/Andrews and designed or improvised runs for Jackson.
Patrick Mahomes will still get his as he always seems to do (the Chiefs have scored at least 25 points in an NFL record 24-straight games), especially against a Ravens secondary that is without Tavon Young and Jimmy Smith.
But the Chiefs aren't playing with a full deck on offense. Both of their backs are questionable, Tyreek Hill remains sidelined and left tackle Eric Fisher is now out. And secondary issues aside, this is still an excellent Ravens defense.
Kansas City pulled that out a 27-24 overtime victory when these teams met last season. I expect a similar barnburner, so had to grab the 7 but like it anything 6 or above.
The wind and rain should also favor the Ravens, in my opinion.
The Packers offense under new head coach Matt LaFleur has looked incredibly unimpressive, averaging just 15.5 points in Weeks 1-2, but they opened the season against divisional rivals in the Bears and Vikings, both of whom have tough defenses (12.0 and 16.5 points allowed per game).
Given the strength and familiarity of their recent opponents and allowing for a scheme adjustment grace period, we can probably excuse some of the struggles the Packers have had on offense.
And it helps that they've looked good on defense, where they've made significant investments since bringing in coordinator Mike Pettine last year. The defense ranks No. 3 with a 75.7 Pro Football Focus grade, thanks primarily to the team's improved pass rush (No. 3 with 16 quarterback hits) and pass defense (No. 3 with 4.5 adjusted yards per attempt allowed).
As for the Broncos, I'm underwhelmed. Joe Flacco has a high 69.1% completion rate, but his 6.4-yard average depth of target is one of the league's lowest marks: He's refusing to attack downfield, and the Broncos offense is stagnant as a result. Honestly, they're lucky to be averaging 15 points per game.
On defense, the Broncos are No. 26 in pass DVOA with a 42.0% mark. Even with cornerback Chris Harris Jr., the defense has been slow to take to new head coach Vic Fangio's scheme. It probably doesn't help Harris that after years as an All-Pro slot man, he's been moved to the outside.
The Broncos' defensive strength is their pass rush: They can get to the quarterback with edge defenders Von Miller and Bradley Chubb. But the Packers have a good offensive line bookended by All-Pro left tackle David Bakhtiari and nine-year veteran right tackle Bryan Bulaga. The Packers might be able to neutralize Denver's pass rush.
Finally, with Aaron Rodgers as the starter, the Packers over the past 12 years have been one of the surest bets in the NFL to cover at home, where they are 49-27-3 against the spread. On average, at home they have exceeded the spread by 3.7 points per game and offered backers an A-graded 25.4% return on investment (per Bet Labs).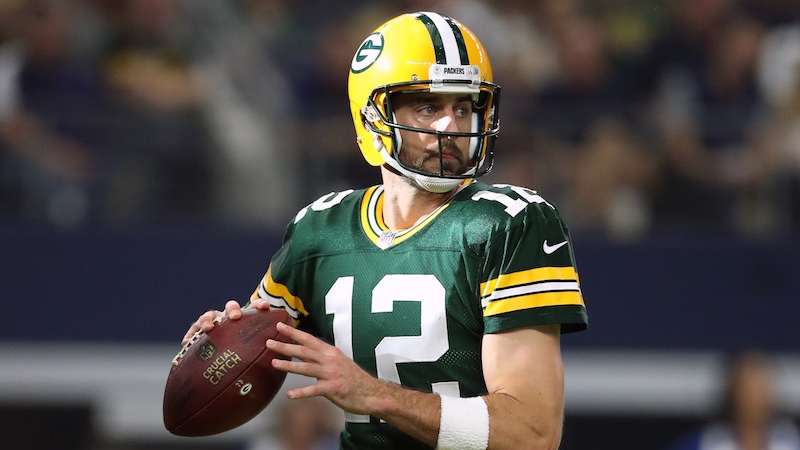 Rodgers has averaged just 206 yards passing over the past two weeks. I expect him to progress toward his 2008-18 average of 269.7 as a starter, and Rodgers' improved play should make the difference.
I'd bet this line to -8.
Stuckey: Panthers +2.5 at Cardinals; Over 44.5
I actually think this is a great spot to back Carolina with Cam Newton out.
After starting 0-2 — with both losses coming at home — the Panthers hit the road with extra prep/rest after last week's Thursday night game. You should get a desperate team's best effort on the road here.
Most importantly, Kyle Allen will get the nod at quarterback. And while the market has adjusted the line in Arizona's favor by five points (although not through any key numbers), I actually think Allen starting will help Carolina's offense.
Newton simply is not himself right now. He's either not healthy or forgot how to accurately throw a football. In last week's loss to Tampa Bay, more than 60% of his balls were uncatchable! 60!
And through two weeks, he's been the most inaccurate passer — by a wide margin. And it's not like he's been running like he has in the past. Newton has only five rushing attempts for -2 yards this season. And we're talking about a guy who has rushed for almost 5,000 yards over his first eight NFL seasons.
Cam has no touchdowns and one interception in two games with a Total QBR of 26.9. It's been as ugly, as you've heard.
Allen can at least get the ball down the field to Carolina's speedy receivers, who will be matched up against an Arizona defense still playing without its top two corners. And as I said before, it's not like the Panthers will see any drop-off in the QB running department.
This is still a deeply flawed Arizona team across the board.
I'm buying low on the Panthers. And as a +2.5 dog, it's also a great teaser piece, especially if the +3 never pops in the market — which you should hold out for if you like Carolina.
I also like the over up to 45. I think Allen will actually improve this Panthers' offense, and we know both teams play fast. They both rank inside the top six in seconds per play in neutral situations. Maybe they go a little slower with Allen, but I think the improved passing game can make up for any drop-off there.
Randle: Buccaneers -6 vs. Giants
There are too many things in the Buccaneers favor in this matchup.
Mike Evans is fully healthy and should draw less attention given the early-season numbers that Chris Godwin is posting. Evans has finished with over 1,000 receiving yards in each of his first five seasons, and is due for positive regression on his 89 total receiving yards this season.
On the other side of the ball, defensive coordinator Todd Bowles has the Tampa Bay defense playing at a surprisingly efficient level. Through two games, the Buccaneers rank first overall in run defense DVOA.
Most importantly? Daniel Jones is making his first NFL start on the road with a decimated receiving corps and may be without his starting left guard.
This sets up as a great opportunity for the Tampa Bay offense to get right and the Bucs are coming off extra rest. The Giants are trending in the opposite direction, heading on the road with a rookie quarterback and taking on the best run defense through the first two weeks of the season.
I'm taking Tampa Bay -6.5 and would feel comfortable taking this line up to 7.5.
Chris Raybon: Seahawks Moneyline (-215) vs. Saints
The Saints got some some sharp action at +4.5, and maybe they can keep it close, but again, Teddy Bridgewater is 8-9 in his career on the road while Russell Wilson is 45-12 at home.
Wilson is also the much more efficient passer of the two quarterbacks, so I would be highly surprised if the Saints pull off the upset — which might explain why there is more money than bets on Seattle moneyline while the opposite is true about the spread.
Raybon: Texans +3 at Chargers
The Texans are coming off an ugly performance in which they barely squeaked out a win at home against a rookie QB, while the Chargers fumbled and kicked and threw a close game away against Detroit on the road.
Easy bounce-back spot for the Chargers, right?
I'm not so sure.
Joey Bosa and Melvin Ingram will surely wreak their fair share of havoc. But the Chargers' depleted secondary combined with the Texans' addition of Laremy Tunsil and their healthy top-four wide receiving corps featuring DeAndre Hopkins, Will Fuller, Kenny Stills (the No. 1 rated WR by Pro Football Focus through two weeks!) and Keke Coutee — plus Deshaun Watson's ability to escape pressure and deliver on the run — the Texans should give the Chargers problems.
The Chargers' ongoing kicking issues make them absolutely liable to not cover, if not lose this game outright.
They're at home, but so what? It hasn't been an advantage for them in the Anthony Lynn era, as their 40.0% cover rate in their own building is tied for the sixth-lowest since he took over in 2017.
Oh, and by the way, Watson is 6-2 against the spread as a road underdog — the line tends to sell him short in these situations, and it's been the most profitable spot to back the Texans (Watson is 7-8-1 ATS in all other situations).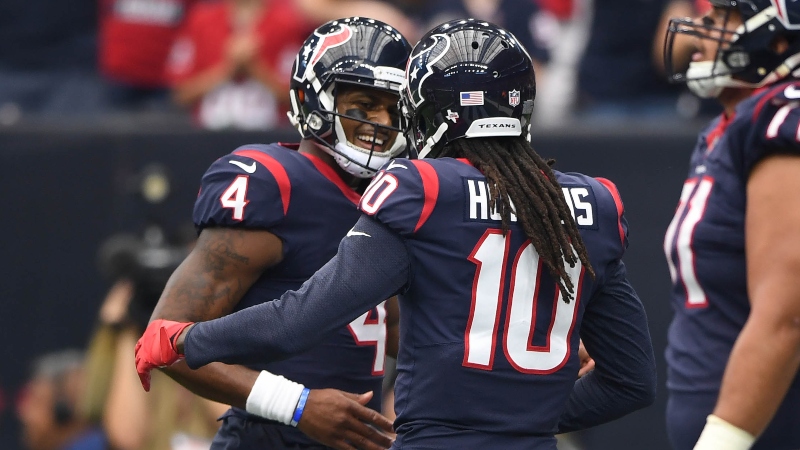 Another trend working in Houston's favor? Road underdogs are 115-93-6 ATS since 2003 when both teams failed to cover in the prior week, including 58-40-2 when +4 or less (per Bet Labs).
I got this at +3.5, but big bets have pushed this line to +3. I would still bet it there, but would consider the Texans' moneyline if the line goes to +2.5 or lower.
Randle: 49ers -6.5 vs. Steelers
This is not an easy way for Mason Rudolph to get his feet wet as an NFL starter.
The Oklahoma State product will face a San Francisco defense that has allowed 34 points and tallied seven sacks in its first two games. The Niners rush defense, which ranks seventh in DVOA, should have the edge over Pittsburgh's suspect ground game, especially if James Conner can't go.
Establishing the run will be critical to help give Rudolph some breathing room, but that is easier said than done.
Jimmy Garoppolo should be able to take advantage of the Pittsburgh secondary which ranks 30th in pass defense DVOA.
The Steelers have a chance to pull the upset. They just need Rudolph to play well, James Conner's knee to hold up and their secondary to slow down Shanahan's offense.
That's too many question marks.
How would you rate this article?