NFL Picks & Predictions: Texans Spread, Seahawks-Bills Over, More Week 9 Bets
Credit:
Bob Levey/Getty Images. PIctured: Deshaun Watson
NFL Picks & Predictions
We have (already) reached the halfway point of the regular season — eight weeks of football have been played with eight more to go after Week 9.
Our staff highlights their favorite picks for Sunday below, featuring four spreads and totals.
Sean Koerner: Chargers -1 vs. Raiders
Kickoff: 4:05 p.m. ET | More Game Info
The Chargers continue to find ways to lose, which will be the narrative surrounding them this week.
The Chargers are now 1-5 in one-score games and have played closer to a 4-3 team based on game time (when leading, they rank 12th). It's fair to wonder if their issue could be head coach Anthony Lynn, who is clearly on the hot seat — especially considering the Chargers suffered from "bad luck" for most of last season.
I'm still going to use this as a time to buy low on the Chargers when the public perception of them appears to be skewed by their ugly 2-5 record.
Justin Herbert has undoubtedly played like the Rookie of the Year, and I expect him to keep playing at a high level against the Raiders' 27th-ranked pass defense according to Football Outsiders' DVOA.
Joey Bosa is expected to miss this game, but I still like the Chargers here at -1. Based on the 82% of money flooding in on the Raiders (see real-time public betting data here), this line could end up being +1 or even +2.
I may wait to see if that happens, but I would bet this up to Chargers -1.5.
[Bet now at PointsBet and get $125 if the Chargers gain a yard]

Kickoff: 1 p.m. ET on Sunday | More Game Info
Neither defense has much of a chance to stop the opposing offenses. The Seahawks are trending toward being one of the worst defenses in the league, ranking 28th in defensive efficiency and 30th against the pass while giving up 28.4 points per game. The Bills are 21st in defensive efficiency and allowing 24.9 points per game.
Oddsmakers opened this total at 51 and it was immediately bet up. Still, I'm not sure they can make these Seahawks totals high enough.
This team is reminiscent of the 2019 Buccaneers that finished 12-4 in hitting the over. Similar to the Jameis Winston-led Buccaneers, the game script of these Seahawks games lends itself to the over. If Seattle gets ahead, its secondary has no hopes of slowing down the opposing team. If the Seahawks get behind, the opposing team is at the mercy of Russell Wilson, who continues to dominate his way to a MVP season.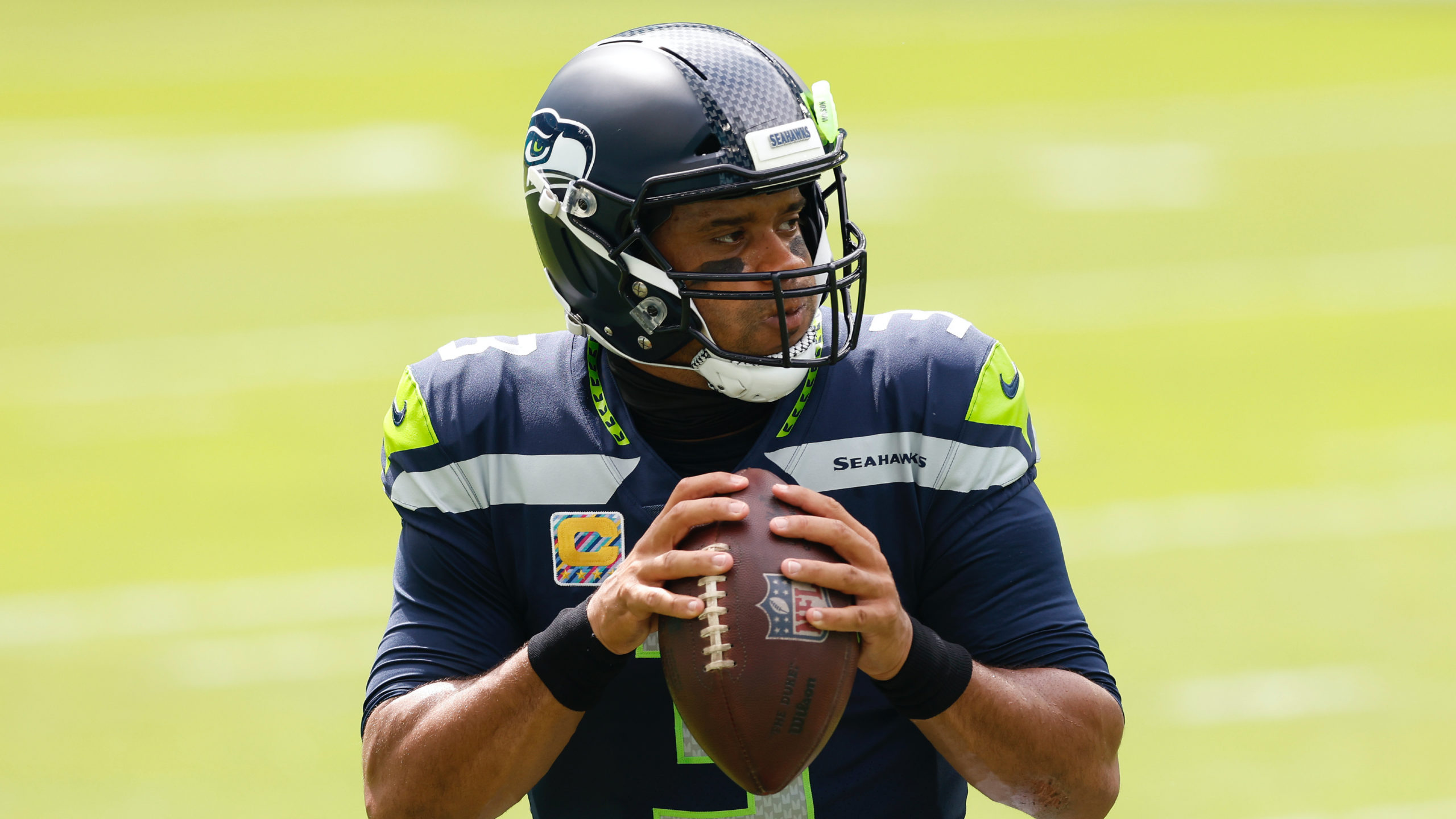 The Seahawks are first in points per game (34.3) and total success rate and second in offensive efficiency, yards per play (6.4) and early-down success rate. They're also first in red-zone touchdown percentage, converting on 88% of trips inside of their opponent's 20-yard line.
The Bills are no slouches offensively, as well, as they're averaging 24.8 points per game and are sixth in total success rate and expected points added, 10th in early down success rate and eighth in explosive play rate with 11% of their plays going for 20 or more yards.
Given the Seahawks' defensive struggles, we should expect an offensive output from the Bills that trends more toward their first four games of the season, in which they averaged 30.75 points as opposed to the last four that have seen them average 18.75.
I played the over at 52, but I would take this up to 55.
[Bet now at BetMGM and win $100 if there's a touchdown]

Kickoff: 1 p.m. ET on Sunday | More Game Info
I have a theory, the historic profitability of which I will test using Action Labs.
I believe it's likely that the sports betting public tends to undervalue teams in three distinct situations.
Off a loss
On the road
As underdogs
My theory is that if we triangulate these factors and look at them in combination — if we screen for road dogs off a loss — we'll find teams that have beaten the vigorish (the sportsbook surcharge).
Not all teams are either road dogs off a loss or home favorites off a win, but it's instructive to compare these two cohorts and see how they do against the spread (ATS) and in return on investment (ROI).
Road Dogs Off a Loss: 762-672-39 ATS | 3.4% ROI
Home Favorites Off a Win: 719-735-41 ATS | -2.9% ROI
A 3.4% ROI might not seem like much, but over a sample this large it's significant. Within Action Labs, road dogs off a loss have earned an A- grade.
This looks like an angle we can exploit, especially this year, when home-field advantage has been minimized due to COVID-19 restrictions on attendance.
And if you look at the numbers, it turns out that this year has been the most profitable one for this trend. In 2020, road dogs off a loss are 24-13-0 ATS (25.6% ROI).

And last year was the third-most profitable one for this trend: 45-28-5 ATS (18.1% ROI).
Could there be a reason (other than COVID-19) for road dogs off a loss to be especially undervalued over the past two-ish years?
Yes.
I say this as an inordinately non-sharp bettor, but going against road dogs off a loss is a very square thing to do. It's the act of a novice. A neophyte. A newbie. And since 2019 many new and inexperienced bettors have entered the market as more states have legalized sports speculation.
Road dogs off a loss have been undervalued this year and last year because the overall market is now more unsophisticated. And we should look to exploit this. Hence, the Panthers, who have a career ATS dominator in quarterback Teddy Bridgewater.
All Situations: 31-11 ATS | 44.6% ROI
Underdog: 21-5 ATS | 58% ROI
Visitor: 17-3 ATS | 65.8% ROI
Road Underdog: 16-2 ATS | 73.6% ROI
Of all the bets I've made this season, this is probably a top-five favorite. I took the Panthers at +10.5 but like them down to +10.
[Bet now at BetMGM and win $100 if there's a touchdown]

Kickoff: 1 p.m. ET on Sunday | More Game Info
The Texans are 1-6 but have faced a brutal schedule thus far — they've already had to play the Chiefs, Ravens, Steelers, Titans and Packers. And while the Texans aren't good, they're not nearly as bad as their 1-6 record would make them look.
The Texans finally dumped Bill O'Brien and seem to have settled in under Romeo Crennel, and now they've had a bye week to further settle. Oh, and that one win? It came one month ago against these Jaguars by 16 points.
The Jaguars are also 1-6, but don't mistake that same record for putting these teams on an even playing field. Jacksonville threw everyone off the scent with a Week 1 win over the Colts when the Jags benefited from two turnovers and two failed fourth down conversions. Gardner Minshew was fun again and everyone decided the Jags were kind of okay … then they lost their next six games, losing their five most recent ones by an average of 14 points.
The Jaguars are not good, at anything really. They're starting someone named Jake Luton at quarterback with Minshew out injured.
The Texans aren't good at much, either, but one thing they're certainly good at is passing the football. Deshaun Watson will be the best player on the field by far, and their passing offense ranks top 10 by Football Outsiders' DVOA. The Jaguars' passing defense, meanwhile, ranks dead last in the metric.
The Texans are simply far better here, and Watson vs. Luton is too huge a mismatch to ignore. Grab the Texans while they're still available under a touchdown if you can, but play the touchdown if needed and definitely throw the Texans into a couple teasers, too.
You might even think about taking a longshot dice roll on Houston's playoff odds — the Texans' AFC South foes look vulnerable, and their schedule gets way easier in the second half, starting here.
[Bet now at PointsBet and get $125 if the Texans gain a yard]
How would you rate this article?