Week 6 WR/CB Sunday Night Edition: Can the Patriots Contain Tyreek Hill?
The Patriots' history with Stephon Gilmore suggests he won't be used to shadow Tyreek Hill.
Chiefs slot receiver Chris Conley offers untapped big-play upside.
Chris Hogan is far ahead of Josh Gordon and Phillip Dorsett in terms of snap count.
This week I'll also be doing a special Sunday night edition of this breakdown. You can find the rest of the Week 6 edition here.
The Chiefs and Patriots have a ridiculous week-high over/under of 59.5 points as of Friday evening (you can find updated odds here), so identifying any potential mismatches on either side of the ball could prove profitable in a hurry.
Visit the FantasyLabs NFL page for more weekly breakdowns. You can also view all of this week's wide receiver/cornerback matchups using the Matchups tool.
Chiefs Offense
Tyreek Hill
Sunday Night Football means one thing this week: Prime-time TyFreak. The Chiefs' speedster has made a habit of burning defenses when the lights shine brightest, racking up 11 total touchdowns in 12 career prime-time games.
The Patriots haven't been spared from Hill's prime-time performances, as he caught 7-of-8 targets for 133 yards, including a 75-yard touchdown, during the Chiefs' season-opening win in Foxborough last season:
Overall, Hill has scored 17 touchdowns in 18 career road games compared to seven touchdowns in 20 games (including playoffs) at Arrowhead.
The Patriots defense isn't exactly built to limit Hill's big-play opportunities. No. 1 cornerback Stephon Gilmore wasn't asked to shadow Hill in 2017, and Gilmore's track list doesn't include many undersized speedsters like TyFreak:
Stephon Gilmore shadow matchups since 2017

M Evans: 5-49-0 (8)
DT: 5-44-1 (8)
Crabtree: 6-51-0 (11)
D Parker (x2): 1-5-0 (3), 4-40-0 (6)
Z Jones: 2-22-0 (7)
M Bryant: 4-59-1 (6)
K Benji: 5-70-0 (7)
C Hansen: 1-15-0 (4)
Nuk: 8-78-0 (11)
Moncrief: 4-34-1 (9)
M Jones: 4-69-1 (6)

— Ian Hartitz (@Ihartitz) October 11, 2018
The Patriots used Malcolm Butler to shadow the likes of Robby Anderson, Antonio Brown, Emmanuel Sanders and Kenny Stills last season. Jason McCourty has been a great replacement, earning PFF's fourth-highest grade among all cornerbacks in 2018.
Still, the Patriots' defense — along with the rest of the league — doesn't appear to have a clear-cut answer on how to contain Hill. New England finished last season with the league's 26th-ranked defense in DVOA vs. No. 1 wide receivers and ranks just 29th so far this season.
Sammy Watkins
The addition of Watkins has helped to open up the Chiefs offense for both Hill and tight end Travis Kelce. This should come as no surprise, as Watkins' field-stretching ability has regularly enabled his quarterbacks to soar to new heights over the years:
Patrick Mahomes' yards per attempt with/without Watkins: 8.9/8.1
Jared Goff: 8.1/7.4
Tyrod Taylor: 8.8/6.3
Kyle Orton: 7.2/6.4
Watkins has racked up at least seven targets in three of his past four games, with the only non-qualifying game occurring because he was forced to leave Week 4 early with a hamstring injury. He's certainly been more of a factor through five weeks than he was with the Rams in 2017:
2018: 1.81 yards per route run (36th among 97 wide receivers)
2017: 1.3 (69th of 107)
2016: 1.94 (T-22nd of 104)
2015: 2.69 (5th of 101)
2014: 1.59 (49th of 100)
The only problem with Watkins is that he hasn't been asked to stretch the defense. His average target depth of 7.9 yards is well below his mark of 15.2 from last season. Instead, the Chiefs have utilized their new No. 2 receiver on plenty of screens and short passes. This helps Watkins' weekly floor, but makes some of his patented blow-up games a bit harder to come by.
Chris Conley
Conley's snap share of 70% is equal to Watkins', but Conley drew just seven combined targets in Weeks 1-3. The Chiefs have involved their slot receiver a bit more recently, as Conley racked up six targets in Week 4 and five in Week 5.
The Chiefs don't regularly scheme plays to feature Conley, but he's in play on single-game daily fantasy football slates thanks to his elite combination of size and athleticism:
6-foot-2, 213 pounds
97th-percentile SPARQ-x score
4.35-second 40-yard dash
45-inch vertical jump
Also working in Conley's favor is his matchup out of the slot, as Patriots nickel corner Jonathan Jones has allowed the most yards per cover snap among the New England's starting cornerbacks.
Jones ranks among the six most frequently targeted cornerbacks in the league this season. Quarterbacks have thrown his way every 4.9 snaps that he's been in coverage.
Demarcus Robinson
Robinson has just six targets in five games. He's easily the least-explosive player on the Chiefs offense and has only played double-digit snaps in two of Kansas City's five games this season.
De'Anthony Thomas
Thomas fractured his leg in practice this week and is out indefinitely. He worked as the Chiefs' do-it-all backup-version of Hill. It will likely be a team effort between Hill, Conley and Robinson to replace Thomas' snaps in all phases of the game.
Patriots Offense
Julian Edelman
Edelman's first game back from suspension came amidst a fairly dominant 14-point victory over the Colts, so the usage rates from that game don't necessarily reflect New England's plans with more traditional game flow. Either way, Tom Brady seemed to make a point of feeding Edelman early and often:
Patriots WRs snap percentage and target share in Week 5:

Chris Hogan: 91% and 9%
Julian Edelman: 70% and 20%
Phillip Dorsett: 61% and 7%
Josh Gordon: 26% and 9%
Cordarrelle Patterson: 12% and 5%

— Ian Hartitz (@Ihartitz) October 12, 2018
The offense utilized Chris Hogan, Edelman and Phillip Dorsett in three-wide receiver sets. Josh Gordon and Cordarrelle Patterson worked mostly as overqualified gadget players. Running back James White (32% target share) and tight end Rob Gronkowski (16%) were involved, as well.
White is unlikely to continue to dominate New England's targets in a similar manner moving forward, but Edelman is likely continue to rotate with Gronk as Brady's top target. If the Chiefs' inability to slow down elite slot receivers this season continues in Week 6, it could be a fantasy-friendly week for Edelman:
Week 1 vs. Keenan Allen: 8 receptions-108 yards-1 TD (11 targets)
Week 2 vs. Juju Smith-Schuster: 13-121-1 (19)
Week 3 vs. Trent Taylor: 3-24-0 (4)
Week 4 vs. Emmanuel Sanders: 5-45-0 (7)
Week 5 vs. Dede Westbrook: 3-55-0 (5)
Nickel corner Kendall Fuller is supposed to be the defense's best pound-for-pound corner, but the aforementioned receivers have proven capable of defeating his coverage. Overall, Fuller has allowed team-high marks in receptions (23) and yards per cover snap (1.16) through five weeks.
Chris Hogan
It's unclear why Brady has refrained from feeding Hogan the ball this season. My theory is that Hogan is just not good enough to work as a true No. 1 wide receiver. Hogan has historically benefited from the ability of Edelman, Brandin Cooks and even Danny Amendola to draw extra attention from the opposing defense.
The numbers partially back up this notion: Since joining the Patriots in 2016, Hogan has averaged an impressive 11.5 yards per target with Edelman in the lineup compared to just 7.4 without Edelman. However, Hogan has averaged 1.8 fewer targets and 0.3 fewer touchdowns per game with Edelman healthy.
Hogan has been locked into both two-wide receiver and three-wide receiver sets while Dorsett and Gordon have mostly worked as the New England offense's token field-stretcher. Simply having a starting role in the Patriots' perennially high-octane offense will yield some strong fantasy performances from Hogan, but they'll be hard to predict as long as he continues to work as no better than Brady's No. 3 or No. 4 option.
The problem for Hogan in this week's pristine matchup is the Chiefs' top-ranked defense against No. 2 wide receivers. The Chiefs have ranked better in terms of DVOA against No. 2 receivers than No. 1 receivers during each of the past five seasons, and Hogan has accordingly recorded receiving lines of 1-8-0, 3-34-0, 5-57-1, and 0-0-0 in four career matchups against Kansas City.
Phillip Dorsett
Dorsett shouldn't be confused with a polished receiver, but he at least has enough speed to force cornerbacks to step away from the line of scrimmage. Overall, he ranks sixth among all wide receivers in average cushion (Next-Gen Stats).
The only problem is Dorsett has never been able to consistently make defenses pay in any facet of the game. He scored two touchdowns during Edelman's suspension, but also failed to surpass even 75 receiving yards. The former first-round pick's next 100-yard game will be his first.
It probably wasn't a coincidence that Dorsett played his fewest snaps and received just three targets last week when the Patriots reached full heath at receiver.
Josh Gordon
The Patriots are taking their time in bringing Gordon along. It's quite possible he's deployed as an overqualified field stretcher as opposed to Randy Moss 2.0 over the rest of the season. For now, it's impossible to fully get behind his fantasy stock if the Patriots continue to hand him fewer than 20 snaps per game.
The good news is Gordon appears to be nearing full health, and the likes of undersized cornerbacks Orlando Scandrick (5-11, 188 pounds) and Steven Nelson (5-10, 197 pounds) should be no match for Flash in contested-catch scenarios: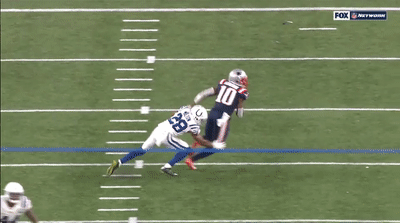 Cordarrelle Patterson
The Patriots have given Patterson an average of three touches per game as a receiver and runner this season in addition to his work as their primary kick returner. Patterson's receiving usage will likely be limited to screens and clear-outs with a fully healthy receiving corps, but fans should continue to hold their breath anytime he's utilized at his natural position in the backfield.
---
Be sure to check out FantasyLabs' industry-leading NFL News and Models, along with the Multi-Lineup Builder, Stack Builder, ownership projections and more. Other tools for the 2018 season are also available, including the Matchups page, DFS Contests Dashboard, NFL Ownership page and NFL Correlations page.