Ranking the NFL's Worst-To-First Candidates — and Why the Broncos Offer the Most Betting Value of the 8 Teams
Credit:
Getty Images. Pictured: George Kittle, Matt Ryan, Von Miller
It happens every year.
Some NFL team has a season from hell, finishes bottom of its division and lands a top pick. Everyone writes them off all summer and avoids their fantasy football guys. The new season dawns without much hope — and four months later, that team somehow wins its division and hosts a playoff game.
Sound familiar? It should.
In 16 of the last 18 seasons, at least one NFL division bottom-feeder has flipped the script and won the division the following year.
In 2016, the Cowboys added Dak Prescott and Ezekiel Elliott and leapt from 4-12 to 13-3. The next season, Carson Wentz and the Eagles went from 7-9 to Super Bowl champions. In 2018, both the Bears and Texans went worst-to-first. Last season, Washington pulled off the feat.
Since the NFL adopted the current division format in 2002, an incredible 26 division bottom feeders have gone worst-to-first the following season, an average of 1.3 per year. History says it will happen again this year.
Our job is to figure out which 2020 bottom feeder is most likely to replicate the feat and which teams are worth betting on.
If you want the easy way out, you can bet on any one of these eight teams to win its division at -160 at DraftKings — history says that's easy money, with implied odds at 62% versus the historical 89% hit rate over the past 18 seasons.
The NFL is a league of parity, and worst-to-first is the ultimate parity. So which team will do it in 2021? Let's rank last season's bottom feeders from least to most likely to claim their division titles.
---
Tier 4: Nope, Not Gonna Happen

The Texans are universally accepted as the worst team in the NFL in 2021, but the Lions are widely assumed to be next in line.
Detroit was bad already last season at 5-11, and rather than trying to improve its roster, the Lions went the other way. Matthew Stafford is gone, and so are Kenny Golladay and Marvin Jones. Detroit has the worst WRs in the NFL now, and Jared Goff is subpar and could regress further without the protective hand of Sean McVay.
The other side of the ball may be even uglier. Desmond Trufant is gone, too, and he leaves behind one of the worst secondaries in the league. The Lions are the worst D in football outside of Houston. They also have a new, unproven, unconventional head coach in Dan Campbell.
This team is rebuilding, focusing on the lines and a hard-nosed mentality, but this is a long-term project. Detroit is tanking. The Lions will be motivated to lose and improve their draft picks, and a tough division with Green Bay and Minnesota will only help the cause.
The Bengals roster isn't nearly as hapless as Detroit's, but the competition is tougher — Baltimore and Cleveland have top-four odds to win the AFC, and Pittsburgh returns its elite defense. It'll be tough for the Bengals to pass all three.
Still, this Cincinnati team is more bad than awful.
The offense is coming around and has a ton of talent. Joe Burrow is back from injury, though he's been shaky in training camps. He'll get plenty of help from Joe Mixon, Tee Higgins and rookie Ja'Marr Chase. The defense has intrigue, too — notably star safety Jessie Bates.
Unfortunately, the hidden factors are against Cincy.
Zac Taylor's presumed offensive prowess simply hasn't translated. Burrow was pretty good in the 10 games he played as a rookie, but these coaches just aren't making things easier for him. The offensive line doesn't help, either — it's one of the worst in the league, and all of that means poor efficiency and expected completion percentage.
Besides, the Bengals finished 4-11-1 and lost a ton of talent, including Carl Lawson, William Jackson, Gio Bernard and Geno Atkins. This team could be feisty by year's end, but the coaching and O-line disadvantages rule them out of tough AFC North.
---
Tier 3: Opportunity But Not Enough Talent

Unlike the teams in Tier 4, these teams have every opportunity in a weaker division. They just may not have enough talent to take advantage.
The Jaguars are Exhibit A. The AFC South certainly looks like the weakest division in football. The Texans are awful. The Colts have major injury question marks and no idea what they'll get from Carson Wentz. The Titans should regress with the loss of offensive coordinator Arthur Smith and a ton of mileage on Derrick Henry.
If ever there was a division up for grabs, this is it. And while that might entrap you into a Jaguars bet, but don't fall for it.
This could be a rough transition for Urban Meyer and Trevor Lawrence.
Lawrence played on the most talented teams in football in both high school and college, and now he joins the NFL's worst — a team that ended last season on a 15-loss streak. Meyer is used to playing with a loaded deck and stacked talent, and he's never coached in the NFL, and history tells us the college-to-pro transition for Meyer will be rocky at best.
The other problem is that the Jaguars just aren't particularly good. Is there a single position on the field in which this team is above average? Running back was probably the best answer before Travis Etienne got hurt. Now the corners are probably the best unit.
The Jaguars lack talent, and early preseason returns were not promising. Lawrence doesn't look good yet, and the coaches aren't making things easier. It doesn't matter how winnable a division is if you can't actually win games.
Buffalo could be a regression candidate after a huge leap forward by Josh Allen last season, and the other teams in the AFC East are beatable.
This isn't mission impossible for the Jets.
Unlike the last couple teams, the Jets flashed signs of life this preseason.
The new coaching staff is immediately elevating the roster, with head coach Robert Saleh lifting the defense and offensive coordinator Mike LaFleur already making things look easy for rookie QB Zach Wilson. This new staff comes mostly from San Francisco, where they often had little to work with because of injuries — but like expert Chopped contestants, they made the most of the ingredients they had to work with on the 49ers.
This roster is in rough shape. The Jets ranked bottom-two in points per game each of the past two seasons. The offense is improved after adding key pieces at QB, WR and on the line, but every offensive position group is still young and below-average, and LaFleur can only do so much.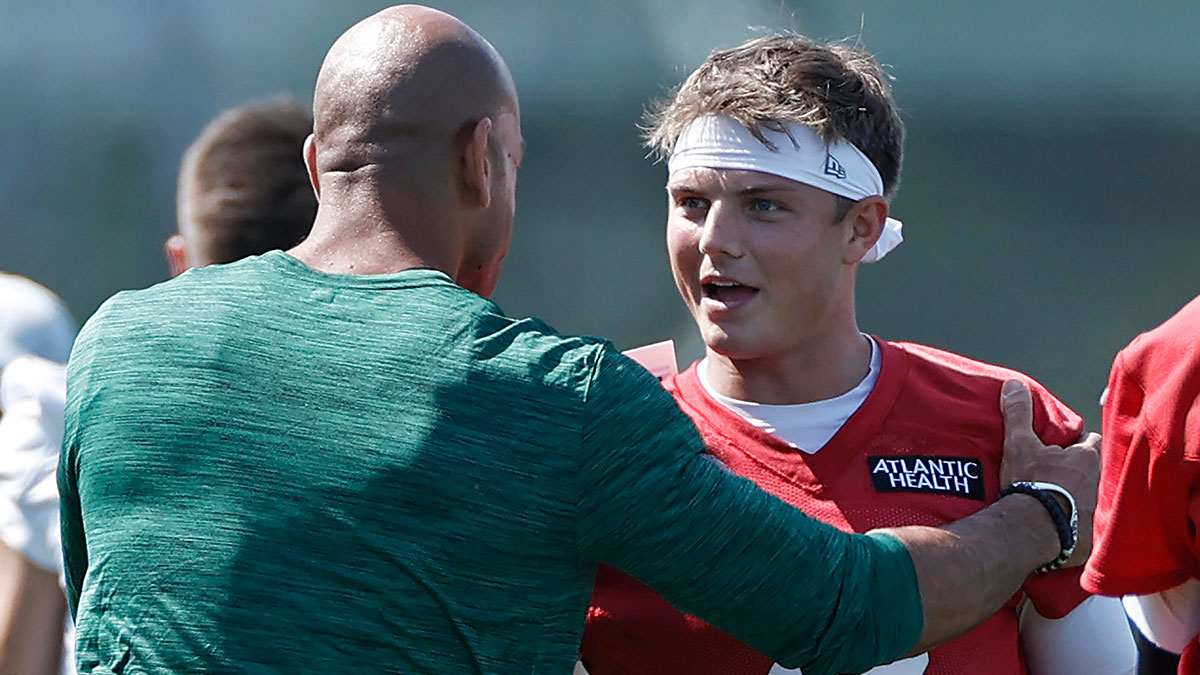 Saleh has an even tougher task in defense, and the injuries are already mounting. Free agent Carl Lawson was supposed to do big things for this pass rush, but now that he and Vinny Curry are out for the season, this is the worst edge rush in football. They also have arguably the league's worst group of corners. And spoiler alert: Having weak pass rushers and corners is not a winning formula in 2021.
The Jets will be greatly improved — kind first-half schedule could even inspire hope and confidence. But the back-half of their schedule is brutal, and even if the Bills and the rest of the AFC East stumble, it feels like the big step for the Jets is still a year away.
Philadelphia finished only 2.5 games back in the division last year. The next closest bottom-feeder on this list was a full six games out. The Cowboys, Giants and Football Team shouldn't run away with this.
The door is open.
The Eagles could have a higher floor than one might think … if they stay healthy. A healthy offensive line could be elite again, and the healthy version of this defense is good on the line and in the secondary with Fletcher Cox and Darius Slay. And a good offensive line and defense mean a high floor — heck, that was the exact formula Washington employed last season when it went worst-to-first in this division.
The offense is a huge question mark, though, starting with one of the worst quarterback situations in football.
Jalen Hurts has proven little, enough so that the Eagles traded for Jaguars castoff Gardner Minshew after already signing Joe Flacco. That tells us how little Philly believes it has its answer at QB. New head coach Nick Sirianni is a question mark, too, and DeVonta Smith and Jalen Reagor are talented but unproven at receiver.
A bet on Philadelphia is a bet on all of those guys figuring things out.
Maybe Hurts is good. Maybe Smith replicates his Heisman form as a rookie. Maybe Miles Sanders will have a breakout season behind a healthy O-line.
It's all possible; it just doesn't feel probable — especially when you check the schedule.
The Eagles open at Atlanta, return home to host San Francisco, then head to Dallas. They then face the Chiefs and Bucs over the next three weeks. That's a clear path to an 1-5 start, after which Hurts is at risk of being benched and this team's priority shifts to the future, which probably means tanking for a better draft pick to find a new answer at QB.
If you want to bet Philly, these +500 odds aren't enough incentive. Instead, think about betting Sirianni to win Coach of the Year at BetMGM, where he's a 50-1 long shot — three of the last four COY winners were in their first season leading a new team, so if the Eagles do win the division, Sirianni will be in the conversation.
Tier 2: The Serious Division Sleepers

The Falcons won only four games last year, but that badly misrepresents the true quality of this team.
According to Football Outsiders, Atlanta's Pythagorean win expectation was 7.5 wins — nearly double its 4-12 record. Well, the Falcons faced the toughest schedule in the NFL in 2020. They were also a horrendous 1-8 in one-score games. Make them 5-4 in those games instead, and they were more like a boring 8-8 team.
And don't forget the horrible Ls this team took last season.
The Falcons led against Kansas City and Tampa Ba in the second halves before blowing both game. They lost to Detroit when Todd Gurley accidentally fell into the end zone. They also lost back-to-back games after holding a 99% win expectancy. They were up 20-0 on Dallas in Week 2, then lost on that wonky onside kick. Then they were up 16 to Chicago the next week before a career game from Mitchell Trubisky.
Those sort of results derail an entire season and get a coaching staff fired, making this is a fresh new start in Atlanta.
New head coach Arthur Smith worked miracles with Ryan Tannehill and Tennessee's offense the last couple seasons, and he has plenty to work with in Matt Ryan, Calvin Ridley and rookie TE Kyle Pitts. The defense is markedly less talented, but Dean Pees has come out of retirement to coach up the D, and he has a history of making the most of the available talent.
The schedule also swings heavily in Atlanta's favor. If you rank all the starting quarterbacks in the NFL, the Falcons face a top-half QB only four times all season. In the division alone, they trade four games against Drew Brees and Teddy Bridgewater into four vs. Sam Darnold and Jameis Winston. If you have a good QB and the other team doesn't, you always have a chance.
The regression isn't all in Atlanta's favor, though.
This was one of the healthiest teams in football even at 4-12 last season, so that could swing the other direction. The Falcons are also the only team in the league with only seven true home games, since they're the only NFC team with a "home" game in London.
Of course, we haven't mentioned the biggest reason not to bet on Atlanta: The defending Super Bowl champions.
A bet on the Falcons is also a bet against the Bucs, who return almost the entire championship roster and face the league's easiest schedule. Even if Atlanta improves a lot, you also need serious Tampa Bay regression to have a shot. It doesn't look likely, but it never does.
At +850 on FanDuel, the Falcons are an implied 10.5% to win the division. I'm projecting Atlanta at over nine wins with Tampa just under 12. That's close enough to take a shot.
In a way, the Broncos mirror the Falcons in the most important sense: Betting on the Broncos means betting against the Chiefs.
Kansas City has won 14, 13 and 12 games over the past three years. Patrick Mahomes is 38-8 lifetime in the regular season, including 17-2 against the AFC West. The Chiefs certainly feel inevitable, but death comes for us all eventually.
Mahomes, Tyreek Hill and Travis Kelce are great, but this offense is getting perilously thin with players like Sammy Watkins and Damien Williams gone. The offensive line was remodeled but starts four new names, and that could take time. The defense could also be pretty bad — DE Chris Jones is a stud, but there's precious little edge rush or help at corner, and it's tough to win a lot of games with a bottom-10 defense, no matter how good the offense.
The Chiefs went 14-2 last season but deserved only 10.7 wins, by Pythagorean expectations.
If Kansas City is not so inevitable, Denver could take the mantle.
The Broncos are the opposite of the Chiefs.
Denver is absolutely loaded on defense — the Broncos ranked No. 1 in my defensive unit rankings, and it wasn't even close. This is the best pass defense in the NFL. Bradley Chubb and a healthy Von Miller are a nightmare rushing the passer, and the secondary added Kyle Fuller and Patrick Surtain Jr. to pair with the already-great Justin Simmons and Kareem Jackson.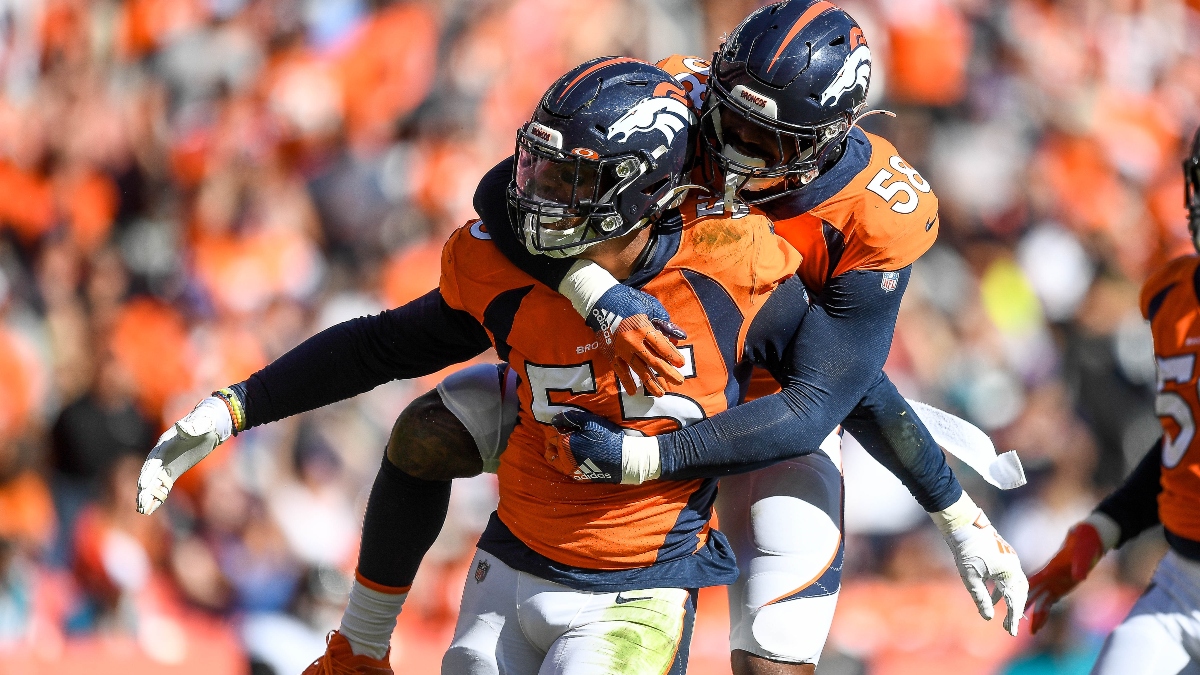 And don't forget, Vic Fangio is an elite defensive mind running the show. He was the architect of many of those great Bears defenses over the past decade, and a winning Broncos formula much like those Chicago teams: A super elite defense and a careful offensive attack that does just enough and doesn't turn it over or put the defense in danger.
That's why Teddy Bridgewater was always the right QB for this team. He may not have the upside of Drew Lock, but Bridgewater is safe. He has only 36 career interceptions and rarely makes mistakes, and this may be his most talented set of teammates with running backs Melvin Gordon and rookie Javonte Williams along with Courtland Sutton, Jerry Jeudy and Noah Fant catching passes.
The Broncos were hurt more than any team by turnovers last season. Even if the only thing Bridgewater does is eliminate those negative plays, that will be a huge value add to this team. They were also decimated by injuries and played one of the five toughest schedules.
This season, the Broncos play the softest schedule in the NFL, per ESPN FPI. They play eight games against teams with bottom-10 win expectations — the Giants, Jaguars, Jets, Eagles, Lions, Bengals and Raiders (x2) — and only four against top-10 opponents. Two of those four are against the Chiefs, and the Broncos might be uniquely built to hang with them — Denver has the NFL's best pass defense, and a careful, slow offense will limit the Kansas City's chances.
This is all about the Denver defense. If the Broncos are one of the best in the league on that end, even the 20th-best offense could be enough. Denver isn't necessarily the most likely worst-to-first division winner, but at +900 at FanDuel, they're the best worst-to-first bet on the board.
Tier 1: The Deserving Favorite

There's little question that the 49ers are the most likely worst-to-first division winner. Heck, they're the NFC West favorites at +190.
The 49ers scream positive regression. They had by far the worst injury luck of any team in 2020, losing key players on both sides of the ball — George Kittle, Jimmy Garoppolo and Deebo Samuel on offense then Nick Bosa, Dee Ford, Solomon Thomas and Richard Sherman on defense.
San Francisco had the league's third-hardest schedule. The 49ers also got crushed by turnovers. Their 31 turnovers was second-highest in the league, and they allowed four defensive touchdowns. They even got unlucky on special teams, where opponent kickers made an outlier percentage of field goals.
This team might as well have been the San Francisco Murphy's Laws.
This season's Niners should face one of the easiest schedules. Their three variable games are against the Eagles, Bengals and Falcons. And San Francisco also starts with a clean slate of health, which is huge.
Garoppolo has been pretty good when he actually stays on the field. The 49ers are 24-9 with him, a healthy 12.4-win pace. They rank top-five in EPA per play with Jimmy G but drop to 27th without him. Even if rookie QB Trey Lance doesn't start early, he could still improve this team just by not being a dumpster fire backup if Garoppolo gets hurt again.
A clean slate of health would be huge for the other stars, too. Bosa could be a Defensive Player of the Year candidate. Kittle is the most complete tight end in football. The offensive line also has big upside if Mike McGlinchey and Alex Mack reach past heights again.
A healthy roster could have a multiplying effect — good players are even better when they're surrounded by other good, healthy players.
Still, it won't be easy. The NFC West is the toughest division in football, and Kyle Shanahan's assistants all got promotions elsewhere. But if the 49ers stay healthy, they'll be in the mix. The problem is that the books are expecting them to — at +190 at FanDuel, the 49ers have a 34.5% implied probability to win the division (convert more with our Betting Odds Calculator). And with the Rams, Seahawks, and Cardinals so good too, it'll be tough for the 49ers to be good enough to give you much of an edge.
San Francisco is the most likely worst-to-first division winner in 2021 — but Denver might be the best bet at +900 (FanDuel).
How would you rate this article?
This site contains commercial content. We may be compensated for the links provided on this page. The content on this page is for informational purposes only. Action Network makes no representation or warranty as to the accuracy of the information given or the outcome of any game or event.