The 2023 NFL Draft: A Timeline of Events
On February 12th, six great months of NFL Football came to a screeching halt when the Kansas City Chiefs defeated the Philadelphia Eagles in Super Bowl LVII. From then on, NFL fans were left to speculate on their less-fortunate team's future. Whether you were left pondering what the Titans are going to do at QB, how Lamar Jackson negotiations will go, or where the Rams will start their rebuild. Most of these questions will begin to see some answers on April 27th, when the NFL draft makes it's way to Kansas City!
Ways to Bet on the NFL Draft
Year in and year out, people love betting on the NFL Draft. There are many prop bets available to bettors, which makes the event appealing. For instance, you can bet on how many quarterbacks will be drafted in round 1, which team will draft which player, and who will be the #1 overall pick. 
For those of you that have followed #1 overall pick odds, a lot has changed since February 13th. Let's take a look at all of the 2023 draft news and the odds changes that came with it.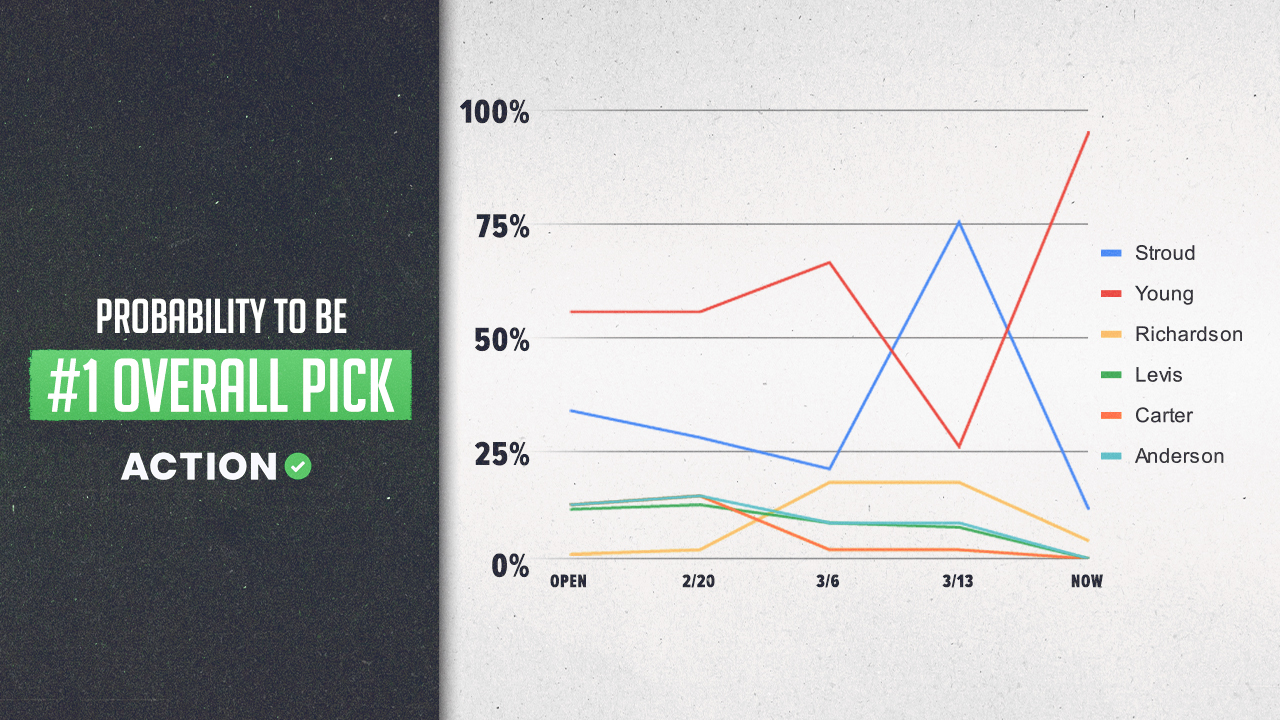 2023 NFL Draft Timeline
February 20th – This first round of odds movement came with the conclusion of Super Bowl LVII. Other than draft season officially starting, there is not much to note here.
March 6th – These updates probabilities come after the NFL Combine concluded in Indianapolis. A few things to note: Bryce Young did not throw at the combine, while Stroud and Richardson did. This benefitted Richardson, as we see that his implied odds of being drafted #1 overall jumped from 2% pre-combine to 17% post-combine.
The odds here also reflect the news of Jalen Carter facing charges of reckless driving and racing. We can see his probability drop from 14% to 2%.
March 13th – On 3/10, the Bears traded their #1 overall pick to the Carolina Panthers. This resulted in a major shift in probabilities for the first overall pick. We can see that Stroud skyrockets from 20% to 75%, making him the favorite to go #1 overall. 
April 20th – At this point, the pro-days are over. With the draft just over a week away, things are thought to be set in stone. Bryce Young holds a 95% implied probability to be drafted 1st overall. Young in a Panthers uniform is beginning to look like a reality!
Current – A post on Reddit causes some movement in the betting markets. Thanks to this post from u/SaleAgreeable2834:
This caused Levis' probability to increase dramatically, and brought Young's probability down to 86%.
Bryce Young Odds Movement
All eyes have been on Young since the end of the 2022-2023 NCAA Football season. He has been all but the consensus #1 overall pick since the Super Bowl, and for good reason. His success in college makes him an easy sell for any NFL executive, and a Heisman Trophy doesn't hurt his case either.
The only big swing in probability came when the Chicago Bears traded with the Panthers for the #1 pick. It was at that point we saw Stroud become the favorite to go #1.
C.J. Stroud's Emergence and Decline
Stroud saw a huge bump in his 1st overall probability when the Bears dished out their #1 overall pick to Carolina. Many reports emerged stating that Stroud was Carolina's guy. This sentiment didn't last very long, as Young eventually took over as the favorite to go #1 around the beginning of April.
It was reported that Stroud scored in the 18th percentile in his S2 Cognition test, which tests decision making. This hurt Stroud's chances of going top overall even further.
Anthony Richardson Flashes his Athleticism
Richardson never garnered more than 17% probability to be selected first, but we did see a huge jump in his chances after the NFL Combine. Whether you want to highlight his 4.43 40, or his record-setting vertical jump, Richardson's athleticism was on display. The betting markets reflected that.
Levis with a Late Push?
Levis hasn't really found himself deep in the mix to go 1st overall. That was until "news" broke on reddit that an anonymous user knows Levis and has said the Panthers will be drafting him.
This event bumped Levis' implied probability of being the first pick to 17%, based on BetMGM's odds. This is the highest probability Levis has seen since the start of the draft process.
Get in on the Action
Speculation continues to run rampart in the days leading up to the NFL Draft. Only time will tell who will be the first overall draft pick in the 2023 Rookie Class. But, until then, we'll enjoy the drama and eleventh hour break news stories as they unfold!
If you want an in-depth analysis of the NFL Draft, Sean Koerner dives into the latest draft news in his latest mock draft.
If you are looking to get in on the action, there are plenty of new-user bonuses available for you to claim! Check out our sportsbook reviews and pick a book to get started! 
How would you rate this article?
This site contains commercial content. We may be compensated for the links provided on this page. The content on this page is for informational purposes only. Action Network makes no representation or warranty as to the accuracy of the information given or the outcome of any game or event.