NFL Odds, Picks & Betting Previews For Every Week 1 Game: Your Guide To Betting Sunday's Slate
Credit:
Getty Images. Pictured: Aaron Rodgers, Nick Chubb and Chase Young.
NFL Odds, Picks & Betting Previews
The 2021 NFL season is here and we have you covered for how to bet on every game in Week 1! Our experts break it all down game-by-game, providing you with their favorite picks for each matchup.
New Panthers quarterback Sam Darnold will face off against his former Jets in what should be an impressive revenge game. The Chiefs are looking for a win to jumpstart their avoidance of the Super Bowl hangover, but the Browns might not let them get back to their usual form that easily. And just to keep things interesting, we've even got a potential live bet for you depending on how things go for the Chargers and Washington Football team.
---
---
49ers at Lions Odds
49ers Odds
-9.5 (-110)
Lions Odds
+9.5 (-110)
Over/Under
44.5
Time
1 p.m. ET
TV
FOX
Odds via DraftKings. Check real-time NFL odds here.
Billy Ward: The Lions are going to struggle to keep up in this one. While I also see some value on the Niners side of the spread (-9.5), it wouldn't totally shock me if San Fransisco eased up toward the end of the game and the Lions were able to make the final score look better than the game really was.
The bet I really like is the Lions team total. FanDuel has the Lions under 17.5 at (-118), and I'd still make the bet at a total of 17. With the Lions playing musical chairs at the tackle spots, the battle of the trenches is now an even larger concern. There's not a clear way for the Lions to move the ball consistently here, and I expect Jared Goff to struggle with his new team.
Pick: Lions Under 17.5 Total Points (-106) at FanDuel
---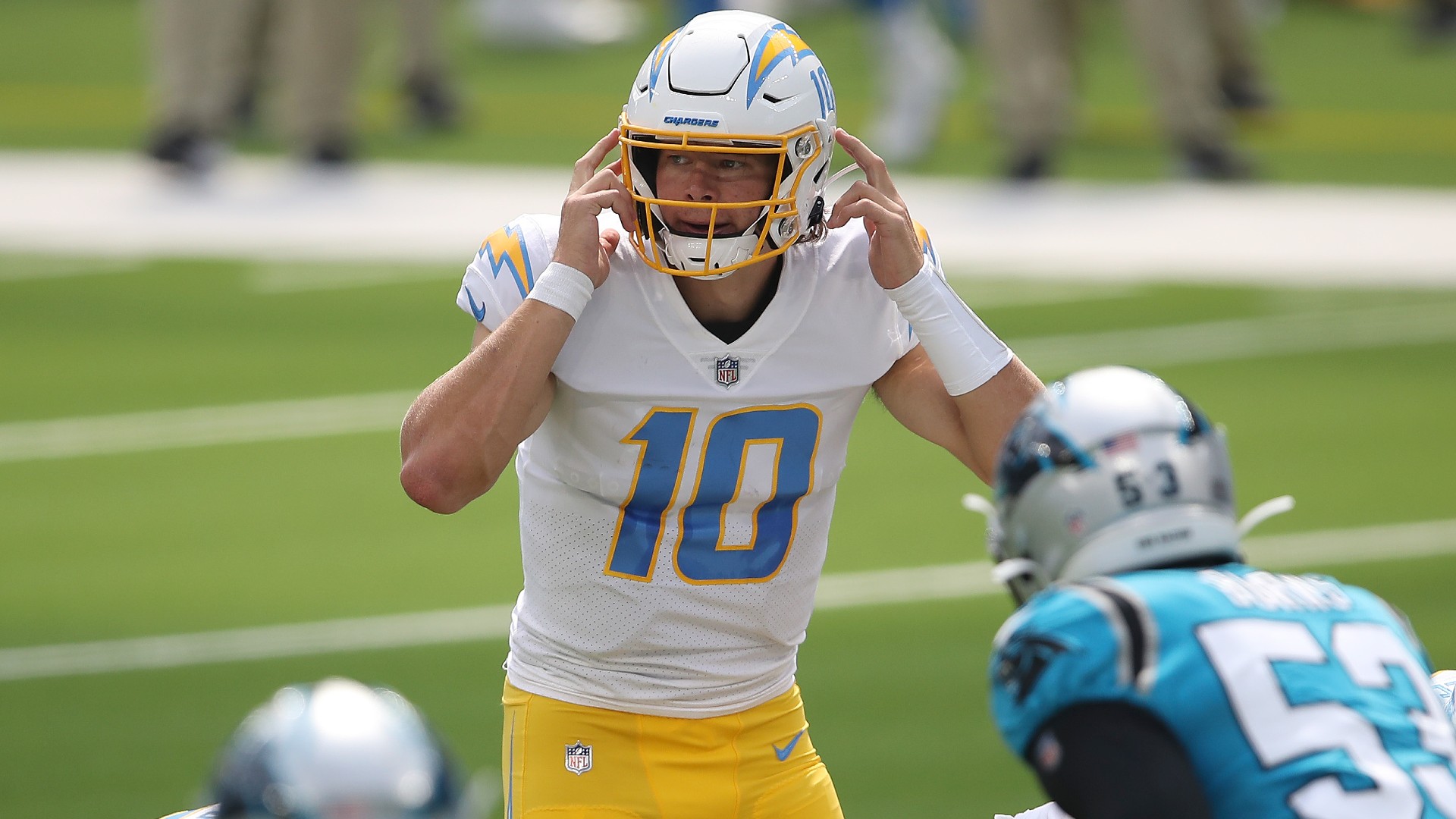 Chargers at Washington Odds
Chargers Odds
+1.5  (-110)
Washington Odds
-1.5 (-110)
Over/Under
45
Time
1 p.m. ET
TV
CBS
Odds via DraftKings. Check real-time NFL odds here.
Joe Klein: At the end of the day, this game is extremely difficult to handicap due to the uncertainty surrounding three of the four units on the field. We don't know what the Chargers defense will look like and how quickly Brandon Staley can coach them up. The Chargers offense has a lot of potential and is a unit I'm high on this season, but starting a rookie LT and three other new linemen is dicey against an elite D-line.
On the flip side, the WFT offense, while improved from 2020, still relies on a veteran out-performing his career track record. Even the WFT defensive regression is hard to pinpoint, given how easy their 2020 schedule was.
I think the current market odds fairly reflect what we know about these teams. We may look back in a few weeks and wonder why L.A. was a small dog in this spot if the O-line gels and Staley works his magic. Maybe the total is a few points too low if Ryan Fitzpatrick is playing at his 2020 levels and league-wide scoring remains high.
One live and second half angle I'm looking for is to bet WFT if they are down. The Chargers may struggle to put games away on the ground this season given their weak rushing attack; WFT has a strong run defense as well. As a result, Fitzpatrick may be able to backdoor yet another game, albeit this time with a juicier live number.
Pick: WFT 2H/Live if trailing
---
Seahawks at Colts Odds
Seahawks Odds
-2.5 (-115)
Colts Odds
+2.5 (-105)
Over/Under
50
Time
1 p.m. ET
TV
FOX
Odds via DraftKings. For up-to-the-minute NFL odds click here.
Michael Arinze: I'm all about staying away from the unknowns in Week 1, and in this case, that's the Colts. They're already tasked with trying to build up Carson Wentz's confidence, and now he has to take the field without his left tackle and best receiver.
Over time, I'm sure we'll see how Wentz adapts to the offense, but this is a little too much too soon after missing time in training camp and not playing in the preseason. I think the Seahawks will be asking plenty of questions about a Colts secondary that was 21st in defending against explosive pass plays. They'll face an even tougher challenge now with Xavier Rhodes sidelined. Add on the fact that the Colts have a history of not performing well in the opening week.
They've lost seven straight games in Week 1 and are 1-10 in their last 11 in this spot. That gives me greater confidence to bypass the point spread altogether and fade them on the money line. The Seattle moneyline is as low as -145 right now, but I'm comfortable playing this number up to -150.
Pick: Seahawks ML (-145) at DraftKings
---
Steelers at Bills Odds
Steelers Odds
+6.5 (-110)
Bills Odds
-6.5 (-110)
Over/Under
48.5
Time
1 p.m. ET
TV
CBS
Odds via DraftKings. Get up-to-the-minute NFL odds here. 
Michael Arinze: I'm not particularly sold on the Steelers just yet as I remain bearish on their offensive line, which is still very much a work in progress. The Bills are the team that looks further along this early on in the season. They've won and covered their last four games at home — all by double-digit scores.
Another worry for Pittsburgh could be if this game becomes fairly high-scoring. That would mean the defense hasn't done its job, and they'd have to lean even more on Ben Roethlisberger's arm. With so many moving parts for the Steelers at this point in the season, I checked to see if there was an angle I could exploit in Week 1.
Sure enough, they're just 3-7 against the spread in their last 10 games. But I'm actually going to use that information to fade the Steelers as part of a six-point teaser. The Bills went 15-1 covering teasers last season, and I think they'll get the money here again. I'd pair them with the 49ers.
Pick: Pick: 2-team, 6-point teaser with Bills (-6.5 to -0.5) & 49ers (-8 to -2) at BetMGM
---
Jets at Panthers Odds
Jets Odds
+4 (-110)
Panthers Odds
-4 (-110)
Over/Under
44
Time
1 p.m. ET
TV
CBS

Odds via DraftKings. Get up-to-the-minute odds here.
Mike Randle: There is still public hesitancy to back a Sam Darnold-led offense after his, "I'm seeing ghosts" statement on national television last season. Any other quarterback getting away from former head coach Adam Gase and inheriting a treasure chest of offensive weapons would have higher expectations.
Carolina's offense presents a ton of challenges for a Jets defense that is still young, especially in the secondary. Christian McCaffrey's pass-catching ability and the trio of explosive wideouts should provide Darnold with safe and comfortable targets in the Panthers' home opener. The Jets will certainly be improved under Robert Saleh, but the Panthers front seven will prove too disruptive to the New York offense.
I'm laying the points with the Panthers at home, and buying the "Revenge Game" narrative with Darnold. I would play this up to -5.
Pick: Panthers -4 at PointsBet
---
Jaguars at Texans Odds
Jaguars Odds
-3 (-115)
Texans Odds
+3 (-105)
Over/Under
45.5
Time
1 p.m. ET
TV
CBS
Odds via DraftKings. Find up-to-the-minute NFL odds here.
Mike Vitanza: While conventional wisdom may say to avoid betting on a rookie quarterback who is on the road in his first NFL start, today's NFL — and Trevor Lawrence — are a different beast. Lawrence and Co. get an ideal Week 1 draw in this hapless version of the Texans.
Yes, there will be likely be some growing pains, but this poor Texans defense should yield plenty of opportunities to move the ball downfield with ease. The presence of James Robinson and an established running game should also help ease the burden for the rookie on Sunday.
As of writing, 61% of tickets and 75% of money is on the Jaguars (per our Sports Insights tool), making this an instance when both sharps and the public agree. The data points in the same direction. I'm comfortable playing this one up to -3.5 if the line rises before kickoff.
Pick: Jaguars -3 (-110) at PointsBet
---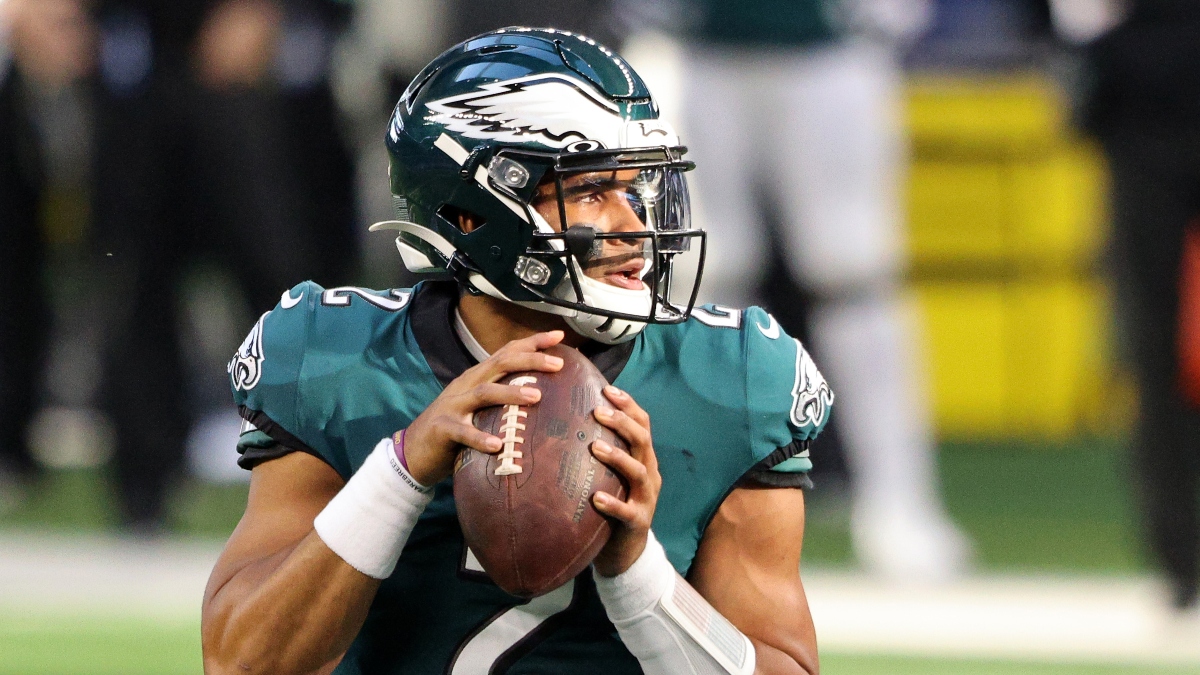 Eagles at Falcons Odds
Eagles Odds
+3.5 (-115)
Falcons Odds
-3.5 (-105)
Over/Under
48
Time
1 p.m. ET
TV
FOX
Odds via DraftKings. Get up-to-the-minute NFL odds here.
Mike Vitanza: While there are still some question marks around Jalen Hurts' ability to complete passes on a consistent basis, one thing is for certain: he'll be looking DeVonta Smith's way early and often in passing situations. Smith will have little resistance from a poor Falcons secondary in his first NFL game.
Additionally, outside of tight end Dallas Goedert, Smith should have little competition for targets in a game with sneaky shootout potential and a game total that has steadily crept up throughout the week. It also doesn't hurt that Hurts and Smith are both good friends and former college teammates.
If Hurts can just marginally improve on his 13.8 yards/completion average from a season ago, we'll need just three catches out of Smith for him to collect more than his 44.5 yardage prop. In a game with a 48 total, there will be a chance for him to rack up substantially more than that.
Pick: DeVonta Smith Over 44.5 Yards (-115) at PointsBet
---
Vikings at Bengals Odds
Vikings Odds
-3 (-110)
Bengals Odds
+3 (-110)
Over/Under
47 
Time
1 p.m. ET
TV
FOX
Odds via DraftKings. Get up-to-the-minute NFL odds here.
Phillip Kall: Both teams experienced a bad year due to injury in 2020 and each handled it much differently. The Vikings added enough defensive players to improve their baseline and necessary depth. They even traded for a new tight end when Irv Smith Jr. went down in the preseason.
The Bengals, on the other hand, made offseason moves to simply fill the voids of the players who left. While Joe Burrow showed potential when healthy, it was not enough to cover for a bad offensive line and porous defense. Against the Bengals' weak offensive line, Minnesota's defensive front will have no problem creating pressure. And on offense, Cincinnati's corners have no chance at stopping either of the Vikings stud receivers.
Back Minnesota to start the season with a big road win and cover. I'd play this up to -4.5.
Pick: Vikings -3 (+100) at PointsBet
---
Cardinals at Titans Odds
Cardinals Odds
+3 (-120)
Titans Odds
-3 (+100)
Over/Under
52.5
Time
1 p.m. ET
TV
CBS
Odds via DraftKings. Find up-to-the-minute NFL odds here.
Phillip Kall: The question marks on defense for both teams make backing either a risky proposition. However, looking at the total, the over appears to have some value.
For Tennessee's offense,  no team, let alone the Cardinals defense, can match the Titans' talent. Also, the big-play potential of Julio Jones, A.J. Brown and Derrick Henry can create big plays late, even as they milk the clock. For Arizona's offense, it has the cheat code of DeAndre Hopkins. The attention given to Hopkins will allow A.J. Green to face single coverage for the first time in his career.
Last year, Green did look far from his usual self. However, his size and route-running should still cause problems for any individual defender. Back a shootout in Nashville to start the season. I'd play this up to 53.5.
Pick:Over 52.5 (-110) at DraftKings
---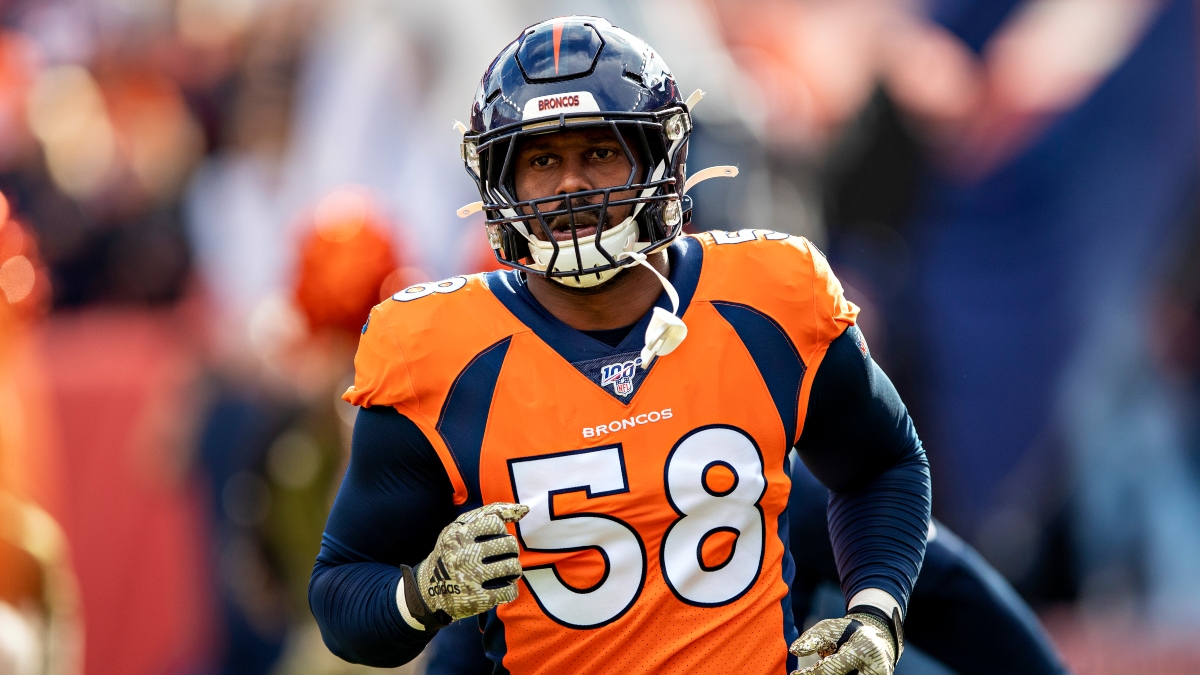 Broncos at Giants Odds
Broncos Odds
-3 (-105)
Giants Odds
+3 (-115)
Over/Under
42
Time
4:25 p.m. ET
TV
FOX
Odds via DraftKings. Find up-to-the-minute NFL odds here.
Brandon Anderson: Saquon Barkley isn't the only question mark this game. Adoree Jackson is questionable too, potentially negating that advantage at cornerback and leaving only James Bradberry to cover both Courtland Sutton and Jerry Jeudy. That could be a problem.
Denver's Bradley Chubb is questionable, so if he's not at 100% and Von Miller is still working his way back, maybe Daniel Jones isn't under as much pressure as he could be. Even still, it's tough to get past the league's worst offensive line and one of its worst quarterbacks against what could be the best defense in the league.
I like Denver this season, and I love them in this game. The Broncos have a chance to make a statement with this defense. The under might also be tempting, but at 42, the total has already been steamed down from 43 and is the lowest on the board by a wide margin now. It could still be playable at that number with two aggressive defenses and not much offense, but the value is mostly gone. I'll stick with the Denver cover and count on the Broncos to start the new season with a big road win.
Pick: Broncos -2.5 (-115) at BetMGM
---
Dolphins at Patriots Odds
Dolphins Odds
+3.5 (-115)
Patriots Odds
-3.5 (-105)
Over/Under
43.5
Time
4:25 p.m. ET
TV
CBS
Odds via DraftKings. Find up-to-the-minute NFL odds here.
Brandon Anderson: I like New England much better entering this season than Miami, so this is a great spot to trust our preseason read. Miami's greatest strength is its pair of elite corners, and Xavien Howard and Byron Jones are a bit wasted against a team without much at receiver anyway.
New England's biggest weakness, for now, is its run game, and the Dolphins don't have the runners or blocking to exploit that. The matchup trends the Patriots' direction. You might be afraid to back a rookie quarterback in Week 1, but you shouldn't be.
Per Rich Hribar, non-No. 1 overall rookie QB starters are 10-3 ATS over the past decade and 6-7 straight up. Jones was not handed this job — he earned it, and he'll get help from his line, defense and coaches. Besides, Tua Tagovailoa hasn't proven he's much more than a rookie just yet anyway, and Bill Belichick has a great history of success against young quarterbacks. New England has also won 11 of its last 12 home games against the Dolphins. I like the Patriots a lot in this spot.
This line moved in New England's direction and hit the key number of -3.5 from -2.5 earlier this week, but I am still betting it. I would make New England closer to a 5-point favorite. I'll play the Pats to cover as high as that number if necessary.
Pick: Patriots -3.5 (+100) at BetMGM
---
Browns at Chiefs Odds
Browns Odds
+5.5 (-110)
Chiefs Odds
-5.5  (-110)
Over/Under
54.5
Time
4:25 p.m. ET
TV
CBS

Odds via DraftKings. Get up-to-the-minute NFL odds here.
Raheem Palmer: We've all read the trends: Cleveland's struggles during the opening week of the season, Patrick Mahomes is a beast in the month of September and, more importantly, Andy Reid in Week 1. In Week 1 with the Chiefs, Reid is 7-1 straight up, 6-2 ATS with six straight wins and four straight covers. How can anyone bet against that? Well I'm here to tell you that I'm fading those trends.
I'm not a fan of blindly betting trends because they're not truly predictive, they just tell us what happened in the past. Just as there's a trend on Reid in Week 1, there's one to support the Browns in this spot. The loser of the Super Bowl is 4-17 ATS in the last 20 openers the following season with the 49ers losing outright in Week 1 last year to the Cardinals. The truth of the matter is this: Sharp money hit the Browns at +6.5 and +6, pushing this line down to where it sits now at +5.5 for good reason.
The Browns are a legitimate Super Bowl contender with real advantages in this matchup. They're a team with an offense that's based on running the ball and play action, areas in which the Chiefs struggle.
Although the Chiefs have a high floor given the presence of Mahomes, we've seen this team lose to the Las Vegas Raiders, who like to run the ball and dominate the time of possession. Take a look at the box score of their Week 5 loss against the Raiders last season. I believe we could see a similar result.
I played the Browns at +6.5 earlier in the week but I believe they can win this game outright. I'm not typically in favor of playing games off key numbers but in this case I think it's still worthy of a bet at the current number. I'll take the Browns +5.5 and ML +225.
Pick: Browns +5.5 (-110) at FanDuel and ML +225 at Caesars Sportsbook
---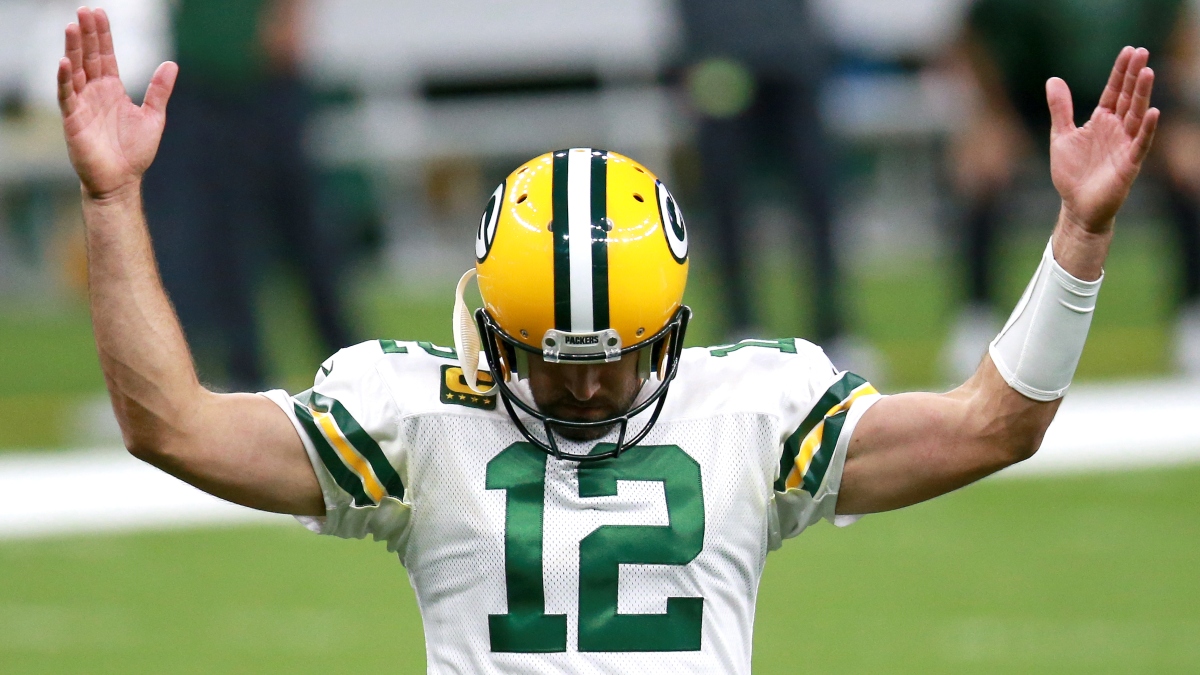 Packers at Saints Odds
Packers Odds
-3.5 (-105)
Saints Odds
+3.5 (-115)
Over/Under
50
Time
4:25 p.m. ET
TV
FOX

Odds via DraftKings. Get up-to-the-minute NFL odds here.
Raheem Palmer: The Saints are really catching a bad break losing a home game and being forced to play in Jacksonville as opposed to the Caesars Superdome given Hurricane Ida's impacts on Louisiana. We saw what happened to the 49ers last season when playing home games in Arizona, and with the Saints moving to Jacksonville, their home-field advantage disappears.
Home-field advantage has been decreasing year over year during the past five seasons, going from 2.86 points in 2016 to 0.05 in 2020. Separating home-field advantage by stadium, I have home-field advantage at the Caesars Superdome at 2.095 points, and with fans back in the stadium, this was one other way to help slow down this Packers offense.
Money has come in on the Saints, pushing this number down from 4.5 to 3.5 after the venue change, but I think that's simply creating value on the Packers. They're the better team, they have the better quarterback and more weapons in a game that is likely to be a high-scoring affair. The Saints' lack of receiving threats will hurt them in a game like this. I played the under 9 wins on the Saints win total this season, and I love fading them against a team who looks to be the cream of the crop in the NFC.
I like the Packers at -3.5  at most books (+100 at PointsBet) but if you exercise some patience, you just might find the Packers at -3 on game day given the professional money which has come in on the Saints. Caesars Sportsbook currently has them at -3 if you're able to bet with them.
Pick: Green Bay Packers -3 (-110) at Caesars Sportsbook
---
How would you rate this article?
This site contains commercial content. We may be compensated for the links provided on this page. The content on this page is for informational purposes only. Action Network makes no representation or warranty as to the accuracy of the information given or the outcome of any game or event.