Week 3 NFL Picks For Every Game: Why Bucs, Browns & Chargers Are the Spreads To Bet Now
Credit:
Douglas P. DeFelice/Getty Images. Pictured: Tom Brady
I'm picking every game of the 2021 NFL season, and we're 17-13-2 to start the year. Our Week 2 picks were a wash, but a 57% hit rate is still a nice way to win some cash.
Week 2 was Overreaction Week, but Week 3 is Kitchen Sink Week. Seven teams are 0-2, their season already on the brink, and a third consecutive loss spells doom. These desperate teams will pull out every stop in Week 3. If we're betting against an 0-2 team, we better be sure.
Over the past decade, 0-2 teams are 43-26-1 against the spread (ATS) in Week 3 when facing a team that's not 0-2. That's a 62.3% win rate with a 21.3% ROI. Kitchen sink teams are dangerous! They're 30-40 straight up in those games, so moneylines are also in play. If there's a Kitchen Sink team you like, don't be afraid to play the ML, too.
We're publishing this piece each Wednesday to get ahead of the lines, but that timing can sometimes cost us key injury news, so we're making a slight adjustment. I'll still make early reads on each game, but we're introducing a new confidence interval for this initial edition: Bet, lean or wait. Some games may be too tough to call early in the week — whether injury news, pandemic problems, or just a tough early line — so they're "waits."
On Saturday, you can check back to see all 16 picks, with final rulings on any "waits."
When in doubt, it's never a bad idea to default to the better QB and coach in a tiebreak situation. My preseason rankings:
Alright, let's get some winners.
Note: All lines are from BetMGM and as of Tuesday evening.
---
Thursday Night Football
This is turning out to be a more interesting Thursday Night Football game than anyone expected a month ago. Carolina and Houston are two of five teams to start the year 2-0 ATS, both off to surprising starts.
A Texans win would take Houston to 2-1 and makes them a serious dark horse in the AFC South, where they're still +2000 to win the division at DraftKings. A Panthers win takes Carolina to 3-0, in great position for a surprising playoff berth, still +275 to do so at DraftKings. If you feel good about either side getting the win, that might be the more aggressive play.
None of their wins have come against overwhelming competition. The Panthers beat the Jets and the Saints, while the Texans beat the Jaguars, so it's fair to temper expectations for both. The Panthers lead the NFL in Football Outsiders' DVOA for the first time in history and have the top defensive DVOA rating — DE Brian Burns leads a nasty front seven while a remade secondary has stepped up.
On the other side of the ball, Sam Darnold has surprised. The Panthers are putting him in a good position to succeed with quick reads, getting the ball into the hands of Christian McCaffrey, D.J. Moore and their other playmakers.
The Texans have moved the ball surprisingly well, too. Players like Brandin Cooks and Mark Ingram have proved this team is no walkover. It's a bunch of castoff veterans playing with something to prove. Unfortunately, they lost the leader of the pack in Tyrod Taylor, which means rookie Davis Mills will make his first start on a short week of preparation. That's a rough spot, especially as good as the Panthers' D has looked.
In the end, I'm swallowing hard and taking the points.
Just days ago, I named Darnold the worst Opening Day starting QB in the NFL. He's certainly looked improved so far, but is he so improved after two weeks that he's a two-score road favorite in a primetime spot? He'll have to prove it to me.
THE PICK: Lean Texans +7.5
---
Early Sunday Afternoon
It's an ugly early slate, but this is an easy headliner — expect plenty of points in the second of many good division games to come between Patrick Mahomes and Justin Herbert.
Herbert made his debut last season against the Chiefs and looked pretty good, with Kansas City needing a field goal to force overtime then another in OT to steal the win. The Chiefs are 4-2 against the Chargers in the Mahomes era, but five of the six games have gone to the final minutes and Kansas City has just a +12 point differential in them.
This is a team Mahomes has struggled against, and this year's Chargers may make things even harder. Herbert has a huge arm and can put up points on this leaky Chiefs' D. Brandon Staley's two-high defense will also give Mahomes a ton of different looks and drop multiple safeties, challenging Kansas City to audible to run, check the ball down, and go on long, sustained drives.
That's not really Chiefs football. And they're not built to challenge this poor Chargers' run D.
While Mahomes still feels invincible, betting against the Chiefs has become one of the best bets in football. Excluding a meaningless Week 17 game last season, they've played in nine consecutive one-score games. And the Chiefs had won all of them until last Sunday night! But they're 1-8 ATS in that stretch.
This has shootout written all over it, one of those games in which the last team with the ball wins. That means we're picking the road dogs. I'm also sprinkling a little on the +240 moneyline, too, in what could be our Week 3 Upset Special.
THE PICK: Bet Chargers +6.5
---
Jacksonville stinks — and the football team ain't too good, either. Zing!
It's been ugly so far for the Jaguars. Trevor Lawrence is spraying it all over the field but finding the opponent far too often, and the Urban Meyer experience has found a rocky transition to the pros.
Arizona walloped Tennessee in Week 1 but should've lost to Minnesota last week if not for the Vikings' storied tradition of missing field goals. Kyler Murray has played MVP ball, and it sure feels like the Cardinals can name their number against this bad Jags defense.
I'm not sure this is really a reliable blowout offense, though. Arizona relies on big splashy plays and its defense is beatable down the field, where Lawrence likes to attack. Besides, this is a Kitchen Sink game! Nobody wants to back the Jaguars in this spot — which is exactly why we have to.
We just have to wait for this to move off the key number later in the week.
THE PICK: Wait for Jaguars +7.5 or better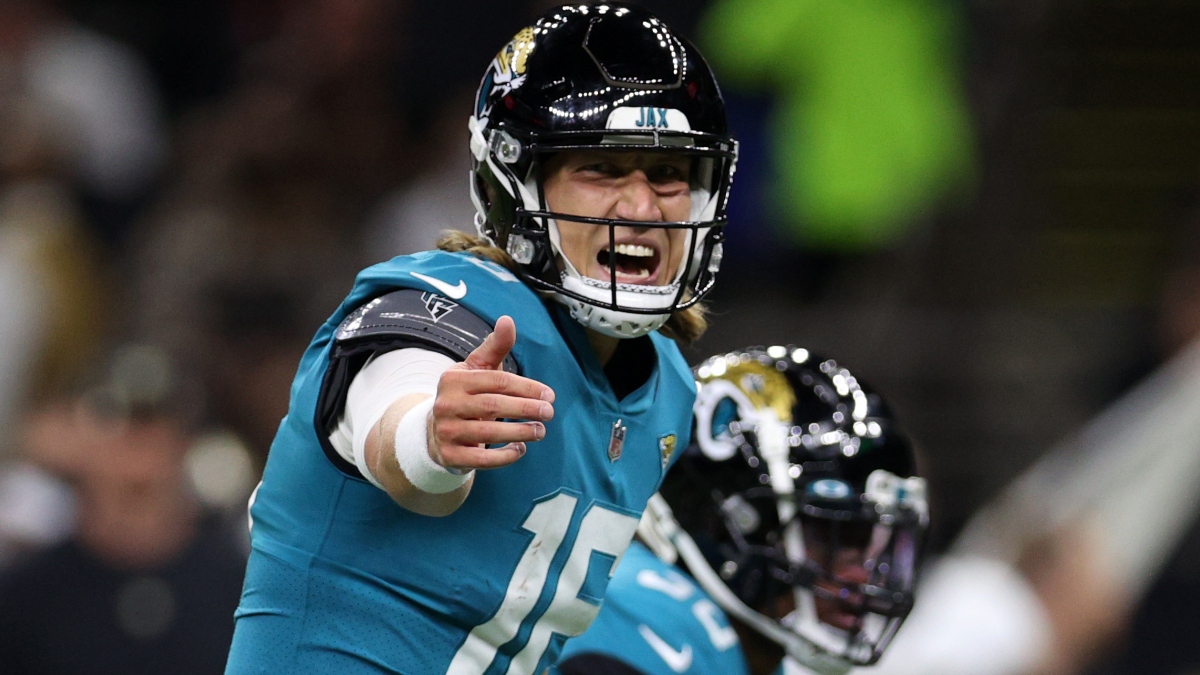 This was nearly a double Kitchen Sink game until the Chiefs fumbled away last Sunday night's game and Lamar Jackson got the Ravens into the win column with a huge, emotional victory.
How will those emotions carry over into Week 3? That's always the question, though the Ravens have the run game and defense to blow bad teams out and typically have done so with Jackson and John Harbaugh the past couple years.
The Lions trailed 41-17 late in Week 1 and lost 35-17 on Monday night. However, they also nearly came all the way back to tie things that first game and actually led the Packers 'til almost halftime on the road. Jared Goff and the gang are proving to be a tricky backdoor team, and Baltimore's banged-up secondary is beatable right now.
The entire point of Kitchen Sink Week is that this isn't going to feel good. No one wants to bet on the Lions — and that's why we have to do it.
THE PICK: Lean Lions +8
---
The Browns remain one of my Super Bowl favorites, even after a nonchalant win over the Texans.
Cleveland is moving the ball just fine. The run game is working, and Baker Mayfield has been efficient. The defense is a worry, but that's less of a concern against a bad Bears offense debuting a rookie quarterback on the road. That's a lot of pressure on Justin Fields in his return to Ohio, and he won't get much help from his bad offensive line.
That's one reason Chicago has been starting Andy Dalton. Dalton gets the ball out as quickly as any quarterback in the NFL. He's ranked top five in fastest pass release for five consecutive seasons, per Next Gen Stats. He's typically around 2.5 second per throw, while one of the criticisms of Fields coming out of Ohio State was his slow release time. Those fractions of seconds matter at this level, especially with an overwhelmed line protecting its rookie QB in a raucous environment with Myles Garrett and Jadeveon Clowney bearing down.
Chicago's offense has scored only 27 points in two games. I honestly thought this line might push toward two TDs by kickoff, but the Fields hype has dropped it all the way to one TD instead. This line is a gift. Take it.
THE PICK: Bet Browns -7
Bill Belichick vs. Sean Payton should be quite a showdown, with Payton's offensive schemes against everything Belichick does on D.
But what do we make of the actual teams on the field?
The Patriots are 1-1 but dominated both games and should be 2-0 if not for unfortunate turnover luck. The Saints are 1-1, too, but turned in night-and-day performances. And watching back, it's easy to see why. Against Green Bay, Jameis Winston stood in a clean, unfettered pocket all day and picked the defense apart. But in Carolina, Winston was under pressure all game and never looked comfortable, turning in two interceptions and a bad overall performance.
The Patriots defense looks good again and this one is in New England, so it's shaping up more like the Panthers game. I'm still making an official decision on it, though, and it may depend on which direction the line moves. For now, I'd rather bet on Belichick vs. Jameis.
THE PICK: Patriots -3, but wait
---
The Bills are coming off a huge 35-0 win over the Dolphins, the largest shutout in franchise history, and that's almost always a good signal for an inflated line the following week.
Teams that won by 35 or more points the previous week are 43-59-5 ATS, with the underdog covering 57.8% of the time. In September, when bettors are even more likely to overreact with less available data, those huge winners are an ugly 1-9-2 ATS in their following game.
History suggests this Buffalo spread is overinflated:
And honestly, that fits what we're seeing on the field. Miami was in that game until it got away in the second half, and the Dolphins were playing without their starting QB. Buffalo's offense, meanwhile, has not looked good. Josh Allen is struggling to rekindle last year's magic and a game against Chase Young, Montez Sweat and a fearsome Washington defense is not exactly a magic elixir.
Washington gets an extra three days of rest, too, and that's especially valuable for a team rebuilding its offense around Taylor Heinecke. This line is too high.
THE PICK: Lean Washington +9
---
It's a double Kitchen Sink game! Our edge doesn't work, of course, when both teams are 0-2 and desperate. Still, are we sure the right team is favored here?
Neither team has been good. The strength of the Giants was supposed to be in defense, but the secondary has fallen short and there's still no pass rush. The Falcons offense was supposed to take a step forward under Arthur Smith but has struggled to find its rhythm or finish in the red zone, same as always.
I like what I've seen from Atlanta better. The Falcons played Philly and New England tough for three quarters before letting things get away late. When in doubt, take the quarterback and the coach you like better, and that's Matt Ryan and Arthur Smith in a landslide.
I would take the points in this toss-up.
THE PICK: Lean Falcons +3
---
Colts at Titans (-5)

It's tempting to think Tennessee righted the ship with its overtime win, but this is still a team that's given up horrifying deep balls in consecutive games. The Titans defense looks as bad as ever, and only a heroic Derrick Henry effort stopped them from falling to 0-2.
The Colts are 0-2 themselves, but competitive losses to the Seahawks and Rams aren't the worst marks in the world. Indianapolis has been in both games, even with all its injuries, and the offensive line is starting to get healthy while the defense is the best unit in this divisional matchup.
The big question is whether will Carson Wentz play. He's nursing two sprained ankles, but we've seen him push through injuries in the past and Indianapolis needs him.
Remember, this is a Kitchen Sink game, and the results are even starker in division matchups. Over the past decade, 0-2 teams are 14-5-1 ATS in Week 3 division games. Not much of a sample size, but these teams know how to go all out against a familiar opponent. Besides, the Colts have won 15-of-19 against the Titans, including eight of their last nine in Tennessee.
THE PICK: Lean Colts +5
---
This line has dropped with the Ben Roethlisberger injury question, and Big Ben is important enough that we need to wait. The Steelers are 22-10 ATS against Cincinnati with Roethlisberger, and he's 30-20 ATS coming off a single loss.
If he plays, his presence and this D should be enough for a bounce-back win.
THE PICK: Steelers -3.5, but wait
---
Late Sunday Afternoon
The Bucs were my Week 3 Hot Read on The Action Network Podcast after I triple-checked to make sure that Tom Brady and the defending champion Tampa Bay Buccaneers were seriously underdogs in the year of our Lord 2021.
The Bucs returned every starter from their Super Bowl team, you might recall. They're loaded on both sides of the ball with weapons galore — good luck to Jalen Ramsey figuring out if he should spend his time defending Mike Evans, Chris Godwin, Antonio Brown or Rob Gronkowski — and have won nine straight games with at least 30 points scored in all of them, a feat no team in NFL history has done until now.
Oh, and they have the GOAT playing quarterback, and he's thrown nine TDs in two games.
And THAT team opened as an underdog.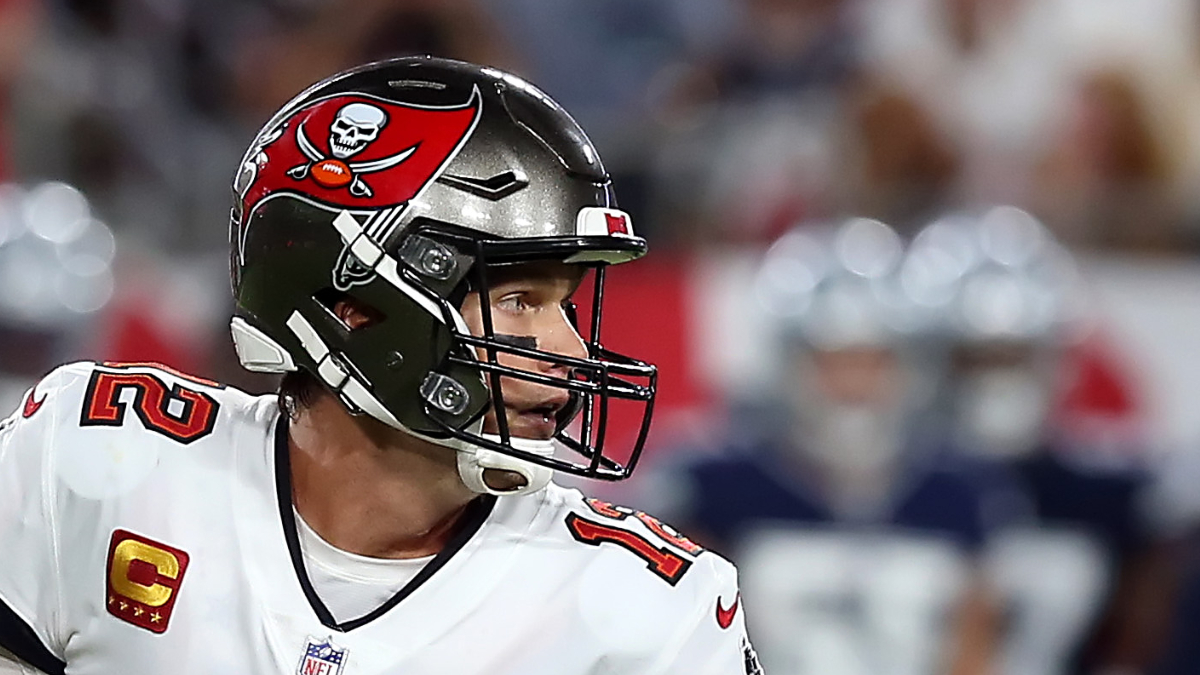 Unfortunately, the line has quickly tilted in Tampa Bay's favor, just as it was always going to — but all that really did was take away the teaser option. Unless you're worried that Tampa is going to win by exactly one point, this is still more or less a moneyline pick, and it's still a spot I love.
Sure, the Rams are pretty good, too. They're 2-0 and the only team to rank top five in both offensive and defensive DVOA so far. But have the Rams really been that impressive? The Bears and Colts have moved up and down the field at will, and those are teams with terrible blocking and not much at QB. Both fell apart in the red zone and couldn't put up points, but the Bucs are not the Bears or the Colts.
The Rams offense is certainly more convincing. The Bucs' elite run defense should force Sean McVay to turn to Matthew Stafford and ask him to match Tom Brady throw for throw, and this might be the biggest game Stafford has ever played in, the moment he's been waiting his whole career for. Win with a huge game and he could end the day as the MVP favorite.
But do you really want to bet on Stafford in his first genuinely huge game ever when you can just bet on Brady instead? This is Tom's first game ever in Los Angeles — yes, somehow true, even including the Super Bowls — and before you get excited about a Rams home-field advantage, do you really think there aren't tens of thousands of LA fans who have been waiting their whole lives to root Brady on right there in LA?
The Bucs may not win every game this season, but if you give me them straight up, I'm gonna put my money down and let the other team prove it. The way the Bucs are playing, it could look ludicrous in a month that we ever made this team an underdog. Honestly, it kind of already does.
THE PICK: Bet Bucs -1
---
This line has bounced all over the place thanks to the questions at quarterback for both teams. The lookahead line was Raiders -1, but that leapt to -5 after a big Raiders win and an ugly Dolphins loss that sidelined Tua Tagovailoa. Then when injury question marks arose around Derek Carr, too, the line dropped back to -3.5 (check real-time NFL odds here).
Tagovailoa was ruled out on Wednesday while Carr practiced in full, both of which should move this line the Raiders' direction soon. I'm ready to pounce on Miami once it does since Vegas looks a bit overrated and Brissett is not a huge downgrade.
THE PICK: Dolphins +4, but wait for potentially better number
---
It's another Kitchen Sink game, so you already know where this is heading, and I'm as sick as you are.
Zach Wilson looks absolutely awful through two games — he has zero pocket presence and looks lost reading the D and now he's facing a defense I rated as the league's finest entering the season.
Denver is 2-0 with two easy covers and unders, but this line is pretty steep for an offense that isn't particularly reliable. The Broncos looked mostly underwhelming in their wins, and remember, they've come against the Giants and Jaguars and both games stayed within shouting distance much of the way.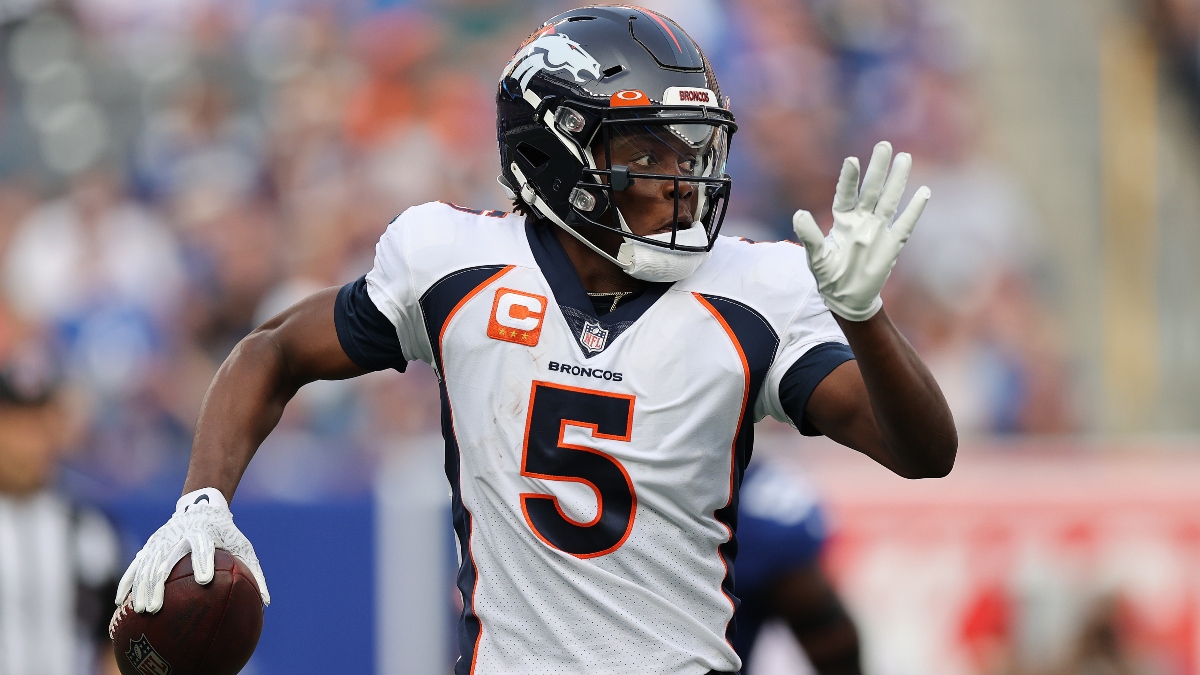 Teddy Bridgewater loves to cover, but double-digits is asking a lot from what should be a low-scoring game, and this is Kitchen Sink Week. Let's wait til closer to Sunday though, because we may get another couple points.
THE PICK: Jets +10.5, but wait
---
One last Kitchen Sink team, and this one probably doesn't feel so bad.
The Vikings could easily be 2-0 if not for blowing both games late, and they're easily the most talented 0-2 team and playing in their home opener. Finally, an easy Kitchen Sink pick we can sink our teeth into.
Not so fast, my friend!
Are you sure Minnesota is good? The cornerbacks are awful as ever and are now tasked with defending D.K. Metcalf, Tyler Lockett and another early-season MVP push from Russell Wilson. Russ is 7-0 against the Vikings, and Minnesota struggles to defend the deep ball and has a hard time with mobile quarterbacks.
Besides, the Vikings are almost 2-0 against the Bengals and Cardinals, two opponents a good team shouldn't need to escape. And remember how tough these Kitchen Sink teams are? The rule doesn't hold in toss-up games, where the line is within three points in either direction. In those games, Kitchen Sink teams are only 14-14 ATS (a 50% hit rate) over the past decade vs. 29-15-1 in every other situation (66%), so we needn't hold so fast to our rule here.
That means picking the better team and the better QB — the one who is undefeated lifetime in this matchup.
THE PICK: Lean Seahawks -1
---
Sunday Night Football

Well, this is unfortunate. I was all set to fade both of these teams after relatively unconvincing Week 2 wins, but it's hard to fade teams playing each other. I actually liked both coming into the season, but they've been underwhelming so far.
The 49ers are already racking up injuries, turning to Josh Norman and Dre Kirkpatrick signed off the street to play corner. They're out of running backs and still don't look like they trust Jimmy Garoppolo.
The Packers finally got the engine started in the second half of Monday night's game, but this defense looks rough. The front seven is getting no rush on the opposing passer, and the offense is moving the ball fine but can't seem to get on the field the way the D is playing.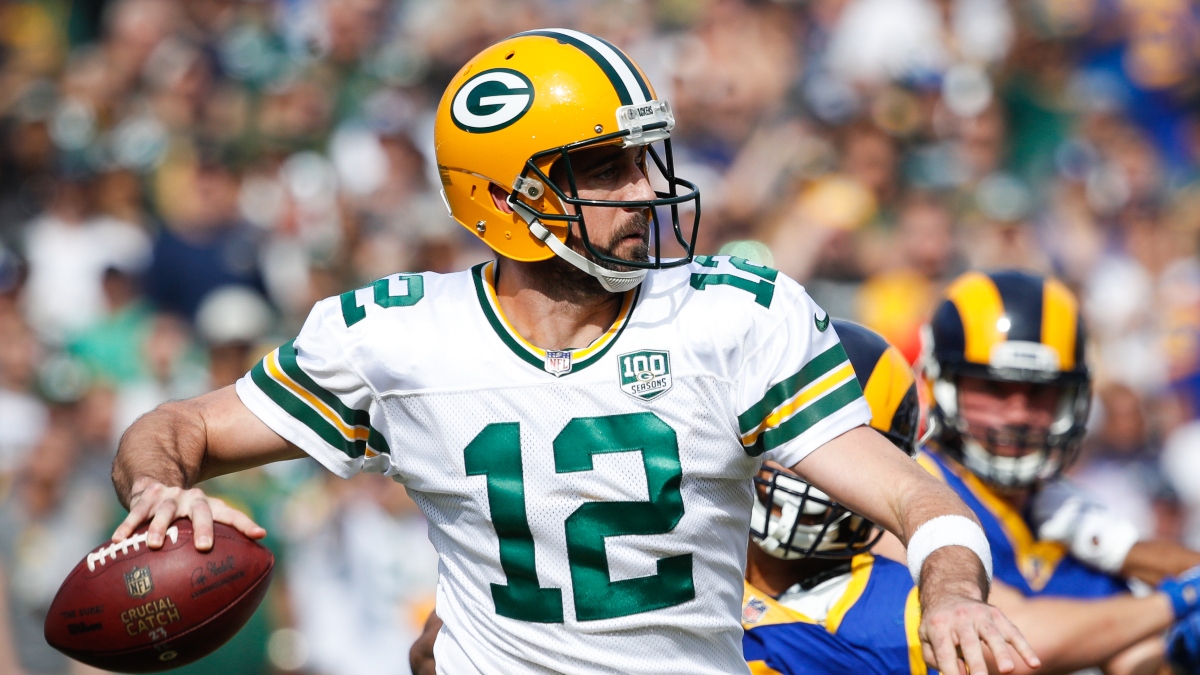 Aaron Rodgers loves to play San Francisco because it's his hometown team that passed on him at No. 1 in the draft long ago. But the Niners are 6-3 against Rodgers over the past decade, including 3-0 in the playoffs. Then again, it's also Rodgers in a primetime nationally televised game, and he's pretty good in those.
Both teams are flawed, but it feels like a game that comes down to the final possession. I know which QB I trust if it does.
This line feels like a trap, but I'm taking the bait and grabbing the +3.5 before we lose the hook.
THE PICK: Lean Packers +3.5
---
Monday Night Football

The NFC East is looking more competitive than expected thanks to both of these teams in what is suddenly an interesting Monday night division battle.
The Cowboys are a last-second Bucs field goal away from an impressive 2-0 start with road wins over the Buccaneers and Chargers. Even so, the Cowboys have looked good. Dak Prescott is throwing the ball all over the field to Amari Cooper and CeeDee Lamb, and Ezekiel Elliott and Tony Pollard are finding running room behind a revitalized offensive line. The Cowboys defense has been at least decent too, with rookie Micah Parsons a real difference maker.
The Eagles have been impressive, too.
Philadelphia is winning in the trenches with its O-line and defensive front seven dominating and healthy — for now. Already that health is starting to buckle with the Brandon Graham and Brooks injuries. Nick Sirianni has his team believing, though I'm not certain I believe in Jalen Hurts yet, and I'm not sure Sirianni does either.
The Eagles are hiding Hurts a bit, relying on the defense to keep things close and hoping he can do just enough, but I'm not sure that'll do the trick against a high-octane offense like Dallas. Can the Eagles score enough to win this? They had 32 in the opener but only got there because they had three second-half scoring drives starting inside Atlanta territory, and they had only three points at home against the 49ers until the final minutes.
The Cowboys are too talented not to score and I don't think the Eagles can keep up.
Winner gets pole position in the division. If you think that's the Eagles, your best play might be +550 to win the NFC East at BetRivers. An upset here would put them in great position.
The home team has won five straight in this division rivalry, and 14 straight rivalry games have covered this line. That means we just need to pick a winner, and I'll stick with the more talented and explosive team playing at home for the first time in 2021.
THE PICK: Lean Cowboys -4
How would you rate this article?