Can You Bet on College Lacrosse? Top Sportsbooks, Legal Betting States, More
Credit:
AMHERST, MA – MAY 04: General view of a helmet, stick and arm pad during the CAA Championship game between Drexel Dragons and Towson Tigers on May 4, 2019, at Garber Field in Amherst, MA. (Photo by M. Anthony Nesmith/Icon Sportswire via Getty Images)
Do you ever find yourself looking to bet on college lacrosse? NCAA lacrosse is prevalent on the East Coast, but that doesn't mean you can't bet on the sport in other parts of the U.S.
The college lacrosse season begins in February, with Conference Tournaments in late April and early May. That leads to the NCAA Tournament, where 18 teams battle to become the National Championship. Betting is available throughout the college lacrosse season.
What are the top betting sites for college lacrosse? Where can you wager on the sport? You can learn that and more with our breakdown of NCAA lacrosse betting.
Top Sportsbooks for Betting on College Lacrosse
DraftKings
DraftKings has long been one of the most popular sportsbooks in the U.S. They offer many sporting events, and NCAA lacrosse is no exception.
The college lacrosse screen on DraftKings features one tab for the games and another for future odds. DraftKings allows users to bet on the spread, ML, and over/under. The team futures allow you to bet which team will win the National Championship. The sportsbook has allowed player props in the past, but it's very uncommon. The only confirmed states to offer the services are Indiana and New Jersey.
The excellent navigation and user interface from DraftKings is one of the many reasons it's the most popular sportsbook. Check it out for betting on college lacrosse.
FanDuel
The NCAA lacrosse betting experience is a little different at FanDuel. They still offer options for the spread, ML, and goal total, but it's more difficult to find.
When you visit the college lacrosse betting screen, you'll only see odds for the ML. You must click "more wagers" in the bottom right corner of each matchup to find the other options. Handicap betting is equivalent to betting on the spread, and total goals allow you to bet on the over/under.
The navigation isn't ideal because people could go to their site and leave because they didn't see an option for the spread or over/under. Still, it remains an optimal choice if you're looking for a college lacrosse betting site.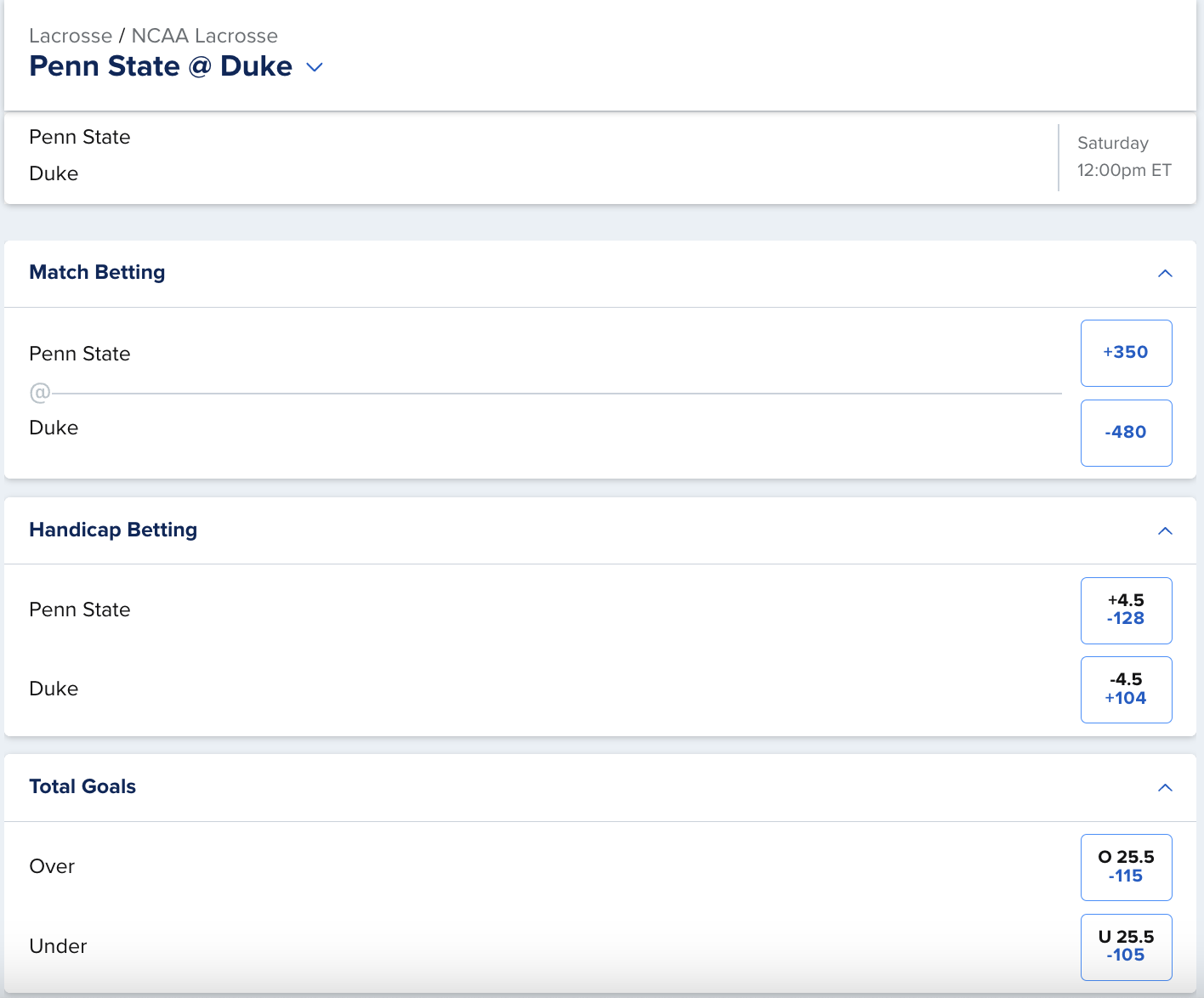 BetMGM
There's little difference between the NCAA lacrosse betting experience at DraftKings and BetMGM. BetMGM has matchups and betting types on one screen. If you click "all wagers" at the top, you'll be navigated to the National Championship odds.
One thing they do better than DraftKings is display odds for all lacrosse leagues on one screen. Feel free to check out Action Network's lacrosse betting page if you'd like to expand beyond college lacrosse.
Perhaps you'll consider betting on college lacrosse with the BetMGM mobile app. Its sleek design makes it a great choice for bettors looking to wager on the go.
Caesars Sportsbook
The navigation you'll find at Caesars Sportsbook aligns with DraftKings and BetMGM. However, they offer something you won't find at the best online betting sites.
Caesars allows you to bet on NCAA women's lacrosse. The game odds and betting options are the same for men's and women's lacrosse. Unfortunately, the future betting option is only available for men's college lacrosse. Still, just having that option to wager on women's lacrosse gives it a huge advantage over other sportsbooks.
Caesars has long been heralded as the best betting site for odds boosts. Keep an eye out as we approach the NCAA Lacrosse National Championship Game.
Barstool Sportsbook
Barstool has long been known as an internet and pop culture site, but it forayed into the sports betting world in September 2020. The sportsbooks offer odds across all major sports, including college lacrosse.
They have a simple navigation screen, with the matchup displaying odds for the spread, ML, and over/under on one screen. Therefore, it's easy to do any NCAA lacrosse betting from one screen. Unfortunately, Barstool's college lacrosse coverage isn't as consistent as DK, FD, BetMGM, and Caesars Sportsbook.
Still, there's no denying Barstool does a great job with its market coverage and offers a solid live betting program. Both factors come into play with betting on college lacrosse.
bet365
It's not far-fetched to say bet365 has become one of the most popular sportsbooks in the U.S. The only downside is the online betting site is only available in Colorado, New Jersey, Ohio, and Virginia.
Unfortunately, the layout for college lacrosse betting at bet365 lags behind the competitors. Like FanDuel, bet365 doesn't offer each betting type on one screen. Instead, you must click matches (ML), spread, or total (over/under) to find each option. They do, however, offer future odds.
We should see bet365 improve its NCAA lacrosse betting options as it becomes available in more states.
Where Can I Bet on NCAA Lacrosse?
There are a few restrictions on college sports betting. For example, you cannot bet on in-state college teams in Arizona, Connecticut, Illinois, New Jersey, Oregon, New Hampshire, New York, Rhode Island, and Virginia.
A few states have restrictions on collegiate player props. DraftKings briefly offered player props, but the other top sportsbooks don't have options for NCAA lacrosse player props. Therefore, we'll save you the trouble of examining the rules & restrictions for each state.
How would you rate this article?
This site contains commercial content. We may be compensated for the links provided on this page. The content on this page is for informational purposes only. Action Network makes no representation or warranty as to the accuracy of the information given or the outcome of any game or event.