College Football Odds, Picks & Predictions: 4 Friday Betting Previews for Nebraska vs. Rutgers, More
Credit:
Douglas Stringer/Icon Sportswire via Getty Images. Pictured; The San Jose State Spartans.
Friday night in college football is on with four tilts, including a Big Ten matchup from Piscataway, NJ.
In addition to Nebraska vs. Rutgers, we are previewing Houston vs. Memphis, Colorado State vs. Nevada and UNLV vs. San Jose State.
Read below for your full breakdowns and top betting picks.
There's something special about Friday night lights — and that's especially true for this Week 6 slate.
Friday's slate features four games, including an intriguing Big Ten battle between Nebraska and Rutgers and a showdown in the American with 2021 runner-up Houston and Memphis.
Then, to close it out, we're lucky enough to watch two Mountain West matchups. It starts with Colorado State vs. Nevada at 10 p.m. ET before the nightcap of UNLV vs. San Jose State just 30 minutes later.
Check out how we're betting all four matchups below, and be sure to come back tomorrow for our betting coverage of Saturday's monster college football slate.
---
Friday College Football Betting Previews
The team logos in the table below represent each of the matchups that our college football staff is targeting from today's slate of games. Click the team logos for one the matchups below to navigate to a specific bet discussed in this article.
---
Nebraska vs. Rutgers
Raise your hand if you thought Rutgers would have a better record than Nebraska at the start of October.
After a disappointing loss at home to Georgia Southern, the Cornhuskers finally decided to move on from the Prodigal Son, Scott Frost.
Another former Nebraska quarterback Mickey Joseph was elevated to interim head coach. He joined the staff this year after five seasons as LSU's wide receivers coach.
The Huskers got their first win under Joseph with a 35-21 victory over Indiana last week.
After a 3-0 start, Rutgers has dropped two conference games and looks to get back on track against a reeling Huskers team. Greg Schiano is in the third year of his second stint in Piscataway, and just like he did the first time around, he has quickly changed the culture at the State University of New Jersey.
Rutgers has never beaten the Cornhuskers before. In five previous meetings, Nebraska is 5-0, including 4-0 in the last eight years. But this is the smallest the spread there has ever been in this series, and probably the Scarlet Knights' best chance to pull off the upset.
But will they?
---
For all the issues Nebraska has, its offense has not really been one of them.
Mark Whipple's unit ranks 22nd in Passing Success Rate and 32nd in Rushing Success Rate this season. The Huskers want to play at a fast pace, sitting in the top 25 in seconds per play.
Texas transfer Casey Thompson ranks fifth in the Big Ten with 1,265 yards passing and has tossed seven touchdowns to four interceptions.
Trey Palmer has become Thompson's go-to weapon after transferring from LSU. He is averaging nearly 100 yards per game, and is a big play threat on nearly every play.
He also was just added to the Biletnikoff Award Watch List on Wednesday.
Unlike what we saw from Whipple at Pitt though, this team has been mostly run-first. Behind an offensive line that sits 13th in Line Yards, Anthony Grant has been terrific. He is averaging 120 yards per game and leads the way for a team with 14 rushing scores on the year.
Now the defense, on the other hand, has been quite an issue. It's harder to run threw a corn field than it is this Nebraska defense. The Huskers are allowing 200 rushing yards per game and 5.4 yards per carry.
They have been a little better against the pass, only sitting 105th. They rank outside of the top 100 against the pass, the run, at creating Havoc and Finishing Drives.
This defense is bad at everything.
Oh, and despite finally hiring a special teams coach, they still rank 128th in SP+ Special Teams rating.
---
Speaking of numbers outside the top 100: The Rutgers offense!
The Scarlet Knights sit 103rd in yards per play this season and have averaged just 12 points over the last three games.
In contrast to Nebraska, they play at one of the slowest paces in the country.
In the last three games, Rutgers has been held under 100 yards passing twice. One of those games was against Temple, where the Scarlet Knights somehow managed just 59 yards passing.
Last year's starter, Noah Vedral, missed the first four games after a preseason injury, and played just four snaps last week.
Gavin Wimsatt started the first three games before getting injured himself. Evan Simon is the likely starter, but honestly, none of the options are good.
Running the ball has gone a little bit better, but Rutgers is still just 80th in Success Rate. The Knights will rotate three different backs, as well as Swiss Army Knife Johnny Langan.
The offensive line has not been great for the Knights, though.
The Rutgers defense has actually been pretty good this year. It has been really good against the pass, ranking 33rd in Success Rate. The Scarlet Knights even held Ohio State to just 161 yards passing last week.
Avery Young and Christian Izien are both really solid safeties on the backend.
Upfront, Rutgers' defense is third in the nation in Line Yards and sits 14th at creating Havoc. Edge rusher Wesley Bailey leads a unit that is third in the Big Ten with 33 tackles for loss.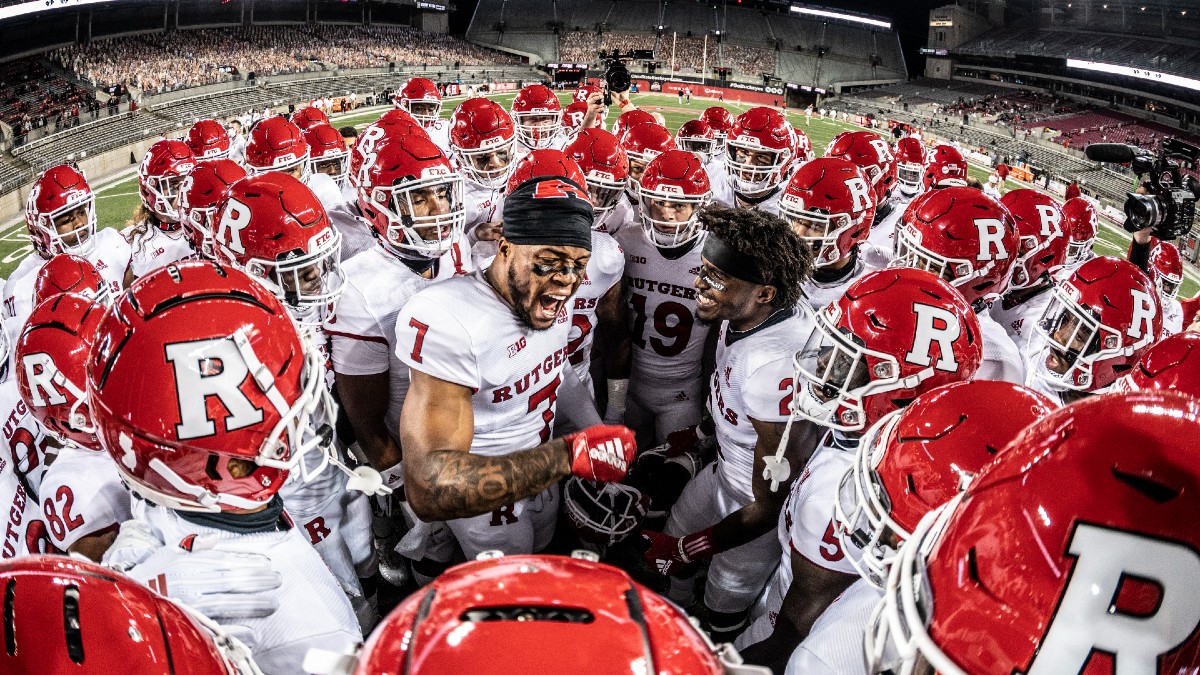 ---
Nebraska vs. Rutgers Betting Pick
Both of these teams have clear flaws and are likely to finish in the bottom half of their divisions.
That being said, the Nebraska offense is the best unit in this game.
Thompson makes some mistakes, but he also leads the Big Ten with 12 Big Time Throws. Palmer has 19 catches for 249 yards and two touchdowns over the last two games, so the good is there with the offense.
The issue has been Thompson holding the ball too long trying to make the big play. He has been sacked 11 times already this season. Luckily, Rutgers has just 10 sacks all season and ranks 56th in pressure grade.
We could also see a big game from Grant here. He is second in the Big Ten with 31 missed tackles forced this year. He had 13 last week against Indiana alone.
Rutgers has been great against the run. But he can make people miss with the best of them, and Ohio State just averaged 7.4 yards per carry against the Knights.
Nebraska's defense has been horrific all season, but if there was ever an offense capable of being slowed down, it's Rutgers. The Knights are slow, one dimensional and are literally the least explosive team in the entire country.
The first thing Joseph did when he was named interim coach was take away all the Blackshirts from the defense. He said he wants a clean slate and for them to have to earn them back.
After the Oklahoma game, he fired defensive coordinator Erik Chinander, so clearly improving the defense has been the point of emphasis for the Huskers.
Last week against Indiana, the Huskers were able to shut the Hoosiers out in the second half, and they managed just 61 yards after the break.
If they can continue that momentum and the defense shows up even a little bit, Nebraska should be able to do enough on offense to continue its winning ways against the Scarlet Knights.
Pick: Nebraska -3 or Better
---
---
Houston vs. Memphis
Memphis rides its four-game win streak into Friday night when it hosts Houston in an AAC battle.
It's been a tough year for Dana Holgorsen's team. Three of Houston's first five games have gone to overtime, and it has lost two of them, including one to a third-string quarterback from Tulane last Friday night.
Houston still has a lot of the weapons from the team that went to the AAC Championship last year. If the Cougars want to get back there, this is a must-win game.
Memphis got pounded in its opening game at Mississippi State but has rebounded nicely, winning four games against a pretty weak schedule. The Tigers didn't have high expectations coming into the season, but a win here could keep Memphis in first place in the conference.
---
Cougar Offense
Houston's offense really struggled to move the ball against a really good Tulane secondary. The good news for the Cougars is that Memphis' secondary isn't anywhere close to that of Tulane's.
Clayton Tune didn't have a great start to the season, but he has started to heat up over the last two games.
Image via PFF
He has one of the most dynamic wide receivers in college football to throw to in Nathaniel "Tank" Dell, who already has 454 receiving yards, five touchdowns and an 81.9 PFF receiving grade through five games.
Tune also has plenty of time to throw as well, as Houston has the 17th-best pass-blocking grade in college football, per PFF.
Houston is running the ball at a pretty high rate at over 54% of the time. It's been getting a solid push up front, ranking 33rd in Offensive Line Yards and 23rd in Stuff Rate Allowed, which has allowed its running back tandem of Brandon Campbell and Ta'Zhawn Henry to average 4.3 yards per carry.
However, the strength of the Memphis defense is the front seven, so this game is likely going to be in Tune's hands.
Cougar Defense
Houston has one of the best pass rushes in the country, putting up a 91.8 PFF pass-rushing grade through its first five games. But there are a lot of issues that still need to be sorted out.
Houston ranks 107th in Rushing Success Rate Allowed and 130th in Power Success Rate Allowed. That probably has a lot to do with the fact that it ranks 117th in terms of a tackling grade, per PFF.
Memphis, meanwhile, ranks around the FBS average in EPA/Rush, Rushing Success Rate and rushing explosiveness.
The Cougars had two new starting cornerbacks at the beginning of the season, and so far, it has not gone very well for them. The Cougars rank 55th in EPA/Pass Allowed and 72nd in Passing Success Rate Allowed after finishing in the top 20 last year.
It may be a struggle against Memphis quarterback Seth Henigan on Friday night.
---
Tigers Offense
After three incredible games to start the season that included an average of over 11 yards per attempt and a PFF passing grade over 82, Henigan came back down to earth and had two of the worst games of his career against North Texas and Temple.
He averaged under 5.0 yards per attempt and had five turnover-worthy plays, which is concerning — but he was missing his starting left tackle and left guard for the game against Temple. He's going to need both of them back against Houston's pass rush, so that's something to monitor throughout the week.
Memphis has a trio of running backs right now in Brandon Thomas, Asa Martin and Jevyon Ducker. The group averages 5.03 yards per carry despite having an offensive line that ranks 77th in Offensive Line Yards and 114th in run blocking, per PFF.
So, as long as they can get into the open field, they should be able to get going against Houston's poor run defense.
Tigers Defense 
The Tigers defense has been really average so far this season. It's allowing 5.5 yards per play while ranking 60th in EPA/Play Allowed and 73rd in Success Rate Allowed.
The weak link of the defensive unit has been the secondary. The Tigers are allowing 8.0 yards per attempt and rank 104th in Passing Success Rate Allowed and 93rd in EPA/Pass Allowed.
They did play Mississippi State's Air Raid in their first game, but their last four games have been against Navy, Arkansas State, North Texas and Temple — not exactly murderer's row.
The front seven has been decent against the run, allowing only 3.2 yards per carry and ranking in the top 50 in EPA/Rush Allowed and Rushing Success Rate Allowed.
However, it also ranks 90th in Stuff Rate and 91st in Power Success Rate Allowed. On top of that, this is the best rushing offense it's seen so far this season.
---
Houston vs. Memphis Betting Pick
Both of these teams are pretty efficient once they get inside the opponent's 40-yard line, ranking in the top 45 in Finishing Drives. I'm looking for both offenses to have a good day against some pretty below-average defenses.
Both of these teams love to play fast, with Memphis running a play every 23.42 seconds (28th in FBS) and Houston doing so every 25.26 seconds (53rd).
I have 68.3 points projected for this game, so I like the value of over 57 points.
Pick: Over 57.5
---
---
Colorado State vs. Nevada
This Mountain West matchup has been marked on the calendars for both of these programs since the offseason.
Despite the two programs combining for a 2-7 record, we are in store for some fireworks as Colorado State travels to Nevada.
The reason is that Colorado State head coach Jay Norvell returns to Nevada after leaving the Wolf Pack in controversial fashion last season. Norvell committed to heading to Colorado State in December of last year, which was prior to Nevada's bowl game.
Norvell's replacement at Nevada, Ken Wilson, had some aggressive criticism for Norvell's approach this week. Those comments added fuel to the fire for this matchup.
Norvell's decision hasn't panned out quite as he hoped. He brought 11 transfers and five true freshmen with him to the Rams during the offseason while decimating the Nevada roster in the process.
The Rams are one of two FBS schools that are winless entering October. The other is Colorado, which fired its head coach Karl Dorrell on Sunday.
This will be one of the most anticipated games of the year for both programs.
---
It's been a rock-bottom start for the Colorado State football program, which has been arguably one of the worst teams in the nation to this point. The Rams lost their opening four games by a cumulative score of 164-43.
Among those losses was a 31-point defeat to Sacramento State. That was the program's second-ever victory over an FBS program in 25 attempts.
The offense ranks amongst the bottom in the country in scoring averaging — only 11 points per game.
Much of the struggles have fallen on the offensive line, as the Rams are putting up just 1.4 yards per rushing attempt. On running plays, the program ranks 130th or worse in Success Rate, PPA and Explosiveness.
The Rams have allowed an FBS-high 25 sacks through the first four games — 6.25 per game.
They have found some success through big plays behind the arm of quarterback Clay Millen. The redshirt freshman quarterback is averaging 7.3 yards per pass attempt and has completed 74% of his passes this season.
Millen was 7-for-7 passing against Sacramento State before he was knocked out with a shoulder injury, which has left him questionable for this matchup.
But that doesn't seem to concern Norvell, as backup quarterback Brayden Fowler-Nicolosi has received much praise from the program. He's seen limited game action, completing 6-of-15 passes for 116 yards and a touchdown this season.
---
Nevada opened the season with two victories over bottom-feeders in the FBS. The Wolf Pack were lucky to outlast New Mexico State after losing the turnover battle 5-0.
Since those two victories, the program has come back to earth, losing its last three matchups by a combined 69 points. One of those losses came by 14 points at the hands of an FCS opponent, Incarnate Ward.
The deck was stacked against Wilson, who was left a roster of skin and bones. The Wolf Pack ranked 127th in the nation in returning production, according to TARP. In addition to all the transfers, the program lost quarterback Carson Strong and is changing its identity to a more run-heavy offense.
Through the first five games, the Wolf Pack own a rush rate just shy of 60% and are averaging 3.5 yards per carry. A dozen of the 14 touchdowns scored by the offense have come on the ground.
6-foot-9 quarterback Nate Cox has struggled early, totaling 70 passing yards against New Mexico State, Texas State and Iowa. He's completed just over 55% of his passes for an average of 6.2 yards per attempt.
The Wolf Pack defense has been non-existent over the last three weeks. It allowed 55 points to Incarnate Ward, 48 points to Air Force and 27 points to Iowa in a hurricane.
The program is allowing 6.1 yards per play and has been outgained by an average of 140 yards per game this season.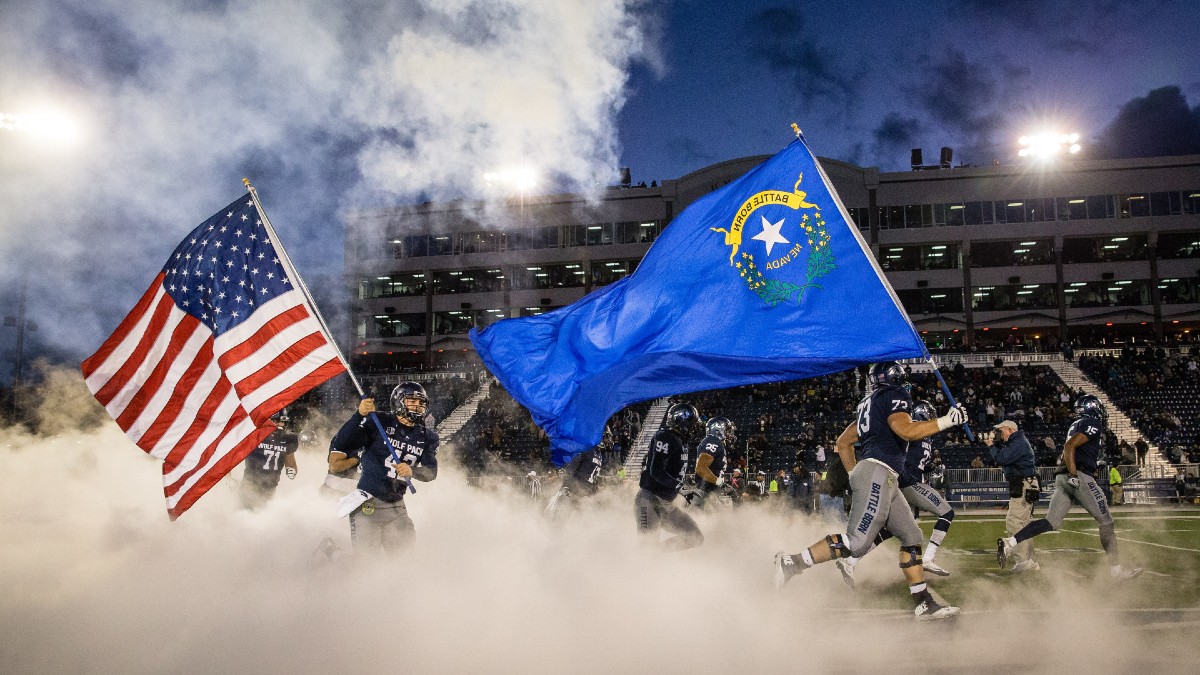 ---
Colorado State vs. Nevada Betting Pick
I have both teams power rated near the bottom 10 in the country through the first month of the season. There isn't much to love about what either side has produced at this point in the season, as both programs have suffered double-digit losses to FCS opponents.
Nevada was dealt a tough hand, given it ranked 127th in the nation in returning production. That was a direct result of Norvell's decision to take nearly 16 players with him to Colorado State.
Though Colorado State has been gruesomely bad to date, I anticipate this to be the game that the Rams right the ship. They will find some success with the rushing attack, which has been the missing component this year.
The Action Network Pro Systems makes Colorado State +0.5 in this matchup, and I agree. Despite taking only 36% of the ticket count, the Rams account for 75% of the money wagered on this game.
I am on the same page as the sharps with this matchup, and I envision Colorado State finding its first win of the season. But I'll take the free field goal just to be safe. 
Pick: Colorado State +3.5 (Play to +3)
---
---
UNLV vs. San Jose State
By Keg
In the preseason, San Jose State had odds of +3000 to win the Mountain West, while you could've locked in UNLV at +8000.
We now find ourselves five weeks into the college football season with these two former longshots atop the conference standings and set to square off in CEFCU stadium under the Friday night lights.
Rebels head coach Marcus Arroyo knows the feeling well; he played quarterback at SJSU from 1998-2002 and began his coaching career there in '03.
There are few things Arroyo knows better than playing football in Spartan Keys, one of those being the coach across from him Friday night.
Spartans head coach Brent Brennan coached with Arroyo at SJSU from 2005-2008, and he was in Arroyo's wedding.
That will be out the window come Friday when the stakes are high, though. They'll be playing for more than just the No. 1 spot in the West.
The Rebels come into the game 4-1 on the season, while the Spartans boast a 3-1 record. Both of their lone losses have come on the road against Power Five opponents.
2022 already marks an impressive year — just five weeks into the season — for both programs.
UNLV has won four or more games just 11 times dating back to 2000. San Jose State did win the Mountain West in 2020, but it was its first league championship and just its fifth time finishing above .500 in conference play since 2000.
Two friends, who have taken their programs from three or fewer wins in their first two years at the helm to now fighting for the top spot, will enter the stadium on Friday night, and only one can leave as the top dog.
If Arroyo can pull off the upset against his alma mater, it will be the Rebels' first-ever 3-0 start in the Mountain West.
---
After two seasons in Las Vegas, Arroyo was 2-16.
Five games into this season, UNLV has already won more than it did in the last two years.
In their previous game against New Mexico, the Rebels appeared to fall into old habits, as they went to half down 17-9.
However, they erased all doubt of being the same old Runnin' Rebels, as they came back to beat the Lobos, 31-20. The Rebels' comeback was mounted by a stretch of 24 unanswered points, which they paired with a defensive masterclass, holding the Lobos to just three points in the second half.
The Rebels, who rank third in the Mountain West in rushing offense, aren't just limited to the running attack.
Quarterback Doug Brumfield has emerged as one of the best in the conference. Brumfield leads the Mountain West in passing yards with 1,223 on the season while ranking third in completion percentage at 70.5%.
Unfortunately, this week, Brumfield will be without two of his top three receivers again, as Kyle Williams and Jeff Weimer are both out with injuries.
Senika McKie and Kalvin Souders both stepped up against New Mexico, but I'm not sure they see the same success against a Spartans defense that ranks sixth in Passing Down Explosiveness Allowed.
On defense, the front seven is the Rebels' best asset.
Against the Lobos, UNLV gave up just 2-of-11 third-down conversion attempts. The Rebels rank seventh nationally, giving up just 3.5 third-down conversions a game on average, and are 28th in FBS in rushing yards per game (104.2).
San Jose State runs the ball on just 46.9% of its plays, which might end up being even lower this week since it faces a defense giving up 252.4 passing yards per contest.
If the Rebels want to stop Chevan Cordeiro and company, they'll need some significant improvements in the secondary this week.
---
San Jose State is led by your reigning Mountain West Offensive Player of the Week, Cordeiro. The former Hawaii quarterback put up 338 total yards and two touchdowns last week in the Spartans' 33-16 win.
He also set records the week prior against Western Michigan, as San Jose State earned its largest win (47-7) against an FBS opponent since 2012.
Cordeiro has thrown for over 1,000 yards and four touchdowns in four games without tossing an interception.
He's also tacked on another four rushing touchdowns and has 180 yards rushing.
His ability as a true dual-threat quarterback could cause problems for the Rebels, who gave up two rushing touchdowns to New Mexico's Miles Kendrick last week.
The Spartans' defense has showed up when it mattered most, allowing teams to score in the red zone on just 63.6% of trips this season — good for first in the Mountain West and sixth in the nation.
San Jose State also ranks eighth among FBS teams in passing yards allowed, but has struggled to stop the run, giving up 152 yards on the ground per contest (80th).
Even worse, the Spartans may be without one of their best playmakers, Noah Wright, who had to leave the game on a stretcher against Wyoming. He did, however, fly home with the team.
His status for Friday is currently unknown, but I won't be counting on him to play.
Wright was one of two players responsible for the safety against Wyoming, the Spartans' first since 2018.
---
UNLV vs. San Jose State Betting Pick
The Spartans and Rebels are two of the top three teams in the Mountain West in scoring and passing offense.
They are also led by the conference's top two quarterbacks in passing yards. It reads like a high-scoring affiair, and it very well might be.
But I believe this game will be decided in the trenches.
San Jose State ranks sixth in the Mountain West and 69th in the nation when it comes to opponents' third-down conversions. Meanwhile, UNLV is third and 18th, respectively.
Both teams also rank inside the top 10 in turnover margin — UNLV is tied for second, while the Spartans are eighth.
There is no doubt both quarterbacks can sling the ball, but which offensive line can give them the best opportunity to do so? UNLV has given up 15 sacks in five games, while SJSU has given up 13 in just four.
San Jose State has faced the tougher competition this season and has performed just as good — if not better — than the Rebels, who will now be on the road without two of their best receivers.
Back the Spartans to get the cover at home. Arroyo has UNLV on the right path, but he buys the burritos Friday night.
Pick: San Jose State -7 or Better
How would you rate this article?
This site contains commercial content. We may be compensated for the links provided on this page. The content on this page is for informational purposes only. Action Network makes no representation or warranty as to the accuracy of the information given or the outcome of any game or event.