Pac-12 Odds & Power Rankings: How to Bet USC, Washington, Oregon & More Ahead of Week 5
Credit:
Getty Images. Pictured: USC quarterback Caleb Williams (left) and Washington quarterback Michael Penix Jr. (right).
The Pac-12 is heating up as new coaches and players have spiced up the Conference of Champions this season.
The most important teams in the league, USC, Oregon and Washington, all look to be improved from last year as they each have new coaches and a better starting quarterback than last season (unless road Bo Nix shows up in full effect).
The Conference of Champions has also abandoned divisions for this season, meaning that the two teams with the best overall conference records will play in the Pac-12 Championship in Las Vegas instead of the winners of the old North and South divisions.
With three of the four worst teams in the conference playing in the old South Division, better teams from the old North Division may have an easier path to Vegas.
Below, I break down every Pac-12 team into tiers and analyze their strengths and weaknesses before sharing how I'm looking to bet them in the short- and/or long-term.
---
Tier 1: Pac-12 Contenders
In case you haven't heard, Lincoln Riley and Caleb Williams headed west this offseason from Norman to Los Angeles and brought in a ton of talent through the transfer portal. Some of those additions on offense include Biletnikoff Award winner Jordan Addison (Pittsburgh), Mario Williams (Oklahoma), Travis Dye (Oregon) and Austin Jones (Stanford).
The Trojans are the favorites to win the Conference of Champions behind their loaded offense that ranks 10th in Success Rate and 12th in EPA/Play. However, Oregon State just showed that playing a ton of zone defense can limit the Trojans' explosiveness, so we'll see how USC counters this moving forward.
Williams had issues against similar defenses last year at Oklahoma, including an ugly performance in a loss at Baylor.
The defense has been boom or bust so far for USC. On one hand, the Trojans rank 102nd in Standard Down Success Rate allowed and 79th in standard down explosiveness allowed. They've struggled much more against the run than the pass, as they rank 96th in Rushing Success Rate Allowed and 108th in rush play explosiveness allowed.
On the other hand, the Trojans rank 27th in Defensive Havoc and 28th in defensive EPA/Play because they lead the nation with a +14 turnover margin.
They're the only team in the country not to turn the ball over yet this season, and the next-best turnover margin is UNLV at +9. If and when the turnover luck runs out for the Trojans, perhaps in their next road game on Oct. 15 at Utah, it'll be important to see how they respond
While I want to fade this team, the schedule sets up nicely, as it plays every single team in the bottom half of these Pac-12 rankings from 7-12. Its remaining games against the top half are at Utah and home against Wazzu.
At +180 to win the Pac-12, there's value on the Trojans to win the conference, as they will likely be slightly favored in the Pac-12 Championship against any opponent. I don't see a path where they finish without a top-two conference record.
Head coach Kalen DeBoer took over at Washington after the disappointing Jimmy Lake era. He's made an immediate impact thanks to Indiana transfer Michael Penix, who had DeBoer as his quarterbacks coach and offensive coordinator as a freshman in 2019.
Penix has been nothing short of outstanding as he has 10 big-time throws to just a single turnover-worthy play. Last year's offense and this year's offense appear to be night and day, as the Huskies look like they have some of the best playcalling in the country.
However, the Huskies still haven't played any defenses I would call anywhere near elite. But they've still dominated. The Pac-12 doesn't exactly have any elite defenses, so this offense might be good enough to carry the Huskies to the Pac-12 Championship if the defense is as strong as usual.
The Huskies defense starts with their edge rushers, sophomore Bralen Trice and senior Zion Tupuola-Fetui. Trice has 17 total pressures and four total sacks this year in his first season as a full-time starter.
Tupuola-Fetui has 13 total pressures this season, including two sacks against Stanford last week. He was a 2020 second-team All-American and first-team All-Pac-12 player as he tallied seven sacks and 20 total pressures in just four games of the abbreviated Pac-12 season.
The secondary behind them remains vulnerable, but the Huskies always seem to gel in the back end as seasons progress.
The Huskies avoid both USC and Utah in their conference schedule, but they do play at Autzen against Oregon.
I'll be backing them to win Friday at UCLA, as the Bruins offense won't be able to expose the secondary with Dorian Thompson-Robinson's persistent limitations as a passer and an underwhelming corps of pass-catchers.
The Washington defense ranks among the top 51 in the nation in Rushing Success Rate Allowed and rush play explosiveness allowed. The Huskies also held Michigan State to just 1.4 yards per carry, and I'll back them against another rush-heavy team here.
I also believe UCLA's defense is overvalued at this time and love the idea of fading it with an elite coach-quarterback combo in a stadium that shouldn't give the Bruins much of a home-field advantage.
The Huskies' receiver trio of Jalen McMillan, Rome Odunze and Ja'Lynn Polk will also pose a problem on the outside that the Bruins haven't encountered yet this season.
I love the value on Washington to win the Pac-12 at +550 at DraftKings, as they should make it to Las Vegas if they beat Oregon on the road or get lucky with some Bo Nix duds on the road. They also have the pass rush to beat Oregon at Autzen and USC in a potential Pac-12 title game.
The Ducks are an "over" team. They have the best PFF pass-blocking grade in the nation, as they haven't allowed a sack yet through three games — which is especially impressive after playing Georgia, BYU and Washington State.
The offense hasn't been very explosive, but it possesses the tools to maintain methodical drives, ranking sixth in rush Success Rate and 25th in Line Yards.
However, Bo Nix has just three big-time throws and four turnover-worthy plays this season despite playing from a relatively clean pocket. He's awesome at home but has a propensity to single-handedly end promising drives by himself on the road.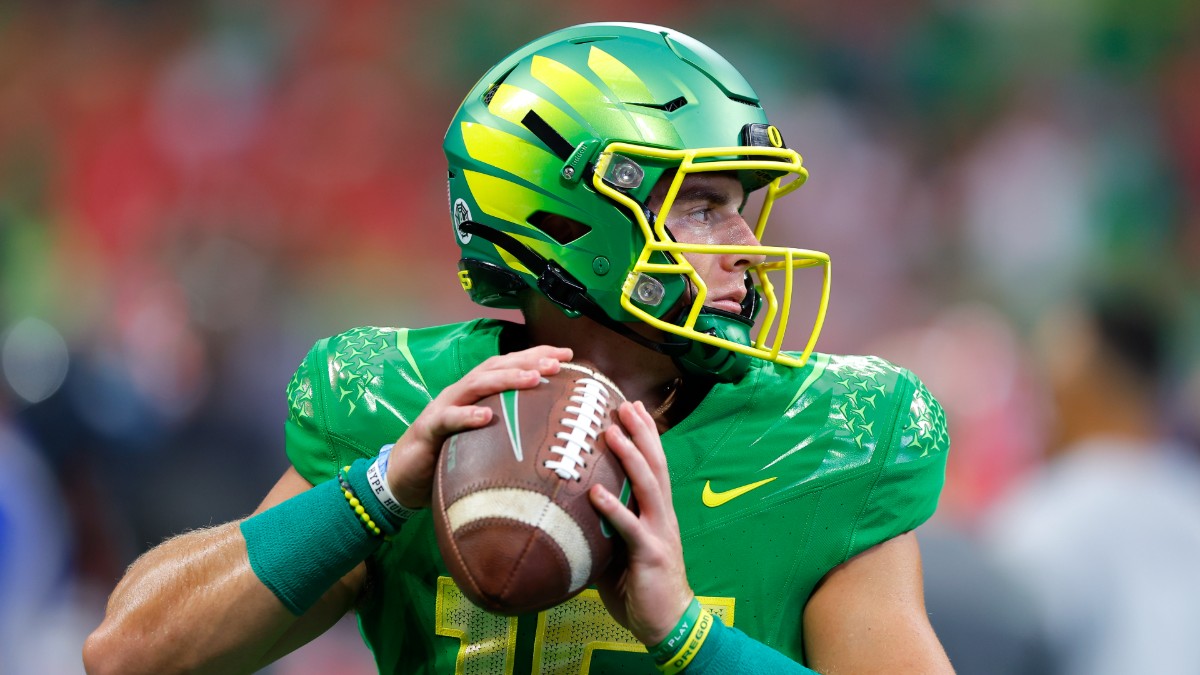 Defensively, the Ducks have been decent against the run, ranking 37th in Rushing Success Rate, but they've struggled mightily against the pass. They sit 101st in Havoc, as the pass rush — which ranks 118th, per PFF — hasn't been effective. That has led to a ranking of 121st in Passing Success Rate Allowed.
The poor pass defense will continue to look better at home than on the road, as Autzen Stadium serves as one of the best home-field advantages in college football.
This week, the Ducks host Stanford, whose tackle depth is an issue. Both starting tackles are also listed as questionable heading into the game.
If Stanford left tackle Walter Rouse isn't available, the Ducks' pass rush will look much better than it has so far, In that case, I'd likely lay the 17 points with Oregon, as the Ducks offense won't be stopped with Nix at home against a poor Stanford defense.
I'll continue to look for spots to back the Ducks at home, like against UCLA and Utah, as these teams' passing offenses remain suspect. However, I'm hesitant to back the Ducks on the road and may fade them in Corvallis to end the season if there isn't improvement defensively.
---
Tier 2: Pac-12 Teams That Can Make Noise
Utah is solid. This is a team that is very well coached under Kyle Whittingham and won't beat itself.
The Utes rank among the top 26 in the country offensively in both Rushing and Passing Success Rate, but they also rank outside of the top 80 in both rush and pass play explosiveness.
The bad news for Utah is that one of its two most talented pass-catchers and the team's leader in receptions, tight end Brant Kuithe, is now out for the season. Quarterback Cam Rising will lean on tight end Dalton Kincaid and running back Tavion Thomas in Kuithe's absence, but in an offense with a lack of playmaking at receiver, the ceiling just got much lower.
Without Kuithe's injury, I'd have Utah ranked third in my power rankings and in the contenders tier, but I was already wary of an offense that lacked explosiveness. Now, that's an even bigger issue.
The Utes haven't played a competent passing offense yet, which leaves some doubt about how good the defense is or can be. Nonetheless, the offensive ceiling in Salt Lake City will prevent me from betting on them to win on the road against strong Pac-12 teams or in any Pac-12 futures.
I'll be backing the Oregon State +10.5 against the Utes in Utah this weekend, as this is too many points to lay with this offense. I'll also look to fade the Utes on the road against Oregon and Washington State later in the season.
I'm a Beaver believer.
I love what Jonathan Smith has done with the program. I like Chance Nolan's upside with his underrated running ability and deep ball. I love the Beavers' commitment to playing physical football and how they operate in short-yardage situations, as they rank 28th in Finishing Drives.
They often sneak the ball and/or incorporate Swiss Army Knife Jack Colletto at wildcat quarterback (although he is conventionally a linebacker on defense).
The passing game has become efficient with the Beavers ranking among the top 30 in Passing EPA/Play, Passing Success Rate and passing explosiveness.
The defense has also improved, as it ranks among the top 26 in EPA/Play, standard down explosiveness allowed, Passing EPA/Play Allowed and Passing Success Rate Allowed. The Beavers also remain a steady and physical force on the ground.
Oregon State shut down USC's passing offense on Saturday, limiting Williams to 16-of-36 passing for 180 yards. The Beavers also had a post-game expected win percentage of 87%.
Their rush defense is the weakness of this team, but against one-dimensional offenses that can't beat them with the pass, expect the Beavers to have more success against the rush.
I don't love that Oregon State plays games on the road against Utah and Washington, so I will pass on playing any of its futures for now. But if it beats the Utes, I'll take a nibble on some Pac-12 futures.
I'll likely back the Beavers to upset Oregon in the final game of the season in Corvallis.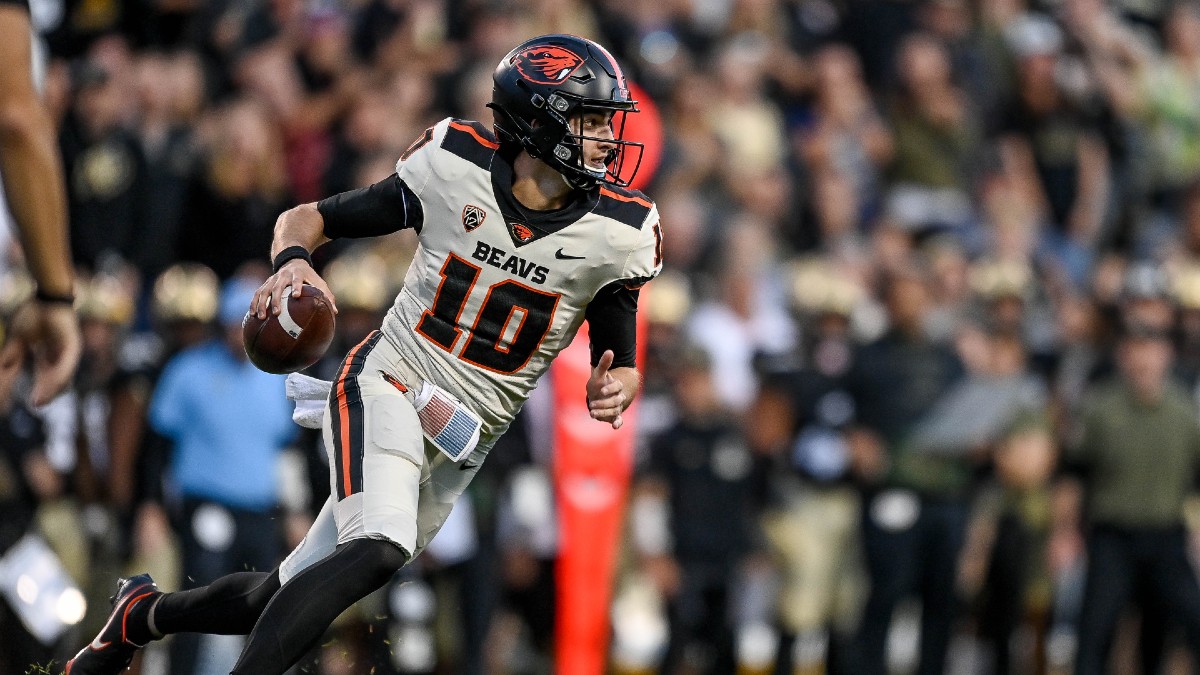 The Cougars are by far the team I'm least confident in ranking in the Pac-12. I still need to see more from Incarnate Word transfer Cameron Ward, who has been up and down so far on the Palouse.
The Cougs got a scare in a 24-17 Week 1 win over Idaho when they trailed for the majority of the game. They bounced back with an impressive 17-14 road win over Wisconsin, but the offense wasn't impressive, and the defense faced Graham Mertz. I'm not exactly sure if the defense was great or if Mertz was being Mertz.
The Cougs then played a horrific Colorado State team in a game with no meaningful takeaways. After allowing 17 points or fewer through three weeks, the Cougs gave up 22 points (although one score came on a pick-six) in a three-minute span of the fourth quarter to lose to the Ducks in Pullman, 44-41 on Saturday.
The Cougs offense ranks 26th in Line Yards and 32nd in Finishing Drives. However, they rank outside the top 70 in both Rushing and Passing Success Rates. They've also allowed too many negative plays, ranking 98th in pass-blocking grade, per PFF, while ranking 113th in Havoc Allowed.
The defensive metrics look impressive, but I won't read too much into them. The only offense Wazzu has played that has a pulse just carved it up, as Nix threw for 428 yards and three touchdowns without being sacked.
However, if we see enough consistency from Ward and the Cougars defense over the next three weeks against Cal, USC and Oregon State, I'd love to back the Cougs on the moneyline at home when they come off a bye to face Utah on Oct. 27.
Cal is… good? The Golden Bears went toe-to-toe with Notre Dame in South Bend and may have even pulled the upset if it weren't for a phantom offsides call on a missed field goal that extended a Fighting Irish drive into an eventual touchdown.
There's nothing flashy about this team. It lost its best defensive player in Brett Johnson before the season started and lost its best players on offense from last season in quarterback Chase Garbers, receivers Trevon Clark, Kekoa Crawford and Nikko Remigio, and running back Christopher Brooks.
Nonetheless, the Bears are a physical offense whose running game is the top-graded rushing attack in the nation, per PFF. The Golden Bears offense is much more steady than sexy as they remain committed to pounding the rock.
As much as I hate to say it, this is a Cal team that I'll likely be backing to retain the Stanford Axe in the Big Game given the situation in the trenches for both teams.
Cal may also have some upset potential in a few weeks at home against Oregon and UCLA if the passing offense improves with Purdue transfer Jack Plummer at the helm.
Dorian Thompson-Robinson is who we thought he was. He's a tremendous athlete but not a great quarterback.
UCLA losing several key players in wide receiver Kyle Philips and tight end Greg Dulcich from last season will keep this offense one-dimensional against the top half of the conference.
Chip Kelly's rushing offense looks strong again, but the Bruins have only played cupcakes outside of South Alabama, and they were lucky to escape that once with a win at home.
Consequently, their metrics are inflated, and I'm selling relatively high on them before their defense gets exposed.
The Bruins face one of the other two undefeated Pac-12 teams on Friday when they host Washington this week.
As much as my heart says things could get weird on a Friday night at the Rose Bowl in a Friday night edition of Pac-12 After Dark, I'll be laying the field goal with the Huskies.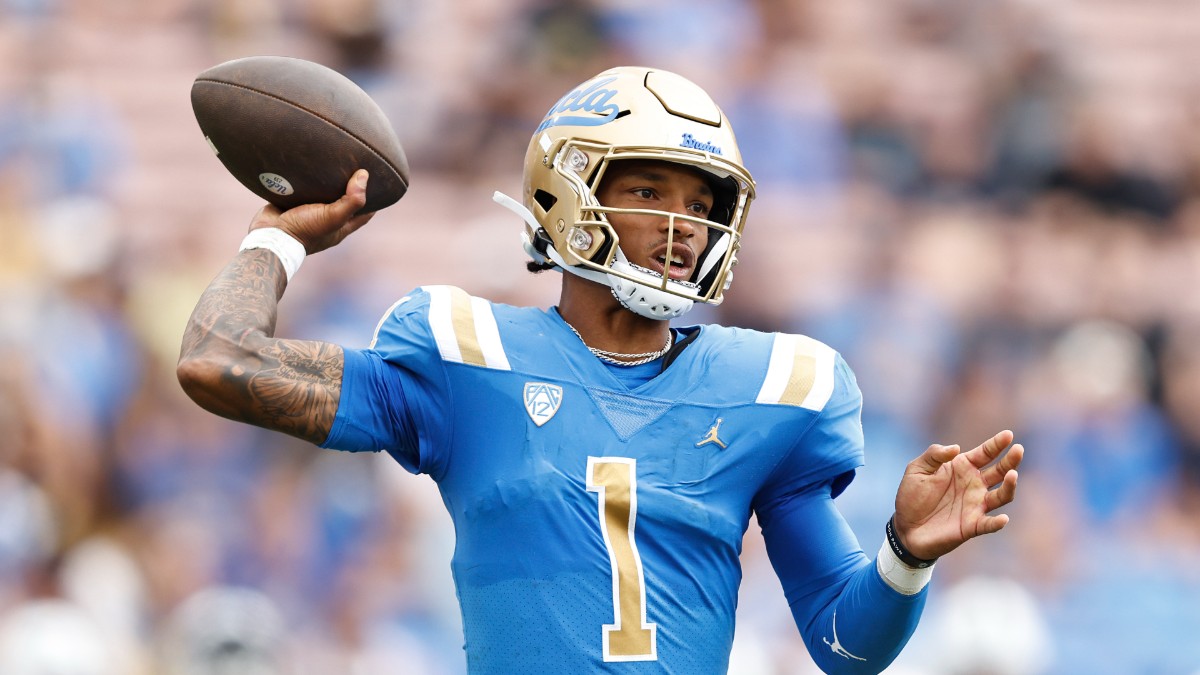 ---
Tier 3: Bottom of the Pac(k)
The Wildcats got some shiny new toys through the transfer portal in star receiver Jacob Cowing from UTEP and Wazzu quarterback Jayden de Laura, but you can't put lipstick on a pig.
Jedd Fisch's Arizona team is undoubtedly much better than last year, and an impressive win as a home underdog over reigning FCS champion North Dakota State proves that the culture is starting to turn in Tucson.
However, the Wildcats were clearly outclassed by Mississippi State in Week 2, as de Laura made several of the mind-boggling decisions we've seen him make before. Then, Cal just ran for 354 (!) yards against this defense on Saturday.
The Wildcats offense ranks 127th in Success Rate, 115th in Havoc Allowed and 117th in Finishing Drives. Cowing's explosiveness will only take it so far.
Outside of this week's matchup against Colorado, there may not be another game that Arizona can win until it plays Arizona State in Tucson to end the season.
The Cardinal have talented players at quarterback and at the skill positions on offense again, but playmakers elsewhere are severely lacking.
Stanford seemingly has been trending downward in the trenches since Solomon Thomas and Harrison Phillips left for the NFL, as fewer people have been partying in the backfield each season since their departures.
That was also around the same time that former offensive line coach and offensive coordinator Mike Bloomgren left the program to become Rice's head coach, and the Cardinal's offensive line play has also gotten worse since then, especially when running the ball.
To make matters worse, Stanford starting running back E.J. Smith was ruled out for the season on Tuesday.
The trenches are an issue on both sides of the ball this year, as Stanford ranks 122nd in Havoc on defense and 116th in Havoc Allowed on offense.
Having a starting offensive lineman in Branson Bragg retire last week, along with injuries at both starting offensive tackle positions, could spell doom for the offense, especially if talented left tackle Walter Rouse isn't available.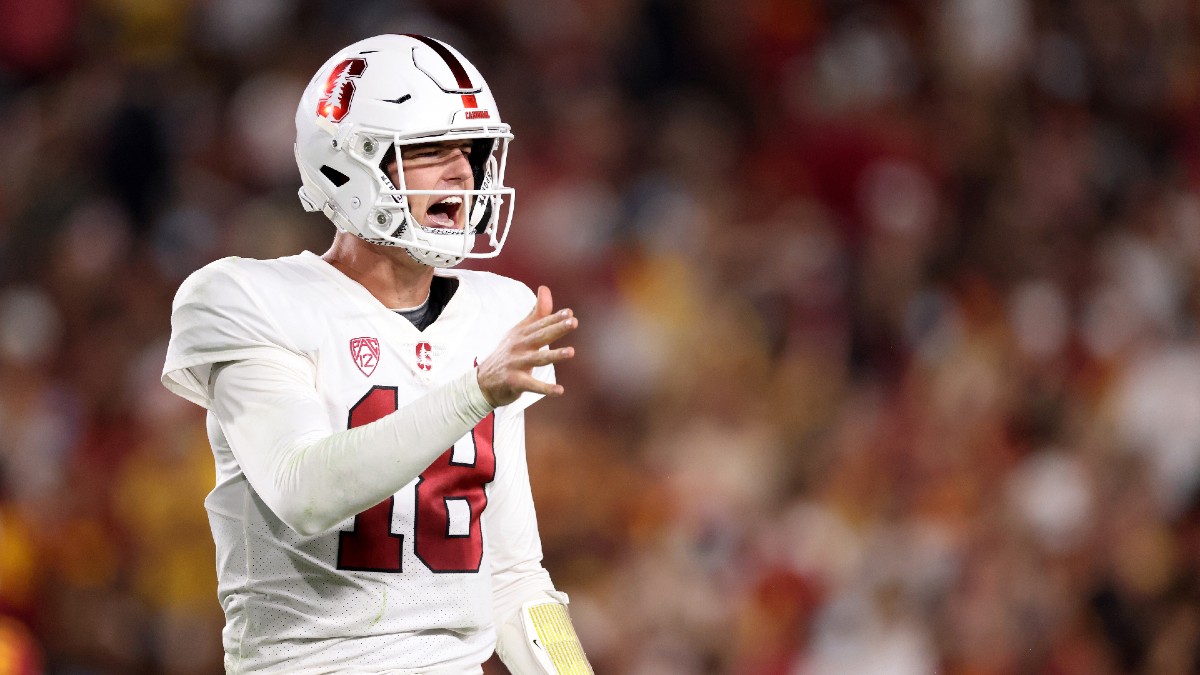 The Cardinal don't have enough size on the defensive line (zero players on the two-deep on defense over 300 pounds) and switched from running a 3-4 base defense to a 4-3 base this year because of their lack of block-eating personnel.
The defense has nonetheless remained horrific, ranking 127th in Standard Down EPA/Play Allowed despite ranking 14th in defensive experience.
The Cardinal, who can't bring in many players through the transfer portal, have whiffed on too many defensive line recruits in the last five years, but freshmen David Bailey and Jaxson Moi look promising. However, their impact this year may be too little too late.
David Shaw elected to retain his entire coaching staff in the offseason after losing seven straight games to end 2021, and the Cardinal have lost both games against FBS opponents this year by double digits.
Something has to change on the Farm.
---
Tier 4: Absolute Dumpster Fires
The writing was on the wall for Arizona State heading into the season, as there was a mass exodus through the transfer portal.
The Sun Devils brought in some reinforcements, but the season seemed doomed from the start with NCAA sanctions looming. Herm Edwards wasn't a fit, as the Sun Devils remained an underachieving and undisciplined team overall.
People inside the program allegedly even helped sabotage the Sun Devils this season up until Edwards' departure after a stunning loss at home to Eastern Michigan in which they allowed 305 yards rushing.
The passing offense looks inept without many playmakers on the outside for Emory Jones, as ASU ranks outside the top 100 in Success Rate and outside the top 120 in Finishing Drives. The Sun Devils also rank dead last in the FBS (131st) in Defensive Havoc, 128th in Defensive Success Rate and outside of the top 120 in both Passing and Rushing Success Rate Allowed.
The Sun Devils are in danger of losing their first game to rival Arizona since 2016 when they end the season in Tucson.
But on the bright side, at least they're not Colorado.
Colorado is the worst team in a Power Five conference this year, and I don't even think it's close.
The Buffaloes are a perfect 0-4 against the spread and don't have a chance of winning any games outside of a road trip to Arizona this week and at home against Arizona State on Oct. 29.
If they're winless heading into November, there could be a mass exodus of transfers, as things will get ugly in Boulder with four games against Oregon, USC, Washington and Utah.
The defense can't stop a nosebleed on the ground, rendering any possible strengths against the pass meaningless because of how hopeless it is against the rush.
Offensively, the Buffs have gone from Brendon Lewis to Tennessee transfer J.T. Shrout to true freshman Owen McCown at quarterback as they look for answers (but haven't found one). They also have a complete lack of playmakers at every other position on the team.
Getting 18 points on the road against Arizona feels like a lot, but as much as I want to hold my nose and take the points, the floor for this team doesn't exist right now.
How would you rate this article?
This site contains commercial content. We may be compensated for the links provided on this page. The content on this page is for informational purposes only. Action Network makes no representation or warranty as to the accuracy of the information given or the outcome of any game or event.