2022 Super Bowl Odds: An Expert's Guide To Betting Rams-Bengals Spread, Over/Under Based On Key Matchups
Credit:
Getty Images. Pictured: Bengals WR Tee Higgins, QB Joe Burrow; Rams QB Matthew Stafford, DT Aaron Donald
2022 Super Bowl Odds
The Bengals have rode three straight one-score wins to the Super Bowl while the Rams are coming off back-to-back three-point wins of their own.
Whose luck will run out on Sunday evening?
Let's run through all the key matchups then break down how I'm betting the spread and over/under.
---
---
How the Rams & Bengals Matchup
Bengals Offense vs. Rams Defense
Joe Burrow and Co. will face a Raheem Morris-coordinated defense that heavily relies on zone coverage, playing it at the third-highest rate in the league according to data from PFF.
Like most NFL defenses, the Rams' most common defensive alignment is Cover 3. Where the Rams differ from most teams, however, is in their reliance on Cover 4, which they use 21.6% of the time. Per Sports Info Solutions (SIS), no team used Cover 4 more than the Rams this season. Burrow had success against Cover 3, ranking second in success rate (54.5%) among 32 passers with at least 100 attempts, but his success rate drops to 42.2% against Cover 4, which was 24th of 35 quarterbacks with at least 25 attempts, per SIS.
Ja'Marr Chase is the headliner of the Bengals receiving group, but Tee Higgins will be a major factor in this game. According to SIS, Higgins led the team in catches (13), yards (205) and first downs (11) against Cover 4 despite running 13 fewer routes than Chase, who posted 11 catches for 156 yards with six first downs.
Per PFF, Jalen Ramsey has split his snaps evenly between right corner (350), the slot (339), and left corner (335). The Bengals have been more willing to move Chase around in the postseason, as his slot snaps increased from 17.2% during the regular season to 21.3% in the playoffs. Due to their zone scheme, the Rams can't use Ramsey as a true shadow corner, but they'd probably like to match him up with Chase as much as possible while the Bengals will undoubtedly want the opposite, so there is sure to be some cat-and-mouse going on.
The Bengals have a path to offensive success if Chase commands as much defensive attention as we all expect him to, but that path involves Higgins stepping up in a big way.
Even if Chase continues to line up in the slot more than usual, the Bengals' primary slot receiver will be Tyler Boyd, who could also loom large in this game. Why? The Rams' zone scheme with an emphasis on three or four defenders deep leaves them weak underneath over the middle of the field; they ranked 30th in Football Outsiders' DVOA on passes to the short middle. They also allowed 8.5 yards per pass to receivers in the slot compared to 6.8 out wide, according to Football Outsiders.
The issue isn't so much slot corner David Long Jr. — though he did grade out below-average in coverage with a 68.1 PFF grade (68th of 118 qualified CBs) — but linebacker Troy Reader, who graded out 79th of 80 qualified linebackers with a 34.1 coverage grade. With three or four deep defenders, offenses are able to isolate receivers one-on-one against Reeder in the middle of the field. According to PFF, Reeder has allowed a 106.8 passer rating, highest among the 11 Rams defenders who saw at least 10 targets this season.
Although Higgins doesn't play out of the slot much (21.1% of his routes), he could also exploit the Rams' weakness in the short middle. Higgins is second on the team with 26 short-middle targets, behind only Boyd (38). But whereas Boyd's short-middle targets have produced a respectable 58% success rate,  Higgins' have produced an absurd 92% success rate, according to Sharp Football Stats.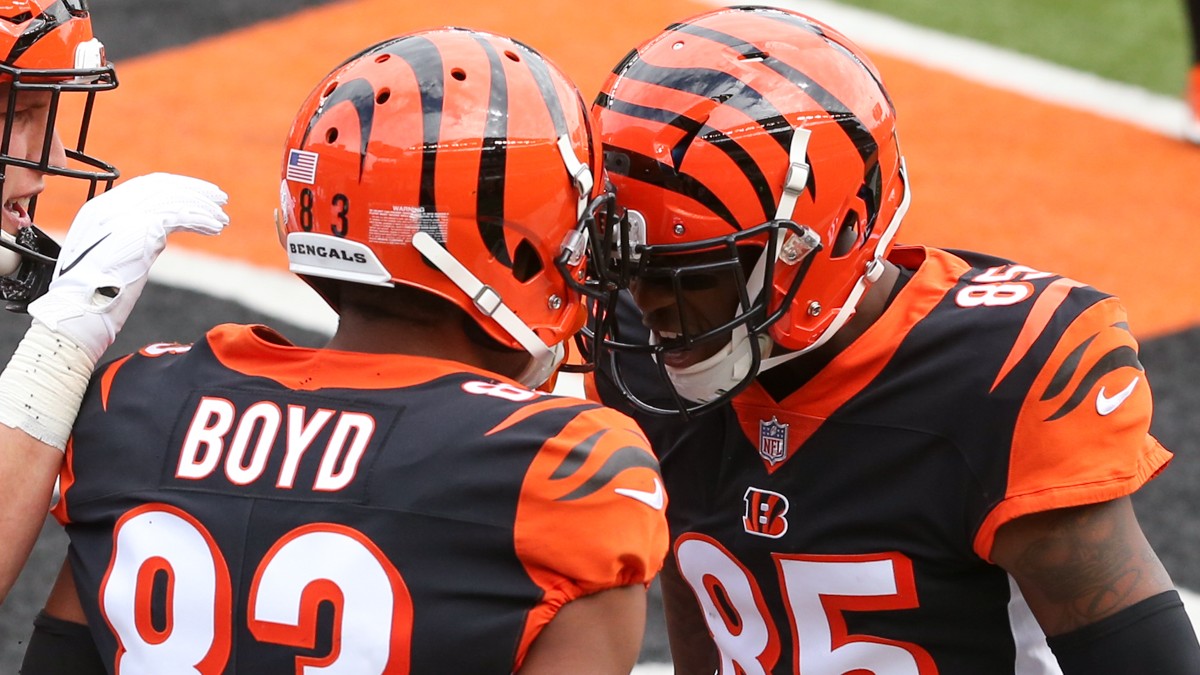 The Rams' best course of action is still to sit back in coverage, for three reasons:
As mentioned earlier, Burrow isn't as good against Cover 4;
Burrow shreds the blitz, leading the league with 11.2 YPA when the defense sends extra rushers;
The Rams have to protect a shaky group of coverage players not named Jalen Ramsey and let their pass rush do its job. Here are the coverage grades and ranks for the Rams secondary:
CB Jalen Ramsey: 87.0 (1st of 118)
CB David Long Jr.: 61.1 (68th of 118)
S Taylor Rapp: 58.8 (64th of 95)
S Nick Scott: 58.7 (65th of 95)
CB Darious Williams: 58.5 (80th of 118)
C.J. Uzomah (questionable-MCL) likely won't be anywhere near 100%, even if he laces up his cleats to play, but his injury may not be as much of a factor in the passing game as you might think despite the Rams' weaknesses underneath and over the middle.
The Rams have been mostly exploited by quick-twitch type players, which explains why they are fourth in DVOA against tight ends but 24th against running backs. Uzomah was a distant fourth in target share (13%) and success rate (53%) on short-middle targets.
Joe Mixon is averaging 5.2 catches for 43.2 yards per game over his last five and could be a big factor in the passing game once again, as screen passes could be a means of slowing down the Rams pass rush.
The Rams pass rush is the key to them winning the game, because despite the presence of Ramsey, if Burrow gets time, the Bengals have more good receivers than the Rams have good players in coverage.
While left tackle Jonah Williams, left guard Quinton Spain and center Trey Hopkins have graded out as average in pass-blocking, the right side of the line could be an issue. Right tackle Isaiah Prince was 70th of 80 tackles and Hakeem Adeniji was 75th of 80 guards. Von Miller and Aaron Donald have bigger name recognition than Leonard Floyd, and rightfully so, but Floyd could end up having the biggest game as he will be most often matched up with Prince on the right side. Floyd has 70 pressures and 13 sacks in 20 games.
Despite playing light boxes on 56% of rushing plays, the Rams are fourth in run defense DVOA. When using light boxes specifically, the Rams were third in YPC allowed (4.5) and sixth in success rate allowed (39.4%).
Still, the Bengals are going to want to run the ball with Mixon against this defense, as they have been one of the better teams in the league at running against light boxes with their running backs.
Light box (six or fewer): 4.9 YPC (10th), 45.5% success rate (8th)
Normal box (seven): 3.9 YPC (22nd), 36.0% success rate (26th)
Stacked box (eight or more): 3.4 YPC (18th), 34.3% success rate (25th)
Even if Uzomah is available to play his full complement of snaps, I doubt the Bengals will use many two-TE sets in the game. The Bengals want to get the Rams spread out in order to ensure there will be a light box, and the Rams have been a lot better against 12 personnel than 11. Per Football Outsiders, the Rams allowed 5.7 yards per play versus 11 and 4.5 versus 12.
Rams Offense vs. Bengals Defense
Matthew Stafford will face a Bengals defense that has done a good job of mixing coverages this season. They played Cover 3 30.2% of the time, Cover 1 17.3% of the time, Cover 2 16.6% of the time, and Cover 4 12.4% of the time.
We should expect the Bengals to go away from their preferred single-high coverages and skew toward a two-deep shell in this game, as Stafford averaged 9.5 YPA (third) and a 55.7% SR (first) against single-high coverages compared to 8.0 YPA (seventh) and a 47.0% SR (13th) versus two-deep shells, per SIS.
As with Burrow, you don't want to blitz Stafford.
According to PFF, Stafford is second in the league in YPA against the blitz (9.3) and has thrown 15 touchdowns with just one interception when the defense sends extra pressure. If you're a Bengals fan, the good news is their defense don't rely much on blitzing to get pressure: According to Pro Football Reference Advanced Stats, the Bengals defense generated pressure 24.5% of the time (14th) while blitzing only 20.5% (26th) during the regular season.
In fact, the Bengals ace in the hole could be the same as it was in the AFC Championship: Drop eight into coverage.
Against three or fewer pass rushers, the Rams ranked 27th in YPA (5.1) and 22nd in success rate (40.4%). Why is this so successful against the Rams? Because it allows the defense to contain Cooper Kupp.
Against three-man rushes, Kupp was targeted only 21.4% of the time and averaged 0.74 Yards Per Route Run (YPRR). Against all other coverages, he was targeted 30.4% of the time and averaged 3.32 YPRR. The Rams have one of the better pass-blocking lines in the NFL, and since blitzing Stafford is futile, it's not hard to imagine the Bengals deciding their four-man rush won't be as impactful as having an extra defender in coverage.
While the Rams have the game's only superstar in the secondary, the Bengals have the stronger overall unit. Here are the coverage grades and ranks for the Bengals starting secondary:
S Vonn Bell: 81.0 (11th of 95)
CB Chidobe Awuzie: 74.3 (18th of 118)
CB Mike Hilton: 72.3 (21 of 118)
S Jesse Bates III: 67.0 (36th of 95)
CB Eli Apple: 61.0 (69th of 181)
Based on season-long data, Van Jefferson will see the most routes against Apple – the weakest link in the Bengals defensive backfield – though Beckham and Kupp can be moved around as well.
With that said, Apple has really come on since the Week 10 bye:
Weeks 1-9: 68.4% comp, 11.4 YPT, 104.7 rating
Week 11-on: 46.2% comp, 7.0 YPT, 50.3 rating
If the post-bye Apple shows up, then the Rams will really be missing Tyler Higbee (out), as the Bengals are 24th in DVOA against tight ends. According to PFF, linebackers Logan Wilson and Germaine Pratt have combined for seven interceptions (five by Wilson and two by Pratt), but also surrendered an 82.7% completion rate and 8.0 yards per target on 145 combined targets.
Backup Rams tight end Kendall Blanton is serviceable and has chipped in with seven catches for 75 yards and a touchdown over the past two postseason games, but he's a third-year undrafted free agent who is a lot easier to cover than Higbee.
Given the weapons the Rams have in the passing game, this will likely be a game in which the Bengals dare the Rams to run.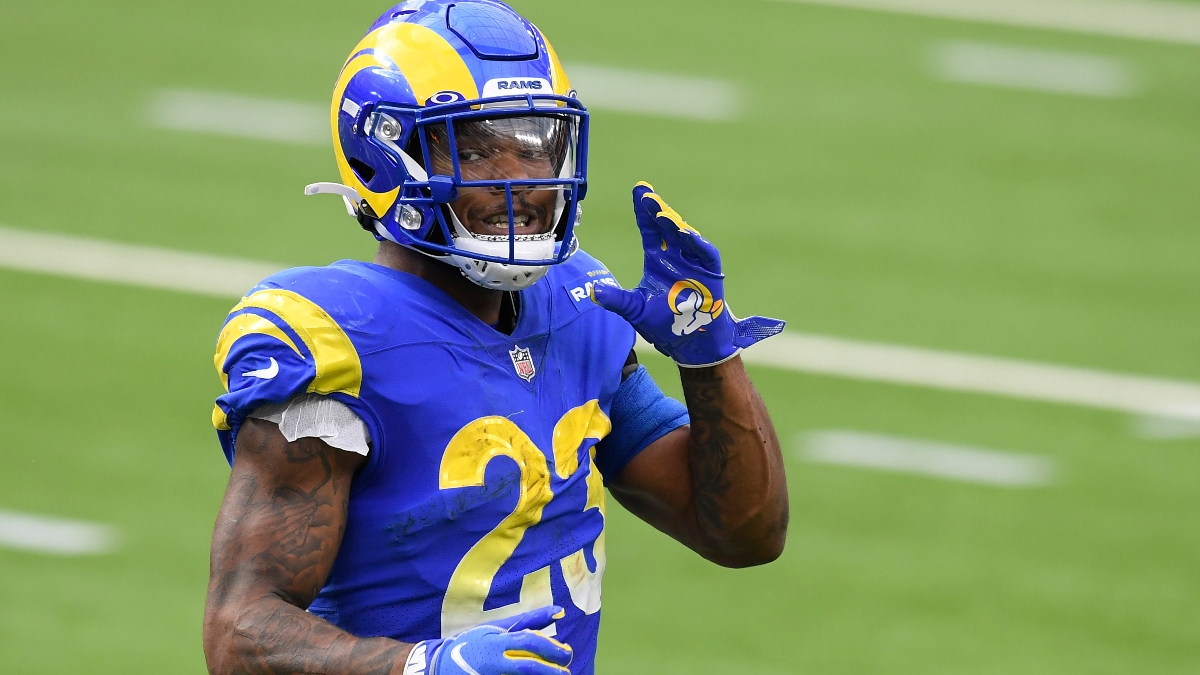 The Bengals used light boxes on only 36.0% of opposing rushing attempts and used stacked boxes 25.9%, nearly twice as much as the Rams. While the Rams have struggled mightily against stacked boxes, they've also been below average against light boxes:
Light box: 4.5 YPC (23rd), 40.9% success rate (19th)
Normal box: 4.2 YPC (16th), 43.2% success rate (6th)
Stacked box: 3.0 YPC (25th), 29.8% success rate (30th)
Another reason the Bengals defense will likely prioritize the pass: Cam Akers hasn't been quite right. His comeback from an offseason Achilles tear is admirable, but he's been wholly inefficient running the football, with just 154 yards on 59 carries (2.6 YPC). He is yet to average more than 3.7 yards per carry in a game.
---
2022 Super Bowl Predictions
Super Bowl Spread
The Rams are the better team, but not by as much as the market suggests.
While the Rams deserve to be the favorite due to the matchup of their pass rush versus the Bengals offensive line, I make the line Rams -2.5, and our consensus PRO Projections peg it at Rams -2.6.
On offense, though they will struggle in protection, they will still have enough mismatches in coverage for Burrow to make the Rams pay when the rush doesn't get home. And on defense, the Bengals' scheme and personnel matches up well with the Rams strengths, and defensive coordinator Lou Anarumo has done a masterful job adjusting in-game.
Additionally, the most likely game plans for both teams involve sitting back in coverage, which could force a lot of runs and long drives to shorten the game, which adds value to the dog.
The Rams have home-field advantage here, which is worth a few tenths of a point to the spread, but the Bengals have won outright in each of Burrow's past five starts as a road underdog:
AFC Championship: Bengals 27, Chiefs 24 (KC -7)
Divisional Round: Bengals 19, Titans 16 (TEN -4)
Week 15: Bengals 15, Broncos 10 (DEN -3)
Week 7: Bengals 41, Ravens 17 (BAL -6.5)
Week 3: Bengals 24, Steelers 10 (PIT -2.5)
Not to mention, the Bengals also had another impressive outright win as a home underdog against the Chiefs in Week 17.
Overall, the Bengals are 7-3 straight up as underdogs this season. Of Burrow's 19 starts this season, only two have ended with the Bengals down more than three points.
Pick: Bengals +4 (to +4)
Super Bowl Over/Under
I'm lower than the consensus on the total, as I have it at 47.5 (check real-time Super Bowl odds here).
Again, I expect both of these teams to sit back and coverage, conceding runs and short passes. The total opened at 49.5, but was bet down to 48.5, as 80% of the money has come in on the under despite 63% of bets on the over (find the latest public betting data here). The Super Bowl attracts fish like no other, so I wouldn't be surprised if the number creeps back up to its initial open by kickoff as more than 60% of the public continues to smash the over.
If the number gets back up to 49.5, the under is a play, as you would win even with a 26-23 score. Regardless of what happens with the full-game total, I love the first-quarter under 9.5.
Due to a combination of nerves and generally conservative play-calling, offenses tend to get off to slow starts in the Super Bowl. Since 1999, 64% of Super Bowl first quarters have failed to crack double digits. 
These two teams perfectly fit the profile of slow starters, as the Bengals averaged 4.3 points per first quarter while the Rams averaged 4.0, for a combined average of 8.3. And the first quarter under was 14-6 in Rams games and 13-6-1 in Bengals games, for a combined record of 27-12-1 (69%).
Picks: Under 49.5 or higher | 1Q under 9.5 (to 9.5)
---
More: 16 Props | 2 TD Bets | MVP Longshots
---
How would you rate this article?
This site contains commercial content. We may be compensated for the links provided on this page. The content on this page is for informational purposes only. Action Network makes no representation or warranty as to the accuracy of the information given or the outcome of any game or event.