Your Ultimate Week 5 AAF Betting Guide: Picks, Analysis, More For All 4 Games
Credit:
Courtesy of @TheAAF/Twitter. Pictured: San Antonio QB Logan Woodside, Orlando RB D'Ernest Johnson
March is an exciting time for football fans. There's the combine, free agency and enough draft speculation to make any average NFL junkie briefly forget no actual football is being played.
And this year we have the Alliance of American Football.
We're on to Week 5 of the new league, and business is booming. We have eight competitive teams thanks to some recent switches under center, and only the Orlando Apollos seem to have any sort of significant edge on the competition.
What follows is an in-depth look at all the Week 5 AAF action that will look at the betting market, Week 4 takeaways, injuries, key matchups, daily fantasy edges and finally betting picks for this weekend's full slate of games.
And if that's not enough, we also have this lineup of comprehensive coverage:
Now let's dig into this weekend's games.
---
Spread: Orlando -3.5
Over/Under: 34
Time: 2 p.m. ET on Saturday
TV: TNT
Betting market: Bookmakers have made an annoying habit of not opening AAF lines until late in the week, so we don't have much line movement to speak of for this weekend's games.
The spread is one point lower than our resident Oddsmaker Sean Koerner projected (Orlando -4.5) in his power ratings, while the over/under is understandably low in a matchup featuring two of the league's best defenses.
Week 4 Takeaways
Orlando's 20-11 Win Over Salt Lake
Garrett Gilbert has led the Apollos to a spotless record through four weeks. His latest efficient performance saw him complete 22-of-32 (69%) passes for 244 yards (7.6 yards per attempt) and a touchdown despite playing in snowy conditions. Steve Spurrier and Co. boast a league-high +55 point differential.
D'Ernest Johnson (41%) started again at running back, but De'Veon Smith (29%) and Akeem Hunt (29%) were also plenty involved. Johnson is tentatively locked in as the starter, but Hunt is coming off his best performance of the season while Smith lingers as a potential goal-line vulture.
Charles Johnson (9 receptions-105 yards-0 touchdowns) continued to dominate while Rannell Hall (4-57-0), Jalin Marshall (4-27-0) and Donteea Dye Jr. (1-20-1) also made their presence felt. The Apollos have averaged a league-high 9.4 yards per pass attempt after a month of action.
Birmingham's 12-11 Loss to San Antonio
Luis Perez was miserable in the Iron's first loss, completing just 19-of-39 (49%) passes for 202 yards (5.2 Y/A) with a pair of interceptions. Perez somehow doesn't have a passing touchdown, but Birmingham still boasts the league's second-best point differential at +44 thanks to its dominant defense.
Trent Richardson converted eight rushes into 15 yards and a short touchdown on the ground to complement his respectable 5-37-0 receiving line. But T-Rich's inefficient stranglehold on the Iron's rush offense could be nearing its end: He played a season-low 58% of the offense's snaps and was out-carried 9-to-8 by someone named Brandon Ross.
No. 1 receiver Quinton Patton caught just 2-of-6 targets for 17 scoreless-yards, as Perez found more success targeting tight end Wes Saxton (3-54-0) and L'Damian Washington (3-35-0). The Iron boast the league's third-most pass-happy offense … but average the second-fewest yards per pass attempt.
Which team is healthier? Orlando
Both teams are fairly healthy, but Birmingham has a few more players to monitor.
Starting receivers Quinton Patton (ankle) and L'Damian Washington as well as tight end Wes Saxton (ankle) were all limited in practice on Wednesday. They're each tentatively expected to suit up Saturday, but the outlook on receiver Amba Etta-Tawo (knee) is less promising after he again started the week with a DNP.
Apollos running back Akeem Hunt (foot), difference-making linebacker Terrence Garvin (knee) and defensive back Will Hill (head) were limited on Wednesday. The potential absence of Hunt would certainly help add some clarity to the Apollos' always-murky committee backfield.
Key matchup: Orlando's Pass Offense vs. Birmingham's Pass Defense
Garrett Gilbert and Co. have easily been the league's premier pass offense:
Virtually no one has been able to guard Charles Johnson. Jalin Marshall and Rannell Hall have also largely given defense's fits.
And then we have the Birmingham Iron "Curtain" defense, which is headlined by stud cornerback Jamar Summers. It remains unclear whether Luis Perez and the Iron offense can score enough points to keep up with Spurrier's squad, but there's little doubt that Birmingham has fielded the AAF's best secondary and overall defense to this point.
The Iron defense has allowed league-low marks in points per game (8.3), yards per play (4.64) and yards per pass attempt (5.02).
DFS edge: Birmingham WRs
It might not be a bad idea to have reduced exposure to this matchup between the league's two best secondaries. Still, the Iron's starting receivers are simply too cheap considering their respective Week 4 snap rates.
No. 1 WR Quinton Patton: 85% snaps; $5,500
No. 2 WR L'Damian Washington: 91% snaps; $4,600
No. 1 TE Wes Saxton: 95%; $3,900
Patton is particularly intriguing considering he's just the WR7 in overall pricing despite working as one of the league's top four receivers for most of the season.
Washington and Saxton are best treated as salary-saving tournament options given the aforementioned lack of upside in the Birmingham pass offense.
Bet to watch: Orlando -3.5
I was planning to pound this under, but 34 points is incredibly low.
Birmingham will be the toughest defense that Orlando has faced, but Gilbert and Co. will also be the stiffest test for the modern-day Iron Curtain. I'll take the favorites to improve their unbeaten record to 5-0 thanks to the Iron's inability to score points.
---
Spread: San Diego -6.5
Over/Under: 36
Time: 8 p.m. ET on Saturday
TV: NFL Network
Betting market: The Fleet shockingly opened as 6-point favorites despite losing their starting quarterback to the injured reserve list. I'd be shocked if that line holds for long, although the game total of 36 points indicates there isn't expected to be much scoring from either team anyway.
Week 4 Takeaways
Salt Lake's 20-11 Loss to Orlando
Josh Woodrum played mistake-free football for most of this past Saturday night, completing 16-of-22 passes for 161 scoreless-yards. Still, he's engineered the league's least efficient pass offense in terms of yards per attempt this season despite playing in the third-most run-heavy scheme.
Branden Oliver (52%) led the way with 17 carries last week, but left the game early with a groin injury. His potential absence would lead to plenty of early-down snaps for Joel Bouagnon as well as an enhanced workload for Terrell Newby. The Stallions signed Nick Holley this week for added backfield depth and also have Matt Asiata on the roster.
De'Mornay Pierson-El played 79% of the offense's snaps last week and is locked in as the offense's featured slot receiver. Brian Tyms (55% snaps), Kenny Bell (54%), Kaelin Clay (50%) and Adnois Jennings (50%) essentially formed a four-man committee to fill the remaining wide receivers positions in the Stallions' run-first offense.
San Diego's 26-23 Loss to Memphis
Starting quarterback Philip Nelson suffered a fractured clavicle and has been placed on the injured reserve list. Week 1 punching bag starter Mike Bercovici will get the nod over Week 4 backup Alex Ross. The two have combined to engineer exactly one touchdown drive in roughly six quarters of action.
Ja'Quan Gardner (49% snap rate) and Terrell Watson (49%) were equally involved in Week 4. They've formed the AAF's most productive backfield in yards per carry with 5.4, although the expected return of Bishop Sankey (!!!) could potentially lead to reduced opportunities for both incumbent backs.
Brian Brown (82% snap rate), Nelson Spruce (76%) and Dontez Ford (60%) formed the Fleet's 3-WR sets, but Mike Martz seems to have his heart set on continuing to feature the tight end position. The good news is that Gavin Escobar (75% snaps) and Marcus Baugh (49%) are capable of lining up and producing as pure receivers.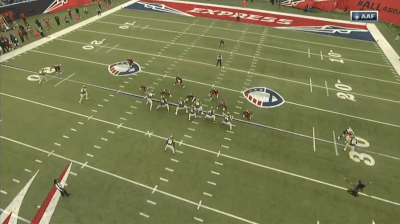 Which team is healthier? Salt Lake
San Diego has suffered the biggest injury of the season with quarterback Philip Nelson (fractured clavicle, IR) out indefinitely.
The good news for the Fleet is that stud defensive end Damontre Moore practiced in full on Wednesday and is expected to return to action on Saturday. The outlook for linebacker A.J. Tarpley (back) is less clear after he failed to practice to start the week.
Salt Lake is thought to only be dealing with an injury to starting running back Branden Oliver (groin), who failed to practice in any capacity on Wednesday. We would expect Joel Bouagnon and Terrell Newby to get most of the work if Oliver is ultimately unable to suit up, but recently-signed Nick Holley and ever-annoying vulture Matt Asiata could also see some snaps.
Key matchup: Salt Lake's Offensive Line vs. San Diego's Pass Rush
The Fleet have the league's most dangerous pass rush thanks to defensive end Damontre Moore, who is one of only two defenders in the league with at least 20 pressures despite missing last week's game.
San Diego boasts Pro Football Focus' No. 1 pass rush grade after four weeks.
And then we have Salt Lake, which combines the league's largest offensive line with an offense designed to get the ball out of the quarterback's hands as quickly as possible. Josh Woodrum's average release time of 2.2 seconds is a full 0.22 seconds quicker than the next closest signal caller.
San Diego's ability to stop the run and pressure the quarterback has helped it allow only 16 points per game this season. Still, Salt Lake's quick-hitting system could be the perfect antidote against this type of defense.
DFS edge: Cheap RBs
The potential absence of Oliver would likely lead to Joel Bouagnon ($5,300) working as the starter and early-down workhorse, but Terrell Newby ($3,300) actually out-snapped Bouagnon in Week 4 and carries a more fantasy friendly role thanks to his status as the offense's pass-down back.
Meanwhile, a lack of Week 4 production and the return of Bishop Sankey has caused Ja'Quan Gardner's price tag to nose dive.
We were (rightfully) calling Gardner the league's best running back before last week's dud, so the week's largest salary decrease among the AAF's eight starting running backs should be exploited.
Bet to watch: Salt Lake +6.5
I actually thought the Stallions would be favored in this matchup. Traveling to face the league's best pass rush is far from ideal, but I'm expecting Woodrum's aforementioned quick trigger to help alleviate some of those concerns.
Also, I wouldn't call you crazy for just taking the Stallions moneyline. Let's live a little, fam!
---
Spread: Atlanta -1.5
Over/Under: 38.5
Time: 4 p.m. ET on Sunday
TV: CBS Sports Network
Betting market: The Legends are small favorites in a battle between two teams that have a remarkably more positive outlook after their respective changes under center. The 38.5-point total is the second-highest of Week 5.
Week 4 Takeaways
Memphis' 26-23 Win Over San Diego
The Zach Mettenberger era is off to an exhilarating start. The former LSU signal caller has completed 27-of-37 (73%) passes for 294 yards (8.0 Y/A) with three touchdowns and zero interceptions in six quarters of action. The Express have utilized the league's most run-heavy offense, but Mettenberger has a position-high 90.3% adjusted-completion rate (Pro Football Focus).
Zac Stacy (65% snap rate) remains the Express' undisputed lead back, although his 39 scoreless-yards on 18 carries left much to be desired. Stacy has 12, 18, 14 and 18 rushes in four games, but he'll face enhanced  competition from Sherman Badie and Terrence Magee if he doesn't manage to get back on track.
Memphis utilized Reece Horn (94% snap rate), Dontez Byrd (82%) and Alton Howard (73%) in starting 3-WR sets last week at the expense of Devin Lucien (40%) and Gerrard Sheppard (13%).
Atlanta's 14-11 Win Over Arizona
The Matt Simms era is over, as former Georgia star quarterback Aaron Murray came off the bench and completed 20-of-33 (61%) passes for 254 yards (7.7 Y/A) to complement his 54 scoreless-yards on the ground. Murray's ability to dice up the Hotshots with downfield throws outside the numbers was particularly impressive.
Backfield touches will continue to be scarce as long as Atlanta continues to field by far the league's most pass-happy offense. The loss of Akrum Wadley (knee, IR) means we'll likely see a three-back committee featuring Tarean Folston (39% snap rate), Denard Robinson (28%), Brandon Radcliff (27%) and a pinch of Lawrence Pittman (7%). Folston led the way with seven targets last week.
Tight end Keith Towbridge (93% snap rate) is a focal point of the Legends offense. Wide receivers Ervin Philips (53%) and Seantavius Jones (50%) appear locked in as the team's "starters," but they've largely utilized a committee with James Quick (36%), Justin Thomas (36%), Bug Howard (36%), Malachi Jones (31%) and Montay Crockett (31%) also involved.
Which team is healthier? Memphis
The Express are thought to be near 100% healthy, although they signed running back Daryl Virgies and waived presumed preseason starting wide receiver Fabian Guerra.
The Legends have several more question marks to answer.
Running backs Akrum Wadley (knee, IR) and Lawrence Pittman (ankle) are banged up, while it's unclear if Matt Simms (finger) was benched because of injury, performance or both.
The most important defender to monitor is stud safety Ed Reynolds (groin), who has made a habit of limiting opponent's big plays all season.
Key matchup: Memphis' Pass Offense vs. Atlanta's Secondary
The potential absence of Reynolds wouldn't help a Legends defense that has allowed a league-high 25.8 points per game. They've already struggled to stop the run, so enhanced incompetence against the pass could be the unit's worst case scenario against the Express' suddenly competent passing game.
Six quarter sample size be damned: Zach Mettenberger has been the second-best quarterback in the AAF this season.
Yards per attempt: 7.9 (2nd)
Touchdowns: 3 (tied for 3rd)
Completion rate: 73% (1st)
PFF Grade: 80.4 (2nd)
Quarterback Rating: 123 (1st)
DFS edge: Memphis WRs
Finding high-usage DFS options at cheaper salaries will help us pay up for the slate's $7,000-plus darlings. Memphis appears to have a few viable options to do just that between Alton "Pig" Howard and Dontez Byrd.
It's also certainly possible to stack Mettenberger with each of Howard, Byrd and Reece Horn at $5,200.
Bet to watch: Memphis moneyline
Vegas can keep its point and a half. I'll take the team with the better quarterback, offense and defense to win outright (even on the road).
---
Spread: Arizona -2.5
Over/Under: 40
Time: 8 p.m. ET on Sunday
TV: NFL Network
Betting market: The Commanders are just 2.5-point underdogs despite boasting the league's worst defense and an inconsistent offense.
The 40-point total is the week's highest mark by a full 1.5 points.
Week 4 Takeaways
San Antonio's 12-11 Win Over Birmingham
Logan Woodside's and Marquise Williams' quarterback competition was put on hold for a week. Woodside took every snap under center, but completed just 11-of-25 (44%) passes for 106 scoreless-yards (4.2 Y/A). It hasn't been easy for receivers to thrive considering the Commanders rank fifth in yards per pass attempt and seventh in pass-play rate.
Kenneth Farrow (78% snap rate) took over the San Antonio backfield just one week after Trey Williams (22%) appeared to stake his claim for RB1 duties. The good news is that David Cobb (1%) was (mostly) benched, so we should feel somewhat secure about most of the Commanders' rushing production flowing through only two players.
Mekale McKay (89% snap rate) and Greg Ward Jr. (64%) started in 2-WR sets, while do-it-all tight end Evan Rodriguez (86%) seldom left the field at all. The Commanders have shown off some explosive pass-game weapons, but they'll need enhanced play under center to establish any sort of consistency.
Arizona's 14-11 Loss to Atlanta
John Wolford was questionable for last week's game with a back injury, but he appeared to be just fine on his way to completing 17-of-31 (55%) passes for 185 yards (6.0 Y/A) and a touchdown. The Hotshots have had the AAF's second-best pass offense behind Orlando for basically the entire season, but they haven't been quite as dominant compared to the rest of the league since Atlanta and Memphis seemingly fixed their respective quarterback problems.
#JhurellCow truthers rejoice! Jhurell Pressley (57% snap rate) continued to work as Arizona's lead back and finally managed to produce. He converted his 14 carries into 110 scoreless-yards (7.9 yards per carry) and caught 4-of-5 targets for an additional 13 yards. The Hotshots' up-tempo offense has helped enable the league's second-highest scoring offense, although their 2-2 record is indicative of an underwhelming +7 point differential.
Rashad Ross (98% snap rate) might just be the best thing to ever happen to the AAF: He has nearly as many touchdowns (5) as incomplete targets (7) after a month of action. Freddie Martino (75%) and Josh Huff (74%) will continue to fill out 3-WR sets as long as Richard Mullaney (knee) is sidelined, while Gerald Christian (67%) remains one of the league's few tight ends that are somewhat involved in the passing game.
Which team is healthier? Arizona
Starting receiver Josh Huff (knee) is expected to miss the remainder of the season after being placed on the injured reserve list. The good news is that early-season starter Richard Mullaney (knee) got in a limited session and appears to be on track for a return.
The only Commanders player who failed to practice Wednesday was tight end Cole Hunt (lower leg).
---
>> Sign up for The Action Network's daily newsletter to get the smartest conversation delivered into your inbox each morning.
---
Key matchup: Arizona's WRs vs. San Antonio's CBs
The Commanders boast the league's second-best pass rush … but they've generally still struggled to slow down anybody outside of Birmingham.
The biggest issue has been their consistently brutal cornerback play, as only one of their top five corners has received an above-average grade from Pro Football Focus.
Anything other than excellence won't be enough to slow down Rashad Ross. The Hotshots' No. 1 receiver caught another touchdown in Week 4 to bring his league-leading total to five receiving scores. He also ranks fourth in yards per route run with 2.38.
Charles Johnson hung a 10-192-1 line on San Antonio back in Week 2. I'm not saying Ross will approach those numbers, but he's certainly capable of having his way against any cornerback in the league — and especially those from the AAF's worst secondary.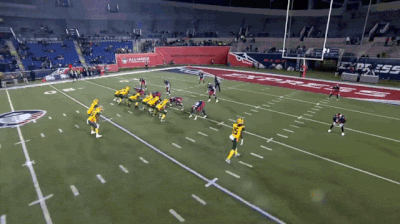 DFS edge: John Wolford
The big four quarterbacks at the top of the pricing scale have each shown stretches of strong play, but I'm leaning toward Wolford at $6,000 over Mettenberger and Murray thanks to Wolford's superior matchup at home against the Commanders' league-worst defense.
The Hotshots have worked as the league's second-best offense for most of the season; don't miss the chance to cash in on a prime bounce-back performance at home against the worst secondary in the AAF.
Bet to watch: Arizona -2.5
The Hotshots haven't played their best football in recent weeks, but they're set up beautifully to get their offense back on track in this home matchup. The Commanders are playing their third-consecutive road game and could have a tougher time slowing down a passing game that's not led by Luis Perez.
Give me the better quarterback and defense eight days of the week.