Our Experts' Favorite Week 9 NFL Picks
Credit:
Philip G. Pavely-USA TODAY Sports. Pictured: Mason Rudolph, JuJu Smith-Schuster
Our experts reveal their favorite Week 9 NFL picks, featuring spread and over/under bets.
Find out how they're betting Colts-Steelers, Buccaneers-Seahawks and more.
Sunday's main slate kicks off with the latest installment of the NFL's London series, featuring an AFC South clash between the Texans and Jaguars. But should Houston really be the small favorite in their neutral-field meeting?
Our experts reveal their favorite bets of Week 9, featuring spread and over/under picks for the following games:
Texans vs. Jaguars (in London): 9:30 a.m. ET
Colts at Steelers: 1 p.m. ET
Jets at Dolphins: 1 p.m. ET
Titans at Panthers: 1 p.m. ET
Buccaneers at Seahawks: 4:05 p.m. ET
Packers at Chargers: 4:25 p.m. ET
Let's dig in.
---
Odds as of Friday evening and via PointsBet, where Action Network users can access an exclusive promotion to get a 200% deposit match (deposit $50, bet with $150).
---
Mike Randle: Jaguars +1.5 vs. Texans
Jacksonville holds a huge advantage over first time opponents in London. Houston will be playing its first game at Wembley Stadium, making Jacksonville even more attractive as the underdog.
Jacksonville has a 2-1 record when playing in London and receiving between zero and seven points, including a 44-7 destruction of Baltimore in 2017.
The Jaguars have matched up well against the Texans, covering the spread in four of their last six meetings. That includes a 13-12 loss in Houston, when Leonard Fournette was stopped on a two-point conversation with 36 seconds left.
The Texans have lost J.J. Watt and come to London with a decimated secondary. The Jaguars, meanwhile, have enjoyed quality quarterback play from Gardner Minshew, who has 11 touchdowns and just one interceptions in his seven starts.
Houston has been stout against the run, but Watt's absence will be a problem against the NFL's second-leading rusher, Fournette. The Texans have also allowed the most receptions (59) and receiving yards (476) to opposing running backs. [In New Jersey? Bet now at PointsBet]
The Steelers are 3-4 while the Colts are 5-2 with a signature win over a hobbled Patrick Mahomes and the Chiefs still fresh in everyone's minds, but make no mistake: This is a coin-flip game.
The Steelers are understandably hard to get a read on; their three wins have come against the Bengals, Chargers and Dolphins, who are a combined 3-20. I think it's more telling, though, that their four losses have come against teams that are a combined 26-4 — to the Patriots, 49ers, Seahawks and Ravens — and three of those losses were by four or fewer points. The only blowout also came against the Patriots, before Mason Rudolph had taken over, and before the team had acquired difference-making defensive back Minkah Fitzpatrick.
Defense is the Steelers' strength: The team is ranked ninth in Football Outsiders' DVOA — which would obviously be even better if you remove the game against the Pats — and that defense should pose problems for a Colts offense that struggled to eke out a 15-13 win over Denver last week at home.
Also a concern for the Colts in what's projected to be a close game is the worn-out leg of their 46-year-old relic of a placekicker, Adam Vinatieri, who has missed four field goals and, even more troubling, four extra points.
This is a battle of two well-coached teams adept at masking their deficiencies, but give me the team with the more ferocious defense getting points at home.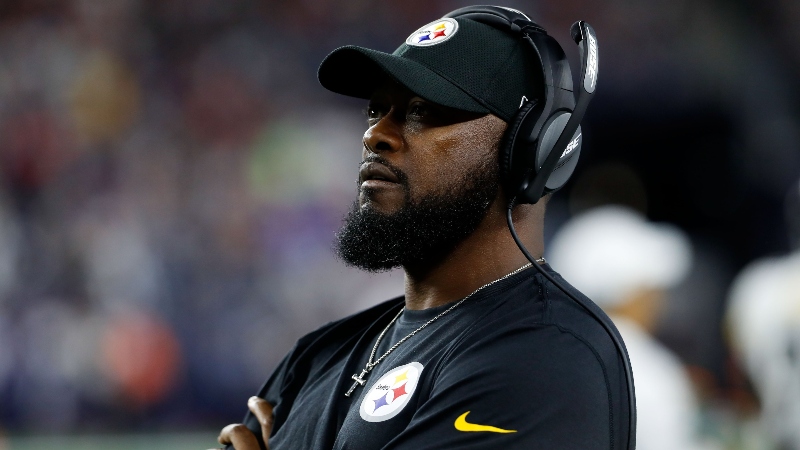 Per our Bet Labs data, Mike Tomlin is 32-17-2 (65%) against the spread as an underdog, including 8-3-2 (73%) ATS as a home 'dog. He's a good bet to pad that total. [In New Jersey? Bet now at PointsBet]
PJ Walsh: Jets -3 at Dolphins
This is among the worst matchups of the NFL season so far, but that doesn't mean it's not providing a solid betting opportunity.
Not only does our Bet Labs tool power The Action Network's Pro System, but it also allows users to analyze historical data in order to find profitable trends and built their own winning systems.
My personal portfolio of systems is lighting up the Jets in this matchup, including a very simple angle that fades teams the week after going on the road to play on Monday Night Football.
Think about it — teams playing on Monday night are already at a disadvantage for their following game due to the short week, and being on the road means they have to spend some of that time traveling back home.
Teams in this spot, like Miami, are just 106-140-8 (43.1%) against the spread (ATS).
And it's not only historical angles that like the Jets in this matchup. My colleague Sean Koerner projects this "true line" at Jets -5 via his power ratings, which represents plenty of value through the key number of -4 and onto the most important number in football betting, -3. [In New Jersey? Bet now at PointsBet]
Justin Bailey: Titans-Panthers Under 42.5
I think the Titans will struggle to move the ball in this spot against a Panthers that ranks fifth in defensive DVOA and allows just 5.1 yards per play, the fifth-best mark in the league.
The Titans also rank just 26th in pace of play, and to make matters worse, starting center Ben Jones hasn't been practicing this week. His potential absence would be an enormous setback for the Tennessee offense considering he's one of the team's best pass blockers and the Panthers rank second in Football Outsiders' adjusted sack rate.
The Titans are also an above-average defense, ranking 12th in defensive DVOA and allowing 5.3 yards per play. This game has 24-14 written all over it with Carolina and Tennessee ranking 20th and 27th in scoring rate this year.
I'd bet this down to 41. [In New Jersey? Bet now at PointsBet]
The home-field advantage the Seahawks have at CenturyLink Field with the famed "12th Man" is legitimate.
Under Pete Carroll (since 2010), the Seahawks at home have on average scored 7.5 points more than their opponents. They are No. 3 with that differential, trailing only the Tom Brady-led Foxborough Patriots and Aaron Rodgers-led Lambeau Packers over that time.
Defensively, the Seahawks are a handful at home. In the Carroll era, they are No. 3 with just 18.8 points per game allowed. Only the hard-nosed Ravens and Bill Belichick-disciplined Pats have held visitors to fewer points.
And they are also significantly better at CenturyLink on offense. On the road, they have averaged 21.7 points per game. At home, 26.4. That home/road offensive differential of +4.7 points is No. 3 in the league.
With Carroll, the Seahawks at home are 46-33-3 against the spread, good for a 13.7% return on investment (per Bet Labs).

And most importantly, I like the matchup for the Seahawks. They're not a throw-first team, but the Seahawks have a good passing game. Russell Wilson is aggressive with his 33 end-zone attempts (first) and 10.2-yard average depth of target (aDOT, fourth).
The Seahawks should be motivated to throw against the Bucs funnel defense — they are No. 1 against the run but No. 25 against the pass (per DVOA) — and I don't see the Bucs corners being able to stop wide receivers Tyler Lockett and D.K. Metcalf.
When you add in the interceptions that Jameis Winston is almost certain to throw, it's not hard to like the Seahawks.
I'd bet them to -7. [In New Jersey? Bet now at PointsBet]
Stuckey: Buccaneers +5 at Seahawks
I'm gonna disagree with Freedman here.
This is a great spot to buy low on a Bucs team that's much better than their record indicates — they could easily be 4-3, in which case the entire narrative surrounding this team would be different. Seattle is sitting at 6-2 with a +12 point differential while Tampa is at 2-5 with a -16.
Conversely, the Seahawks have had a number of games break their way. Five of their wins have come by one possession and four came by a total of eight points.
Realistically, Seattle should also be sitting closer to 4-3. And if this was a battle of two 4-3 teams, I don't think we'd see -5 here. So, not only is it a bargain buy, but also a sell on Seattle, which I've done each of the past three weeks as well.
From a yards-per-play perspective, Tampa has allowed 5.6 while Seattle has given up 6.4 (tied with Arizona for third-worst in the NFL). Only the two winless teams, Miami and Cincy, have allowed more on a per-play basis. Seattle has been stronger on the other side of the ball, averaging 6.1 yards per play (11th), but the Bucs aren't too far behind at 5.8 (17th).
From a matchup perspective, this is a good one for Tampa. Seattle wants to run it as much as any team in the NFL (one of only five that average more than 30 rush attempts per game along with the 49ers, Ravens, Vikings and Colts).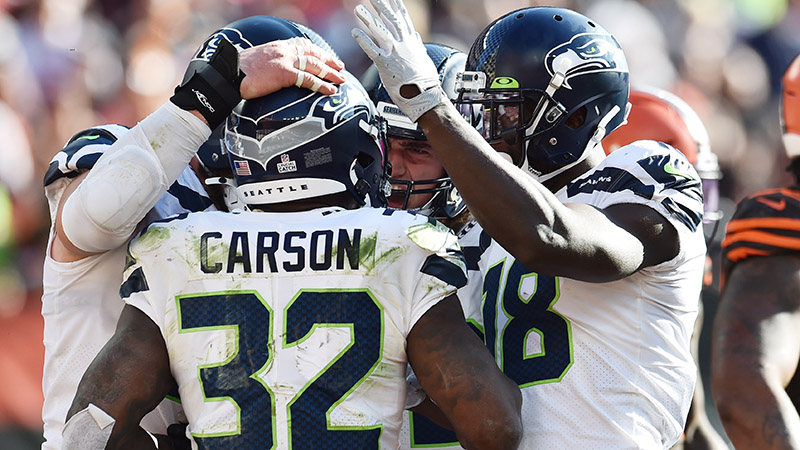 The Bucs defense excels at stopping the run, ranking No. 1 overall in yards per rush at 3.0 with the top rush defense DVOA. Todd Bowles' scheme and some key acquisitions have given Tampa a dominant front seven that should stuff Seattle's run game.
Wilson should get his through the air with some big plays against a very suspect Bucs pass defense, which is the clear weak area of this team.
However, I also think Winston and Tampa's dynamic duo of Mike Evans and Chris Godwin can keep up against a Seattle defense that doesn't generate much pressure (27th in adjusted sack rate) and is decimated with injuries in the secondary.
Winston should be able to exploit Seattle deep on a few occasions with his explosive receivers. And it's also possible that corner Tre Flowers doesn't play.
I'm taking the points with an undervalued Bucs team that is more than capable on the road with wins over the Rams and Panthers. Plus, Bruce Arians is no stranger to winning in Seattle, having won four of five meetings there outright — each as an underdog, and three of which as a dog of more than a touchdown.
Coaches vs. Wilson in Seattle
Bruce Arians: 4-1 against the spread (80%) | 4-1 straight up
All other coaches: 21-31-3 ATS (40.4%) | 10-45 SU
Moneyline underdogs vs. Wilson in Seattle
Arians: 4-1 +$1,056
Others: 8-40 -$1,985 (losing by over 10 points per game)
I'd take anything +4 or better here. [In New Jersey? Bet now at PointsBet]
Sean Koerner: Chargers +3.5 vs. Packers
Any time you have two teams going in opposite directions like this, it creates an opportunity for the market to over-adjust and expose a bit of value.
The Packers are rolling right now — they're on a four-win streak and Aaron Rodgers is likely going to get his top WR back in Davante Adams.
The Chargers, meanwhile, are 3-5 and seem to always end up in close games as seven of their eight have been decided by one score. After their thrilling 17-16 win over Chicago last week, they're now 2-5 in one-score games this season.
Typically, a team can become over or under rated on their record in one-score games as we can assume most teams will regress to a .500 record in such situations. A team like the 8-0 Patriots simply avoid such close games and have won seven of their eight by 10 or more points. You don't necessarily call a team like that "lucky." But we can absolutely claim that the Chargers are much better than their 3-5 record indicates — in fact, they have a Pythagorean win expectation of four wins while the Packers have 5.3 expected wins, giving us a net rating of 2.7 wins in favor of the Chargers.
The Packers are receiving 87% of the tickets and 86% of the money as of writing (see live public betting data here), yet the line seems parked on -3.5. I always say that a 3.5 is the easiest line to identify which side the sharps are on. If it's met with resistance and seems to be pulling toward 3, then it's a clear sign the sharps are taking the points. That appears to be going on here.
One last point: The Chargers fired offensive coordinator Ken Whisenhunt in what appears to be a sign that head coach Anthony Lynn is on the hot seat. Often times these moves can be overlooked as reactions to a team underachieving, then as the team's "luck" regresses, it can be misidenitified by the public when in reality all we had was a bad-luck team (that is better than their record indicates) bouncing back. This is a natural ebb and flow of variance that the human element of football often clouds our judgement.
Give me Chargers +3.5. [In New Jersey? Bet now at PointsBet]
How would you rate this article?