NFL Picks: Sunday Bets for 49ers vs Eagles, Bengals vs Chiefs
Credit:
Kevin Sabitus/Getty Images. Pictured: Ja'Marr Chase.
The NFL's final four is here, and it should be an incredible Sunday.
By all accounts, these are the league's finest teams. All of them rank top five in season-long DVOA and EPA. The lowest remaining team in each is the Bengals, and with the thumping Cincinnati gave Buffalo last weekend, it's hard to argue against these four being the league's elite.
Conference Championship Sunday should be amazing, with both spreads near mirror images, lines floating somewhere near a coin flip. It's truly anyone's game, both this weekend and in the Super Bowl.
I made the case for why the four remaining teams can win it all, and I combined Futures Friday with a Lookahead to forecast how to bet the Super Bowl beforehand. Now, it's time to get to this week's betting picks.
I'll go deep into each game below. These lines are sharp so we'll have to find edges along the margins, on player props, and in niche markets. Let's get to work.
---
Note: Odds are the best available for each pick as of writing. Shop for the best real-time lines with our NFL odds page.
---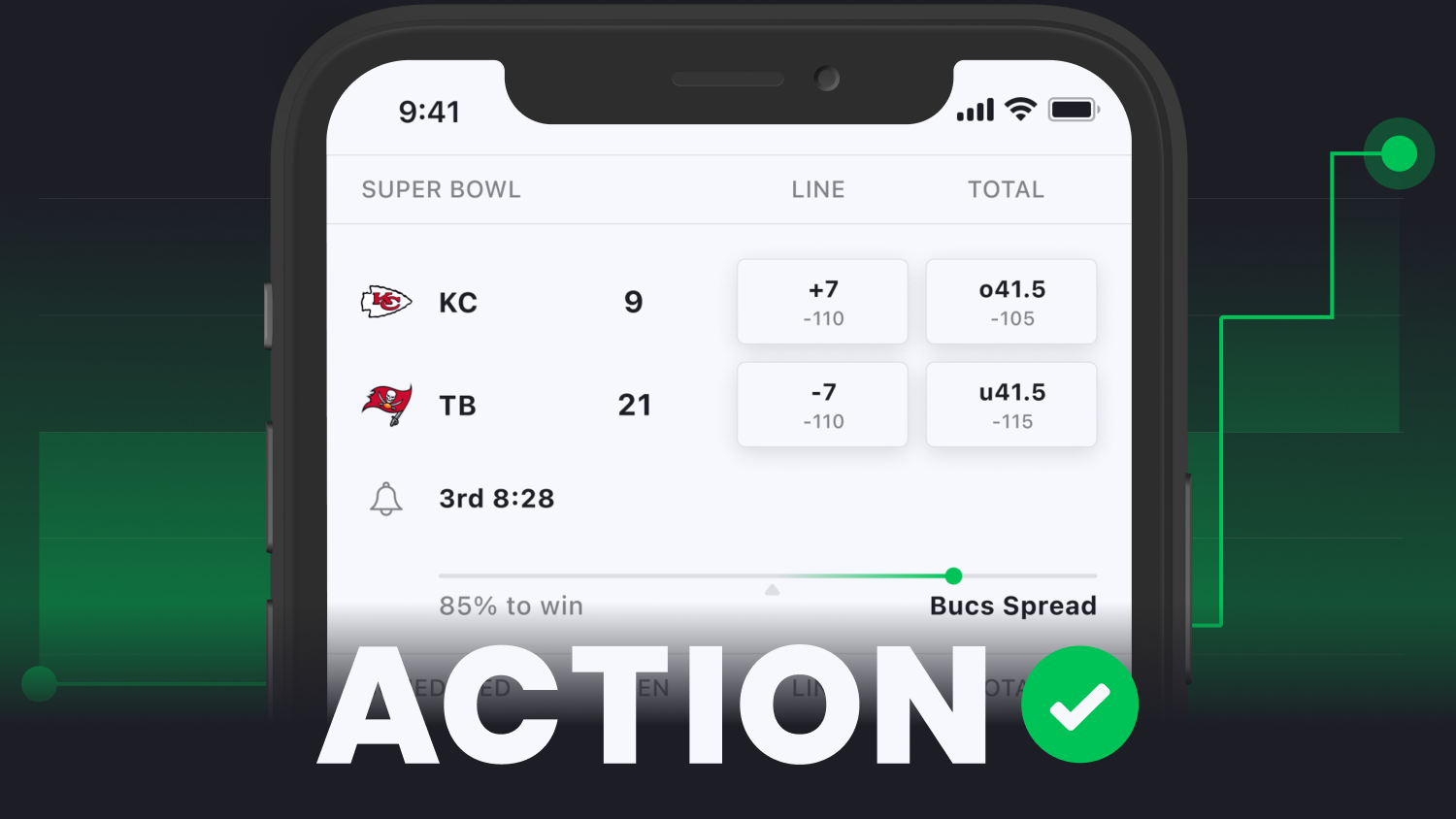 The must-have app for NFL bettors


Free picks from proven pros

Live win probabilities for your bets
Unlike the AFC Championship Game, the NFC spread opened at one number and has pretty much stuck. Books are effectively making this a coin flip outside of Philadelphia's home-field advantage as the 1-seed, and when you dig into the matchup, you see why.
These teams are basically that Spider-Man pointing meme. Both feature fierce, nasty defenses that get after the quarterback relentlessly. Both offenses are built for the playoffs, with angry, smash-mouth rushing attacks ready to ram that ball down your throat. Both have won big all season, and in many ways, this will be the toughest test for either thus far.
Each side is more untested than you'd think.
The Eagles faced only seven defenses ranked in the top 14 in DVOA. They scored 23 PPG in those contests and lost three. The defense faced only seven offenses in the top 15. The leaky run defense only had six tries against a top-13 rushing attack, and the defense cratered to 18th in DVOA in those games, allowing over 27 PPG.
The 49ers offense faced a top-12 defense only four times, dropping to under 20 PPG and 10th in DVOA in those contests. The defense faced a top-12 offense twice and allowed over 30 PPG, falling to 14th in DVOA. Brock Purdy had never faced a top-15 passing DVOA defense before last week, when the Niners struggled to score — and the Eagles rank No. 1.
You could argue this might be the toughest test both offensively and defensively for both teams. If you think you know what will happen in this game, you're probably overconfident. Be careful.
Expect points to be at a premium — that's why under 46.5 is my favorite pick of the game.
What is QuickSlip?

QuickSlip is an Action Network feature that allows users to automatically pre-load their bet slip at FanDuel Sportsbook.
---
The defenses are outstanding, and though it won't be easy against two loaded offenses and outstanding playcallers, points should be difficult to come by.
The Eagles are a run-first team and have the best rushing attack in the game, but the 49ers rank second in run defense and should be up to the task. Linebackers have become devalued in the modern game, but Fred Warner and Dre Greenlaw can control the middle of the field and flow to run gaps.
Jalen Hurts was an MVP candidate, but there's no question the Eagles are better running than passing. Hurts' passing metrics also faded late.
Philadelphia's pass protection has been more good than great, hindered by a nagging Lane Johnson injury; Nick Bosa, Arik Armstead and a tough 49ers defensive front will make life difficult for an offense that ain't playing the Giants anymore.
Philadelphia has been even more dominant on the defensive front, leading the league in pressure rate. Purdy has looked shaky against pressure in the playoffs and hasn't been tested much. He also has a tendency to hold the ball too long and try to play hero — the exact thing head coach Kyle Shanahan doesn't want or need him to do.
The Eagles lead the league in defensive pass DVOA. While the pass rush is key, the return of Avonte Maddox could be a real boost. He mans the slot — a key area the 49ers target with their plethora of YAC weapons — and the Eagles have been terrific all season against WR1s and WR2s, and tight ends. Philadelphia can hang with Deebo Samuel, Brandon Aiyuk and George Kittle.
The 49ers defense is also quite turnover-dependent. They forced 31 takeaways in their 13 wins, but only three in four losses. The Eagles have just four games with multiple turnovers and only six of them in the other 14 games combined.
Neither of these teams will give easy points away. The Niners are also one of the league's slowest paced teams, while the Eagles are almost as slow in the second half.
Expect a physical game won or lost in the trenches, with a fast-moving clock and two teams that want to run the ball for long, sustained drives. Nagging injuries to the most important offensive players for each side — Hurts and Christian McCaffrey — could also make scoring hard to come by.
Take the under.
I'm not playing a side for now, but I lean Eagles.
Since 2003, 1-seeds favored by six or less are 9-5 ATS (64%) in this round, though it's worth noting that four of the five opponents to cover won outright.
During that same stretch, 2-seeds are an ugly 8-17 straight up in Conference Championship games, while underdogs on at least an eight-game winning streak are 0-6 SU. Games featuring a 1 vs 2-seed matchup have gone 11-4 in favor of the 1-seed. The trends like the Eagles.
I don't trust the Eagles to run efficiently on the 49ers, and I also don't trust the Niners to pass on Philadelphia. San Francisco's run defense is too tough and well-schemed to be run on, and a road game against an elite pass rush is too much to ask from Purdy.
The Niners should be able to run on Philly's beatable rush defense though, while the Eagles will find some passing lanes. San Francisco's secondary has been vulnerable to WR2s and WR3s and has consistently given up explosive passing plays. This is a game where we'll see just how valuable it is to have both A.J. Brown and DeVonta Smith as de facto WR1s.
I trust Hurts, Brown and Smith to come through at home; the Niners are dealing with injuries to both McCaffrey and Elijah Mitchell that could hurt the run game. Passing is more efficient than rushing. I lean Philadelphia in a close one, but won't bet too heavily on either side.
I do love a few juicy props and this feels like a DeVonta Smith game.
The Niners struggle against WR2s and have to give Brown top treatment, so Smith could feast. Smith is playing nearly every snap, and he can play both in the slot and outside so his versatility has made him an immense weapon. He's really exploded over the past couple months — just check out the splits:
First 11 games: 5.1 catches for 55.4 yards a game on 7.2 targets with 3 TDs
Last 7 games: 6.4 catches for 92.6 YPG on 9.6 targets with 5 TDs
There's a real volume increase — from seven to almost 10 targets per game — and it's also a change in how the Eagles are using Smith to stretch the field and as more of a red zone target. His YPC has increased from under 11 to almost 15, and he's notched at least 61 yards in seven straight games.
I'm playing Smith to go over 66.5 receiving yards, and I'm looking for some escalator props since I project him around six catches for 90 yards and better than 50-50 to score a TD.
---
You can play 6/90 and a TD as a same game parlay at FanDuel at +670. Smith is also +270 to record the most receiving yards, and I like that play since Brown is likely his top competition — every Smith catch is one Brown can't get. I've already played Smith +5000 to win Super Bowl MVP as well. Few receivers have been as hot.
I don't see Purdy having a big passing day. That just doesn't seem like it's in Shanahan's best interest on the road. I like Purdy under 31.5 pass attempts. He's gone under that in six of eight (75%) games he's played.
I'm keeping a close eye on McCaffrey's status. Philadelphia ranks 24th in DVOA against receiving RBs, and CMC has become a real security blanket for Purdy when under pressure.
McCaffrey is averaging 4.8 catches for 40 yards in full 49ers games. I like him to go over 31.5 receiving yards, but I prefer a more aggressive alternate over to make the juice worth the squeeze if he's healthy. He is +260 to hit 50 receiving yards at bet365, and if I play that, I'm compelled to nibble 75+ at +1025.
Looking ahead to the Super Bowl, I suspect I'll be on the NFC side. Both teams are similarly built to dominate in the trenches and control the game on the ground in a way that matches up well with either AFC opponent. I've already recommended NFC to win the Super Bowl at +100.
THE PICK: Game Total Under 46.5
PROPS: DeVonta Smith over 66.5 yards & alt overs; Lean Brock Purdy under 31.5 pass attempts; Sprinkle Christian McCaffrey 50+ receiving yards (+260)
OTHER ANGLES: NFC to win Super Bowl +100; Lean Eagles -2.5
---
» Return to the table of contents «
---
Welcome to Burrowhead, where this rivalry is really picking up steam. These teams do not like each other, and they're ready to battle again.
Over the last 31 Chiefs games, Kansas City is 0-3 against Cincinnati and 26-2 against everyone else. The Bengals haven't dominated those wins, but they've won nonetheless. Joe Burrow's guys keep finding ways to win against the toughest opponents.
That was the theme looking back at the three previous matchups. The Chiefs were often good — even great — early against the Bengals, but Cincinnati had the answers late.
Ja'Marr Chase and Tee Higgins were unleashed one-on-one once they found ways to take advantage of their matchups, and the defense consistently found ways to befuddle and slow Patrick Mahomes late.
As great as the Chiefs have been for years — now playing in their fifth consecutive AFC Championship Game — it's hard to argue they are the better team right now.
The Bengals have the superior receiving corps. They've been far better running the football, ranking second in rush DVOA since Week 4. They're much better defending the run and getting after the quarterback. You can also argue Cincy has been better this season on special teams and maybe even coaching.
The one big advantage for the Chiefs is always Mahomes — the MVP in waiting, the great equalizer. But he rolled his ankle badly last weekend, and though he played through and practiced this week, health is not binary. Mahomes will not be 100%, and his health should only deteriorate as the game goes on.
With the level Burrow is playing at, what percentage does Mahomes' health need to be for him to no longer be an advantage? 90%? 80%? And if Mahomes is no longer the huge advantage and great equalizer, then what's the remaining case for the Chiefs?
Even the presumed home-field advantage doesn't seem as strong with how comfortable the Bengals appear to be playing at Arrowhead Stadium.
This year's Chiefs, like the two remaining NFC teams, are less proven than you think.
The defense has faced only four top-13 offenses and ranked 24th in DVOA in those games. They've faced only two teams with a positive run DVOA and lost both, ranking an ugly 30th in defensive DVOA in those games.
Kansas City's defense has been vulnerable against top attacks, and the Bengals are certainly that. The one big weakness for Cincy is a banged-up offensive line missing three starters.
Cincinnati survived that with the help of snow neutralizing things in Buffalo, along with a power rushing attack that set the tone. Expect more of the same with that suddenly efficient run game.
The Bengals offense is battle-tested after 10 games against top-15 defenses, boasting a top-five offense by DVOA even in those tough matchups. The defense is also better than the numbers indicate.
Cincinnati's run defense is far better with a healthy D.J. Reader, and defensive coordinator Lou Anarumo has done well finding game-specific schemes that have been especially good against the league's best quarterbacks.
I hate to bet against Mahomes, but the matchup compels me, so I'll play something of a hedge — Bengals 2H +1.5.
Pick: Bengals 2nd Half +1.5 
---
Cincinnati has been awesome in the second half, 23-4 ATS (85%) over its last 27 games. That includes a perfect 6-0 ATS in postseason games and 3-0 against the Chiefs. Somehow, some way, Anarumo consistently finds answers against Mahomes.
Maybe the Chiefs come out with their hair on fire, defending home field while Mahomes attacks early at his healthiest. I won't be surprised if the Chiefs lead at the half. But Mahomes should wear down as the game goes on, and I expect Anarumo to throw a lot of looks early and adjust his coverage as he sees what works.
Normally, I'd be dying to back Mahomes at home as a short favorite or dog. He's 17-6-1 ATS (74%) as anything shorter than a 3.5-point favorite, though he's only 3-2 in that spot in the playoffs and has lost all seven failed covers outright, most recently to Bengals in December.
It would also be criminal to talk up Anarumo and the Bengals coaching so much without mentioning Andy Reid and all his experience. But Reid and his staff haven't had answers for Cincinnati. Reid is an ugly 3-6 straight up in Conference Championship games, all but one as a favorite.
If you like the Chiefs, I think you have to like the over. A bet on Kansas City is a bet on Mahomes being healthy enough to put up his usual points, because it's not like the Chiefs will stop the Bengals offense. If you like the Bengals, you probably lean under for the same reason, betting against the Chiefs offense.
If you agree the NFC Championship Game will be low scoring, there's another sneaky way to play this game.
Many books allow you to bet on the highest scoring team of the weekend, with Bengals at +300 and Chiefs at +240. That can be a clever way to play the moneyline if the Eagles and 49ers end up in the teens or low 20s. If you like the Bengals, getting them at such a long number against the worst defense left is a gem.
As for player props, I prefer mostly rushing props.
We might get more running in this game than you'd assume. Burrow is playing behind a makeshift line, and Mahomes will lack his usual mobility and has seen his pass protection struggle against good pressure teams. Both teams have run the ball well down the stretch and into the playoffs, and both will want to keep the other QB sidelined in an attempt to control the game.
There's no line posted yet, but I'd love to bet on Joe Burrow to have at least five rushing attempts. He's done so in all three matchups against K.C. and has been a consistent threat with his legs in those games. He'll need to scramble and be creative with his line in rough shape.
Isaiah Pacheco has over 11.5 rushing attempts in eight of the last 10 games and it would make sense for the Chiefs to lean on the run to help protect Mahomes. But Pacheco plays only 35-40% of snaps and could cede time to the better pass-blocking back in Jerick McKinnon if Mahomes struggles to move or the Chiefs fall behind.
The one guy we know will get the ball is Joe Mixon.
Mixon is a workhorse, and Cincinnati should feed him to move the chains and help the line. The lead Bengals back (Mixon missed one) had 21, 12 and 21 carries in the three previous Chiefs games, averaging 18 carries for 80 yards. That's right about where I project Mixon, and it means there are some juicy ways to back him.
Over 58.5 rushing yards is the traditional pick, or 75+ yards at Bet365 for +205. I also love backing Mixon 20+ rushing attempts at +500. A Bengals back has hit that number in two of the three games against the Chiefs.
---
Mixon is +400 at PointsBet to record the most rushing yards of the weekend. If he gets to 80, he'll have a very good shot.
The last angle might be my favorite play: Mixon +225 to lead the postseason in rushing yards.
Mixon is at 134 right now, 10 yards behind McCaffrey. Both trail Travis Etienne (171), but they should pass him this weekend.
With McCaffrey banged up and splitting touches with Elijah Mitchell, I project Mixon to finish the weekend with a slight lead on CMC, both just above 200. Miles Sanders and Isaiah Pacheco are next in the running around 150-160 by Sunday night.
That's where game theory comes into play. If Cincinnati wins, Mixon becomes a big favorite. He's the one workhorse back left and should be ahead of McCaffrey or Sanders. Even if the Bengals lose, Mixon could still hit if he cracks 200.
An Eagles-Chiefs Super Bowl could see two RBs needing 50+ yards to pass him, still giving Mixon a potential path to win. Only a 49ers-Chiefs Super Bowl — with McCaffrey still going and Mixon done — is a sure loss.
These lines are sharp, and these teams are great. Sometimes, you have to get a little creative and play some longer angles with everything on the line.
THE PICK: Bengals 2H +0.5
FUTURES PROP:  Joe Mixon to lead postseason in rushing yards (+225)
PROPS: Mixon over 58.5 rushing yards; Joe Burrow 5+ rushing attempts; Mixon 20+ rushing attempts (+500)
OTHER ANGLES: Bengals highest scoring team of weekend (+300)
---
» Return to the table of contents «
---
Conference Championship Best Bets
Joe Mixon to lead the postseason in rushing yards +225 (and Mixon alts)
DeVonta Smith Over 66.5 Receiving Yards (and Smith alts)
Eagles-49ers Under 46.5
Bengals 2H Spread
---
» Return to the table of contents «
---
How would you rate this article?
This site contains commercial content. We may be compensated for the links provided on this page. The content on this page is for informational purposes only. Action Network makes no representation or warranty as to the accuracy of the information given or the outcome of any game or event.