NFL Odds, Picks & Predictions: The 5 Spreads & Totals To Bet This Sunday
Credit:
Harry How/Getty Images. Pictured: Tyler Higbee, Robert Woods
NFL Odds, Picks & Predictions
The four-day Week 16 NFL marathon marches on with Sunday's 10-game main slate — and our staff is here to walk you through their favorite picks. (Spoiler: Four of them involve spreads shorter than a field goal.)
Let's dive right into their favorite bets below.

Browns at Jets
| | |
| --- | --- |
| Pick | Under 45.5 |
| Bet Now | |
| Kickoff | 1 p.m. ET |
| TV | CBS |
Sean Koerner: A lot of the reasons I loved the under in last week's Jets-Rams matchup also apply here — it was pretty comical that the expected flow of that matchup was flipped on its head with the 17.5-point favored Rams trailing the Jets the entire way. I doubt the Browns make the same mistake here — even with four of their pass-catchers out on the reserve/COVID-19 list.
The Browns' brand of run-heavy football (third-highest run rate in the NFL) makes them reliable as heavy favorites. However, the Jets' main strength is still their run defense, ranking eighth in Football Outsiders' DVOA — that should help the Jets slow down the duo of Nick Chubb and Kareem Hunt at least a little bit.
The Rams had a fairly vanilla game plan against the Jets, likely as a result of looking ahead to their Week 16 matchup against the Seahawks. Well, the Browns are in a similar spot this week with the Steelers up next.
The most important point I made last week, though, was that 43 is the most important number when it comes to totals. The fact that we were getting 43.5 was the real reason we won that bet (the final score was 23-20). We're betting on numbers, after all. And even with the Browns' missing pass-catchers, I still like this under down to 44.



» Return to the table of contents «
---
---
Colts at Steelers
| | |
| --- | --- |
| Pick | Steelers +1 |
| Bet Now | |
| Kickoff | 1 p.m. ET |
| TV | CBS |
BJ Cunningham: Anyone who has watched Philip Rivers this season knows that he's declining fast — he's in the bottom-half of passer rating and yards per attempt, which wouldn't be a big issue if the Colts had a solid running game behind him, but they don't: They're 29th in rushing success (per Sharp Football Stats) and are carrying the ball for a measly 4.0 yards per carry.
Well, the Steelers defense is led by the secondary, which ranks first in defensive passing success — they're allowing only 6.5 yards per attempt. Their secondary has been opportunistic, picking off opposing quarterbacks 17 times this season. Their front seven has also been wreaking havoc on opposing quarterbacks, leading the league in sacks with 47 already.
The Steelers should have no trouble against a 39-year-old Rivers.
Their run defense has also been stellar, allowing only 4.1 yards per carry on the season — that clip falls to 3.4 over their three-loss streak, so it's clearly not the defense's fault.
To say that the Steelers offense is struggling would be an understatement. Over their last three games, they're gaining a measly 4.3 yards per play and only 2.9 yards per rush attempt. They're the NFL's worst rushing offense, ranking 31st in rushing success and 30th in rushing explosiveness.
Ben Roethlisberger has really struggled with efficiency this season, averaging only 6.2 yards per attempt, which is by far the lowest of his career.
The strength of this Colts defense is in the front seven. They're one of the best teams in the AFC against the run, allowing only 3.8 yards per carry. In fact, they are sixth in explosive rushing allowed, so this front seven allows very few big plays. However, the Colts have had some issues in the secondary, especially giving up big plays in the passing game — they allow 7.0 yards per attempt and is 27th in passing explosiveness allowed. That's going to be an issue against the Steelers, given all of the weapons they have at the wide receiver position.
I have Pittsburgh projected as about a 4.5-point favorite, so I see value on the Steelers to -2.


» Return to the table of contents «
---
---
Panthers at Football Team
| | |
| --- | --- |
| Pick | Panthers +1 |
| Bet Now | |
| Kickoff | 4:05 p.m. ET |
| TV | CBS |
Matthew Freedman: I have only a few betting rules, and one of them is to bet on Teddy Bridgewater as a road underdog almost no matter what.
I didn't do it in Week 15 — because another one of my rules is to bet on Aaron Rodgers at home — but I love Bridgewater in this particular spot.
As a road underdog, Bridgewater is 19-2 against the spread (ATS) with a 76.4% Return on Investment (ROI) in his career according to our Bet Labs data:


The Football Team is 9-5 ATS this year, but sometimes you gotta look yourself in the mirror and say, "When in Rome."
No disrespect to Washington, but Carolina should be favored. I would bet the Panthers down to a pick'em.

---
» Return to the table of contents «
---
Rams at Seahawks
| | |
| --- | --- |
| Pick | Rams +1 |
| Bet Now | |
| Kickoff | 4:25 p.m. ET |
| TV | FOX |
Raheem Palmer: This is the ultimate buy-low spot for the Rams, who will be looking to rebound from their 23-16 loss to the previously-winless Jets as 17.5-point home favorites.
One trend working in the Rams' favor is that over the past 10 seasons, NFL teams that outright lose as double-digit favorite are 25-11-1 (69%) against the spread in their next game. We've actually seen this play out twice in 2020 with the Chiefs and Seahawks following up their losses to the Raiders and Giants with big wins. I expect the Rams to be the third.
The Seahawks aren't winning with defense like they did in the Legion of Boom Era.
The Seahawks have lost to the Colt McCoy-quarterbacked Giants and gave Dwayne Haskins a (failed) opportunity to lead a potential game-winning drive for the Football Team.
This team has to win with offense. Unfortunately, Seahawks offensive coordinator Brian Schottenheimer has really stifled this unit by moving away from "letting Russ Cook" and back to the run-first philosophy that had this team playing from behind for much of the past few seasons.
Nevertheless, with a lack of pass rush from the Seahawks and an archaic offensive philosophy, it's not a surprise that Sean McVay continues to dominate Pete Carroll: McVay is 5-2 straight-up in their series. I expect that to continue on Sunday.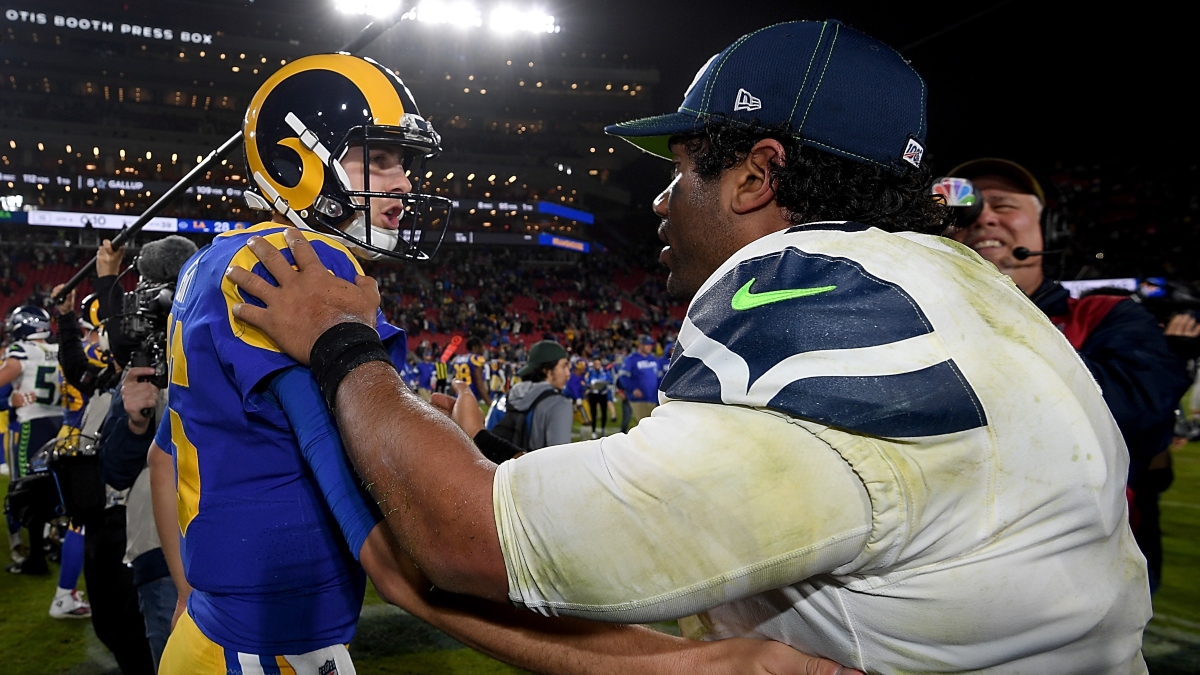 There's a reason sharp money moved this line from Seahawks -2.5 to -1 — the Rams have the better defense, and based on how the Seahawks choose to approach games, the Rams also have the better offense.
Outside of Wilson, the Rams are clearly the better team.
I'll back the Rams in this spot and also add their +1400 odds to win the Super Bowl to my futures portfolio. Before their loss to the Jets, we saw sharp money hit the screen on Rams' Super Bowl futures, but this feels like a solid play now with an even better number considering that a win against the Seahawks would put them in the driver's seat of the NFC West.

Chris Raybon: The Rams committed the most heinous of football atrocities last week, handing the 0-13 Jets their first win despite closing as massive favorites.
Jared Goff admitted they were looking ahead to this game, and good news for the Rams is that they've tended to rebound strong off losses in Sean McVay's tenure, going 14-4 straight-up and 12-5-1 against the spread. On the road after the loss, the Rams have covered in 8-of-9.

Schematically, McVay has done some of his best work against the Seahawks: The Rams are 4-1 over their last five against the Seahawks, with the only loss coming by a single point on a missed game-winning field goal by Greg Zuerlein last season.
The Rams rank No. 6 in Football Outsiders' overall DVOA, three spots better than the Seahawks, which is notable in a situation like this since there hasn't been any home-field advantage in the NFL this season.
The Rams' biggest edge comes on defense, where they rank fourth in defensive DVOA while the Seahawks rank 20th. Jalen Ramsey and Co. enables them to be one of the few teams capable of limiting D.K. Metcalf, who caught just two passes for 28 yards in the first matchup while Seattle scored 16 points, its second-lowest total of the season.
I would bet the Rams down to a pick 'em.

---
» Return to the table of contents «
---
Eagles at Cowboys
| | |
| --- | --- |
| Pick | Eagles -2.5 |
| Bet Now | |
| Kickoff | 4:25 p.m. ET |
| TV | FOX |
Brandon Anderson: The beat goes on in the NFC East, though one of these teams will be eliminated for good with a loss on Sunday — though if the Eagles beat the Cowboys and the Football Team loses to the Panthers, all four NFC East teams could still be in play as we head to Week 17 with a home playoff game on the line.
Dallas is coming off its first back-to-back wins since September 2019, sad as that sounds. Those wins came against Cincinnati and the corpse of San Francisco, though, so it's not exactly something to sneak into the Christmas card.
Philadelphia has won only one of its last five, but all five of those games were against current playoff-bound games. The Eagles lost three of those games by one score, consistently competing and giving themselves a chance even against high-end competition. That the Cowboys have not done that should tell you who the better team is in this matchup.
The Eagles have the only unit in this game that is not bad. Their defense remains at least average, and their run defense has been strong. That should give them a real advantage, especially if they can shut down the Cowboys' run game and force Andy Dalton to win through the air.
Jalen Hurts has helped the Eagles in his starts. He's not been perfect or anything close, and he doesn't have the same upside as Carson Wentz right now, but the important thing is that Hurts is not making huge mistakes. Wentz was leading the NFL in both sacks and interceptions when he got benched, and those plays were burying an already-inept offense.
Hurts' running ability is helping him keep plays and, in turn, drives alive.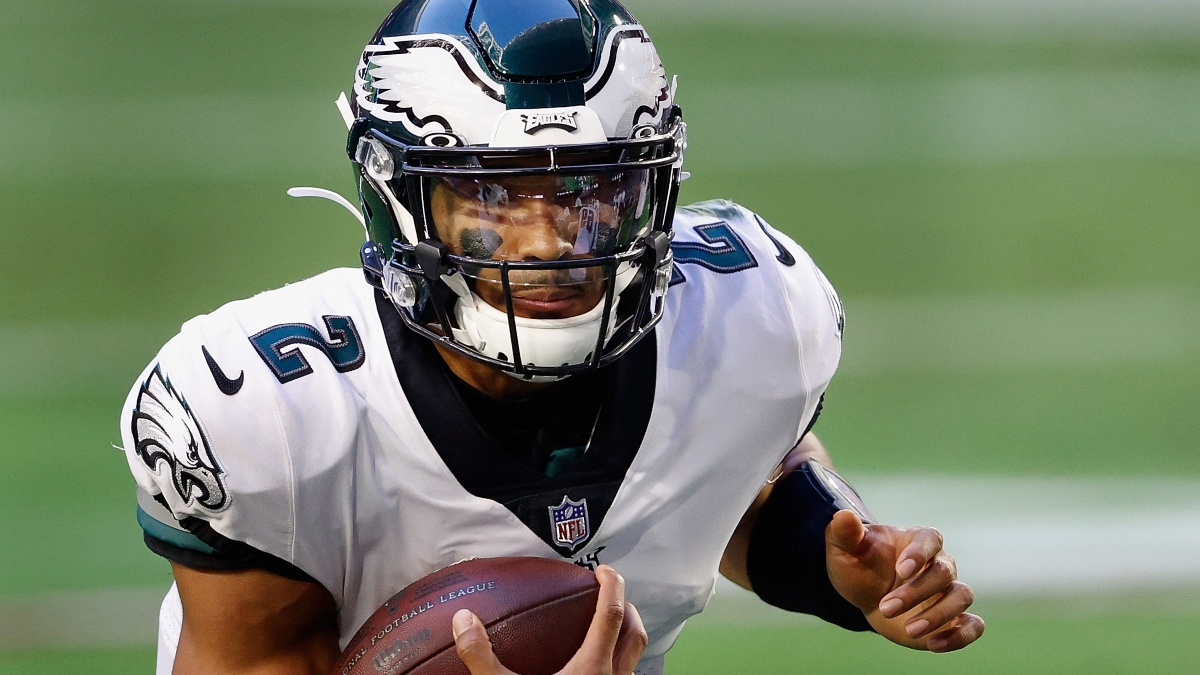 In the end, the Eagles are just the better team. The Cowboys are still not particularly good at anything, outside of special teams. The Eagles are fine, certainly not good, but not as bad as their 4-9-1 record makes them look. They're still the most dangerous team in the NFC East and the one other teams would least like to face in a playoff setting.
If the Eagles win this one and get a little help, they could again control their destiny heading into Week 17, even at 5-9-1.
The Eagles are just better, and at under a field goal, we just need to grab the better team. Hurts returns home to Texas, where he's played a lot of big football games in his life. A win here could be one of his biggest yet.

---
» Return to the table of contents «
---
How would you rate this article?