NFL Odds, Picks & Predictions For the Wild Card Weekend Finale
Credit:
Don Juan Moore/Getty Images. Pictured: Baker Mayfield
Wild Card Weekend marches on! With four games in the books and the fifth underway in New Orleans, bettors still have one more to look forward to on Sunday night: Browns at Steelers.
Find out why four of our experts love the favorite in this AFC North showdown as well as another way to invest in them.
Browns vs. Steelers Picks
Click on a pick type below to skip ahead to that analysis or read the full preview.
Steelers Spread
Palmer: With five of the six games concluded by the time this one kicks off, you'll probably fit into one of two categories: Either you had a great weekend and are looking build upon your profits, or you're looking to chase your losses on the last game of Super Wild Card Weekend. How you manage your bankroll is your business, but I do think this matchup represents an ideal situation to make a profit.
Browns fans have to be excited after finishing 11-5 — their best season since 1994, when Bill Belichick and Vinny Testaverde led them to the Divisional Round. But I'm going to be blunt here: This version of the Browns is one of the worst 11-5 teams in NFL history.
They had a point differential of -11 and a pythagorean expectation of just 7.7 wins with 8.3 losses. They rank 18th in Football Outsiders' DVOA — including ninth in offense and 25th in defense — despite playing the 30th-ranked schedule of opposing teams. While the Browns were a popular play from sharps and wise guy syndicates to make the playoffs heading into the season, that was largely due to their schedule.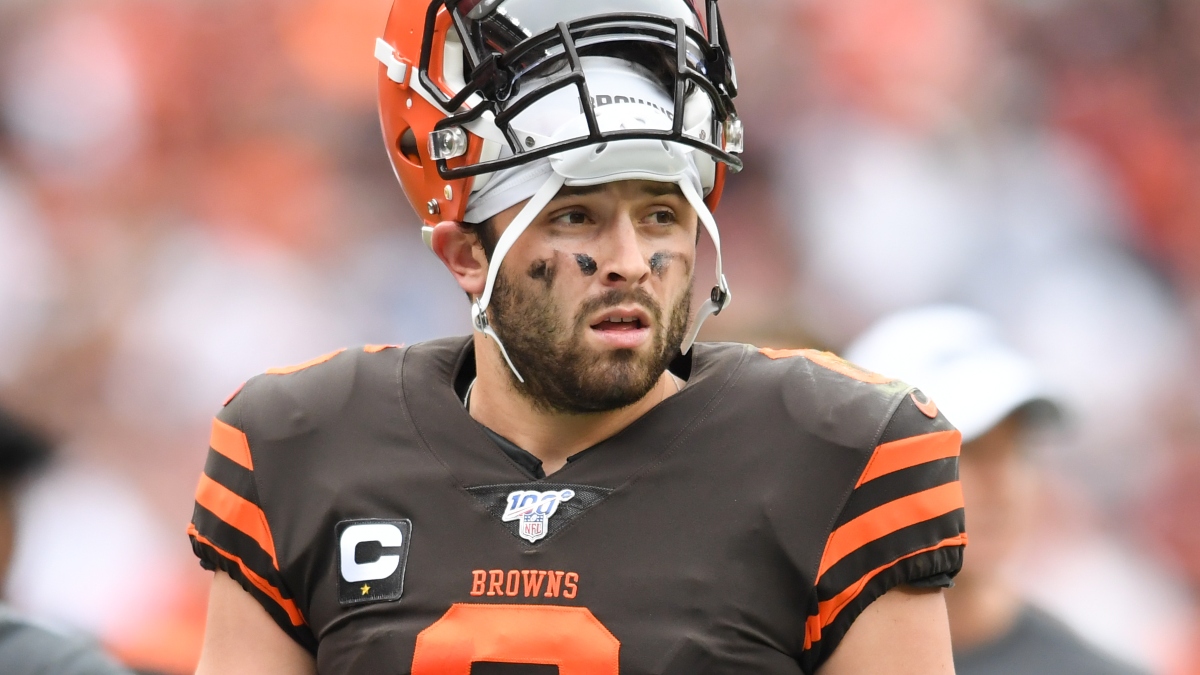 Nonetheless, the Browns are just the second 11-win team to have a negative point differential — the first was the 2012 Colts, who were subsequently eliminated on Wild Card Weekend. One can't help but think the Browns will meet a similar fate in this spot against a rested Steelers team that almost beat Cleveland with their backups in Week 17.
Ben Roethlisberger has dominated the Browns over the course of his career, going 24-2-1 straight-up against his AFC North divisional foe. And according to our Action Labs database, Roethlisberger is 8-4 against the spread (ATS) at home against the Browns.
Roethlisberger faces an extremely favorable matchup against a Cleveland defense that ranks 25th in defensive pass efficiency (per Sharp Football Stats). When you consider that the Steelers' inability to run the ball has forced them to become a pass-heavy offense, this matchup is especially favorable considering the absence of pass rusher Olivier Vernon.


Not only do the Steelers come into this game rested and with an edge on offense, but Pittsburgh's defense sets up to take Cleveland's offense into the deep waters and drown the Browns.
The Steelers rank eighth in DVOA and have the league's best defensive efficiency, ranking first in success rate as well as second in expected points added and points allowed (19.5). More importantly, this a matchup that just doesn't favor the Browns.
T.J. Watt leads a unit that ranks first in sacks (56), pressure rate (32.3%) and ESPN's Pass Rush Win Rate (54%). This doesn't bode well for a Cleveland team that will be without Pro Bowl Left guard Joel Bitonio and is dealing with the prospect of right tackle JC Tretter and right guard Wyatt Teller on the injury report.
Given the struggles of Baker Mayfield under pressure, he's likely to struggle finding success in this matchup — he has just a 47 passer rating with a 43% percent completion rate while under pressure.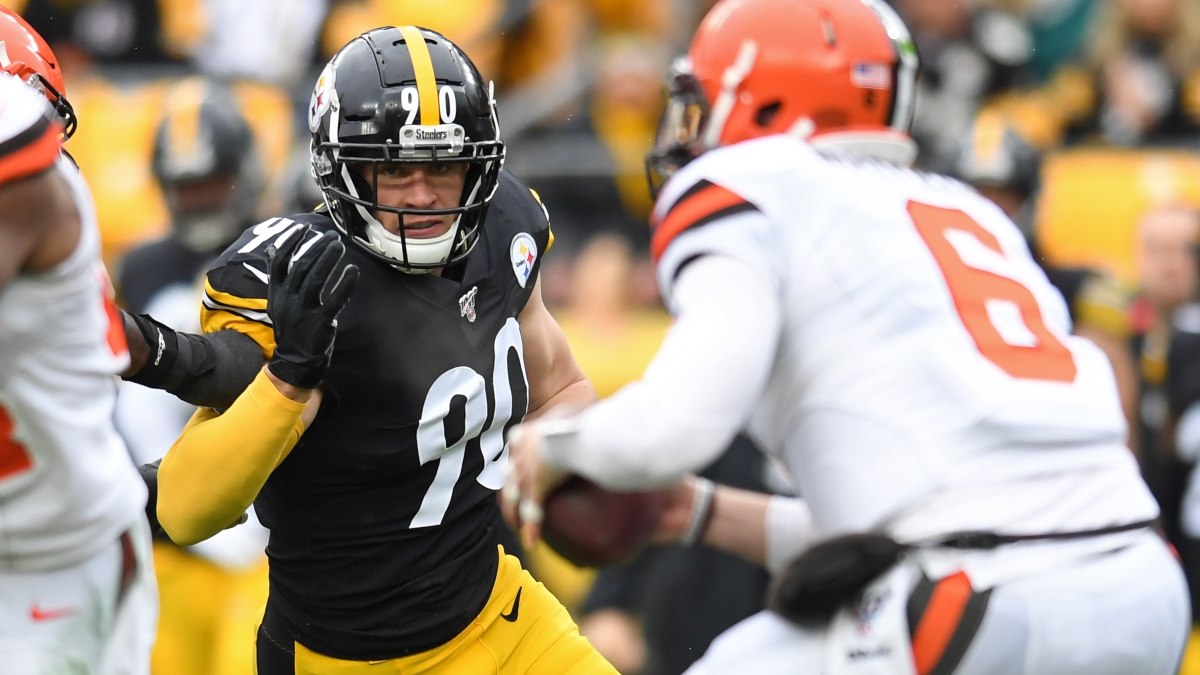 To make matters worse, a positive COVID-19 test for head coach Kevin Stefanski — who not only changed the culture of the Browns and revitalized Mayfield's career — means he won't be present to calls plays or have any communication with the team once they're inside 90 minutes before kickoff, so Mayfield is essentially facing a situation in which the training wheels will be taken off.
Since 2002, quarterbacks making their first career playoff start against a quarterback with playoff starts under their belt are 13-32-1 ATS.
From a numbers perspective, this line has gotten away from us after opening at 3.5, now sitting at 6-6.5 depending on the book (shop real-time lines here). However, at Steelers -6 there's still a solid edge on this game. This isn't a good matchup for the Browns, so I'll be laying the points with the favorites and expect them to boat race the Browns.
Steelers First-Half Spread
Arinze: After watching the Browns escape with a two-point victory against a watered-down Steelers team last week, I can't go near Cleveland as a side.
As for Pittsburgh, it's hard to like the Steelers at the current spread of -6 when earlier in the week they were available at -3.5. Instead, what I would consider is a play in the first half with the current odds at -3.5.
Pittsburgh can jump on Cleveland early, given the multiple COVID-19 issues that have plagued them this week.
Friday was the first time this week that Cleveland could enter its facility and conduct a practice. If that's not enough, the Browns' head coach and play-caller won't be with the team after testing positive for the virus. Offensive coordinator Alex Van Pelt will be thrown right into the fire to handle the play-calling, and I wouldn't be surprised if there are a few bumps in the first half to get things started.
Historically, the Steelers have been dominant (69%) as a favorite in covering the first half spread against the Browns, and Sunday's game sets up well for them again in this spot for all the aforementioned reasons.


The Steelers are available at -3.5 for the first half across multiple books, but be sure to shop around so you're not paying more than the -110 juice that PointsBet is offering as of Saturday.
---
Ravens vs. Titans Picks
Click on a pick type below to skip ahead to that analysis or read the full preview.
Titans Spread
Koerner: Ryan Tannehill proved that 2019 wasn't a fluke by posting the second-best expected points added per play rate among all quarterbacks in 2020.
He's thrived in a Titans system that leans on Derrick Henry and play-action. It's unlikely that their 29th-ranked defense will be able to stop Lamar Jackson and the Ravens, but the Titans' explosive offense will give them a chance to win in any game script (leading or trailing).
Their last two meetings against Baltimore prove that:
Week 11: Titans trailed 13-21 heading into fourth quarterback, then came back to win 30-24 in overtime.
2019 playoffs: Titans dominated all four quarters to win 28-12.
This should be a high-scoring game that could come down to a field goal attempt on either side. I like the idea of getting the +3.5 here but would not bet it at anything lower.
Anderson: This is the game I'll be looking forward to all weekend. It could be our best and most unpredictable matchup.
I loved this Ravens team a year ago and finally, after waiting all year, they've looked like the Ravens again down the final stretch of the season. But I worry that it might be fool's gold. They looked great against an easy schedule down the stretch, but we already knew they could throttle bad teams. And there are no bad teams left in the AFC playoff picture for them to throttle, so that's not really relevant.
I still don't trust Baltimore's passing game, on either side of the ball. I don't trust Jackson yet if the script is not in his favor, and I don't trust a leaky secondary that's given up some big plays and is also playing through injuries.
The Ravens and Titans are extremely flawed teams that can hit the highest highs or lay down completely. I could absolutely see either beating the Chiefs if they get an opportunity. Both can dominate as front runners by running the football and keeping Patrick Mahomes off the field, and both play playoff football the way we remember it.
But the Ravens have never shown they can play from behind and the Titans have no defense.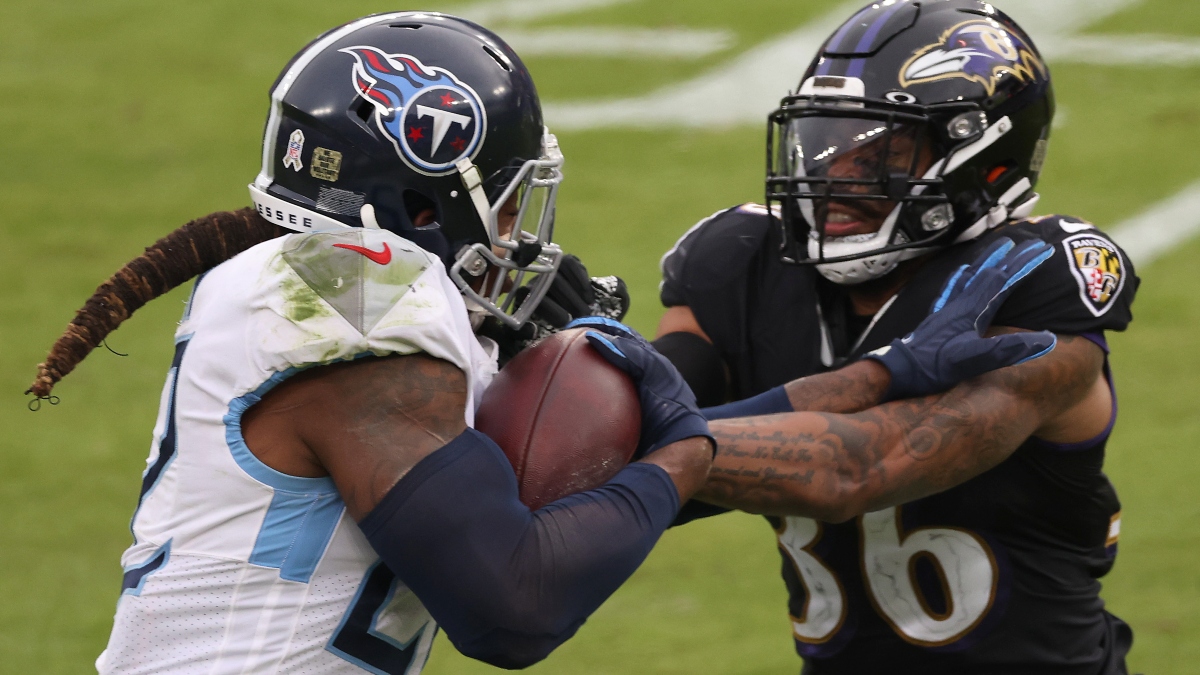 So what about this game? The Ravens secondary is exploitable if the pass rush doesn't get home, and they're especially vulnerable down the field. That's exactly what I fear against a Titans team that is absolutely lethal in playaction, dialing up the deep ball to A.J. Brown or Corey Davis, both of whom can beat Ravens secondary. And unlike the Ravens, the Titans have the passing game to play from behind, if they script doesn't go their way early.
These teams played earlier this year and the game went to overtime. And, lest you forget, the Titans went to Baltimore and won 28-12 in last year's playoffs in a mistake-riddled Ravens game. Tennessee is at home this time, and these teams have an ugly history, with the underdog winning often.
Three times this century, they've met in the playoffs with one team as the 1-seed and the underdog won all three. That's not the case here, but Mike Vrabel and the Titans will be fired up and ready, and you better believe they'll be pissed they were labeled underdogs here.
This looks like a dog fight to me, and a true toss-up. When the game opened at Baltimore -3, it was a stay away for me, because I do think the Ravens are slightly better. But at 3.5, I have to play the Titans to keep this close. They're being overlooked because of a bad defense, but the Ravens are not built to put up a huge number, and the Titans also have the exact sort of offense to grind out playoff wins and keep their leaky defense off the field.
Ravens Spread
Palmer: This line is interesting to say the least.
There's been a lot said about the lack of home-field advantage in the NFL this season, and yet the line for their Week 11 matchup in Baltimore is completely different from the line for Sunday's matchup in Nashville. The Ravens closed as 6-point favorites in that first meeting against the Titans. Now Baltimore is favored by three points.
You have to wonder whether we saw anything between Weeks 11 and 17 that warrants a drastic three-point difference.
Personally, I didn't.
The Ravens had a midseason slump and lost three straight games, but still managed to recover despite a COVID-19 outbreak that could have decimated their season. They've made a living over the past five weeks beating up on bad defenses, and the Titans are the definition of a bad defense.
As long as the Ravens don't turn the ball over, I expect them to be able to do whatever they want offensively. And with the key returns of Calais Campbell, Brandon Williams and Jimmy Smith, we should see a different Ravens defense than we saw in Week 11.
My projections make this Ravens -5.8, so I'll lay the points and look for Jackson to get the first playoff win of his career. This is actually a game in which I expect the Ravens to win by a touchdown or more, so if you have some gamble in you, you can sell points for an additional payout.
Nonetheless, you should have positive expected value laying three points with the Ravens.
Over
Freedman: I normally don't bet the over on outdoor postseason games, but I must make an exception here.
With Ryan Tannehill and Derrick Henry, the Titans have an explosive offense that can score in a hurry — and they're absolutely awful on defense, where they rank No. 29 with an 11.1% mark in Football Outsiders' DVOA.
That combination causes a lot of overs.
In Tannehill's 29 starts with the Titans, the over is 22-6-1 (53% ROI, including postseason).


And at Nissan Stadium in Nashville, the Tannehill over is 11-2-1 (62.2% ROI).
Under
Stuckey: Playing a Titans under is very scary — they've been an absolute over machine since Tannehill took over at quarterback.
That said, I see value in this under down to 54 (shop real-time lines here).
The Ravens will be able to sustain drives and chew up the clock in the process. However, I don't think it will be as easy as most think. The Titans' run defense has been much better than the pass defense, and they've seen this unique Ravens offense twice over the past 12 months. That experience should pay off, especially since I still have many questions about the Ravens' passing attack.
The Baltimore defense should also show up here. Tennessee's offense has been tremendous by every metric, but the Titans benefited from one of the easiest schedules of opposing defenses in the NFL. Their numbers are also a bit inflated due to other circumstances, such as oodles of garbage-time points against the Browns, playing the Bills before their defensive resurgence and facing the Ravens without two of their best defensive lineman.

I don't think the Titans offense is invincible by any stretch of the imagination.
---
Bears vs. Saints Picks
Click on a pick type below to skip ahead to that analysis or read the full preview.
Saints Spread
Anderson: When these teams met in Week 8, the Saints needed overtime to win on the road. Drew Brees played in that game, but wide receivers Michael Thomas and Emmanuel Sanders were out, and Nick Foles was still playing for the Bears. Brees and the Saints were only 2-of-13 on third down and didn't get the offense moving much but pulled out the win anyway.
The teams played in Chicago a year ago, too. Brees missed that one, but Teddy Bridgewater led the Saints to an easy 36-25 victory.
The Saints should certainly win here, too.
What would a Bears victory look like, though? It would look like a very long offseason for the Saints and plenty of retirement questions for Brees, because if the Bears win, it would almost certainly mean a terrible game from him.
Brees may not have been as sharp as usual, and he's certainly not throwing downfield much, but he still completed more than 70% of his passes and threw only six interceptions with just 13 sacks taken all season.
The Bears would need some big defensive plays, a good game from running back David Montgomery and a couple key throws by Mitch Trubisky. They would also need their defense to outplay New Orleans, and they may need Trubisky to outplay Brees.
I don't buy it.
Brees may not have four postseason wins in him, but the Saints are a different team at home on the turf, and I expect this offense to find its rhythm with Alvin Kamara and Thomas back on the field. Thomas' return is huge — remember, he caught 149 passes a year ago, and he gives Brees a level of comfortability he missed much of the season.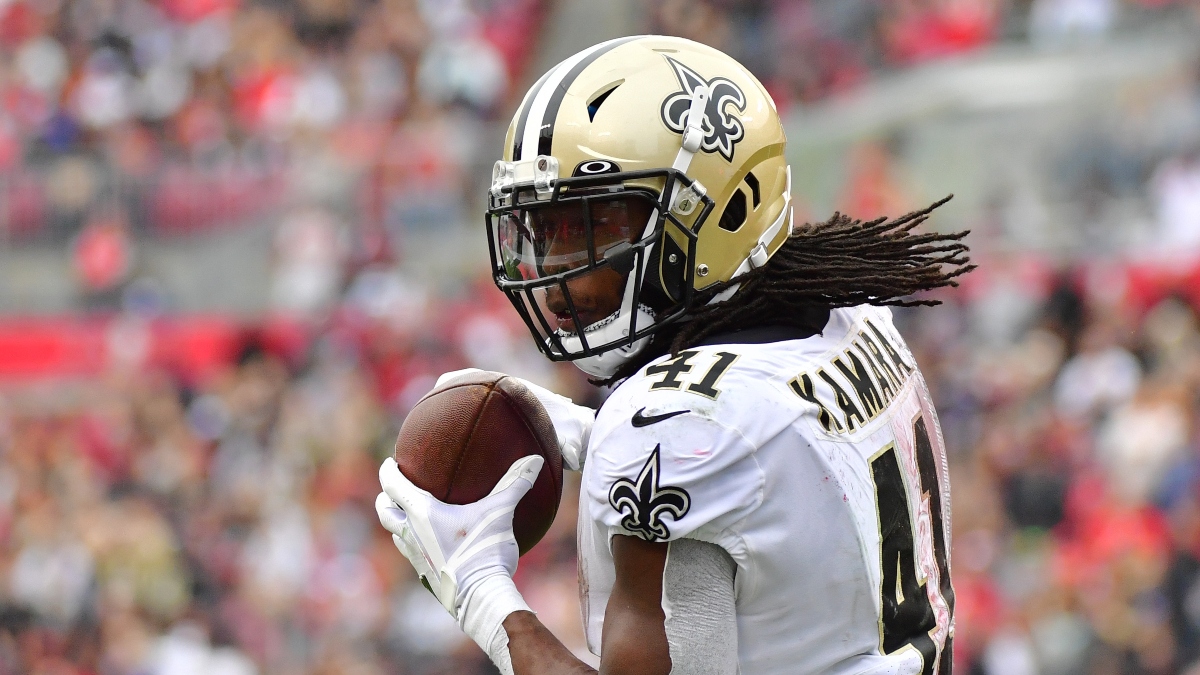 But for all the attention on Brees, it's both defenses that swing this for me. New Orleans is the better defense this time, and I worry that the absence of linebacker Roquan Smith and potential absence of cornerback Jaylon Johnson would be too big of losses for Chicago.
So can the Bears cover? I just can't talk myself into putting money on them to do it and seeing them fall behind early with no ability to come back or close a gap. If the Saints struggle to get moving, maybe the Bears stay in this and keep it close, but there are just too many scenarios in which the Bears fall out of it.

I grabbed the Saints when this line opened at single digits, and I'll take them here at -10. But if the line rises any further from there, I may wait for a slow start and look to live bet the Saints at closer to a touchdown closer to halftime.
Over
Freedman: An indoor playoff game? I can't help myself. Historically, the over in domed playoff contests is 29-12 (40.3% ROI).
On top of that, the over at the Mercedes-Benz Superdome is an A-graded 71-50-2 (15.1% ROI) in Brees' starts going all the way back to his first season with the Saints in 2006 (including postseason).

How would you rate this article?