NFL Odds, Picks, Predictions: 'Bet, Lean or Pass' On Every Week 7 Spread, Featuring Colts & Chiefs To Cover
Credit:
Michael Hickey/Getty Images. Pictured: Colts RB Jonathan Taylor, TE Jack Doyle
The Colts to cover as underdogs against the 49ers. The Chiefs to cover as favorites against the Titans.
Our betting analyst runs through NFL odds for every Week 7 games, making his picks on spreads for each.
He grades his confidence level for each as a "bet," "lean" or "pass."
Week 7 is here, and it feels like the underdogs are ready to bounce back. Favorites have dominated the last two weeks of football, but this is right about the time of the year when bettors typically start to get overconfident in those teams everyone agrees is good.
Be careful out there.
We already covered every game in detail below, but let's recap picks that remain unchanged.
---
NFL Odds, Picks, Predictions
Two of our early-week picks have moved to "bets" with favorable line changes, and there are no "passes" this week from the early leans:
Bet Bengals +6.5 at Ravens
Bet Chiefs -4 at Titans
Lean Washington +9 at Packers
Lean Panthers -2.5 at Giants
Lean Dolphins +2.5 vs Falcons
Lean Rams -15.5 vs Lions
Bet Texans +18 at Cardinals
Bet Colts +4.5 at 49ers
Lean Seahawks +4.5 vs Saints
Alright, let's dive a little deeper into the three games we waited on.
---
---
Jets at Patriots (-7)

Look, New England will probably win this game. Bill Belichick is historically dominant against rookie quarterbacks, now 22-6 lifetime, including 10 of the last 11 and a perfect 13-0 at home. His Patriots are on an 11-win streak against the Jets, winning by an average of 18.5 points with only two of the 11 by less than a touchdown.
Oh, and New England won in New York only a month ago, 25-6.
New England is going to win. My only question is why is this line so low? It's extremely fishy, sitting right at -7 all week long. If the Pats already won by 19 on the road, why would they win by only one score now at home? Feels trappy.
Dig a little deeper into the September game, though, and the Patriots don't look so dominant.
The Jets actually had more yards, more first downs and more time of possession. They just also had four interceptions, two turnovers on downs, two drives stalled inside the 10, and a missed field goal. New York punted only once in 12 possessions. New England didn't actually play a great game — it just made all the key plays.
The numbers say New England has played like a .500 team, but I believe Belichick knows his team isn't great. He's been uncharacteristically conservative this season. Did you realize the Pats ranks dead last in fourth down aggression? Nine times this season, per RBSDM, they should have gone for it on fourth down. They've gone for it on zero of those nine, the only team in the NFL yet to try even once.
Belichick is limiting potential mistakes for his own rookie QB and waiting for the other team to beat itself. The Jets did just that last time but have played much better since and are coming off a bye with a chance to get things right.
The Pats will play this game not to lose, and maybe that'll be good enough. The Jets have been horrendous in first halves, and Zach Wilson ranks dead last in Expected Points Added (EPA) per play among quarterbacks.
The best play here is the under.
That September game went way under. Plus, eleven of the last 16 Belichick games vs. rookie QBs have gone under. Both teams rank top-five in red-zone defense and bottom-four in red-zone offense. Feels like a 20-14 or 17-13 type game.
I'll also put the Patriots into teasers — that drops them to -1, and Belichick owns the Jets and has never lost at home to a rookie QB. Now that the Packers line has dropped, too, I like a Pats-Pack teaser. I'll pass on this suspect spread, though.
THE PICK: Pass Jets +7 | Previously Wait
Eagles at Raiders (-3)

I still can't get a great read on this game. These teams just seem so darn even.
The Raiders are better at passing the ball, but the Eagles pass rush has been good, and that could make things difficult for Derek Carr. The Eagles have been successful when they occasionally remember to run the ball, but the Raiders' run defense has been stout. Both teams are passing aggressively on early downs.
Part of the problem is that I'm not totally sure what to make of these Raiders. Are their numbers even reliable? They got dominated two weeks ago at home by a blah Bears team, but we know in hindsight that was during the Jon Gruden mess. The Raiders won big in Denver last week with their best metrics of the season offensively, but did that tell us the Broncos are reeling? Or were the Raiders playing aggressive and free with Gruden in the rear-view mirror?
I'm not sure we know yet.
If you believe in the new-look Raiders but want to get your money's worth, you can play the Eagles to win the first half but the Raiders to win the game at +650 at DraftKings — the Eagles rank sixth in First Quarter DVOA at Football Outsiders while the Raiders are 29th in First Half DVOA. Vegas has been a slow starter all season, but the also ranks ninth in Second Half DVOA.
But when the teams are this even, I have to take the points, especially when we're getting a full field goal. Remember, short underdogs have dominated this season. Dogs of a field goal or less are 19-17 straight up, and short road dogs are 12-6, with a 50% ROI.
I may sprinkle a little on the Eagles +135 moneyline since that implies just a 42.6% chance of a Philly win, and that seems low.
THE PICK: Lean Eagles +3 | Previously Wait
Bears at Bucs (-13)

These teams played a year ago in that infamous game in which Tom Brady forgot it was fourth down and Chicago stole a 20-19 Thursday night win. That should mean the Bears have the Bucs' attention, but this is still a high line.
The Bucs are 5-1 but have covered a 13-point spread only twice this season and four times over their last 12 games. Tampa Bay tends to play with its food, and the Chicago defense has been outstanding over the past month and has the sort of pass rush that can make life miserable for Brady, like the Bears did a year ago.
The Bucs are without Lavonte David, Rob Gronkowski, Antonio Brown and three of their top four corners. And the Bears have a significant special teams advantage, and those sort of hidden ST and defensive plays are the exact sort of thing that can keep a game like this close.
Then again, the biggest reason I'd trust the Bears to hang around is the mighty pass rush of Khalil Mack and Robert Quinn, both of whom are questionable. If they're ultimately ruled out, there's a pretty obvious game script in which the Bucs get ahead quickly, the run-heavy Bears can't do anything against this mighty run defense, and this one gets ugly.
If Mack and Quinn both end up out, I'll lean Bucs.
For now, I'll pass.
THE PICK: Pass Bears +13 | Previously Wait
---

Editor's Note: The content below was published on Wednesday. Please check out the information above to see how Brandon Anderson's picks have changed — and why — since then.
---
How in the world is it already Week 7?
The bye weeks have hit hard this week with our biggest off week of the year. The Bills, Cowboys, Chargers, Vikings, Steelers and Jaguars will all sit this one out — that's a whole lot of good public teams … and Jacksonville! That makes this our smallest NFL slate until the playoffs, and it also makes it a tricky one.
The first four weeks were all about the underdogs, but the favorites hit back in Weeks 5 and 6. Last Sunday the Packers, Chiefs, Rams and Colts all won easily as favorites of six or more, and favorites won and covered every game in the early afternoon window. Every public Sunday teaser hit, and the books got smashed a second consecutive week. And do you know what that spells?
D-A-N-G-E-R.
Those Vegas casinos are so sparkly for a reason. Books don't lose forever. We better be very careful for traps set all over the place this week. Bills vs. Titans on the Week 6 edition of Monday Night Football was already the first. This is right about that time of the season when we tend to get overconfident about what we've seen from these good teams, but history favors regression.
Per ActionLabs, teams that are 4-1 or 5-1 ATS are just 36-65-3 ATS (36%) in their next game. And when a team is an underdog against one of those overinflated ATS teams, they're a whopping 49-20-1 ATS, covering 71% of the time by 4.54 points per game with a 37% ROI. That is a serious edge, and we just saw it play out with Tennessee's upset over Buffalo.
Let's get some picks on the record, but be careful for traps and overinflated lines. Books know we want to ride with the favorites. Make sure you're sure.
As always, we'll make early picks on every game, but come back Saturday to see final decisions once we have more information on line movement and injuries. For now, every pick is a "bet," "lean" or "wait."
Note: Odds highlighted below are the best available for each pick as of writing. Shop for the best real-time lines with our NFL odds page.
---
Thursday Night Football
Denver and Cleveland were two of my favorite sleepers coming into the season, but injuries have wracked each team.
The Broncos are missing three of four starting linebackers. The wide receiver corps has been decimated, and Teddy Bridgewater got a concussion and hasn't been the same since. The Browns are a walking MASH unit. Baker Mayfield is officially out with a shoulder injury, so it's Case Keenum SZN. Nick Chubb and Kareem Hunt are both out too, leaving Cleveland with Demetric Felton and D'Ernest Johnson at RB. They'll be running behind an O-line missing its top three tackles. Jarvis Landry, Odell Beckham and Jadeveon Clowney are banged up too. Star rookie Jeremiah Owusu-Koramoah is out. It's a mess.
Denver's defense was great early against bad competition but has struggled lately and got exposed by the Raiders last week, giving up seven plays of 25+ yards. The Browns have defended the run well, but the pass defense has been killed deep. These are two of the four highest variances defenses in the league so far, per Football Outsiders. The good news is that the offenses both have so many injuries it might not matter.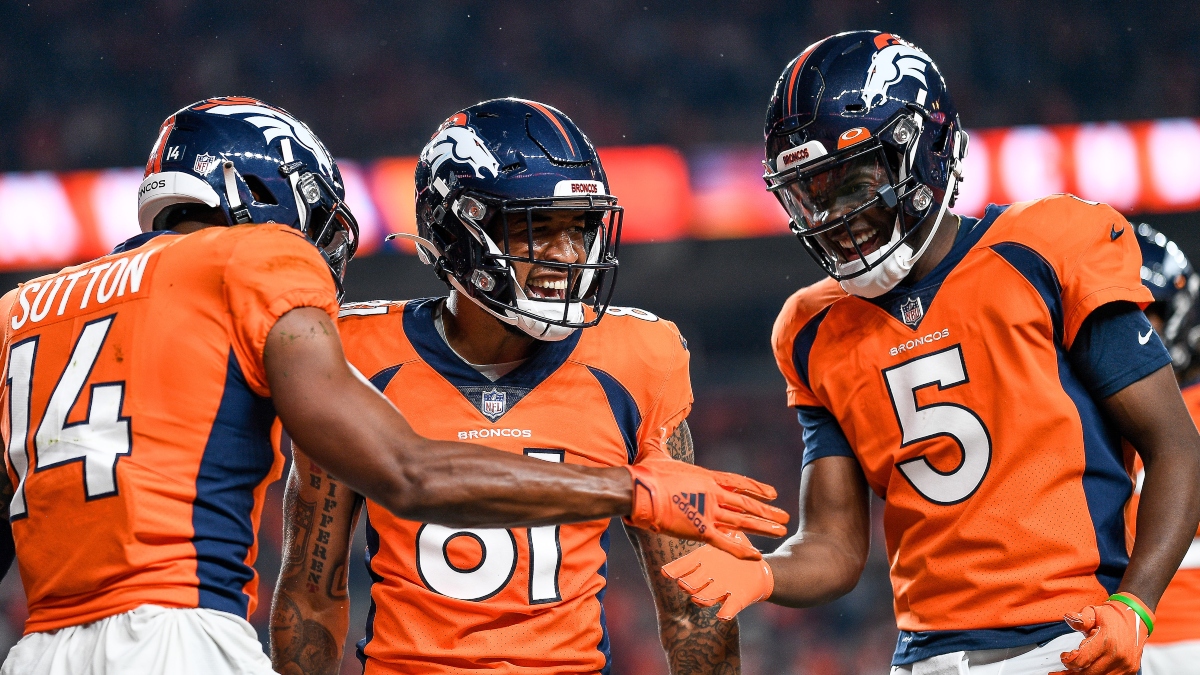 The Browns still run early and often, but they may have a hard time doing that without their tackles or RBs. That means this is probably on Keenum, and that's a problem. The Vikings fan in me will be having nightmare flashbacks with Keenum and Teddy Bridgewater starting a big primetime game. Keenum had his moments (Diggs! Sideline! … TOUCHDOWN!!!) but there's a reason he's a career backup, and remember he's going to have very little run game, a banged up O-line, and will likely be without his top receivers.
Bridgewater, on the other hand, has proven to be a useful at least replacement-level starter. He actually ranks fourth in EPA+CPOE at RBSDM for the season, behind only Kyler Murray, Patrick Mahomes and Matthew Stafford. That feels a bit inflated, but he's the more reliable QB here by far.
Remember, they don't call him Teddy Covers for nothing — Bridgewater is 23-4 ATS on the road, and he's 5-2 ATS in night games. As long as Bridgewater plays, I like the Broncos in an underdog spot here. If Bridgewater ends up out too, this becomes a Pass for me. With all the unknowns, I won't play Denver past the +2.5. If both backup QBs start, the under may end up the best play.
THE PICK: Lean Broncos +2.5
---
Early Sunday Afternoon
The Ravens are one of three teams sitting at 5-1 now after losing their opener, joining the Packers and Cowboys. Baltimore is rolling, and Lamar Jackson might be the MVP if the season ended today. The Ravens have owned this division rivalry of late, winning five straight against Cincinnati and holding the Bengals to just three points in both of their meetings last season.
Of course, the Bengals went 6-25-1 the last two seasons, and this is looking like a very different team. Cincinnati is legitimately good, especially on defense. The Bengals rank fifth in Defensive DVOA, per Football Outsiders, and they're fourth in EPA per play on run defense. That's a good formula against a Ravens team built around the run game, and it means this will all fall onto the shoulders of Jackson once again.
Baltimore continues to pick up RB injuries. Now that Latavius Murray is hurt too, that's essentially the top four Ravens running backs, and now star LT Ronnie Stanley is out for the season too. These are two of the slowest teams in the league, so this game leans under, and the Bengals D can keep Baltimore in check. In a division rivalry probably going under, 6.5 points are too much. I'm not sure Cincinnati is ready to get this big of a road win just yet, but they can keep it close. I expect this line to move down, so don't wait for the -7.
THE PICK: Bet Bengals +6.5
Washington at Packers (-9.5)
The Packers got run off the field in the opener against the Saints, but Green Bay has won and covered every game since. You know what that means — it means the Packers are 5-1 ATS and that this spread is overinflated.
The lookahead line was -7 Sunday morning before leaping to -10.5 after Aaron Rodgers owned the Bears yet again, but the original line was closer to the right fit. Washington actually played the Chiefs pretty well on Sunday with their best defensive game in a month and an encouraging day from the pass rush. The Football Team still allowed over 28 points for the fifth straight game, but teams like that are 21-12 ATS in their next game, covering 64% of the time.
Washington's pass defense has struggled, but it ranks 11th against WR1s and near the bottom of the league defending any other pass catchers. That's good news against Green Bay since it should mean limiting Davante Adams, and the other Packers receivers haven't been as good. Washington's third-down defense has been absolutely miserable, so there's a chance the Football Team just can't get off the field against Rodgers — but we have to trust the numbers.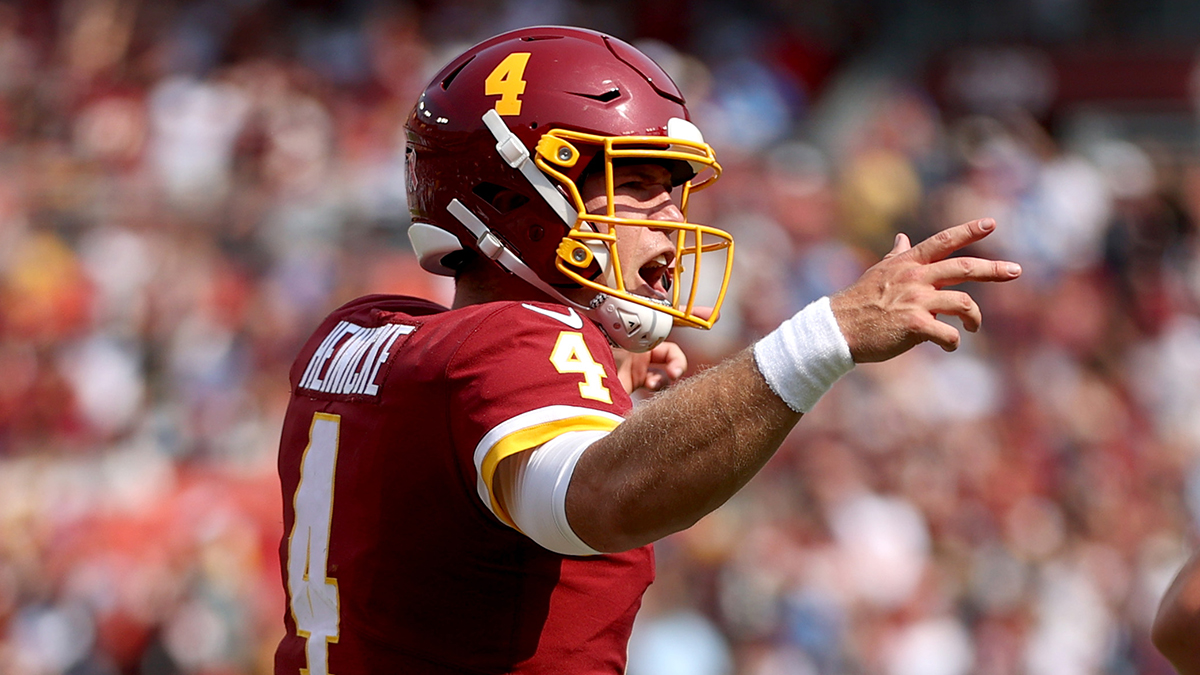 The Packers are overinflated at 5-1 ATS, and Washington is 1-5 ATS and undervalued itself. You already saw the trend above against 5-1 ATS teams, but when the underdog playing them has an ATS at 20% or worse, the record improves to 26-8-1 ATS, covering 77% of the time by over six points.
If this line fades further to -8.5 or lower, this looks like a prime Packers teaser spot. Rodgers will get the home win. But with road trips to Arizona and Kansas City up next, this is also a letdown spot for Green Bay. Trust the numbers and take the points.
THE PICK: Lean Washington +9.5
Chiefs (-5.5) at Titans

So let me get this straight. The Titans beat the mighty Buffalo Bills, the team that just curb stomped these very Chiefs one week ago on Sunday night, and this line went up after the Tennessee win?
That's exactly what the books are hoping we think, and I'm not falling for it.
I hated Buffalo's decision making at the end of the Monday night game. I'm all for playing for the win, but the Titans were literally down to three cornerbacks on the entire roster and Buffalo was moving the ball at will. And if the Bills move the ball that easily, what will Patrick Mahomes and this Chiefs offense do against a team coming off an emotional victory on a short week?
There's a very simple question in this game you need to answer, and it determines your play. Can Derrick Henry do enough against this defense to outscore the Chiefs all on his own? That's it. That's the entire game. The Chiefs defense has been awful, though they had their best game of the season on Sunday. Henry and the run game are the one thing carrying Tennessee. If you think Henry can do it on his own, you bet the Titans. I do not.
Even with a heap of bad luck and turnovers, Kansas City's offense has still been insane. I'd list the numbers, but you've seen what I've seen. The Titans defense ranks 28th in DVOA, only three spots ahead of the Chiefs. If both defenses are terrible, take the offense that's better. That's Kansas City by infinity.
I liked the Chiefs a lot before Monday night, and I love them now that Tennessee is so shorthanded at corner. With a total at 56.5, I'm not fazed by the -5.5. The Titans might have the ball 40 minutes in this game, but the Chiefs will score so much in the other 20 that I'm not sure it'll matter.
THE PICK: Lean Chiefs -5.5
The Panthers have been exposed after their hot 3-0 start. A once unflappable defense has stumbled against better opposition, and the injury report has not been kind to Carolina. The Panthers have traded for Stephon Gilmore and C.J. Henderson to fix the ailing corners but still need to get them into the lineup, while breakout LB Shaq Thompson is a question mark and stud RB Christian McCaffrey is out at least three more weeks.
Suddenly Carolina is ice cold, on a three-game losing streak both straight up and ATS. But teams on such streaks are 128-102-7 ATS, covering 56% of the time, and this could be a get-right spot for this defense. The Giants offense is besieged by injuries at RB, WR and on the line. Carolina's outstanding pass rush and defense might have only been great against bad offenses so far, but the Giants are a bad offense right now and they're been bad at home too.
I've picked against Carolina in all six games this season, but it's time to play the Panthers. I'll grab them before this number gets to -3, because we'll probably sit it out if it moves any further.
THE PICK: Lean Panthers -2.5
I'm sorry, the Falcons are favored? On the road? The Atlanta Falcons??
Look, I know Miami just lost to the Jaguars and that this is a very disappointing Dolphins season, but come on. This line was Dolphins -2.5 on Sunday morning. Is an overseas loss to Jacksonville really a five-point swing? I don't buy it. This is gross, but we have to back the home team.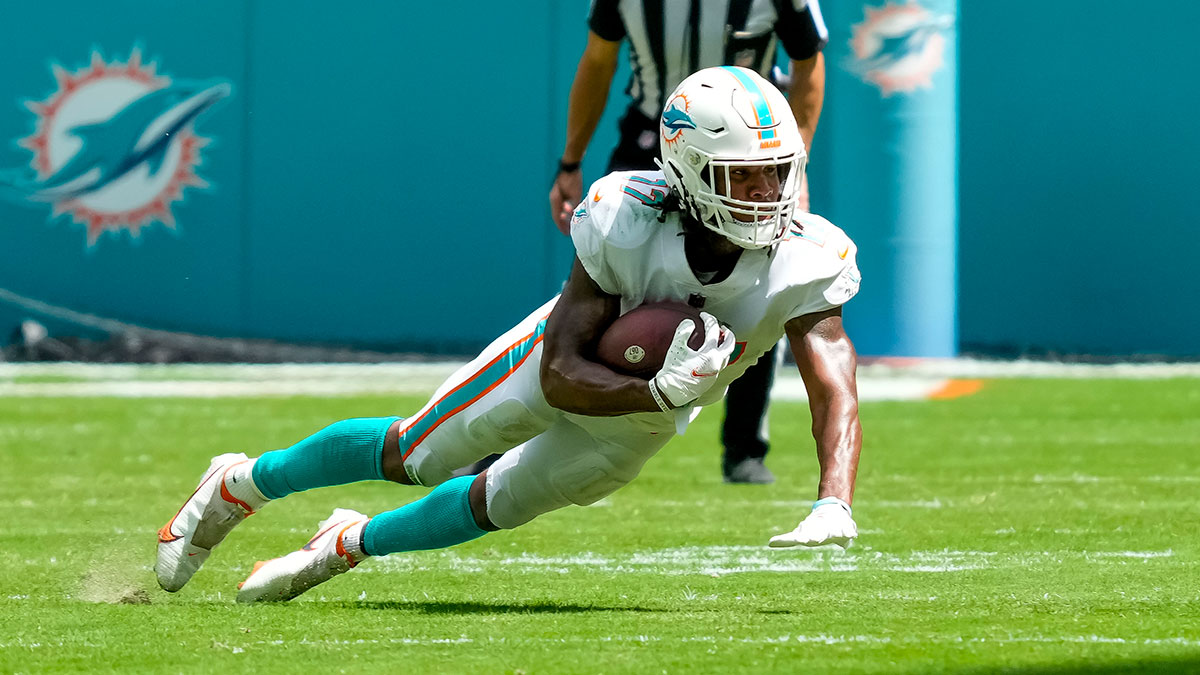 Short underdogs are 19-16 straight up this year, and underdogs with a scoring margin of -14 or worse over their last five games like Miami are 117-78-6 ATS, covering 60% of the time. The Dolphins have the third-highest neutral situation pass frequency, per RBSDM. It hasn't been working yet, but Atlanta ranks 30th in pass defense DVOA so maybe Tua Tagovailoa will look a little less rusty and get the job done.
Don't let recency bias throw you. The Falcons have two wins but they're against the Jets and Giants, and Miami has two ugly losses to the Bills and Bucs but has otherwise played four close games. Atlanta should not be a road favorite against anyone right now. This probably turns into a bet if it hits -3.
THE PICK: Lean Dolphins +2.5
This is a tough one. I'm 1-5 picking Patriots games this season and 1-4 picking Jets games. Bill Belichick teams almost never lose to rookie quarterbacks and just dominated this Jets team a month ago, but the Pats are playing such conservative ball that seven points is actually a lot.
I trust New England to get the win at home — a 12th straight against the Jets — so this looks like a great teaser spot for the Patriots. But let's wait to see which direction the line moves off the -7 before taking a lean on this one.
THE PICK: Wait for line movement, but put the Patriots into your teaser
---
Late Sunday Afternoon
Remember our trend against 5-1 ATS teams? The Packers were one of them. You just found the other. It's gross, but we have to; it's purely a numbers play.
We already know the 5-1 trend, but ActionLabs has a few more in our favor. Teams who lost by 17 or more facing teams who just won by at least 17 are 96-59-4 ATS, covering 62% of the time. That makes sense, because it naturally leads to an inflated line. The Texans are another team that fit the -14 scoring margin trend like Miami, which covers 60% of the time.
The Cardinals are undefeated and have two really impressive road wins now over the Rams and Browns, but that 0 at the end of their record means this line is inflated. It was -14 on Sunday morning before leaping to -17 and starting to rise even further since. But you should know that our ActionLabs database has zero instances of an unbeaten team favored by 17 or more covering the spread anytime past September. Such teams are 0-6 ATS, failing to cover by more than 10 points. It's the interminable law of regression. What goes up must come down.
If you're looking for football reasons to feel good about the Texans, you won't find many. That's why this line is so high and rising, because the books know you surely wouldn't be crazy enough to bet Houston. That's exactly why we have to. Houston's one relative strength is its pass defense, which ranks a respectable 11th in DVOA. That gives some hope against a pass-heavy team.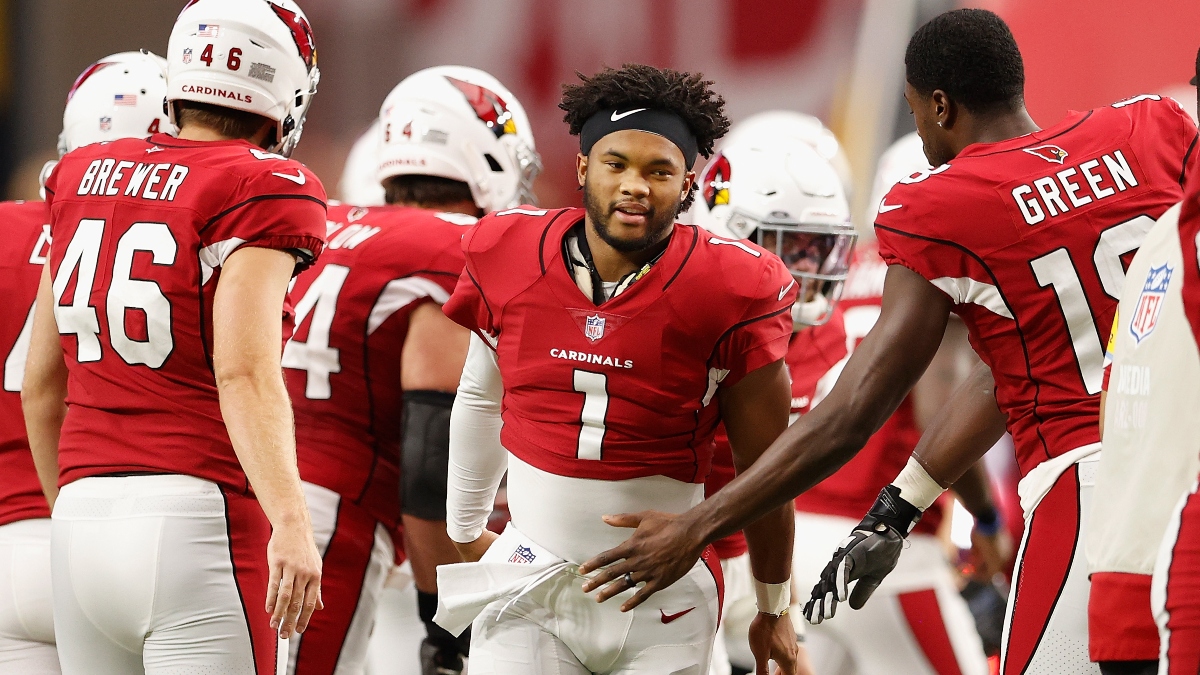 Beyond that, it's just a bet on regression. The Cardinals have recovered 16 of 21 fumbles so far this season, while the Texans have recovered only two of the nine fumbles they've forced. Fumble luck is almost entirely random so that should swing the other way for both teams soon. The Cardinals have been unsustainably great on third and fourth downs, so that should regress. Kyler Murray is a whopping +11 CPOE over the past month, completing 79% of his passes. The Cards are scorching hot but they can't stay that way forever. That's just how the NFL works. Remember, even the bad teams are Alabama.
This is a huge letdown spot for the Cardinals. They're coming off big wins over the Rams, 49ers and Browns and get a quick breather here before games against Green Bay and San Francisco. They're still getting over a team COVID outbreak too. Plus, there's still a chance Houston could get Tyrod Taylor back, and he was outstanding his first couple games. That would make this a slam dunk.
We have to swallow hard and take the points here. The numbers demand it.
THE PICK: Bet Texans +17.5
Lions at Rams (-14.5)
Betcha know where this is going by now.
The Rams are 5-1. The Lions are 0-6. Detroit is winless but ranks 26th in DVOA, with the win expectancy of a 1.5-win team. The Lions blew wins against the Ravens and Vikings in the final minute and have hung around all season, and this is a super high line. Detroit fits several of our trends above. All the trends point toward the Lions.
But I'm taking the Rams anyway.
This is all about Matthew Stafford and Jared Goff. Sean McVay and the Rams went all in swapping these quarterbacks this offseason, and I think McVay wants to prove his point here. He's going to make sure the world knows exactly why he wanted this QB swap.
Nobody knows Goff's many weaknesses better than McVay and this Rams defense, and few offenses are built to take advantage of this porous Detroit D like this lethal Stafford attack. The Rams lead the league in EPA per pass play by a wide margin, and McVay has reopened the playbook under Stafford. The Rams lead the league in home DVOA and rank first in second half DVOA too. They are tremendous front runners against bad teams. McVay is 6-3 ATS lifetime as more than a 10-point favorite, and he was 6-1 before folding up shop on the Goff experiment with two ugly ones last year.
This is McVay's opportunity to tell the world exactly why he and the Rams paid a king's ransom to trade Goff for Stafford. He won't miss the opportunity.
THE PICK: Lean Rams -14.5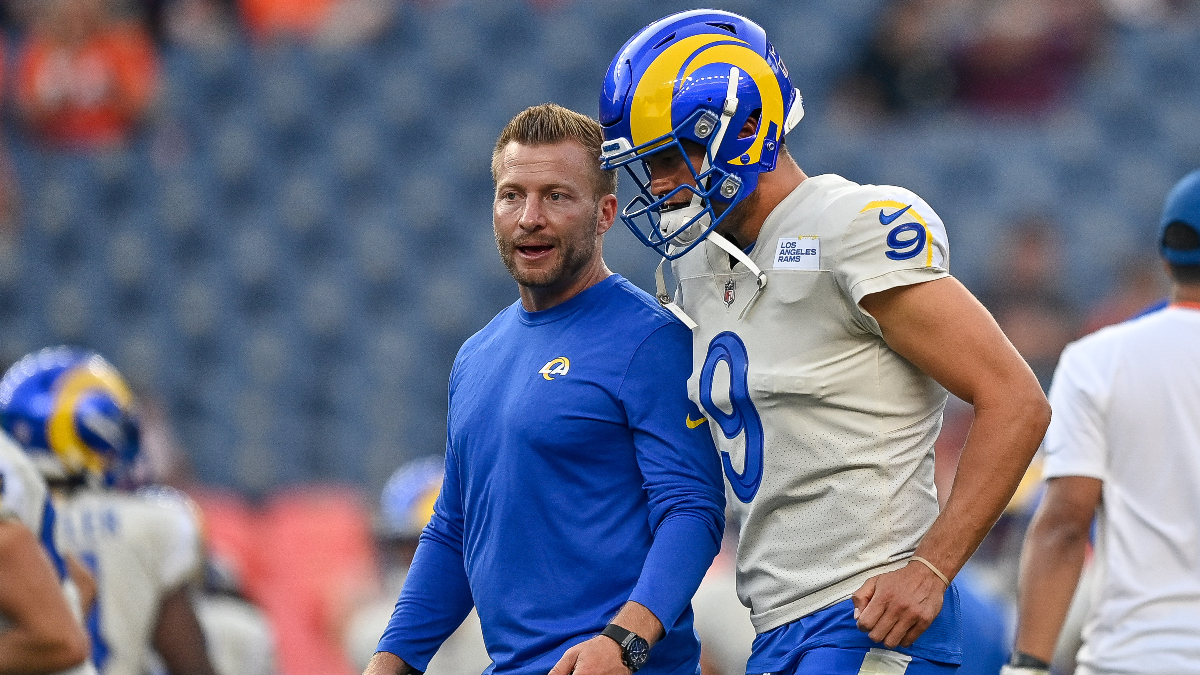 Eagles at Raiders (-3)
This line is stuck right at -3, and that feels exactly right. These teams have been very even so far this year, and I'm still trying to get a feel for what to do with these post-Jon Gruden Raiders. Let's wait and see which direction the line moves and see if we can get a better read later this week.
THE PICK: Wait for line movement
Bears at Bucs (-12.5)
Bill Simmons used to say a game was in "the Vegas zone" when the line was stuck around -5 or -5.5. This feels like the mismatch Vegas zone, exactly one touchdown above that number at -12.5.
Chicago beat the Bucs last October 20-19 when Tom Brady memorably forgot how many downs he had, and these Bears look better, but I'm going to wait to see which direction this line moves. This plays out a lot different if it gets past -14 than if the line drops down closer to -10. This will probably end up a pass, but let's see where the line ends up.
THE PICK: Wait to see which direction the line moves
---
Sunday Night Football
Colts at 49ers (-4)
As a diehard North Dakota State fan, I had this game circled on my calendar from the moment the schedule came out. I could never imagine as a kid growing up in Fargo that I might someday see one of my beloved Bison start at quarterback in the NFL. This game meant a potential chance to see two NDSU signal callers opposite one another in primetime. An actual dream come true!
Alas, it was not meant to be because Trey Lance is banged up and because Kyle Shanahan continues to stubbornly stick with Jimmy Garoppolo far too long even though he clearly doesn't trust him. And I gotta be honest — I'm starting to fade Shanahan overall. That's typically been a good idea when Shanny and the Niners are favored. Underdogs against Shanahan are 20-8-1 ATS, covering 71% of the time. It's not going well.
The 49ers got a bye week at the right time, with a chance to lick their early season wounds and get healthy. That should help, but the Colts are starting to get healthy too. Carson Wentz has quietly played pretty well this season, and Jonathan Taylor and the run game have been terrific of late. Indianapolis has an outstanding run defense, so that puts this game squarely on the shoulders of Garoppolo. And if Kyle Shanahan doesn't trust Jimmy G, why should we?
The Colts have been absolutely miserable in the red zone this season, while the 49ers have scored a TD on all but one trip. That sort of thing can doom a team even if it plays way better, but it also tends to regress over time. The Colts have played much better on the road, and they've been good in the second half. The longer this stays close, the better chance Indianapolis will have.
This one is on Jimmy Garoppolo. Maybe he finally proves why he's the starting QB. Or maybe he shows everyone why we should've gotten that NDSU quarterback showdown the state of North Dakota deserved.
THE PICK: Lean Colts +4
---
Monday Night Football
Saints (-5.5) at Seahawks
It's two straight weeks of Geno Smith in primetime!
As ugly as that looks, this is actually a matchup of top-10 teams by DVOA. The Seahawks have done it on offense, ranked sixth on that side of the ball but obviously hampered greatly without Russell Wilson and Chris Carson. The Saints have done it on defense. New Orleans ranks third in DVOA on that side of the ball, including second against the run.
Seattle's secondary is a mess. The Legion of Boom is long gone, and the Seahawks rank second-to-last in success rate against the pass. That means this Seattle pass D is ripe for the picking. The question is whether Jameis Winston can do it.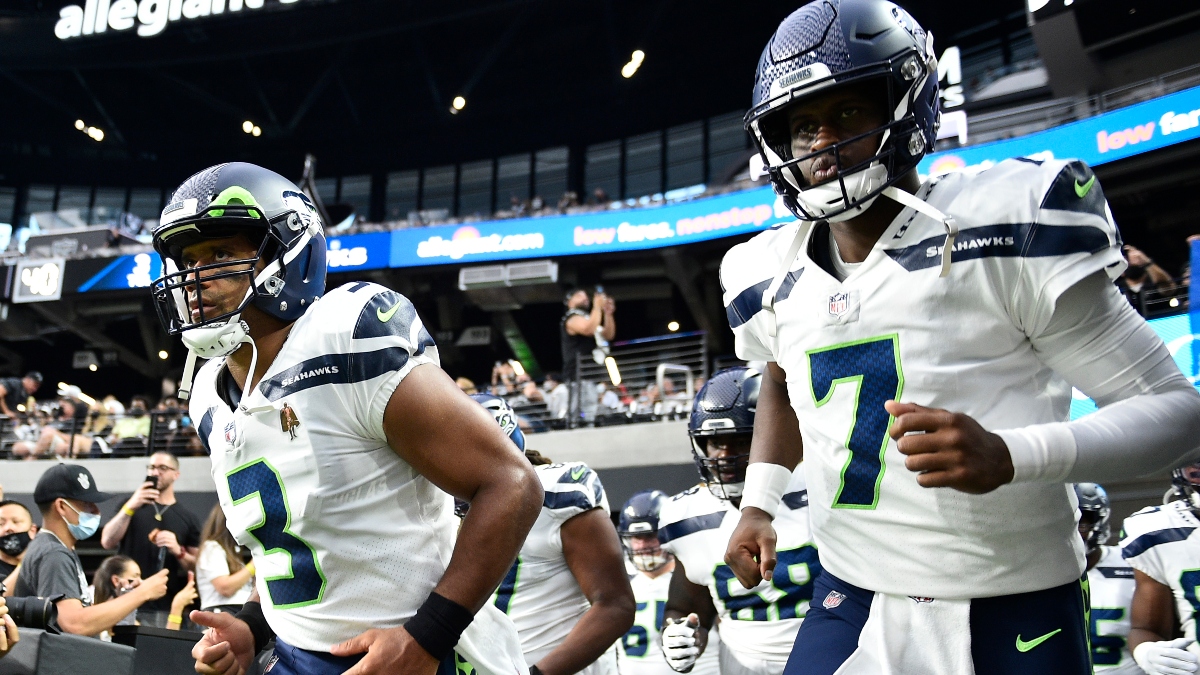 For a second straight week, I'm wondering if we're sure Geno Smith is definitely the worst QB. Few quarterbacks have been as profitable to bet against as Jameis Winston when he's a favorite. Opponents are 17-8-1 in that spot, covering 68% of the time, and teams are 14-12 straight up. That's a winning record for underdogs facing Winston. Winston is 0-2 ATS on Monday night too — both times as a favorite.
Don't forget, both of these teams are far better at home, especially New Orleans. Seattle is playing with its season on the line at 2-4, at home in primetime and desperate to keep its year alive until Wilson comes back. Winston can put the nail in the season, but do you really trust him to do it?
This is the one line that makes no sense at all to me, and it continues to rise. I just can't give Winston this many points on the road. Maybe we get a second straight Monday night upset by the home dogs.
THE PICK: Lean Seahawks +5.5
How would you rate this article?
This site contains commercial content. We may be compensated for the links provided on this page. The content on this page is for informational purposes only. Action Network makes no representation or warranty as to the accuracy of the information given or the outcome of any game or event.