NFL Picks & Predictions: The 6 Spreads & Totals You Need To Bet For Week 8
Credit:
Todd Olszewski/Getty Images. Pictured: Lamar Jackson.
The Ravens to cover the spread as home favorites against the Steelers. The Bengals to cover as home underdogs against the Titans.
Those are two of our staff's six favorite betting picks for Sunday's Week 8 NFL slate.
Find out which spreads and totals you should lock in before kickoff.
NFL Picks & Predictions
Click on a pick to skip ahead to that analysis.
Kickoff: 1 p.m. ET | More Game Info
The 20-point spread is making all the headlines, but I'm much more interested in the total.
It's fair to assume that the Chiefs will use the first half to build a sizable lead, then pivot to the run game in the second half: They've run the ball at a much higher rate with a lead of seven or more points in 2020.
They kept their foot on the gas last season with a 53% pass rate when leading by seven or more points (sixth-highest), but that rate has dipped to 45% in 2020 (21st). We should see that trend continue, which would result in the Chiefs attacking the Jets' only strength. The Jets run defense ranks 14th in Football Outsiders' DVOA and fourth in adjusted line yards. It could result in the Chiefs having a more challenging time running up the score once they go run-heavy.
On the flip side, Sam Darnold will have a tough time moving the ball against this Chiefs defense once the Jets fall behind. Steve Spagnuolo's unit has been an extreme run-funnel one dating back to last season. I have a hard time envisioning Darnold moving the ball against this Chiefs defense without his top WR, Jamison Crowder (doubtful), again this week.
I would set this total closer to 47 given the Jets offense, which is unlikely to force the Chiefs to keep the foot on the gas beyond the first half. I would bet it down to 48.
[Bet now at DraftKings and get a $1,000 bonus, including a $500 risk-free bet]

Stuckey: Ravens -4 vs. Steelers; Under 46.5
Kickoff: 1 p.m. ET | More Game Info
Yes, Pittsburgh is undefeated on the season, but its first four wins all came by 10 or fewer points against four sub-.500 teams with a combined 6-20-1 record. The Steelers bludgeoned the Browns in a very favorable matchup in Week 6 then squeaked out a win against the Titans in Week 7. But ultimately, I'm just not that impressed by the resume as others seem to be, and I think the market has too much love for the Steelers.
I have the Steelers power rated as the third-best team in the AFC — but still have them approximately four points worse on a neutral field against both the Chiefs and Ravens. Throw in a half-point for the Ravens coming off a bye and an additional point for home-field advantage, and you get to my line of just below Ravens -6 here.
As has usually been the case, the bye should serve the Ravens well. I expect the offense to be much sharper and Lamar Jackson to be fully healed from a few lingering injury issues.
This could be a game in which the Steelers really miss linebacker Devin Bush, who is out for the season. Not only do I think the Ravens will call plenty of quarterback draws, but Jackson should have some chunk runs up the middle after being pressured.
Jackson can fully exploit this now-slow Steelers interior linebacker group with his legs and through the air over the middle. That and Baltimore's overall superior rushing attack should ultimately prove the difference between a pair of rivals that have eerily similar profiles.
The early-down success rates for Pittsburgh's offense are huge red flags. That's something you can get away with against the Titans, who now have the worst third-down defense through six games in the history of the NFL. But that's going to catch up to the Steelers very soon, and it could very well get ugly on Sunday against one of the league's best defenses that ranks sixth on third down conversions.
Oh, and don't forget about Baltimore's special teams edge, which it will have almost every week.
I personally jumped at the opportunity to play Baltimore -3 (-125) earlier in the week, since I show plenty of value at that number and also understand how close these matchups tend to be. That puts even more importance on laying only a field goal — even if I had to pay 15 cents to do so — thought I do still like Baltimore at -4.
I also fancy the under — points should come at a premium, which makes every point even that much more valuable. I would play it down to 45.
[Bet now at BetMGM and win $100 if there's a touchdown scored]
Kickoff: 1 p.m. ET | More Game Info
When oddsmakers opened the Ravens as 5.5-point favorites, the spread was immediately bet down to -3.5 before bouncing back up to -4. While many thought it was an outlandish opening line, it's close to where I have these teams power rated.
Based on my preseason priors and the first seven weeks of the season, the Ravens are still the No. 1 team in my system while the Steelers come in as the fifth-ranked team. As Nate Silver wrote in his book The Signal and the Noise: "We focus on the newest or most immediately available information, and the bigger picture gets lost. Sometimes, the new evidence is so powerful that it overwhelms everything else, and we can go from assigning a near-zero probability of something to a near-certainty of it almost instantly."
The Steelers' 6-0 start is overwhelming the perception of these two teams and they'll likely be the biggest public underdog of the week. Taking a closer look at their opponents, though, the Ravens should be a shock to the Steelers' system as Baltimore is the best team to face Pittsburgh thus far. The Steelers' six previous opponents — the Giants, Broncos, Texans, Eagles, Browns and Titans — have a combined record of 16-19 with a point differential of -159.
The Steelers' only opponent with a positive point differential is the Titans, who were a missed Stephen Gostkowski field goal from completing a 20-point comeback to send last week's matchup into overtime. As for the rest: The Giants had a chance in Week 1. A Jeff Driskel-led Broncos team had an opportunity to win on the final drive. The Texans held a second-half lead over the Steelers. And the Eagles were a missed field goal away from taking the lead with three minutes to play.
This is a game in which the absence of Bush could loom large against the Ravens' Jackson-led offense and rushing attack.
John Harbaugh coming off a bye week with two weeks to prepare is another advantage: He's 10-2 straight and 9-3 against the spread as a head coach.

This number is short. I'll be laying the points with the Ravens up to -4.5.

[Bet now at BetMGM and win $100 if there's a touchdown scored]
Travis Reed: Bengals +7 vs. Titans
Kickoff: 1 p.m. ET | More Game Info
This line has been slowly rising throughout the week. Finally reaching the key number of seven makes this one of my favorite plays on Sunday. My model originally made this line Bengals +3, but some extenuating circumstances have caused the line to move.
The Bengals are going to be without their starting left tackle and right tackle as well as running back Joe Mixon in this matchup. This certainly puts some pressure on rookie quarterback Joe Burrow to make sure the protection up front is in a good position throughout the game.
But another factor is weather: The winds are supposed to be in the 20 mph range with gusts much higher than that. This has caused the total to drop from 55 to 51 (find real-time odds here). I agree with the line move, but I'm not sure it affects the Bengals more than the Titans.
Derrick Henry is a huge part of their offense, but the Titans are at their best when they use play action off Henry to take some deep shots. Yes they have the better running game, but if they are unable to take advantage of play action off of it, that improves the Bengals' chances of stopping it.
So even with the injury and weather concerns, the line has moved too much. I like the Bengals as a home dog but would make sure to shop around to lock in +7 since it is such a key number.
[Bet now at PointsBet and get $125 if the Bengals gain a yard]


Kickoff: 1 p.m. ET | More Game Info
I'm a Vikings fan. Knowing that up front might make you think I'm biased picking a Minnesota game, but what it should really tell you is that I definitely know this Vikings vs. Packers rivalry inside and out. And I know this version of Minnesota — the one with Mike Zimmer and Kirk Cousins against Matt LaFleur and Aaron Rodgers — has absolutely no chance.
None.
These teams have played three times since LaFleur took over in Green Bay. The Packers have coasted in all three. They've won by five, 13 and nine points. And the truth is that the games haven't even been that close. The Vikings trailed the Packers, 29-10, through three quarters of their Week 1 matchup this season, but lost by only nine thanks to garbage time. And that five-point win was a 21-0 matchup a minute into the second quarter before the Vikings made it look "respectable." But the games were never close.
Rodgers has figured out Zimmer's defense, and he won't have much opposition this week. Minnesota's secondary was in shambles for that Week 1 matchup, and it's not much better off here with all the injuries. The Vikings are also not getting any help with the pass rush. Danielle Hunter and Anthony Barr have been thorns in Rodgers's side usually, but both are out here. Rodgers is going to have a clean pocket with all day to throw against healthy receivers and a secondary that can't cover them. Yikes.
The Packers defense has Kirk Cousins figured out, too. Green Bay is good at putting pressure on the quarterback, and Cousins simply can't handle it.
This line has hovered around a touchdown but is moving toward the Vikings with the news that Aaron Jones is out and Dalvin Cook is in. Use that to your advantage.
I'm all over the Packers at anything below a touchdown, and I'm throwing them into every teaser. Cousins is not going to Green Bay and beating this team. If anything, Jones being out might just push Rodgers to throw more, while Cook's return will surely push Minnesota to a more conservative, run-focused attack that caps their ceiling.
Grab Green Bay up to -6.5, and tease the Packers at every opportunity when you're getting them in a pick'em on a 6-point tease. The Packers have the Vikings figured out.

[Bet Packers -6 at FanDuel completely risk-free for $1,000]
Michael Arinze: Raiders +2.5/ML +120 at Browns
Kickoff: 1 p.m. ET | More Game Info
I'm not sold on the Browns and their 5-2 record — they're actually ranked 17th in strength of schedule whereas the 3-3 Raiders have played the most difficult schedule of any team in the NFL according to TeamRankings.
This is a good spot to buy the Raiders off a double-digit loss to the Buccaneers, who are arguably the best team in the NFC. Las Vegas actually trailed Tampa Bay by four points with seven minutes left in the game despite playing with an offensive line that did not practice for much of the week due to Trent Brown's positive COVID-19 test.
The weather is also likely be a factor on Sunday with 23-26 mph winds expected at FirstEnergy Stadium.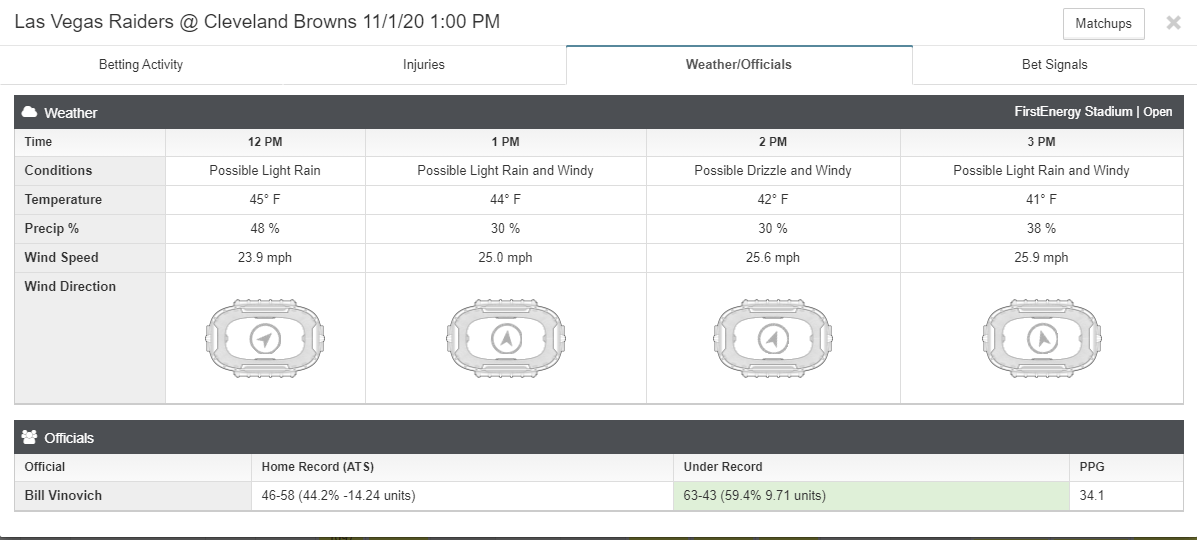 While Las Vegas and Cleveland have averaged only 3.7 and 3.6 yards per carry respectively over their last three games, I give the Raiders the edge in braving the elements enough to move the ball down the field with their short passing game. Per NextGenStats, Derek Carr averages just 7.3 intended air yards while Baker Mayfield averages 9.2 intended air yards. Those shorter passes will be key especially when facing double-digit wind gusts.
There's some false security for the Browns after they came from behind to defeat a Bengals team that managed only one win on the season. The Browns looked like a team relieved to have have won rather than a team that expected to.
As for the Raiders, I like the comments that are coming out of their camp with head coach Jon Gruden calling out his defense and suggesting that they need to find better solutions to generate a pass rush. That should put the defensive coaches and players on notice coming into Week 8.
And finally, teams with a winning percentage of at least .500 are +25 units when coming off a double-digit loss.

The Raiders are worth a look in this spot. I'll also sprinkle a bit of my wager on their moneyline.
[Bet now at BetMGM and win $100 if there's a touchdown scored]
How would you rate this article?