NFL Week 2 Reactions: 5 Observations for Bettors on Nathaniel Hackett, the Jaguars, More
Credit:
Photo by AAron Ontiveroz/MediaNews Group/The Denver Post via Getty Images. Pictured: Nathaniel Hackett (left), Russell Wilson (right).
While Week 1 of the NFL season was all about kickers making and missing field goals and extra points in clutch situations, Week 2 was all about the comeback.
The Jets, Dolphins and Cardinals each rallied from double-digit holes in the fourth quarter, with the latter two rescuing deficits of 20-plus points in the second half.
Comebacks are fun and part of why we love football, but they don't tell us a ton about the strength of a team in general. Most are built off of a series of high-leverage plays all breaking one way — Kyler Murray scrambled around for 22 seconds on a two-point conversion; Nick Chubb made a poor decision to run into the end zone. Follow that with the Browns' poor onside kick recovery and you end up with a stunning Jets victory.
Nathaniel Hackett has cost the Broncos a ton of win probability.
It's hard to explain just how incompetent Denver's game management was on Sunday. It got so bad that Broncos fans counted down the play clock in unison in the fourth quarter, the clearest sign yet that Hackett is overwhelmed by that facet of coaching.
Denver had first and goal from the two-yard line in the first quarter. It tried three consecutive pass plays, all incomplete. The decision on fourth down was an easy one from a win probability standpoint — go for it. Hackett hesitated and then he sent Brandon McManus out for a chip-shot field goal from the two yard-line.
The Broncos were in the red zone again just before halftime, but they could not convert. Fourth and goal from the one-yard line is another obvious go-for-it situation, but Hackett took too long to decide and Denver took a delay of game. It didn't matter because a 24-yard field goal is still an easy one, but the optics weren't great.
The largest blunder of the game came on Denver's second drive of the second half. Trailing 9-6, the Broncos faced a 3rd-and-1 situation at the Houston 35. Hackett dialed up a tight end option play, but Andrew Beck didn't pitch in time and was tackled for a one-yard loss. Not a bad play call if executed right, but it wasn't successful.
Still, facing a 4th and 2 from the Houston 36-yard line, the decision was clear to go for it again. Hackett sent the offense out, then changed his mind and brought in McManus. He nailed the field goal, but not until after the play clock expired. Another delay of game.
Hackett then chose to punt from the 41-yard line in Denver, passing on a 59-yard field goal attempt at altitude. A week ago, you might remember that he sent out McManus for an attempt from 64 in Seattle.
Hackett's timeout management was also terrible, as the Broncos had none left for the final six minutes of a one-score game.
Verdict: Denver opened as a two-point favorite at home against San Francisco and the 49ers quickly steamed to a tiny road favorite. I bet the 49ers as dogs, but still like them now as favorites.
Hackett's game management in close games has been so underwhelming that the market can't properly account for the loss in win probability over the course of the game. The 49ers are multiple points better with Jimmy Garappolo than Trey Lance and Denver's pass offense is bottom six in early down success rate.
I'd bet San Francisco ML -125 or better.
There's one worst-to-first team in the NFL every year. The clear favorite to do that in 2022: The Jaguars?
Maybe it was just Jacksonville home voodoo against Indianapolis, but Trevor Lawrence has now played three consecutive excellent NFL games.
In Week 1, I wrote about late-down failures and how it cost the Jaguars the win against the Commanders. Jacksonville finished with a higher DVOA in that game and then blew the doors off of the Colts on Sunday.
Through two weeks, the Jaguars have a league-high 64% success rate on early down dropbacks. That's very real and extremely encouraging from Lawrence. If you include all four downs, only the Bills and Chiefs grade out better as a passing offense.
Rewatching the Jaguars' victory, I can't help but notice Lawrence's processing ability looks like it has improved ten-fold. The ball is getting out fast — and now with a competent and creative offensive coach with the respect of the locker room, there's real upside for Jacksonville in the league's worst division.
Another reason to like Jacksonville: the defensive line. They lived in the Colts' backfield on passing downs, pressured Matt Ryan constantly and shut down one of the league's best rushers. The Jaguars are also first in rushing success rate allowed.
Verdict: There's too much uncertainty in their upcoming game with the Chargers because of Justin Herbert's injury, but I'm eyeing Jacksonville in a potential Week 4 spot in Philadelphia already. The defensive line should play well there and Lawrence's improved processing could cause problems for the Eagles' defense.
Early Season Early Downs Report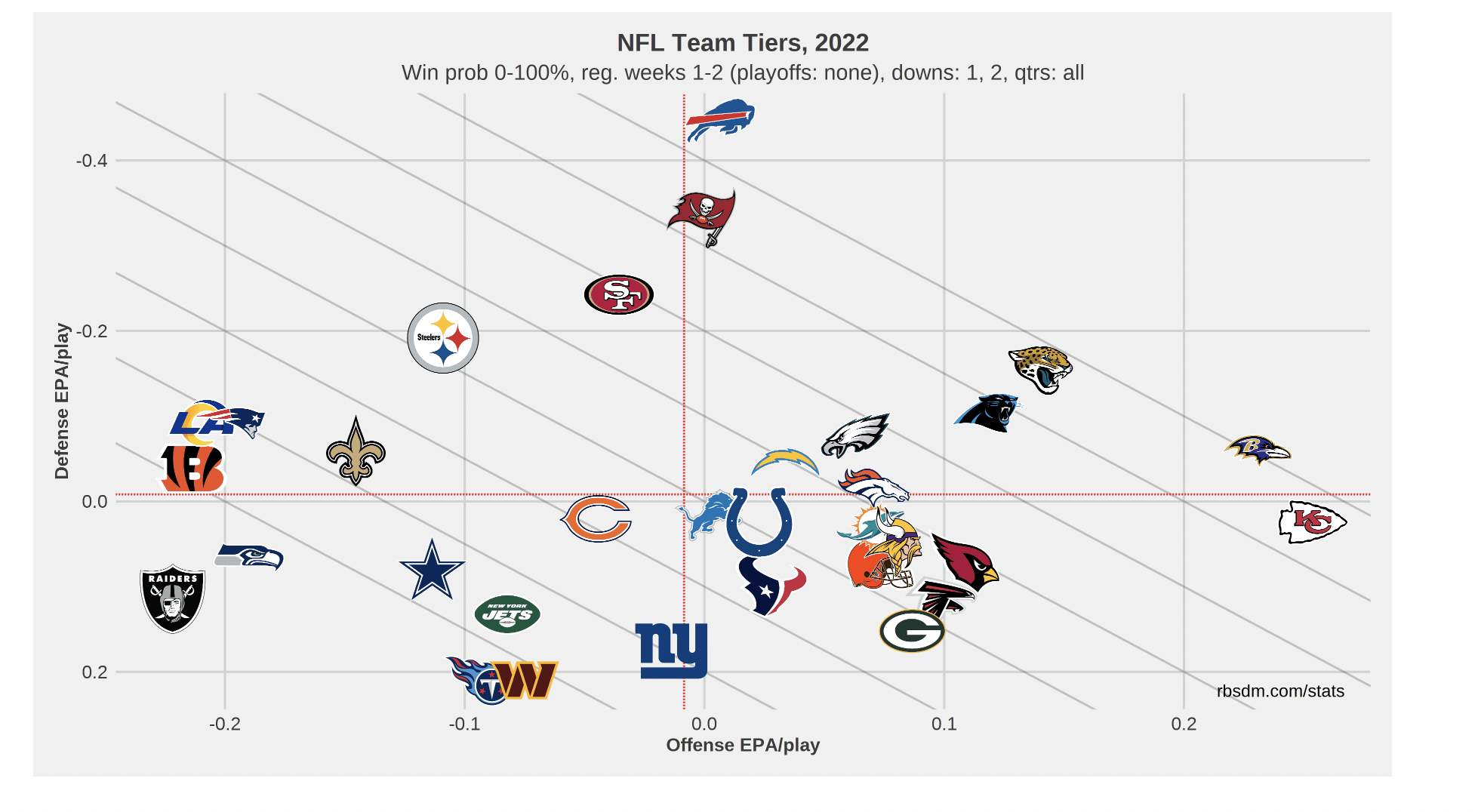 This chart, from rbsdm.com, is the NFL team tiers based on early down EPA/play in the first two weeks of the season. Up and right is good, down and left is bad.
There are some major red flags in the bottom-left-hand quadrant, especially when you consider the Cowboys, Rams, Titans, Patriots, Bengals and Raiders were all playoff teams in 2021. It's no coincidence that three of those six teams — Cincinnati, Las Vegas and Tennessee — were the three biggest primary regression candidates when you compare actual wins to Pythagorean wins.
One team to watch here is the Panthers, who have found a ton of success thus far in early downs. You can probably continue to bet against the Patriots offense figuring out their woes. Tennessee is 31st in EPA per rush through two weeks and now has offensive line injuries. It could be a long season in Nashville.
This actually presents some real optimism that the offenses of the Colts, Broncos and Cardinals will take steps forward in the coming weeks.
Early Season Late Down Report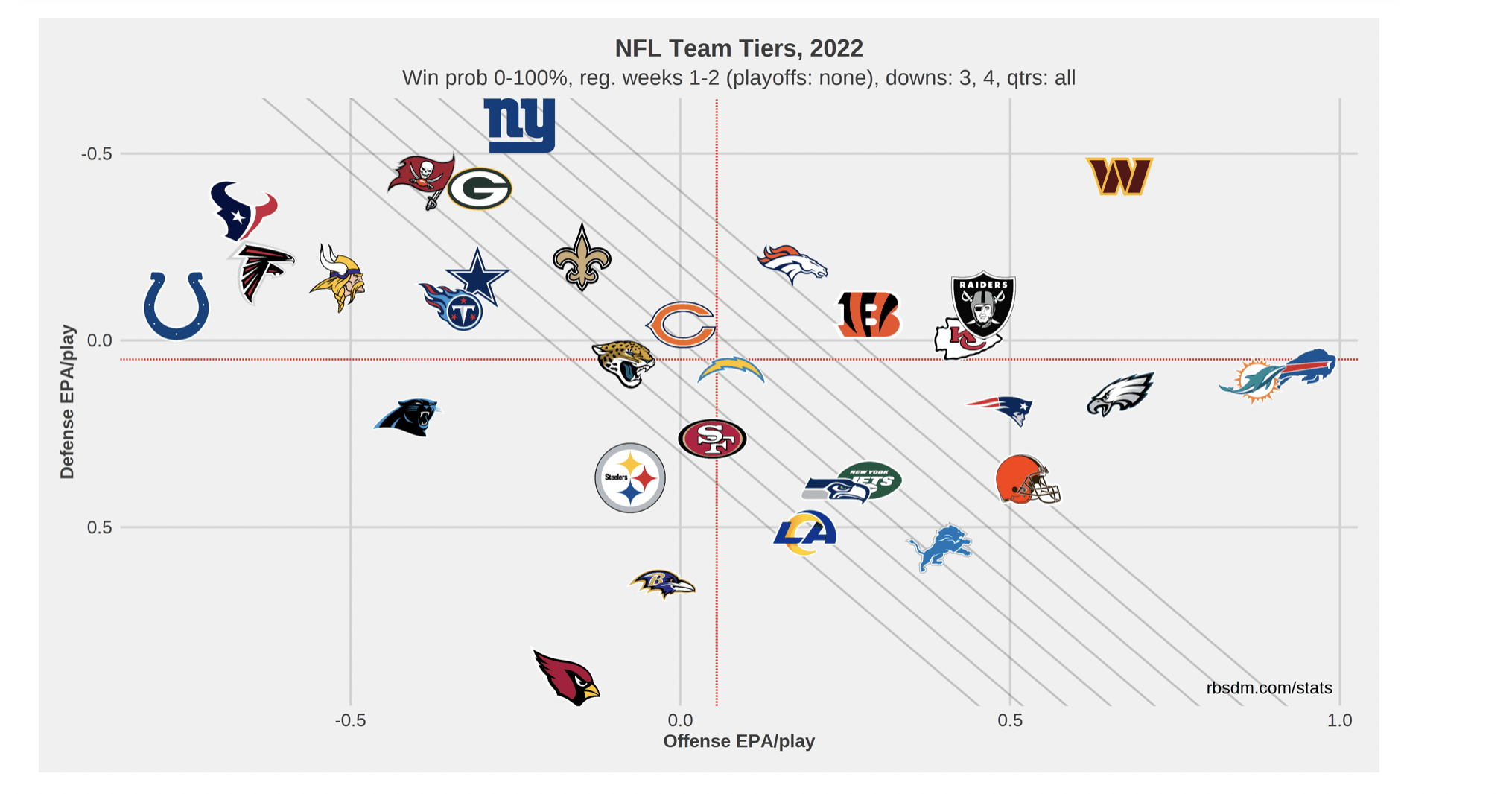 You'll notice with this chart (from rbsdm.com) that the range of outcomes is much, much wider on late downs than it is on early downs. High-leverage plays that swing games often come here, and a few teams have run extremely well in these situations.
Washington sticks out immediately as a regression candidate, despite its 1-1 record. The Commanders have mediocre numbers on first and second down thus far. Meanwhile, the Colts' offense has been unsustainably bad on late downs, as has the Cardinals' defense.
There was nothing flukey about the Cowboys' victory over the Bengals.
The biggest upset of Week 2 didn't get the headlines it normally would have because of the incredible comebacks. But Dallas winning as a seven-point home underdog is a classic example of why one game never means as much as you think in the NFL.
Dallas still has issues — its offensive line is somehow first in run block win rate and dead last in pass block win rate through two weeks — but the defense appears to still be legit.
Micah Parsons is first in pass rush win rate through two weeks, and the Cowboys' defense has put together two stellar performances against two good offenses (based on priors).
What was most encouraging was how Kellen Moore switched up the offensive scheme a bit to maximize Cooper Rush.
Rush is significantly more limited than Dak Prescott, so Moore designed a scheme with fewer tight-window throws to give him a much easier time. The Cowboys only managed 20 points, but they were superior in yards per play (5.7 to 3.8) and yards per attempt (7.2 to 3.9).
Verdict: The Giants are 2-0 with two wins that came down to a field goal. If Dallas is +3 or better, it's a great spot to bet against New York's hot start. The Cowboys' defense should wreak havoc on Daniel Jones.
How would you rate this article?
This site contains commercial content. We may be compensated for the links provided on this page. The content on this page is for informational purposes only. Action Network makes no representation or warranty as to the accuracy of the information given or the outcome of any game or event.