Super Bowl MVP Odds Draft: Our NFL Experts Pick the 12 Best Value Bets
Credit:
Getty Images. Pictured: Mike Evans, Travis Kelce
In honor of Super Bowl 55, we asked six of our top NFL analysts — all of whom are the brains behind our PRO Projections and/or fantasy football rankings — to draft the 12 best bets to win MVP.
The kicker? Picks had to be based on the betting value available at each point in the draft, not necessarily who is most likely to win it. That means neither Patrick Mahomes or Tom Brady came off the board with the first pick — in fact, one of the two wasn't selected until fifth overall.
Of course, betting "value" is still subjective to some degree, which is also why our analysts outlined a supporting argument for each of their picks.
Now let's quickly run through the draft results then dive into our panel's cases for each player. (Note: All odds are as of Wednesday and via DraftKings.)
Super Bowl MVP Odds Draft
1. Tyreek Hill +1200
Stuckey: We haven't seen a running back win this award since Terrell Davis took home the trophy in 1998. Since then, it's been dominated by quarterbacks with 14-of-22 going to signal callers (Tom Brady has four of those). The other eight have been split evenly between defenders and wide receivers.
I don't see Chiefs-Bucs being dominated by either defense like we saw with the Ravens when Ray Lewis won the award 20 years ago. That doesn't mean a defender can't win it, but it would take a great deal of good fortune to be in the right places at the right times and hope the oblong ball bounces your way. I have no interest in predicting who that could be this Sunday.
With two household names at quarterback, it's hard to envision either Brady or Patrick Mahomes not winning MVP, but I don't see value in either number.
Ultimately, I went with Hill for a few reasons:
1. I project Kansas City as the favorite, so I wanted to go with a Chief.
2. You can't really run the ball against Tampa Bay's stout defensive front, especially with the dominant Vita Vea likely to be in much better game shape, so I don't expect Kansas City to do much on the ground with a traditional rushing attack (especially with a banged up offensive line). However, I do still expect the Chiefs to run the ball in other ways with Hill and Mecole Hardman. That will not only keep the Bucs defense honest but could also capitalize on their aggressiveness.
3. Nobody in the NFL can really cover Hill, but he may be primed for another huge game against a secondary that usually plays very aggressive on the back end. I mean, Hill had more than 200 yards receiving and three touchdowns in the first quarter alone when these teams met in the regular season.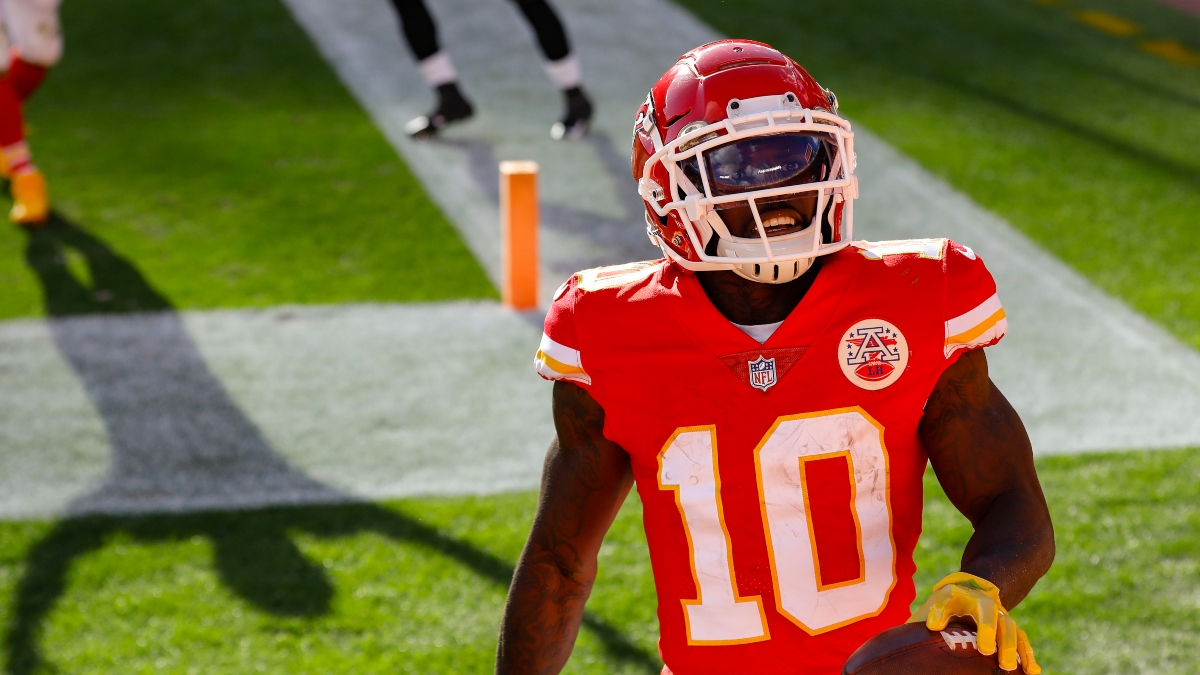 4. This reason is more of a longshot, but Andy Reid could throw Hill back to return a punt or two. It is the Super Bowl and the Chiefs' punt return unit has been pretty subpar, ranking 29th in Football Outsiders' DVOA. If he ends up taking one to the house against a poor Bucs punting unit, he'd be in great shape to win this award if he can also put up big numbers elsewhere.

Four of the past 16 winners have been wide receivers, which makes sense in today's pass-heavy NFL. Throw in the fact that Hill could also contribute in a major way with the modified "rushing" attack — plus maybe, just maybe on special teams — and I couldn't pass up going with him first overall.
2. Shaquil Barrett +5000
Raheem Palmer: Kansas City's offensive line is depleted.
In the fourth quarter of the AFC Championship, left tackle Eric Fisher tore his Achilles tendon, which doesn't bode well for a line that's been without right tackle Mitchell Schwartz since Week 6. The Chiefs now face a Buccaneers pass rush that's fourth in sacks (48), third in pressure rate (27.8%), and just sacked Aaron Rodgers a season-high five times. The absence of left tackle David Bakhtiari loomed large for Rodgers in the NFC Championship: He was pressured on 16-of-55 dropbacks (29%), completing just 50% of passes with a 60.4 passer rating when under pressure.
Mahomes may be the NFL's best quarterback, but he certainly isn't immune to pressure.
Mahomes' 71.5% completion rate on 8.5 yards per attempt with a 116.4 passer rating when not facing pressure drops to 48% on 6.3 yards per attempt with a 74.3 passer rating when under duress. When you also consider that 10 of his 25 interceptions since 2018 have happened under pressure, it's clear that the key to a Buccaneers' victory is generating pressure and that the Super Bowl will be decided by how well the Chiefs' offensive line plays.

In Super Bowl 50, Von Miller destroyed former Broncos offensive lineman and current Chiefs right tackle Mike Remmers to sack Cam Newton 2.5 times, hit Newton twice and force two fumbles en route to winning MVP. How incredible would it be to see history repeat itself here? I'm expecting a similar performance from this Buccaneers defensive line, so I'll be betting on them. And with my first pick, I'm selecting Barrett — he had three sacks, two tackles for loss and four quarterback hits in the NFC Championship.
3. Patrick Mahomes -105
Travis Reed: With -165 moneyline odds, the Chiefs are priced to win the Super Bowl 62.3% of the time (convert more odds with our betting calculator).
You would need to believe that Mahomes wins the MVP 83% of the time when the Chiefs win, and I believe that is low. Given how often the media likes to vote for quarterbacks and the Mahomes vs. Brady storyline heading into this game, I believe Mahomes' true odds are north of 90% to win this award should the Chiefs prevail.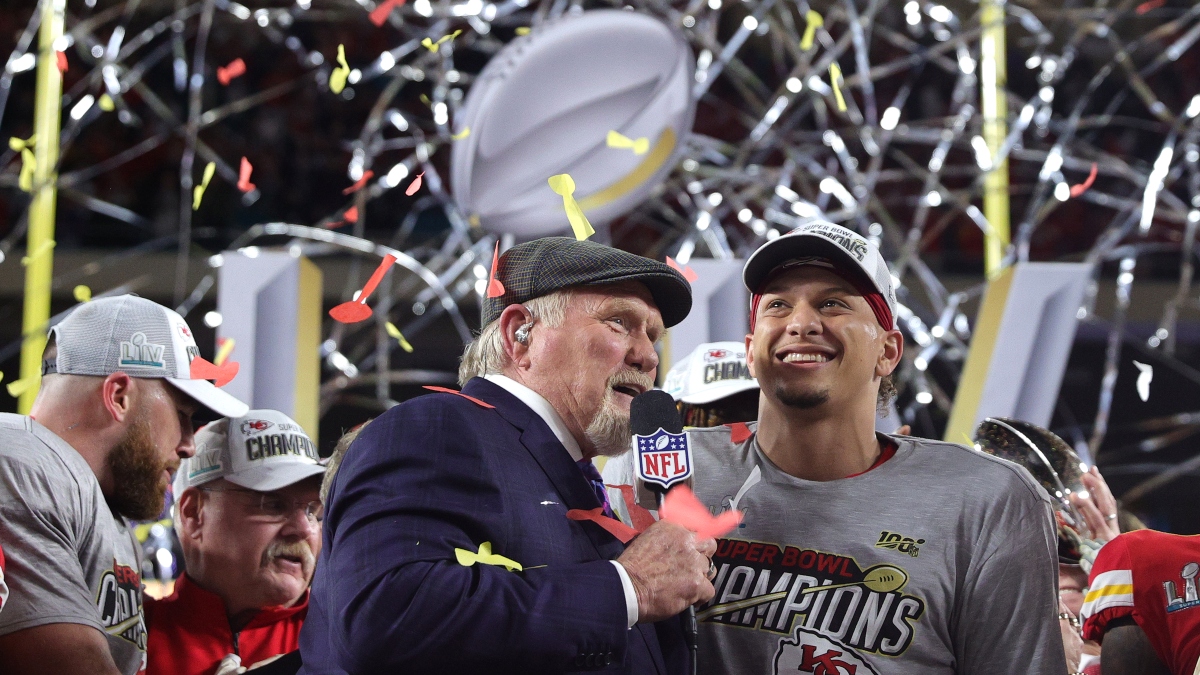 In last year's Super Bowl, Mahomes won the MVP despite a subpar game by his standards. While some may have thought Damien Williams should have won, the quarterback ended up the winner as kind of the default selection.

Even though he is the favorite, he still offers value. He doesn't even need a great performance to win this award — he just needs to be good enough.
4. Travis Kelce +1300
Sean Koerner: Betting on the MVP market is tricky because it's inherently subjective. The winner is chosen by 16 media members (80% of the vote tally) and online fan voting (20% of the vote). That process has been in place since 2001.
Here's the breakdown, by position, over those 20 Super Bowls:
QBs: 12-of-20 (60%)
WRs: 4-of-20 (20%)
Defenders: 4-of-20 (20%)
Considering 56.5 would be the third-highest total in Super Bowl history, I'm assuming the chances of a defensive player winning MVP will be much lower (5-10%) while it's even more likely that we see a quarterback or pass-catcher win as a result.
No tight end has ever won the award, but Travis Kelce is not your typical tight end considering he finished the regular season with the second-highest receiving yards total … in the NFL.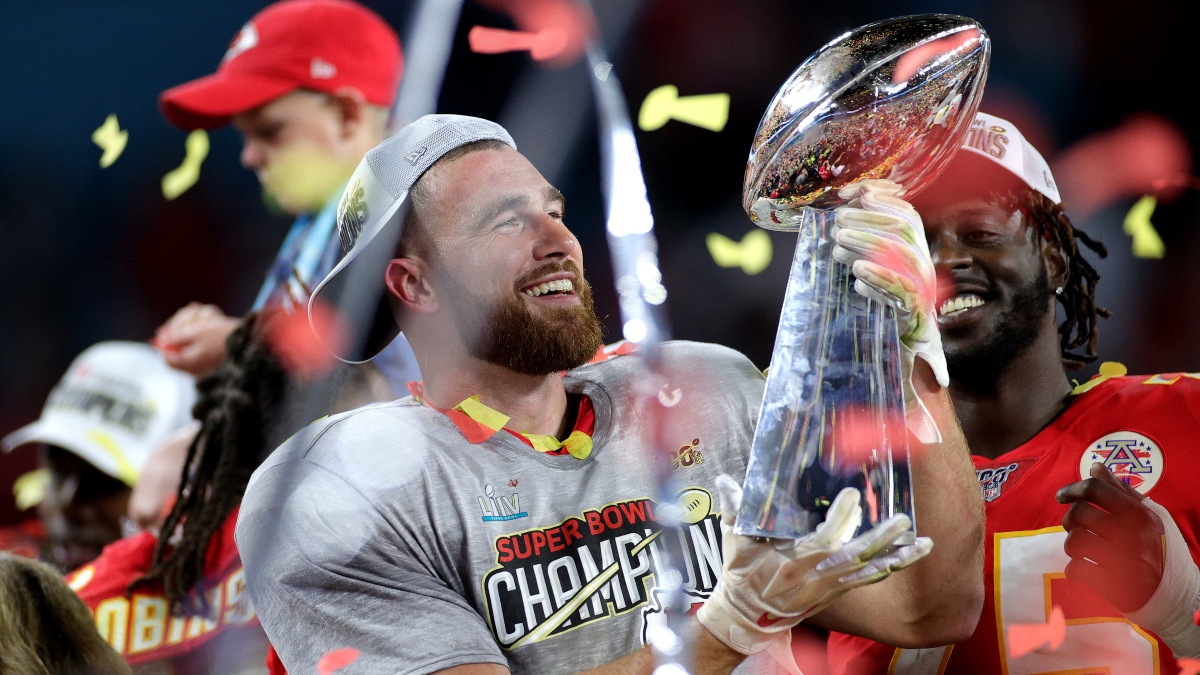 The key to a WR/TE winning this award is to have a large enough target share and make it difficult for MVP voters to award it to the QB. With Mahomes, that will be tough to do. But we've seen 5-7 games from Kelce this season that I think would be enough to put him in the MVP discussion.
Here are those receiving lines by week, side-by-side with Mahomes' passing lines, and my projected chances that Kelce would have won MVP for that game:
Week 2: Kelce 9/90/1 vs. Mahomes 302/2/0 & 6/54/0 (Low)
Week 5: Kelce 8/108/1 vs. Mahomes 340/2/1 & 6/21/1 (Medium)
Week 6: Kelce 5/65/2 vs. Mahomes 225/2/0 & 10/36/0 (High)
Week 11: Kelce 8/127/1 vs. Mahomes 348/2/1 & 4/16/0 (High)
Week 13: Kelce 8/136/1 vs. Mahomes 318/1/0 & 4/26/0 (Very High)
Week 14: Kelce 8/136/1 vs. Mahomes 393/2/3 & 5/9/0 (High)
Week 16: Kelce 7/98/1 vs. Mahomes 278/2/1 & 3/21/0 (Medium)
AFC Champ: Kelce 13/118/2 vs. Mahomes 325/3/0 & 5/5/0 (Very High)
If they handed out an MVP award for every game this season, it's conceivable that Kelce would have received it 2-4 times. After applying that rate to the Chiefs' odds of winning the game, I would set Kelce's "true odds" closer to +1000 in this market.

5. Tom Brady +210
Chris Raybon: QBs have won 14 of the last 22 awards (63.6%), but I believe the Brady vs. Mahomes matchup increases the odds of one of the two winning, as non-QBs have a better chance to shine in low-scoring games. (Look no further than 2018, when Jared Goff's disastrous showing resulted in a 13-3 Patriots win, enabling my longshot pick of Julian Edelman from that year's MVP draft to hit.)

Given that Brady has had a hand in 45 of the Bucs' 59 touchdowns (76.2%) and ceded the award to Edelman the last time he won a Super Bowl, Brady is a near-lock to get the award if the Bucs win. Given that Tampa Bay's moneyline odds are in the +145 range, his MVP odds offer some nice value not only on Brady, but also as a way to invest in the Bucs winning.
6. Leonard Fournette +2500
Matthew Freedman: At this point in the draft, Mahomes and Brady were already off the board, so I needed to think a little outside the box.
That led me to Fournette.
If the Buccaneers win the Super Bowl and Brady doesn't win the MVP, it seems likely that they will have had success with the ground and short-passing games — that makes sense, given that the Chiefs defense was No. 31 in rush DVOA and pass DVOA against running backs during the regular season.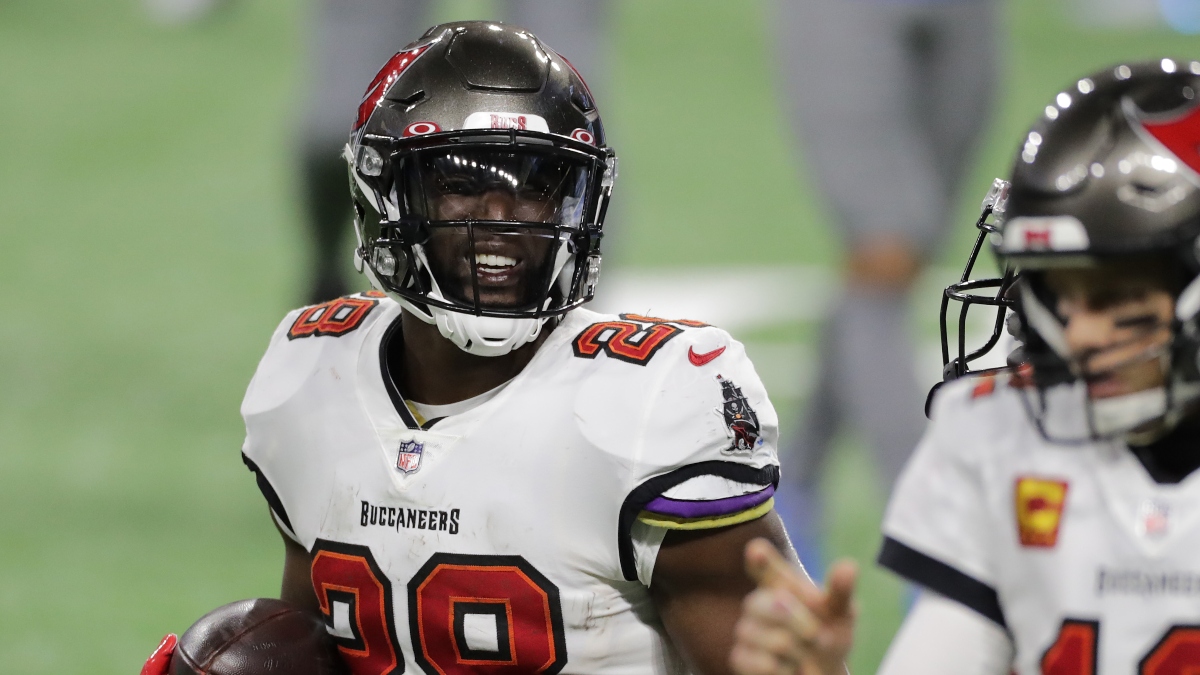 The Chiefs are most vulnerable to against opposing backs, and Fournette looks like the lead back for the Bucs, even with the return of Ronald Jones.
In three games this postseason, Fournette has 19, 17 and 12 carries and four, six and seven targets. With that usage, he's averaged 104.3 yards and a touchdown from scrimmage.

If the Bucs win a low-scoring game and Fournette has 100-plus yards with multiple touchdowns, he could win MVP.
7. Mecole Hardman +5000
Matthew Freedman: If the Chiefs win the Super Bowl but Mahomes doesn't win MVP, that means someone will almost certainly need to contribute outside of the passing attack.
With that in mind, I briefly considered running backs Clyde Edwards-Helaire and Darrel Williams, but the Bucs defense is No. 1 in rush DVOA and No. 6 in pass DVOA against running backs. It will be hard for either back to produce against the Bucs. They also seem likely to limit each other with their shared workload.
So if a non-Mahomes Chief is to win MVP, I think it will be Hardman because he can contribute in a variety of ways.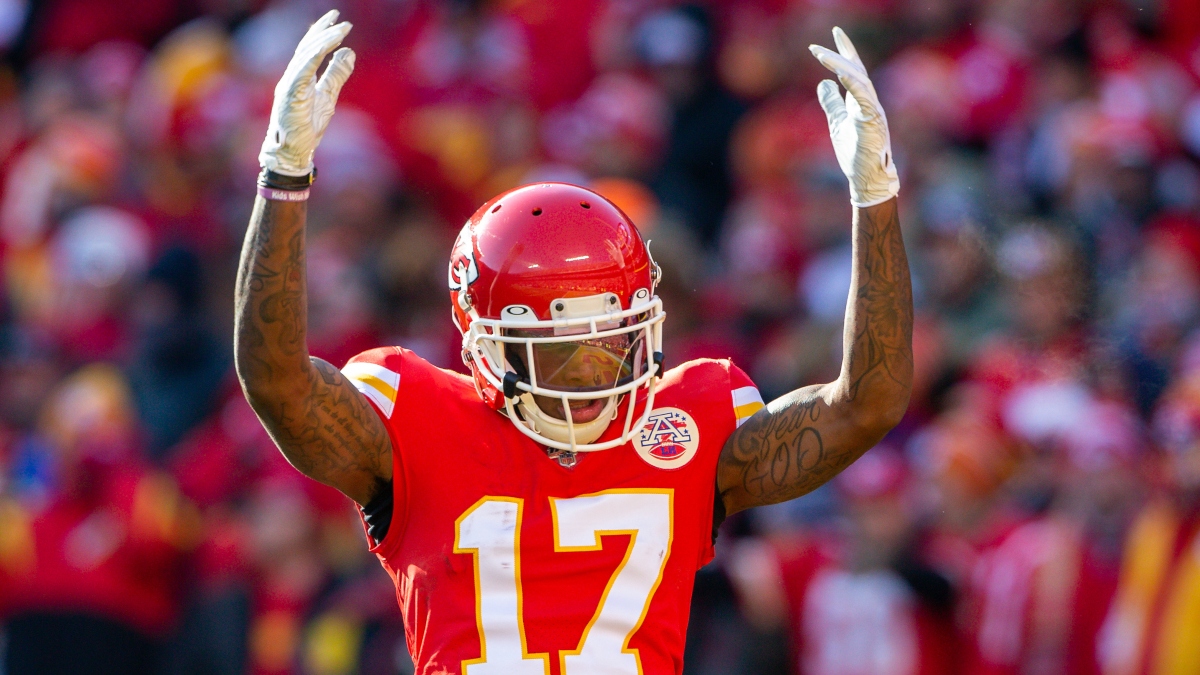 Hardman has gotten a carry in each of the past four games that have mattered — in Weeks 15-16, the Divisional Round and AFC Championship — and as we saw with his 50-yard run against the Bills, he has the athleticism to turn any touch into a touchdown. It's not hard to envision Hardman breaking a long scoring run.
On top of that, Hardman is the regular punt returner for the Chiefs, and in the AFC Championship he also returned a kick. One of the best return men in the NFL, Hardman took a kick return to the house last year and a punt return this year. If he has a few big returns and breaks one of them for a touchdown, that will go a long way to aiding his MVP case.
And then of course Hardman could have a big game as a receiver with his big-play ability. For his career, he's turned 116 targets into 1,189 yards and 11 touchdowns. If the Bucs' pass defense takes away Hill and Kelce and forces Mahomes to rely on other players, Hardman could go off with enhanced target volume.

With multiple avenues to production (two of which exclude Mahomes), Hardman is as good as any non-Mahomes MVP candidate gets for the Chiefs. If they are able to win a low-scoring game in which Mahomes throws only 1-2 touchdowns, Hardman will have a shot if he manages to score multiple touchdowns, especially if one of them comes as a runner or returner.
8. Mike Evans +3000
Chris Raybon: As I alluded to before, defensive players are off limits for me in what is likely to be a high-scoring affair. With both QBs gone at this point, I'm looking for the skill player most likely to put up a huge stat line who is still left on the board.
Wide receivers have come on strong in this MVP race, winning four of the last 16 while no running back has won since Terrell Davis in 1998, so I love getting Evans at a better price than Fournette and Edwards-Helaire. I would have taken Hill or Kelce if either was still on the board, but Evans is the clear third-best skill-position choice for me.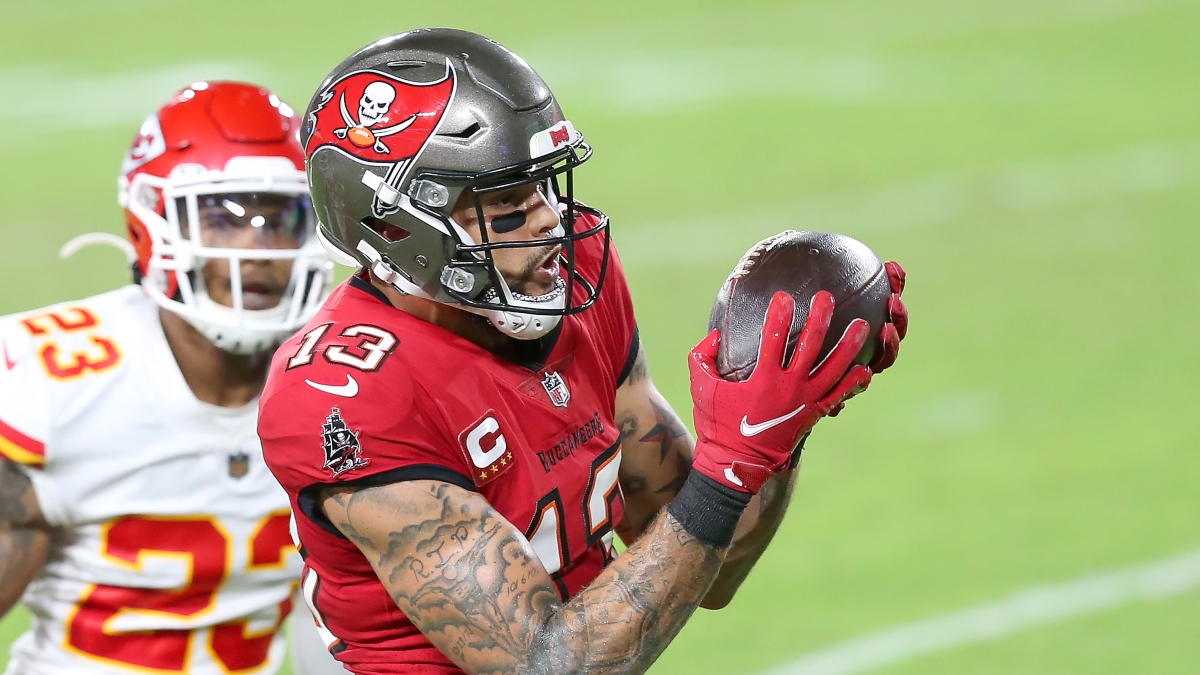 Evans is less consistent than Chris Godwin, but his volatility works in favor of winning MVP: While Godwin has posted 100+ yards and/or multiple touchdowns in 2-of-15 games (13.3%), Evans has done so in 7-of-19 contests (36.8%). In fact, Evans posted two touchdowns in the first meeting between these two teams. And even though he caught only three passes for 50 yards total, the potential was there as he was targeted nine times and racked up 149 intended air yards.
9. Chris Godwin +3000
Sean Koerner: With Mahomes, Brady, Hill, Kelce and Evans off the board, Godwin was the final realistic option left on the board. In the 15 games Godwin played in this season, it would be difficult to point to one for which he deserved the award. Two games stand out as close, though:
Week 17: 5/133/2 vs. Atlanta
Godwin had a monster game, but Antonio Brown posted an even better line (11/138/2). I'm guessing the game "award" would have been given to Brady, who threw for 399 yards and four touchdowns.
Wild Card Round: 5/79/1 at WFT
Godwin had a decent game but secured only five of his 12 targets (including three drops). He had the volume for a potential MVP type performance but came up well short.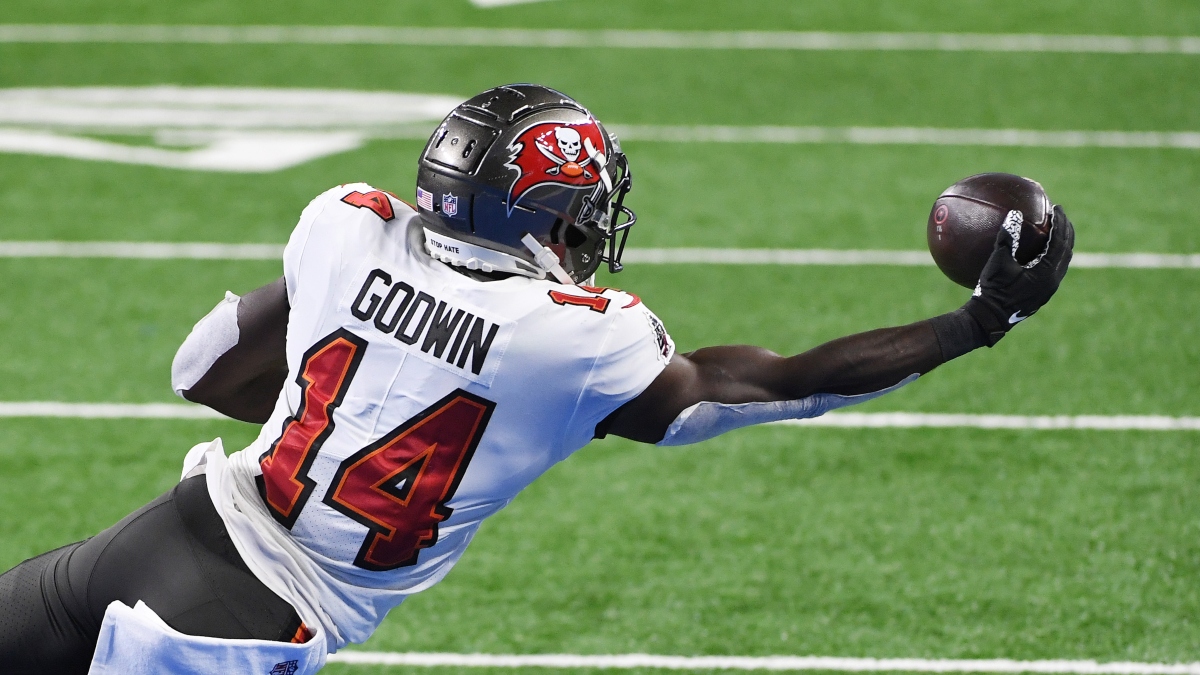 For Godwin to win, he would need to post a line close to 7/120/2, and the Bucs defense would have to slow down the Chiefs offense enough so that Brady wouldn't have to throw for 400-plus yards and four-plus touchdowns to pull off an upset. While all of that is unlikely, I do see value in taking him at +3000.
10. Clyde Edwards-Helaire +2800
Travis Reed: The running back situation is somewhat murky at this point, and I don't expect Andy Reid to reveal his plan until the game starts on Sunday. While Edwards-Helaire may be in somewhat of a timeshare with Darrel Williams, I think CEH is the better play for MVP.
To win the award, you have to make some highlight plays that stand out in a voter's mind, and I think CEH is more capable of that than Williams, who is more of a straightforward runner.
Prior to and after the 2020 NFL Draft, the Chiefs made a point to note how much CEH would help in both the running and passing game. While he wasn't featured as much in the passing game as some fantasy investors would have liked, it would not shock me at all to see Reid throw in some wrinkles that they haven't used.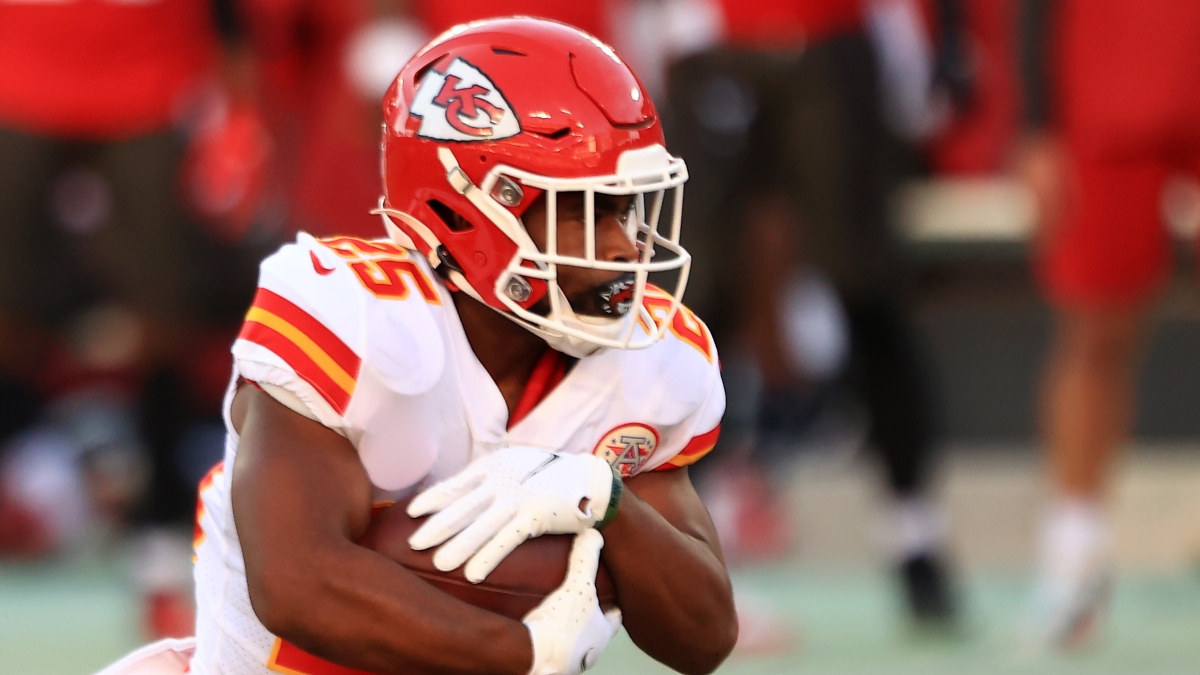 Also with a backup starting at left tackle against a strong pass rush, the Chiefs offense could see more short and quick passes than usual, which would mean more targets for running backs and a good opportunity to garner some MVP consideration for Edwards-Helaire.
11. Jason Pierre-Paul +7000
Raheem Palmer: The same reasoning that supported my Barrett pick earlier applies here, too. The Chiefs offensive line is depleted and we're betting on the Buccaneers' two best edge rushers to dominate this game and lead them to the win.

JPP was second on the team in sacks with 8.5 this season and had two sacks, two tackles for loss and two quarterback hits in the NFC Championship. There's a chance he could make a similar impact this week.
12. Sammy Watkins 80-1
Stuckey: Well, it was slim pickens at the No. 12 spot, but I went with another Kansas City receiver for the reasons I mentioned above. I'm assuming/hoping Watkins will play considering all signs point to that being the case.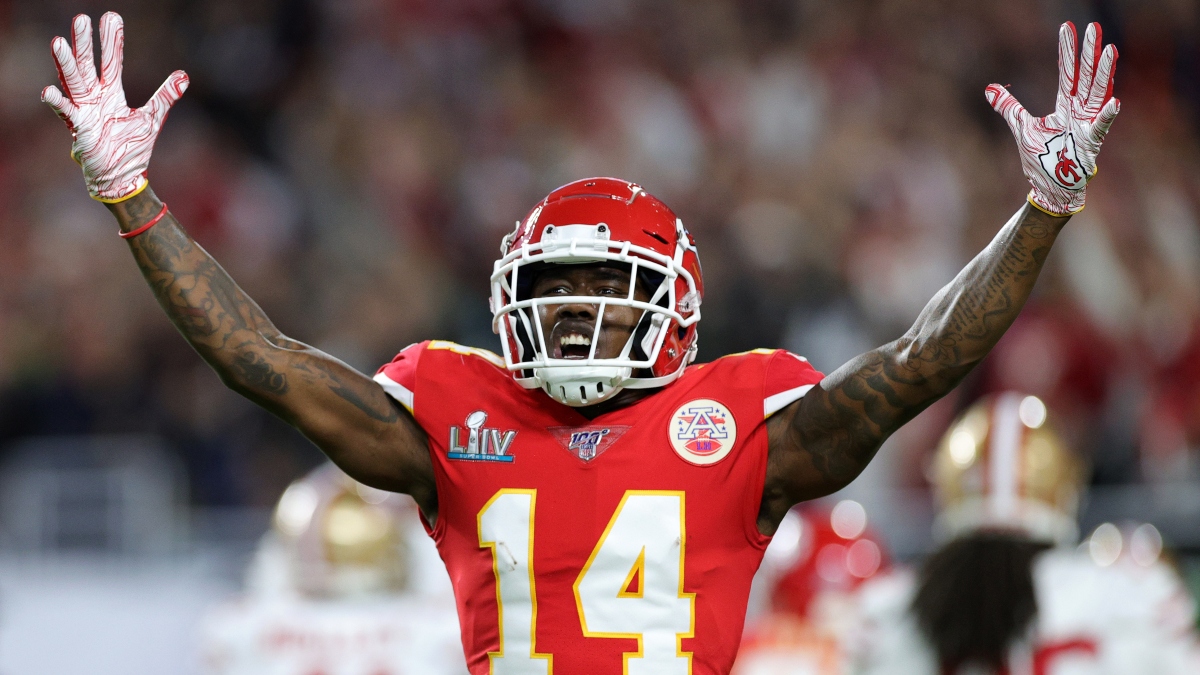 I also assume the Bucs will try to do everything to contain Kelce and Hill. I'm not sure that's possible, but with all of the extra potential attention on those two, Watkins could have a field day underneath — especially if the Bucs are getting pressure and Mahomes isn't 100% mobile.
Watkins has had extremely productive postseasons in Kansas City: In five playoff games with the Chiefs, he has 24 catches on 34 targets for 464 yards. That's an average of nearly five catches for 100 yards, which was almost his exact stat line in last year's Super Bowl (five for 98). Duplicate that with a couple touchdowns, and he has a shot this year. (Remember that he caught seven balls for 114 yards in last year's AFC Championship against Tennessee, too.)
How would you rate this article?