Our Experts' Favorite Week 15 NFL Betting Picks: Spreads & Over/Unders
Credit:
Kirby Lee-USA TODAY Sports. Pictured: Dak Prescott, Jared Goff
Are the Cowboys being undervalued against the Rams? How should you bet the double-digit spread in Falcons-49ers?
You'll find our staff's favorite betting picks for Week 15 of the 2019 NFL season below, featuring spreads and over/unders.
Our experts reveal their six favorite Week 15 NFL betting picks, featuring spreads and over/unders in the following seven games:
Patriots at Bengals: 1 p.m. ET
Seahawks at Panthers: 1 p.m. ET
Vikings at Chargers: 4:05 p.m. ET
Rams at Cowboys: 4:25 p.m. ET
Falcons at 49ers: 4:25 p.m. ET
Bills at Steelers: 8:20 p.m. ET
Let's dig in!
---
Odds as of Friday afternoon and via DraftKings, where Action Network users get a risk-free bet up to $500.
---
In the history of the Bet Labs database (since 2003), the Patriots are 160-101-8 against the spread (20.3% ROI).
Bill Belichick usually gets the job done. On average, the outcome for a Pats game is a cover of +3.74 points. That's a massive margin. And Belichick is even less generous against poor opponents. When facing teams that failed to make the playoffs in the previous season, the Patriots are 112-58-5 ATS (28.7% ROI). On average, they've scored 4.90 points more than their non-playoff opponents.
Even with Andy Dalton back in the starting lineup, I have no respect for the 1-12 Bengals.
Under the Belichick regime, the Pats have been a "no mercy" franchise against overmatched opponents. And given that they are coming off of back-to-back losses, I expect them to take out their anger on the tanking Bengals.
Coming off a loss, the Pats are 39-15-0 ATS (43.2% ROI).
Freedman is 508-383-21 (57%) overall betting on the NFL. You can follow him in our free app.
Travis Reed: Panthers +6.5 vs. Seahawks
The Seahawks are 10-3 record and have an MVP candidate in Russell Wilson, but their underlying numbers say they may not be as good as their record indicates. They have only a +20 point differential and have given up 321 points — the most given up by any team with a winning record this season.
While some would call the Seahawks clutch, the math says that winning close games is not sustainable over time and teams are likely to regress toward the mean. While their running game could feast, their defense will have to deal with Christian McCaffrey.
I think anything over a field goal is too much. I gladly snagged the +6 as well as the moneyline in case we see an outright upset.
Sean Koerner: Chargers +2.5 vs. Vikings
I almost don't know where to begin with this one.
Sportsbooks don't set lines as a way to predict how games will end — their main goal is to divide the action evenly. And it just so happens that having a market where millions of dollars helps set where the line ultimately closes creates an extremely accurate forecast for NFL games.
The public has become increasingly sharp over the years as access to data and timely news is more readily available than ever. It makes the market incredibly sharp, in general, and tough to beat.
This is a rare game in which the wrong team is favored. The market has demanded that it be.
The Vikings opened as 2.5-point road favorites, which has been pummeled by 82% of the tickets and 86% of the money (see live public betting data here). So why hasn't the line gone up to the key number of -3? Sharp money. I can almost guarantee you books have either already received sharp money or know they'll get sharp action at 3, so the line has been frozen.
The Chargers have been one of the unluckiest teams this season. They have a +2.8 edge in Pythagorean win differential over the Vikings, which is largely due to a 2-8 record in one-score games.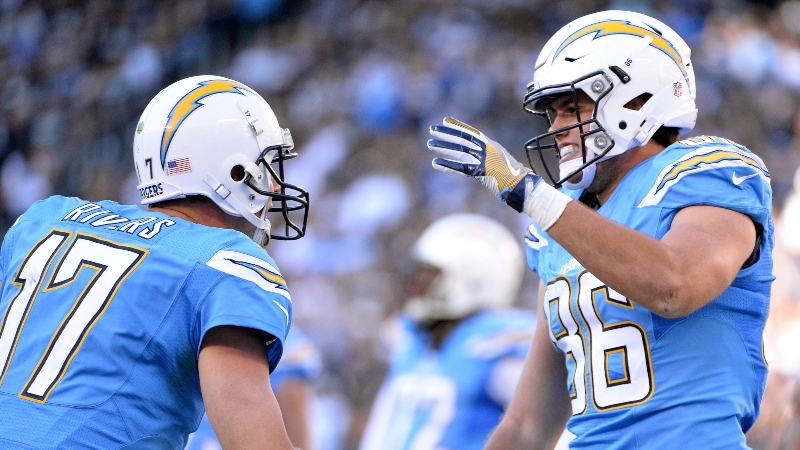 The Chargers also happen to be one of the unluckiest teams in fumble recoveries while the Vikings have been one of the luckiest. It comes out to a +6.7 edge in fumble luck for the Chargers — another signal that identifies hidden value on a team moving forward.
The Chargers' pass defense has been lethal, allowing fewer than 185 yards passing to seven of their past 10 opponents. Stud safety Derwin James returned from IR two games ago, which only improved their stout defense. The Vikings rely heavily on running backs Dalvin Cook and Alexander Mattison, but each are likely to be less than 100% as they're dealing with injuries.
The Chargers are going to be my play of the year, but I'll want to see if the market can push it up to +3 before pulling the trigger. You might have to act fast if it does, though, with all signs pointing to sharps not allowing that number to be available for long.
Koerner is 147-104-2 (58.6%) overall betting on the NFL. You can follow him in our free app.
Stuckey: Cowboys +1.5 vs. Rams
Now, while I think the Rams have the edge in a lot of the little things — which I covered in depth in our game guide — I have to play the Cowboys here.
First, I know that, in a way, this game (somehow) means nothing to the Cowboys — they can beat the Eagles then the Redskins over the next two weeks to win the division. But on the flip side, this game is almost essential to the playoff chances for the Rams, who are fighting for the last wild-card spot in the deep NFC.
But at the end of the day, I play numbers, not teams.
When this line opened around Cowboys -3, it looked reasonable to me since I have these teams rated very similarly. Even when it ticked down a bit, I had no interest in Dallas for fear of the reasons I outlined above. However, I cannot pass up +1.5, which is where this line currently sits after everyone and their brother, sister and cousin has decided to play the Rams — that's just too much value on the home team (with extra prep following a Thursday game) in a fairly even matchup, per my numbers.
This game also fits one of my primary principles — buy low, sell high — when betting the NFL, which sees more overreactions on a week-to-week basis than any other sport.
Last week, everybody wanted to back the Cowboys on the road in Chicago and fade the Rams at home against Seattle. Well, after passing on Dallas last week and betting the Rams, the tides have shifted too much with this number.
I'll be out on an island by myself late Sunday afternoon with a Cowboys ticket, hoping Jason Garrett doesn't do something like punt on fourth-and-1 from the Rams' 30-yard line. And hey, at least Brett Maher is no longer kicking in Big D!
Stuckey is 308-241-7 (56.1%) overall betting on the NFL. You can follow him in our free app.
Mike Randle: 49ers -10.5 vs. Falcons
While we've discussed the danger of picking against the 9- to 10-point underdogs in the NFL, the Falcons are simply too injured on both sides of the ball to keep this matchup close. The season-ending loss of Desmond Trufant coincides with the Falcons also losing wide receiver Calvin Ridley and nagging injuries to Julio Jones and Austin Hooper to severely limit the Falcons efficiency.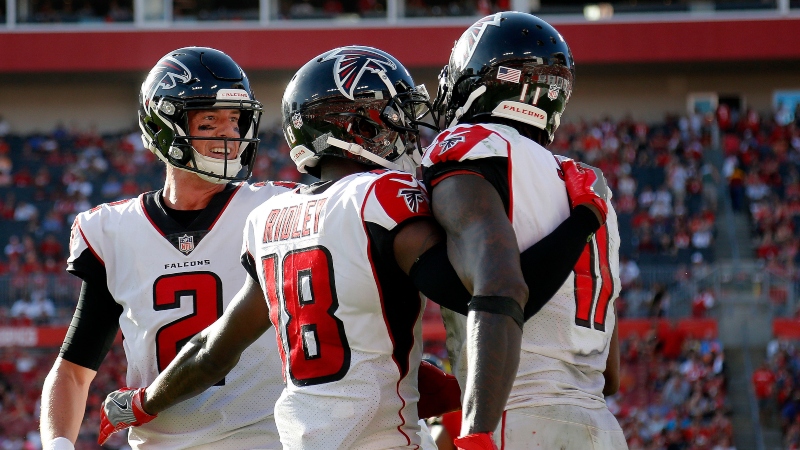 San Francisco's second-best offense by Football Outsiders' DVOA is now comprised of a top-two pass offensive attack, with Jimmy Garoppolo playing his best football at the end of the season. I expect a huge bounceback by the 49ers defense against a Falcons offensive line that's allowed 16 sacks over the past three games.
I'll buck the trend of 9- to 10-point underdogs covering, and go with a healthier and more accomplished San Francisco team at home.
Randle is 237-231-4 (50.6%) overall betting on the NFL. You can follow him in our free app.
Chris Raybon: Bills-Steelers Under 37
This is your quintessential December cold-weather slugfest between two defense-first teams. The Bills rank second in the NFL in points allowed (16.3), while the Steelers rank sixth (18.3).
And while this should be a defensive struggle, both teams' young quarterbacks have been doing a good job of taking care of the football — Josh Allen has committed just four turnovers over his last nine games, while Devlin Hodges has turned it over only twice in three starts — so the risk of a defensive score is lower than usual for this type of game.
Both teams are 10-3 toward the under this season, and only one of the past five Steelers games has managed to surpass 33 combined points. As Matthew Freedman points out in his weekly trends piece, the under is 17-7 in Josh Allen's career starts, according to our Bet Labs data.
Weather could play a factor here, too, so even though this total is already low, I wanted to grab it early, as I wouldn't bet it lower than 36.5.
Raybon is 179-131-10 (57.7%) overall betting on the NFL. You can follow him in our free app.
How would you rate this article?