NFL Favorites, Underdogs & Totals To Bet This Sunday
Credit:
Mark Brown/Getty Images. Pictured: Patrick Mahomes
We're down to the third-to-last Sunday of the NFL regular season, and our staff is here to walk you through betting the afternoon slate. Find their picks below.
NFL Odds & Picks
Patriots at Dolphins
| | |
| --- | --- |
| Pick | Patriots +2 |
| Bet Now | |
| Kickoff | 1 p.m. ET |
| TV | CBS |
Stuckey: This is a good spot to back Bill Belichick and the Patriots, who have extra prep after a blowout loss to the Rams last Thursday night — and Belichick has gone 19-5 (79.2%) against the spread coming off a double-digit loss since 2003, per our Bet Labs database.
Belichick will use those few extra days to prepare for a rookie quarterback, which could spell doom for Tua Tagovailoa, who is still learning on the job.
Since Russell Wilson beat Belichick as a rookie in 2012, rookie quarterbacks facing the Patriots for the first time have gone 0-11 with seven interceptions to only seven touchdowns, completing only 50.7% of their pass attempts. For a recent example of Belichick vs. rookie quarterbacks, look no further than the 45-0 blowout of Justin Herbert and the Chargers in Week 13.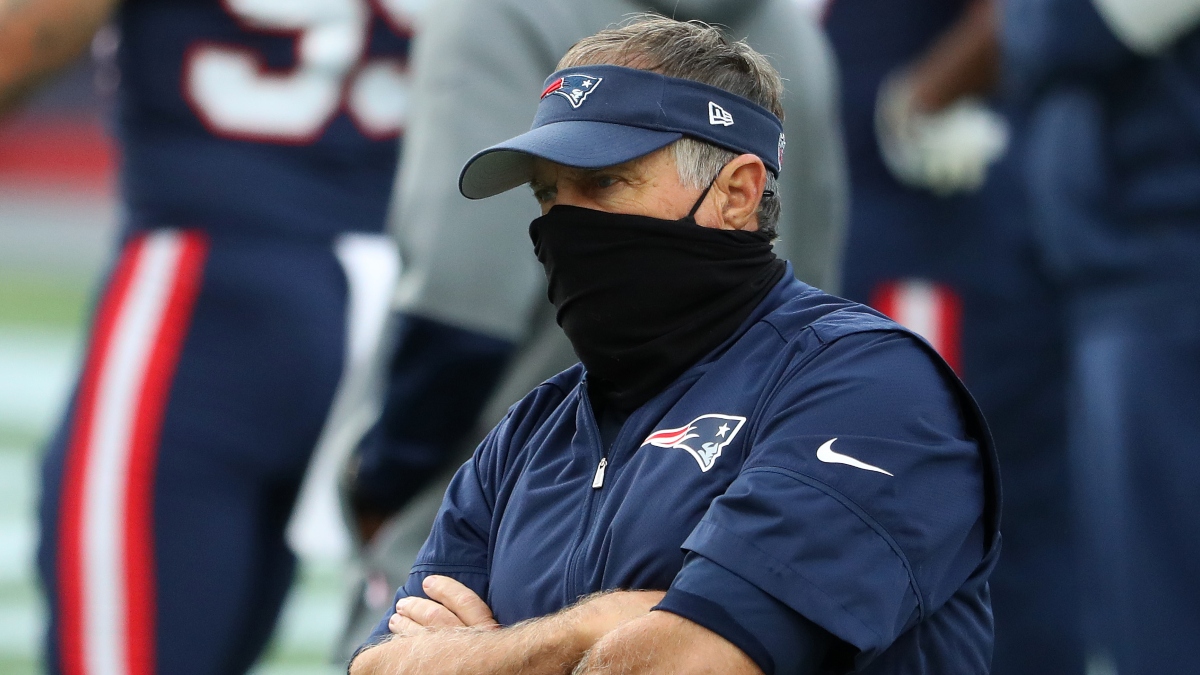 This is also a good on-field matchup for the Patriots, who should be able to run the ball against the Dolphins' weak rush defense (No. 23 in Football Outsiders' DVOA). Meanwhile, I'm not sure that the Dolphins can really exploit the Patriots' vulnerable run defense up front. And while Miami's special teams have been elite all season, you know that New England will be prepared in that department.
The tables have certainly turned since these teams met in the 2019 season finale. Now with the pressure all on the Dolphins, the Pats should return the favor as spoiler just like Miami did with an enormous Week 17 upset to cost New England a shot at a playoff bye last season.
Chris Raybon: Belichick hasn't suffered many double-digit losses in his career, but he tends to rebound the next game.
As Stuckey outlined, a matchup against Tagovailoa sets up well for Belichick to get his team back on track. He's 25-5 straight up all-time against rookie quarterbacks, and his defenses have held them to a 25-to-42 touchdown-to-interception ratio. Since Wilson beat the Patriots as a rookie in 2012, rookie passers are 1-16 straight-up against Belichick with nine touchdowns and 22 interceptions.
Despite compiling a 4-2 record as a starter, Tagovailoa is 20th in Adjusted Net Yards per Attempt (5.67). With him likely to struggle, the Patriots should be able to keep it close enough to run on the Dolphins. Cam Newton ran for 75 yards and two touchdowns when these teams met in Week 1 as the Patriots steamrolled the Dolphins for 217 yards on the ground (and did so without Damien Harris, who will miss this game due to injury).
I like the Patriots down to a pick'em.
---
» Return to the table of contents «
---
49ers at Cowboys
| | |
| --- | --- |
| Pick | 49ers -3 |
| Bet Now | |
| Kickoff | 1 p.m. ET |
| TV | CBS |
Brandon Anderson: The 49ers and Cowboys would have fancied themselves playoff teams and Super Bowl contenders before the season. Heck, this game was originally scheduled as a Sunday Night Football showdown — a throwback to those epic annual rivalry games in the 90s featuring Emmitt Smith, Jerry Rice, Troy Aikman and Deion Sanders on both sides.
Do you realize how bad this game had to turn for the executives to willingly take it off our televisions? And yet here we are, with what feels like a relatively meaningless 49ers and Cowboys game in 2020. So much for America's Team.
The game isn't totally meaningless, though. Both teams are technically still alive in the playoff hunt, though each would need a lot of help. Dallas has been on life support for most of the season. The Cowboys have only four wins, three of which by a total of seven points before blowing out the Bengals a week ago. And six of the nine Cowboys losses have come by double digits.
As the season has born out, Dallas is not particularly terrible. The Cowboys are just sort of forgettably bad at just about everything. They rank no better than 20th and no worse than 27th in passing offense, rushing offense, passing defense and rushing defense DVOA.
The 49ers had even higher hopes but have seen their season ruined by an onslaught of injuries. They started 4-3 but have lost five of six over a brutal stretch of scheduling, with their last six games all against current playoff-bound teams. The Niners are also still missing George Kittle, their best player on offense, along with any number of key defenders.
The difference is that San Francisco has been more mediocre than forgettably bad like Dallas. The 49ers offense has been about the same, but missing more talent, and the defense has actually been quite good — they're top 10 in defensive DVOA, including seventh in rush defense. And that defense is why the 49ers the play in a game of teams hanging on by a thread.
Bet on San Francisco's defense and scheme to stymie Dallas. If you can find a line under a field goal using our real-time NFL odds page, jump on it. Otherwise back the 49ers up to -4.5 and hope they take care of business, using this game to launch one last gasp attempt at the playoffs.
---
» Return to the table of contents «
---
Jets at Rams
| | |
| --- | --- |
| Pick | Under 43.5 |
| Bet Now | |
| Kickoff | 4:05 p.m. ET |
| TV | FOX |
Sean Koerner: This matchup plays into a pretty straightforward under environment.
The Jets rank dead last in defensive DVOA against the pass, so I expect the Rams to build their lead fairly quickly. (And yes, I also have the Rams projected as 17-point favorites, matching the market.) Once the Rams have a lead, they'll shift to a very run-heavy game plan — it just so happens that the only real "strength" of this Jets team is their run defense: They rank eighth in DVOA against the run and seventh in rushing expected points added allowed.
On the other side of the ball, Sam Darnold will be going up against a Rams defense that ranks third in DVOA and allows the fewest points per drive (1.47).
There is a very real possibility that the Jets fail to score a single point on Sunday. Adam Gase also typically helps opponents run the clock out — the Jets run the ball at the sixth-highest rate when trailing.
The Rams will likely be looking ahead to their Week 16 battle against the Seahawks, which could further lead to them being perfectly fine with a very vanilla game plan that results in a result like 27-10.
I'm locking this in at 43.5 — 43 is arguably the most important number for totals, and I don't see this going back up to 44 before kickoff. I would bet it down to 41.5 (shop real-time lines).
---
» Return to the table of contents «
---
Jets at Rams
| | |
| --- | --- |
| Pick | Jets Under 13.5 |
| Bet Now | |
| Kickoff | 4:05 p.m. ET |
| TV | FOX |
Michael Arinze: We've gotten to that part of the season where motivation is likely the best barometer to assess how a team will perform. For the Jets, the writing is clearly on the wall: There will be structural changes this offseason, and I'm not sure anyone inside the building can even feel safe about their job unless they own the team.
The Jets are heading toward a seismic collision with an 0-16 record. They'll be joined in infamy along with the other 16-loss teams like the 2008 Lions and 2017 Browns team. The Jets' best chance to grab a win was two weeks ago when they hosted the Dolphins, and I believe that loss — which resulted from a Cover Zero play call — has completely deflated New York.
That was the Jets' dream crusher, and like a perfect haymaker that lands right on the chin, they won't be answering the bell.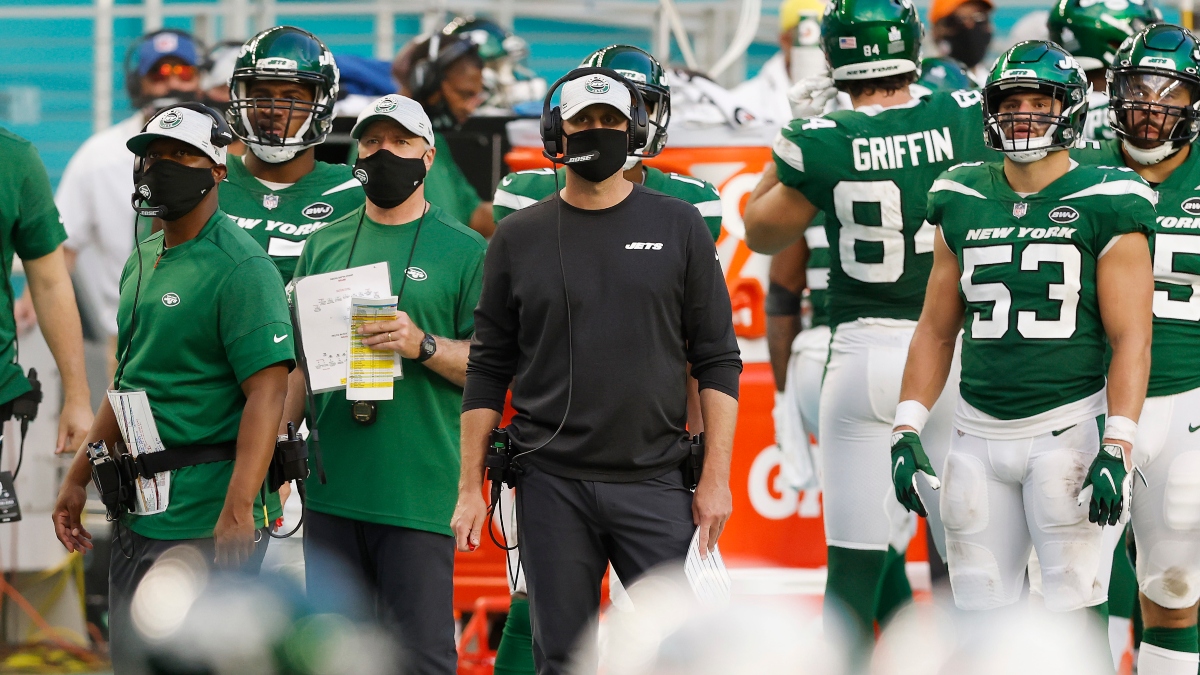 Here are some numbers to digest: The Jets have a -1.2 yards per play margin and will be facing a Rams team that's out-gaining opponents by 1.1 net yards per play. The Jets are averaging 2.3 red-zone trips per game and converting only 40% of those opportunities into touchdowns. For a less subtle explanation as to how putrid the Jets offense has been, they've failed to score more than 10 points in seven of their 13 games.
They've already checked out, and the more they continue to play Sam Darnold, the less value they're likely to get in return for him on the trade market. I won't frighten you by running through all of Darnold's numbers, but I would be remiss if I didn't mention his 36.6 mark in ESPN's Total QBR — second-worst, behind only Alex Smith.
In three games against teams ranked inside the top 11 of defensive DVOA, the Jets have scored a total of 10 points. The Rams are ranked third in defensive DVOA and the Jets have their team total set at 13.5 (-115) at BetMGM. Maybe this is a revenge bet for failing to grab a ticket on the Jets to go winless, but I just don't see where the points will come from.
I'll gladly fade this abominable team and play the under on their team total.
---
» Return to the table of contents «
---
Eagles at Cardinals
| | |
| --- | --- |
| Pick | Eagles +6.5 |
| Bet Now | |
| Kickoff | 4:05 p.m. ET |
| TV | FOX |
Matthew Freedman: I don't loath Cardinals head coach Kliff Kingsbury the way that Action Network Podcast producer Matt Mitchell does, but there's no getting around Kingsbury's utter inability to perform as a home favorite.
Road underdogs are 4-1 against the spread (ATS) for a 53.1% Return On Investment (ROI) against Kingsbury's Cardinals.

On top of that, the Eagles seem ready to soar with rookie quarterback Jalen Hurts, who last week was a competent 167-1-0 passing and dynamic 18-106-0 rushing en route to a 24-21 victory over the Saints.
It's sad to say, but without veteran quarterback Carson Wentz, Philadelphia looks like a much better team.
Eagles QBs against the spread in the Doug Pederson era:

– Jalen Hurts: 1-0
– Nick Foles: 9-4
– Carson Wentz: 32-37

Translation:
– Without Wentz: 10-4
– With Wentz: Not great

Data from @Bet_Labs pic.twitter.com/uwjMGhmxej

— Matthew Freedman (@MattFtheOracle) December 14, 2020
Without Wentz, head coach Doug Pederson is 10-4 ATS (38.2% ROI), including the playoffs.
I would bet the Eagles to +3.5 (-110).

---
» Return to the table of contents «
---
Chiefs at Saints
| | |
| --- | --- |
| Pick | Saints +3 |
| Bet Now | |
| Kickoff | 4:25 p.m. ET |
| TV | CBS |
BJ Cunningham: All indications point to Drew Brees returning after suffering fractured ribs a month ago. That should open up the Saints offense once again to be more balanced. Their rushing attack has been one of the best in football, ranking seventh in rushing success and averaging 4.3 yards per carry.
Before he got hurt, Brees was throwing for 7.4 yards per attempt and had 18 touchdowns compared to only three interceptions. However, the real reason the Saints are 10-3 is because of their defense. The Saints are the best team in the NFL at stopping the run. They rank first in defensive rushing success and rushing explosiveness allowed, per Sharp Football Stats. Their secondary isn't far off, either — the Saints are allowing only 6.3 yards per pass attempt and should be able to hold Patrick Mahomes in check.
Mahomes has been the best quarterback in football this season and has the Chiefs as the No. 2 passing offense in terms of success rate and No. 1 in explosive passing. He's also averaging 8.7 yards per attempt, which is second to only Deshaun Watson. However, this will be one of the best pass defenses Mahomes has seen all season long.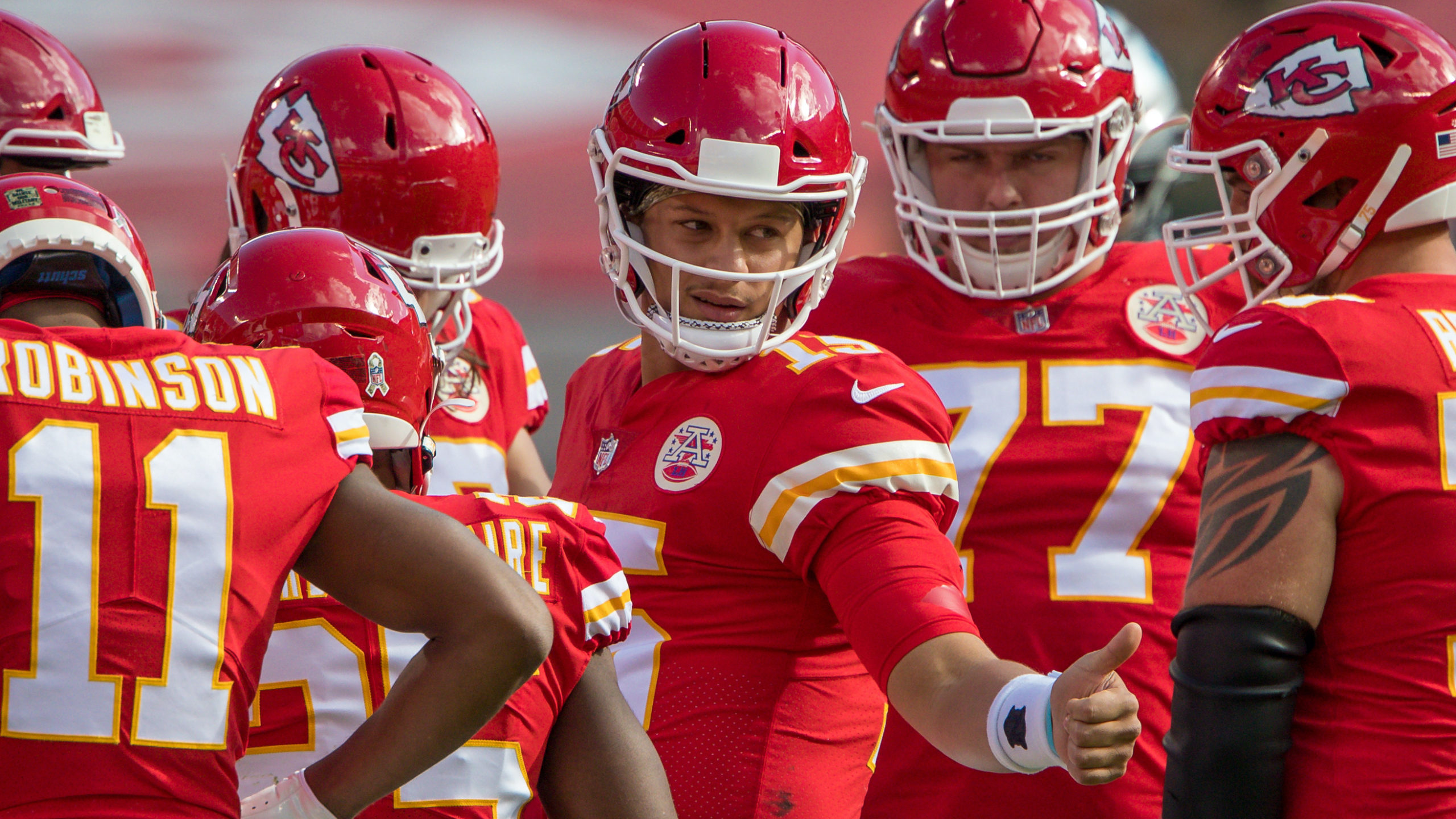 The Chiefs rushing offense has truly benefited from how good Mahomes has been — they're gaining 4.5 yards per carry as a team. However, similar to the matchup against the Saints secondary, this will by far be the best run defense the Chiefs have seen all season, so they could struggle to move the ball.
Where the Chiefs could potentially be in trouble is because of their rush defense. They rank 27th in rushing success allowed and have allowed 4.7 yards per carry. If they're not able to keep Alvin Kamara, Taysom Hill and Latavius Murray in check, Brees and the Saints offense could potentially control the clock and keep Mahomes off the field.
I have the Saints projected as -0.43 favorites at home, so there's some value on them at +3.
---
» Return to the table of contents «
---
Chiefs at Saints
| | |
| --- | --- |
| Pick | Chiefs -2.5 |
| Bet Now | |
| Kickoff | 4:25 p.m. ET |
| TV | CBS |
Raheem Palmer: Bookmakers seem to be taking a position on the Saints.
In some ways, it's understandable — their path to victory involves running the ball and keeping it away from Mahomes, which matches their strengths and the Chiefs' weaknesses in this matchup. New Orleans is second in rushing efficiency and fourth in rushing success rate against a Kansas City team that ranks 30th in defensive run efficiency and 29th in rushing success rate.
The Saints defense has played lights out, holding opponents to just 20.4 points per game while ranking second in defensive efficiency, fourth against the pass and first against the run. Opposing offenses are averaging just 3.7 yards per carry and 5.0 yards per play with just a 41.9% success rate, fourth-best among NFL teams.
On the surface, you could talk yourself into believing that this is a trap game for Kansas City. However, I'm not buying it.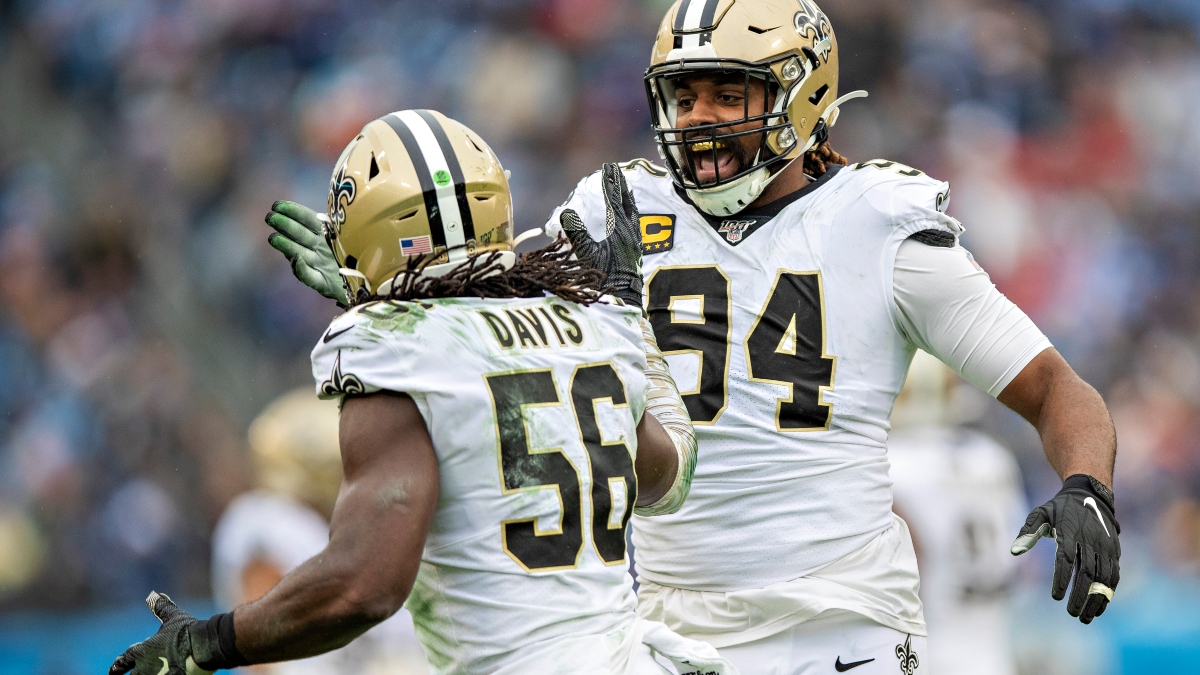 The Saints have played the 49ers, Falcons (twice), Broncos and Eagles over the past five weeks, who rank 14th, 19th, 28th and 25th in DVOA. Those teams also have a combined record of 18-33 with a point differential of -158. The Saints were also gifted a win by playing a Broncos team that literally didn't have a quarterback, but instead practice squad wide receiver Kendall Hinton running the offense.
Although the Saints defense has played lights out, they've played just the 16th ranked schedule of opposing offenses according to Football Outsiders.
They now step up in class to face Mahomes and the reigning Super Bowl champions, who are second in offensive DVOA while scoring 31.0 points per game with a league-leading 429.2 yards of offense per game. The Chiefs are also first in explosive play rate with 12% of their plays going for 20 or more yards.
Although the Saints are at home, they won't have their usual crowd to back them up. In some ways, they'll be at a disadvantage as they have to face Mahomes and this Chiefs offense on a fast track in a dome.
We've seen this Saints defense give up 34, 37, 39, 27, 24 and 23 points against the Raiders, Packers, Lions, Chargers, Panthers and Bears before putting together a six-game streak against the Buccaneers, 49ers, Falcons (twice), Broncos, and Eagles in which they gave up just 11.3 points per game. This Saints defense may not be as bad as they were at the start of the season, but they're definitely not as good as they were during the last six weeks.
The Chiefs have won eight straight and haven't covered any of the last five, but I think that changes here. I'll lay -3 with the Chiefs as they look to cover the spread for the first time since the start of November.
I would only bet this to -3.

---
» Return to the table of contents «
---
How would you rate this article?