NFL Odds, Picks & Predictions: How We're Betting the Wild Card Saturday Finale
Credit:
Nic Antaya/Getty Images. Pictured: Bucs
Happy Wild Card Weekend!
With one game in the books and another underway, there's still one more Saturday matchup to play: The Buccaneers at Washington Football Team. Find out how our staff is betting the primetime game below.
Editor's note: Alex Smith is inactive for Saturday night, which means Taylor Heinicke will start. The following analysis was written before that news broke, but did factor the possibility in.
Buccaneers vs. Washington Picks
Click on a pick type above to skip ahead to that analysis or read the full guide.
Washington Spread
Stuckey: We've seen only two home underdogs of more than seven points in NFL playoff history. Both teams actually won outright:
2010 Seahawks (+10) over Saints
2012 Broncos (+7.5) over Steelers
The quarterbacks in those two games were Matt Hasselbeck and Tim Tebow. And for what it's worth, since 1980, home underdogs in the NFL playoffs have gone 26-14-1 (65%) against the spread (ATS).
So can Alex Smith (or potentially Taylor Heinicke) make it three for three? I'm not willing to go out on that limb, but I did bet Washington +9 earlier in the week and like the Football Team at anything +7.5 or better (shop real-time lines here). Since I make this line around the Bucs 6-point favorites, I gladly took the home dog catching over a touchdown here.
Contrary to some incorrect narratives out there, Tom Brady has been great this season. He's clearly got plenty left in his arm.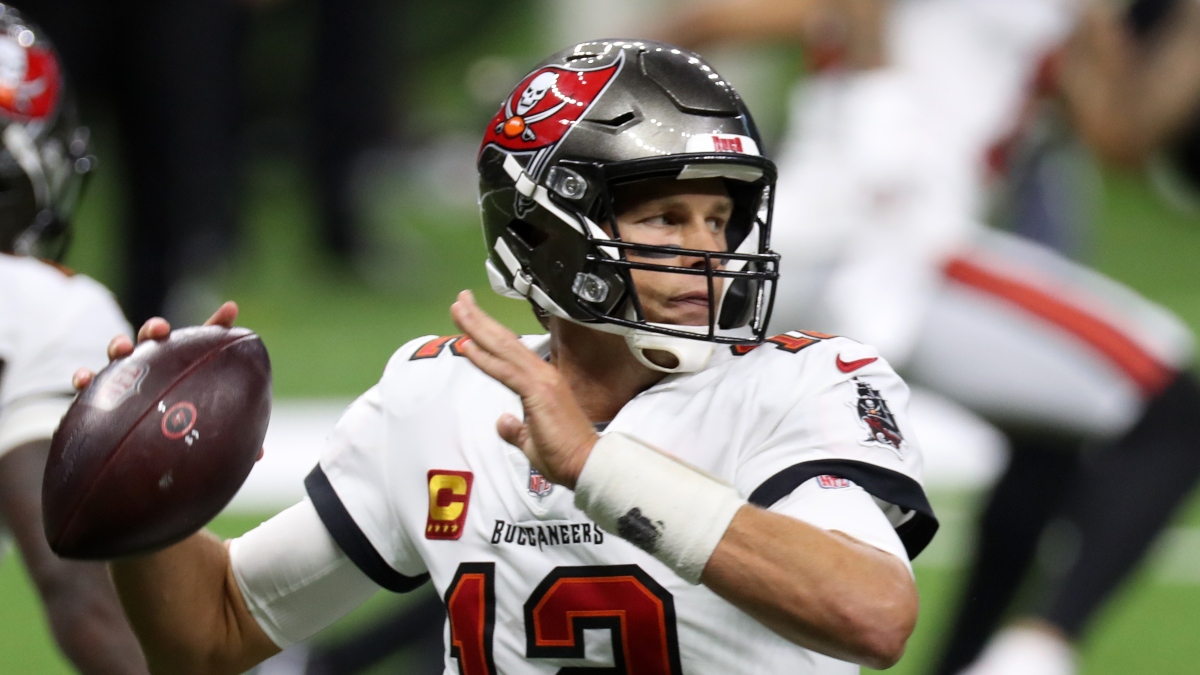 However, for whatever reason, Tampa Bay really struggled against top-tier defenses — especially those that can get pressure, which has always been Brady's kryptonite.
The Bucs went 0-4 against defenses ranked in the top 10 of Football Outsiders' DVOA.
Brady went 2-2 against defenses that ranked in the top 10 in pressure rate with seven touchdowns to five interceptions and 6.7 yards per attempt. Against all other defenses, he had 33 TDs to seven INTs with a 7.9 yards per attempt average.
Well, Washington ranks in the top three in overall defense DVOA and pressure rate. I believe its defense can keep them in this game. And hey, maybe there's also something to Brady's struggles in primetime after what we've seen this year.
Buccaneers Spread
Anderson: If Tampa Bay protects Brady, it will win this game with ease. It really is that simple.
But, theoretically, what would a winning Washington formula look like?
It's three or more sacks and repeated pressure from Chase Young and Montez Sweat. It's pressure that makes Brady look his age with multiple turnovers, maybe a pick-six. It's Terry McLaurin hurting a beatable secondary on third downs and in the red zone. It's Brady melting down in potentially his last game ever, the Buccaneers offense disappearing (as it has at times this season), and the Football Team winning 16-13 with a defensive touchdown.
That's certainly a conceivable scenario. But it's also the only real scenario Washington has here. Heck, we could even see that play out for two or three quarters, but Tampa is good enough to wake up late and win anyway.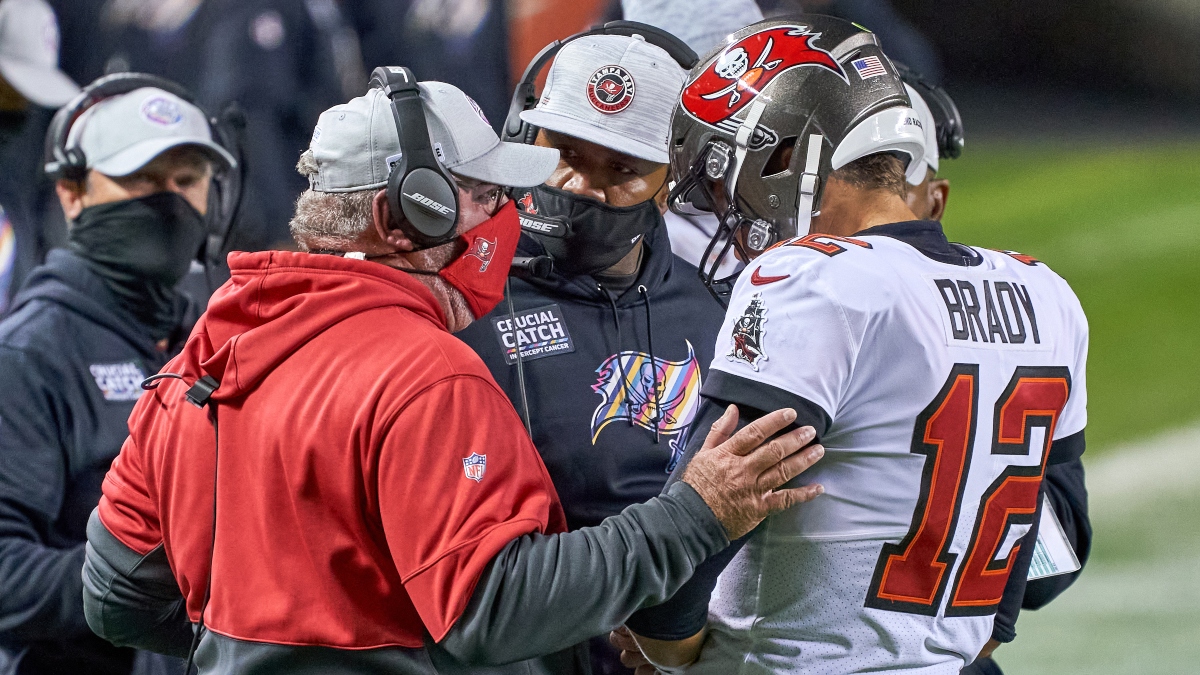 If Washington doesn't pressure Brady all game, it loses. If Washington doesn't force multiple turnovers, it loses. Even if Washington's defense plays well, Tamp's defense might be just as fierce against an anemic offense.
Washington shouldn't be here while Tampa Bay is one of the best teams in the league and has dominated bad teams all season — which I detailed in my full game preview. Even if the Football Team keeps things close for much of the game, I trust the Bucs to be aggressive and force big plays and mistakes late to win and cover a high line.
I don't have any fear of a backdoor cover.
Under
Koerner: Brady has faced the sixth-lowest pressure rate in the league. That could change this week as he goes up against Washington's front four.
It's worth pointing out that Brady has ranked 32nd (out of 38 quarterbacks) in success rate when facing pressure this season. And the Football Team's offense is unlikely to fare much better against a Bucs' defense that ranks fifth in DVOA.
I expect this to be a low-scoring game and project the total at 43.5, so would bet it down to 44.
WFT Under
Palmer: Oddsmakers have set this game total at 45 for a reason. We just can't expect a ton of points.
Both teams rank inside the top five of defensive DVOA, expected points added per play and success rate. More importantly, both defenses have top-tier pass rushes. The Buccaneers are fourth in sacks (48), second in pressure rate (27.0%) and fifth in pass rush win rate (49%) while the Football Team is sixth in sacks (47), seventh in press rate (25.4%) and third in pass rush win rate (50%).
The thing is, one of these offenses is capable of scoring.
Brady and the Buccaneers are scoring 30.8 points per game and are third in offensive efficiency. The Football Team, on the other hand, is backed by the shell of Alex Smith, who is essentially a statue in the pocket these days.
If Taylor Heinicke has to start or sees any playing time, he can't truly be relied upon to put up points against this Buccaneers defense.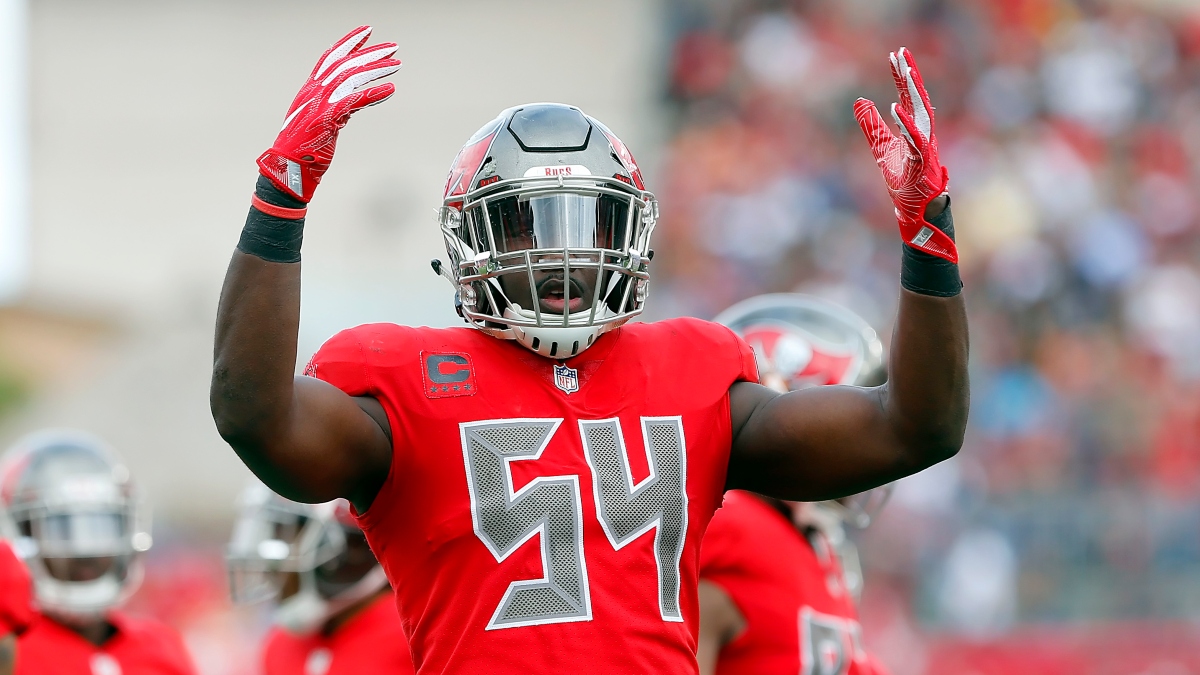 The Football Team is dead-last in offensive DVOA and passing efficiency. They've scored 18 points per game over the last five weeks, but there were two results skewing that average: In Week 14 against the 49ers, the Football Team got two defensive scores. And in Week 17 against the Eagles (who weren't trying to win), the Football Team scored 20 points but got two field goals based on an interception and fumble in Eagles territory.
Simply put, if this team isn't generating turnovers, we can't reliably expect it to score against any defensive — let alone a top tier one like the Buccaneers.
With Washington's strength being defense, I'm expecting a low variance game plan filled with a lot of runs to protect Smith or Heinicke. And although I have faith in Washington's defense doing enough to keep it close, I'm not seeing how the Football Team scores.
The biggest thing keeping me off the full game over is Tampa Bays' ability to score as it's likely we see a result similar to the Bucs' 47-7 blowout of the Lions in Week 16. There's a real concern for me with the Football Team's offense struggling so much that their defense can't get off the field and the Buccaneers do just enough to hit the over themselves.

All that said, I'll take the Football Team total under down to 17 points.
---
Colts vs. Bills Picks
Click on a pick type above to skip ahead to that analysis or read the full game guide.
Colts Spread
Koerner: The Bills opened as 6.5-point favorites, and despite seeing steady action all week — drawing 60% of bets and 59% of the money as of Friday (check real-time public betting data) — the line hasn't budged.
I think the sharp action has been coming in on the Colts based on how they matchup against the Bills.
Josh Allen has destroyed man coverage this season — out of 42 qualified quarterbacks, he's first in expected points added (EPA) per attempt against it according to Sports Info Solutions. But he ranks 15th against zone, and the Colts ran out of zone defense at the fifth-highest rate in the league.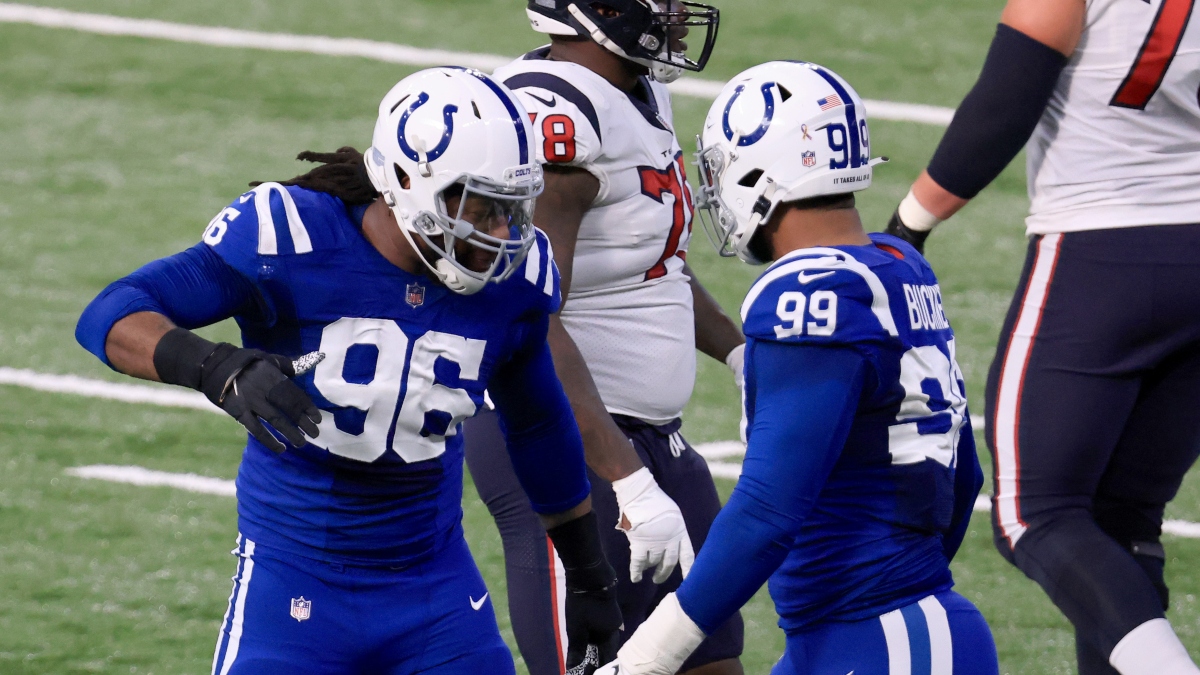 I don't think the Colts can really shut down Allen, but their heavy zone approach and playmakers DeForest Buckner, Darius Leonard and Xavier Rhodes should be able to slow Allen down enough to keep the game close.
When the Colts have the ball, Jonathan Taylor will be the focal point — only Titans running back Derrick Henry has out-rushed Taylor since Week 11. And the Bills' run defense is their only real weakness, ranking 17th in Football Outsiders' DVOA and 22nd in EPA per attempt, and I expect the Colts to exploit it.
Philip Rivers likely isn't capable of beating the Bills on his own, but he does rank eighth (out of 34) quarterbacks in EPA/play. The Bills try to generate pressure via the blitz, as evidenced by their 35.5% rate (ninth-highest), but it's a strategy that likely won't throw Rivers off his game as he gets rid of the ball at the sixth-fastest rate (2.52 seconds per NextGenStats).
He's also been clicking with T.Y. Hilton of late. Hilton ranks sixth in EPA among wide receivers since Week 12. The Colts may move Hilton around the formation to avoid Bills shutdown corner Tre'Davious White at times.
I'm projecting the Bills at -4.5 here. They're the better team and should hang on to win by a field goal, but +6.5 is a bit inflated — especially considering that six has become a more valuable number since the NFL moved extra points back in 2015.
I would bet this down to +6.
Bills Spread
Raybon: Beyond the fact that the Colts are running into a buzzsaw Bills team that is 9-1 over the last 10 games and is now ranked No. 1 in overall DVOA, this is a concerning matchup for the Colts on a number of fronts.
For starters, we can no longer say their calling card is their defense. Thanks to the return of linebacker Matt Milano and some schematic shifts from the ever-sharp Sean McDermott, Buffalo has jumped ahead of Indianapolis to eighth in weighted DVOA (which weights recent games more heavily) while Indy ranks 10th.
But over the second half of the season in particular, the contrast is even sharper: In Weeks 10-17, the Bills rank sixth in pass defense DVOA and 11th in run defense DVOA while the Colts rank 16th against the pass and 18th against the run.
The Colts are 11-5, but just 3-5 when an opponent scores 24 points or more points, with four of their five losses coming by seven or more. The Bills, meanwhile, have been held to fewer than 24 points only three times all season, with none of those instances coming after Week 7.
Philip Rivers has struggled mightily in the second half this season:
First half: 211-of-293 (72.0%); 2,605 yards (8.9 YPA); 19 TD; 3 INT; 116.3 rating
Second half: 158-of-250 (63.2%); 1,564 yards (6.3 YPA); 5 TD; 8 INT; 74.1 rating
He's spent most of his career playing in the warm weather of Southern California and then the dome in Indy, so these struggles could be exacerbated in the cold weather of Buffalo.
The Bills are top-five in second-half scoring (14.8), including first over the last three weeks (23.0) and are playing top-10 run defense, so the Colts aren't in a good spot to rely on the familiar formula of leaning on Jonathan Taylor.
Rivers is not only outdoors, but is also still dealing with a painful toe injury and will be missing stud left tackle Anthony Castonzo (IR, ankle), as well as backup La'Raven Clark (IR, Achilles).
Against a Bills defense that quietly ranks No. 2 in ESPN's Pass Rush Win Rate, the Colts are now forced to kick the tires on 33-year-old Jared Veldheer, who has played three games over the past two seasons. The Bills don't give up many explosive plays as is — they ran seventh in explosive pass rate on the year and fourth over the last 10 weeks, according to Sharp Football Stats — but Castonzo's injury makes it all the harder.

This puts the Colts' paths to winning and/or covering in the unenviable spot of slowing down Josh Allen and the Bills offense, where the Colts also do not match up well. Per Sheil Kapadia of The Athletic, Allen posted a league-best 68.1% Success Rate against Cover 2, the Colts' preferred defense this season.
Under
Stuckey: I believe the Colts' offense is a bit overrated after facing the easiest schedule of opposing defenses.
From the perspective of DVOA, the Colts faced only three above-average defenses this season and went 1-2 in those games — against the Ravens, Steelers and Bears — and averaged only 5.0 yards per play. For reference, only the Jets averaged fewer than 5.0 yards on the season.
And this Bills defense has made tremendous strides down the stretch. They will face a Colts offensive line that will be missing starting tackle Anthony Castonzo. Indy will likely turn to 33-year-old Jared Veldheer, who was coaching high school football this fall. I assume he will get a lot of help, which will restrict some of what the Colts can do offensively.
Buffalo can also put Tre'Davious White on T.Y. Hilton, who has really come on down the stretch. That could take away Rivers' most dangerous weapon. Plus, at 39 years old, Rivers clearly doesn't have the arm strength he once possessed. That could be an issue in the cold weather, which has historically given him problems, albeit in a small sample size. The ex-Charger is 1-5 (0-3 in the playoffs) when the temperature is under 40 degrees.
I assume the Colts will go with a very slow, run-heavy game script in order to attack Buffalo's primary defensive weakness while also keeping the ball out of Josh Allen's hands.
Speaking of which, Colts defensive coordinator Matt Eberflus could have some success containing this Bills offense. Buffalo shouldn't get much on the ground against a very stout Indianapolis run defense, led by first-team All-Pro selections DeForest Buckner and Darius Leonard.
However, Buffalo doesn't really rely on its rushing attack, so it will come down to the pass defense.
Playing man coverage against Allen has been a death wish this year. Not only has he torched secondaries with deep balls against single coverage, he can also use his legs to torment opposing defenses.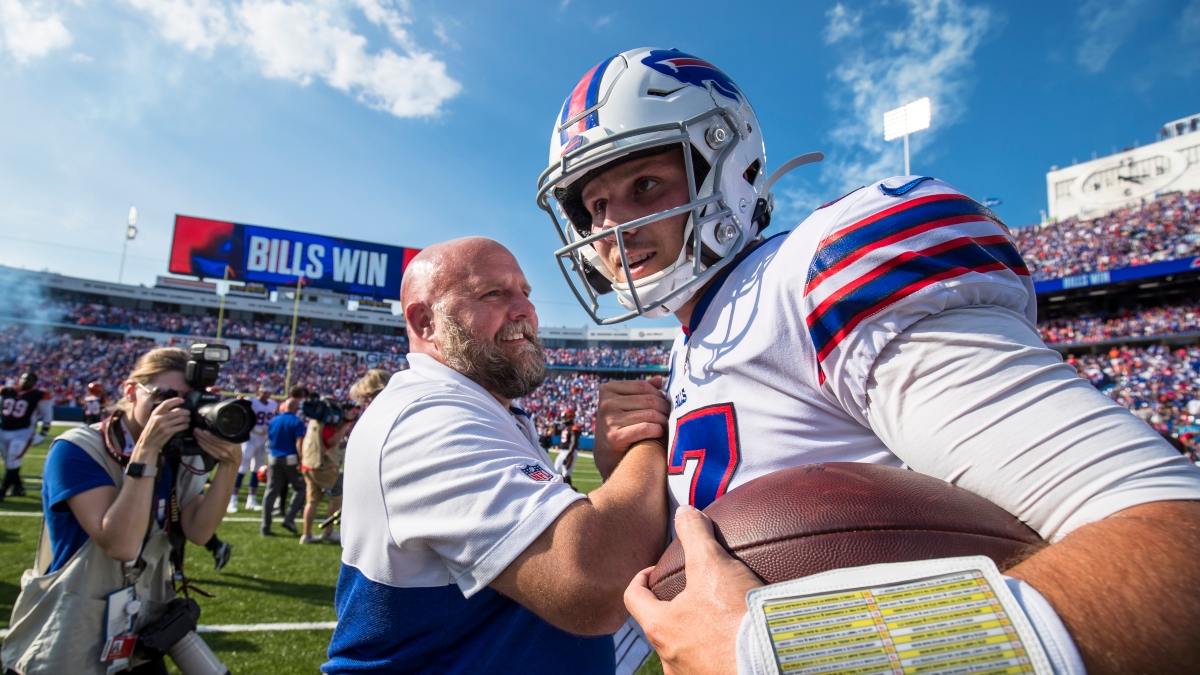 This season, Allen has 25 touchdowns to two interceptions against man coverage compared to 12 touchdowns to eight interceptions against zone.
Despite his monumental progress, Allen can still be forced into mistakes against disciplined zone defenses. Fortunately for the Colts, they play the second-most zone defense in the league. They've actually struggled a bit in Cover 2 and Cover 6 while excelling in Cover 3, which I think we see plenty of on Saturday.
Indianapolis should get Khari Willis back at safety, which will help. They may be without Rock Ya Sin, but I actually prefer his backup T.J. Carrie. Regardless, there's not a material difference to me. I am interested to see how they utilize cornerback Xavier Rhodes and whether they decide to have him shadow his ex-teammate Diggs.

Ultimately, this Bills defense matches up quite well with an overrated Indy offense without a starting tackle and likely relying on its run game to chew up the clock. Meanwhile, the Colts defense at least runs a high frequency of the ideal scheme you want against this potent Buffalo aerial attack.
---
Rams vs. Seahawks Picks
Click on a pick type above to skip ahead to that analysis or read the full game preview.
Rams Spread
Stuckey: There's lingering uncertainty regarding the Rams' quarterback situation heading into this game.
Sean McVay won't say who will start until gameday — that means we could see either the undrafted John Wolford make his second career start or Jared Goff, if he's healthy enough. I make the Seahawks around  1-point favorites if Goff starts for the Rams, but closer to 5-point favorites if it's Wolford.
I do think Goff has a slightly better than 50-50 chance to play, so my adjusted line is a tad below three after weighting for both scenarios. Therefore, I did take a stab at Rams +4 when it was still available, but like it down to +3.5 if Wolford is the starter or +3 if it's Goff.
Under
Michael Arinze: There are no secrets between these two teams — this is a divisional matchup and the third time that they're playing one another this season. Since 2005, when NFC divisional teams have met for the third time, the total is 7-2-1 to the under (per our Action Labs data).
In their two previous meetings, the Rams and Seahawks combined to score 68 points, and each matchup stayed under the total. Additionally, in their last eight games, the Seahawks are 7-1 to the under while the Rams are on a four-game under streak and are 8-2 to the under over their last 10 games.
The total is 15-7 to the under the last 22 times these NFC West foes have met.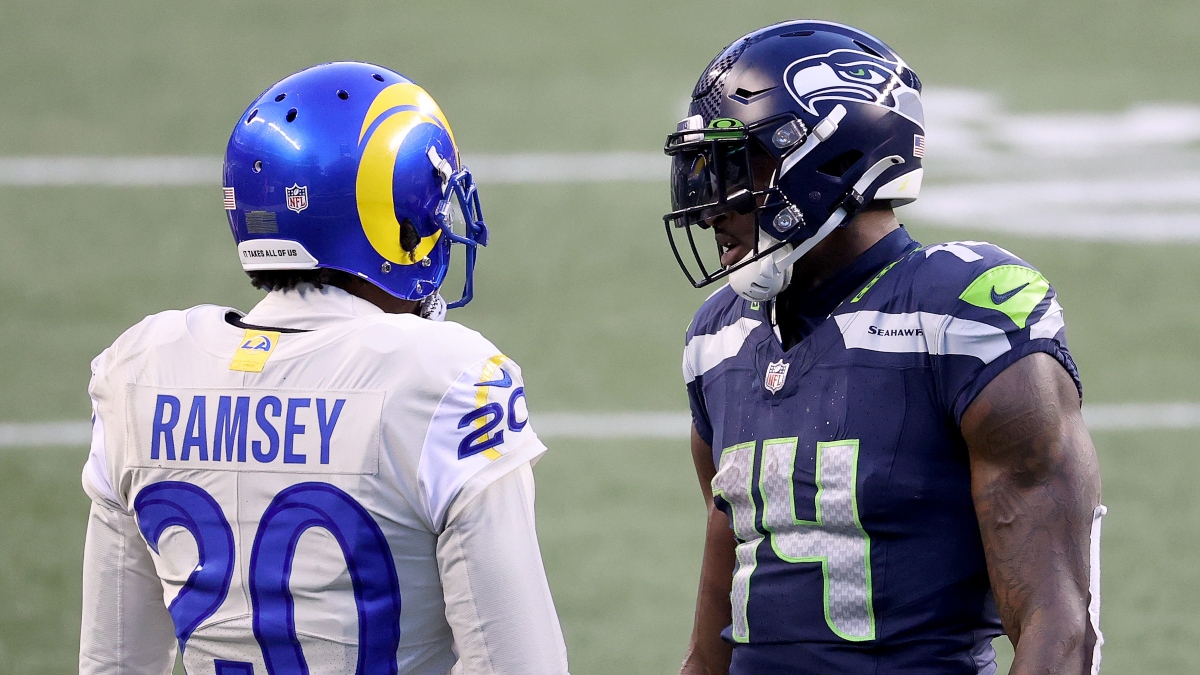 There are plenty of data points that support this under, especially given how stingy both defenses have been down the stretch, which I cover in further detail in my full game preview. And the Rams quarterbacks situation is significant, regardless whether Goff starts.

FanDuel still has this total listed at 42.5 as of Friday, and considering it's already as low as 41.5 at other sportsbooks (compare real-time odds here), there's a chance it dips further before kickoff. I'll look to lock this in at the current price, but I wouldn't go any lower than 41.5 points.
1H Under
Anderson: Love me a good divisional rematch in the playoffs.
You know these teams know each other inside and out. They know every player, every tendency, every little wrinkle and advantage. They've got that one specific play dialed up for that one very specific scenario, just waiting to spring a surprise on the opponent. All the better that we get Sean McVay's offensive genius up against Pete Carroll's defensive wizardry.
Divisional rematches tend to be close because these teams know each other so well. They know exactly how to set up and defend. Games like this can sometimes start out slowly and cagily as teams feel each other out and wait for just the right moment or look for that one key play they've got saved up.
On top of that, these teams are both trending heavily toward defense over the latter part of the season, and not offense.
The Rams head into the postseason with Football Outsiders' No. 1 weighted defensive DVOA in the NFL. Weighted DVOA, well, weight recent games more heavily into the equation. Basically that means that the Rams have the best defense in football right now, led by Aaron Donald wreaking havoc up front and Jalen Ramsey shutting things down in the secondary. Ramsey allowed only one catch to D.K. Metcalf in two games this season, and the Rams have allowed only 13 completed deep passes all season.
For the first half of the season, the Seahawks were devastating opponents with Russell Wilson's deep balls. That advantage has disappeared completely in the second half as they're now one of the worst at chucking it deep, and the Rams should take that away even further.
As Seattle's offense has faded, its defense has improved.
Remember the worst pass defense in league history? The Seahawks are up to 16th in defensive DVOA and 11th in weighted defensive DVOA. That's still below average in the playoffs with the bad teams gone, but their defense and run game have suddenly become strengths, while the passing game isn't as dangerous.
Seattle's run defense has been especially strong, and that helps negate the most effective strength of L.A.'s offense — the Rams ranked near the top of the NFL in rushing attack DVOA all season, but with their running backs dinged up and the Seahawks' tough run D, that'll put a lot more on Rams QBs.
What we have here are opponents who match up well and offset strength for strength. That leans toward a cagey, defensive game with both teams running the ball a lot and a fast-moving clock.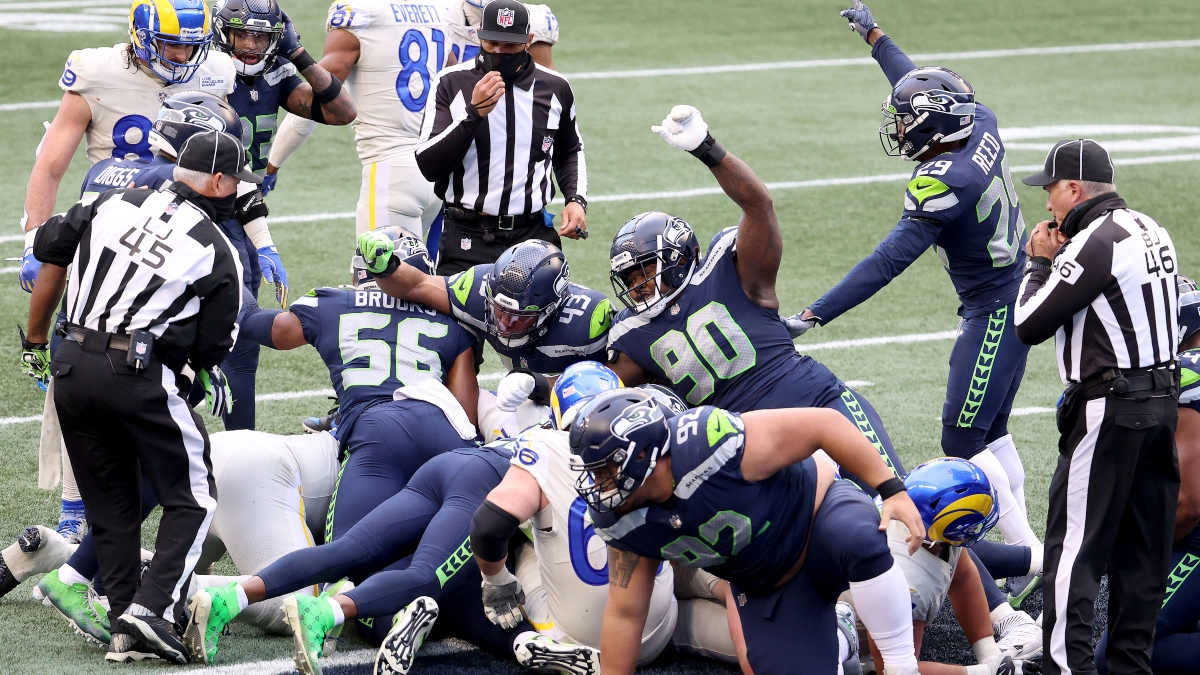 These teams played two weeks ago and it was 6-6 at halftime. The Seahawks were up 6-3 on the 49ers at the half a week ago, when the Rams were up 12-7 at the half against the Cardinals — and only because of a late pick-six. The Rams were also trailing the Jets, 13-3, at the half three weeks ago.
The Rams haven't scored an offensive touchdown in more than eight quarters.
This is basically a game under pick with the caveat that we could see a higher scoring fourth quarter once the coaches hold nothing back — and Russ beings to cook. I don't want a late cover on a low number, so I'll just play the first half over and get out.

I loved this at 21.5 earlier in the week, but will still play it down to 20 — you can lock it in at 20.5 at BetMGM as of Friday night. We don't hit 20 without a pair of touchdowns, and I don't see us getting there.
---
How would you rate this article?