NFL Odds, Picks & Predictions: Your Guide To Betting Every Game
Credit:
Getty Images. Pictured: Kyler Murray, Bill Belichick, D.K. Metcalf
NFL Odds, Picks & Predictions
Browns at Titans Odds & Pick
Browns Odds

+4.5 [BET NOW]

Titans Odds

-4.5 [BET NOW]

Over/Under

53.5 [BET NOW]

Kickoff

1 p.m. ET

TV

CBS

Odds as of late Saturday and via BetMGM, where you can bet $1 on the Browns or Titans to win $100 if a touchdown is scored.
Michael Arinze: The Browns are coming into this game a bit thin at wide receiver, which could place even more of an emphasis on their run game.
With Chubb amassing 6.3 yards per carry, I'm confident that Cleveland can run the ball on this Tennessee defense. The Titans' problems on third down could also come back to bite them given Chubb's effectiveness. If the Browns are to have any chance of winning on Sunday, they'll need to jump on the back of Chubb and control the time of possession.
I like the over on Chubb's rushing yards. I also like him as an anytime touchdown scorer. I would play his rushing yards over up to 87.
PICK: Nick Chubb Over 85.5 Rush Yards [Bet now at BetMGM]
---
Raiders at Jets Odds & Pick
Raiders Odds

-8.5 [BET NOW]

Jets Odds

+8.5 [BET NOW]

Over/Under

46 [BET NOW]

Kickoff

1 p.m. ET

TV

CBS

Odds as of late Saturday and via BetMGM, where you can bet $1 on the Raiders or Jets to win $100 if a touchdown is scored.
Brandon Anderson: With a team like the Jets, you almost have to look for a reason to talk yourself into them. Maybe Jacobs is your reason. Jacobs was the 2019 Rookie of the Year, so perhaps you're worried that the Raiders won't be able to run the ball without him.
The reality is that the absence of Jacobs can only push the Raiders to pass more — and remember, passing is the best thing Vegas has done this season, and the Jets rank dead last in pass defense.
The Jets' corners are banged-up, too, so they might be worse than ever. There's simply no excuse for the Raiders not to score. They should be able to pick a number before kickoff and hit it, especially with the season on the line in a must-win game.
This game opened at 7.5 points and I recommended you bet it immediately on Monday, expecting the line to rise this week. The Raiders should be at least double-digit favorites.
The Jets have lost over half their games by double digits this fall — seven of their 11! — along with another loss by nine and another by eight. That means that the Jets have failed to cover this line eight times already this season, and a half-point away from nine.
Hurry and grab the Raiders at -8 and play up to -9.5 while it's there. This is also a perfect spot to tease since you can cross 7 and 3 right now, and you've got some strong teaser partner options this week.
The Raiders are better than the team we saw last week. Take advantage of the recency bias that's lowered this price and look for a big bounce back against the terrible Jets.
PICK: Raiders -8 [Bet now at BetMGM]
---
Jaguars at Vikings Odds & Pick
Jaguars Odds

+10.5 [BET NOW]

Vikings Odds

-10.5 [BET NOW]

Over/Under

51.5 [BET NOW]

Kickoff

1 p.m. ET

TV

CBS

Odds as of late Saturday and via BetMGM, where you can bet $1 on the Jaguars or Vikings to win $100 if a touchdown is scored.
Mike Vitanza: With a total of 51.5, this game is tied for the second-highest total of Week 13.
While the Vikings passing attack matches up well against a poor Jaguars secondary, this is a game in which both teams will be looking to run the ball at above-average rates. To that end, each figure to also have success against an opposing defense that has had trouble stopping the run this season.
A run-heavy game script from both sides should lead to a running clock more often than not. If that's the case, the under is firmly in play with a total in this range.
Even if the Vikings get ahead — which books expect as illustrated by the 10.5-point spread — the Jaguars rank first in time of possession when trailing this season (per Football Outsiders), which should help suppress total points scored.
Big money agrees: According to our public betting data, 46% of tickets but 64% of the money is on the under as of late Saturday. A steam move — sharp money coming in heavily on one side — also came on Thursday that sent the line down from 52.5 to 51.5 points.
Given the projected game flow and strong matchups for each side in the running game, I'm betting the under. Anything below 51, however, and I'd be hesitant to jump on.
PICK: Under 51.5 [Bet now at BetMGM]
---
Bengals at Dolphins Odds & Pick
Phillip Kall: The Dolphins at -10.5 is dangerous since they have shown a willingness to play conservatively with a lead. On the other hand, the Bengals will be starting Allen, who showed no reason to be trusted against the Giants.
Looking at the total, though, this should be a game the Dolphins can control from the beginning: After getting an early lead, they should look to play more conservatively to minimize the chance of a costly turnover.
That should force the Bengals to play more aggressively to catch up. However,  the Bengals' passing attack has shown no signs of life without Burrow.
Give me the under.
PICK: Under 42.5 [Bet now at DraftKings]
---
Colts at Texans Odds & Pick
Colts Odds

-3.5 [BET NOW]

Texans Odds

+3.5 [BET NOW]

Over/Under

50.5 [BET NOW]

Kickoff

1 p.m. ET

TV

CBS

Odds as of late Saturday and via BetMGM, where you can bet $1 on the Colts or Texans to win $100 if a touchdown is scored.
Mike Randle: Laying 3.5 points in an intradivisional matchup is always tricky, but that's what I'm doing here with the Colts. They have the better defense, rushing attack, offensive line and head coach. Coming off an embarrassing home loss to Tennessee, I expect Indianapolis to bring its best effort.
Under Reich, the Colts have a strong record as road favorites, including covers in three of their last four games away from Lucas Oil Stadium against the Titans, Lions and Bears.
I'm taking the Colts at -3.5 but would not go higher than that. Hopefully, this will get bet down to -3 or lower, in which case it's an automatic play.
PICK: Colts -3.5 [Bet now at BetMGM]
---
Lions at Bears Odds & Pick
Lions Odds

+3 [BET NOW]

Bears Odds

-3 [BET NOW]

Over/Under

45 [BET NOW]

Kickoff

1 p.m. ET

TV

FOX

Odds as of late Saturday and via PointsBet, where you can bet $20 on the Lions or Bears to win $250 if they cover.
Michael Arinze: The numbers show that Trubisky is no worse an option than Foles. The added dimension of him running the ball and being able to escape from a pass rush is something the Bears have sorely missed with Foles under center.
As for Detroit, Stafford's performance without Golladay on the field is a factor, which I simply can't ignore. Stafford's performance over the last two weeks could suggest that his thumb injury is impacting his ability to throw the football effectively.
If you combine that with Detroit's recent form in this head-to-head matchup, it's even tougher to land on the Lions in this spot.
Since 2014, Stafford is just 3-7-1 against the spread when facing the Bears. And in his last seven games against them, he's covered the spread only once.
The Bears still have something to play for, and Trubisky is desperate to prove he's worthy of being an NFL starter.
However, many sportsbooks are adding some juice to Bears -3, so you'll have to pay a bit of a premium to back the home team. It's the Bears or a pass for me as I like their chances to tame the Lions and cover this number.
PICK: Bears -3 [Bet now at PointsBet]
---
Saints at Falcons Odds & Pick
Saints Odds

-3 [BET NOW]

Falcons Odds

+3 [BET NOW]

Over/Under

45.5 [BET NOW]

Kickoff

1 p.m. ET

TV

FOX

Odds as of late Saturday and via BetMGM, where you can bet $1 on the Saints or Falcons to win $100 if a touchdown is scored.
Brad Cunningham: With how good the Saints defense has been over the past four games, the Falcons are likely to struggle to move the ball — much like they did two weeks ago.
I have the Saints projected as -5.71 favorites, so there's some value on them at -3.
PICK: Saints -3 [Bet now at BetMGM]
---
Giants at Seahawks Odds & Pick
Giants Odds

+11 [BET NOW]

Seahawks Odds

-11 [BET NOW]

Over/Under

46.5 [BET NOW]

Kickoff

4:05 p.m. ET

TV

FOX

Odds as of late Saturday and via BetMGM, where you can bet $1 on the Giants or Seahawks to win $100 if a touchdown is scored.
Reed Wallach: Seattle tends to play down to its competition only to eventually close games, no matter the situation, so I will not be laying the points despite the fact that New York is going to struggle to generate many opportunities.
If Daniel Jones was playing, I would have been on the Giants at anything above a touchdown. However, I'm going to stay away from the spread and instead play the under.
The Giants' defense is going to keep them in this one, and I do think they'll be able to find some success at times offensively. Offensive coordinator Jason Garrett has been calling a sound game over the past several weeks, and even though he's without his starting quarterback, Garrett has found ways to get the ball downfield for a limited Giants offense.
Garrett and Judge should, at the very least, have some plays drawn up that can get the ball out of Giants territory — and hopefully this becomes a punt fest.
Neither team plays fast whatsoever, ranking 19th and 20th in seconds per play. Seattle can put this away and possibly cover the spread against a wounded New York team, but this is a prideful Giants squad that will play tough.
PICK: Under 46.5 (down to 44.5) [Bet now at BetMGM]
---
Rams at Cardinals Odds & Pick
Reed Wallach: Sean McVay vs. Kliff Kingsbury is the underrated coaching mismatch of the week. Kingsbury has really struggled to be a firm decision-maker in clutch plays, and it could end up costing Arizona a playoff berth, let alone this game.
Not to mention, McVay has Arizona's number since entering the role.
However, I do think Arizona is being a bit undervalued in this spot. Home underdogs in NFC West matchups are 45-36-1 against the spread dating back to 2003. These teams are familiar with one another over the years and the stakes are high.
On top of that, I can't ignore that four of our five NFL PRO Report signals hint that the Cards are the right side here:

At anything less than +3, I'm staying off the Cards, but Murray's shoulder should hold up, and the undervalued home dog can cash here. I would play Arizona +3 up to -120 to lock in that key number.
PICK: Cardinals +3 [Bet at FanDuel]
---
Patriots at Chargers Odds & Pick
Patriots Odds

+1.5 [BET NOW]

Chargers Odds

-1.5 [BET NOW]

Over/Under

46.5 [BET NOW]

Kickoff

4:25 p.m. ET

TV

CBS

Odds as of late Saturday and via BetMGM, where you can bet $1 on the Patriots or Chargers to win $100 if a touchdown is scored.
Raheem Palmer: With oddsmakers installing the Chargers as 1.5-point favorites, you can assume that this will also be a close game. With just a -23 point differential and coming close to winning games against Super Bowl contenders in the Chiefs, Buccaneers and Saints, the Chargers may be better than their 3-8 record indicates.
Still, how can you trust this coaching staff against arguably the greatest coach in NFL history?
Coaching is the one place in professional sports that allows a team to buy an edge without impacting the salary cap, and these teams are the polar opposite in this regard.
With the emergence of Justin Herbert, Anthony Lynn appears to be a lame duck coach — he's just 29-30 during his tenure and an abysmal 8-19 since the start of the 2019 season.
Even more troubling, the Chargers are 4-16 in one-score games since the beginning of 2019, by far the worst in the NFL.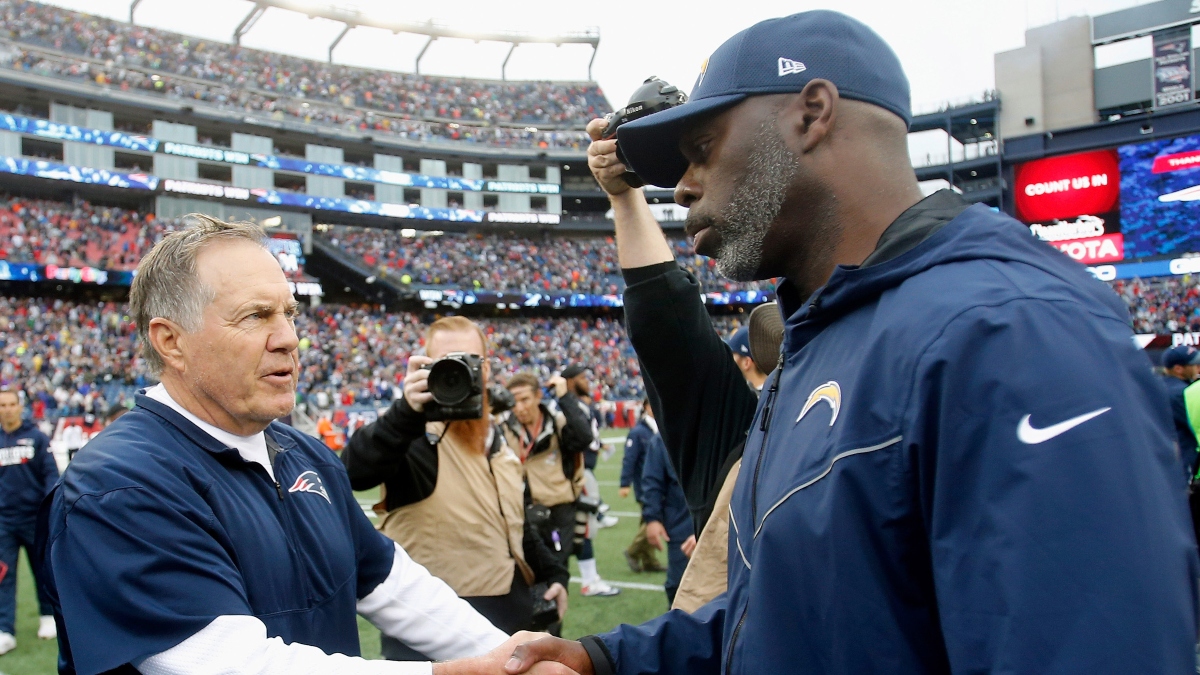 Lynn and his coaching staff are essentially the Murphy's Law of NFL coaching, anything that can go wrong, will go wrong: Poor clock management, calling a run and not a spike to stop the clock, calling a quarterback sneak with the offensive line in pass protection … you name it.
All things considered, these two teams are pretty evenly matched.
The Chargers are 24th in DVOA while the Patriots are 26th. The Chargers are 18th in offensive expected points added per play while the Patriots are 19th. But the Patriots have a pretty substantial advantage in total success rate, ranking seventh compared to 25th for the Chargers.
With the Patriots' run-heavy attack and substantial coaching advantage, I like them to win this game and move to .500 for the first time since Week 4. My projections make the them -2.40 in this matchup, so at +1 (down to a pick'em), this is a +EV proposition.
At +1, I recommend adding them in 6-point teasers to cross out key numbers of 3, 6 and 7. And at a PK, I recommend adding them in 7-point teasers. You can tease them with Titans (-6 to PK) or the Lions (+3 to +9).
PICK: Patriots +1.5 [Bet now at BetMGM]
---
Eagles at Packers Odds & Pick
Eagles Odds

+8.5 [BET NOW]

Packers Odds

-8.5 [BET NOW]

Over/Under

49.5 [BET NOW]

Kickoff

4:25 p.m. ET

TV

CBS

Odds as of Saturday and via Parx, where you can bet $25 to win $75 if Carson Wentz completes a pass.
Stuckey: I held my nose and sided with the Eagles +8.5. It might seem crazy to see this team competing (or even winning) in Green Bay on a short week, but that's exactly what they did last season in desperation mode.
I think they can follow a similar formula from that victory: The Eagles ran the ball 33 times for 176 yards (5.3 yards per carry) against a Packers run defense that remains just as vulnerable. And Wentz threw for only 160 yards but had three touchdowns.
His receivers finished with only four receptions, as he focused on getting the ball out to his backs and tight ends, where he should have some success again. Ultimately, the Eagles can move the ball and control the clock on the ground and through the short passing game.
The strength of this Packers defense is having a shutdown corner in Jaire Alexander, but that doesn't help nearly as much against the underwhelming Eagles receiving group that lacks a clear-cut No. 1 receiver.
The Eagles run defense should show up as it normally does. They've been stellar against running backs, but struggled some against mobile quarterbacks, which isn't a concern here. I actually think they can generate some interior pressure here, which is really one of the only ways to slow down Rodgers right now.
Why do I think that? Well, starting center Corey Linsley got hurt last game and will not suit up this week. That's a huge loss, as Linsley is arguably the best center in the NFL and a likely All-Pro this season. That means rookie sixth-rounder Jon Runyan Jr. will likely get his first career start.
That's something the Eagles can potentially take advantage of with the likes of Javon Hargrave, who's been playing at an extremely high level the past few games, and Fletcher Cox. They can also bring additional pressure with Alex Singleton and T.J. Edwards, who have thrived in pass rush situations from the linebacker position.
The Eagles have also excelled at limiting explosive passes, which helps against a Packers offense that ranks third in explosive passing rate.
Last year, Davante Adams went off against Philly with 10 catches for 180 yards, but Philly has since added Darius Slay as a shadow corner. Adams got the best of him in that matchup in the past, but Adams is going to get his every week, regardless.
It's also worth noting that Green Bay's special teams have been pretty poor. Meanwhile, the Eagles rank 32nd in Hidden Points on Special Teams (things out of your control) by more than six points than the second-unluckiest team. Positive regression looms for Philly in that department.
From a situational perspective, maybe we get a sleepy Packers effort early on. After all, they are three games up in the division with games against the Eagles, Panthers and Lions on deck.
Even if not, I still make this line a touch below 7 and like some of the matchups here for what should be a desperate Philly team that will pull out all of the stops to get this win that could make or break their season.
Let's just hope Wentz doesn't throw four picks. And if he does, hopefully he can slide in the backdoor like last week.
PICK: Eagles +8.5 [Bet now at Parx]
---
How would you rate this article?