NFL Picks & Predictions For Bills vs. Patriots: How We're Betting Monday Night Football
Credit:
Getty Images. Pictured: Josh Allen, Cam Newton
NFL Picks
It didn't take long for a new team to claim the AFC East crown following Tom Brady's departure to Tampa Bay.
With the division title already in hand, the Bills will travel to Foxborough to face the Patriots as 7- to 7.5-point favorites (shop real-time lines here). Our staff details how they're betting the final Monday Night Football matchup of the season, featuring cases for both sides of the spread as well as a player prop.
Patriots +7.5
Stuckey: After what we've seen from both teams over the past few weeks, I'm not surprised to see value on the Patriots here.
Everybody wants to back the Bills — including two of my colleagues below — while nobody seems to want to back the Patriots. Can the Bills maintain this extremely high level of offense? Possibly, but I would bet we're more likely than not to see a drop in efficiency.
Remember when everybody was in love with the Rams just a few weeks ago?
When these teams met in early November, the Patriots were four-point underdogs in Buffalo in a game they could have won if not for a Cam Newton fumble in the final minute deep in Bills territory. In fairness, the Patriots have struggled since then while the Bills have continued to play tremendous football, which has caused me to continue to bump them in my power ratings. However, I still only make this line right around Buffalo -5, so I would take New England at +7 or better.
The Patriots should have some success on the ground and hit enough explosive running plays to keep this competitive.
It's also worth noting that Josh Allen has really struggled against the Patriots in the past: In four career games against them, he's completed only 50.4% of his passes with three touchdowns and six interceptions. His 57.8 quarterback rating against the Patriots is the lowest against any opponent other than the Packers, whom he only faced once.
This is just a typical buy low/sell high spot on the home dog. It didn't feel good to hit submit on the Patriots, but that's a feeling I'm used to when betting the NFL. That said, I wouldn't go below the key number of +7.

---
» Return to the table of contents «
---
Bills -7
Matthew Freedman: The Bills are 9-5 against the spread for a 24.8% Return On Investment (ROI) this season, and they clinched the AFC East thanks to their dominant 48-19 road win over the Broncos in Week 15.
And now, in the words of my freshman psychology professor, "It's time to kill the father."
The Bills go on the road to face the Pats for the second time this season, and I am amazed this line isn't significantly higher.
Buffalo is better than the Patriots in all areas of the game, and being on the road is not a major impediment at all. Josh Allen is 12-5-2 ATS (32% ROI) on the road in the regular season for his career:

As for the Patriots, they are 6-8 ATS this year and against teams with an ATS win percentage of at least 55%, they are 1-5 ATS.
The Patriots are no longer the Patriots. I like the Bills to -7 (-110).
Brandon Anderson: I've had my eye on this game all season as a reckoning for these Buffalo Bills. No matter how good they were all year, the idea of heading to Foxborough on a December night with everything on the line in front of a national primetime audience with Josh Allen at the helm … it all sounded terrifying.
But a funny thing happened along the way: Most of those things stopped sounding terrifying.
Allen is still scary, but now he's scary for the opposing team. He still makes some mistakes but he outweighs them with big time winning plays just about every game. He is, by far, the reason Buffalo is in good shape to get the AFC 2-seed.
I never could have imagined that to be true.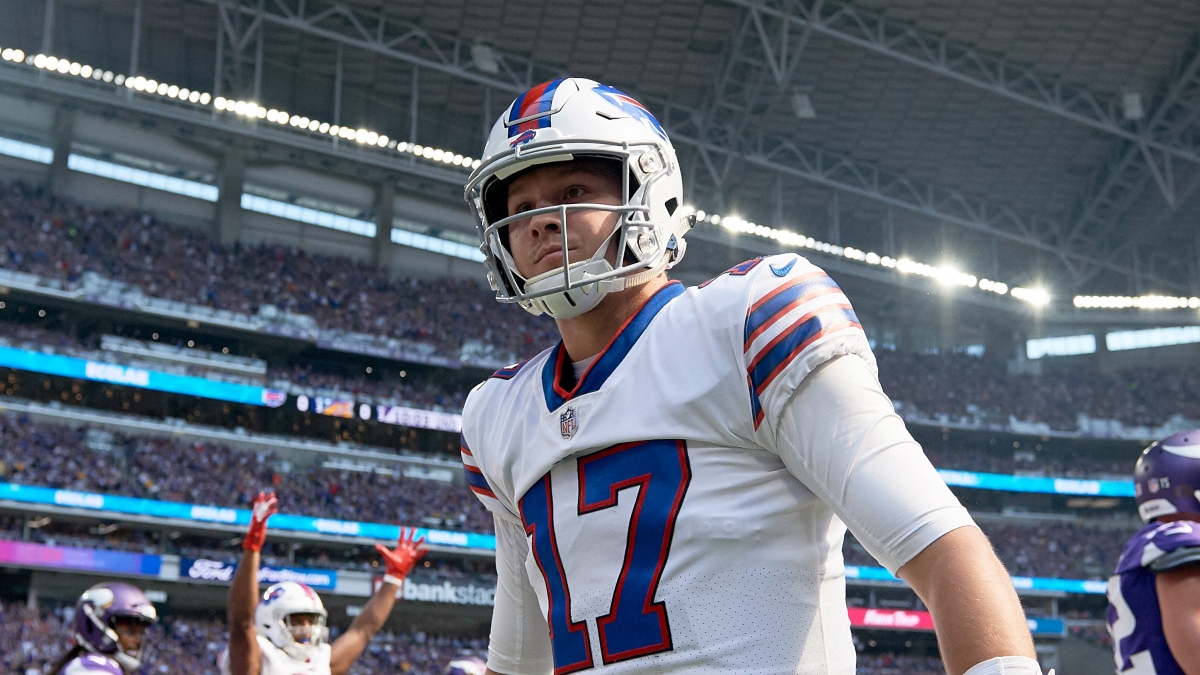 New England is also not scary in the least bit. Not anymore.
The Patriots have looked absolutely tepid at times. They've scored 20 or fewer points in four of their last five games. Cam Newton has looked broken almost all season. And the Pats have no weapons and no one to scare you on offense.
The defense has gotten better as the season has gone on, but it's still horrible against the run (last in Football Outsiders' rush defense DVOA) and bad overall (23rd in defensive DVOA). Now they're missing Stephon Gilmore, too, the reigning Defensive Player of the Year.
Coaching can cover a lot of sins, and it has for the Pats at times. They beat the Dolphins, Raiders, Ravens and Cardinals — all solid but flawed teams, with flaws that a well-coached team like the Patriots could (and did) take advantage of. That's Buffalo, too. If New England can shut down Allen, Stefon Diggs and the passing game, maybe the Patriots could eke out something like a 16-13 win — Buffalo did edge New England out by only a field goal on Nov. 1 at home.
But since then, the Patriots have gotten steadily worse, while the Bills are on fire. Buffalo has won four straight games by double digits and looked great doing it. If you took away the jerseys here, you would assume the profiles fit the opposite teams and wouldn't even consider taking the real Patriots. You'd expect the heavily favored, clearly better at pretty much everything Bills to take care of business against an extremely mediocre, forgettable team.
When the Pats have done well, it's been in particular because of advantages in coaching and on special teams. But Buffalo is particularly strong in those areas, too. I just don't see a good edge for the Pats here.
I'll grab the Bills at -7, though I'm not going to pay at higher than that. It's a great spot for a teaser, too, if you prefer to play it that way. Look for Buffalo to do what the AFC East leader has done for decades: Take care of a tepid opponent with relative ease.

---
» Return to the table of contents «
---
Stefon Diggs Under 89.5 Rec Yards
Sean Koerner: Despite Stefon Diggs going over 89.5 receiving yards in 9-of-14 games this season, this number is inflated.
The Patriots aren't the same imposing defensive matchup they were last season, especially with Stefon Gilmore now on injured reserve. However, Bill Belichick is still their head coach, and he always comes up with a defensive game plan that attempts to slow down the opposing team's best player.
In the Bills' case, that player is Diggs.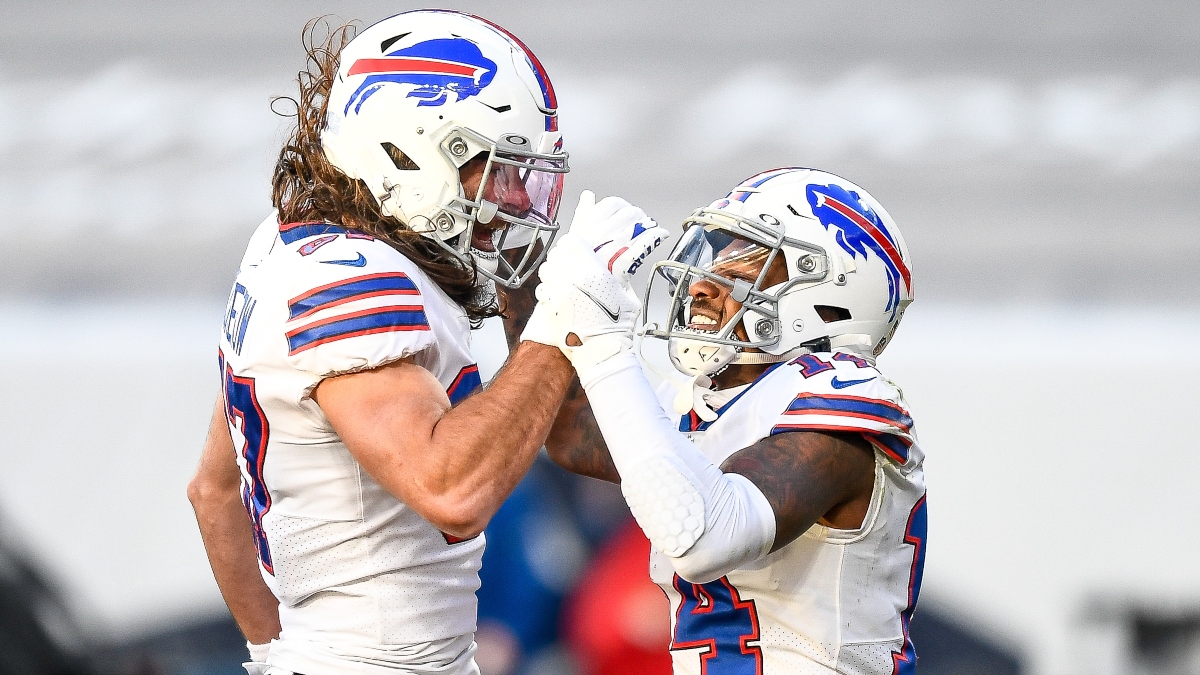 His 111 receptions are tied for the NFL lead and the high volume is starting to take a toll on his body. He began the week on the injury report (foot), but should be good to go on Monday night. This would be the perfect game for the Bills to lean on their run game. They're also likely to welcome back John Brown.
Diggs has surprisingly struggled on deep balls this season, and as evidenced by his 11.8 yards per catch, he could need at least eight catches to clear this number. But based on his underlying metrics and the expected game flow, I have him projected for only 7.2 receptions and a median of 80.5 yards, showing a slight edge on this line.
I would bet this down to 84.5, so lock in this number at BetMGM while you can. If you don't have access to 89.5, though, here are the projected chances of Diggs going over or under various lines based on my 10,000 player prop simulations so you can compare to your book(s):
| Rec Yards | Over | Under |
| --- | --- | --- |
| 83.5 | 47.1% | 52.9% |
| 84.5 | 46.3% | 53.7% |
| 85.5  | 46.1% | 53.9% |
| 86.5 | 45.0% | 55.0% |
| 87.5 | 44.3% | 55.7% |
| 88.5 | 42.4% | 57.6% |
| 89.5 | 41.1% | 58.9% |
---
» Return to the table of contents «
---
How would you rate this article?