13 Super Bowl Game Props To Bet For Buccaneers vs. Chiefs
Credit:
Tom Pennington/Getty Images. Pictured: Travis Kelce, Patrick Mahomes, Demarcus Robinson
Super Bowl Sunday is finally here.
With hundreds of props posted across the market, our staff has done the legwork for you — find their 13 favorite game props below.
---
« Spread/Total Picks | Player Prop Bets »
---
Super Bowl Prop Bets
Chiefs 1Q ML (-139)
Michael Arinze: Tom Brady has a history of slow starts in Super Bowls. In the nine he's played in, Brady has led his team to a total of three first-quarter points — that's fewer than one-third of a point per game.
Also keep in mind that when these two teams met in Week 12, the Chiefs jumped out to a 17-0 lead.
I would prefer to lay the -139 juice on the first-quarter moneyline at DraftKings rather than play the Chiefs to cover the 1.5-point spread first-quarter spread. This way, if the game is tied after the first 15 minutes, my action will be graded as a push.
1Q Total Under 10.5 (-148)
The Favorites Pod: "There's no such thing as a lock, but it's the play," professional bettor Simon Hunter said on this week's episode of The Favorites.
Tom Brady has never led a touchdown drive in the first quarter in any of his previous nine Super Bowls. His team has managed a field goal just once. The under is 9-0 and only once have the total points been more than the 10.5 listed at DraftKings as of Saturday.
A nine-game sample size is hardly enough to call it a trend, but the circumstances in the Super Bowl aren't the same as the regular season.

"Flukes might happen," Hunter added, "but if you're playing the numbers and data, under is a good play."
Highest-Scoring Half: Second
Sean Zerillo: In the history of the Super Bowl, the second half of the game has outscored the first half 62.9% of the time (34-19-1), by an average margin of 3.24 points per game.
Over the past 22 years, the Big Game has seen an even greater lean toward second-half scoring, outpacing the first half by a margin of 7.9 points per game, with a prop record of 17-4-1 (77.3%).
There's nothing to suggest that NFL scoring regularly picks up in the second half; in fact, the opposite is true more often than not. And these specific offenses have scored more frequently in the first half than the second half for three consecutive seasons — Buccaneers -0.5 in the second half in 2020; Chiefs -2.0 — which is surprising because it feels like both teams (particularly when the Bucs had Jameis Winston) are/were constantly playing from behind.
While I don't necessarily consider a 54-game sample of Super Bowls played among different teams, players, and coaches over the course of a half century to represent anything predictive, the continued trend of higher-scoring second halves makes intuitive sense. Especially when you combine 1) the bye week allowing defenses extra time to prepare and 2) an extended halftime period permitting additional offensive adjustments.
I'm not generally a trend player, and perhaps the performance of this prop is a complete anomaly of late. But this is a fun wager that I've been on for the past four Super Bowls and expect to keep betting in the future, provided the market keeps listing this as a pick'em.
I like this bet up to -120, and I'll hope to ride the streak for another year, but try to find a book that is offering a two-way market (you push if the halves tie in total points) on this prop as opposed to a three-way market (also provides the option to bet the two halves to tie, meaning you lose on a push).

---
» Return to the table of contents «
---
Total TD Yardage Under 115.5 Yards (-120)
Sean Koerner: I set up a way to simulate this prop 10,000 times based on each team's touchdown distances from the 2020 season against their touchdown odds for the Super Bowl. I am right in line with the market in terms of projected touchdowns with 6.7, but I found that the median total touchdown yardage we should expect is closer to 95.5 yards.
The total number of yards ended up fewer than 115.5 in 63% of my simulations.
I would bet the under 115.5 yards down to -150, which BetMGM is offering at -120 as of Saturday. The number/price for this prop varies a ton from book-to-book, though, so be sure use my Player Prop Calculator to enter whatever number/price you have access to in order to calculate the edge.
Longest Touchdown: Over 45.5 Yards (-114)
The Favorites Pod: All it takes is one play for Scotty Miller, Tyreek Hill or Sammy Watkins to sneak behind the defense for a long touchdown. Going against aggressive defenses only helps. Bet this line at DraftKings.
Either Team Converts 2-Point Conversion: Yes (+230)
The Favorites Pod: "Two risky coaches in a game that's all about taking high-risk plays in a winner-take-all game," Hunter said on this week's episode.
You can get +230 at DraftKings as of Saturday.
Total Field Goals, 1H: Over 1.5 (-125) 
The Favorites Pod: Hunter is hoping offenses get a little tight in the red zone early. He notes neither is spectacular scoring touchdowns in the red zone anyway. The Bucs and Chiefs ranked 11th and 12th in red zone touchdown percentage in the regular season.

---
» Return to the table of contents «
---
Over 4.5 Sacks (+132)
Chad Millman: No. 1: My co-host on The Favorites podcast, professional bettor Simon Hunter, told me he loves this prop. I love what Simon loves.
No. 2: He loves it because it makes sense! Tom Brady, not a scrambler. The Chiefs' top pass rusher, Chris Jones, is one of the toughest players in the league to block, scoring a 93.1 pass rush rating according to Pro Football Focus — second only to Aaron Donald. As smart as Brady is, the Bucs' offense relies on him getting time to throw the ball downfield, which means more time spent in the pocket as a target.
Meanwhile, Patrick Mahomes has become less of a scrambler this season, according to Chris Raybon on The Action Network NFL podcast. He's also suffering from turf toe. And, oh yeah, he will be playing without his left tackle and his right tackle. Mahomes is certainly nifty, but that applies as much to his ability to dance around in the pocket as it does to his rushing ability.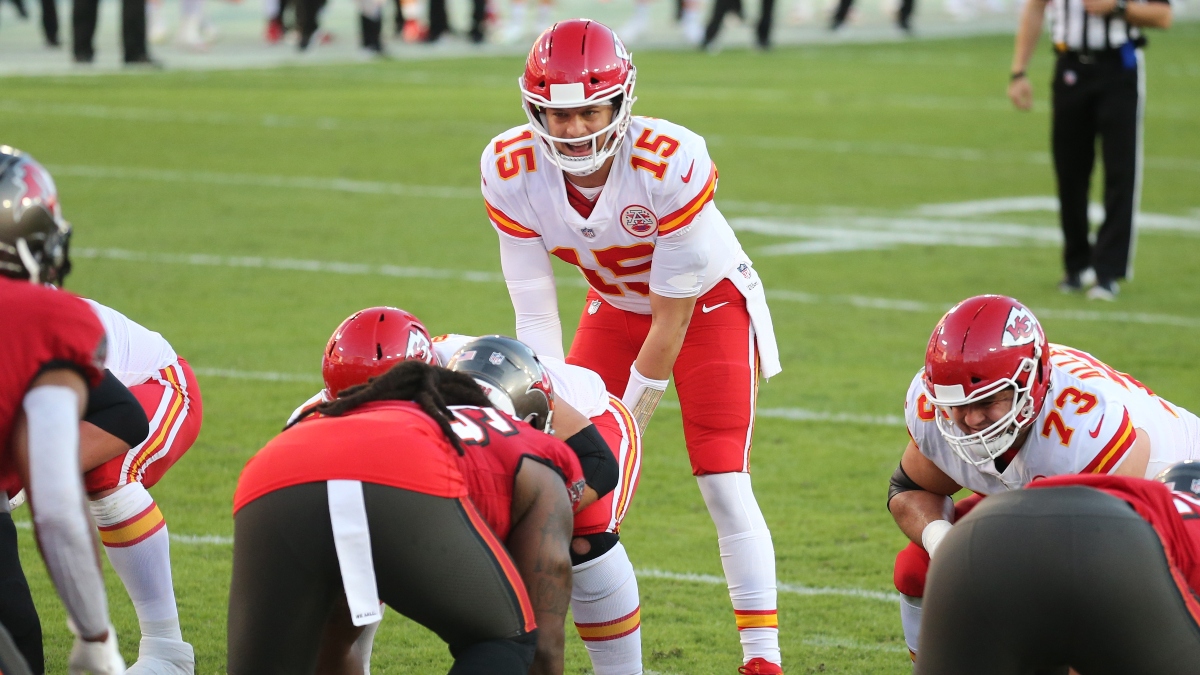 I'll be banking, literally, on the Bucs to stop the music. DraftKings is offering this at +132 as of Saturday.
Total Interceptions: Over 1.5 (+120)
The Favorites Pod: Brady doesn't mind an arm punt as we saw against the Saints. With a banged-up offensive line, Mahomes could be taking more risks to make big plays in a rushed pocket. You can still get this at +120 as of late Saturday.
Chiefs Win by 1 to 6 Points (+320)
Brandon Anderson: This is my favorite Super Bowl play on the board.
I'm not going to make the case for the Chiefs here. You can read that a hundred other places, and you know it already. Patrick Mahomes is 44-8 lifetime and has scored at least 31 points in every healthy playoff game, and the Chiefs have won 25 of the last 26 games Mahomes has played, including 11 straight wins in games within seven points.
I'm confident Mahomes will win. But I'm not confident he'll win comfortably.
That's just not how this shapes up to me. Before beating the Bills by 14 in the AFC Championship, the Chiefs hadn't won by more than one score since Nov. 1, and that was against the winless Jets. Opponents have found ways to keep things close and stay in the game late, even if they haven't been able to close the deal.
Tom Brady has played in nine Super Bowls, and all but one of them have finished within one score. And as for Mahomes? He's literally never lost by more than one score, ever, in his entire professional career.
Brady and Mahomes have played four times, and all four of them were one-score games. Two of them came down to the final play.
Everything about the history here screams a close game, and that makes me a bit nervous to play a Chiefs spread, even with the line at -3. I'm looking to play other angles here. And at better than 3-to-1 odds on basically "The Chiefs will win a close one," this is my favorite play to bet on Mahomes late and expect him to do enough in a tight game.
FanDuel has the best price at +320 as of Saturday night.
Chiefs to Have the Last Possession (-125)
Michael Arinze: This is a fun prop to play because one of two things can happen: If Kansas City is leading the game, Tampa Bay may be trying to go down the field to either score or win the game. And if the Chiefs are trailing, they're more likely to throw the ball, which means less time will tick off the clock.
It's more likely that we see a turnover on downs instead of the clock running out on the team with the ball. If that happens, it'll be Mahomes & Co. back on the field setting up the victory formation, en route to their second straight Super Bowl win.
PointsBet is offering this at -125 as of Saturday night.
Chiefs Over 22.5 First Downs (-143)
Chris Raybon: The Chiefs have gained 23 or more first downs in 14-of-17 Mahomes starts this season, and the Bucs have allowed 23 or more in six of their last eight. The Bucs can limit lesser offensive teams to paltry first-down totals due to their elite run defense, but that doesn't work against an efficient pass offense like the Chefs.
The Chiefs gained 26 first downs against the Bucs in the first matchup despite picking up only five on the ground.
DraftKings has the best line as of Saturday. I would bet the over to 22.5 (-200).
Chiefs to Have Most First Downs (-170)
Michael Arinze: Per TeamRankings, Kansas City led the NFL with 25 first downs per game, while Tampa Bay was 12th with 22.6. The first time these teams met in Week 12, the Chiefs had 26 first downs compared to the Bucs' 20.
Andy Reid's team has a much better early down success rate than the Bucs, and that's a big part of why the Chiefs are able to matriculate the ball down the field.
You can find this line at PointsBet.
---
« Spread/Total Picks | Player Prop Bets »
---
How would you rate this article?