College Football Best Bets: 10 Week 0 Picks Featuring San Jose State vs. USC & More
Credit:
Brian Rothmuller/Icon Sportswire via Getty Images. Pictured: USC's Austin Jones.
We've navigated the coaching carousel. We've powered through player movement via the portal. We've analyzed conference realignment for days on end.
Now, we're back to real football. Week 0 is here.
Saturday's college football slate features seven FBS games, and our staff came through with 10 best bets for all seven matchups.
Whether you're looking to bet a triple-option team against a blue blood in Dublin, Ireland, or you're looking for a way to back the defending Heisman Trophy winner, we have you covered — and there's plenty more on top of that.
So, make sure you have your TVs set, grab your beverage of choice and get those wing orders in. We have bets to make and football to watch.
---
College Football Week 0 Best Bets
The team logos in the table below represent each of the matchups that our college football betting staff is targeting from Saturday's slate of games. Click on the team logos for any of the matchups below to navigate to a specific bet discussed in this article.
Game
Time

(ET)

Pick
2:30 p.m.
2:30 p.m.
5:30 p.m.
7 p.m.
7 p.m.
7 p.m.
7:30 p.m.
8 p.m.
9 p.m.
9 p.m.

Specific betting recommendations come from the sportsbook offering preferred odds as of writing. Always shop for the best price using our NCAAF Odds page, which automatically surfaces the best lines for every game.
---
Week 0 is here! And what better way to kick off the college football season than with Notre Dame playing in Ireland?
This is my favorite bet of the week. We've got a Notre Dame team with a new offensive coordinator and quarterback against a triple-option team. Sign me up.
Not only that, but Navy has a ton of continuity all over the field, ranking 14th in returning production. Having an experienced triple-option team likely means fewer opportunities for fumbles and missed exchanges or reads.
Add the fact that we have this game as a 12-point projection, and it gets even better.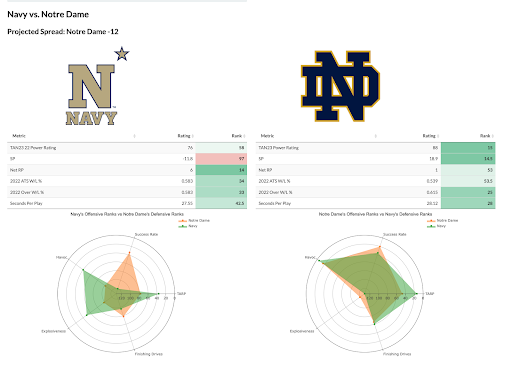 The only better news could be that Notre Dame struggles against the run, and guess what? It does.
Expect Navy to retain possession and move the ball downfield while keeping the game close.
One final point is that Notre Dame and Marcus Freeman have a habit of starting out slow, exemplified by a letdown loss to Marshall at home last year.
I'm more than happy to back the more experienced team getting three touchdowns. In fact, I'm taking the spread, the under and will be sprinkling on that Midshipmen moneyline.
---
In his first year at the helm for Navy, Brian Newberry will look to implement additional wrinkles to the Midshipmen's patented triple-option offense as they take on Notre Dame in college football's Week 0.
One of Newberry's first hires when he was named head coach was new offensive coordinator Grant Chesnut from Kennesaw State. Chesnut is expected to give Navy's offense a new-age edge.
This coaching addition will only benefit a Navy offense that ranked 108th in Passing Down Success Rate a season ago.
Chestnut will have plenty to work with, as the Midshipmen rank 14th nationally in TARP and get senior quarterback Tai Lavatai back after he tore his ACL last October. Plus, the Mids have other signal-callers who can be effective.
Additionally, Navy is poised to utilize its returning production on the defensive side of the ball to give a new-look Notre Dame offense all it can handle.
Sam Hartman and new offensive coordinator Gerad Parker will have to dissect a Navy defense that ranks 14th nationally in returning production. This returning production is notable given the Midshipmen's defense ranked top-35 nationally in both Success Rate and Havoc last season.
In a matchup between two teams that rank inside the top 50 in seconds per play, I believe Navy will have enough returning production on both sides of the ball to stay within this number, which is hovering around three touchdowns.
---
---
By Brett Pund
Of all of the Week 0 games, this is the one with the glaring note that I keep coming back to.
Jacksonville State played only one FBS opponent last season, which was an early September matchup at Tulsa. In that contest, the Gamecocks gave up 54 points and 621 total yards in a resounding loss to a Golden Hurricane team that finished the season 5-7.
Regardless of whether that Tulsa squad was better than UTEP, I do feel the Miners are going to be able to exploit similar advantages, with the most notable being the size advantage in the trenches.
Head coach Dana Dimel returns four of the five starters along his offensive line. They have combined for 122 career starts and all weigh over 300 pounds.
Meanwhile, Jacksonville State has only two players on its two-deep along the defensive line that match that weight.
This should allow for the Miners to run for large chunks, and it will give veteran quarterback Gavin Hardison time to exploit the Gamecocks' defense with the explosive plays that Dimel loves to draw up.
The primary target will be Tyrin Smith, who was a 1,000-yard receiver a year ago and led UTEP with seven receiving touchdowns. Like I mentioned above, this is the same JSU defense that gave up 457 passing yards and five touchdowns in that loss at Tulsa in 2022.
Yes, I do believe the Gamecocks will be able to put some scoring drives together under former West Virginia coach Rich Rodriguez, but I expect the Miners to control the line of scrimmage to grind out a victory.
---
---
The Land of Enchantment Legend — Diego Pavia — changed the entire complexion of the Aggies' offense last season. In their final three games, Pavia tallied 13 total touchdowns, while giving defenses fits with his legs.
His ability to pull it down and run will be crucial here against a blitz-happy Minutemen defense. UMass finished 115th in sacks last season, generating just 18 in all of 2022.
And Don Brown's best defensive lineman — Marcus Cushnie (5.5 sacks) — graduated, so bank on Dr. Blitz cranking things up on Saturday.
That should set the stage for a few big plays from Pavia, especially when he breaks the pocket. Pavia finished last season with the second-highest rushing rating among FBS quarterbacks, according to PFF.
When UMass has the ball, there's reason for optimism, but it has a long way to go. The Minutemen finished dead last in scoring in two of the past three seasons, and Jerry Kill put them in a straightjacket last October when the two teams met in Amherst.
UMass mustered just 13 points and 259 total yards while going 3-for-15 on third downs.
Taisun Phommachanh gives Massachusetts a higher ceiling, but the two-time transfer quarterback couldn't even get on the field last year for a Georgia Tech attack that finished 113th in total offense.
I'm not sure he's the savior he's being made out to be, and I'm comfortable backing a defensive savant in Kill in this season opener.
---
The UMass Minutemen will make the long journey from Amherst to play the New Mexico State Aggies in Las Cruces, New Mexico.
When these two programs locked horns last year, the end result was a 23-13 road victory for the Aggies. I expect the tale of this year's matchup to be quite different from last season's low-scoring affair because of offseason changes at both programs.
In 2022, New Mexico State was all defense. It finished the 2022 campaign ranked 47th in the nation in scoring defense, allowing just 25.5 points per game. Heading into this season, the defense will have to reload after losing its top three tacklers.
The secondary, in particular, could be an issue. After finishing 2022, as the 16th-ranked passing defense (186.5 YPG) in the country, the Aggies will look to their depth from the transfer portal to replace graduated production.
The Aggies offense is set with Diego Pavia returning as the starting quarterback. Pavia is a resilient, run-first quarterback. Last season, he threw for 1,450 yards, 13 touchdowns and only six interceptions. Additionally, he added six rushing touchdowns.
Pavia will be complemented in the backfield by returning veteran running backs. Look for the New Mexico State offense to come out firing on all cylinders.
Massachusetts ended last season as the worst scoring offense in the nation after putting up an average of just 12.5 points per game. One has to wonder why we would touch the over in spite of last year's offensive effort
.
The biggest issue the Minutemen faced last year was a lack of continuity at quarterback. Four players took snaps last season, and two are now wide receivers.
To address this, head coach Don Brown went out and signed Taisun Phommachanh via the transfer portal. Phommachanh, a former four-star recruit, spent time at Clemson and Georiga Tech and will be an instant boost to the talent level under center for the Minutemen.
I like the matchup of the rebuilding vs. reloading in the Massachusetts offense against the New Mexico State defense. The Minutemen can't be any worse than last year, and the Aggies will likely fall back on defense.
Plus, the Jerry Kill-led Aggie offense will be ready to go and improved from last season.
I think Vegas has the number too low here, reflecting too little offensive potential for UMass and too much defense for New Mexico State. Take the over at 44, and play it to 45.5.
---
---
Ohio went 9-4-1 against the spread last season and was one of the country's most profitable teams to back.
After a torn ACL that possibly cost the Bobcats a MAC Championship, Kurtis Rourke returns with unfinished business on his mind. The 2022 MAC Offensive Player of the Year led the conference with 3,256 yards and 25 touchdowns while posting just four interceptions.
He finished fourth in the country in yards per attempt and was lethal on deep throws.
He'll have his best playmaker back by his side in Sam Wiglusz. The 2022 All-MAC selection led the conference with 74 catches and 11 touchdowns, including averaging 12.2 yards per reception.
Even if Rourke isn't 100% on Saturday, running back Sieh Bangura will help take the pressure off of him. He earned MAC Freshman of the Year honors after racking up 1,078 yards and 13 touchdowns last season.
Ohio returns four of its five offensive linemen to continue clearing a path for Bangura.
San Diego State quarterback Jalen Mayden is a converted safety who spent the beginning of last season on defense before making his first start under center in Week 6.
Mayden finished with 12 touchdowns and 10 interceptions. He had just six big-time throws compared to 16 turnover-worthy plays.
Running the ball was San Diego State's bread and butter for years, but it took a massive step back last year. The Aztecs finished just 122nd in rushing success rate last season and managed just 11 total scores on the ground.
Defense has been a consistent strength in San Diego, and while I don't expect the Aztecs to fall off a cliff, this is the first time in a while I'm not overly confident in this unit.
The Aztecs have just 36% returning production on defense and are replacing a lot of star power. They have an entirely new defensive line.
The biggest question I have with this Ohio team is its secondary, but San Diego State is not built to exploit that area. I expect the Ohio offense to pick up right where it left off last season, with Rourke, Bangura and Wiglusz attacking all aspects of this rebuilding SDSU defense.
Rourke should have plenty of time to throw on Saturday, allowing the weapons on this offense to get the job done.
I'll take the points with Ohio, but I fully endorse a sprinkle on the moneyline as well.
---
---
Last season, Hawaii was implementing a new system with an entirely new offense featuring a lot of underclassmen.
Toward the end of 2022, Timmy Chang installed some run-and-shoot concepts after Hawaii didn't record a touchdown pass through the first four games of the season.
Quarterback Brayden Schager was brutal at the beginning of the season, but he improved as the year went along. Now with a full offseason under his belt, he should be much improved.
What will also help is that Hawaii is bringing back 110 starts across its offensive line, so Schager should have more time to throw.
However, it's not all on Schager's shoulders to carry the offense because Hawaii can run the football, as well. The Rainbow Warriors ranked 19th in the country in Offensive Line Yards and 26th in Rushing Success Rate last season.
They do lose their top back in Dedrick Parson, but they bring back 5-foot-7 scat back Tylan Hines, who averaged a whopping 7.6 yards per carry last year.
AJ Swann threw only two interceptions a season ago, but his 13 turnover-worthy plays were frighteningly bad for a quarterback who attempted just 201 passes.
That means Vanderbilt will have to rely on its ground game. Well, the Commodores' top rusher from last season — Ryan Davis — is gone after touting the rock a whopping 232 times, and they'll likely start a true freshman.
Clark Lea's specialty is defense, but there was nothing special about Vanderbilt's unit last season. The 'Dores finished the year 127th in EPA/Play Allowed and gave up 6.8 yards per play, which was the third-highest average allowed in college football.
They return eight starters but lost star linebacker Anfernee Orji, who ranked second in the SEC with 108 tackles last season. Nobody else on Vanderbilt had over 60 tackles.
Lea didn't do much in the transfer portal or recruiting, so how is one of the nation's worst going to drastically improve?
I love Hawaii to exact some revenge in the opener at +17.5.
---
---
If all goes to plan, this should be all about getting Caleb Williams' Heisman campaign off to a hot start in the first half, and then immediately proceeding to place him in bubble wrap on the bench in the second.
The Trojans offense has to replace Jordan Addison and Travis Dye from a season ago, but with the additions of All-Pac-12 receiver Dorian Singer and transfer running back MarShawn Lloyd, it should be just as good as last year.
Defensively, USC was a mess in 2022. That defense, however, picked up some solid transfer additions over the offseason, including players like Bear Alexander from Georgia and Mason Cobb from Oklahoma State to name a few.
The transfers will help the starting unit, but I still want nothing to do with USC's backup defense until proven otherwise. The backups will likely see a good bit of action in the second half.
The San Jose State offense — led by quarterback Chevan Cordeiro — is nothing to sneeze at after leading the Mountain West in passing last year.
The Spartans, however, have to deal with questions at the receiver position. Elijah Cooks, their leading wideout from 2022, is off to the NFL. Justin Lockhart, the only other Spartan with over 300 receiving yards last year, has not been practicing this week due to an injury.
It will likely take San Jose State at least a half to find any rhythm with its passing game.
This bet comes down to USC's starters being significantly better than San Jose State's, and the Trojans wanting to make both a Heisman and College Football Playoff statement in the first 30 minutes.
Things can always get weird when the backups come in — particularly with a lack of quality depth on defense for USC — so I'm staying away from the full-game spread and just sticking with the first half.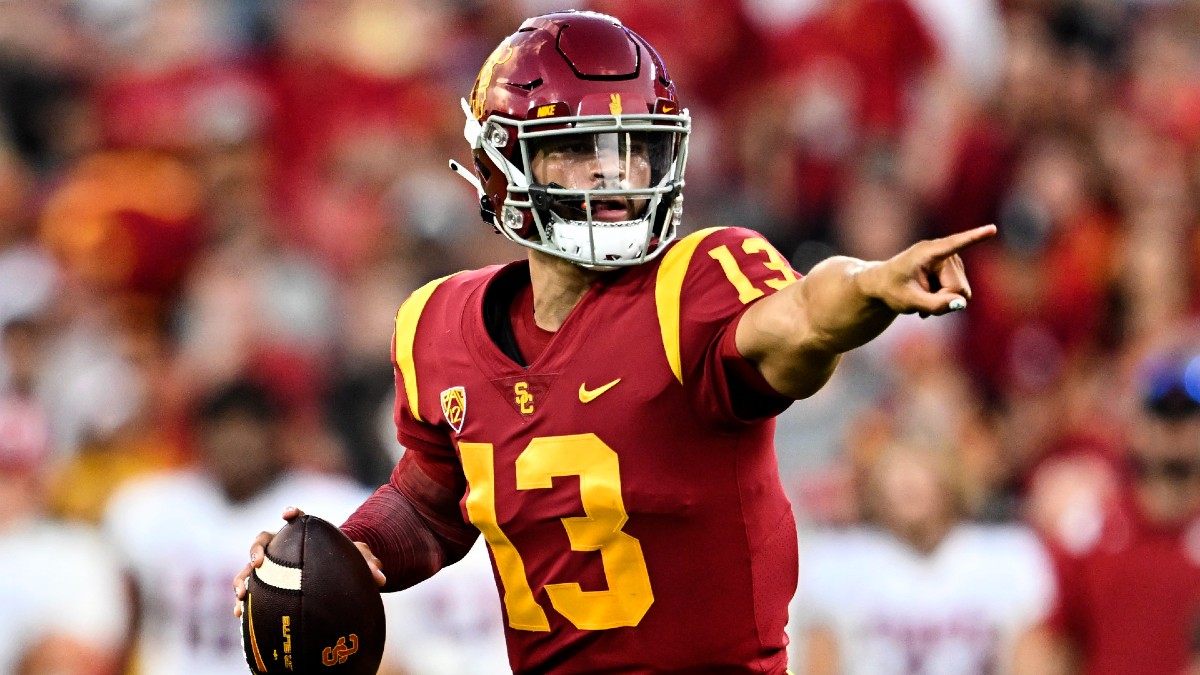 ---
---
With nearly two-dozen transfers making their way to Ruston, quarterback Hank Bachmeier has the chance to make the biggest impact. The Boise State transfer has 41 career touchdowns to just 19 interceptions, though he suffered an injury last season and lost his starting job to Taylen Green.
Bachmeier has no shortage of arm strength, completing 18 big-time throws on passes over 20 yards during the 2021 season. That's good news for Louisiana Tech, which boasts one of the best receiver units in the conference between slot Smoke Harris and the explosive Cyrus Allen.
There were not many bright spots on the FIU defense a season ago, as it ranked near dead last in third downs and Stuff Rate. The Panthers were consistently behind the chains and not behind the line of scrimmage, ranking bottom-20 in Success Rate and Havoc.
There are two questions about the point spread heading into the Ruston showdown for Week 0:
Is the point spread too high?
Can Florida International be trusted?
The answer to those is a resounding "yes" and "no," respectively.
Action Network's power ratings make the game -4.5 in favor of the home team, a contrast from -8 at SP+ and double-digits with Sagarin.
The Panthers have covered only six games as a road underdog since 2018 with two of them being outright wins over Charlotte and New Mexico State last season.
Although there are plenty of issues for Louisiana Tech to fix in terms of pass blocking and the defensive front seven stopping the run, backing FIU early in games has not been profitable. The Panthers finished second-to-last nationally in first-half point differential last season, averaging a net of -13.42 points.
Considering the poor opening season from Cumbie, the most impressive aspect may be the positive point differential in the first quarter of games in 2022.
With motivation on the minds of players and staff, look for Bachmeier to push a talented group of wide receivers downfield against a secondary that loses its biggest contributors in pass breakups.
---
Louisiana Tech ranked sixth in terms of explosiveness on the offensive side of the football last season, and I expect it to continue to push the ball down the field with incoming Boise State transfer Hank Bachmeier.
Bachmeier wasn't particularly great last season as he battled injuries, but a new start with second-year coach Sonny Cumbie should help him get back to form.
Cumbie comes from the Big 12, where teams know how to put up points, so I expect Louisiana Tech to put up quite a few against this Florida International defense that ranked seventh-worst in scoring defense last season at 37.3 points per game.
It wasn't all rainbows and sunshine for the Louisiana Tech defense last season, though. The Bulldogs were even worse, ranking sixth-worst in scoring defense by allowing 37.9 points per game.
Florida International also has second-year offensive coordinator David Yost, who has a strong history when it comes to developing great quarterback play, specifically Justin Herbert at Oregon and Jordan Love at Utah State.
Yost likes to push the ball downfield through the air, ranking 15th in the country in pass rate. With Grayson James returning at quarterback and the coaching staff now in Year 2, this team should see some more consistency offensively against an abysmal Louisiana Tech defense.
Look for both teams to put up points against some bad defenses in a sloppy game between second-year coaches.
How would you rate this article?
This site contains commercial content. We may be compensated for the links provided on this page. The content on this page is for informational purposes only. Action Network makes no representation or warranty as to the accuracy of the information given or the outcome of any game or event.