Koerner's Fantasy Football Tiers: Ranking Week 9 QBs, RBs, WRs, TEs, More
Credit:
USA TODAY Sports. Pictured: 49ers TE George Kittle (85), Seahawks QB Russell Wilson (3), Giants RB Saquon Barkley (26).
Sean Koerner's tiers separate players at each position for the Week 9 fantasy football slate.
Use the rankings below to help set your lineups for the upcoming weekend.
With the NFL trade deadline in the rearview mirror and several high-powered offenses on bye week, a number of players should see their stock rise in Week 9. Take these tiers/rankings as a window into where I am starting the week off in my model.
There is going to be a ton of volatility in rankings movement so, as always, be sure to check my updated rankings before it's time to make the final sit/start calls this week.
And if you're looking for streaming advice, you can find my favorite streamers here.
---
Go To: QB | RB | WR | TE | K | DEF
---
Week 9 Fantasy Football Tiers
Quarterbacks
Tier 1
Russell Wilson (vs. TB)
Deshaun Watson (@ JAX)
These two quarterbacks have another week to hold down the fort in Tier 1 until Patrick Mahomes returns. Wilson is in a smash spot this week against a pass funnel Tampa Bay defense and is my top quarterback for Week 9.
Watson has struggled against the Jaguars in the past, but the post-Ramey Jaguars defense is beatable through the air. Not to mention, Watson now has at least 30 rushing yards in four straight games, which makes him the ultimate high ceiling/floor type of quarterback.
Tier 2
Dak Prescott (@ NYG)
Aaron Rodgers (@ LAC)
Not only does Prescott have a great matchup this week against the Giants off the Bye week, but his top receivers Amari Cooper, Michael Gallup, and Randall Cobb should be close to 100% after battling various injuries the past few games. Rodgers has been unstoppable the past few games and that was without his stud receiver Davante Adams who is set to return this week.
Tier 3
Lamar Jackson (vs. NE)
Matthew Stafford (@ OAK)
Josh Allen (vs. WAS)
Gardner Minshew (vs. HOU)
Jameis Winston (@ SEA)
Tom Brady (@ BAL)
Jackson will be a popular sit/start decision this week as he is set to face the deadly Patriots defense that has now allowed opposing passers to a 2:19 TD:Int ratio on the season.
His rushing ability is what allows him to be borderline matchup proof, so instead of benching him this week, I think it makes sense to simply lower your expectations a bit due to the brutal matchup. It could be ugly, but I think he will be able to scrape together a useful fantasy score this week via his legs.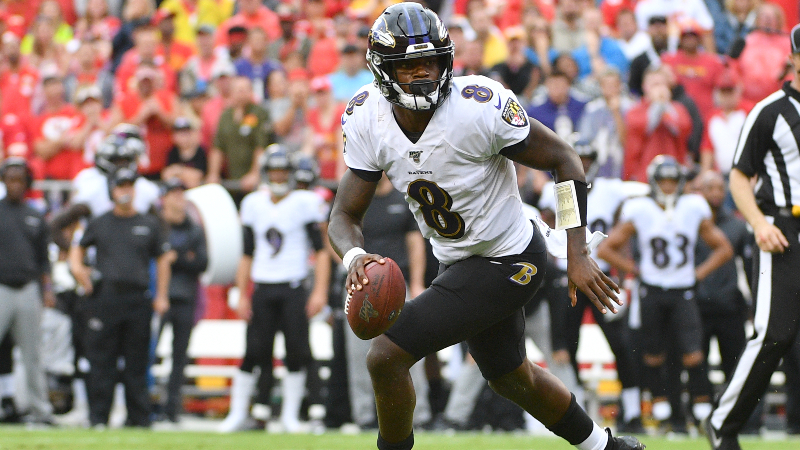 The rest of the tier is a bit of a mixed bag because the quarterback position is a bit scarce this week given Mahomes is still out and Matt Ryan, Jared Goff, and Drew Brees are all on a Bye this week.
Tier 4
Carson Wentz (vs. CHI)
Derek Carr (vs. DET)
After putting up 172 yards in windy conditions, Wentz has now has now thrown for fewer than 200 yards in four out of eight games this year. It's safe to say that his brutal schedule and the absence of DeSean Jackson has been a factor in his poor numbers of late.
He gets another tough matchup this week against the Bears, then after a Week 10 Bye gets the Patriots. Week 12 is when his schedule will open up and he will become a weekly QB1 again. The time to buy low on him if you need a quarterback is now.
Carr is my streamer of the week at quarterback as he gets a Lions defense that has been torched for 320-plus yards and four passing touchdowns in back-to-back games. The Raiders should offer quite a bit of fantasy value this week as having the fourth-highest team total on the week.
This may be the last time Carr pops up as a QB1 in my projections, but his play has been trending up as of late with consecutive games with at least 285 yards and two touchdowns.
Tier 5
Kirk Cousins (@ KC)
Daniel Jones (vs. DAL)
Matt Moore (vs. MIN)
Jimmy Garoppolo (@ ARI)
Philip Rivers (vs. GB)
We have seen the Vikings passing attack get the "squeaky wheel" treatment the past four games. However, this could be a matchup where we see them revert to a more extreme run heavy approach we saw in Weeks 1-4.
The Chiefs have been more of a run funnel defense this year and given Patrick Mahomes is likely to miss Week 9, the Vikings won't feel compelled to keep up with the Chiefs offense and could instead rely on their running game and defense to win this week.
Given that a few QB1 types are out this week due to injury or Byes, Cousins may still be on your radar, but you need to be aware of his potential floor this week.
Tier 6
Sam Darnold (@ MIA)
Mason Rudolph (vs. IND)
Jacoby Brissett (@ PIT)
Kyler Murray (vs. SF)
Mitchell Trubisky (@ PHI)
Baker Mayfield (@ DEN)
Kyle Allen (vs. TEN)
Darnold has the ideal matchup to get his season back on track. The Jets schedule opens up this week as the next several games are all plus matchups.
I view Darnold more as a reason why we can start to see Le'Veon Bell and Robby Anderson putting up solid numbers, verses viewing Darnold as a player we need to be playing in fantasy.
With the thin week at this position, he can be a decent streaming option, but going forward he should be viewed as a 2QB-league option only.
Tier 7
Ryan Tannehill (@ CAR)
Ryan Fitzpatrick (vs. NYJ)
Both guys have the potential to sneak into QB1 territory if the have a ceiling game, but are better off avoiding if you can help it. Tannehill has given the Titans offense a bit of spark after two solid games.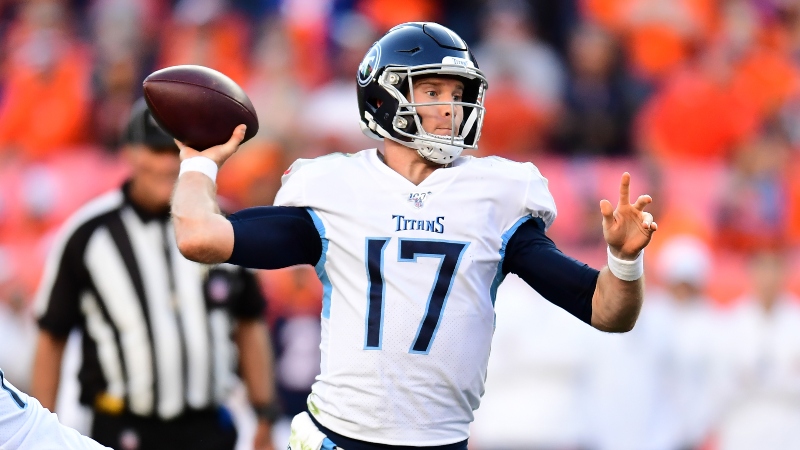 Similar to Darnold, I view him more of a reason to trust Titans pass catchers verses wanting to go out of my way to be starting Tannehill in single-QB leagues.
Tier 8
Brandon Allen (vs. CLE)
Allen gets the start for Joe Flacco. He should be avoided at all costs, but is certainly worth a flier in deep 2QB/Superflex leagues. He's likely going to start until Drew Lock is healthy enough to make his debut in a lost season for the Broncos.
Tier 9
Case Keenum (@ BUF)
The Redskins have failed to throw for more than 170 yards in five straight games and get a brutal matchup at Buffalo where weather could be an issue. Keenum is my lowest ranked quarterback this week.
---
Running Backs
Tier 1
Christian McCaffrey (vs. TEN)
Dalvin Cook (@ KC)
Cook joins CMC in Tier 1 again this week. As I mentioned earlier, the matchup against the Mahomes-less Chiefs sets up for a run heavy game script. Cook should see all the touches he can handle in Week 9 against a run funnel defense.
Tier 2
Saquon Barkley (vs. DAL)
Ezekiel Elliott (@ NYG)
These two backs are clearly not far behind Tier 1. It's pretty clear Barkley is 100% over his ankle injury and should see all the touches he can handle in the second half of the season.
Tier 3
Leonard Fournette (vs. HOU)
Despite Fournette's massive usage this year, he has still only scored one touchdown. We can mostly chalk this up to bad luck. He will certainly see his luck shift in the second half of the season where I have him projected about four touchdowns the rest of the way.
Due to his injury history and massive workload — Ryquell Armstead needs to be stashed in deeper leagues as he would become a low end RB2/3/Flex if Fournette ever misses time.
Tier 4
Aaron Jones (@ LAC)
Jones gets his own Tier this week as we can't really rank him with the true workhorses above. He is extremely efficient in his 15-20 touch role for the Packers, most notably in the passing game as he has posted at least four receptions in five straight games now.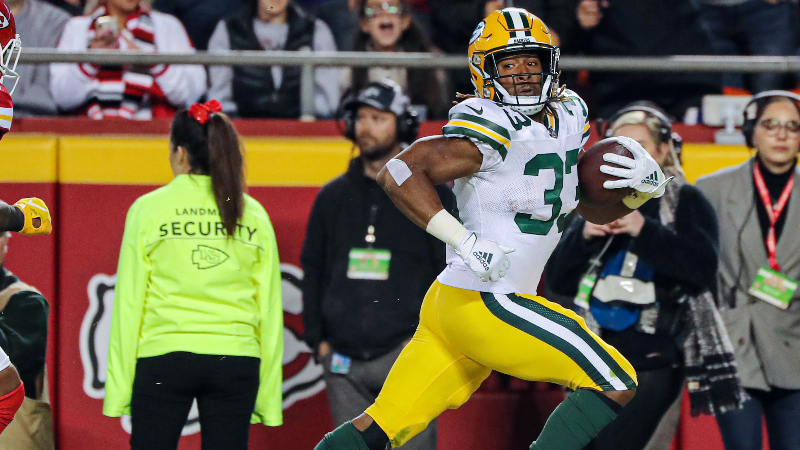 Expect him to keep rolling against the Chargers this week who have been a bit leaky verses opposing running backs as of late. They had David Montgomery have his breakout game against them last week.
Tier 5
Nick Chubb (@ DEN)
Le'Veon Bell (@ MIA)
Chris Carson (vs. TB)
James Conner (vs. IND)
Bell should get his season back on track this week against the Dolphins. Right now might be a time to buy low on him if you still can. Carson has a brutal matchup this week against a Tampa Bay defense that has shut down opposing running backs all season. He should still put up solid numbers based on sheer volume this week.
Tier 6
Josh Jacobs (vs. DET)
This is a great week to invest in the Raiders offense. If you own Jacobs you are likely playing him every week anyways. However, Week 9 we can at least raise our expectations for him and I wouldn't be surprised if he ends his three-game touchdown drought.
Tier 7
Marlon Mack (@ PIT)
Derrick Henry (@ CAR)
Sony Michel (@ BAL)
Tevin Coleman (@ ARI)
Phillip Lindsay (vs. CLE)
Most of the backs in this tier rely specifically on their rushing ability and all but Lindsay have a 50% chance to score this week, according to my projections. If you attacked the RB2 Tier this year including these backs, they have been quite valuable. They are the last batch of backs who are likely not part of any sit/start decisions and can always be started with confidence.
Tier 8
Mark Ingram (vs. NE)
David Montgomery (@ PHI)
Jordan Howard (vs. CHI)
Melvin Gordon (vs. GB)
Royce Freeman (vs. CLE)
Carlos Hyde (@ JAX)
LeSean McCoy (vs. MIN)
James White (@ BAL)
I had been calling for Montgomery as a buy-low candidate and that window slammed shut last week after a breakout 146 scrimmage yards and touchdown game. He gets a tough test this week against a very good run defense in the Eagles, but he should be able to put up RB2 numbers based on volume this week.
McCoy lost some work to Damien Williams after a costly fumble against the Packers. He's looked like the lead back for the Chiefs leading up to that point, so we will have to be careful of moving too far in either direction.
This is a backfield I will be monitoring closely this week so be sure to check my final rankings come Sunday before making any sit/start decisions involving Kansas City running backs. I will have had more time/news to sort this out by then.
Tier 9
Austin Ekeler (vs. GB)
Devin Singletary (vs. WAS)
Jamaal Williams (@ LAC)
Mark Walton (vs. NYJ)
Miles Sanders (vs. CHI)
Matt Breida (@ ARI)
Kenyan Drake (vs. SF)
Adrian Peterson (@ BUF)
The Chargers fired their offensive coordinator after their Week 8 loss, which means we could see some sort of shake up in how Gordon/Ekeler split works. It could potentially make this much more of a 50/50 committee, which will help Ekeler and hurt Gordon.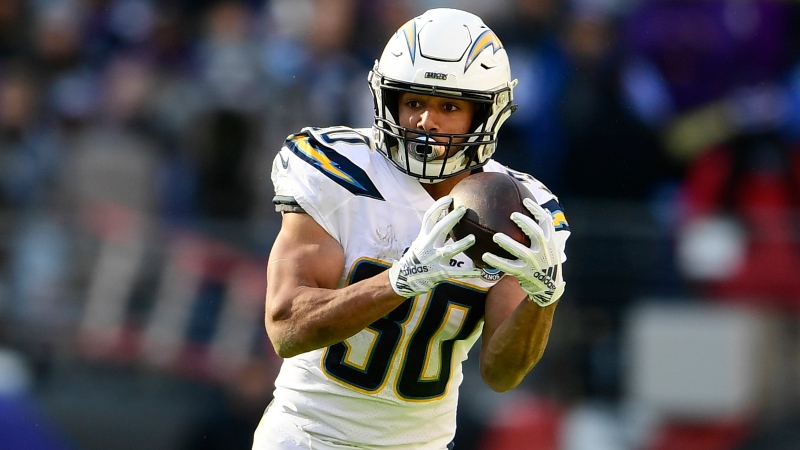 With Drake traded away to Arizona, Walton is the starting back for the Dolphins. An honor that does not come with much fantasy value, but if you are in a pinch this week with four teams on a Bye, you could do worse.
Tier 10
Frank Gore (vs. WAS)
Ty Johnson (@ OAK)
Duke Johnson Jr. (@ JAX)
Tarik Cohen (@ PHI)
Ronald Jones (@ SEA)
Damien Williams (vs. MIN)
Peyton Barber (@ SEA)
Alexander Mattison (@ KC)
Ty Johnson was a FAAB gamble that looks like a loser. The Lions decided to go with a deep running back by committee in the first game without Kerryon Johnson. It's a situation to avoid until we see a back potentially emerge as the lead back.
It may be worth hanging on to Ty Johnson for a week or two to see if they decide to go with him as the lead back after all. But I would not trust him in my lineup this week of course.
Tier 11
Chris Thompson (@ BUF)
Jaylen Samuels (vs. IND)
Rashaad Penny (vs. TB)
Tra Carson (@ OAK)
Nyheim Hines (@ PIT)
---
Wide Receivers
Tier 1
DeAndre Hopkins (@ JAX)
Nuk has broken out of his mini-slump with back-to-back huge games. With only three scores on the season, he's due for some positive touchdown regression as well. This matchup is no longer a Hopkins vs. Ramsey battle, which makes this matchup less daunting than we are used to.
Tier 2
Chris Godwin (@ SEA)
Tyler Lockett (vs. TB)
Amari Cooper (@ NYG)
Julian Edelman (@ BAL)
With the Rams, Falcons, Saints, and Bengals on Bye this week it's arguably the biggest Bye week for the receiver position as we lose three wide receivers from the top five and roughly seven from the top 20 this week.
Not only do Lockett and Cooper see a boost in value due to that effect this week, but both are in smash spots this week, making them both top-five receivers this week.
Tier 3
Mike Evans (@ SEA)
Kenny Golladay (@ OAK)
Davante Adams (@ LAC)
Tyreek Hill (vs. MIN)
Adam Thielen (@ KC)
D.J. Chark (vs. HOU)
Keenan Allen (vs. GB)
Stefon Diggs (@ KC)
Adams and Thielen should both return this week and become instant WR1 plays. Hill is going to be more of a WR2 until Mahomes returns. However, his big play ability still offers WR1 upside no matter who is throwing him the ball.
Keenan Allen played through a hamstring injury in Week 8 and managed to put up a 7/53/0 line despite being limited. He didn't look himself as he made a couple critical drops including a would be touchdown. I expect him to be much closer to 100% in Week 9 and we should treat him as a high end WR2.
Tier 4
Odell Beckham (@ DEN)
Allen Robinson (@ PHI)
Juju Smith-Schuster (vs. IND)
Michael Gallup (@ NYG)
T.Y. Hilton (@ PIT)
Courtland Sutton (vs. CLE)
D.K. Metcalf (vs. TB)
John Brown (vs. WAS)
Marvin Jones (@ OAK)
Mike Williams (vs. GB)
I mentioned a couple weeks ago that Sutton is a WR1 trapped in a Flacco offense. With Flacco now on IR, we get to see what a Brandon Allen led Broncos offense looks like for Sutton.
It's hard to call Allen an upgrade, but I'm curious to see if Allen's aggressiveness ends up helping Sutton's fantasy value. It's times like this we need to separate Allen's real-life value from how he could potentially help Sutton.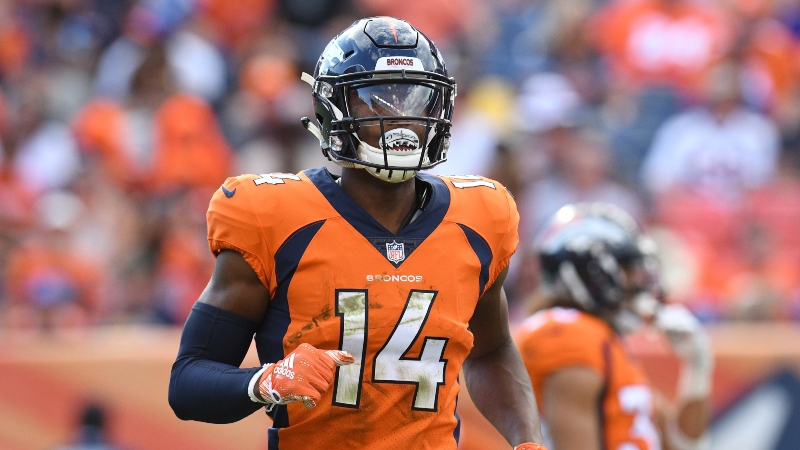 If Allen ends up throwing three interceptions, causing the Broncos to lose a close game against the Browns this week, but Sutton goes for 5/80/1, will you care?
My point is that Allen is of course a big hit on the Broncos chances of winning but that is not necessarily correlated with it likely slowing down Sutton this week. I'm still firing him up as a mid range WR2 this week.
Tier 5
Jarvis Landry (@ DEN)
Terry McLaurin (@ BUF)
Robby Anderson (@ MIA)
D.J. Moore (vs. TEN)
Alshon Jeffery (vs. CHI)
Curtis Samuel (vs. TEN)
Kenny Stills (@ JAX)
Preston Williams (vs. NYJ)
DeVante Parker (vs. NYJ)
Marquise Brown (vs. NE)
Dede Westbrook (vs. HOU)
Golden Tate (vs. DAL)
Emmanuel Sanders (@ ARI)
The window to buy low on Robby Anderson could close shut after this week. This is a dream matchup for him against the Dolphins who have been prone to giving up huge plays to opposing WRs. The schedule opens up for the Jets in the second half of the season, so we could see Anderson be a WR3 with upside the rest of the way.
Brown is set to return this week for a brutal matchup against the Patriots. After missing so much time and a likely mediocre game this week it would be another chance to buy low on him while you can. I think he has the talent to be a solid WR2 the rest of the way if he can stay healthy.
Tier 6
Tyrell Williams (vs. DET)
Jamison Crowder (@ MIA)
Christian Kirk (vs. SF)
Danny Amendola (@ OAK)
Larry Fitzgerald (vs. SF)
Diontae Johnson (vs. IND)
Sammy Watkins (vs. MIN)
Desean Jackson (vs. CHI)
Williams kept his scoring streak alive as he has now scored a touchdowns in all five games he has played in this year. This is not sustainable so the time to sell high would be now.
However, he has a great matchup this week against the Lions. If he extends his streak to six games, you should absolutely try to sell high while you can.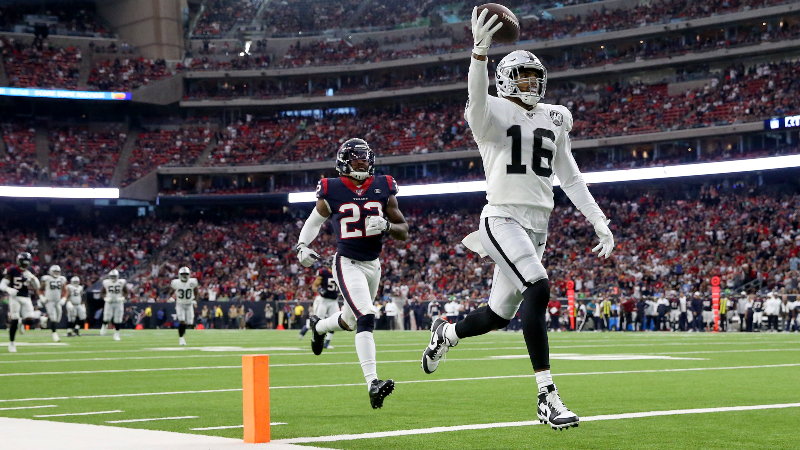 Amendola has erupted for a combined 16/200/0 line over his past two games. It's clear that with Kerryon Johnson on IR, the Lions are going to a pass heavy attack and Amendola has benefited the most from it. He's not known as being the most durable player, so we have to wonder if he will be able to maintain this level of production and remain healthy.
Tier 7
Corey Davis (@ CAR)
A.J. Brown (@ CAR)
Chris Conley (vs. HOU)
Demaryius Thomas (@ MIA)
Phillip Dorsett (@ BAL)
Cole Beasley (vs. WAS)
Sterling Shepard (vs. DAL)
Conley broke out for a 4/103/1 game in Week 8. Dede Westbrook had to leave the game in the first half due to his nagging shoulder injury. I have him tentatively expected to play this week, but if he sits, expect Conley to shoot up my ranks.
This is just a reminder that we are still early in my overall weekly projections process and that my rankings could change quite a bit from now until Sunday as I get more time to dig deeper into numbers, film, and we get more information regarding injuries, position battles, and even the weather.
It's critical to view my tiers as a way to paint the general landscape, but we will want to use my updated rankings Sunday morning to make the final sit/start calls.
Tier 8
Anthony Miller (@ PHI)
Mohamed Sanu (@ BAL)
Adam Humphries (@ CAR)
Randall Cobb (@ NYG)
Hunter Renfrow (vs. DET)
Marquez Valdes-Scantling (@ LAC)

Deebo Samuel (@ ARI)
James Washington (vs. IND)
Taylor Gabriel (@ PHI)
Zay Jones (vs. DET)
Geronimo Allison (@ LAC)
Paul Richardson (@ BUF)
Darius Slayton (vs. DAL)
---
Tight Ends
Tier 1
George Kittle (@ ARI)
Kittle is my No. 1 tight end again this week as he gets to face the Cardinals defense that has been torched by opposing tight ends all year.
Tier 2
Travis Kelce (vs. MIN)
Darren Waller (vs. DET)
Hunter Henry (vs. GB)
Of course Kelce needed Mahomes to miss a game for him to break his five-game touchdown drought. It just goes to show that Kelce shouldn't see too much of a drop off with Moore under center. He still maintains one of the highest floors at the position when we can bank on seven or more targets most weeks.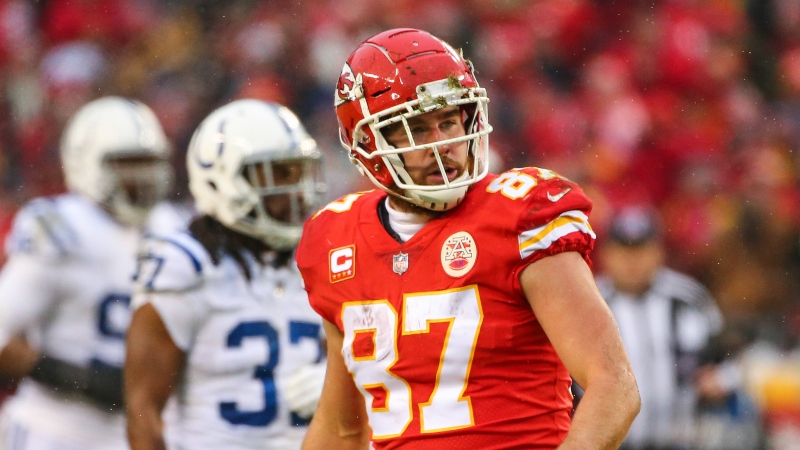 It's Mahomes who will raise his weekly ceiling when he returns (hopefully by Week 10). I had mentioned Waller being the player most due for a touchdown back in Week 4-5. Sure enough he has now scored three times in the past two games. He should keep it rolling this week against Detroit.
Tier 3
Zach Ertz (vs. CHI)
Evan Engram (vs. DAL)
Ertz has seen his value drop outside of the "Big 3" this year, and he's much more of a middling TE1 right now. A big part of that has been the breakout of Dallas Goedert the past couple games. Ertz has relied on massive volume to be one of the most steady tight ends in fantasy the past few years. We are simply seeing his stock take a hit without the bankable volume.
Tier 4
Mark Andrews (vs. NE)
Andrews gets a Tier all to himself since he has a tough enough matchup to be outside of my top five this week, but I still consider him the last stud at the position this week.
He had a couple of drops (including a potential score) in the Ravens last game. Hopefully this was something he worked on the most during the Bye week.
Tier 5
Greg Olsen (vs. TEN)
Darren Fells (@ JAX)
Jason Witten (@ NYG)
Jimmy Graham (@ LAC)
Noah Fant (vs. CLE)
Cameron Brate (@ SEA)
T.J. Hockenson (@ OAK)
Dallas Goedert (vs. CHI)
This is the ideal streaming option tier to choose from this week. If Delanie Walker is ruled out again this week, you can expect Jonnu Smith to leap up into this tier. Fant could be set up for a breakout week as it looks like Jeff Heuerman could miss Week 9.
On top of that, Brandon Allen may lean on Fant as his go-to target this week if Sutton is double/triple-teamed. It's worth noting that Brandon Allen relied on his tight ends heavily during his college career at Arkansas relying on Hunter Henry, Jeremy "2-15-0" Sprinkle, and preseason DFS legend A.J. Derby during his time there.
Tier 6
Eric Ebron (@ PIT)
OJ Howard (@ SEA)
Vance McDonald (vs. IND)
Jack Doyle (@ PIT)
Michael Gesicki (vs. NYJ)
Howard was not traded at the deadline, meaning we have to continue being tempted at rolling the dice on him if he's able to return from injury this week. Hopefully by now you have moved on from Howard and ended up snagging a Fells or Goedert type a couple weeks ago to be your tight end going forward.
Tier 7
Kyle Rudolph (@ KC)
Jordan Akins (@ JAX)
Delanie Walker (@ CAR)
Chris Herndon (@ MIA)

Trey Burton (@ PHI)
Ricky Seals-Jones (@ DEN)
Irv Smith (@ KC)
Jacob Hollister (vs. TB)
Vernon Davis (@ BUF)
Ryan Griffin (@ MIA)
---
Kicker
Tier 1
Jason Myers (vs. TB)
Robbie Gould (@ ARI)
Brett Maher (@ NYG)
Daniel Carlson (vs. DET)
Mason Crosby (@ LAC)
Tier 2
Matt Prater (@ OAK)
Dan Bailey (@ KC)
Justin Tucker (vs. NE)
Ka'imi Fairbairn (@ JAX)
Jake Elliott (vs. CHI)
Josh Lambo (vs. HOU)
Harrison Butker (vs. MIN)
Nick Folk (@ BAL)
Steven Hauschka (vs. WAS)
Joey Slye (vs. TEN)
Tier 3
Matt Gay (@ SEA)
Adam Vinatieri (@ PIT)
Chris Boswell (vs. IND)
Aldrick Rosas (vs. DAL)
Chase McLaughlin (vs. GB)
Sam Ficken (@ MIA)
Austin Seibert (@ DEN)
Jason Sanders (vs. NYJ)
Cody Parkey (@ CAR)
Tier 4

Eddy Pineiro (@ PHI)
Brandon McManus (vs. CLE)
Zane Gonzalez (vs. SF)
Dustin Hopkins (@ BUF)
---
Defenses
Tier 1
Buffalo Bills (vs. WAS)
New York Jets (@ MIA)
Cleveland Browns (@ DEN)
San Francisco 49ers (@ ARI)
Tier 2
Dallas Cowboys (@ NYG)
Carolina Panthers (vs. TEN)
Denver Broncos (vs. CLE)
Seattle Seahawks (vs. TB)
Philadelphia Eagles (vs. CHI)
Tier 3
New England Patriots (@ BAL)
Miami Dolphins (vs. NYJ)
Green Bay Packers (@ LAC)
Minnesota Vikings (@ KC)
Jacksonville Jaguars (vs. HOU)
Tennessee Titans (@ CAR)
Tier 4
Chicago Bears (@ PHI)
Houston Texans (@ JAX)
Pittsburgh Steelers (vs. IND)
Washington Redskins (@ BUF)
Tier 5
Indianapolis Colts (@ PIT)
Arizona Cardinals (vs. SF)
Oakland Raiders (vs. DET)
Detroit Lions (@ OAK)
Kansas City Chiefs (vs. MIN)
Tier 6
Baltimore Ravens (vs. NE)
Los Angeles Chargers (vs. GB)
New York Giants (vs. DAL)
Tampa Bay Buccaneers (@ SEA)
How would you rate this article?