Thursday NHL Betting Odds & Predictions: Penguins vs. Bruins, Flames vs. Maple Leafs, More ( Jan. 16, 2020)
Credit:
Jeanine Leech/Icon Sportswire. Pictured: Sidney Crosby
Hey, have you heard that Sidney Crosby is back?
Crosby returned from his 28-game absence on Tuesday, scoring a goal and recording three assists in Pittsburgh's 7-3 win over the Minnesota Wild. The scary thing is that the Penguins, who have been absolutely demolished by injuries this season, were the league's best team — in terms of points percentage — while Crosby was sidelined.
The Pens also posted the league's third-best expected goals rate and fifth-best goal share in that span. Pittsburgh was already one of the league's best team and now it has one of the world's best players back in its lineup.
The Penguins take on the Boston Bruins on Thursday night.
---
In New Jersey? Bet now at PointsBet for access to their NHL promotion, which stipulates that if your NHL bet ever gets a two-goal lead in a game, you win even if it ends up actually losing (promotion good for up to $100).

---
Pittsburgh Penguins at Boston Bruins
Penguins odds: +120
Bruins odds: -140
Over/Under: 6
Time: 7 p.m. ET
You'd think a team that is headlined by Sidney Crosby and Evgeni Malkin would be known for its offense, but the Penguins have turned themselves into a defense-first dynamo in 2019-20.
The Penguins own the league's best goal differential (+36) this season and their defense allows the fewest expected goals (2.02) against per 60 minutes at 5-on-5.
It's worth noting that this is a defense that has been without Brian Dumoulin, Kris Letang and Justin Schultz for chunks of games. Only one defenseman on Pittsburgh's roster, Marcus Pettersson, has featured in all 46 games for Mike Sullivan this season.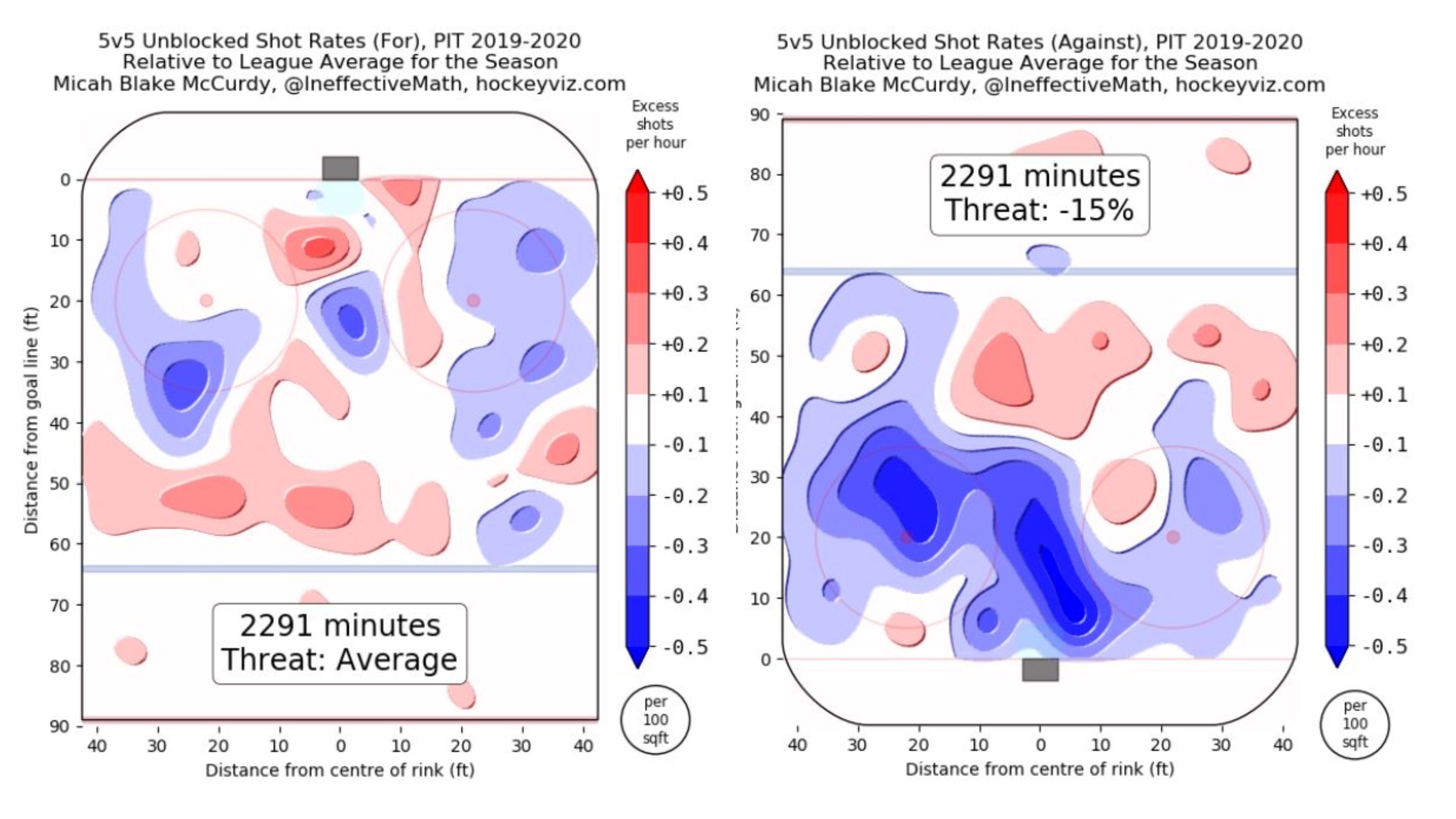 The Penguins' commitment to defense has come at a bit of a cost, as the Pens are only generating 2.46 expected goals per 60 minutes this season, but that isn't a huge deal when you have the type of all-world talent Pittsburgh has on its roster.
Pittsburgh's defense has made it a force to be reckoned with in the Eastern Conference — much like the Boston Bruins, who are sputtering a bit coming into Thursday night's encounter with Sid and Co.
Even though Boston has only won five of its last 10 games, there is no reason to panic about the way the Bruins are playing. Pittsburgh and Minnesota are the only two teams in the NHL that allow less expected goals against per 60 minutes (5-on-5) and only the Stars allow fewer goals against per hour than the Bruins.
The Bruins have endured a few stretches of mediocrity, but they should still be counted among the league's best teams.
The listed odds suggest that Boston wins this game 56.2% of the time. That also tells you that, when you adjust for home-ice advantage, the B's would be a slight favorite on neutral ice against the Penguins. While that is probably accurate, I think there's some value on Pittsburgh considering Boston is playing its fourth game in six nights. I'd play the Pens at +115 or better.
Around the League
Once again I see some value on the Los Angeles Kings (+165) as underdogs against the Florida Panthers (-195). The Panthers have 12 more points than the Kings, but Los Angeles actually has a better statistical profile. The Kings have a 52.7% expected goals rate (sixth), while the Panthers are sitting at 48.8%.
This game will likely come down to whether or not the Kings can convert the chances they create. Los Angeles doesn't have enough scoring talent to succeed over the course of the season, but the Kings should compete at 5-on-5 against the Panthers.
The Calgary Flames (+150) also interest me as underdogs in Toronto against the Maple Leafs (-180). Toronto is banged up on defense and the Flames should be able to exploit that enough to lend some value to this number. Over its last 15 games, Calgary is generating 2.44 expected goals for per 60 minutes but is only scoring 1.82 goals per hour. At some point the Flames should start to see some positive regression.
These odds imply that Toronto wins this game 61.6% of the time and that's a little high considering the Buds are missing two of their three best defensemen.
The New Jersey Devils (+245) are the biggest underdogs on Thursday's 13-game slate and unfortunately I think they are in range for a bet against the Washington Capitals (-320).
The Capitals don't impose their will at 5-on-5, but they have enough scoring talent to cover up their mediocre play-driving metrics. The Devils aren't good, but this number is too high considering the Capitals shouldn't be able to walk all over New Jersey at 5-on-5.
How would you rate this article?