Tuesday NBA Odds, Picks & Predictions: How to Bet Mavericks vs. Kings (August 4)
Credit:
Photo credit: Joe Murphy/NBAE via Getty Images. Pictured: Luka Doncic
The Mavericks are a 6-point favorite over the Kings in Tuesday afternoon NBA action.
Both teams have started play in the bubble 0-2; Dallas is now pretty much locked into the No. 7 seed, while Sacramento has played itself out of contention for a playoff spot.
Get our full breakdown and bets for Kings vs. Mavs below.
Mavericks vs. Kings Betting Odds
Odds as of Tuesday and via DraftKings. Get up to a $1,000 sign-up bonus at DraftKings today or see more offers and reviews for the best online sportsbooks.
---
Two teams that needed good showings for seedings entering Orlando. Two teams that are now 0-2. That's where we find ourselves with the Mavs vs. Kings on Tuesday afternoon.
What's been going on with these squads? Why have they been playing so poorly? Let's dive into that and find some betting value.
Dallas Mavericks
The Mavericks had a lot to play for entering Orlando, notably trying to get out of the seventh spot in the West to avoid a first-round matchup against Kawhi Leonard, Paul George and the Los Angeles Clippers. Alas, the Mavs have dropped their first two games, the most recent against the Suns by two points.
The defense has been consistently underwhelming, which was the case all year. They're 17th in the league on the whole season in defensive efficiency, but it hasn't been a problem because they've literally had the best offense in NBA history up to this point.
Sticking to the defense for one more second: Their biggest challenge is that they just don't force any turnovers at all. They're good at limiting fouls, but that highlights the same issue, which is that they just don't have the athleticism to really bother the best offenses.
When teams always get a shot, that's a bad place to start for a team.
But, again, it hasn't mattered because of the offense, although it does make them fairly boom-or-bust. If that part isn't there, the whole thing crumbles. It was there against the Rockets, but the Mavericks blew it late. It was pretty poor against the Suns, but that was mostly because they just got super cold behind the arc.
In that one, they hit 19.4% of their 3-pointers on the game, including just 20% from the corner. With Luka Doncic at the helm and the spacing Kristaps Porzingis provides as a shooting big, open shots isn't typically a problem.
Honestly, they just missed them. It happens.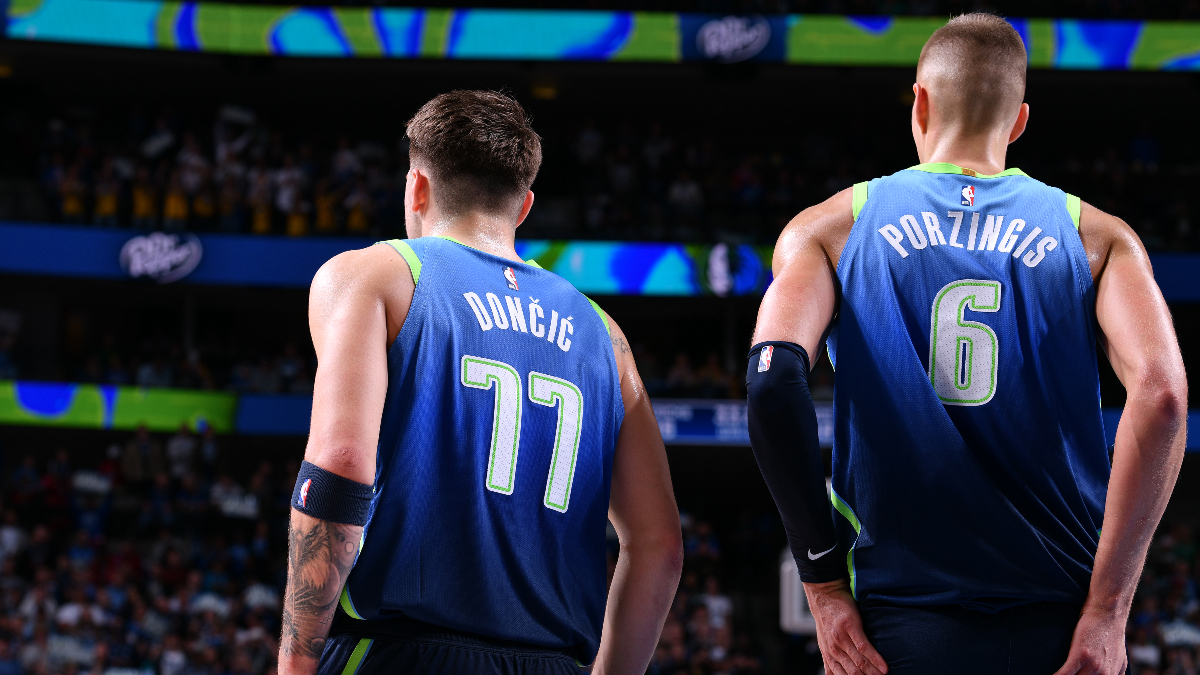 They will be missing sharpshooter Seth Curry in this one, which hurts. But overall, there's reason to believe things should get better for them. It's somewhat tough to analyze — maybe it's chemistry or conditioning (and Luka has looked winded at time), or maybe it's just variance. I'd vote a mix of the two, with it skewed a little more towards the latter.
Sacramento Kings
The Kings couldn't afford to drop many games in Orlando if they wanted to make a run toward the West's 8-seed … they've also started 0-2, posting a putrid point differential of -21.7 in the process.
And those games weren't particularly tough ones, either: They first lost to a Spurs team without LaMarcus Aldridge and other key rotation pieces, then they got blitzed by the Orlando Magic, a mediocre East team. It's been rough.
The Kings haven't been particularly good at anything in Orlando, but the defense has been especially bad, giving up 129.3 points per 100 possessions to poor offenses. Things might regress though: They've actually had a decent shot profile, but opponents have hit 49.0% of their 3s against the Kings, including 55.3% of their non-corners 3s — one of the toughest shots.
To highlight that even more: They have allowed an eFG% of 63.9% (dead last in Orlando), but based on their opponents' shot profiles, they have an expected eFG% given up of 51.3% (third-best in Orlando). That's quite the margin.
Betting Analysis & Pick
You can see where I'm going with this: Both teams' results are far worse than the underlying data suggests they should be. Both have been unlucky; both should positively regress.
But that's challenging since it's both teams. It's one thing if one team in a given matchup has been lucky and the other unlucky; it's easy to spot value there. But where is the value here? Is the line right?
What's even more challenging is that basketball is so interconnected. Sure, the Mavs have been atrocious defensively, but that's also connected to their offense. If the latter improves, the former will because of that. It's much harder to score against a set defense vs. a scrambling one.
Thus, I don't have a strong opinion on the odds. I think they're about right; I'd have this about Mavericks -6.5, and it's currently at -6. For what it's worth, they played in Dallas a couple weeks before the shutdown and it was Mavs -8.5 — take away a 2.5-point home-court advantage and you land exactly where it sits currently: -6.
If I had to lean any way, it would be on the under, though I'd probably wait to bet it after it's (likely) bet up by the public. Both teams should get a bit luckier with 3-point shooting defense, and even if Dallas gets better on offense that should lead towards better defense. The market is probably going to bet this up a little higher than it should be based on recency bias.
LEAN: Under 237.5 (or higher)
How would you rate this article?