College Football Futures to Bet Before the Playoff Rankings Release
Credit:
Reese Strickland-USA TODAY Sports. Pictured: Oklahoma Sooners quarterback Kyler Murray (1) rolls out to pass against the Iowa State Cyclones at Jack Trice Stadium. The Sooners beat the Cyclones 37 to 27
The first 2018 College Football Playoff rankings will be released on Tuesday.
Ken Barkley examines the futures market and gives two teams worth betting ahead of Week 10.
The rankings release won't move odds, but these teams are worth betting before they play this weekend.
It's playoff season.
Not only are college football teams now heading into the final third of the regular season, but Tuesday night, the first College Football Playoff rankings of the year will be released (and then dissected and discussed by all of us). We are starting to see the playoff picture come into focus, and get a handle on which teams really have a chance to make it and which do not.
Let's start with some basic process of elimination. No team has ever made the playoff with two losses, and every playoff team has been from a Power 5 conference. Being a conference champion has not been a "must" to be selected, although some years it apparently matters (the criteria change every year, on purpose, so the committee can select the four best teams without boxing itself in).
With that in mind, the Power 5 teams with one loss or fewer right now (alphabetical order by conference):
Clemson
Michigan
Ohio State
Oklahoma
West Virginia
Washington State
Alabama
Georgia
LSU
Kentucky
Notre Dame (which is an independent, so I'll just place the Irish at the end).
11 teams.
Who Can You Eliminate?
When you open up futures markets on various offshores, you'll see teams such as Central Florida, Penn State, Kentucky, Iowa and Houston. You'll see Utah, which may win the Pac-12. You'll see Virginia, which could win the ACC.
Make no mistake, all of these teams have a 0% chance to make it (or at least, very, very close to zero), and you are handing the book your money by betting them with no opportunity of return.
The type of situation that needs to occur for a team such as Penn State or Virginia or Utah to make the playoff is so wild and convoluted it is frankly not worth discussing unless their odds were 1,000,000-1. And they are not. So step one is to avoid betting the teams that have no shot. Seems simple enough. Let's move on.
Is an Open Parlay the Answer?
The "open parlay" is frequently discussed in these situations. It's a tool offered by offshores, with the idea being that you can add a team's moneyline (like, say, Ohio State) every week that it plays to a single parlay, and the multiplier you get by the time you reach the title game would pay more than the future you can get now.
So as a hypothetical, if you parlayed Ohio State's moneyline every week, you'd be putting seven games in total (including the Big Ten title game and both CFP games) and could conceivably get better than the 9-1 or 10-1 in the market.
The problem here is that it's extremely tough to say for sure that a lot of these teams have to win out. Alabama can eat a loss and still make it, with ease, depending on the opponent. Clemson can maybe eat a loss. Can Notre Dame? Depends on many things. Does Oklahoma even make the CFP if it wins out? What about Washington State? Can't really roll moneylines if the answer is no.
For all these teams, the open parlay is just a crapshoot that when you get to the end, the playoff picture played out the way you thought it would. The only teams that really have to win out to make it, and would make it by doing so, are probably Ohio State, Michigan, LSU, Georgia and Notre Dame. And even then it gets murky.
In a lot of ways, the open parlay is not the answer here, although it might become the answer as the regular season gets closer to conclusion. I'm putting it to the side for now.
With all of that in mind, are there any teams worth buying right now at their current prices? To me, yes. This of course also assumes you don't have any skin in the game yet, and are starting from scratch.
Futures to Bet
Michigan, 12-1
The Wolverines are, to me, better than Ohio State, even if the margin between the two teams is still small. I would have their final-week meeting in the regular season as a pick'em right now. The most likely CFP final ranking is Alabama, then Clemson, then the winner of Ohio State-Michigan and then a lot of different teams at No. 4.
The winner of Ohio State-Michigan is so appealing because the likely opponent in the Big Ten title game right now is Northwestern, which is not only winning its division but has the tiebreaker on Wisconsin because of its win last Saturday. It could be Iowa or Purdue, too, but regardless, the Wolverines would be a massive favorite in such a game.
Also, their CFP spreads against non-Alabama teams in the semifinal or final would be smaller than those of a lot of programs. Lastly, Michigan doesn't have to worry about being left out if it wins out. The Wolverines will make it if they win out. A guarantee.
Oklahoma, 20-1
West Virginia 100-1 might look like the price to grab, but the Mountaineers' loss was so jarring and atrocious that I'm not sure winning out matters for them. Yes, the Mountaineers host the game with the Sooners, but Oklahoma should be favored by at least a touchdown.
WVU may very well already be eliminated. It's quite possible that the Texas-West Virginia winner this week becomes Oklahoma's opponent in the Big 12 title game, which would be an excellent opportunity for Oklahoma to avenge its only loss against the Longhorns (a narrative they can trumpet for the 24 hours afterward to the committee). Oklahoma doesn't really root for Texas in anything, I'd imagine, but it should be rooting for Texas on Saturday.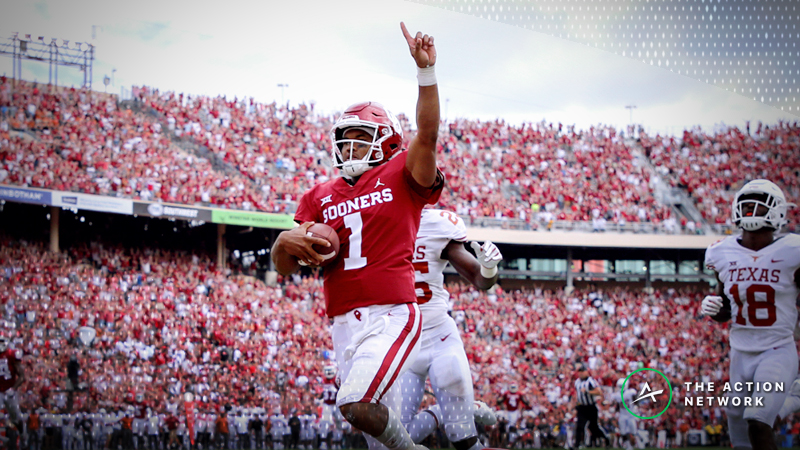 Oklahoma's quarterback, coach and name brand matter here, I think, more than those of some other schools and can create a different atmosphere in committee deliberations than when TCU was snubbed in the initial CFP a few years ago. This is different.
Also their margins of victory in some of these games, and their "wow" offensive profile matter, too, to humans who make these decisions. Like with Michigan, you'll get CFP semifinal and final spreads that are palatable, should you decide to hedge.