Collin Wilson's Best Bets: Odds & Picks for Friday's Alabama vs. Notre Dame & Clemson vs. Ohio State College Football Playoff Games
Credit:
William Howard/Icon Sportswire via Getty Images. Pictured: Trevor Lawrence (16).
If the College Football Playoff is here, that means one thing: Collin Wilson is ready to offer betting picks.
Wilson broke down the Rose Bowl between Alabama and Notre Dame and the Sugar Bowl between Clemson and Ohio State and shared a betting pick for each.
Check out Wilson's full breakdown for each CFP semifinal game below.
The College Football Playoff semifinal games are finally here as we inch closer toward the end of a 2020 season that has been unlike any other.
This season has been full of ups, downs, cancellations, and postponements, but the top four teams in the country as appointed by the CFP committee are ready to go for two final games.
Alabama is playing at a rate that has even eclipsed the 2019 LSU team on offense, and the Tide enter the Rose Bowl as heavy favorites over Notre Dame.
Later in the night, Clemson battles Ohio State in a rematch of last year's Fiesta Bowl, which also sent the winner to the College Football Playoff National Championship game.
Let's start 2021 on the right foot as we head to the final game of the season in just over a week.
Check out the Action Network Power Ratings for both of the CFP semifinal games and follow me on the Action App for the latest updates.
---
My College Football Betting Card for the CFP Semifinals
Here's a rundown of the Rose Bowl and Sugar Bowl — the College Football Playoff semifinal games — on Friday:
4:00 p.m. ET | No. 1 Alabama vs. No. 4 Notre Dame
8:00 p.m. ET | No. 2 Clemson vs. No. 3 Ohio State
All odds are as of Thursday afternoon and via DraftKings. Always shop for the best price using our NCAAF Odds page, which automatically surfaces the best lines for every game.
---
Rose Bowl: No. 1 Alabama vs. No. 4 Notre Dame
For the first time in 132 years of football at the collegiate level, Notre Dame joined the ACC on a one-year agreement.
The decision was mutually beneficial in a year dictated by the pandemic. The Fighting Irish went on to complete an undefeated regular season, including a win over Clemson and a defensive masterpiece against North Carolina.
Notre Dame had all but locked up a trip to the College Football Playoff, considering the Pac-12 shortened season and a Big 12 champion with multiple losses. The Irish fell, 34-10, to Clemson in the rematch to earn the fourth seed in the playoff to go head-to-head with SEC champion Alabama.
The Crimson Tide are the first team in SEC history to complete a 10-0 conference-only regular season. Through the conference championship, Alabama has put up an 8-3 mark against the spread.
Many pundits call this Alabama team one of the greatest, and that would be completely accurate from a Success Rate point of view. The 2019 LSU offense powered by Joe Burrow finished with an Offensive Success Rate of 54.9%, which is short of this Alabama team at 55.3%.
---
Alabama Crimson Tide
Throwing statistics on a chart or quoting a specific advanced metric simply does not do this Alabama team any justice.
This version of the Crimson Tide can be compared with any championship team from the playoff era, and in most cases, have exceeded former winners.
Nick Saban compiled these statistics on an 11-game sample versus all SEC teams, none of which were named South Carolina or Vanderbilt, which combined for a 2-17 record.
Heisman voting has been completed and the winner will not be announced until after the semifinals, but if this writer had a vote, it would go to Mac Jones.
There are endless amounts of evidence that Jones has been better than his predecessors, Tua Tagovailoa and Jalen Hurts.
The junior holds a top-three ranking in adjusted completion percentage and NFL rating in deep passing, defined as attempts targeted at 20 yards or more. Jones has the highest completion percentage in play-action passes of any quarterback in the nation with at least 154 attempts. When it comes to quarterback pressure, no quarterback in the playoff is more reliable than No. 10 for the Crimson Tide.
---
---
Jones has earned the second-highest NFL rating in pass attempts under pressure.
This is also a testament to the offensive line, which has allowed just eight sacks in 64 pressured dropbacks. In comparison to his counterpart, Ian Book has been sacked 26 times in 123 pressured dropbacks. Landon Dickerson will be missed from the offensive line after undergoing successful surgery, but four other players from the second string have over 100 snaps on the season.
Defensive coordinator Pete Golding described a "come to Jesus moment" for the defense after having 21 missed tackles in a nail-biter against Ole Miss. Since that game, Alabama has had more than eight missed tackles in a game just once.
Golding called out cornerback Malachi Moore in the Rose Bowl presser for his improvement over the season. The freshman ranks 21st in the country of all defensive players in covering the slot, allowing just 1.2 yards per coverage snap.
---
---
Notre Dame Fighting Irish
Brian Kelly did a masterful job of navigating Notre Dame through its first — and possibly last — conference slate of games.
Only Clemson and Louisville came within two possessions of ruining an undefeated regular season. The first full season for offensive coordinator Tommy Rees proved to be a success, as Notre Dame ranked top-25 in Passing Success Rate and Line Yards.
For most of the season, Notre Dame chose to protect the playbook with a heavy dose of rushing, but those ratios evened out in two games against Clemson.
---
---
The personnel groupings were predictable for Rees, as 11 personnel had a 67% pass ratio, while the two-tight end set of 12 personnel saw a 60% run ratio.
With a healthier defense and a second look from Clemson defensive coordinator Brent Venables, the wheels fell off the Irish offense in the ACC Championship game.
After an opening-drive field goal, Clemson allowed zero points on seven consecutive drives with the Irish offense never exceeding four minutes on any attempt.
While Notre Dame met the national average for Success Rate in offensive standard downs, the Tigers obliterated the Irish in passing downs for a Success Rate of 25% and 3.8 yards per play.
The strength of Notre Dame has been the defense, as coordinator Clark Lea spun another season with a top-25 Success Rate. Lea will move on to the Vanderbilt head coaching position after the season.
He has a long history of Havoc-minded iron trench play like his mentor Mike Elko.
Notre Dame ranks third in defensive Havoc, seventh in Line Yards and first in Stuff Rate. A pass coverage rank of 13th, per Pro Football Focus, came against a strength of schedule rank of 54th, as the leaks were exposed against Clemson.
Trevor Lawrence threw for over 300 yards and two touchdowns in the ACC Championship game, accumulating nine passes over 15-plus yards and an average of eight yards per play in passing downs.
---
Betting Analysis & Pick
The answer to any bettor's questions is undoubtedly "YES" if the question is whether or not the point spread is inflated.
Our Action Network projections, along with SP+ and Sagarin, hover around the two-touchdown mark. Even the Sagarin "recent" weighted ratings — in which recent score-based games weigh heavier than early season results — make this game Alabama -16.
The Crimson Tide have truly eclipsed the LSU 2019 conundrum for bettors that rely on advanced analytics, as the numbers just cannot keep up with the efficiency of the team.
---
Notre Dame vs. Alabama Matchup Matrix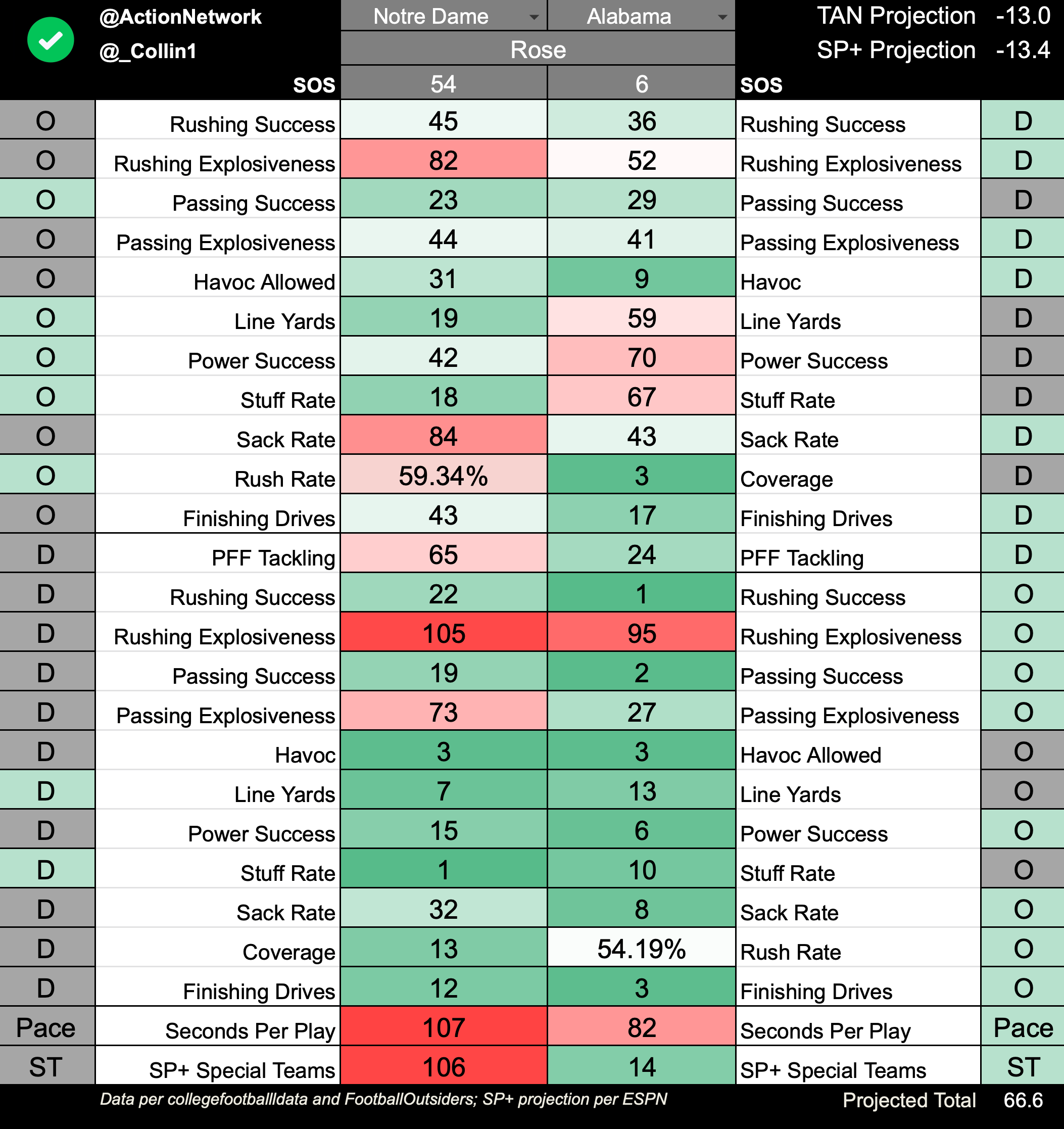 ---
The biggest handicap in the game is whether or not the ACC Championship game was a one off fluke performance for Notre Dame.
Per PFF, the rematch with Clemson was the lowest-graded game for Notre Dame's offense, rush defense and special teams. In comparison to the total season, this was Clark Lea's fourth-highest grade in pass coverage.
Clemson averaged nine yards per play on 25 rushing attempts and had just four stuffed at the line of scrimmage. Simply put, the Notre Dame secondary was at a disadvantage because of a failure to stop Travis Etienne.
---
---
Will offensive coordinator Steve Sarkisian detect what worked for Clemson and try to replicate that with Najee Harris?
There certainly has been an increase in two-tight end sets for Alabama in 2020. Sark lined the offense up in 12 personnel in just 22% of snaps in 2019, but 2020 saw a major uptick for the Tide in those formations, as Alabama ran two tight ends on 45% of snaps.
Carl Tucker has been one of the best-run blockers on the field, but Jahleel Billingsley and Miller Forristall have become viable third-down and red-zone targets.
---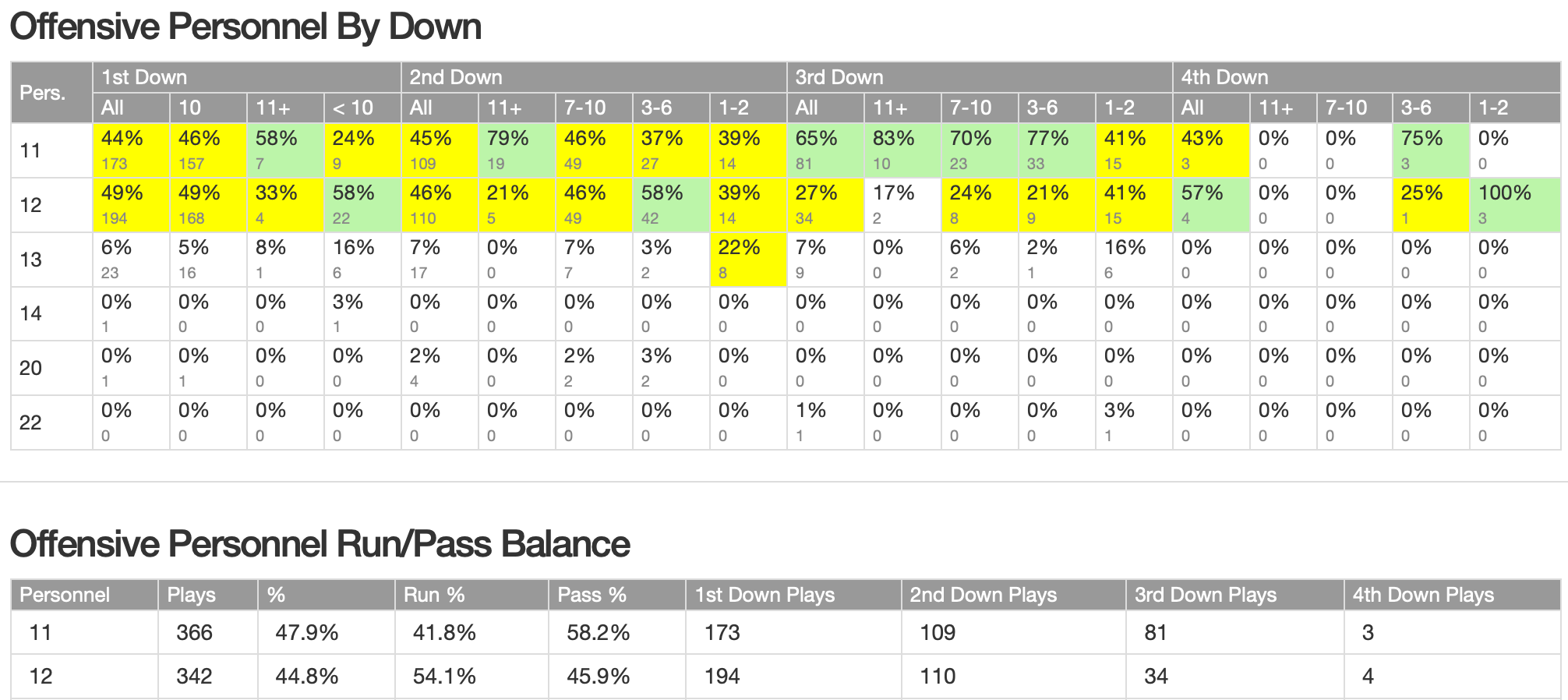 ---
While the focus may be on wide receivers DeVonta Smith and John Metchie III, Alabama could use a heavy dose of Harris in with two tight ends to predicate the deep pass.
Notre Dame safety Kyle Hamilton is one of the best coverage defenders against the deep pass, allowing less than a half-yard per snap when targeted.
Notre Dame has not shown the ability to exploit the explosive play on defense to get into a shootout with Alabama.
Running back Kyren Williams has avoided just 35 tackles in 195 rushing attempts.  The Clemson defense held Williams in check to just 3.3 yards per carry on 15 attempts. The story is the same for Irish passing targets, as tight end Michael Mayer leads the team in avoided tackles at just 11.
Book's hot zone is between the hashes from 11 to 20 yards, an area both Moore and Patrick Surtain are expected to patrol. Quarterbacks are completing just 38% of passes when targeting Surtain this season.
Notre Dame does not have the weapons on offense or defense to upset — or possibly even cover against — Alabama.
Saban is 8-3 against the spread in the postseason against teams not named Oklahoma or Clemson. If a team does not bring offensive firepower to the table, an Alabama opponent can have a long bowl game. The best bet in this game may come from the Alabama offensive game plan and defensive efficiency.
The Crimson Tide's increase in two-tight end sets and the Notre Dame struggles against Etienne may make this a big night for the Alabama rushing attack. An increase in attempts for Harris may keep pieces of the playbook off tape for the national championship.
There's also a history between Kelly and Saban from the 2013 National Championship Game.
Saban took a 28-0 lead to the locker room against Kelly, and the second half was predictably boring. Of the 32 second-half plays by the Crimson Tide, 22 were rushing attempts. Considering there's a follow-up game to this Rose Bowl, there's no reason to show anything offensively once a three-touchdown lead is obtained.
With a projection of 66, the best bet in this game is the under. Alabama may eclipse its team total, but the better bet may be a small play on the Notre Dame team total to go under.
Pick: Under 66 or better | Notre Dame Team Total Under.
Sugar Bowl: No. 2 Clemson vs. No. 3 Ohio State
The long-awaited rematch from last season's College Football Playoffs Semifinal in the Fiesta Bowl will take place in New Orleans this year.
Clemson survived and advanced past Ohio State after trailing at halftime a year ago. The Buckeyes tallied a 59% postgame win expectancy but were undone by two second-half interceptions.
The latter of the two came with 37 seconds left at the Clemson 23-yard line, sealing Trevor Lawrence's second consecutive National Championship appearance.
The box score was evenly matched in all areas except the method of attack. Clemson relied heavily on a successful run game powered by Travis Etienne, while Ohio State posted a 52% Success Rate through the arm of Justin Fields.
Those names return for this year's version of the rivalry set to take place on the fast track of the Superdome, a stark contrast from a slippery field in Glendale.
Both teams finished the season a combined 16-1, but neither was positive in covering the spread. Ohio State did cover two games away from the Horseshoe, but questions linger as to whether or not a team with a six-game schedule belongs in the playoff.
Tigers head coach Dabo Swinney went as far as to rank Ohio State 11th in the Coaches Poll.
From the on-field play to off-field recruiting, there's no love lost between these coaches and players in what should be one of the best games of the pandemic-scarred 2020 season.
Clemson Tigers
There has not been a lack of drama for Clemson during the 2020 calendar year. LSU pummeled the Tigers in the National Championship game, giving quarterback Trevor Lawrence his first collegiate loss as a starting quarterback.
A sure-fire No. 1 overall NFL Draft pick next spring, Lawrence sat two games with COVID-19 this season, including Clemson's loss at Notre Dame.
Lawrence returned with a vengeance, throwing over 900 yards in three games against Pitt, Virginia Tech and a rematch with the Irish. Returning to 2019 form was complete in the ACC Championship game, as Lawrence showed off the rushing skills that helped win last year's Fiesta Bowl.
The lack of rush explosiveness had been an issue for Clemson most of the season. Etienne had looked nothing like his former self until a second crack at the Notre Defense. Etienne averaged 12.4 yards per carry and averaged 9.2 yards after contact.
While the offense has experienced a renaissance with Lawrence and Etienne, the defense has continued to excel in trench play and Success Rate.
Defensive coordinator Brent Venables has dialed up another Havoc-heavy season even with the loss of key contributors like Isaiah Simmons.
Top-10 ranks in Line Yards, Sack Rate, and Finishing Drives has led Clemson all season,  but a trend of allowing explosive plays was a new element for Venables. In two fewer games, Clemson has allowed as many 30-plus plays from scrimmage as 2019.
The main culprit is standard downs explosiveness, as Clemson has given up big yardage in early downs. The Tigers rank fourth defensively in Success Rate in standard downs, but a rank of 94th in expected points shows that attacking downfield on first and second down could put points on the board.
Virginia Tech, Boston College and even Syracuse generated more than five yards per play in standard downs against Clemson.
---
Ohio State Buckeyes
Ryan Day has rolled with the punches through the pandemic, as the Big Ten canceled the season and Fields lobbied to reinstate play.
The conference eventually allowed games to be played while setting rules of a minimum number of games to be played to participate in the conference championship. Due to COVID-19 spikes with teams in the Big Ten, the rules were changed on the fly to secure the Buckeyes' spot against Northwestern.
Much to the ire of Clemson, Texas A&M and plenty of other folks that wanted the Big Ten excluded from the playoff, Ohio State has made its way to the dance floor. The sample set of data comes with a schedule that includes sub-.500 teams in Michigan State, Rutgers, Nebraska and Penn State.
Ohio State showed plenty of offense with a Success Rate that ranked in the top five in the nation. A rank of second in Line Yards plowed the way for Master Teague and Trey Sermon to establish the ground game, while Fields totaled 20 touchdowns on the ground and through the air.
Against better competition, Fields was picked off twice in the conference title game against Northwestern.
The Buckeyes defense lost plenty to the NFL over the offseason and was expected to take a step back in 2020.
Ohio State still ranked second in Line Yards and top-25 in defensive Havoc. A number of defensive linemen have put up more than 15 quarterback hurries in just six games, while cornerback Sevyn Banks has five pass breakups on 33 targets.
Betting Analysis & Pick
The loss of Chris Olave for the Big Ten Championship game left Fields to look at unfamiliar targets. Olave and Garrett Wilson account for 60% of Fields' targets on the shortened season.
The good news for Ohio State is that it should have its full stable of weapons, including Sermon, who put up huge numbers against Northwestern.
Ohio State lacked the explosive element from the run game all season, as Teague and Sermon averaged less than four yards after contact.
That changed for Sermon, who ran for 331 total yards with 17 avoided tackles and an average of 6.8 yards after contact.
The handicap in the Sugar Bowl centers around the damage the Buckeyes can do in early downs.  Despite ranking top-30 in defensive standard downs Success Rate and explosiveness, Northwestern allowed Ohio State a 64% Success Rate with an average of 8.1 yards per attempt.
---
Ohio State vs. Clemson Matchup Matrix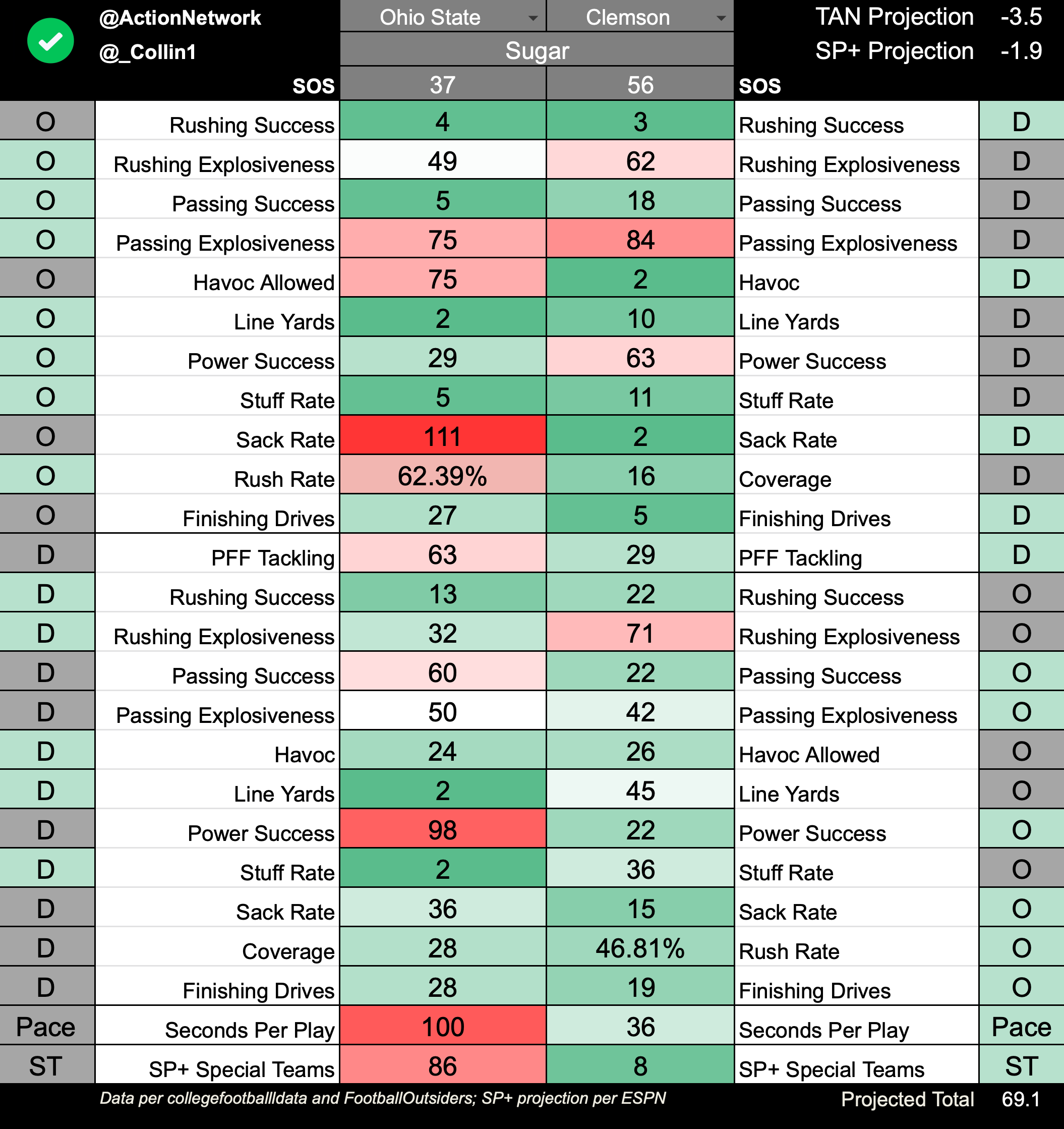 ---
The Buckeyes are the top team in the country in standard downs Success Rate, a vulnerable area for the Clemson defense.
Fields' struggles without his top target in combination with a Clemson rout of Notre Dame has created an inflated market.
Ohio State has the horses to keep up with Clemson on the scoreboard. If the Tigers cannot defend explosiveness, the Buckeyes will advance to the national championship game.
Pick: Ohio State +7 or better.
How would you rate this article?